Everything You'll Ever Need to Know About Wedding Stationery
From timing and etiquette to trends and obscure terms (what exactly is vellum, anyway?), we've got your back on all things wedding invites.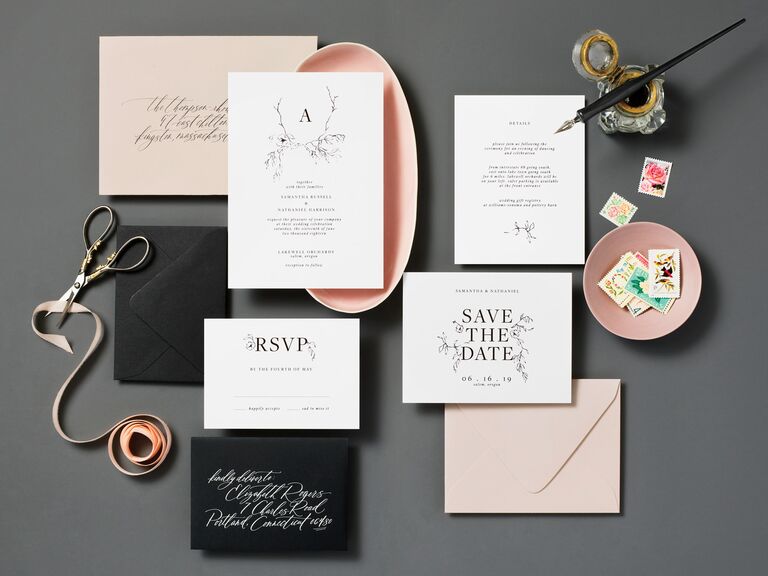 Claire Benoist
Before you stick another stamp or send out those suites, read through our handy breakdown of wedding stationery tips, trends and terms. From the coolest new designs to what exactly makes up a suite, we've detailed everything to include so your guests know the who, what and where of your very special day.
Anatomy of a Wedding Invitation Suite
Here's what actually goes inside that big envelope you're paying extra postage fees for:
Envelope: Fancy script goes a long way.
Reply Envelope: Pre-address it back to yourselves (don't forget the stamp).
Invitation: All the facts about the main event.
RSVP Card: Guests can indicate their attendance and choose a meal, if necessary.
Details Card: Here's where you can add extras like hotel block info, extra events (like brunch), dress code and directions.
Save-the-Date: Ensure your favorite people hold the day on their calendars for your event.
What Goes on Your Wedding Website vs. Invitation Suite
Not sure what info belongs on your wedding website rather than your invitations? It's cool—we're here to walk you through the proper etiquette. Any imperative info, like the date, time and location, should be front and center on your wedding invites, while details like directions and parking can live on your website. Same goes for your registry info—it's considered a bit, ahem, in your face, to include it right on the invites (guests aren't required to get you a gift, after all), so play it safe and add links to your website instead. Looking to host an adults-only event? Include that lingo only on your site, and address the envelope to just the guests who are invited.
Essential Wedding Stationery Tips From the Pros
Define Your Wedding Day Style
Your save-the-date cards and invitation suite are usually the first impression your guests will get of your wedding day vibe, so make sure your paper goods slay. Think about your whole vision for your day, then work with a stationer or designer to incorporate colors, textures, typography or even witty lingo that lets guests know they're about to have the most fun ever. "I'm loving the combination of organic and contemporary styles, like deckled edges and typography," says La Rue Pulido of Little Carabao Studio in Austin, Texas.
Consider How You Address Your Main Envelopes
How you address your envelopes is a great way to indicate which members of a group or family are actually invited. If you're having an adults-only affair, address the invite specifically to Mr. and Mrs. Jones instead of The Jones Family. Giving a bud a plus-one? Jane Smith and Guest is the way to go. If a guest isn't getting a plus-one, address the envelope just to the invitee—they should get the hint.
Weigh Your Suites Before Mailing Them
With invitations getting more complex (embossed leather, anyone?), it's smart to take a trip to the post office before sending yours out. Have them weigh a completed suite, as well as review the calligraphy or lettering you've chosen for the address. Both an extra-hefty envelope or an address that can't be read digitally can equal more necessary postage, so it's good to know ahead of time if you need to snag some extra stamps.
Time Your Sending—and Receiving—Right:
Timing is everything when it comes to your invitations and save-the-dates. You want to give guests ample time to add you to their calendars, but not so much time that it happens to slip their minds. As a rule of thumb, save-the-dates should go out six to eight months ahead of your wedding (a bit earlier if it's a destination bash), while invitations can be mailed six to eight weeks out, with an "RSVP by" date at least two weeks before the wedding.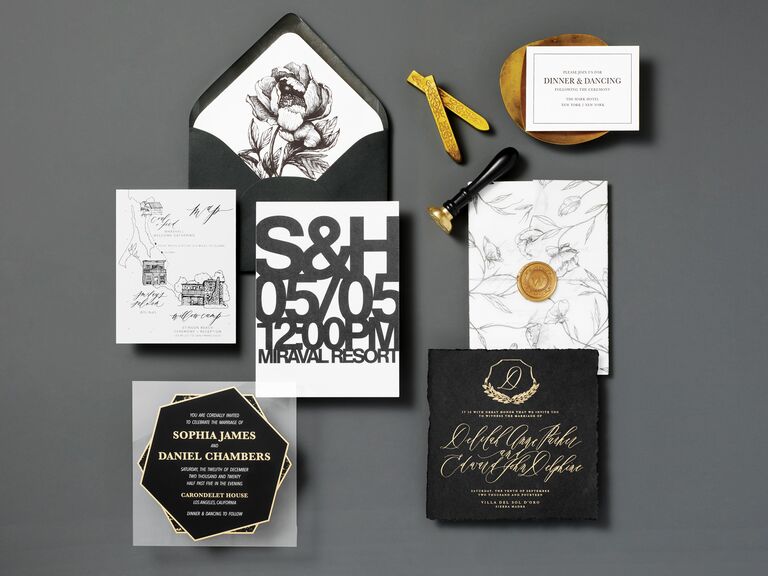 Fresh Stationery Trends to Watch Out for
Statement Liners: Whether it's one bold botanical or the lyrics to your favorite song, a stylish envelope liner is the exclamation point on your suite.
Local Maps: For a personal touch, work with a designer to create a map of your wedding area. Tip: Beyond your ceremony and reception locale, include favorite spots, like your go-to pub, karaoke joint or ice cream shop so guests can get in on some local fun.
Acrylic Accents: It's pretty clear why this modern detail is coming in hot. It adds a luxe weight and texture to your suite and makes for an undeniably cool invitation that can double as artwork. "Acrylics are becoming super popular for weddings, and for good reason. They can be done very modern or more traditional and it's always unexpected and fresh," says Patty Gibson of Little Black Dress Paperie in Morristown, New Jersey.
Bold Type: For an eye-catching statement, look no further than bold typography. One killer font is all it takes to ensure a total wow moment the second guests open the envelope.
Letterpress: Purists love the upscale effect a letterpressed invitation lends. On a tighter budget? Choose one or two high-impact details to letterpress instead of the whole design.
Vellum: The translucent paper can serve as an accent within your suite, a wrap to hold together all the individual pieces or the main material. Whatever way you use it, it's a stunner.
Wax Seals: Give any suite an old-school, stately vibe with a custom wax seal added directly on the invite or on top of the envelope flap. "Couples are gravitating toward minimal touches to elevate their invites, like vellum wraps or wax seals. Champagne-colored foil (a warm silver) is also huge," says Karla Lim of Written Word Calligraphy in Vancouver, Canada.
Deckled Edges: A fancy way of referring to paper with frayed, torn edges, deckled paper is the perfect pick for an organic, outdoor celebration.
Gold Lettering: We're calling it now—metallics are here to stay. Modern couples can work in the shine with geometric accents, while romantically minded duos may prefer a design with delicate gold calligraphy and line drawings. We love either.
Think Beyond Invitations
Paper obsessed? The fun doesn't stop once you send out your invitation suites. There are tons of day-of paper goods that could benefit from an extra-thoughtful touch. Start the day with a standout cermony program (we love the idea of including printed vellum envelopes that hold confetti to toss after you seal the deal), then get guests laughing with cheeky customized trivia napkins. Escort cards and dinner menus can also kick it up a notch with unique designs or interactive features (like suspended paper airplanes with guests' names on them). Finally, end the evening with thoughtful favors, like your favorite caramel popcorn, tied with a sweet (or funny) thank-you note.
Need more paper advice? Here are some key invitation mistakes not to make.