16 Grown-Up Ways to Use Glitter at Your Wedding
We found the best, most sophisticated ways you can use glitter (and sequins!) to elevate your wedding décor.
Just because it was a staple in your childhood art class doesn't mean glitter isn't sophisticated enough to make a few appearances at your wedding. From escort card displays to grand exits, there are so many ways this DIY essential can be incorporated into your decorations. Take a cue from these real weddings, then show us how you used glitter at your wedding using the hashtag #theknotDIY on Instagram.
1. Accent Petals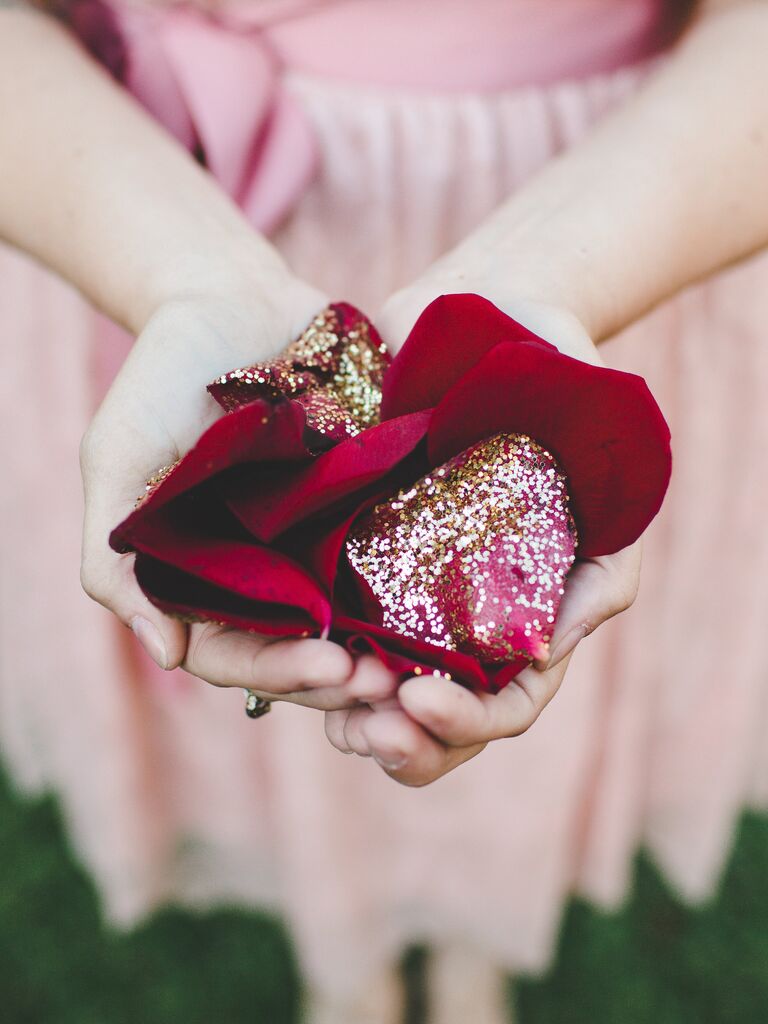 Planning a fun petal toss after your "I dos"? Consider adding a little sparkle with some glitter spray paint. Not only will it be a cool accent in the petal cone, it will make for great pictures once the petals are tossed in the air.
From: A Governor John Langdon House Wedding in Portsmouth, New Hampshire
2. Edging Details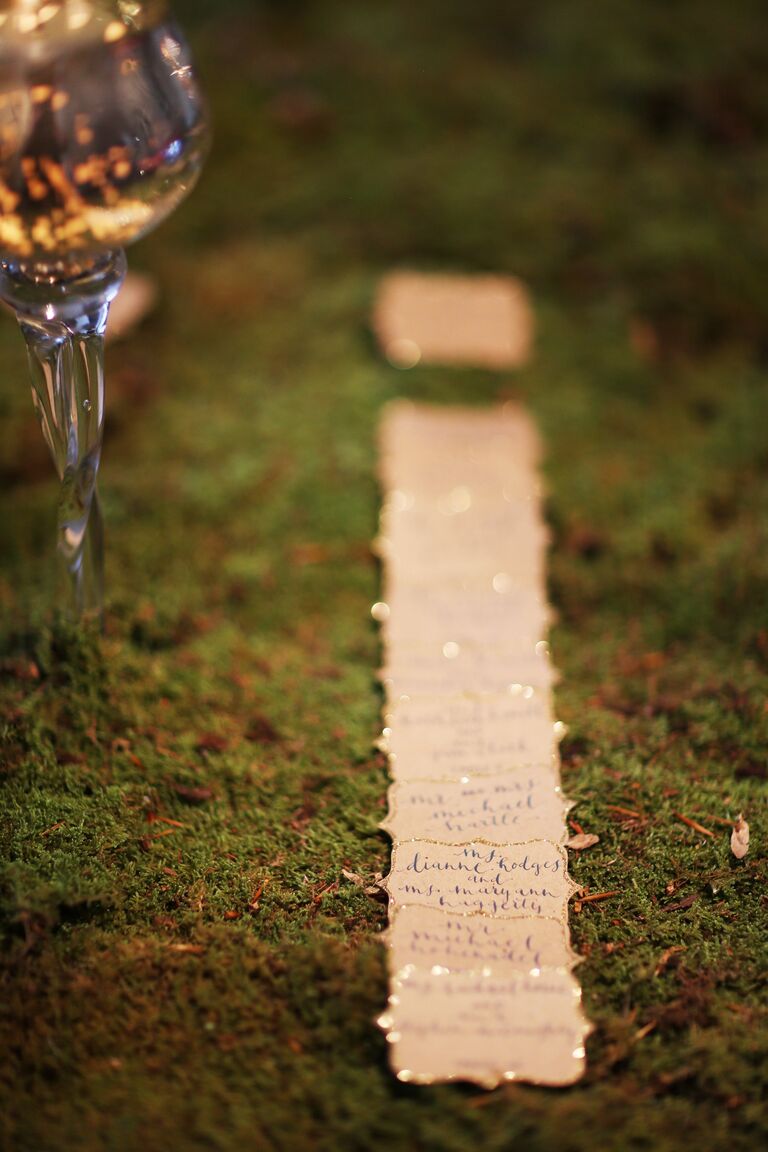 For just a hint of shine, outline the edges of your escort cards with glitter glue (plus, it's pretty easy to do!). A hand-painted detail such as this pairs perfectly with whimsical-looking calligraphy.
From: A Romantic, Vintage Wedding in Philadelphia, Pennsylvania
3. Gold-Dipped Feathers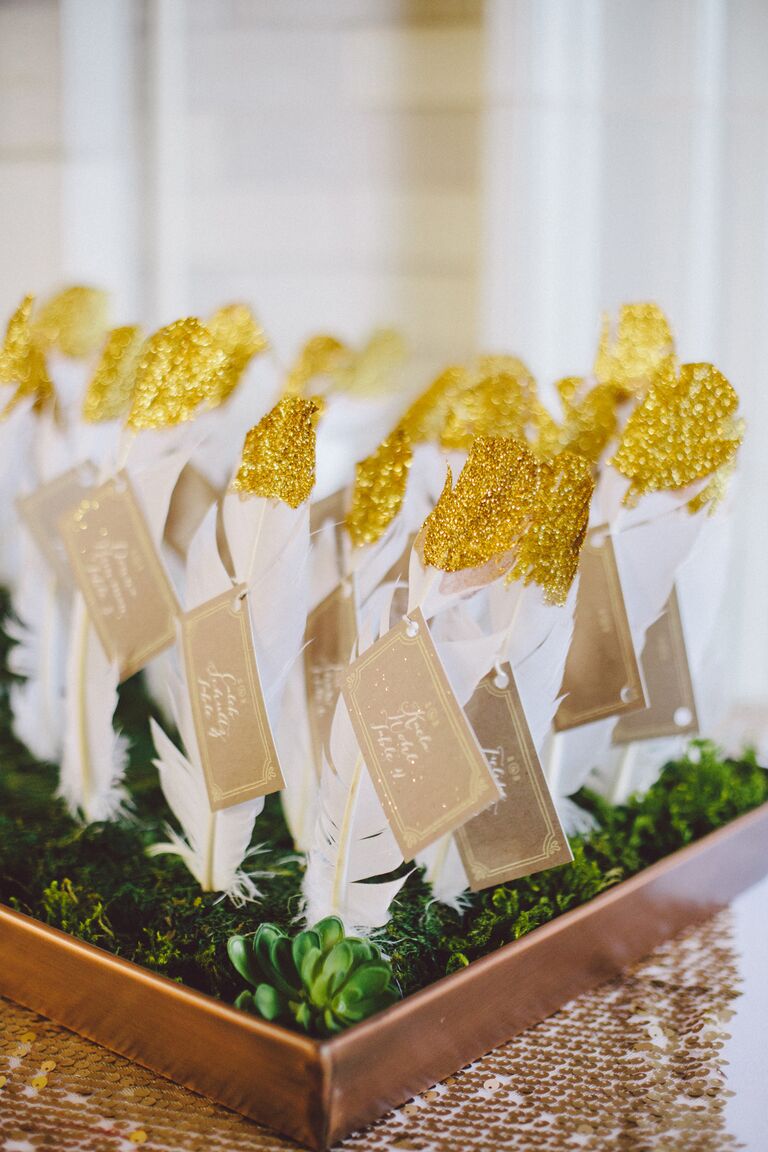 A feather escort card display looks beautiful on its own, but adding a touch of gold introduces a unique boho-glam vibe. To really go above and beyond, swap out plain white feathers for something more striking, like pheasant feathers.
From: A Glam Park Wedding at Boathouse in Prospect Park in Brooklyn, New York
4. Cocktail Accessories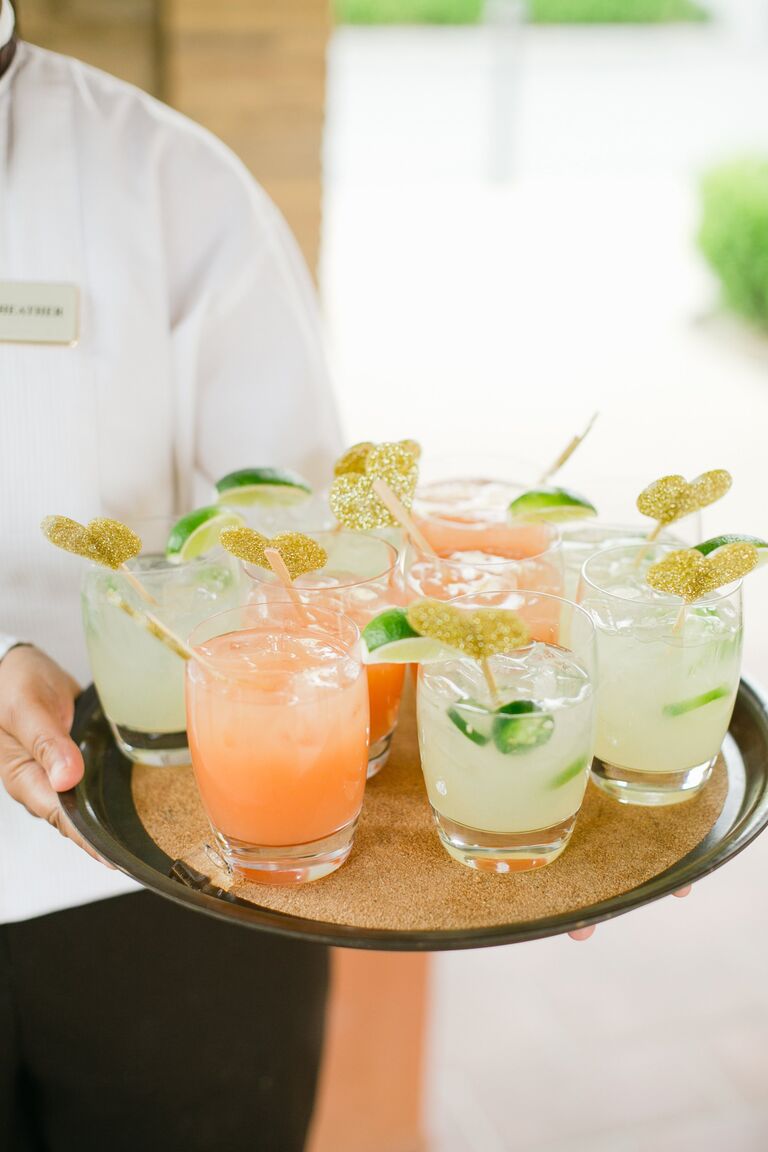 Turn up the volume on your signature sip. Make a custom drink stirrer by cutting out hearts (or whatever shape you like) from glitter construction paper and gluing them to stirring sticks. Use that same paper to line the bottom of your serving trays for extra points.
From: A Toscana Country Club Wedding in Indian Wells, California
5. Votive Wraps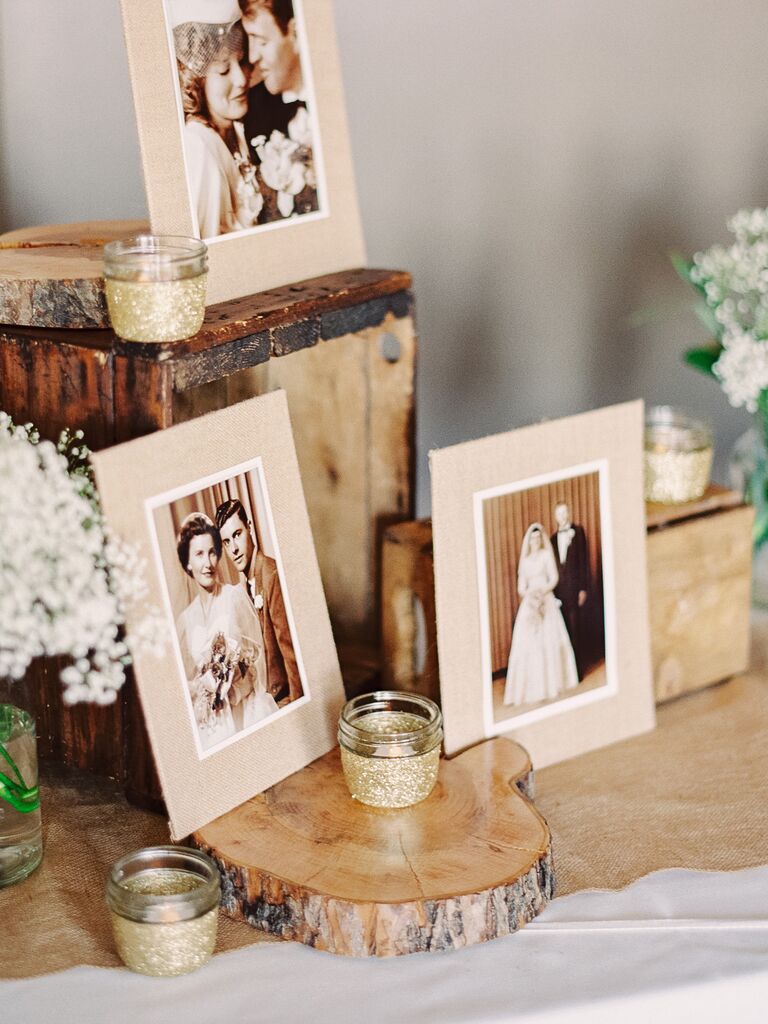 Behold: the easiest wedding craft in existence. Pick up a roll of wide glitter ribbon from a craft or art store and wrap pieces around candle votives. Add a bow or secure with a dot of hot glue.
From: A Country Glam Wedding at Deer Valley Meadows in Alix, Alberta
6. Block Letters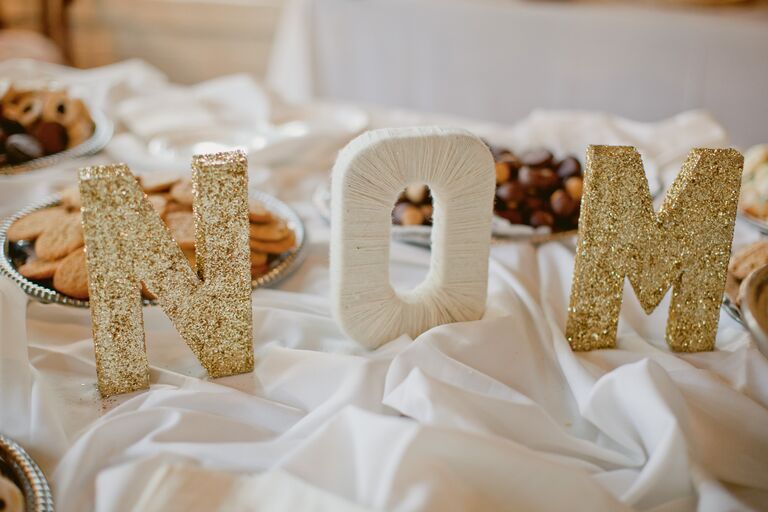 Give plain cardboard letters some life with a lovely layer of shine—and don't be afraid to mix and match textures. We love the combination of sparkly glitter paired with the cozy, softer look of yarn.
From: A Succop Conservancy Wedding in Butler, Pennsylvania
7. Edible Dust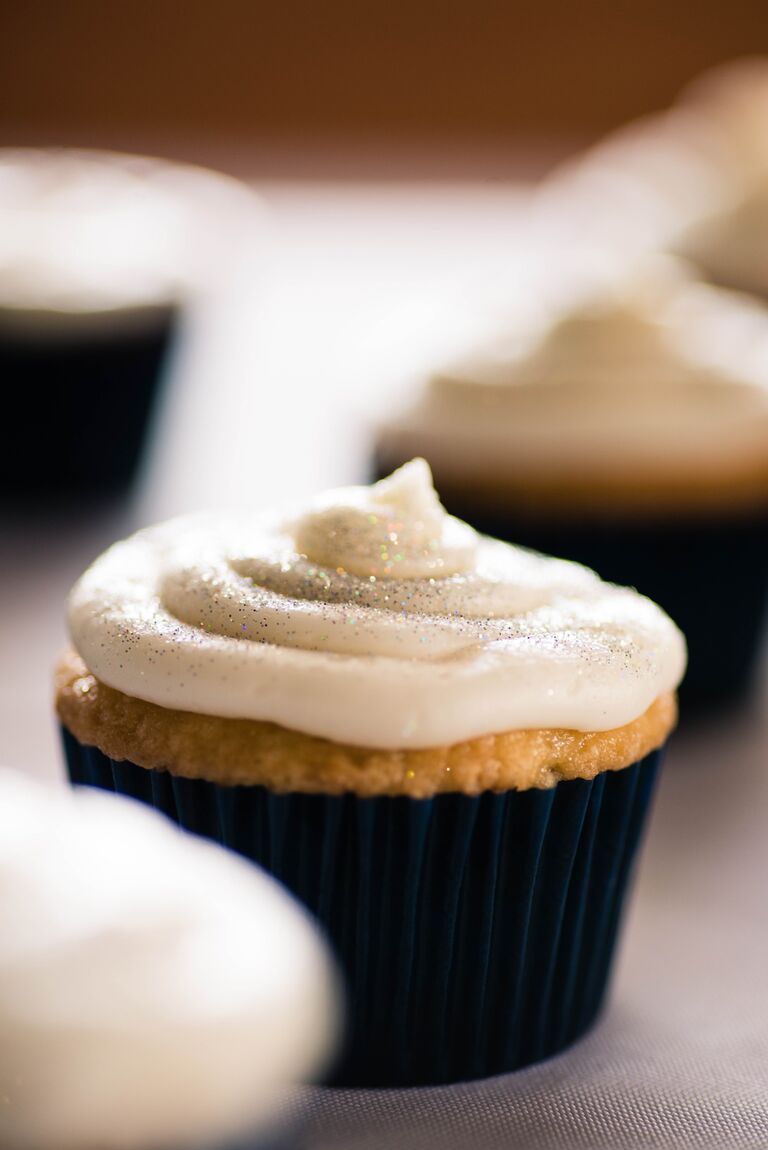 A sprinkle of glitter atop confections is a fun detail guests will definitely notice, but it's subtle enough to fly under the radar in photos—giving your cake (or cupcakes) the center stage it deserves.
From: A Modern Wedding at Wichita Boathouse in Wichita, Kansas
8. Favor Wrapping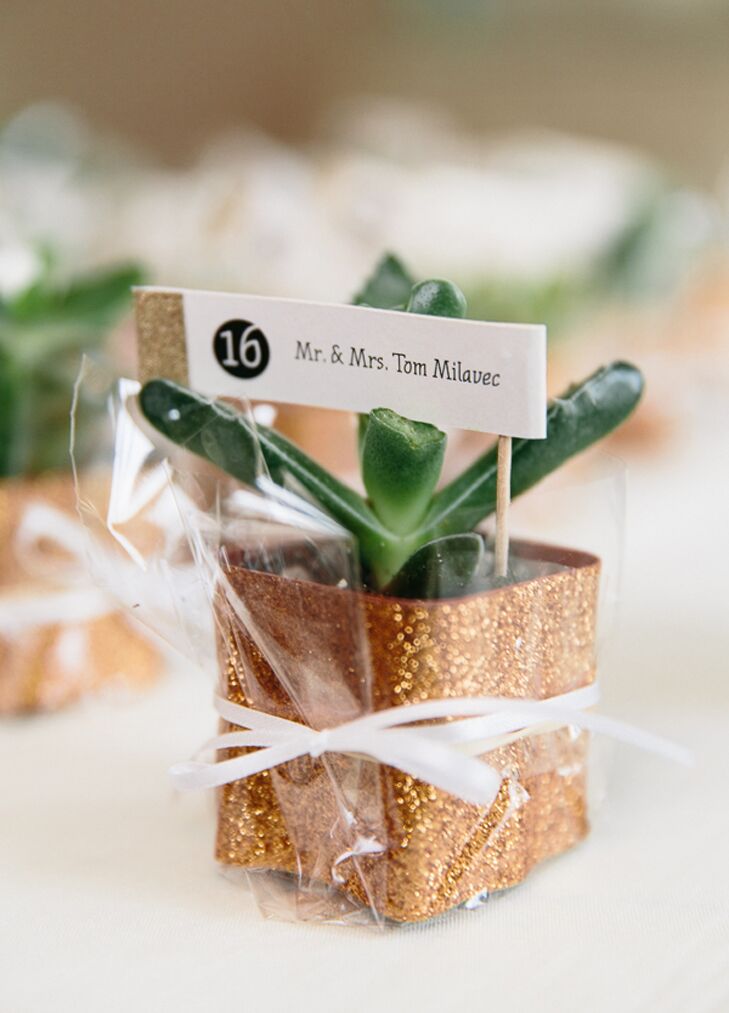 Succulents never disappoint, but give them an attention-grabbing wrap job and they definitely won't be left behind. We recommend finishing it off with a cello bag that's an inch or so taller than the plant container to help manage any soil spillage on the ride home.
From: A Glamorous Summer Wedding at Oaks Waterfront Inn in St. Michaels, Maryland
9. Picture-Perfect Photo Op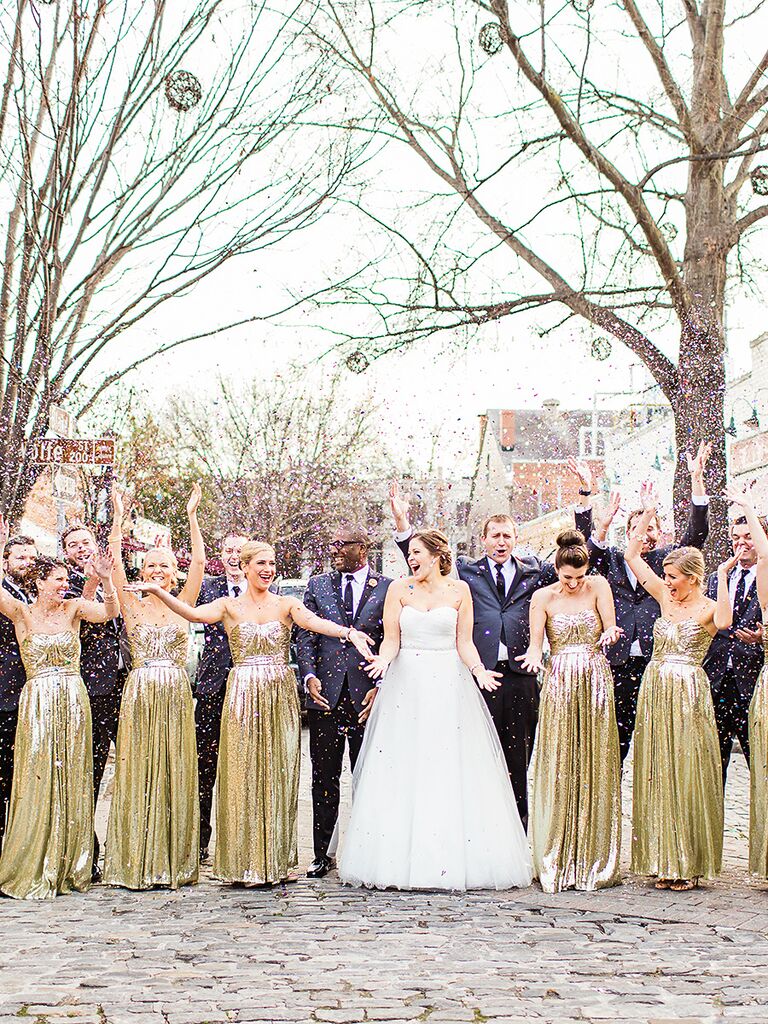 Sure, you might be finding glitter in your hair for the next couple of weeks, but for a photo like this, it's worth it. Opt for coarsely cut glitter and give guests tiny handfuls—a little goes a long way.
From: An Urban-Meets-Great Gatsby New Year's Eve Wedding at Cobblestone Hall in Raleigh, North Carolina
10. Statement Linens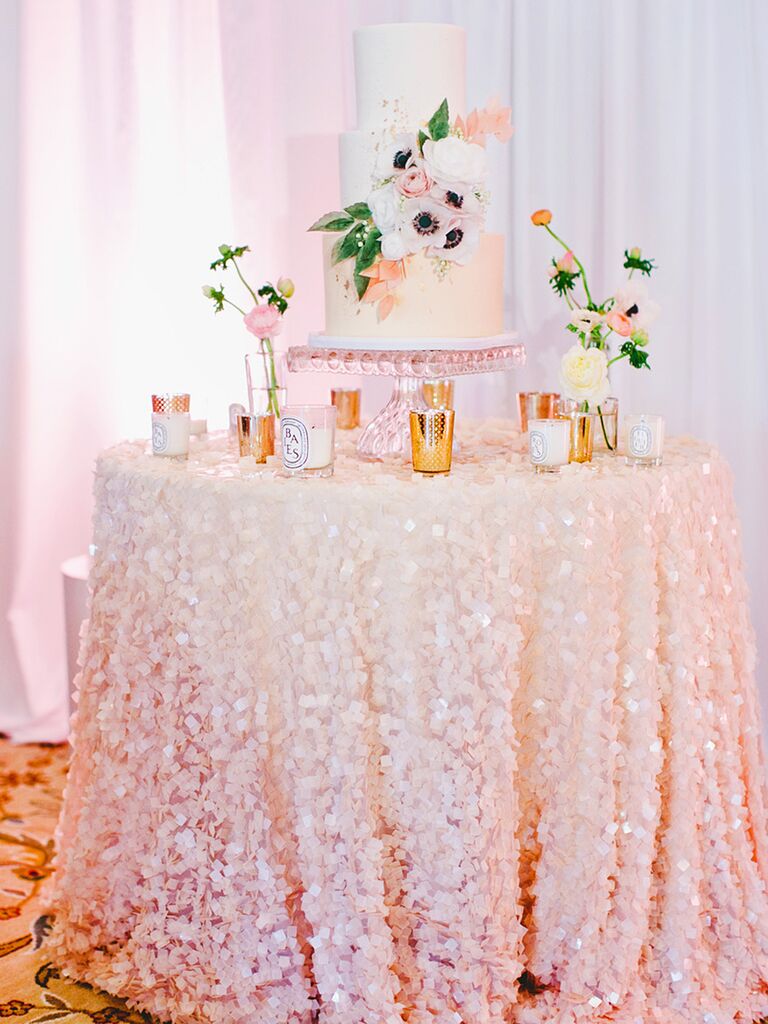 Transform your dessert table into a stage worthy of a wedding cake with a sequin table linen and a few small candles.
From: An Elegant Rose Gold Wedding at Rancho Valencia in Rancho Santa Fe, California
11. Bridesmaid Dresses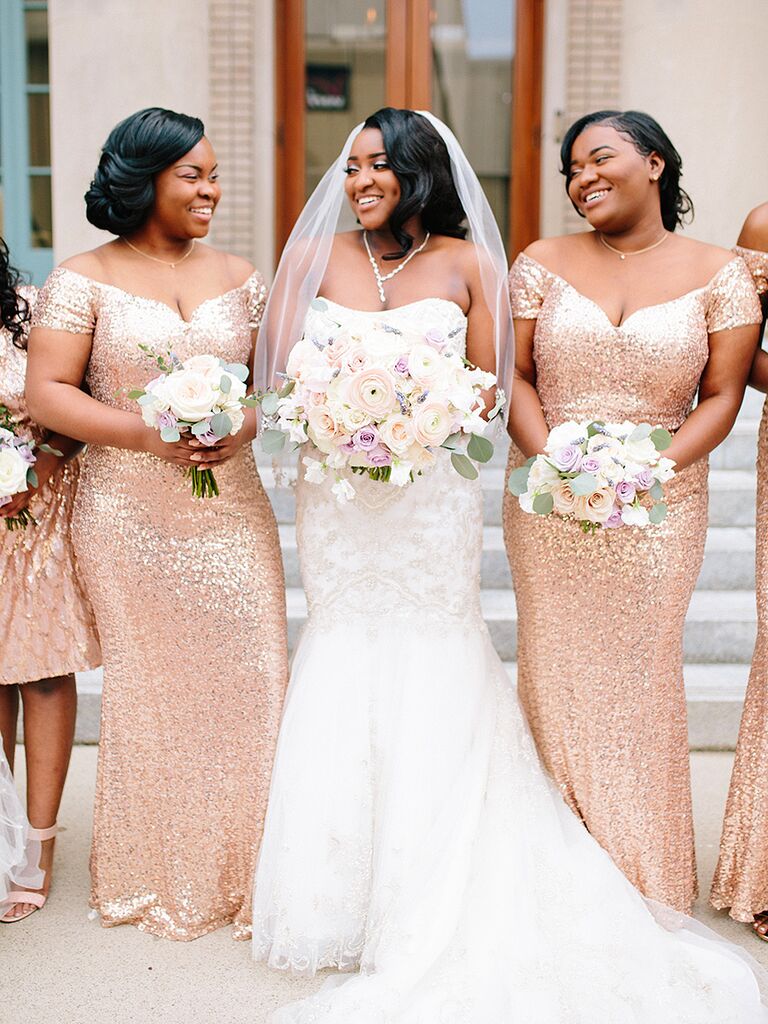 Let your bridesmaids shine in floor-length gowns with a little shimmer. The reflection will make them look like they're glowing all night long.
12. Chair Covers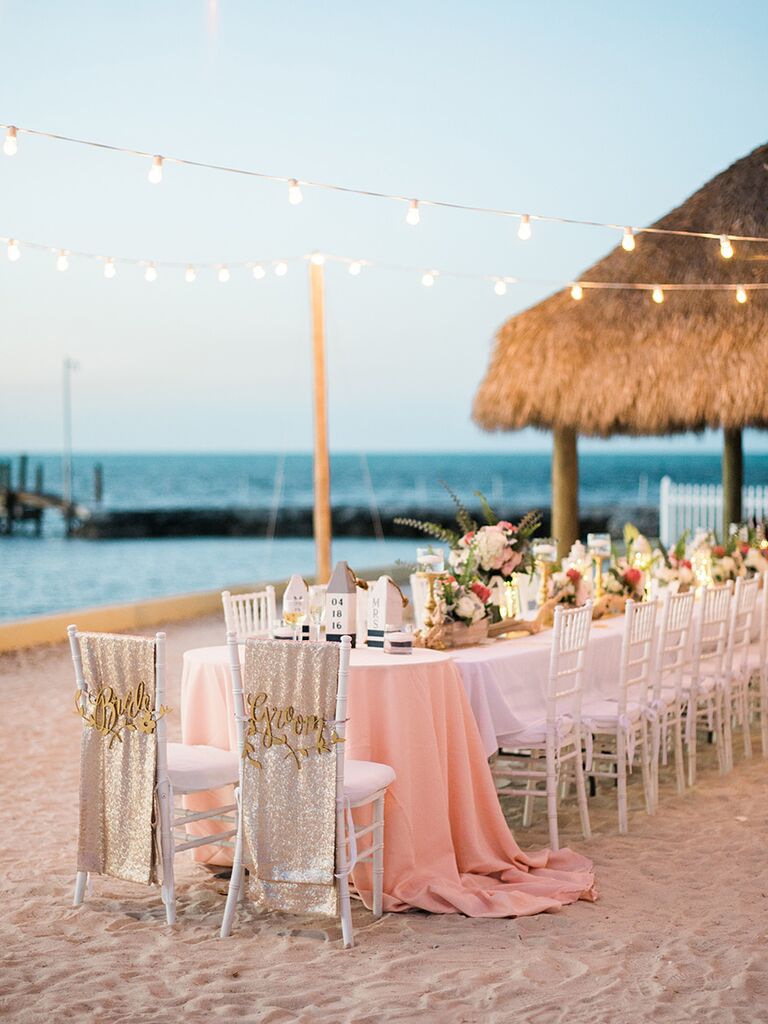 Newlyweds are the guests of honor, so personalize your reception seats with stand-out décor.
From: A Natural, Oceanfront Wedding at Southern Diversion Estate in Marathon, Florida
13. Simple Topper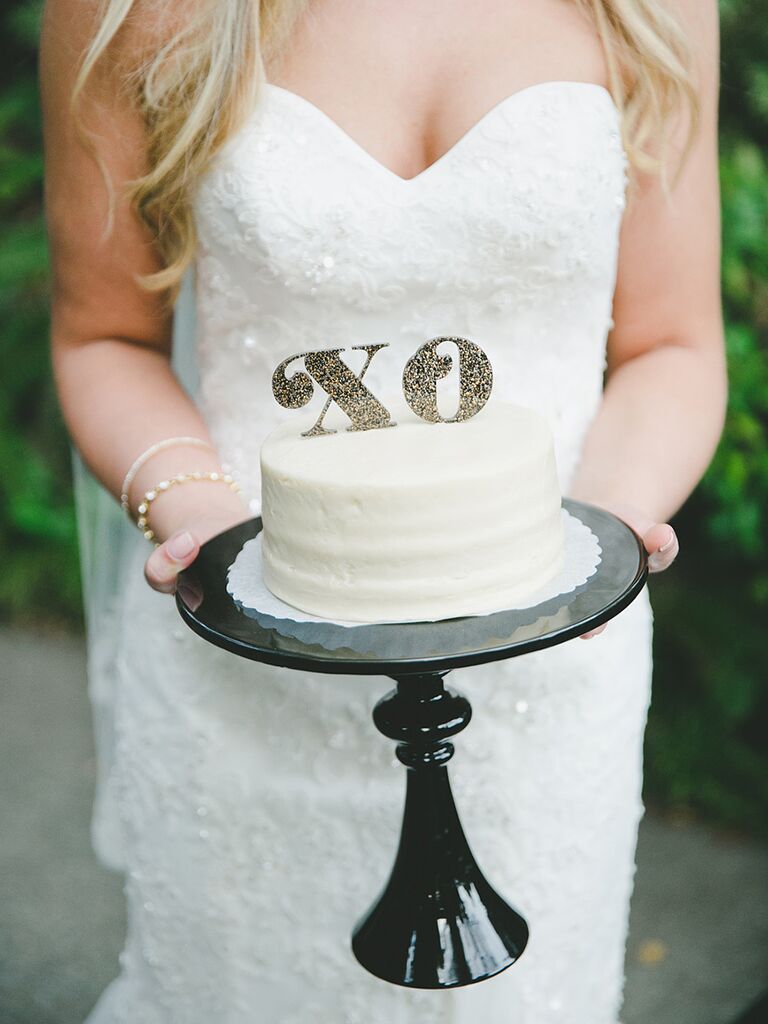 A simple X and O cake topper is fun and romantic, while still minimalistic.
From: A Rustic-Glam Black and Gold Wedding at the Outdoor Art Club in Mill Valley, California
14. Sparkling Mani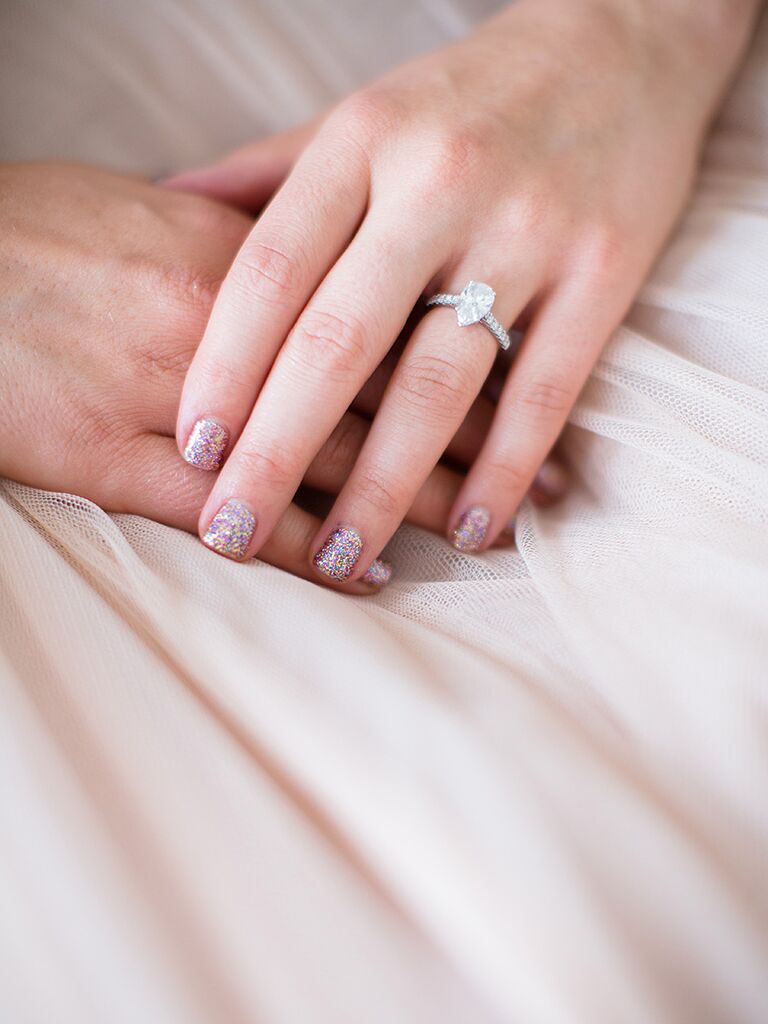 It might not compete with the sparkle of your diamond, but this rose gold manicure is totally Insta worthy.
From: A Modern, Bohemian Wedding at the Loft on Pine in Long Beach, California
15. Glamorous Runners
If you want to add just a touch of shine to your reception space, add a few sequin table runners. You don't need one for each table—stagger them around the room as gilded accents. (Psst, we love this look paired with gold chargers.)
From: A Glamorous Garden Wedding at San Diego Botanic Garden in Encinitas, California
16. Stilettos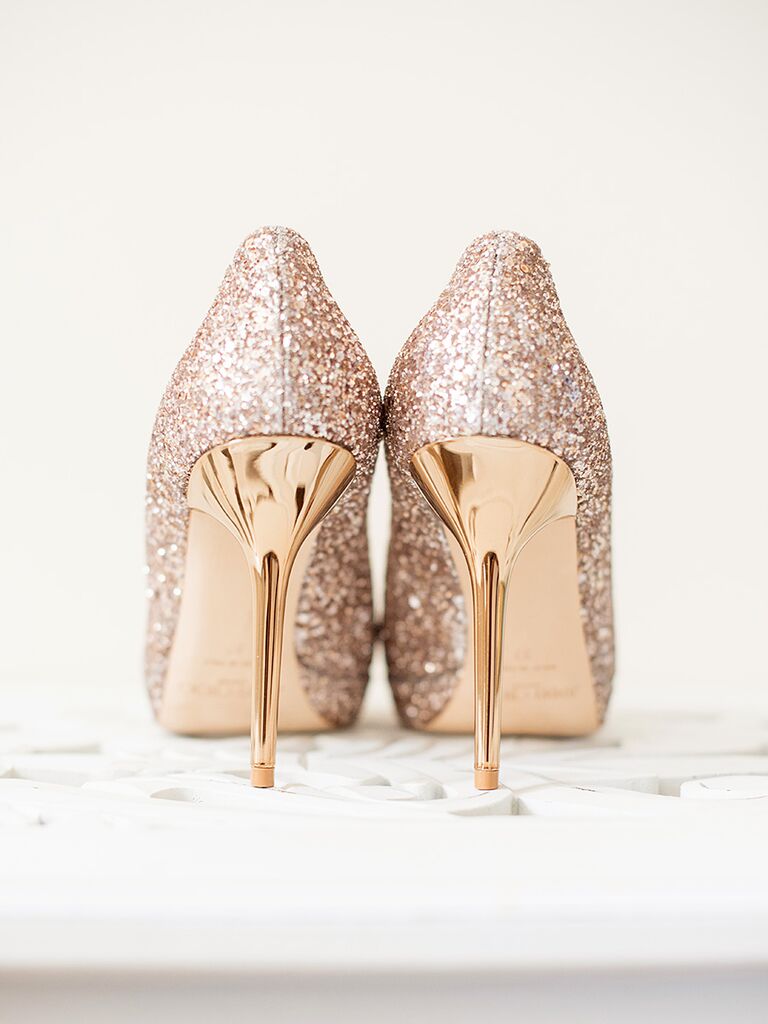 Finish off your bridal look with a pair of shoes that put Cinderella's glass slippers to shame.