12 Small Wedding Venues You'll Love in Philadelphia, Pennsylvania
Planning a Philly wedding with 50 or fewer guests? Check out these outstanding venues.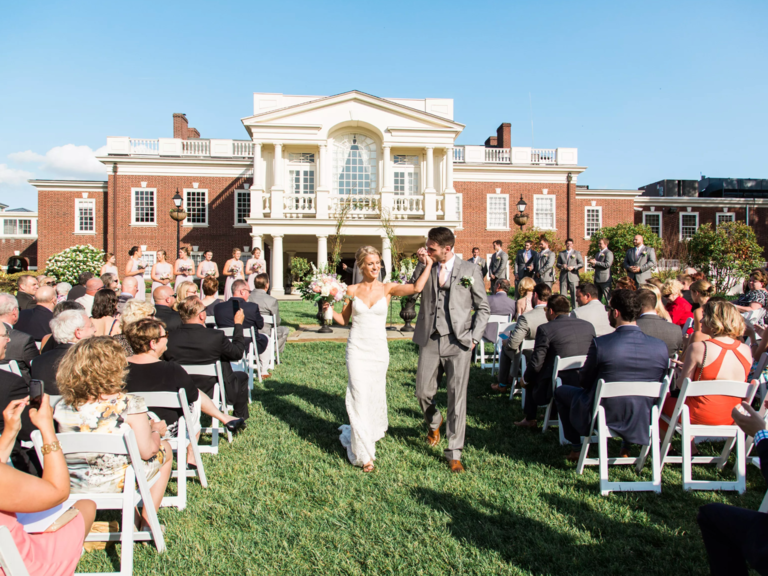 Photo: The Philadelphia Cricket Club
Searching for small wedding venues in the Philadelphia area for your nuptials? The City of Brotherly Love—and its surrounding suburbs—is home to all types of venues that can accommodate big days with small guest counts. These venues include cozy restaurants and historic buildings perfect for an intimate party to larger properties, like country clubs and farms, that have on-site facilities suitable for tiny celebrations.
If you're starting the search for an intimate Philly venue in which to say "I do," you've come to the right place. Below, browse 12 fabulous options in this sprawling metropolis. Keep your dream wedding date or season in mind while you peruse, as Southeastern Pennsylvania experiences all four seasons. The weather associated with your ideal time of year may impact the venue you choose—and how much it costs to wed (or party) there.
The Morris House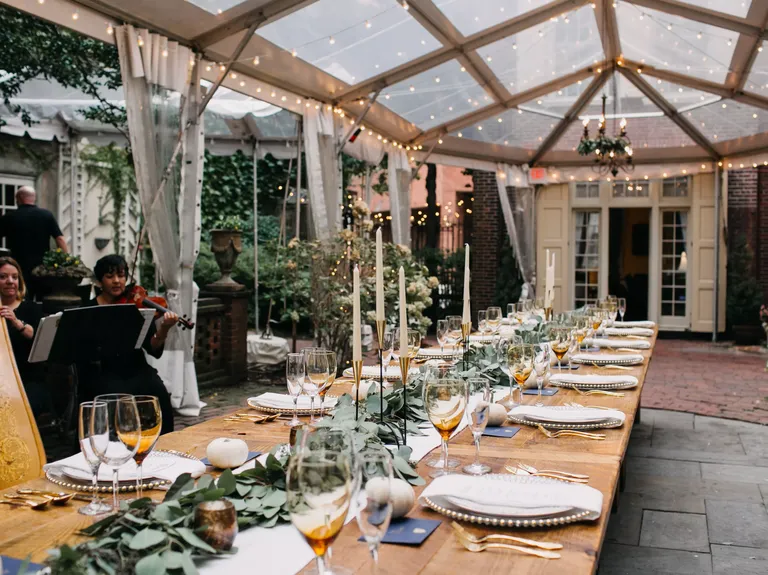 Right off the bat, the Morris House is neat because it is a Colonial building dating back to 1787. Today, it is a boutique hotel just down the street from Philly's historic Liberty Bell, Independence Hall and Washington Square that has been preserved to maintain its original architecture. The Morris House describes its wedding offering as "intimate" and "Instagram-worthy," boasting a 4,800-square-foot courtyard garden. The Morris House Library and Garden Building are also available for indoor events. As an added bonus, you and your guests can utilize the 17 on-site rooms and suites. Here, your wedding will be steeped in American history.
Moshulu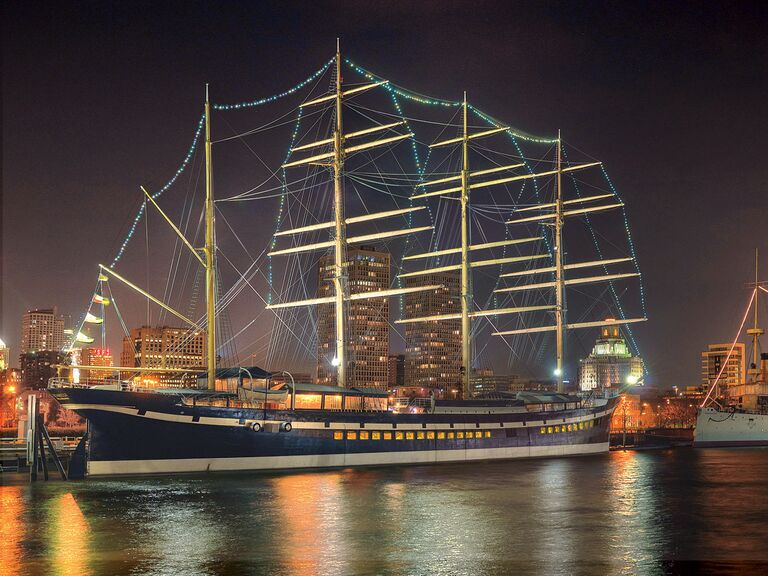 Located on the Delaware River along Penn's Landing, Moshulu is a Philadelphia staple and, according to its website, "the world's oldest and largest square rigged sailing vessel still afloat." Here, you can host your intimate wedding in one of several event spaces, including the State Room and the private dining room. Moshulu also has a heated tent for year-round use on its multi-level decks. Packages are available for both daytime and evening events. For weekend afternoons with at least 40 guests, the Penns Landing package—the most affordable package—includes a three-hour bar, passed hors d'oeuvres, a champagne toast, brunch stations and dessert for $95 per guest.
The College of Physicians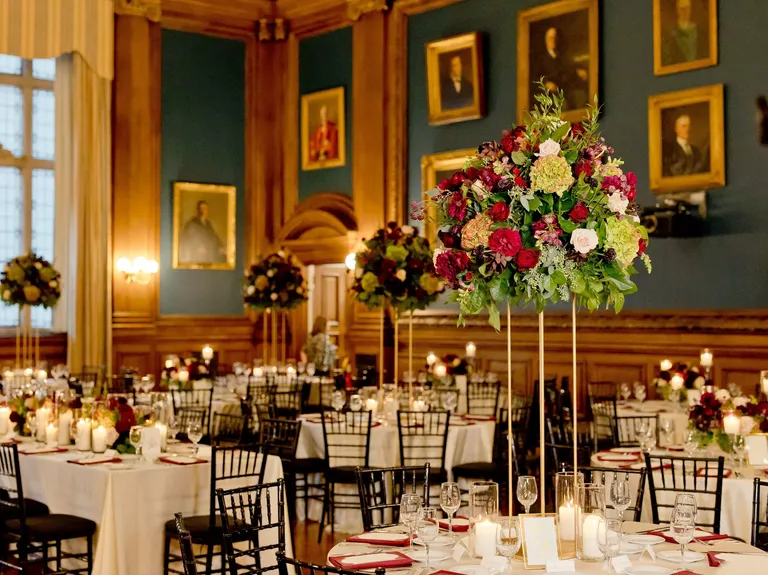 Get married at the "Birthplace of American Medicine" at the College of Physicians. Like many locations in the city, the College of Physicians also dates back in history, constructed in 1908. The venue features 11 event spaces total, two of which are perfect for an intimate celebration. For a luncheon or a private dinner with up to 22 loved ones, Gross Library is available. Dine at a mahogany table surrounded by bookcases featuring the private collection of Dr. Samuel L. Gross. If you're looking for a space that allows for more movement, the Hutchinson Parlor, decorated with period furnishings, portraits and a fireplace, can host a reception for groups of up to 40.
Philadelphia Cricket Club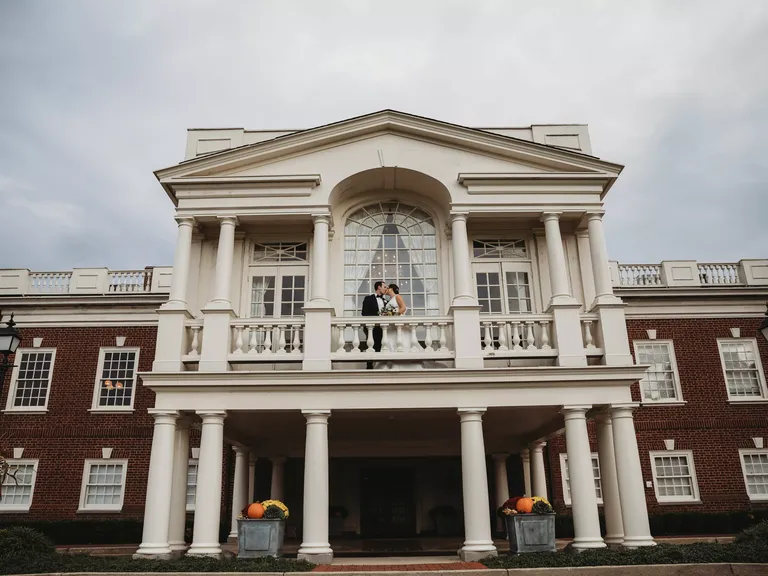 The stately Philadelphia Cricket Club is one of the nation's oldest country clubs, dating back to 1854. The club hosts weddings and special events of all sizes with the help of its experienced staff, who will help you take your big day from concept to reality. The Cricket Club hosts just one wedding per day, so you can trust that the attention will be on you and your new spouse. According to the club's website, the ballroom is a perfect setting for even small, intimate weddings. You have the option to hold your ceremony indoors or outdoors and then enjoy a cocktail hour spent outside overlooking the Great Lawn.
Yards Brewing Company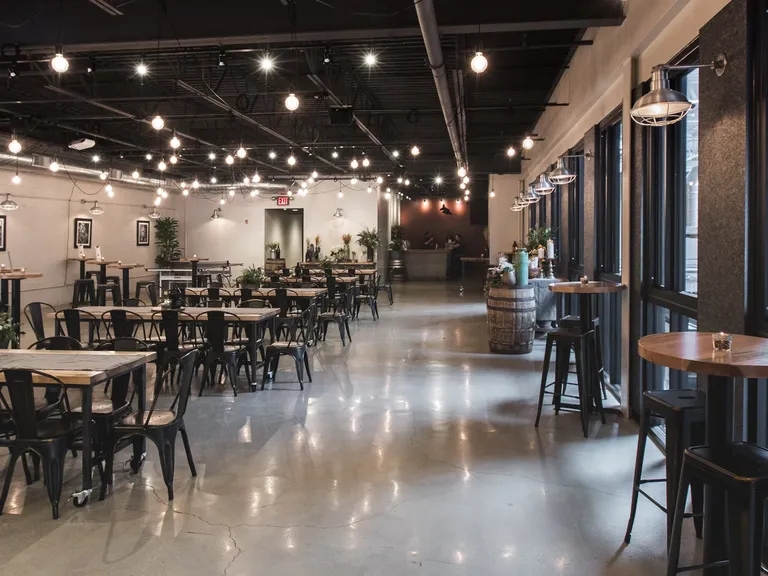 Northern Liberties' Yards Brewing Company is a Philly-favorite destination and event venue. For down-to-earth couples with guest lists between 25 and 55, the space could be exactly what you're looking for. Your event will be held on the main level, in the Garage. Here, your party can enjoy a pool table, dart boards, a flat-screen tv and views of the taproom. You can choose from a range of bar and food packages (e.g., cocktail, lunch, brunch, seated). Wooden high-top tables with bar stools, metal farm chairs, setup, breakdown and parking are included. Plus, you can add some fun with enhancements like custom pint glasses and casks.
Osteria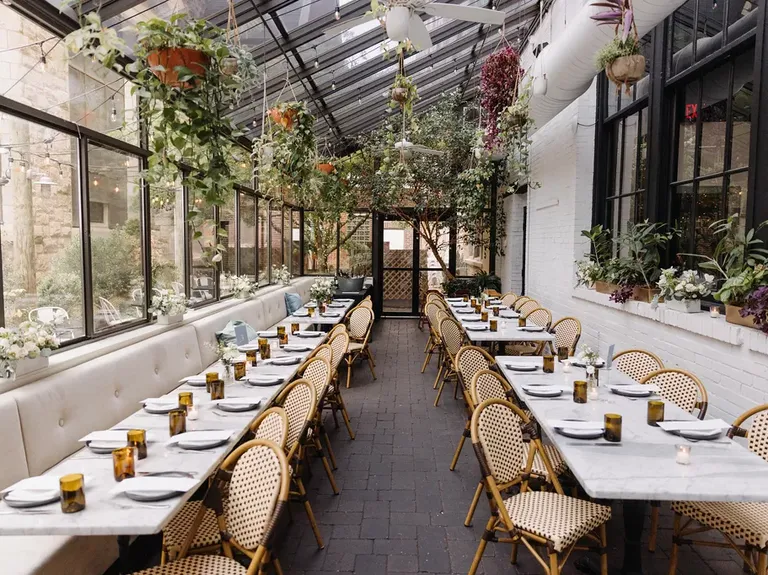 Since 2007, Osteria has been making buzz in Philadelphia's—and the nation's—restaurant scene. It is also a stunning event venue that can accommodate smaller celebrations such as your wedding day. The Glass Greenhouse, a glass-enclosed patio, can seat 65; after exchanging vows, dine family style in a truly picturesque space. Alternatively, for parties no larger than 35, the Wine Room offers views into Osteria's wine cellar while you dine. For a tiny post-ceremony soiree, book the Kitchen Table with your 14 nearest and dearest. Your menu will be determined in advance of the date, and dietary restrictions can be accommodated.
Normandy Farm Hotel & Conference Center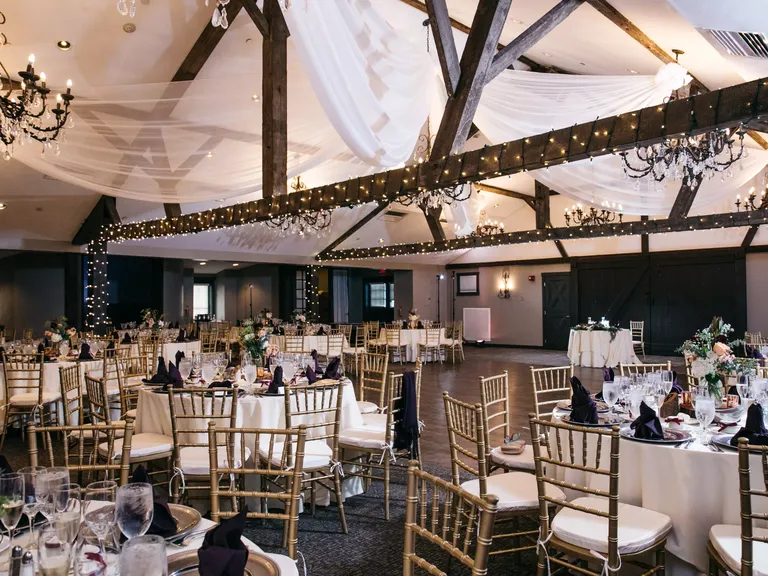 About 40 minutes outside the city, Normandy Farm is no small venue—but its on-site restaurant, the Farmer's Daughter, is perfectly suited for private events ranging from 10 to 78 people. The menu features local, seasonal ingredients. You have six options for your micro-wedding: the semiprivate main dining room seats 78; there are two public spaces, the Fireplace for up to 30 and the Bar for up to 50; and three private rooms are available—the Dowry for up to 30, the Orchard for up to 42 and the Wine Room for up to 16. Here, it's "nothing fancy, just love."
The Twisted Tail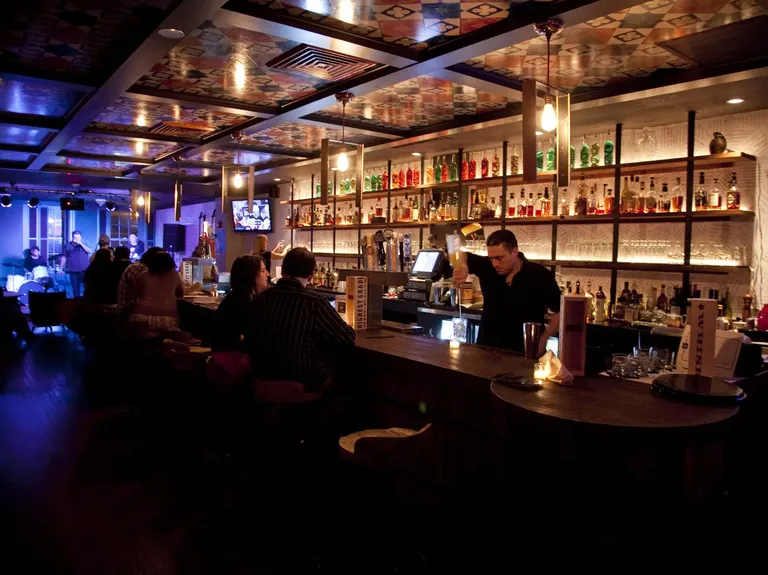 In Philadelphia's Society Hill neighborhood, the Twisted Tail serves up "progressive American fare" and over 120 whiskeys. The Twisted Tail has three spaces that can work for a small wedding. First is the Club Room, which can accommodate a cocktail party of up to 35 people or a private dinner for up to 20. Next up is the Juke Joint, which features a 25-seat bourbon bar, a stage, two communal tables, high-top tables and flat-screen tvs. The Juke Joint can fit up to 40 people for a seated dinner or up to 100 for dinner and dancing. Lastly, the first floor Lounge puts your group right in the action of the main dining and bar areas. For a seated dinner, it can fit 20 (30 for cocktail hour).
P.J. Clarke's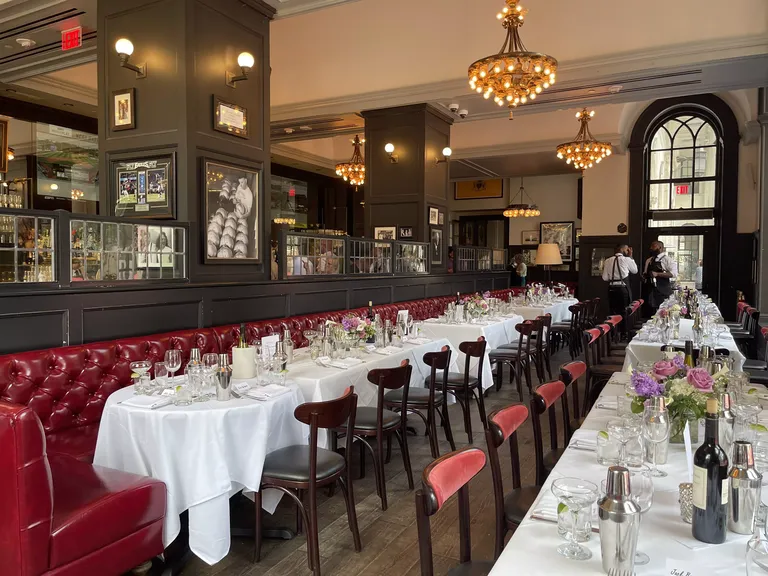 Across from Independence Hall, P.J. Clarke's Restaurant and Bar has been serving up "fresh food, frosty drinks and good, old-fashioned conversation" since 2018. But outside of Philadelphia, in New York City, it's been doing that for even longer—dating back to 1868. Today, the Philly location is a prime venue for parties of all sizes, including intimate gatherings. The Lounge is a comfortable setting for receptions of up to 50 guests. For something a bit smaller, the Chapel can seat up to 14 guests or hold up to 25 for a reception. The main dining room can host up to 80 and the Walnut Room up to 60. Every event includes dedicated waitstaff and raw bar, canapes, buffet and seated dinner options.
Estia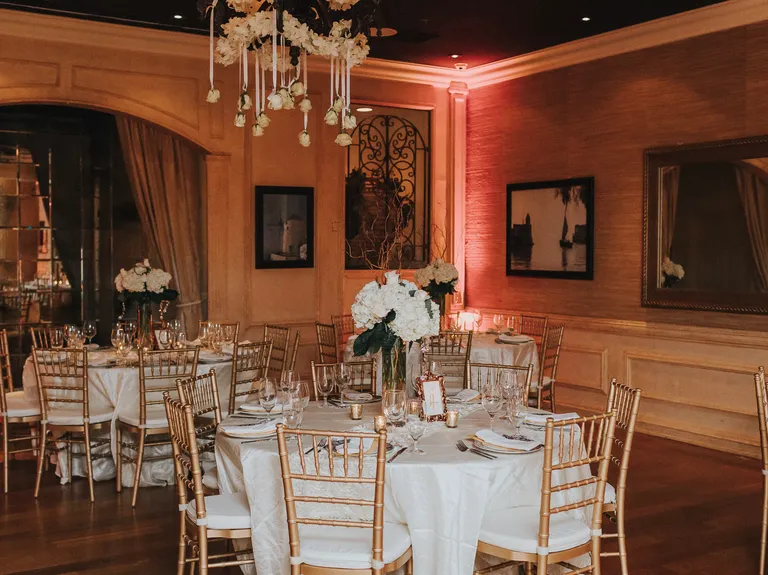 Estia is a Greek Mediterranean restaurant serving lunch, dinner, dessert and over 300 selections of wine from Greece, Europe, Israel and Lebanon. It is also a popular venue for weddings of all sizes, offering all-inclusive and custom packages. There are four banquet rooms at the restaurant: the Wine Room (10-14 guests), the Small Private Dining Room (6-10 guests), Banquet Room One (30-130 guests), and Banquet Room Two (15-36 guests). Fixed price dinner menus range from $55 to $120 per guest. Cocktail reception and buffet menus, as well as bar packages, are also available.
Positano Coast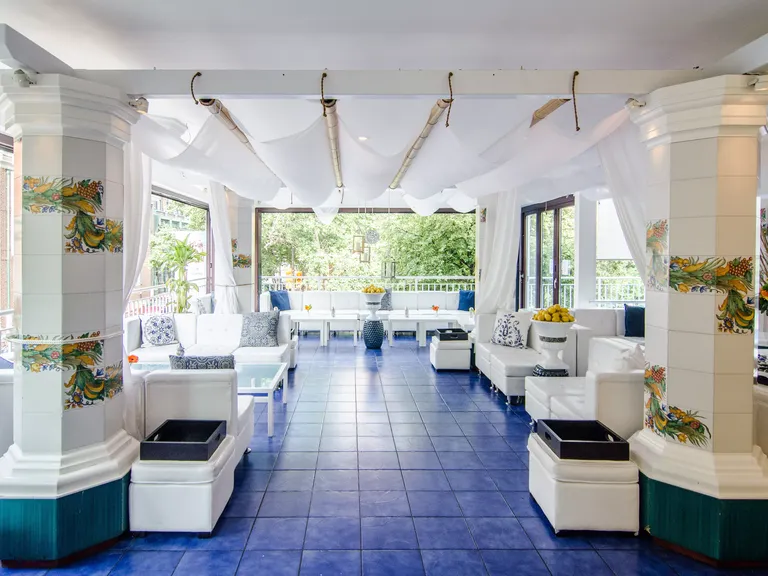 Positano Coast is a beautifully designed and delicious Italian restaurant in Old City, Philadelphia, that draws inspiration from Italy's Amalfi Coast and the flavors of the Mediterranean. The eatery has hosted countless events, including weddings, and the staff's expertise is evident in the 10 private party packages on offer. Whether you want to host an intimate brunch, lunch, dinner or stationed event, each can happen here. Positano Coast's Meridiana Room can host up to 60 seated guests. The Sopra Lounge can do up to 50 seated or 55 for a cocktail event. Have up to 30 on your list? The Sirenuse Room is perfect for you.
Louie Louie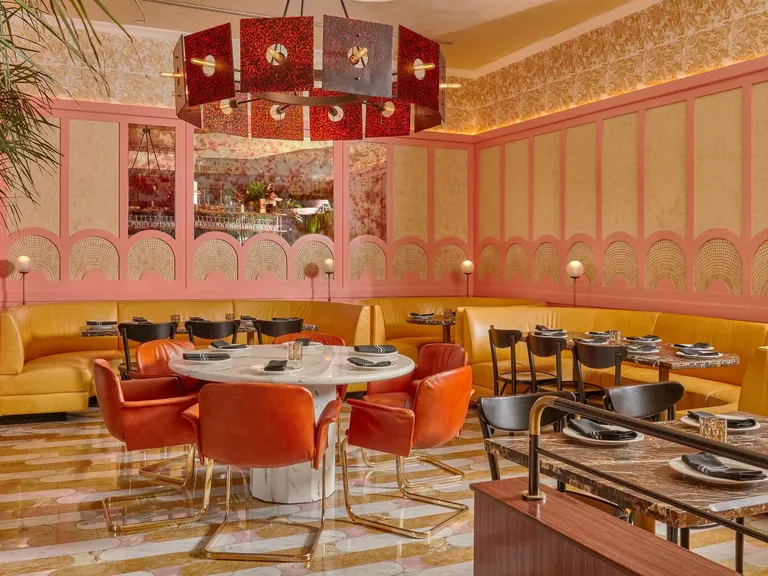 Philly's University City neighborhood is home to Louie Louie, a French-inspired bistro—with a '70s vibe—and another stunning restaurant in which you can host a small wedding. (Seriously, you won't need to do much decorating in this gorgeous space.) Like others on this list, Louie Louie has multiple private and semi-private options. Have between 10 and 20 guests? Look no further than the Left Bank Lounge or the Right Bank Lounge. If you're somewhere between 25 and 75, you can choose from the Salon or the Rose Dining Room and Patio. The range of menu selections covers brunch, lunch and dinner, or you can work with Louie Louie's chefs to customize a tasting menu, wine pairings and more.