11 Totally Texas Wedding Venues You'll Love
No matter your wedding style, the Lone Star state has the perfect venue for you.
by Shelby Simon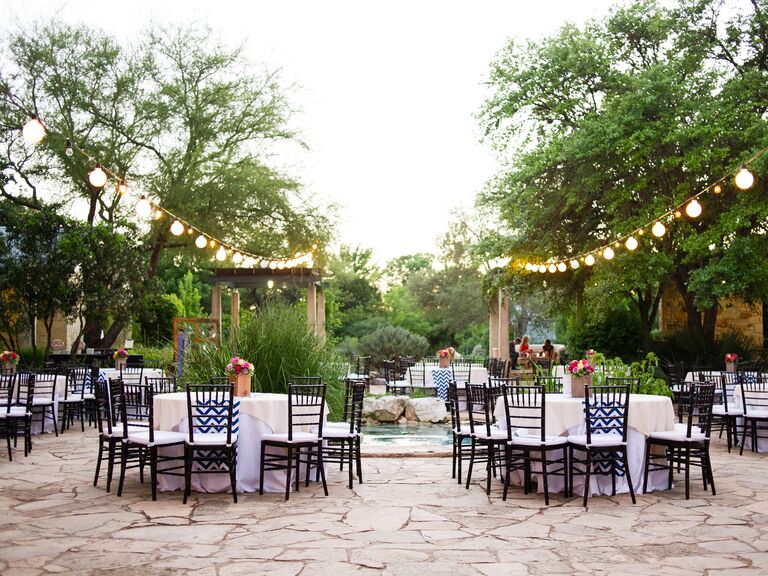 Alex Camp House
8525 Garland Road, Dallas;
(214) 515-6613; DallasArboretum.org
For a secluded garden wedding without ever leaving downtown Dallas, the white brick home in the world-class Dallas Arboretum and Botanical Garden is the way to go. The lush lakefront lawn can host both intimate and large receptions, tented or alfresco, so weather is never an issue. Amp up the romance with some string lights and enjoy the idyllic White Rock Lake vistas.
The Cactus Hotel
36 E Twohig Ave., San Angelo;
(325) 655-5000; CactusHotel.net
Looking for luxe out west? This old-world hotel offers glammed-out spaces with exquisite architectural details and decor, like dripping chandeliers, for a sophisticated soiree. The mezzanine above the lobby allows for mingling between rooms and provides extra seating so the ballroom is free for dancing. Then there's the restored Top of the Cactus, aptly named for its perch on the highest floor, which offers the best views of San Angelo in all directions—can't beat that!
Gage Hotel
102 NW 1st St. Hwy 90W, Marathon;
(432) 386-4205; GageHotel.com
Few sights represent the beauty of Big Bend National Park better than rocky plateaus, longhorns and cacti, and this country gem has them all. This locale is fully equipped to handle all the details of a wedding weekend for any size party—everything from accommodations to your wedding cake. Not to mention, its pretty indoor and outdoor event spaces provide chic sophistication to this Wild Western spot.
Gruene Hall
1281 Gruene Road, New Braunfels;
(830) 515-1903; GrueneHallEvents.com
No other venue can claim it's the oldest continually operating dance hall in Texas—and you can be sure this local landmark lives up to its heritage. This rustic building has a fun Western vibe with a built-in bar, vintage signs and wooden family-style dining tables, plus a garden out back. The wide, open dance floor was made for two-stepping and line dancing all night long. Thinking of having a live country band? It's definitely encouraged.
Horseshoe Bay Resort
200 Hi Circle N, Horseshoe Bay;
(830) 598-7880; HSBResort.com
It's hard to believe that this resort's Yacht Club is in the Hill Country. Whether the wedding is elegant and preppy or casual and chic, a nautical theme is perfect at this waterfront venue. The Yacht Club will set up a dance floor and dining tables throughout the multilevel outdoor deck space, so everyone can take in views of Lake LBJ. Bonus: You can make a grand entrance (or exit) on a boat!
Lady Bird Johnson Wildflower Center
4801 La Crosse Ave., Austin;
(512) 232-0100; Wildflower.org
The vast wildflower fields in the Lone Star state are second to none, which is what makes this Hill Country venue nothing short of breathtaking. The stone courtyard, surrounded by native foliage and illuminated by bistro lights, is full of local flair—not to mention gorgeous wildflowers—and is ideal for an intimate, rustic ceremony and reception. There's also an observation tower that doubles as a cistern, so guests can enjoy a bird's eye view of the grounds.
Minute Maid Park
501 Crawford St., Houston;
(713) 259-8800; Houston.Astros.MLB.com
Big sports fans? Throw your reception at the home of the Houston Astros—overlooking the baseball diamond—for a memorable evening for you and your guests. The historic, restored railroad Union Station Lobby overlooking the ballpark features high ceilings and classic columns, not to mention amazing views of the stadium and skyline from the Union Station Rooftop.
Old Red Museum
100 S Houston St., Dallas;
(214) 757-1945; OldRed.org
Standing out from the rest of the shiny downtown skyscrapers, Dallas natives will definitely recognize this red stone building. Turns out, the historic courthouse makes an impressive wedding spot—and the inside is the picture of timeless sophistication. Though the building is antique, it has a four-flight staircase for a dramatic grand entrance and a highly customizable ballroom that can be transformed for your wedding style—from a modern affair to a classic, elegant fete.
Pecan Springs Ranch
10601 Derecho Drive, Austin;
(512) 632-1046; PecanSpringsRanch.com
Feel like swapping pumps for cowboy boots? Go for it—this rustic ranch welcomes personalization at every turn. Pose in front of the log pavilion (with cute marquee lights that spell out "love") during cocktail hour for the perfect photo op, and dine and dance in the stone-front house or under the stars. You can even bring in a donkey to deliver local craft brews during cocktail hour or recruit famous Austin food trucks to serve up a late-night snack.
Petroleum Club of Houston
1201 Louisiana St., 35th Floor, Houston;
(713) 659-1431; PCoH.com
This sophisticated spot on the top floor of the Total Plaza building is surrounded by Houston's downtown skyline—needless to say, it's pretty spectacular. The Club offers spaces for both intimate and grand receptions and a staff that will assist in customizing your menu with the best local flavors. No matter your style, you're guaranteed a room with a view (we're talking floor-to-ceiling windows) and a ballroom that will never be boring.
Space Center Houston
1601 NASA Pkwy., Houston; (281) 244-2100; SpaceCenter.org
This cutting-edge venue embodies the high tech side of Texas (it's the official visitor center of NASA Johnson Space Center), and offers an otherworldly reception space. There will never be a dull moment here, since guests can explore the artifacts and exhibits at the museum (built-in entertainment!). Have dinner next to the Apollo 17 command module and Moon Rock Vault in the Starship Gallery or in the Astronaut Gallery—full of historic flight suits—for an experience that's out of this world. The best part? Having a reception here helps give back to space education.
Find the top venues in your state here!