Here's Why You Definitely Need a Seating Chart and Escort Cards
Help guide your guests to their seats with an on-theme escort card display or seating chart.
by The Knot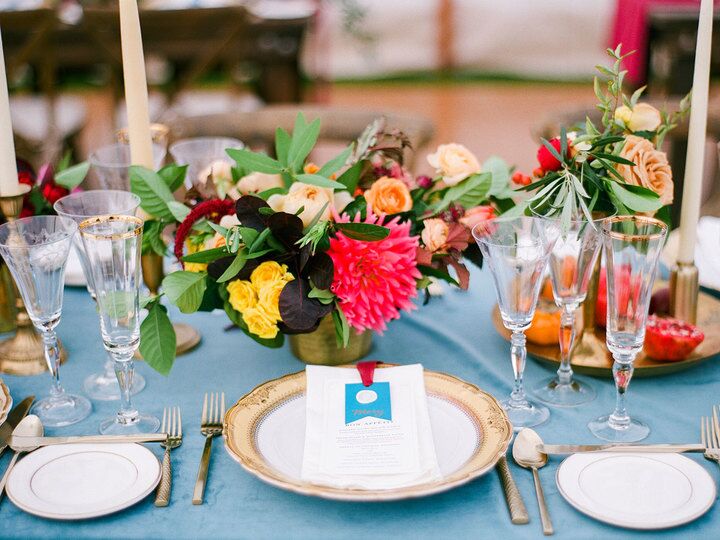 Laura Ivanova Photography
While escort cards aren't required, we can't stress how important it is to assign your guests to a specific table. If you've ever been to a wedding without a seating plan, you know how nerve-racking it can be to find a spot, especially if you don't know many people (and especially if you're there without a plus-one). There may also be groups of guests who want to sit together (like families and college friends) and some of the the tables may only have a few seats available if people are left to their own devices. And if you're having a buffet, guests will bottleneck at the end of it to see where they should sit, and with whom. By assigning tables, you'll save your guests from any awkwardness and help guide them to their a seats in a timely manner—which means more time for dinner, dancing and cake!
Alternately, you can communicate seating assignments with a decorative seating chart. List guests' names alphabetically or by table (although we recommend alphabetically, since guests will most likely search for their names first). Then choose a display that speaks to your wedding style, whether it's a calligraphed chalkboard or a simple frame.
Once guests arrive at their designated tables, either let them pick their own seats or put place cards at each setting. This might seem like overkill if your event isn't super-formal (and there's no need to take this extra step if you don't think it's necessary), but individual place cards comes in handy for things like telling the caterer which dish goes to which guest, which we highly encourage if you offered several menu options or have a lot of guests with food allergies in the crowd. 
The most important thing is not to procrastinate. Give yourself about three weeks—yes, three weeks—to organize your escort cards. Sort them alphabetically, then place them in a plastic ziplock bag or clip them together. This will make whomever's job it is to lay them out at the reception a breeze.
Here's a full guide to reception seating etiquette.
Find escort card pros in your area here.