22 Rainbow Wedding Cakes to Brighten Your Dessert Table
These colorful confections are fun and cheerful.
Whether you've got a major sweet tooth or you're choosing to serve it purely based on tradition, enjoying a slice of cake is one thing that many couples (and their guests) look forward to at the wedding reception. Between the cake flavors and the design that you choose, your cake also says a lot about the two of you personally, so if your vibe on the wedding day is all about having fun and keeping the energy high, these rainbow wedding cakes will fit right in. The colorful designs we're sharing below are filled with bold, statement-making details to wow your guests and stand out on the dessert table. Check them out and bookmark your favorites to share when it's time to find a wedding cake baker.
1. Watercolor Rainbow Wedding Cake
Double up on the rainbow theme by decorating each tier of your cake in a different—but equally colorful—way. Rainbow sprinkles popped against the white fondant on the top tier of this cake, with colorful watercolor swirls decorating the bottom tier.
2. Rainbow Sprinkle Wedding Cake
Pull inspiration from your favorite childhood birthday cake and cover your wedding cake entirely with rainbow sprinkles. You can add other adornments like flowers or a cake topper if you want, but the great thing about this cake design is that it stands out all on its own.
3. Mini Wedding Cake with Colorful Brushstrokes
A mini cake is perfect if you're eloping, or if you're serving another type of wedding dessert to your guests (like pie or cupcakes) but you still want to incorporate the cake cutting tradition into your wedding day. This one-tier design was accented with a colorful buttercream design inspired by a painter's palette.
4. White Wedding Cake with Rainbow Cake Topper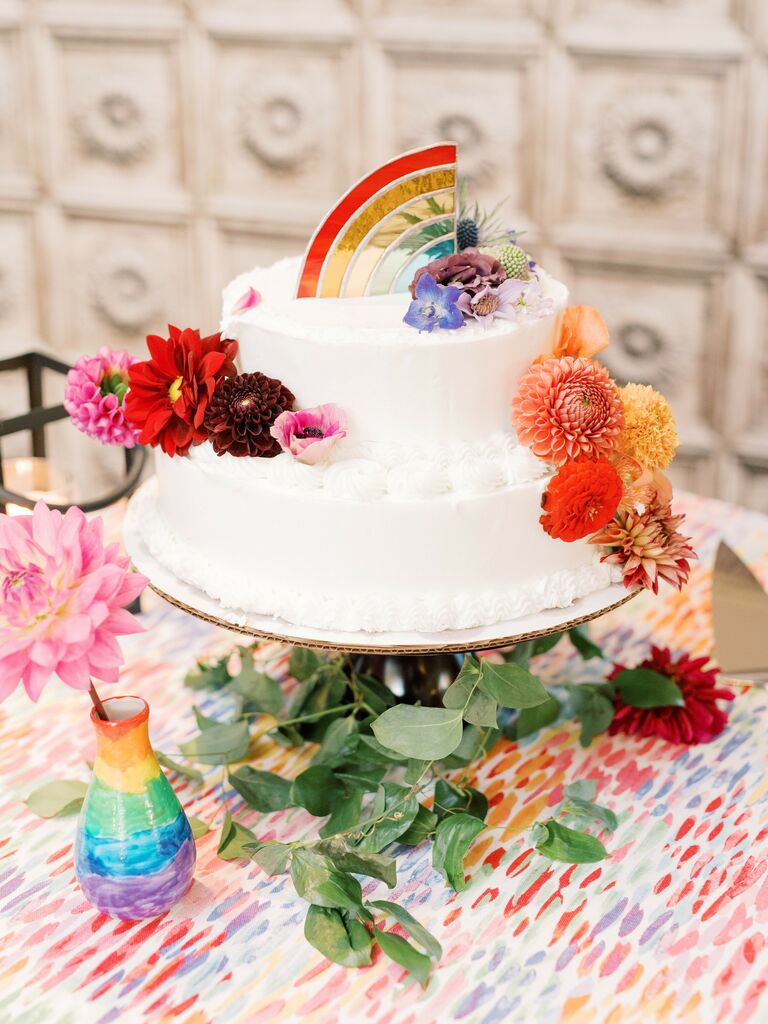 Don't forget about your cake topper when you're brainstorming rainbow wedding cake ideas. We love how this stained glass rainbow matches the colorful flowers on the cake (plus, the topper is something you could display in your home postwedding as a special keepsake).
5. Abstract Marbled Wedding Cake
You don't need to use every single color of the rainbow in order for your cake design to make a statement. Choose three or four that best fit your wedding aesthetic and go from there—and remember that you can always add more color to your dessert table in other ways, such as a tablecloth or eye-catching backdrop.
6. Painted Fondant Wedding Cake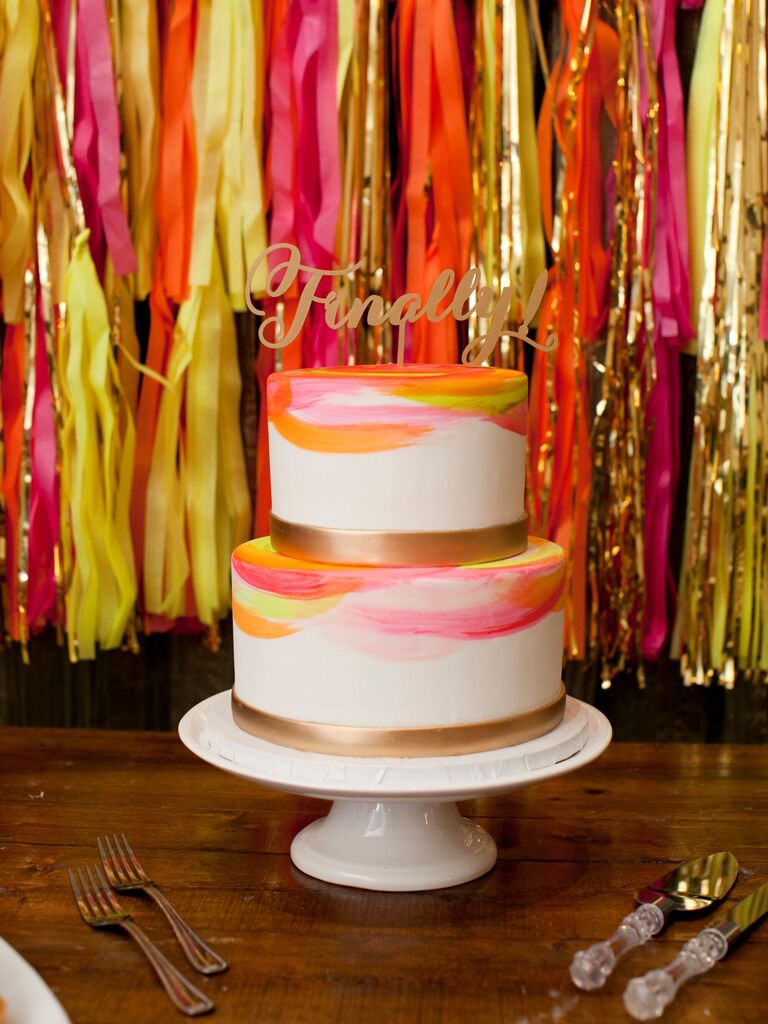 A palette of neon pink, orange and yellow is lively and fun for a summer wedding cake. Playful tassels and a celebratory cake topper complemented the whimsical look of this two-tier confection.
7. One-Tier Wedding Cake with Flowers
If you want to incorporate color in a more classic way, focus on timeless cake decorating techniques, like Swiss dots and fresh flowers. These details are subtle enough that you can add brighter colors to a white buttercream cake without overpowering the design.
8. Turquoise Ombré Wedding Cake
A bright rainbow wedding cake might not be an exact match for your wedding vision, but you don't have to give up on color just yet. On this cake, the turquoise ombré buttercream is unexpected enough to catch the eye, while white flowers and pops of burgundy balance everything out. It's a perfect example of how to design a fall wedding cake without resorting to orange or yellow.
9. Buttercream Wedding Cake with Rainbow Flowers
Sometimes, flowers are all you need to put the finishing touches on your cake. Choose flowers in shades of pink, red, yellow, orange and green to give the cake a subtle rainbow-inspired effect.
10. Swirled Neon Rainbow Wedding Cake
If your wedding cake is three or more tiers, decorate one of them with a statement design, like this neon swirled pattern, to create a focal point. Holographic cake knife and cat cake toppers optional.
11. Sprinkle-Covered Wedding Cake with Bow
A sweet fondant bow popped against the rainbow sprinkles on this towering, four-tier wedding cake. If you really love sprinkles, incorporate them into the actual cake with a Funfetti-inspired flavor.
12. Hidden Rainbow Wedding Cake
Surprise your wedding guests by keeping the rainbow design entirely on the inside of the cake. They'll be wowed by the pop of color as you slice into it for the first time.
13. Retro-Inspired Fondant Wedding Cake
Inspired by the kitschy color palettes of the 1960s, this is one of the most unique colorful wedding cakes we've ever seen. The three-tier design was accented with fondant flowers and abstract waves in primary colors for an undeniably retro look.
14. Two-Tiered Cake with Textured Buttercream
Layers of buttercream in different colors created the textured, 'spackled' effect on this cake, with edible gold leaf adding just a hint of shimmer.
15. Turquoise and Fuchsia Wedding Cake
If you're decorating your wedding cake with colorful, statement-making flowers (example: these fuchsia peonies), keep the frosting simple and monochromatic so that the blooms are center stage.
16. Simple Rainbow Wedding Cake
Sugar flowers in muted red, pink and blue colors add just enough color to a white fondant cake while maintaining an overall elegant look. Edible gold leaf will bring in some yellow tones to round out the rainbow-inspired theme.
17. Blue Fondant Wedding Cake with Sugar Flowers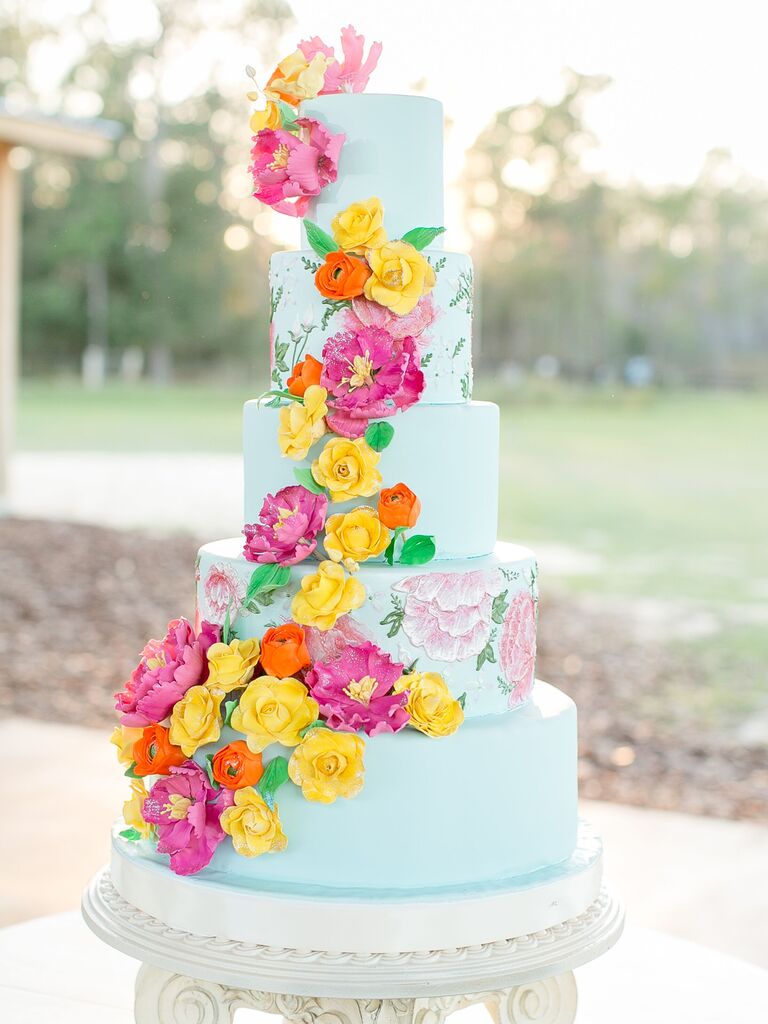 This cake is filled with intricate details, but they all work together because of the strategic design. The flowers are all in warm colors—yellow, orange and pink—while the cool blue fondant acts as a neutral backdrop.
18. Pink and Yellow Watercolor Wedding Cake
Orange roses and greenery brought even more color to this pink and yellow ombré wedding cake, giving it a summery, cheerful look.
19. Bright Fondant Wedding Cake
Colors like yellow and orange tend to be associated with informal themes rather than formal weddings, but with the right approach, this combo can have a classic-with-a-twist effect. The smooth fondant icing on this cake keeps the overall design sophisticated and modern, while the orange flowers are unexpectedly chic.
20. Elegant Wedding Cake with Hand-Painted Flowers
Having a garden wedding? Incorporate rainbow colors into your wedding cake by decorating it with hand-painted wildflowers in red, yellow, blue and orange tones.
21. Three-Tier Orange Wedding Cake
From flowers to decor, color blocking is one of our favorite wedding trends, and you can even apply the concept to your wedding cake. The minimalistic look of this three-tier orange cake is what makes it so eye-catching, but the cute elephant cake toppers are an added bonus.
22. Rainbow Wedding Cake with Spanish Tile Design
Ideally, your wedding cake should reflect the rest of your decor and overall theme. If you've planned a multicultural wedding representing one or both of your heritages, your wedding cake is another opportunity to include a special detail, like a mehndi-inspired pattern or this rainbow Talavera cake.