Colorful Wedding Cakes

Square Fondant Wedding Cake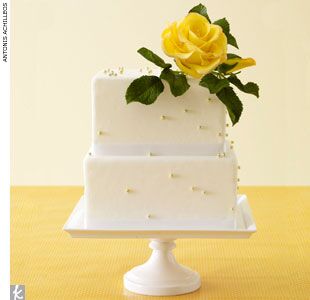 ​Yellow fondant wedding cake accented with gold dragées and a sugar rose by Ruth Drennan Cakes
RuthDrennanCakes.com​
Lace-Trimmed Wedding Cake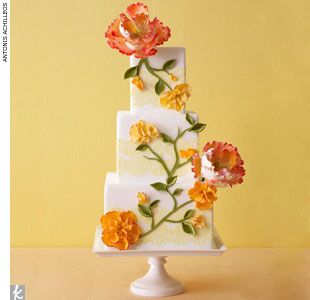 ​Square wedding cake with oversized sugar flowers and yellow lace-like trim by Truli Confectionary Arts
TruliConfectionaryArts.com​
Polka Dot Wedding Cake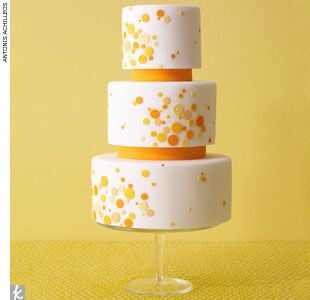 ​White wedding cake with orange and yellow polka dots by EatCakeBeMerry
EatCakeBeMerry.com​
Pinwheel Wedding Cake
​Five-tiered wedding cake with red and orange sugar pinwheels by Made in Heaven Cakes LLC
MadeinHeavenCakes.com​
Ruffled Wedding Cake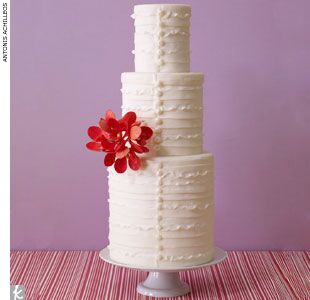 ​Ruffled white wedding cake accented with sugar buttons and red orchids by Cake Alchemy
CakeAlchemy.com​
Lavender Orchid Wedding Cake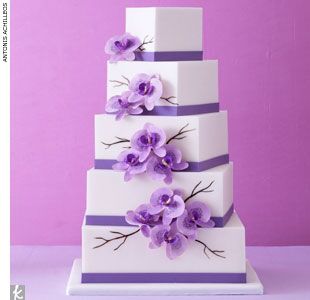 ​Square fondant cake stacked at an angle and accented with lavender bands and orchids by Mark Joseph Cakes
MarkJosephCakes.com​
Chocolate Wedding Cake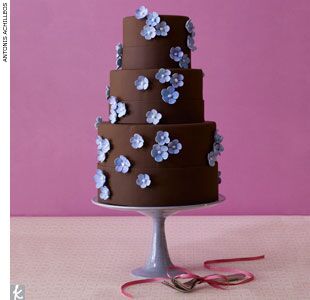 ​Round, chocolate fondant wedding cake accented with purple hand-painted sugar flowers by Made in Heaven Cakes LLC
MadeinHeavenCakes.com​
Belted Wedding Cake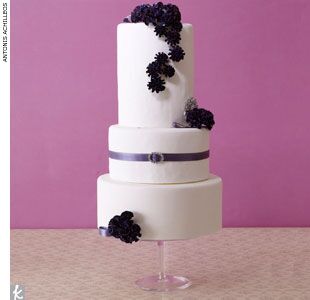 ​White fondant cake accented with dark purple sugar carnations, lavender ribbon and a rhinestone belt broach accent by Vanilla Bake Shop
VanillaBakeShop.com​
Rosette Wedding Cake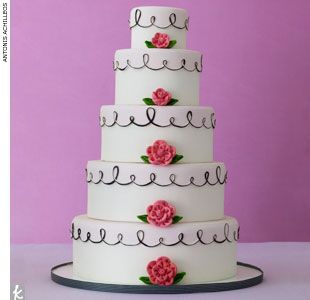 ​Five-tiered fondant cake with sugar rosettes and calligraphy accents by Jan Kish–La Petite Fleur
JanKish.com​
Woven Wedding Cake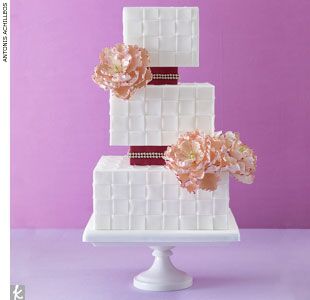 ​Woven fondant wedding cake with pink sugar-made peonies by Mark Joseph Cakes
MarkJosephCakes.com​
Celestial Wedding Cake
​White buttercream wedding cake with celestial-patterned sugar accents by Nine Cakes
NineCakes.com​
Green and Blue Wedding Cake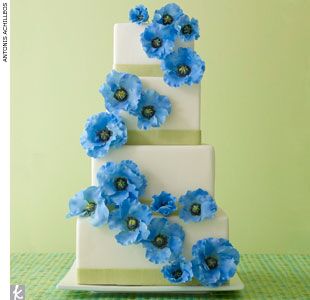 ​Four-tiered, square fondant cake accented with green fondant ribbon trim and bright blue sugar poppies by Ana Parzych Custom Cakes
AnaParzychCakes.com​
Nature-Inspired Wedding Cake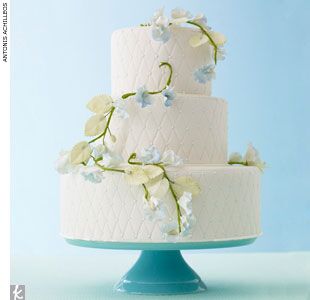 ​Round, three-tiered, quilted fondant wedding cake accented with sugar-made vines and pale blue flowers by Gail Watson Custom Cakes
GailWatsonCake.com​
Snowflake Wedding Cake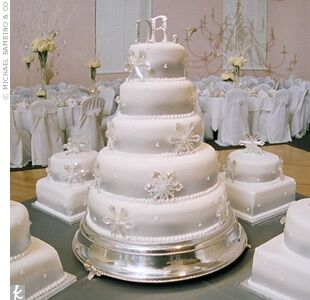 ​The white five-tiered round cake glistened with snowflake detailing. The silver-monogrammed letters added an elegant touch on top.​
Fruit Wedding Cake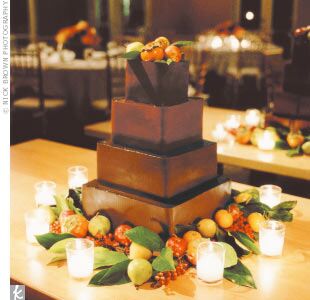 ​Dessert at Susan and Rob's celebration was a rich, chocolate wedding cake surrounded by sugared crab apples and pears.​
White Leaf Cake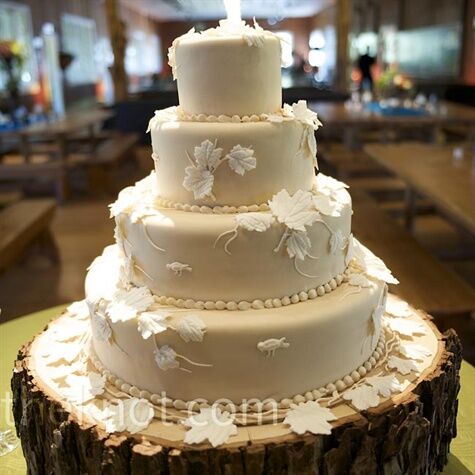 ​The round cake, covered with white fondant leaves, twigs, and birds, was displayed on a thick piece of pecan wood (made by Emily's dad).​