21 All-White Wedding Cake Ideas That Are Both Simple and Swoon-Worthy
A lack of color doesn't have to equal a lack of personality.
While wedding cakes can sometimes be bold and colorful, more often than not they're white. Which may lead to-be-weds to consider two questions: Will my cake feel cliché if it's all white? And, how am I able to infuse a unique personality into an all-white cake? We're here, with plenty of white wedding cake ideas, to address those very queries. White wedding cakes are timeless and can also be incredibly beautiful and eye-catching, as you'll see below. Plus, we've gathered expert-backed tips to help you execute all of your wedding cake decorating dreams.
In this story:
Top Tips for White Wedding Cakes
Sourcing inspiration is one step in the wedding cake process, but it's also important to heed the advice of cake bakers and wedding pros, since they're the experts on wedding cake recipes and how simple things like all-purpose flour, egg whites and powdered sugar get transformed from cake batter in cake pans into whimsical wedding cakes and cupcakes. These must-know tips will help you bring your vision for the best white cake, whether you love simple white wedding cakes or over-the-top, elegant white wedding cakes, to life seamlessly.
All-White Cakes Don't Have to Feel Plain
Don't conflate a lack of color with a lack of personality. In fact, all-white wedding cakes can absolutely be eye-catching. Playing with texture in the design is a great way to bring visual appeal to a classic white cake. "An all-white wedding cake is a timeless look! It's elegant, classic, and yet adding some additional texture or details to the cake can give it a whimsical vibe," advises wedding expert Stephanie Sadowski of SRS Events." Melissa Wilmot, founder and CEO of WedBrilliant, goes on to share that she especially loves cakes with "the addition of piped white frosting. Curving around layers in tendrils, or more geometric in pattern, or even adding your initials—you can't go wrong. It adds texture without the color and will make any cake almost (almost) too perfect to eat."
How to Decorate an All-White Wedding Cake
In addition to considering texture, flowers, both fresh flowers and sugar flowers, are a great way to add a pop of personality to a simple white wedding cake. "Your white cake doesn't have to look vanilla, even if it is a vanilla cake," says wedding planner Ashley Lachney of Alston Mayger Events. "Opting for a sugar flower will add a touch of luxe and texture to the cake and ensure it's interesting for guests to look at!" Of course, sugar flowers aren't the only way to go. Danielle Lombardi and Hannah Ludden of Joyfully Gathered "find that cakes take on a life of their own just by the flowers and texture that gets personalized for each couple. The fresh florals that get added can really create a unique look for each cake design!"
Have Fun With Flavors
A simple outside doesn't have to equal a simple inside. Even if you'd prefer for your cake to be visually pared-down, you and your partner can still have fun with festive wedding cake flavors as opposed to limiting yourself to a vanilla or almond white cake recipe. While you couldn't choose a chocolate cake or red velvet cake if you wanted a naked cake that was white, if you're icing your cake in white buttercream frosting or draping fondant over the bake, your options for flavor are limitless. "One way to keep an all-white cake classic, but add an element of surprise, is to have the cake itself be colorful. Think: red velvet, Funfetti or rainbow layers," advises Jamie Bohlin of Cape Cod Celebrations.
Consider the Entire Cake Table
The overall display of a wedding cake affects the impact it has. No matter how stunning a cake is on its own, if you set it on a plain table without much thought, that is sure to take away from the overall effect. However, if you pay attention to curating the dessert table to match the aesthetic of the wedding, that's a sure-fire way to ensure your wedding cake display wows guests. "Cakes are such a fun focal point throughout the reception, and there are so many ways to create an eye-catching display," notes Lachney.
White Wedding Cake Ideas
If you've always dreamt of a white wedding cake, or even if you hadn't given much thought to what your wedding cake would look like until this very moment, you're sure to be obsessed with the ideas below. Peruse these all-white wedding cakes and save your favorite ideas to share with the wedding cake baker you hire for your own wedding dessert needs.
1. Hexagonal Two-Tier Wedding Cake
Instead of selecting round tiers, this couple added interest to their cake by having it be hexagonal in shape.
2. Ruffled White Wedding Cake With Flowers
This all-white wedding cake had tiers decorated with ruffles interspersed with ones decked out with sugar flowers.
3. White Wedding Cake With Floral Garland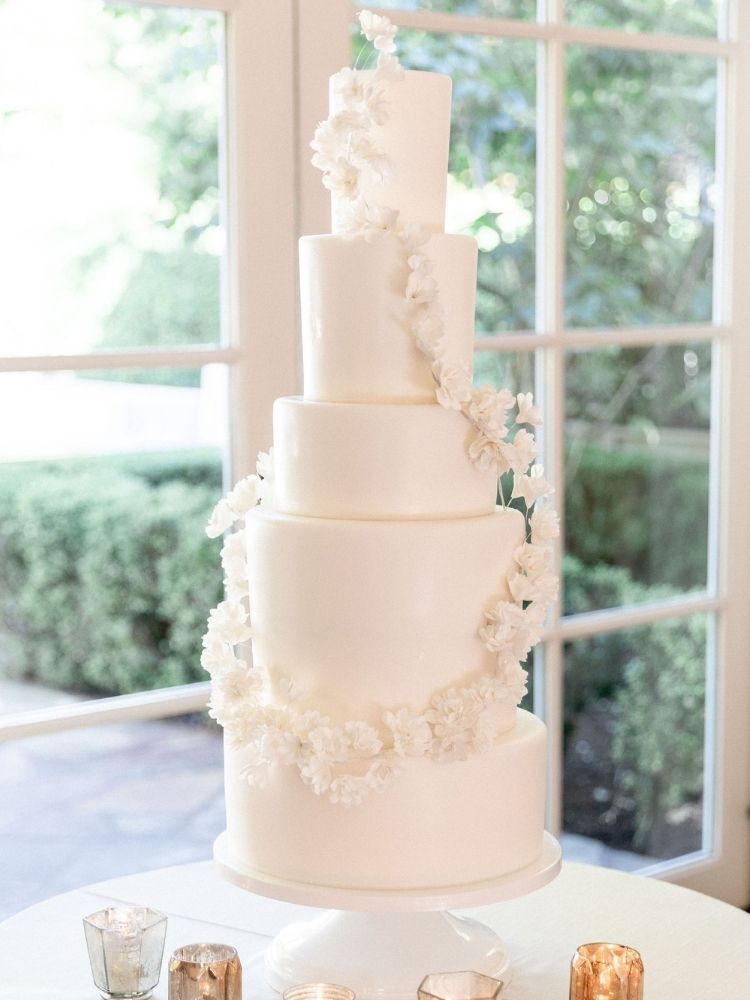 A white flower garland was elegantly draped around this classic all-white wedding cake.
4. Glam Nine-Tier Wedding Cake With Ornate Decorations
https://www.pinterest.com/pin/216595063319810079/
There was nothing small or plain about this all-white wedding cake. The towering bake was emblazoned with detailed piping and grand accents.
5. Marble-Inspired Simple White Wedding Cake
https://www.pinterest.com/pin/216595063319810069/
The bottom tier of this wedding cake had subtle threads of peach and gold to give it a marble-like appearance that complemented the flowers placed on the bake as a finishing touch.
6. Modern White Wedding Cake With Acrylic Dividers
In between the modern white wedding cake layers of this dessert, clear acrylic cubes filled with greenery added a little something extra.
7. Four-Tier White Wedding Cake With Sugar Flowers
A collection of sugar flowers up-leveled this cake from beautiful to absolutely stunning.
8. White Wedding Cake With Gold Edging
https://www.pinterest.com/pin/216595063319809992/
To call extra attention to the textured edges of each of the cake tiers, the couple's cake baker added subtle gold detailing.
9. White Wedding Cake on Boho Cake Table
Bohemian arrangements of pampas grass and anthurium brought a laid-back feel to the wood table atop which sat this couple's simple three-tier cake.
10. Elegant White Wedding Cake With Wafer Paper Decorations
https://www.pinterest.com/pin/216595063319809924/
Torn strips of edible wafer paper were used in decorating this all-white wedding cake. The effect brought a feeling of movement to the stationary dessert.
11. Fondant Wedding Cake With Ribbon and Flower Accents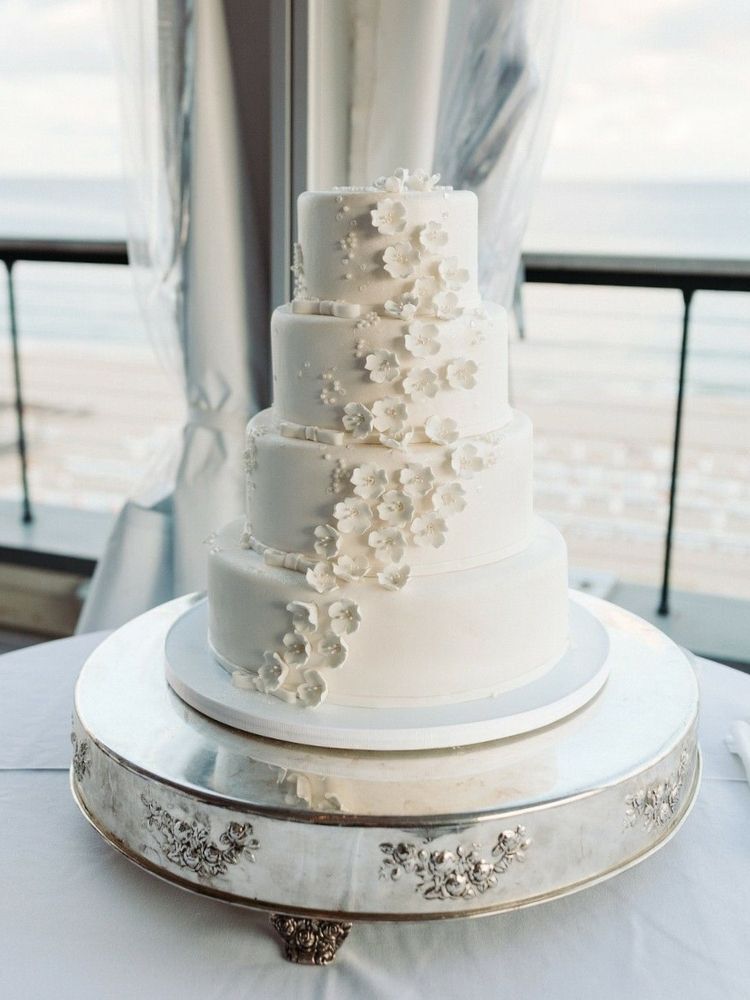 https://www.pinterest.com/pin/216595063319809922/
If you're at a loss for wedding cake inspiration, look no further than your wedding attire. If you're donning a wedding dress that has ribbons and floral appliqués, mirror those on the surface of your wedding cake. Simple fondant wedding cakes, like this one, inspired by wedding dresses are a timeless option.
12. White Marble-Inspired Staircase Wedding Cake
To bring a modern feel to this wedding cake design, the cake baker aligned all the tiers on their right side and created a staircase-like effect.
13. White Wedding Cake With Dried Ruscus and Lunaria
https://www.pinterest.com/pin/216595063319809919/
Dried sprigs of lunaria and ruscus brought a relaxed, boho feel to this three-tier white wedding cake.
14. Round Cake With Simple Flowers
https://www.pinterest.com/pin/216595063319809917/
You don't need to go over the top to make an impact. Just a few simple flowers were added to this two-tier white cake, but the result was incredibly eye-catching.
15. White Cake With Cascade of Lisianthus and Rose
https://www.pinterest.com/pin/216595063319809926/
We're obsessed with how a collection of lisianthus and rose blooms cascaded down this round cake.
16. White Cake With Dramatic Textured Decorations
https://www.pinterest.com/pin/216595063319809916/
This little two-tier cake packed a very big visual punch. Shard-like decorations covered the cake and brought swoon-worthy texture to the bake.
17. Two-Tier Round Cake With Simple Flowers
A few stems of lisianthus elevated this timeless white wedding cake.
18. Cake With Día de los Muertos-Themed Cake Topper
A unique Day of the Dead-themed cake topper added personality to this cake. As Kari Dirksen, CEO and lead planner of Feathered Arrow Events says, you can "spice up your all-white cake with a personalized cake topper to it and set it on a beautiful cake stand. Your white cake won't seem boring if you bring in a few added touches."
19. White Wedding Cake Decorated With Greenery and Roses
Some fresh greenery and white roses were all this all-white cake needed to wow guests.
20. Simple White Cake With Fresh Flowers
Fresh hydrangea, lisianthus and sweet pea blooms made this cake feel totally elegant. As an extra touch, the cake baker also added beaded piping around the base of each tier to reinforce the classic vibe.
21. White Cake on Dramatic Cake Table With Greenery
Don't think of your cake design in a vacuum. Consider how the entire display, inclusive of any floral details you add to the cake table, will make an impact, as this couple did.