23 Fresh Summer Wedding Cakes You Haven't Seen Before
We'll take a slice of each of these, please.
It's not hard to understand why summer is such a popular time for weddings. Golden sunlight, warm temperatures, laid-back vibes—and epic wedding cakes. Well, a dreamy summer wedding cake may not be the deciding factor for many couples when settling on a date, but the amazing variety available to summer couples is certainly a major bonus for summertime wedding dates. Of course, fall wedding cakes, winter wedding cakes, and spring wedding cakes are beautiful as well, but we've rounded up some of our absolute favorite summer options to inspire you.
To help you plan out your summer dessert, we've diving into some of our favorite inspirational wedding cake ideas. Plus, we're sharing expert-backed tips that'll ensure your warm-weather dessert is the best it can be. As you peruse the cake ideas and information below, make note of the designs that pique your interest to share with your cake baker. And if you find yourself struggling with finding the best confectioner for the task, keep these 10 questions to ask a prospective cake baker in mind before you book.
Top Tips for Summer Wedding Cakes
It's hard to go wrong with sugar, butter and flour, but nevertheless, there are some tips that it's wise to keep in mind as you're planning your summer cake. Take note of the expert-backed insights below for a sweet treat that's sure to be a success.
Summer Wedding Cake Flavors
Lots of seasonal produce is available during the summer which means you've got quite a few flavor options available to you. If you're a fan of tropical flavors, coconut, lime and pineapple will pack a fresh punch as part of a wedding cake. For couples that prefer fresh takes on traditional flavors, a strawberries-and-cream bake, or really any flavor loaded up with fresh berries certainly won't disappoint. "Berries and citrus flavors are especially delicious in summertime," suggests wedding-planning expert Allison Davis of Davis Row. "Typically these flavor combinations are light enough to work for even the warmest days and nights."
How to Prevent Icing Melting During the Summer
Temperatures tend to be at their peak during the summer months, which is great for couples who want an outdoor wedding. However, high temperatures and direct sunlight clash with creamy, rich icing and cake fillings. Ideally, it's best to work with your cake baker and event planner to coordinate the latest-possible delivery for your cake. While things like rentals and flowers will be installed at your venue earlier in the day, the cake doesn't need to come until much later. "Talk to your cake artist about the setting of your wedding and the storage options for the cake. If the cake can be refrigerated until just before it's sliced, you're golden. If it's going to be on display in the sun all day, that changes things," says Davis. Even once it's delivered, have the catering team keep it somewhere cool until just before guests arrive to preserve the integrity and design of the tiered dessert. Davis adds that "the safest bet for the hottest days is a faux cake: it won't melt, collapse, or anything else you're afraid of. The real cake stays safe in the kitchen."
Summer Wedding Cake Design Tips
You can never go wrong with a timeless option like an all-white cake decorated with fresh flowers. However, summer lends itself especially well to playing around, design-wise, and thinking outside the box with a cake's color and cake.
Bright colors like red, green and magenta look nice during the summer and are sure to pop visually. Additionally, decorative botanicals like anthurium blooms or even protea are eye-catching alternatives to consider if classic roses aren't quite your speed for your big day.
Summer Wedding Cake Ideas
From confections showcasing the latest wedding cake trends to timeless-yet-unique designs that'll never go out of style, we've gathered all the summery wedding inspiration you need to help brainstorm your own wedding reception dessert.
1. Yellow Wedding Cake With Fresh Orange Flowers
This bright yellow cake remind us of the a summer evening spent enjoying a glowing sunset.
2. White Wedding Cake With Rainbow Cake Topper
To complement the colorful rainbow cake topper, this couple's baker also added a handful of dahlias to the design.
3. Two-Tier White Cake With Red Anemone Cake Topper
You don't need to cover your entire cake with colorful buttercream or fondant in order to pack a vibrant punch. Take this bake, for example—the all-white tiers ensured the red anemones atop the cake stood out.
4. Blue Watercolor Wedding Cake With Tropical Leaves
Instead of sugar flowers, this tropical blue-and-white ombre dessert was finished with a bit of tropical greenery.
5. Retro-Inspired Teal Wedding Cake
We can't get enough of this summery confection with funky offset tiers.
6. Summer Wedding Cake With Pressed Flowers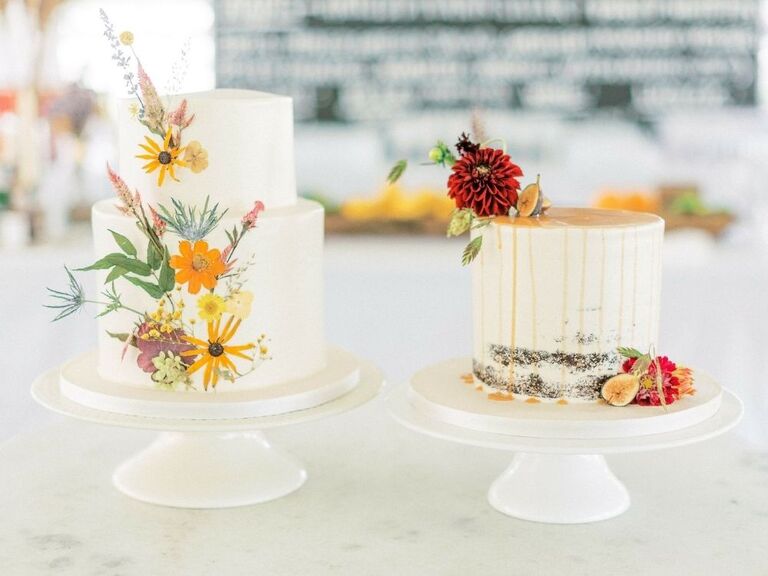 Pressed flowers are as on-trend as they are timeless—you simply can't go wrong with a pressed flower wedding cake.
7. Trio of Cakes With Orange Slices on White Cake Stands
Fresh fruit, especially citrus, adds vibrancy to any dessert.
8. Chocolate Wedding Cake With Fresh Bougainvillea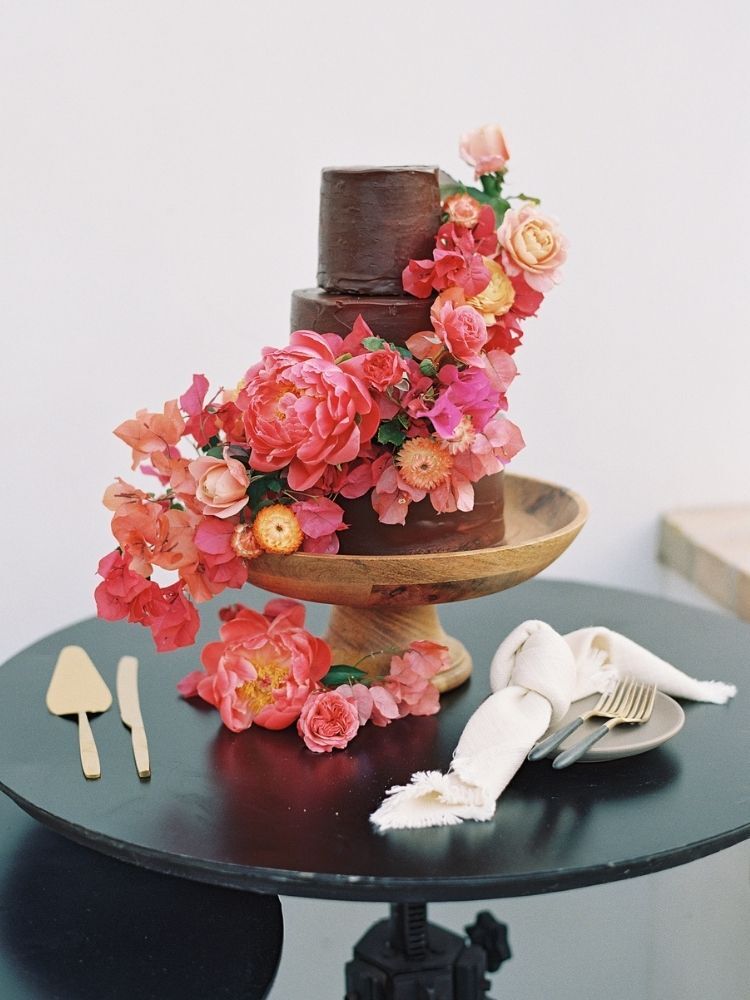 There's so much to love about this bougainvillea-covered wedding cake it's hard to nail down our favorite element.
9. Orange Wedding Cake on Gold Cake Stand
Gold, copper and orange work beautifully in summer color palettes, as evidenced by this eye-catching two-tier wedding cake.
10. Two-Tier Wedding Cake With Gold Leaf Accents
Cake decorating doesn't have to be over-the-top—sometimes less is more. If you lean toward minimalism instead of maximalism, let this leaf-accented dessert be your inspiration.
11. Cake Decorated With Fresh Anthurium and Orchids
Planning a tropical summer destination wedding? Celebrate your locale with a dessert that fits the equatorial aesthetic. To make the dessert feel even more cohesive with the look of the entire day, consider decorating the cake with the same blooms being used throughout the rest of your floral design.
12. Abstract Hand-Painted Brown-and-Green Wedding Cake
Perfect for a summer woodland wedding, this cake's abstract natural-hued decoration could've been framed as a work of art.
13. Modern Neutral-Hued Wedding Cake With Chocolate Shards
We're obsessed with the skilled chocolate work that went into bringing this modern dessert to live.
14. Two-Tier Buttercream Wedding Cake
A simple two-tier cake, topped with peach-hued fresh flowers, is a good reminder that a cake doesn't have to be wild or ornate in order to be absolutely stunning.
15. Wedding Cake With Green Geometric Painted Decoration
This couple's entire day was packed with preppy shades of pink and green. A green geometric design on the wedding cake complemented the rest of the celebration's aesthetic.
16. Blue-and-White Wedding Cake Inspired by Italian Tiles
Ornate blue-and-white ceramic tiles inspired the collar that encased the bottom of this cake.
17. Naked Cake With Fresh Berries
This naked cake came with a heaping serving of fresh strawberries, blueberries, raspberries and blackberries.
18. Pink Combed Buttercream Cake With Citrus Accents
Buttercream doesn't have to be smoothed out—this couple opted for a combed look instead to add texture to their pink citrus wedding cake.
19. Wedding Cake on Wood Stump Cake Stand
To add to the wood-inspired look the cake's fondant covering was painted to look like bark.
20. Patterned Pastel Blue Wedding Cake With Pheasant Feathers
Subtle shades of blue, orange and brown worked harmoniously as part of this rustic feather-accented wedding cake.
21. Single-Tier Wedding Cake With Cactus Topper on Swing
We can't decide what we love more—the cactus macaron cake topper or the swing that served as this bake's cake stand.
22. Naked Wedding Cake With Fresh Fruit
You can never go wrong with fresh fruit for a summer cake, truly.
23. Wedding Cake With Gold Dots and Fresh Flower Accents
This elegant, romantic cake would look great as part of a summer garden wedding.