27 Autumnal Cake Ideas for Your Fall Wedding
From feathers to flowers, these designs capture the spirit of the season.
Looking to tie the beauty of autumn into your fall wedding cake? Your dessert table is the perfect opportunity to bring a bit of seasonal charm into your reception. Not only does fall provide plenty of gorgeous inspiration for the wedding cake design, but it's also known for having some of the best wedding cake flavors (especially if you love rich, savory combinations). If you're heading to your cake tasting soon, it's time to start thinking about the details of what you want so you're prepared to share ideas with your cake baker. Use these autumn wedding cake ideas to see what catches your eye.
In this article:
Fall Wedding Cake Flavors
One of the best ways to ensure that guests love (and remember) your cake on the wedding day is with unique flavors, since taste and smell are the two senses that play the largest role in crafting a memorable dining experience. Delight your guests with fall wedding cake flavors like pumpkin spice and cream cheese cake, maple icing glazes, spiced apple or salted caramel drizzles inspired by popular foods of the season.
If you're a classic dessert person who prefers a good, old-fashioned vanilla or chocolate cake, that's okay too. Your bake shop can share options to bring a seasonal element to your cake, whether it's through fall-themed designs, fall fruits or a separate autumn-inspired dessert, like cupcakes or pies.
Rustic Fall Wedding Cakes
1. Cowhide-Inspired Wedding Cake
It might sound like an unusual source of inspiration for your wedding cake, but the brown and white tones of cowhide actually serve as the perfect neutral base for a rustic confection. This modern design is fun and adorably country chic, with sleek cowhide-painted fondant tiers accented by fresh flowers (no animals harmed!).
2. Chocolate Naked Wedding Cake
Buttercream filling was made to be seen on this naked cake. The fall flowers—dahlias, roses, amaranthus and greenery—pop even more against the dark chocolate background.
3. Two-Tier Wedding Cake with Apple Slices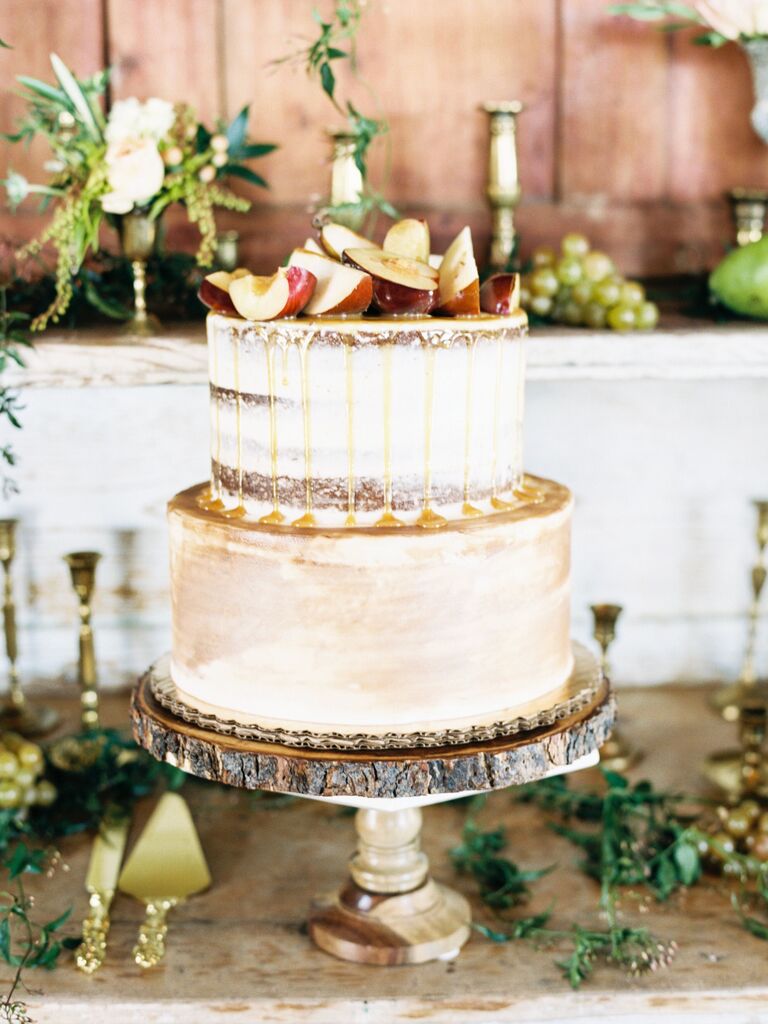 Fresh fruit is always a go-to option for decorating your cake, and you can switch up the toppings based on the season. For a fall wedding cake, try sliced red apples and caramel drip glaze.
4. Dark Green Wedding Cake
Hunter green is a popular wedding color for rustic and country wedding themes, but it's not every day that you see a green cake. Here's proof that it can be done—just keep the rest of the embellishments simple to avoid overpowering the bold color.
5. Faux Bois Wedding Cake
Going for rustic elegance? The bottom tier on this cake is painted with a wood-inspired pattern, adding a hint of country style to an otherwise classic design.
6. Terracotta Orange Wedding Cake
Give your rustic fall wedding cake a Western-meets-boho look with an earthy terracotta hue. The elongated tiers with deckled edges are modern and trendy.
7. Semi-Naked Wedding Cake
Feathers will add a unique finish to your cake, but for a more ethereal vibe, swap the brown quail or pheasant feathers for white ostrich feathers instead (you can find artificial options online). Use them to incorporate texture into an all-white design.
8. Buttercream Wedding Cake with Moody Florals
Flowers in a seasonal color palette, like burgundy, mauve and green, are a perfect way to top off a simple fall wedding cake. Arrange them in a cascading pattern down the side of the design.
9. Hand-Painted Rustic Wedding Cake
Inspired by the Carolinas, this chic rustic fall cake featured dried wheat stalks, pheasant feathers and hand-painted bird motifs.
10. White Wedding Cake with Dried Flowers
Dried accents, like the orange leaves and bunny tail grass on this cake, are both autumnal and rustic. Use them to highlight the center tier of a buttercream cake.
Simple Fall Wedding Cakes
11. Buttercream Wedding Cake with Fresh Fruit
Getting married at a vineyard or winery? Adding grapes to your cake is a no-brainer. Similarly, you can use seasonal fruits like pears or apples if you're getting married at a local orchard.
12. Chocolate Wedding Cake with Drip Icing
Finish a small two-tier cake with chocolate drip icing and a few well-placed flowers for a simple, stylish look.
13. Minimalist White Fondant Cake
This minimalistic fall wedding cake is basic, but not boring. The smooth white fondant provides a sleek base for the blush and burnt orange flowers, while the taper candles and soft pink cake stand add more subtle hints of color.
14. One-Tier Wedding Cake with Roses
Perfectly sized for a microwedding or elopement, this one-tier cake is decorated with roses, alstroemeria and baby's breath in a range of fall-themed coral and blush tones.
15. Olive Branch Wedding Cake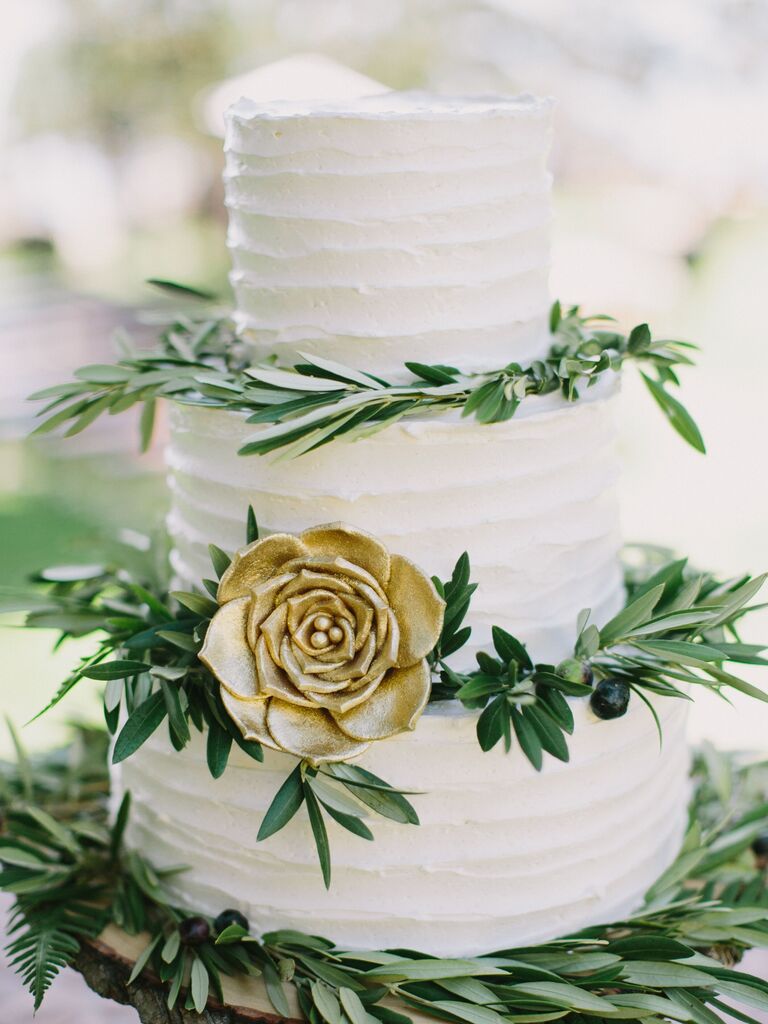 Greenery is an easy way to finish your cake without resorting to an overly complicated design or elaborate adornments. Fresh olive branches can quickly dress up white buttercream frosting, with the option to add a statement flower, either real or sugar.
16. Chocolate Ganache Wedding Cake
If you're not sold on using flowers or greenery for your fall wedding cake, turn to edible garnishes instead. A chocolate ganache glaze decorates the top and sides of this one-tier confection.
17. Simple One-Tier Buttercream Cake
Leaving the buttercream intentionally textured and imperfect, like this semi-naked cake, is great if you're going for a relaxed vibe or having a low-key reception.
18. White Wedding Cake with Rose Gold Details
Along with fresh flowers, you can use edible foils (they come in silver leaf, gold leaf or rose gold leaf) or petal dust to add color and shimmer to a simple fall cake.
Elegant Fall Wedding Cakes
19. Fall Leaves and Roses Wedding Cake
It feels magical when the leaves start to change color each year, and this cake is a beautiful example of how you can use autumn foliage to inspire your dessert table. The three-tier buttercream cake combines dark red leaves with mauve garden roses for a dreamy, romantic look.
20. Four-Tier Wedding Cake with Painted Leaves
Painted leaves are another way to add seasonal flair to your cake, with the added bonus of customizing them to match your fall color scheme perfectly. This elegant fondant cake feels regal and luxurious with gilded leaves and miniature fruits.
21. Brushstroke-Inspired Wedding Cake
Turn your wedding cake into a guaranteed statement piece by adding "brushstrokes" down the front of the design. The technique is done by painting chocolate sauce onto wax paper using a paintbrush, then freezing the chocolate so that it hardens into 3D pieces.
22. Buttercream and Greenery Wedding Cake
Wrap a single, leafy vine around each tier for an elegant rustic finish to your cake, then use a mirrored tray or stand to display it at the wedding.
23. Three-Tier Wedding Cake with Blackberries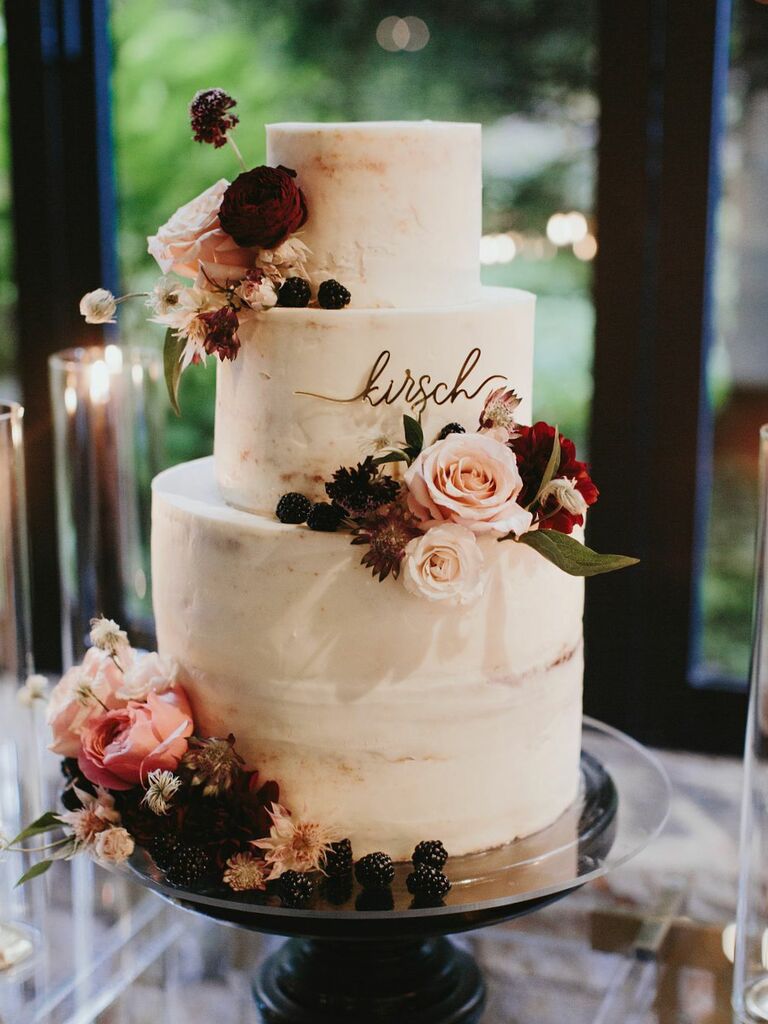 If you're choosing to share a last name with your partner, celebrate on the big day with a personalized wedding cake topper. Place it on the middle tier (instead of on top of the cake) for a more unique look.
24. Elegant White Cake with Swiss Dots
Look closely and you'll see that this three-tier cake is decorated with tiny Swiss dots in triangular clusters. The dots add texture in a subtle, sophisticated way, while spray roses and greenery tie into the backdrop of flowers behind the cake.
25. Sculptural Green Wedding Cake
Decorated with sugar flowers and handmade vines, this stunning fall-themed wedding cake is like an edible sculpture. Showcase a cake like this atop an equally luxe table accented with candles, a gauzy runner and lush greenery.
26. Monogrammed Fondant Wedding Cake
We love monograms for formal wedding themes and timeless aesthetics. A square-shaped cake wrapped in gold filigrees is simple and oh-so classy.
27. Hand-Piped Flowers Wedding Cake
Combine seasonal wedding flowers with hand-piped floral designs for a cake that's romantic and autumnal. With a color palette of burgundy, blush and butterscotch yellow, this fondant cake is a lovely pick for a late summer or fall wedding.