Date Night Expectations Vs. Reality (in GIFs)
Here's how a night with your main squeeze really goes down.
by The Knot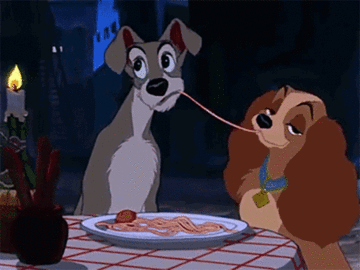 One of the beautiful benefits of marriage is having a built-in date every night of the week, whether you're ordering take-out in your sweatpants or heading to a party over the weekend. You have a lifetime of this to look forward to, but any married couple will tell you date night isn't always as glamorous as you'd expect (which is honestly one of the best parts about them anyway.)
1. Expectation: You'll get home from work energized and ready for a night out.
Reality:
2. Expectation: You'll instantly agree on the perfect restaurant.

Reality:
3. Expectation: You'll feel fresh, fun and ready to show your face in public.
Reality:
4. Expectation: Your new outfit will leave your partner speechless.
Reality: 
5. Expectation: Your evening will be filled with romantic eye contact and classy behavior.
Reality:
6. Expectation: You'll share a night cap and finish the evening with some serious romance.
Reality:
7. Expectation and reality: Enjoying every second with your better half.