The Top 25 Eucalyptus Wedding Bouquets That Will Leave You Breathless
Whether used as an accent or as the centerpiece, there's a lot to love about wedding bouquets with eucalyptus.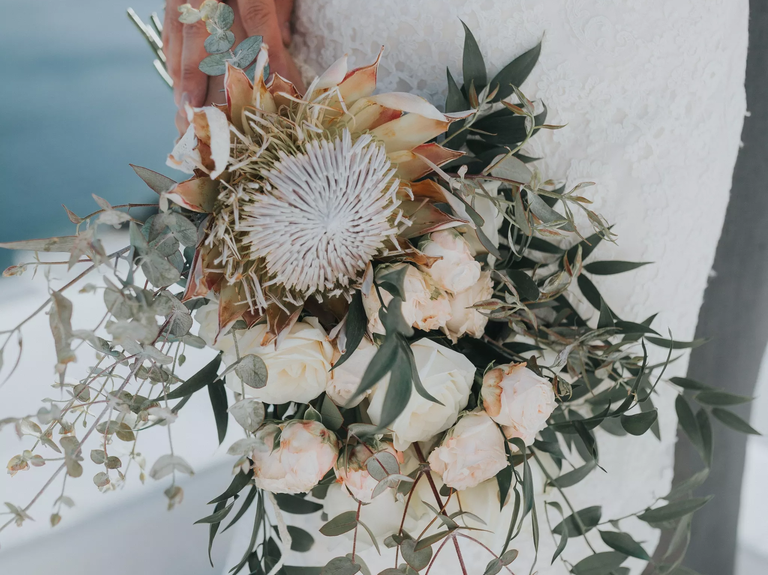 Photo: SILVIA FALCOMER PHOTOGRAPHY,Floral design: FLOWER COUTURE
When dreaming up a eucalyptus wedding bouquet, you might not know quite where to start. You may even be wondering, "What flowers look good with eucalyptus anyway?" Well, we are here to answer these questions about how to use eucalyptus at your wedding and provide over two dozen stunning bouquets from real weddings to help you get started on creating the perfect arrangement for your big day.
In this story:
Eucalyptus Wedding Bouquet Ideas
When scrolling through wedding bouquets with eucalyptus, it's so easy to get caught up in the greenery's beauty and romance. Knowing this, we've collected plenty of jaw-dropping arrangements using this unique plant in all of its different varieties and forms.
Bright and Colorful Eucalyptus Wedding Bouquet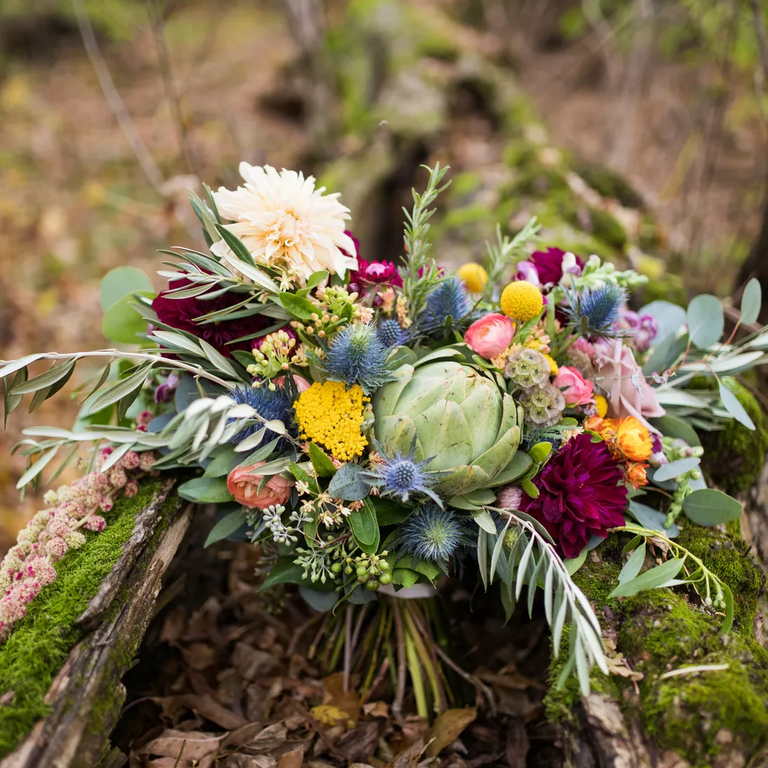 Bouquets are an excellent spot to add a pop of color to your wedding, and this arrangement does just that. With deep reds, yellows and blues scattered amongst the eucalyptus and greenery, this colorful wildflower bouquet is both spunky and rustic.
Vintage White and Mauve Wedding Bouquet With Roses and Eucalyptus
The muted colors of this vintage wedding bouquet fit right in at a romantic, traditional or even garden setting. Eucalyptus leaves pair well with the soft colors here to complement the bride without drawing too much attention away.
Scabiosa, Lavender and Eucalyptus Wedding Bouquet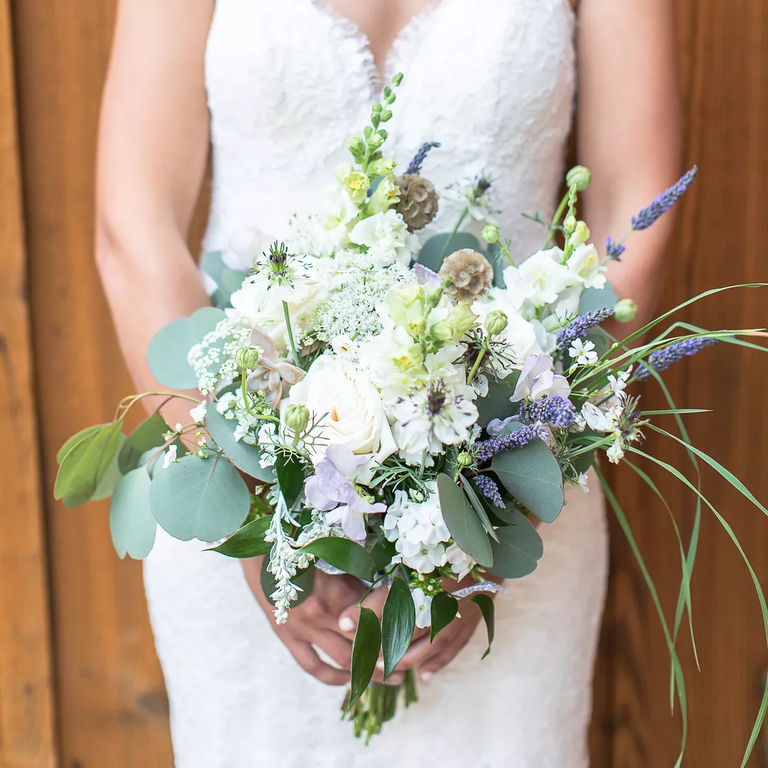 Between the lavender, Queen Anne's lace, and scabiosa, this chic bridal bouquet is a bright accent to the wedding. With large leaves of eucalyptus, this versatile arrangement can fit in at a bohemian, rustic or even chic wedding with ease.
Wintry White Bridal Bouquet With Roses, Eucalyptus and Pine
If you're getting married in the mountains, this stunning white rose and pine bouquet should be at the top of your list. The cascading eucalyptus and scented pine needles create warmth in this wintry arrangement that we think is simply marvelous.
Romantic, Garden-Inspired Bridal Bouquet With Succulents and Eucalyptus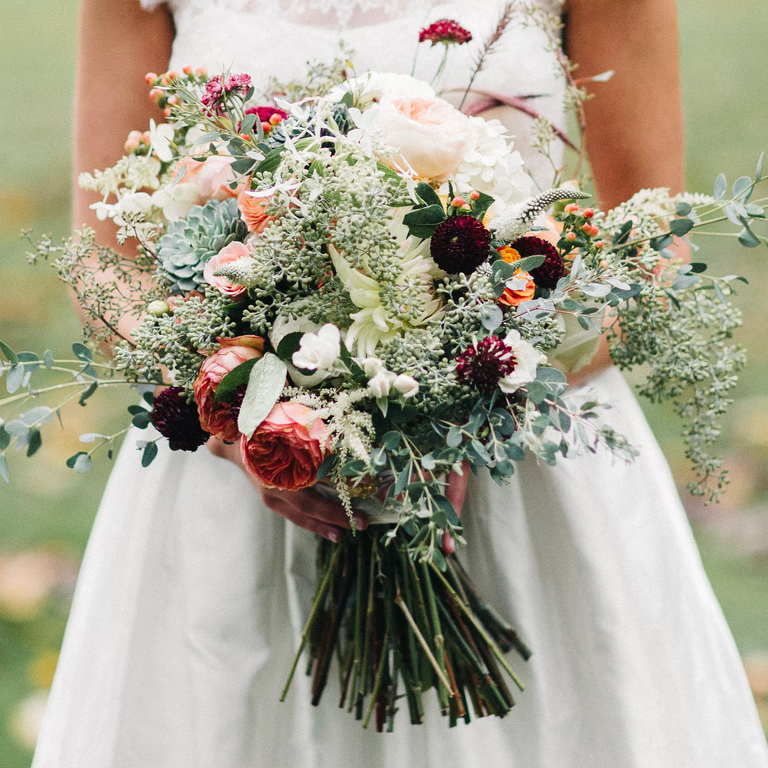 We love that this bouquet goes all-in. The seeded eucalyptus fills out the sides of this arrangement while succulents, garden roses and more create a smorgasbord of beauty in the middle.
Asymmetrical Eucalyptus and Dusty Rose Bouquet
Varied size and texture in this elegant arrangement give it an untamed feeling, while the anemones, eucalyptus, dusty roses and rosemary each add a depth all their own. The long, pink ribbon gives it a romantic touch, making this bouquet truly a work of art.
White Ranunculus, Delphiniums and Seeded Eucalyptus Wedding Bouquet
This glamorous bouquet is complete with various greenery, including seeded and gunni eucalyptus. When paired with the white ranunculus and delphiniums, this unique bouquet was just the right complement to the bride's outfit.
Red Peony Bridal Bouquet With White Anemones and Eucalyptus
This modern take on a eucalyptus wedding bouquet uses red peonies and scabiosa pods to create a luscious arrangement. The hint of whimsical blue in the center of the white anemones helps tie the bouquet together.
Cascading Baby's Breath and Eucalyptus Bouquet
Fitting right into an outdoor wedding, this gorgeous rustic bouquet uses baby's breath and immense amounts of eucalyptus to create its romantic ambiance. The pops of color from the flowers in the center also bring texture and depth.
Fall-Inspired Boho Wedding Bouquet With Eucalyptus, Astilbes and Roses
Deep, bold colors are the base for this autumnal, cascading bouquet. While the florist did use various leaves and berries to accent the arrangement, they also snuck in some eucalyptus for just a touch of muted greenery.
Find all the vendors you need
Discover top-rated pros for any budget, background and style.
Simple Peony and Eucalyptus Wedding Bouquet
This simple eucalyptus bouquet is breathtaking as the luxurious peonies take center stage. Alongside varied green accents, this arrangement is truly a show-stopper.
Eucalyptus and Rose Wedding Bouquet
This bright wedding bouquet exudes joy from its yellow roses and smaller accent flowers. Surrounded by eucalyptus, this arrangement could easily be duplicated in another color to go along with a different color scheme.
Dried Flowers With Eucalyptus Wedding Bouquet
Using dried wildflowers as the focal point, this bridal bouquet with eucalyptus is downright darling. The hand-tied bow and height of the arrangement exude a rustic romance that can be tricky to get just right.
Eucalyptus Greenery Bouquet
While most people use greenery as an accent, it can make up the entire bridal bouquet for a unique take on the wedding bouquet tradition. This one uses different varieties of eucalyptus, ferns and ruscus to create a beautifully bohemian bouquet.
Hand-Tied Rustic Bridal Bouquet With Eucalyptus, Roses and Protea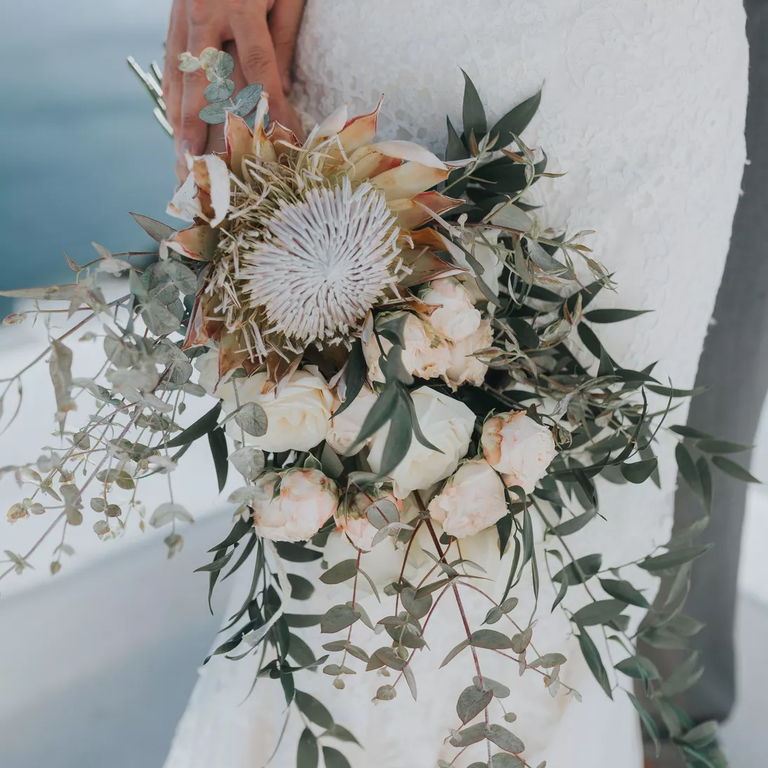 Rustic romance is the name of the game here. This hand-tied rose and protea bouquet uses eucalyptus to add depth to the small but stunning arrangement.
Bohemian Bridal Bouquet With Dahlias, Scabiosa and Eucalyptus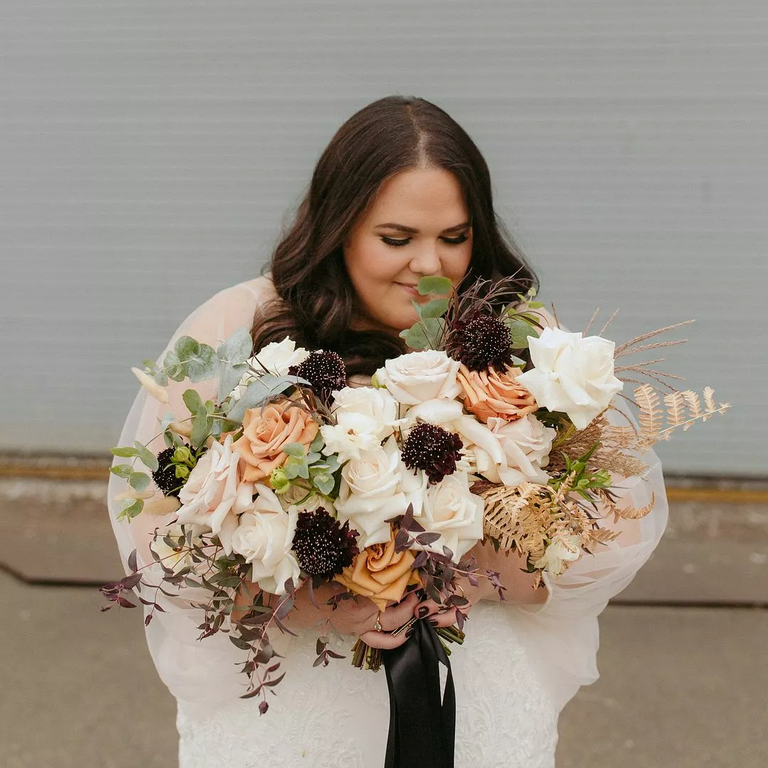 Eucalyptus adds brightness to this modern bridal bouquet. With burgundy dahlias and two colors of roses, it is a bit eclectic but easy to love.
Blush Wedding Bouquet With Eucalyptus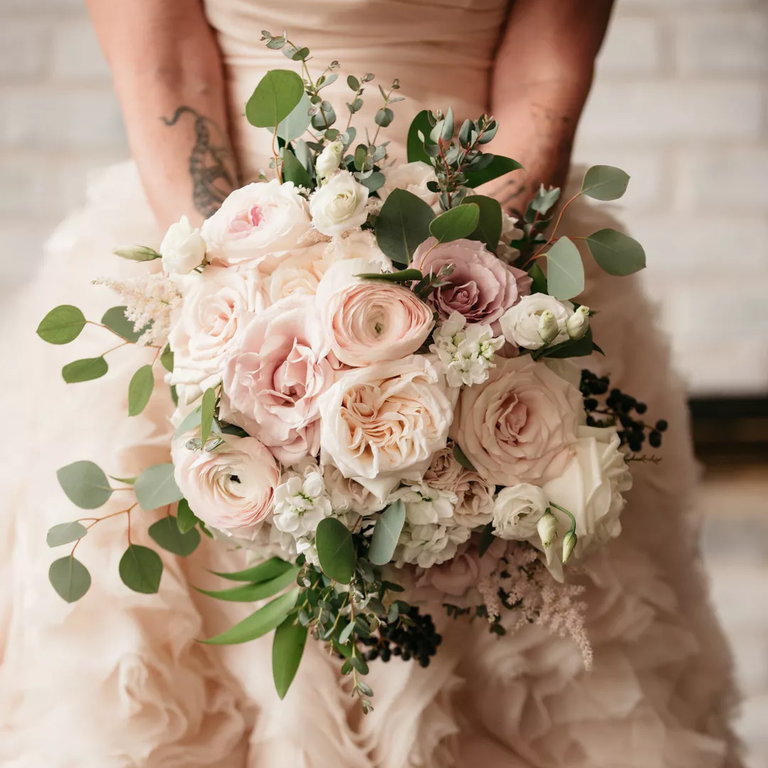 This blush pink wedding bouquet draws its inspiration from its holder's dress. The deep textures are intensely romantic while the eucalyptus is used to help distinguish it from the background and add just a touch of color variety.
Rustic Rose and Eucalyptus Leaves Wedding Bouquet
This white, pink and red rose wedding bouquet uses dusty miller and eucalyptus to add variation. Two feathers peaking out the top are a unique and charming touch to pull it all together.
Cascading Greenery Bouquet With Eucalyptus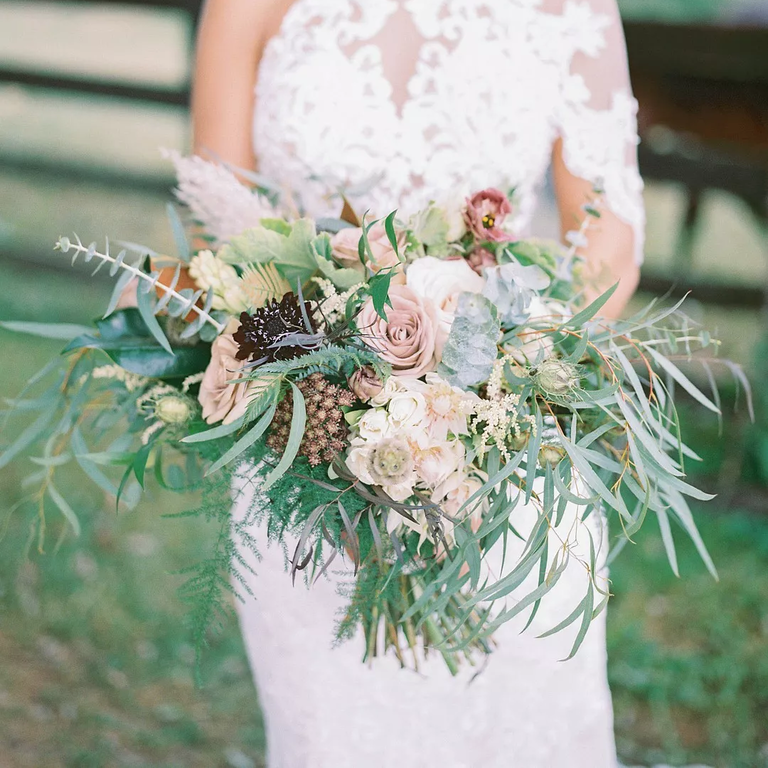 This bouquet felt right at home on the farm where the wedding took place. The lush, cascading bouquet came together by combining roses, lamb's ear, eucalyptus and scabiosa for an arrangement that uses greenery just as much as statement flowers.
Classy Blue Eucalyptus Bridal Bouquet
The striking blue flowers and ribbon in this bridal bouquet make it stand out, while the thistles, eucalyptus and ferns give it an earthy feel. All together, this bouquet marries its greenery perfectly with a pop of color.
Elegant Burgundy Bouquet With Eucalyptus
This elegant bouquet is simply divine. The contrast created by the white and burgundy flowers is stunning, while the eucalyptus sprinkled throughout breaks up the boldness just enough.
Oversized Peony and Dahlia Bouquet With Multiple Types of Eucalyptus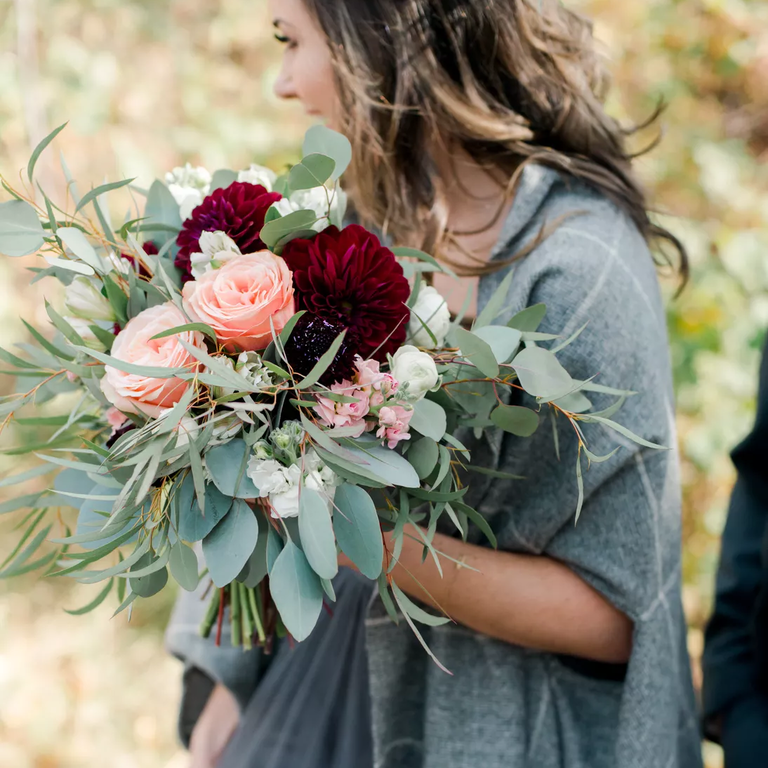 For eucalyptus lovers, consider a bouquet that highlights all the plant's varieties. With a few pink roses and burgundy dahlias to round it out, this oversized arrangement is certainly lovely.
Cascading Bridal Bouquet with Eucalyptus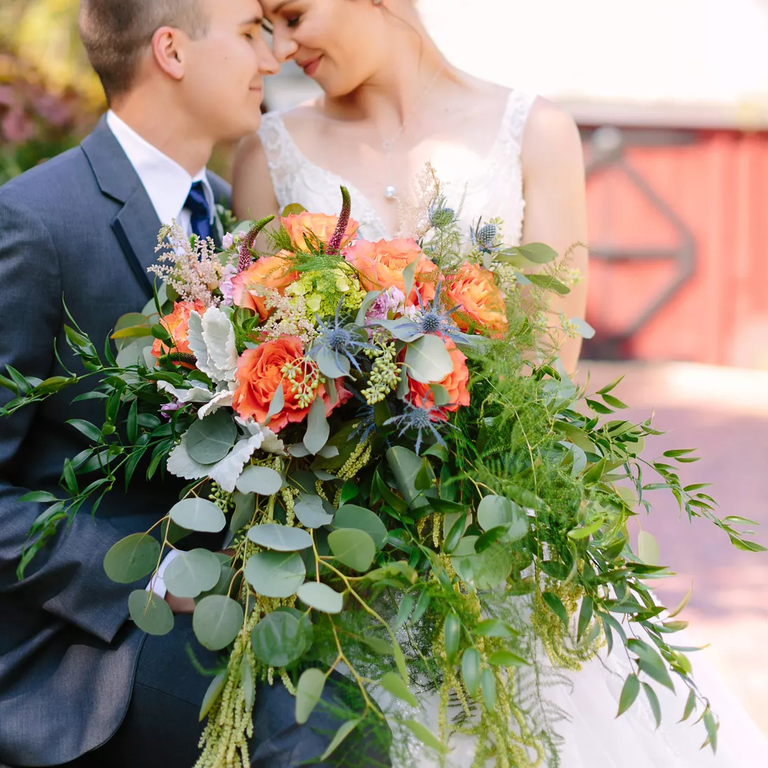 While bigger is not always better, it often can be in the world of wedding bouquets. This arrangement leans into that sentiment with plenty of greenery and eucalyptus. Alongside orange carnations for some spunk, this colorful bouquet would be at home in a garden wedding but will easily fit in just about anywhere else.
Romantic Eucalyptus and Rose Wedding Bouquet
These romantic roses contrast perfectly with the textured greenery in this bridal bouquet. The eucalyptus adds contrast to the white roses, creating an arrangement with depth.
Whimsical Bridal Bouquet With Willow Eucalyptus
Willow eucalyptus, which resembles a weeping willow (as the name suggests), brought an effortless, relaxed feel to this rose bridal bouquet. Colorful berries finished off the bright creation nicely.
Eucalyptus Season
There are hundreds of varieties of eucalyptus, which means there will always be at least a few types available when you want your bouquet. If there is a specific type you are looking for, that availability may vary. For example, seeded eucalyptus has a short period between April and June where the seeds have gone to flower and will not have the expected appearance. But in general, if you're wondering, "when is eucalyptus in season", the short answer is: always.
So, check with your florist ahead of time to see what varieties of eucalyptus will be available to you when you say your vows, and pair these with other in-season wedding flowers to have an unforgettable bouquet.
What Does Eucalyptus Represent in a Wedding Bouquet?
When choosing the flowers for your wedding bouquet, many people like to consider what each stem symbolizes. Eucalyptus has long been used for medicinal purposes, and along those lines, it represents recovery and renewal. In a wedding bouquet, this translates to protection and abundance, making it a favorite accent flower for many couples.
How Many Eucalyptus Leaves Do You Need for a Bouquet?
How many eucalyptus leaves you need for a bouquet varies greatly depending on the size. As a small accent, three to five stems in a small bouquet will complement the flowers nicely, while a larger bouquet may use between ten and fifteen for a bigger, cascading effect. If eucalyptus is the arrangement's centerpiece, this number can easily go much higher, especially when multiple varieties are used.
Average Eucalyptus Bouquet Cost
As eucalyptus is typically used to accent the rest of a bouquet, the average cost of a eucalyptus wedding bouquet will vary greatly depending on the average cost of your other wedding flowers. However, because they are hearty and in-season most of the year, they are a budget-friendly stem that could add, on average, between $10 and $40 to the final cost that averages between $150 and $300.
Tips for Adding Eucalyptus to Your Bouquet
Eucalyptus can be tricky to work with, as its leaves are often stout and large. Here are a few tips for ensuring it fits right into your wedding bouquet.
Incorporate Different Types of Eucalyptus
While Silver Dollar Eucalyptus may be the most popular variety of this fun greenery, there are so many other types worth working into your bouquet. Consider seeded eucalyptus, gumdrop eucalyptus or even baby blue eucalyptus for a big, tall statement. There are many forms of eucalyptus that provide a more feathery and airy feel should you want a more whimsical vibe.
Find a Florist who Loves to Get Creative With Eucalyptus
Arranging flowers for the biggest day of someone's life is no simple task, which is why we highly recommend finding a florist to take the burden off your shoulders. When you're debating what flowers go with eucalyptus, these professionals can step in to help. They are artists who specialize in making nature's beauty shine. So, head to The Knot Vendor Marketplace to find a florist who loves to use eucalyptus in their arrangements.