20 Greenery Wedding Bouquets That Stun With or Without Flowers
These foliage-filled arrangements prove that going green has never looked so good.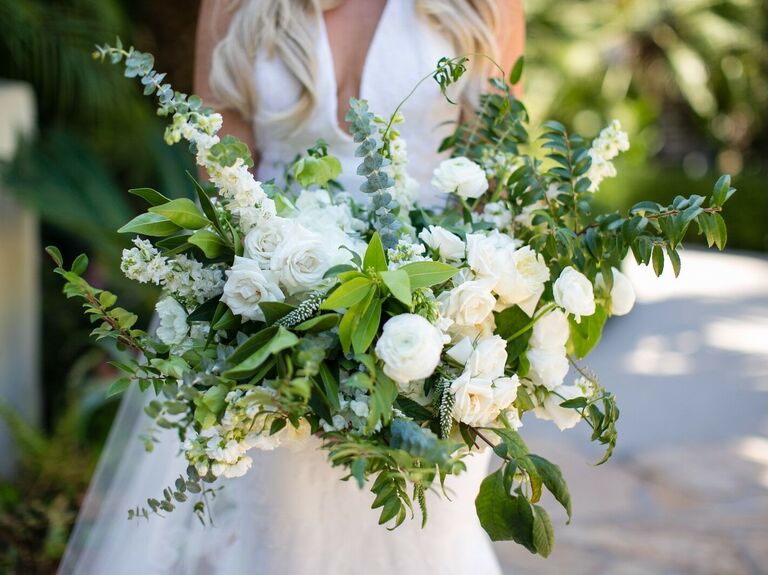 Anika London Photography
It's no secret that greenery is one of the most popular floral design accents for wedding centerpieces, wedding arches, flower crowns and other items you might have on your wedding flower checklist. But the truth is that it can also look amazing on its own, as proven by these greenery wedding bouquets with little or no flowers at all. Opting to swap colorful flowers for foliage on the wedding day isn't for everyone, but if you're looking for arrangements that feel organic, ethereal and fresh, a greenery bouquet might be just the thing. Not all greenery is the same—in fact, there are dozens of different varieties your florist can use for bouquets, boutonnieres and wedding decor, depending on the look you want. Get started with this short glossary of popular greenery types, followed by wedding bouquets with greenery we think you'll love for your own big day.
In this article:
The Most Popular Types of Greenery for Wedding Bouquets
When you're starting to get ideas for your bouquet, it's helpful to know the differences between some of the common greenery types you might come across.
Bay Leaves
An herbal leaf that's sometimes used for cooking, bay leaves have a dark olive green color and a rustic, earthy look. The branches are densely packed with green leaves, so you only need a handful of them to quickly build up an arrangement.
Dusty Miller
Thanks to its light green hue, this greenery is a favorite for vintage-inspired themes and pastel color palettes. Dusty miller is unique because its leaves have a felted, fuzzy texture, making it extra soft to the touch. It's best used for bouquets and centerpieces.
Eucalyptus
Arguably the most popular type of wedding greenery, eucalyptus is frequently used for bouquets, garlands, centerpieces, wreaths and more. But there are actually several different varieties of eucalyptus, and each one looks slightly different. When it comes to eucalyptus wedding bouquets, the common varieties include:
Seeded eucalyptus: A type of eucalyptus with oval-shaped leaves and seed pods attached to the branches.
Silver dollar eucalyptus: A type of eucalyptus with large, rounded leaves that hang loosely.
Spiral eucalyptus: A type of eucalyptus with a sturdy, sword-like structure featuring leaves stacked in a staggered, vertical pattern.
Ferns
Often found in shadowy forests and humid climates, ferns are a gorgeous option if you can't decide between a boho or classic look—they work for both. Fern leaves are more structured than eucalyptus or bay leaves, which gives them a slightly more traditional appearance when used in floral designs. Common fern types for wedding bouquets include leatherleaf, sword, plumosa, maidenhair, fiddlehead and button ferns.
Ivy
Sweet and charming, ivy vines are perfect for evoking a quaint, English garden-inspired look. The long vines can be used to create a cascading bouquet shape that keeps the arrangement feeling natural and not too overdone. Ivy is one of the few greenery types that is favored for royal wedding bouquets, with Princess Diana, Princess Eugenie and other royal brides choosing it for their designs.
Magnolia Leaves
This classic greenery will give your wedding bouquet an undeniably Southern flair. Although magnolia trees naturally bloom during mid- to late spring, their leaves are commonly used for wedding bouquets, wreaths and garlands during the winter too.
Monstera Leaves
As a type of philodendron, monstera leaves are most popular for beach venues, tropical themes and summer weddings. Their oversized shape makes them an instant statement piece in any bouquet, and they're commonly paired with other eye-catching flowers like orchids, proteas and anthuriums.
Succulents
Although succulents technically are a plant and not a type of leaf, they're commonly used in greenery bouquets, either in lieu of or alongside fresh flowers. These low-maintenance plants vary in size, shape and color, from light green to purple.
Greenery Wedding Bouquet Ideas
Need to decide which type of greenery matches your aesthetic? Check out these real wedding ideas to inspire your own bouquet.
1. Air Plant Wedding Bouquet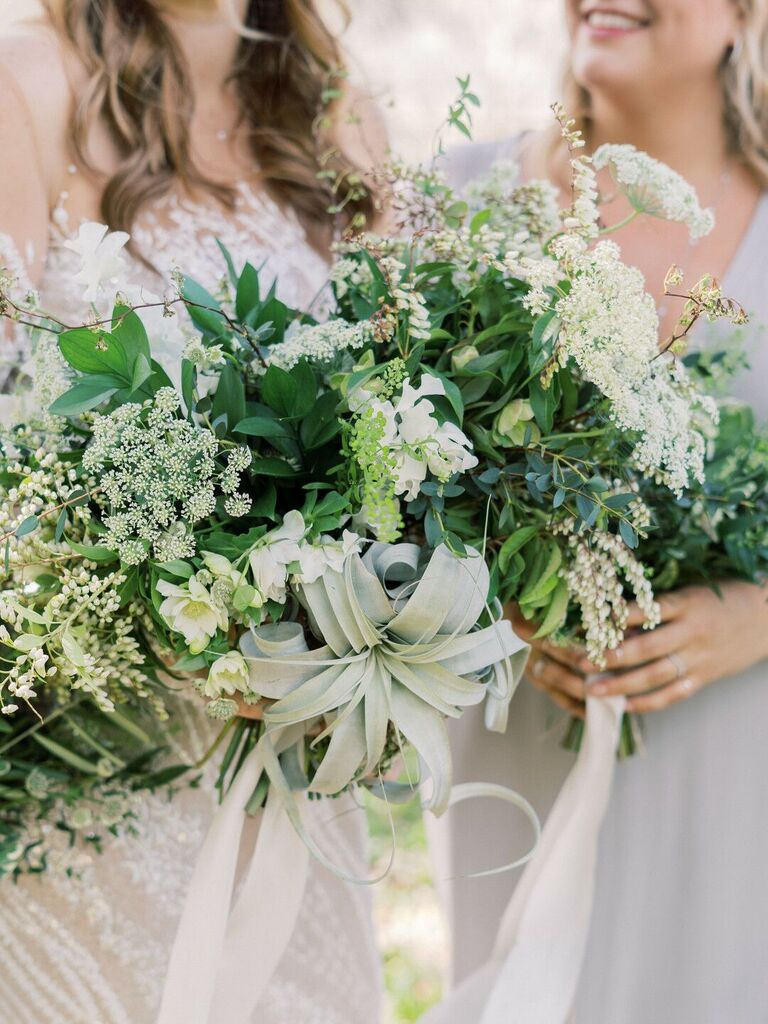 Air plants, also known as tillandsia, are like the greenery equivalent of adding a statement flower to your wedding bouquet. These pale green plants have a star-like shape that immediately catches the eye, but you can accent them with other greenery and white blooms to build on their look.
2. Greenery Wedding Bouquet with Baby's Breath
Perfect for a rustic wedding, this loose bouquet of eucalyptus, bay leaves, silver brunia and white roses is finished with hints of baby's breath for that sweet, laid-back vibe.
3. Simple Rustic Greenery Bouquet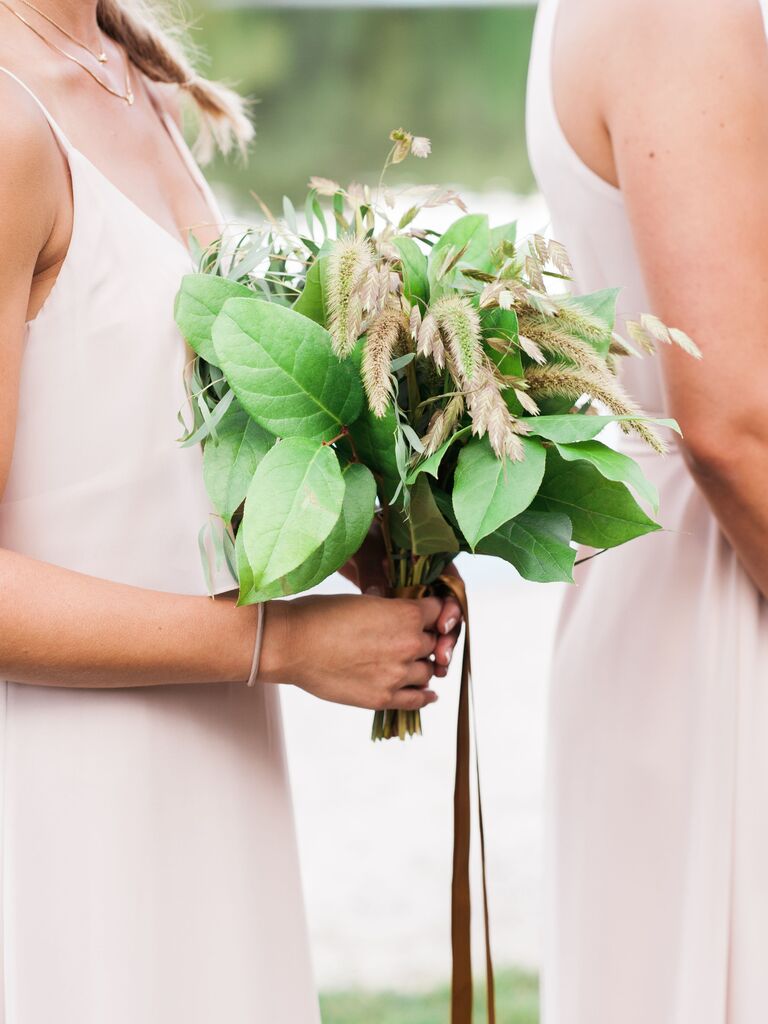 When it comes to wedding bouquets with greenery, it's okay to keep things simple—that's part of their appeal. This arrangement of lemon leaves, fountain grass and sea oats is an easy (and inexpensive) option for an outdoor wedding.
4. Eucalyptus Wedding Bouquet with Feathers
Pheasant feathers are a stylish addition to a fall or winter wedding bouquet. The brown tones will stand out against an assortment of greenery and white flowers.
5. Oversized Greenery Wedding Bouquet
Dreaming of a green wedding bouquet doesn't mean that you can't include flowers too. This bridal bouquet is a great example of how to pull it off without overpowering the palette. Stick to fresh flowers in white, blue and purple colors that naturally flow together, like the proteas, garden roses, thistle and delphinium seen here.
6. Tropical Greenery Wedding Bouquet
With elements like anthuriums, proteas and monstera leaves, it's impossible for this bouquet not to make a statement. This abstract design is a modern, trendy alternative for a beach wedding bouquet.
7. Garden-Style Greenery Wedding Bouquet
Loose, trailing vines are the key to organic-inspired flower arrangements like this bouquet. Ideal for a garden wedding theme, the design includes blue thistle, anemones, roses, scabiosa and variegated tulips to complement the greenery.
8. Greenery Wedding Bouquet with Ribbons
Long ribbons are a long-trending bouquet wrap idea, and they look especially dreamy with greenery and pastel blooms, like these blush roses. Plus, the ribbons are a way to incorporate color if you're not using a ton of flowers in the actual bouquet.
9. Small Bridesmaids Bouquets with Greenery
If you have your heart set on carrying your own flower-filled bouquet, your bridesmaids can carry greenery bouquets so you'll have the best of both worlds in your wedding photos. These unique arrangements were actually designed using hidden triangular vases attached to ribbon loops.
10. Orchid and Greenery Wedding Bouquet
White phalaenopsis orchids are always an elegant choice. When paired with philodendron leaves, they take on a more tropical, summery look.
11. Pittosporum Wedding Bouquet
This petite bouquet is just right for a microwedding or elopement. Classic white flowers, like the orchids and clematis in this design, will look chic and timeless alongside variegated pittosporum with white and black ribbons adorning the stems.
12. Succulent Wedding Bouquet with Greenery
Succulents are treasured for their boho, desert-inspired vibe. They pair easily with wildflowers and greenery, like the thistle, lavender, campanulas and fern leaves here.
13. Astilbe and Greenery Wedding Bouquet
Astilbe is often deemed a "filler" flower, but it's the star of this greenery bouquet. Ivory satin ribbons add just the right amount of contrast to the arrangement.
14. Fern Leaf Wedding Bouquet
If you're using a type of greenery with several different varieties, like ferns or eucalyptus, pair them all together for a quick, cohesive bouquet. This design is filled with multiple different ferns, including plumosa, maidenhair and leatherleaf ferns. We love it for a woodland venue or forest-themed wedding.
15. Anthuriums and Greenery Wedding Bouquet
Island-inspired meets classic. Balance tropical elements like banana leaves and anthurium flowers with more traditional types of greenery, such as ferns, to create a unique combo.
16. Summer Wedding Bouquet with Greenery
Alstroemeria and freesias brought cheerful pops of yellow to this abstract bouquet. If yellow isn't one of your wedding colors, try flowers in another vibrant hue, like fuchsia or orange for the same eye-catching effect.
17. Greenery Bouquet for Fall Wedding
Adding touches of darker colors will transform your greenery wedding bouquet for the fall season. This beautiful bouquet shows how it's done, with dark red amaranthus tucked among white proteas, blue thistle and seeded eucalyptus.
18. Simple Ruscus Wedding Bouquet
Keep your floral arrangements super simple by sticking entirely to one type of greenery. Ribbons, brooches and other bouquet wrap details can add visual interest in place of flowers or mixed greenery varieties.
19. Eucalyptus Branch Wedding Bouquet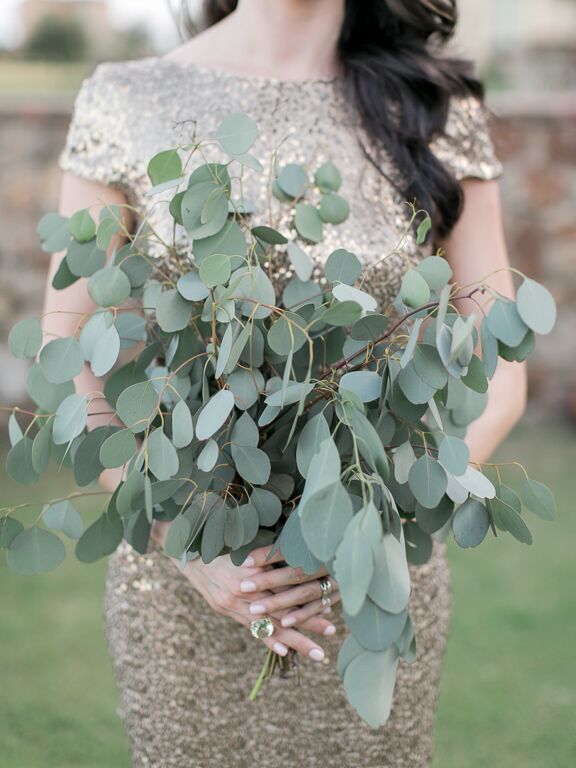 Here's another example of a one-variety greenery bouquet, made entirely of silver dollar eucalyptus. Alternatively, you could use olive branches, Italian ruscus or ivy to achieve a similar billowy look.
20. Cascading Wedding Bouquet with Greenery
Floor-length vines are the focal point of this cascade bouquet, drawing the eye all the way down to the very bottom of the bride's wedding dress. Classic white flowers, including roses, orchids and anthurium, created the inverted teardrop shape at the top.