Pretty Floral Wedding Favor Ideas
From potted plants to peonies, thank guests with a favor that will live on past the wedding night.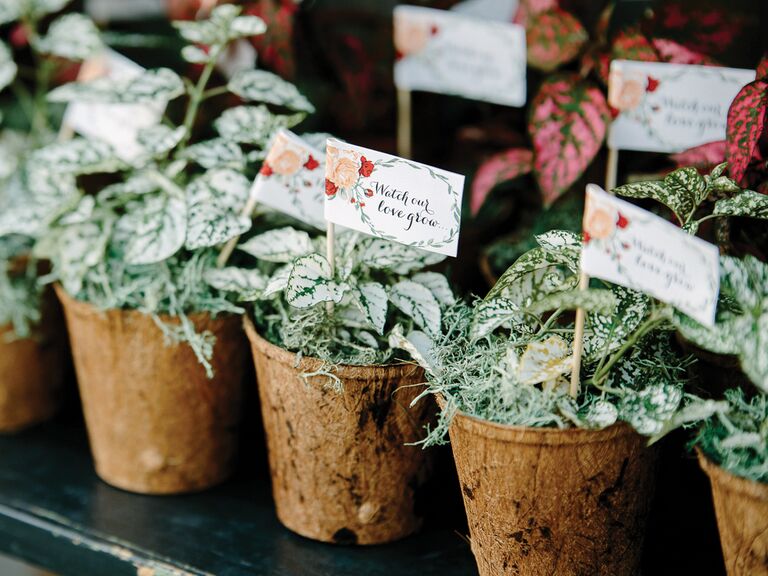 Jenny Haas
Potted Herbs
Fill tiny terra-cotta pots with lavender or another favorite herb. Secure nametags and table names to the pots and the favors can double as escort cards.
Bulbs
Give perennial flower bulbs that can be planted in a garden or in a pot resting on a windowsill. Package bulbs in boxes and tie them off with a ribbon in your wedding day colors.
Fresh Leis
For a beachside wedding, fresh flower leis are beautiful and festive. Give one out to each guest as they arrive to the reception to liven the mood and start the celebration.
Seed Packets
Fill a basket with individual seed packets , like forget-me-nots or your favorite bloom. On the outside, attach a thank-you note, your wedding vows, or the lyrics to your first dance.
Meaningful Blooms
Fill mint julep containers with the flowers that symbolize your love. Attach a small card explaining its meaning (for example, Red Tulips = Declaration of Love). Bonus: mint julep cups look great on tables as extra decor for the reception.
Pressed Flowers
Bibliophilic couples, consider giving out bookmarks pressed with wildflowers -- they're not only pretty, they also make for an easy do-it-yourself project.
Floral Infused
Give guests colorful clusters of miniature flower petal-infused soaps wrapped in tissue paper and placed in a box to match your primary wedding colors.
-- Allison Micarelli