Attention Romantics: We Just Found Your Wedding Theme
We're seeing stars.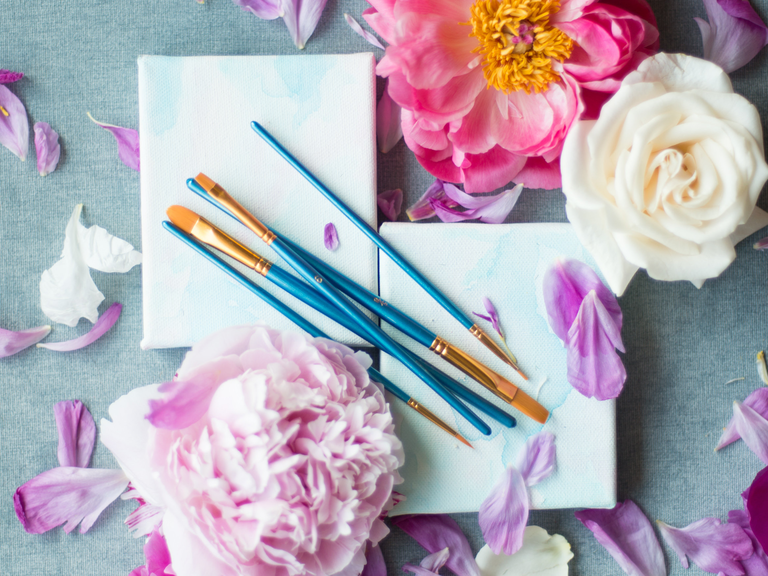 Lorely Meza
If you're having trouble coming up with a wedding theme, you're not alone. It can be a creative struggle to settle on that perfect combination of color palette, stylistic detailing and ambience. The good news is, a theme can be as direct as The Great Gatsby or a mix-and-match combination of a few of your favorite things. The more personalized, the better. Which is exactly why we love this romantic styled shoot by Hylah White Special Events. The idea behind the theme was an artistic approach to infusing Vincent van Gogh's The Starry Night with Claude Monet's Water Lilies paintings. In other words, it's perfect for romantic art buffs.
The event was brought to life at Ebell in Long Beach, California, with whimsical watercolor details, creative uplighting (and mood lighting!), lush florals and playful splashes of color.
Starry Stationery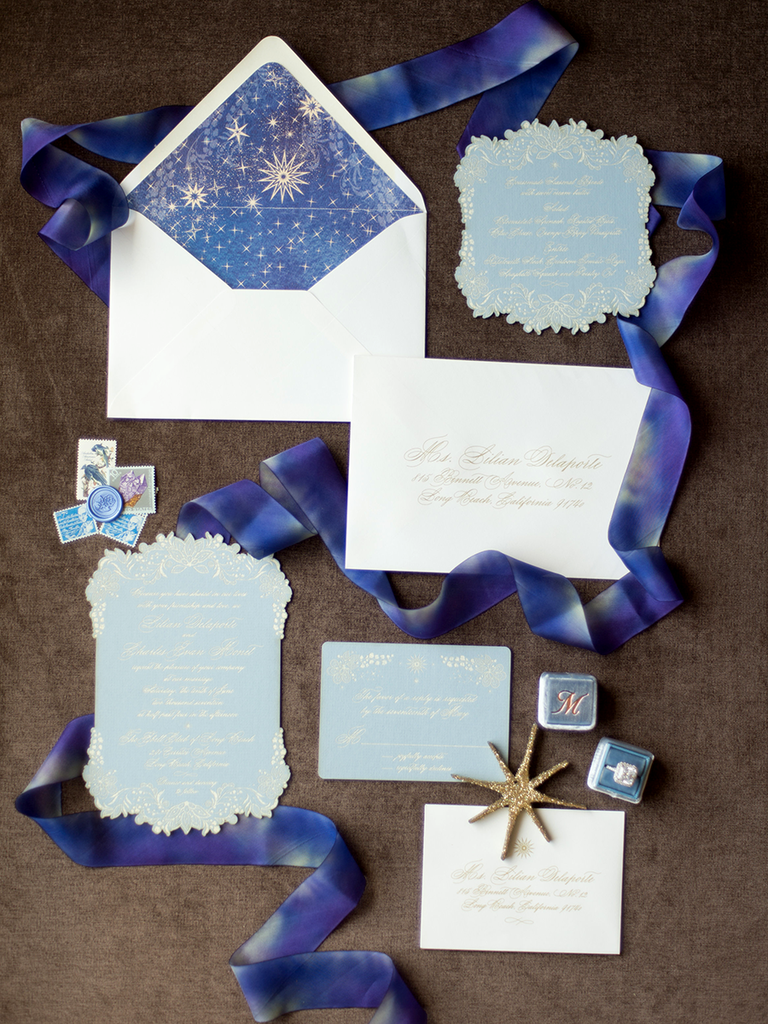 Let guests know what to expect with a stationery suite reminiscent of a beautiful night sky. Envelope liners are the perfect place to play with customization and let your theme shine through.
Jasmin Michelle Designs stationery suite, JasminMichelleDesigns.com
Lush Blooms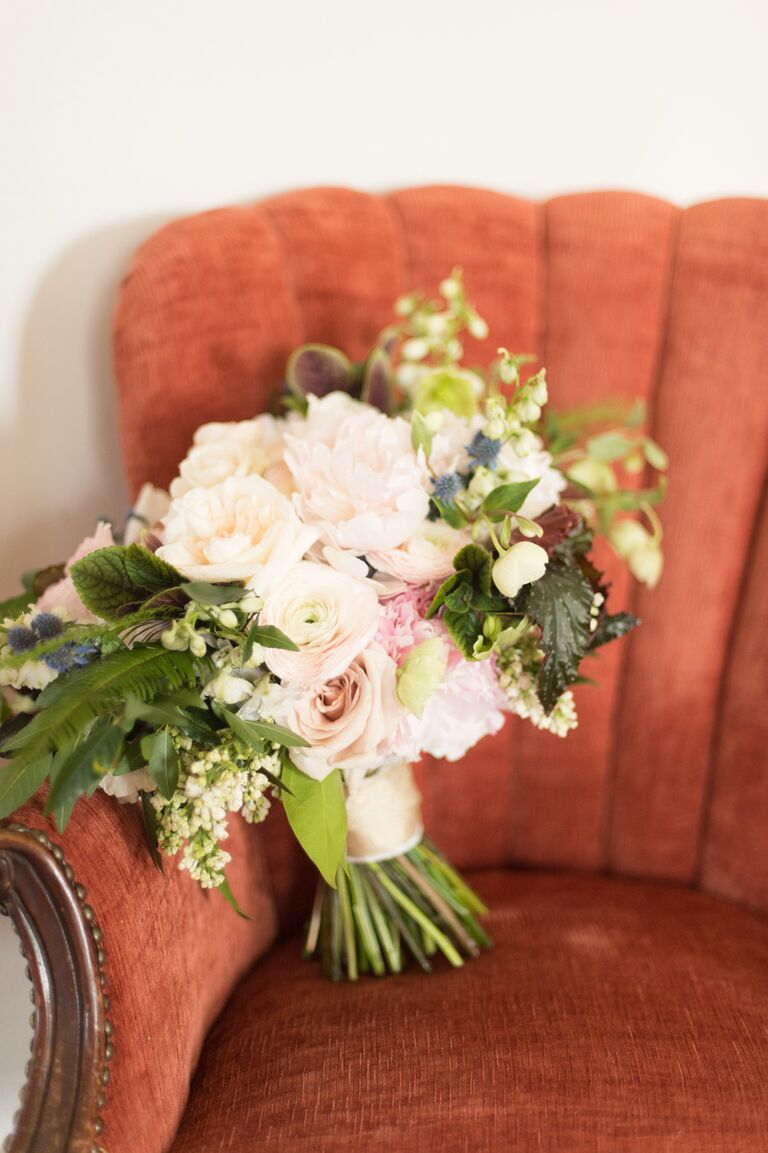 A blush arrangement of ranunculus, roses and peonies gets a touch of whimsy with the addition of natural greenery and light blue thistles. The satin ribbon polishes off the look.
Rebelle Fleurs Event Design florals, RebelleFleurs.com
Seeing Stars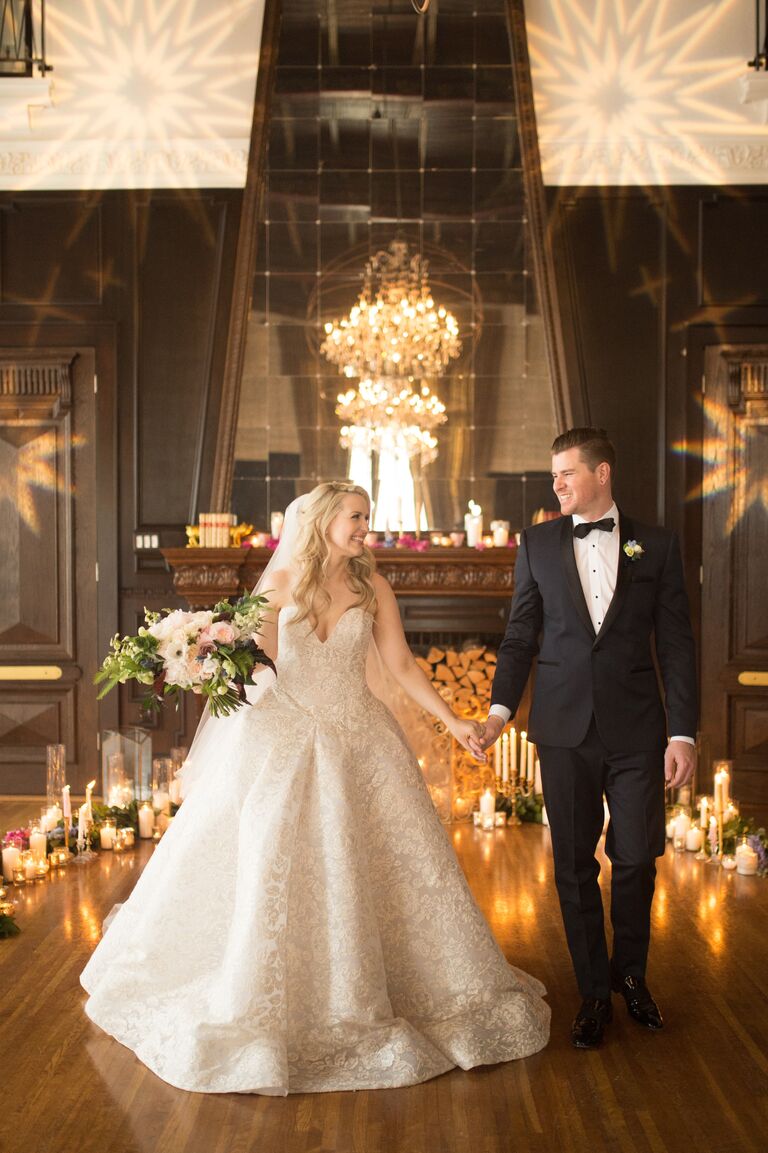 Lighting is one of the most important details of an event. It dictates the ambience, highlights key features of your venue and pulls your guests' attention to exactly where it needs to be. Uplighting can be especially useful when trying to pull off a theme like Starry Night, where projected stars can turn a ceremony space into a work of art.
Make-Up Therapy bridal makeup and hair, MakeUpTherapy.com; Rminé bridal gown, RmineBespoke.com; Friar Tux suit FriarTux.com; Luxury DJs lighting, LuxuryDJs.com; Rasha Professional lighting, RashaProfessional.com
The Second Dress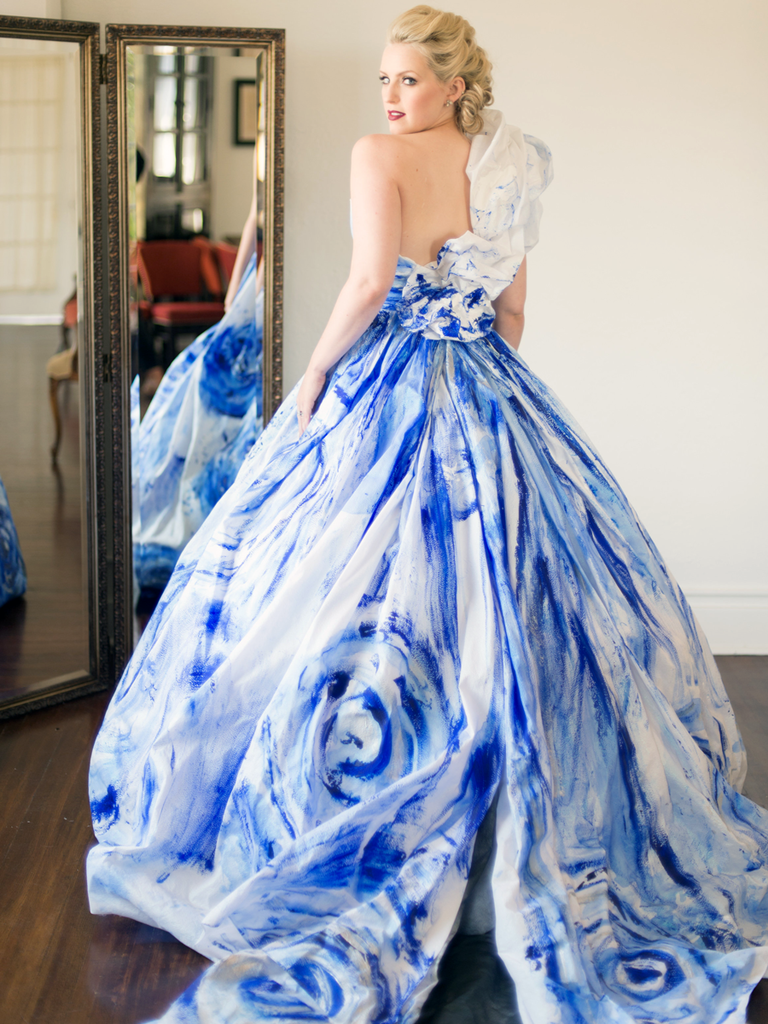 Nothing says "it's time to party" quite like slipping into a second dress. The swirled blue print is a standout feature that makes a fabulous nod to Van Gogh's The Starry Night painting.
Rminé bridal gown, RmineBespoke.com
Romantic Reception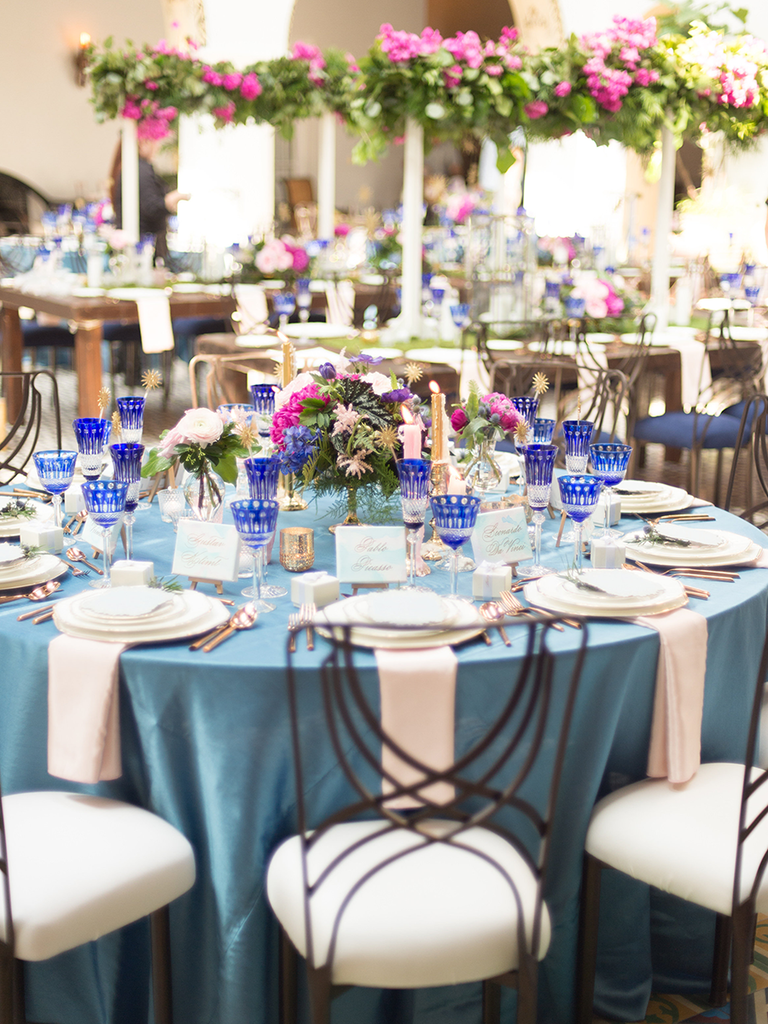 Mix and match your décor for a more eclectic vibe. There's no rule that says you have to go with all family-style tables or all round tables. Same goes for your linens—you can pick out a few pretty tablecloths to add pops of color or mix different napkins to play with a range of hues.
Classic Party Rentals rentals, ClassicPartyRentals.com; Chameleon Chair Collection rentals, ChameleonChair.com
Escort Easels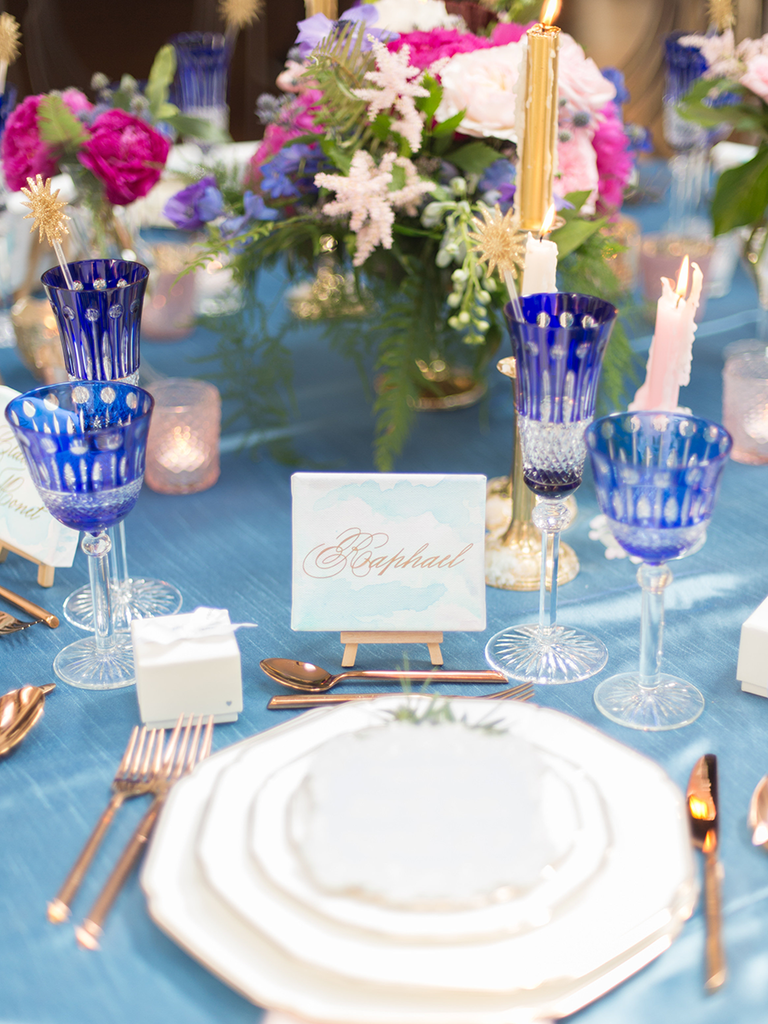 Is there anything more appropriate than mini easels for place cards? Not only do they elevate the table décor, they're also keepsakes that guests could put on display in their home.
The Bleu Dahlia place cards and cocktail stirs, TheBleuDahlia.com
Artistic Tiers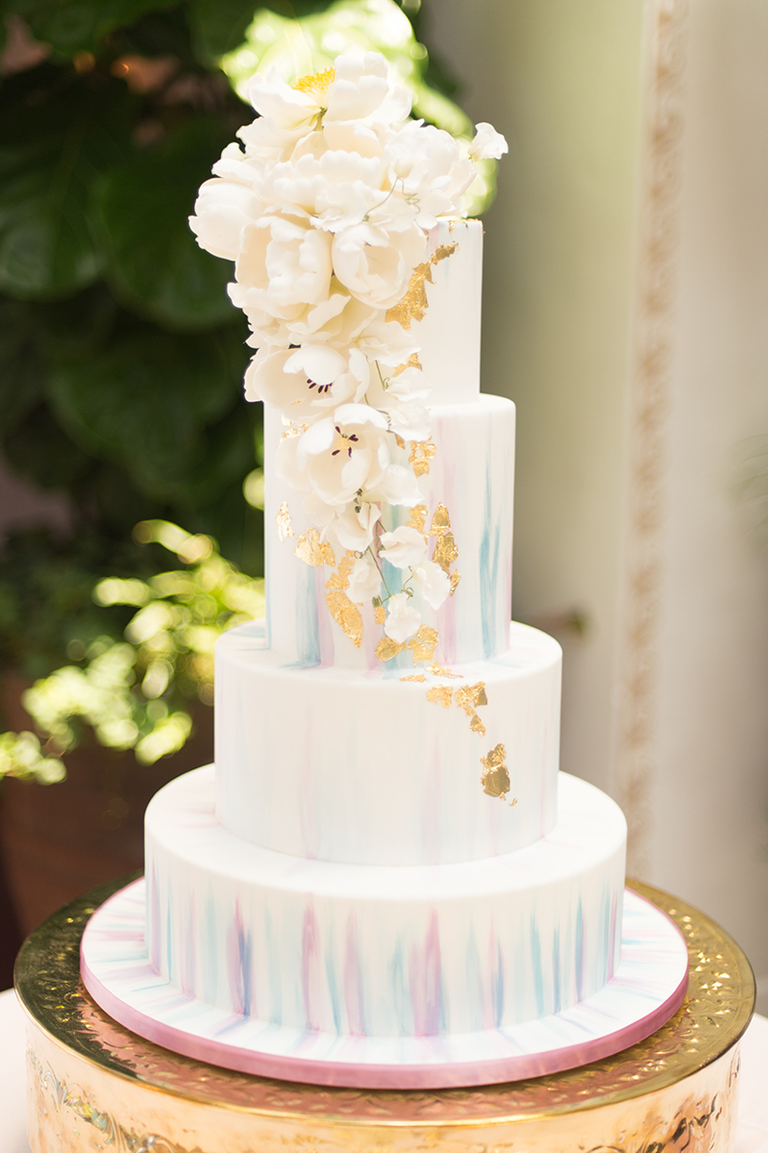 A subtle watercolor design is the perfect way to round out the décor, while the gold leaf appliqué and cascading sugar flowers give the cake a modern and playful design.
Bottega Louie wedding cake, BottegaLouie.com