43 Festive Centerpieces That'll Transform Your Wedding Into a Winter Wonderland
These tablescapes are filled with seasonal details, from pinecones to candles.
It's the most wonderful time of the year. And although winter is often considered the slow season for weddings, the truth is that getting married during this time of the year brings its own special sense of magic, especially when it comes to the decor. As far as your winter wedding centerpieces are concerned, you can play up seasonal elements, like fragrant evergreens and pinecones, or take advantage of the shorter days by setting the mood with candlelit tables. It always helps to kickstart your wedding planning with a dose of inspiration, so we're sharing 43 of our favorite winter wedding table decorations below. From Christmas-themed tablescapes to understated, classic floral arrangements, we've got winter centerpiece ideas for all different wedding styles—plus, the in-season flowers to consider using.
In this article:
The Best Flowers for Winter Wedding Centerpieces
During the winter, popular wedding flowers like peonies and dahlias can unfortunately be much more difficult for your florist to source. But the good news is that you'll still have plenty of flowers that are in-season during the winter, including some beautiful blooms that are only available during this time of year.
"If you're looking to use seasonal flowers, then amaryllis, anemones, camellias, Casablanca lilies, tulips, gardenias, holly, jasmine, orchids, mini gerberas, poinsettias, roses, ranunculus, hellebores and sweet peas are all winter flowers," says Jove Meyer, owner and creative director at Jove Meyer Events in New York, New York.
On top of using flowers that match your theme and fit your budget, you'll need to think about color, which is where your florist can get creative with the designs. "Winter wedding centerpieces don't have to be all white or red and green, they can be whatever makes you and your partner happy," Meyer says. "Design should be a reflection of the couple's style, personality and love story. That's the focus—not the season."
If red and green aren't part of your winter color palette, don't sweat it. Instead, you can use flowers in muted, moody colors (like plum purple or mauve) or accent your arrangements with metallic-painted details or berries to incorporate a wintry look. Lastly, you shouldn't feel tied to seasonal norms if they don't ultimately fit your wedding vision. "If you want a bold colorful wedding in the dead of winter, go for it," says Meyer.
Winter Wedding Centerpiece Ideas
Capture the beauty of the season with a glam winter white centerpiece or a moody arrangement that reflects the darker tones of the season. See our favorite centerpieces and wedding decor ideas for your winter tablescapes below.
1. Moody Wedding Centerpiece with Silver Accents
Not all winter wedding centerpieces have to feel Christmas-y. Case in point: this burgundy and ivory arrangement that pairs perfectly with metallic candlesticks, with a touch of red for seasonal flair.
2. Blush Wedding Centerpiece with Votives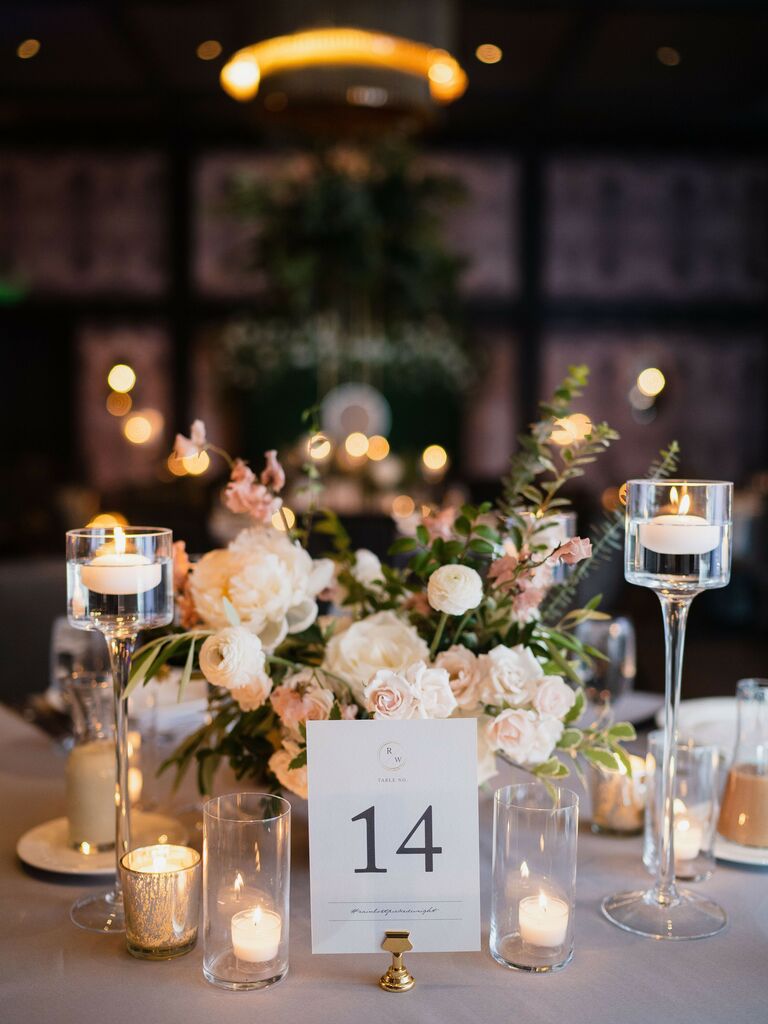 Combine blush roses and greenery for a classic look, then surround the arrangement with votives in glass candle holders to add a warm glow.
3. Boho Winter Wedding Centerpiece with Pampas Grass
For an edgier take on the green and red color palette, pair burgundy blooms and greenery in a bronze compote vase. Add in pampas grass or other dried floral accents for a boho aesthetic.
4. Simple Centerpiece with Enclosed Taper Candles
You don't need to go overboard with your florals to create a stylish tablescape. Display white taper candles in glass covers or vases to mimic the warm glow of a winter fireplace.
5. Tall Wedding Centerpiece with Silver Dollar Eucalyptus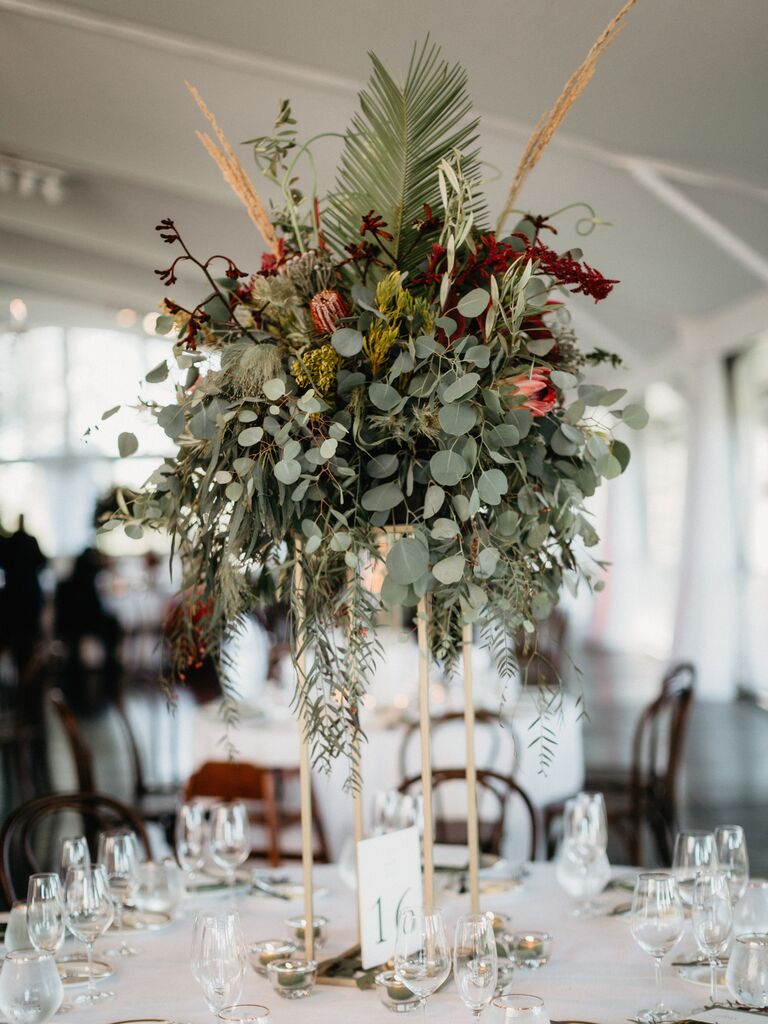 Celebrating your winter nuptials somewhere warm? Use silver dollar eucalyptus, red proteas and palm fronds for a festive yet tropical look.
6. Timeless Wedding Centerpiece with Green and White Flowers
Green and white is a timeless color combination for wedding centerpieces, regardless of the season. Make the arrangement slightly more on-theme for winter by choosing in-season flowers, like these anemones that feature a dark blue center.
7. Centerpiece with Gold Candelabras and Tall Taper Candles Candles
Long banquet tables present an opportunity to make a big impact with your centerpieces. Line the table with elegant gold candelabras, a greenery table runner and small votives in mercury glass vases for a super-cozy, chic look.
8. Festive Wedding Centerpiece with Evergreens and Pinecones
This layered tablescape is packed with seasonal details, from the red tartan napkins to the evergreen branches, pinecones and magnolia leaves. Finish your wedding tables with classic white charger plates and flatware to let the other elements take the spotlight.
9. Modern Winter Wedding Centerpiece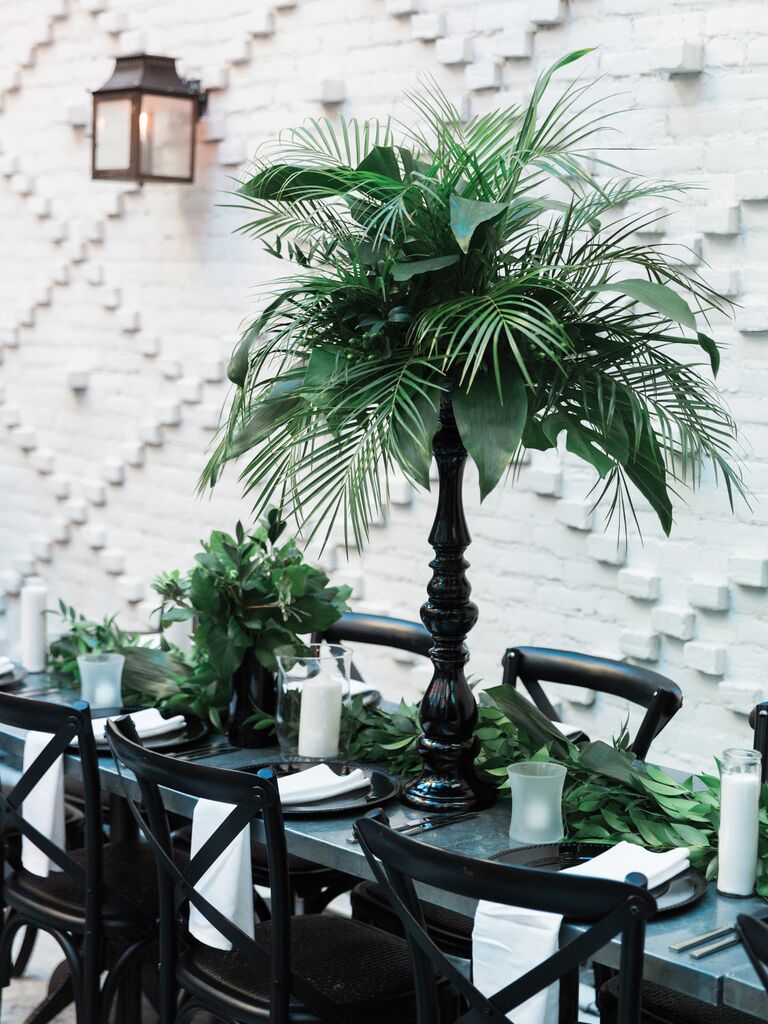 Palm fronds and monstera leaves are most associated with summer weddings, but you can winterize them by using black pedestal vases and white tabletop accents for contrast.
10. Greenery Table Runner Centerpiece and Candles
White candles look chic and add a cozy vibe to any space, even if they're not lit. Mix porcelain and gold candlesticks, then add a runner made of seasonal greenery for a simple, sweet winter wedding centerpiece.
11. Red and Pink Winter Wedding Centerpiece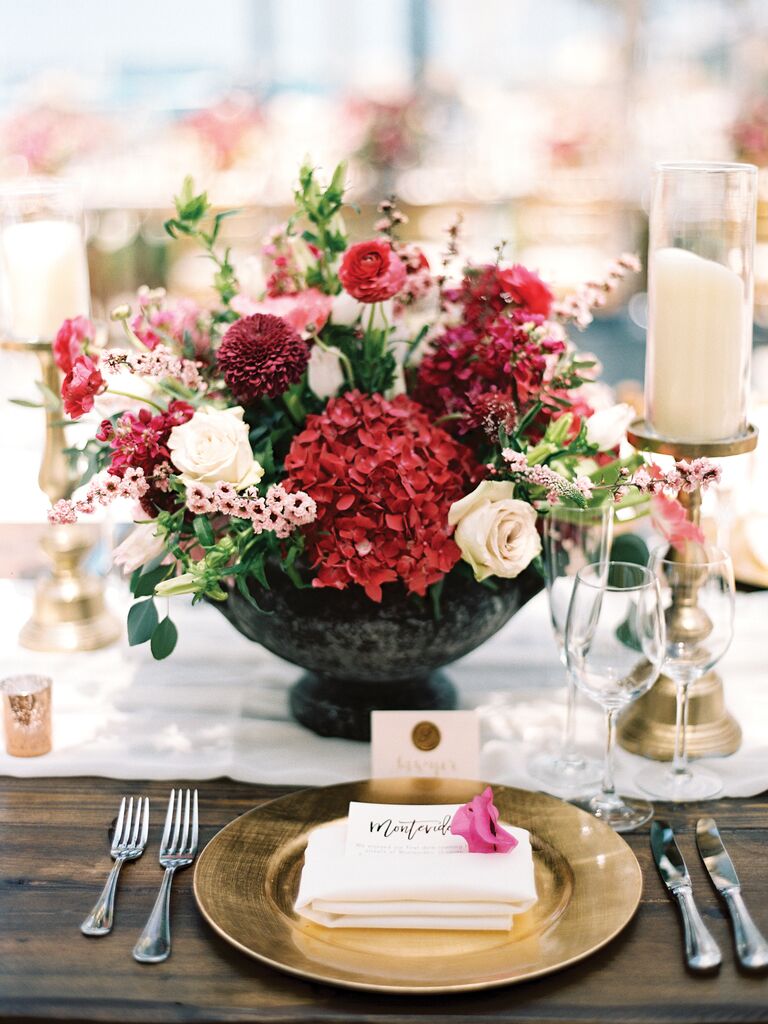 This romantic color combo is a great choice if you're having a Valentine's Day wedding or want to branch out from a red and green palette. Use flowers in different shades of blush, red and burgundy to create a dimensional arrangement.
12. Elegant Wedding Centerpiece with White Candlelit Lanterns
If you're looking for an elegant-meets-rustic wedding centerpiece, consider this setup. Surround a white hurricane lantern with a circle of white flowers and greenery, then add cloth napkins to reflect your color scheme.
13. Winter Wedding Centerpiece with Themed Table Names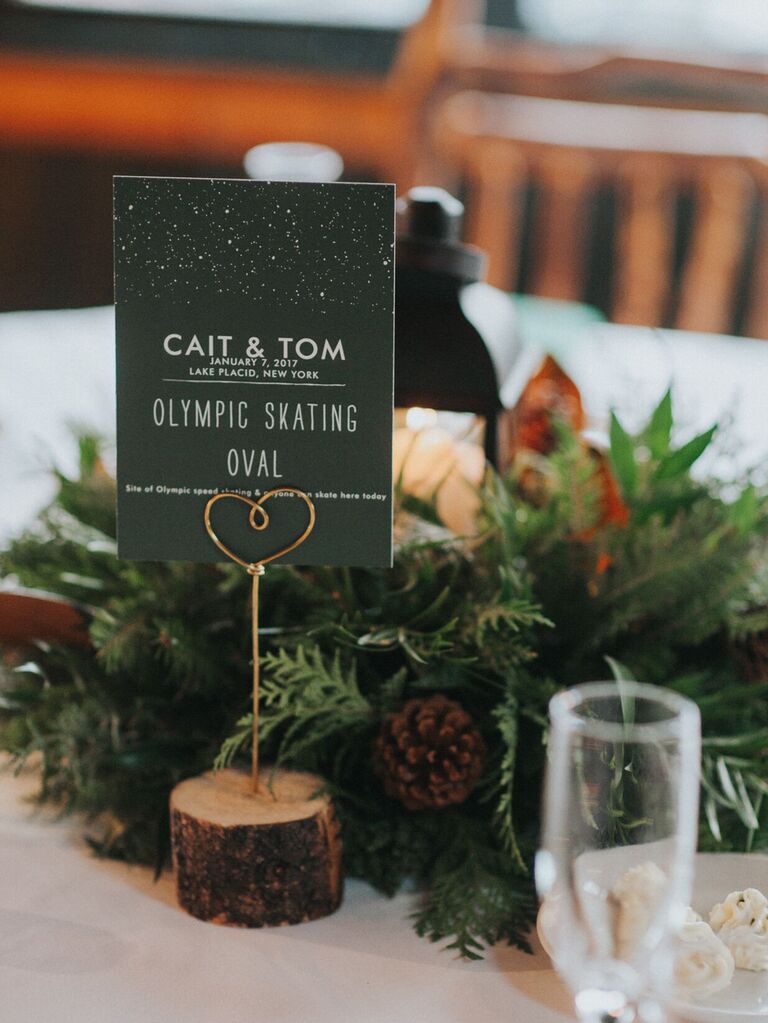 Creative wedding table names and numbers deserve their own moment in the spotlight. Whether you're naming your tables after milestones in your relationship, your favorite activities or something else, decorative holders like this wooden stand will make sure that the cards are displayed loud and clear.
14. Minimalistic Wedding Centerpiece with Black Candles
Sans traditional floral centerpieces, this ultra-chic tablescape is lined with black taper candles and white rose petals, creating a luxe yet understated look.
15. Tablescape with Patterned Linens and Winter Berries
The statement detail here is the patterned tablecloth covered in silver tree branch motifs. You won't need much else to complete the centerpieces—just add a few bud vases with flowers and berries.
16. Garden-Inspired Wedding Table Runner
Create a winter wonderland by grouping small white blooms and candles on each table. Use greenery, decorative draping and potted trees throughout the rest of your wedding reception venue to warm up the space and bring the outdoors in.
17. Small Wedding Centerpiece with White Flowers and Ferns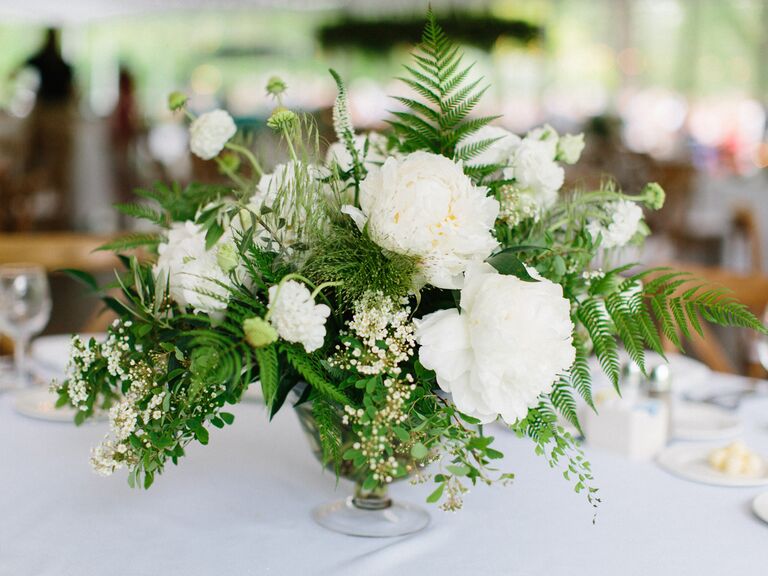 Add fern leaves to a posy of white flowers for a simple wintry table centerpiece.
18. Golden Terrarium Centerpiece with Greenery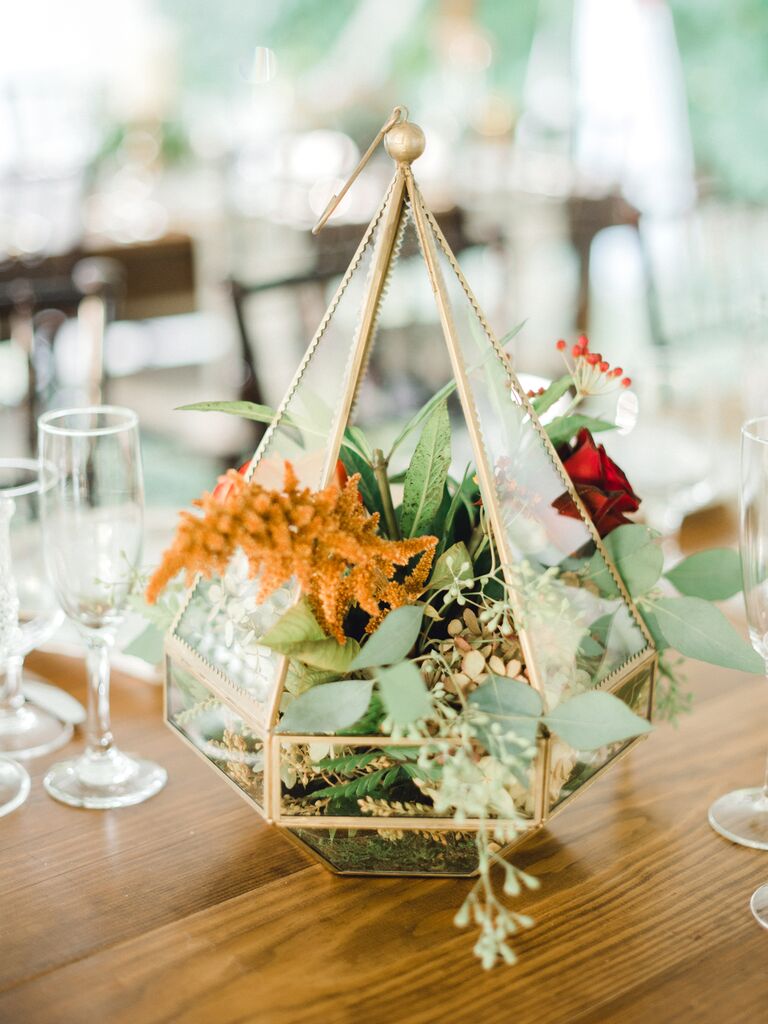 For centerpieces that are boho and unique, showcase flowers and greenery in geometric glass terrariums rather than traditional vases. These gold and red flowers are ideal for a transitional late fall wedding.
19. Glamorous White Rose Centerpiece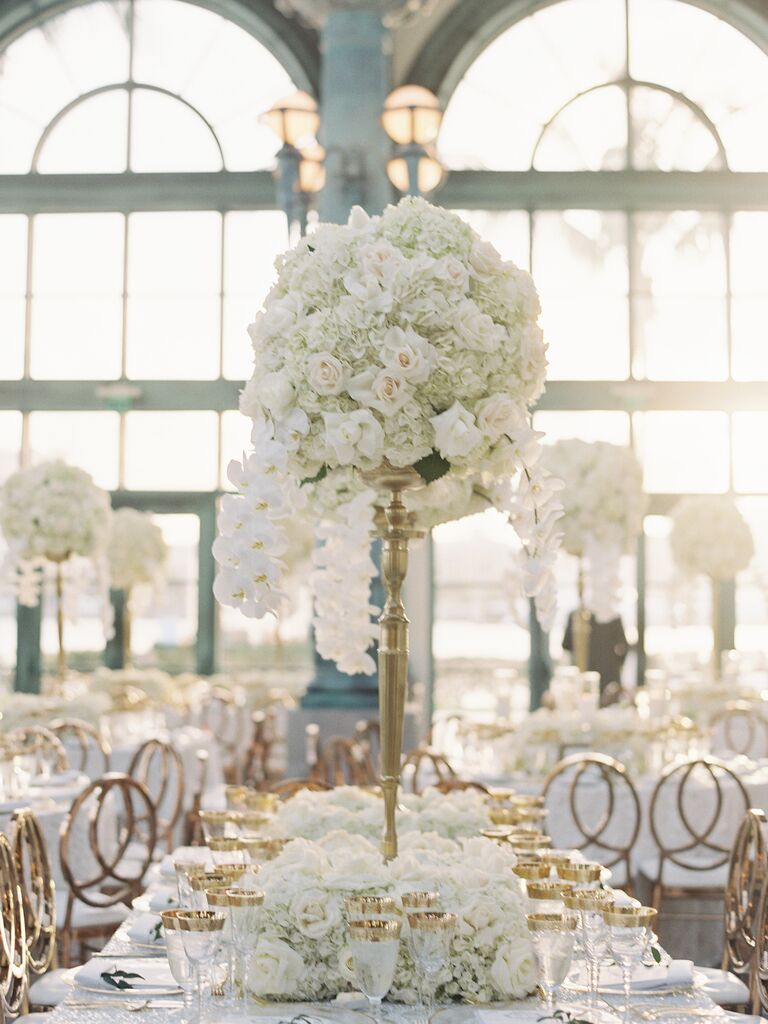 Take inspiration from snowballs and snowflakes by opting for stunning, rounded arrangements of white roses, hydrangeas and orchids. Tall gold pedestal vases will bring even more drama to your tables, giving the room a formal feel.
20. Ikebana-Style Winter Wedding Centerpiece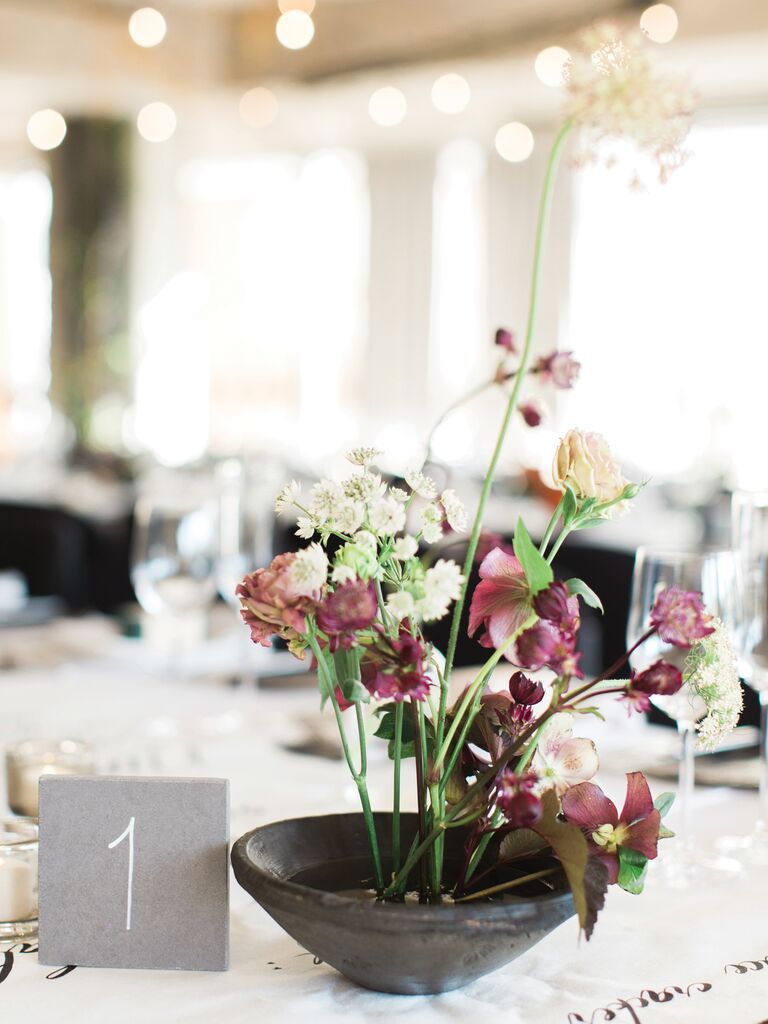 Ikebana, which is a Japanese form of floral design, focuses on keeping the centerpieces simple and organic. This abstract arrangement of white and purple flowers feels modern and artistic.
21. Tall White and Gold Wedding Centerpieces
Transform your indoor space into a glamorous winter wonderland with tall centerpieces and fluted gold vases. Classic flowers like white phalaenopsis orchids, roses and hydrangeas create a tasteful aesthetic.
22. Rustic Winter Wedding Centerpiece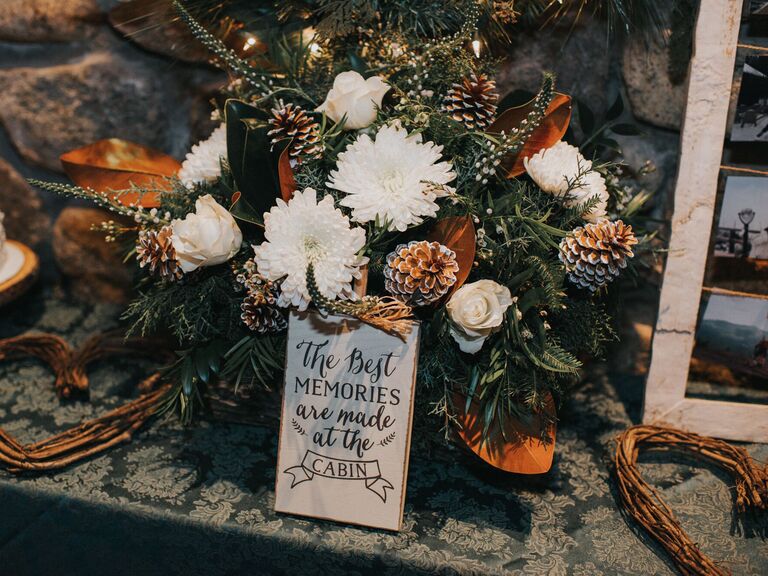 Pinecones and pine tree branches will naturally bring a rustic theme to your wedding centerpieces. Add white flowers to contrast with the greenery while keeping the low-key, wintry look.
23. Elegant Pinecone Winter Centerpiece
Going for a vibe that's less rustic and slightly more elevated? Include pinecones in a subtle way by placing a few of them alongside the centerpieces or on top of napkins at each place setting.
24. Simple Wedding Centerpiece with Glitter Snowflakes
For a casual wintry feel, top off your tables with evergreen garlands, mercury glass votive holders and a scattering of silver glitter snowflakes.
25. Winter Wedding Centerpiece with Wooden Accents
Swap metal or glass centerpiece vessels for wooden troughs instead. Take the rustic wintry theme one step further by adding a wooden slab platform and burlap table linens.
26. Hydrangea Wedding Centerpiece with Red Berries
Red winterberries or holly branches are festive accents to white hydrangea centerpieces. Pinecones and feathers will complete the outdoorsy, woodland look.
27. Birch Tree Winter Wedding Centerpiece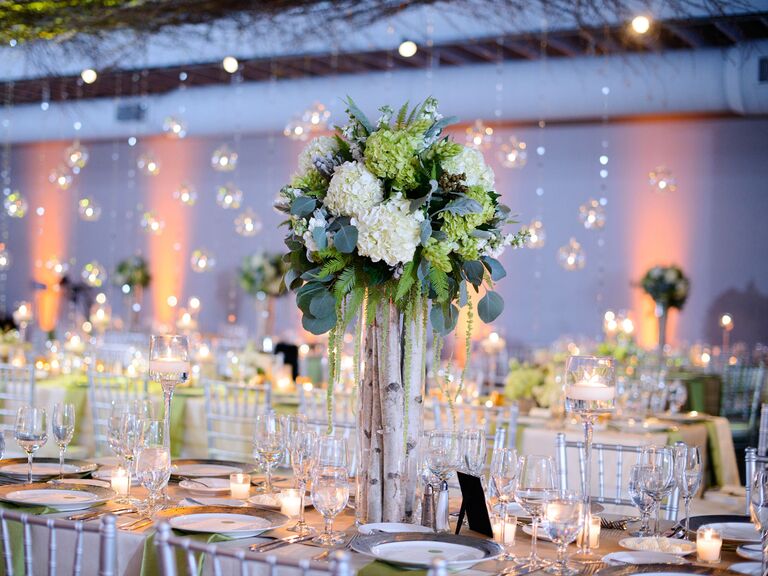 Perfect for a winter wonderland wedding theme, this tall centerpiece with hydrangeas, eucalyptus and ferns is displayed atop a stand made from birch tree branches.
28. Candle Centerpiece with Cranberries and Greenery
As an alternative to floating candles, fill glass vases with salt or iridescent white beads to mimic snow. Accent the arrangements with festive cranberries and greenery.
29. Mini Tree Stump Centerpiece with Candles
Add tea lights and votives to assorted vintage wooden boxes and tree stumps to create an eclectic, homey setup for your reception tables.
30. Tall Feather Centerpiece with White Flowers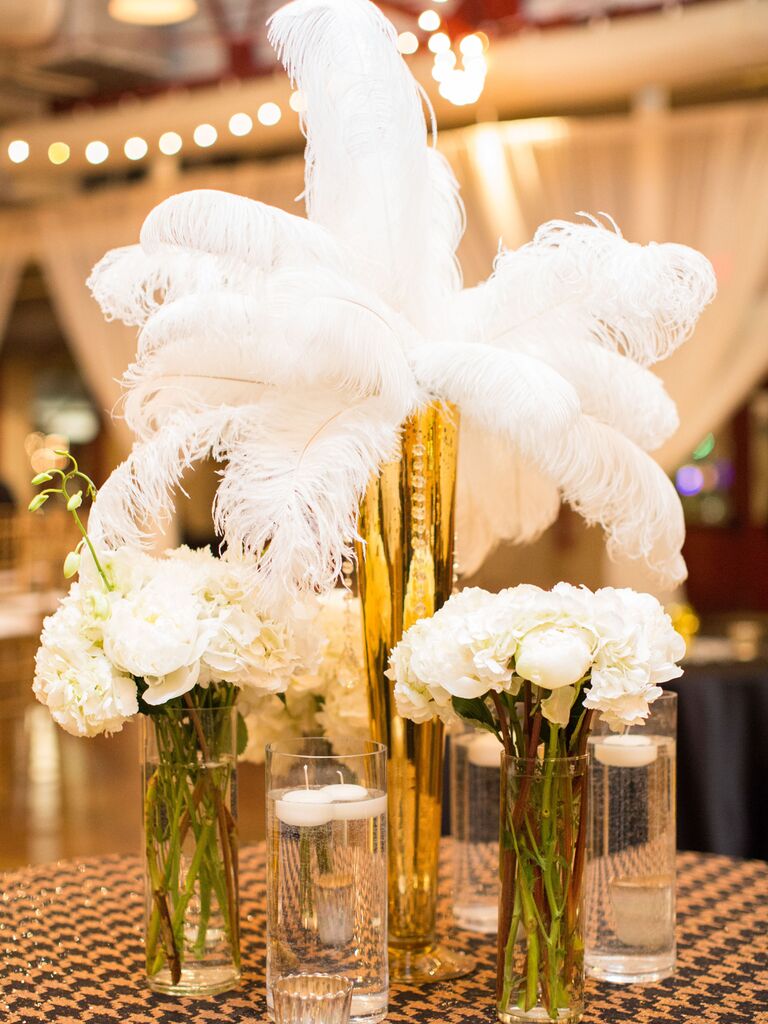 Lean into an Art Deco-themed wedding or New Year's Eve wedding by including large white feathers in your centerpieces. Floating candles, sequined linens and metallic gold and silver accents will all fit the 1920s aesthetic.
31. Wreath and Mercury Glass Centerpiece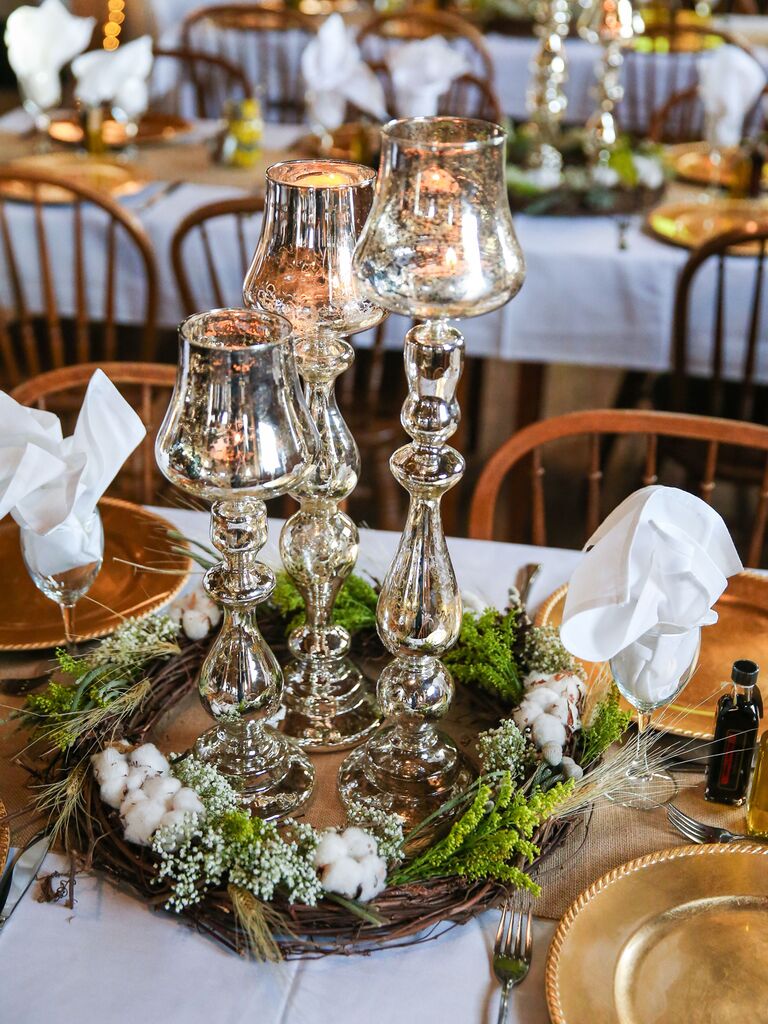 Use a grapevine wreath with greenery, baby's breath and cotton bolls to frame a trio of mercury glass candlesticks for a simple but seasonal centerpiece.
32. Cable Knit-Inspired Winter Wedding Centerpiece
This adorable winter wedding decor idea is inspired by your favorite cozy sweater—all you need is pinecones, balls of yarn and pillar candles.
33. Terrarium Wedding Centerpiece
Reminiscent of a holiday snow globe, this centerpiece features pinecones and moss inside a glass cloche jar.
Christmas Wedding Centerpieces
Planning a wedding in the month of December? Here's how to design your centerpieces for a Christmas-themed wedding.
34. Red and White Rose Centerpiece with Greenery
Accent mauve, white and red roses with mixed greenery for a holiday-inspired centerpiece that's not overly Christmas.
35. Christmas Wedding Centerpiece with Red Candles
Swap the ordinary white candles for red candles instead. They'll bring a touch of the holiday spirit to your wedding centerpieces and tabletops.
35. Hanging Wedding Centerpiece with Greenery
Hanging wedding centerpieces above your tables will transform your venue and become a talking point for your guests. This suspended arrangement of evergreens and pine needles is complemented by small floral arrangements below.
36. Red and Green Wedding Centerpiece
It doesn't get more holiday-themed than this. Inspired by classic Christmas decorations, this gorgeous winter wedding tablescape features red roses, amaryllis, pine needles, taper candles and a knitted white table runner.
37. Winter Wedding Sweetheart Table Idea
If you've opted for a wedding sweetheart table, decorate with pillar candles, a low centerpiece and red velvet linens to create a romantic, Christmas-themed setup.
38. Greenery Wedding Table Runner with Berries
Tuck sprigs of seasonal red berries into a pine garland for a simple, festive look that doesn't need much else.
39. Holiday-Themed Lantern Centerpieces
Start with a simple hurricane lantern, then add a bed of greenery with Christmas ornaments and other baubles to finish the centerpiece.
40. Wedding Centerpiece with Christmas Ornaments
Here's another way to use Christmas ornaments in your centerpieces. Fill tall glass vases with ornaments that match your wedding colors, then top them off with fresh flowers as usual.
41. Tall Tree Branch Centerpiece with Hanging Candles
Recreate this dreamy winter wonderland wedding centerpiece by hanging glass orbs from tree branches at the center of each table. Our tip: Spray paint the branches if you want them to have less of a rustic look and more of a stylized finish.
42. Garden-Style Low Wedding Centerpiece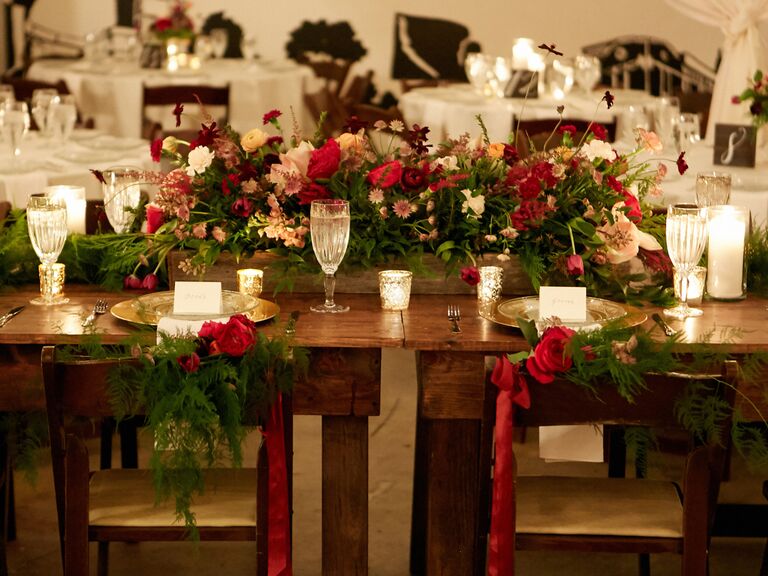 Combine all of your favorite red winter flowers, like anemones, roses, hellebores and poinsettias, in a low wooden trough that spans the table. The rest of the decor can be fairly simple—finish the tablescape with gold charger plates, crystal drinkware and place cards at each table setting.
43. Rustic Christmas Wedding Centerpiece
Want to skip the fabric table runners? Use wooden slabs to display small arrangements of red and green flowers.