49 Festive Centerpieces That'll Transform Your Wedding into a Winter Wonderland
'Tis the season.
It's the most wonderful time of the year. We love cold-weather celebrations because they offer so many possibilities. You can create a glittering winter wonderland or a cozy rustic space. To help inspire your décor, we rounded up 49 winter wedding centerpieces for every kind of celebration. While your choice of in-season florals may be limited during this cold season, you still have plenty of seasonal blooms to work with. "If you're looking to use seasonal flowers then amaryllis, anemone, camellias, casablanca lilies, tulips, gardenias, holly, jasmine, orchids, mini gerberas, poinsettias, roses, ranunculus, hellebores and sweet peas are all winter flowers," says Jove Meyer, owner and creative director at Jove Meyer Events.
Once you've selected your favorite flowers, get creative with color. "Winter wedding centerpieces don't have to be-all white or red and green, they can be whatever makes you and your partner happy," Meyer says. "Design should be a reflection of the couples style, personality and love story. That's the focus—not the season." Play with dark, moody hues, seasonal berries, twigs and bold colors (like purple, for example). Accent your arrangements with frosty metallic pieces, rustic pinecone details or warm, glowing candles. Or, do something completely different! "If you want a bold colorful wedding in the dead of winter, go for it," Meyer says.
Ready to get inspired? Grab a warm mug of cocoa and scroll through the 49 winter wedding centerpieces, below.
Winter Wedding Centerpiece Ideas
Capture the beauty of the season with a glitzy white centerpiece or a unique moody arrangement. See our favorite ideas below.
Moody Bouquet With Metallic Accents
Not all winter wedding centerpieces have to feel Christmas-y. Case in point: this moody arrangement that pairs perfectly with metallic candlesticks.
Blush Bouquet and Warm Candles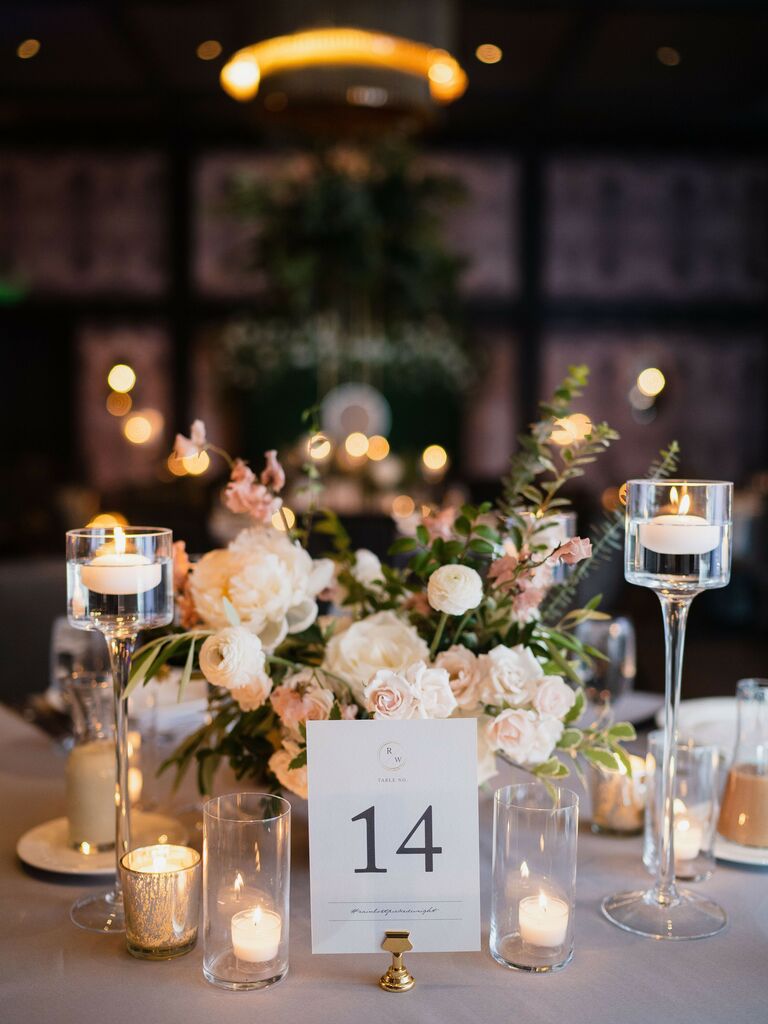 Turn a pretty blush bouquet into a winter wedding centerpiece by surrounding it with the warm glow of candles.
Boho Emerald and Burgundy Centerpiece
For an edgy look, place burgundy blooms and greenery in a bronze vase. Add in dried, wispy florals for a boho aesthetic.
Glass-Covered Candles
Mimic the warm glow of the fireplace by placing candles in a tall glass votive.
Silver-Dollar Eucalyptus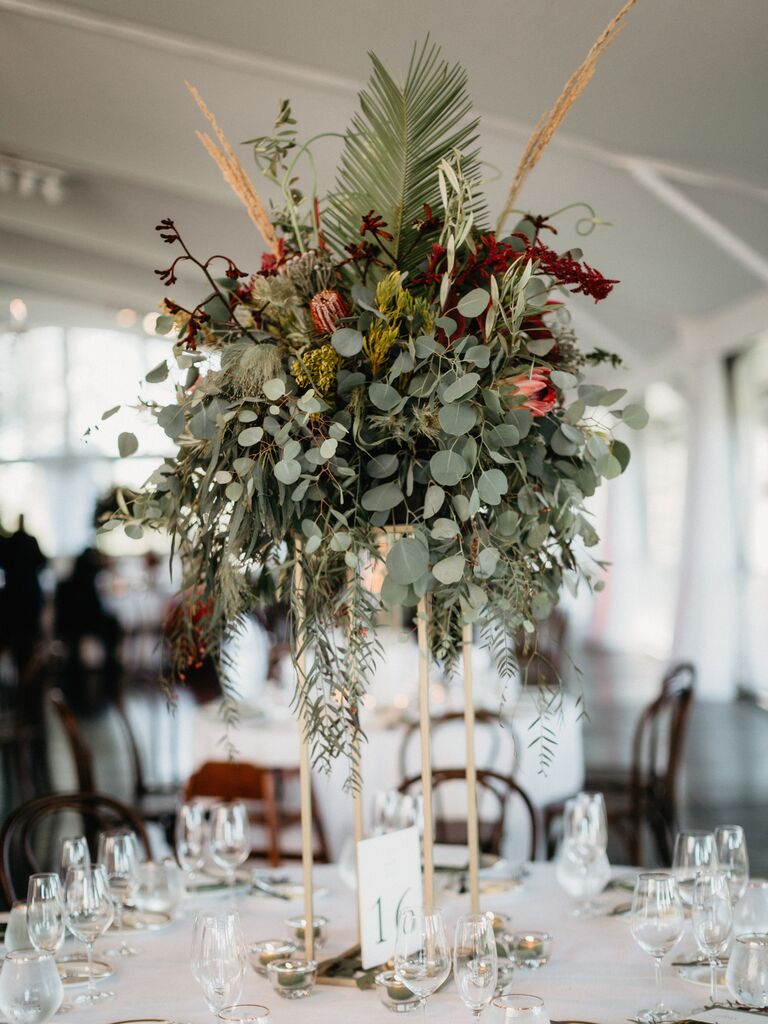 Celebrating your winter nuptials somewhere warm? Utilize silver-dollar eucalyptus, red blooms and a palm leaf for a festive look.
Green and White Flowers
Green and white is a timeless combination for wedding centerpieces. Make it seasonally-appropriate by selecting white flowers with a dark center.
Glowing Candles
The warm glow of the candles paired with gold metallic vases creates a cozy, festive look.
Greens, Pinecones, Roses and Candles
Run greens the length of the table and add in winter-inspired touches like pinecones, candles and white flowers.
Palm Leaves in Black Vase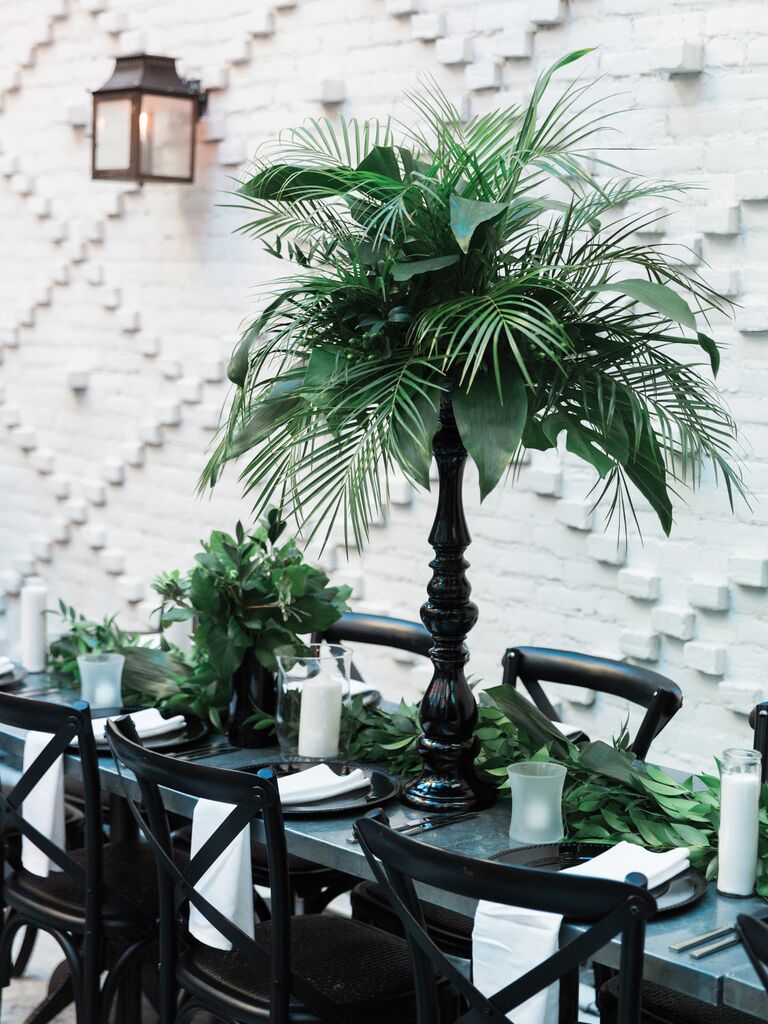 Winterize palm leaves by placing them in a tall black vase.
Greens and Candles
White candles look glamorous and add a cozy vibe to any space. Add a runner made of greens for a simple, sweet winter wedding centerpiece.
Shades of Red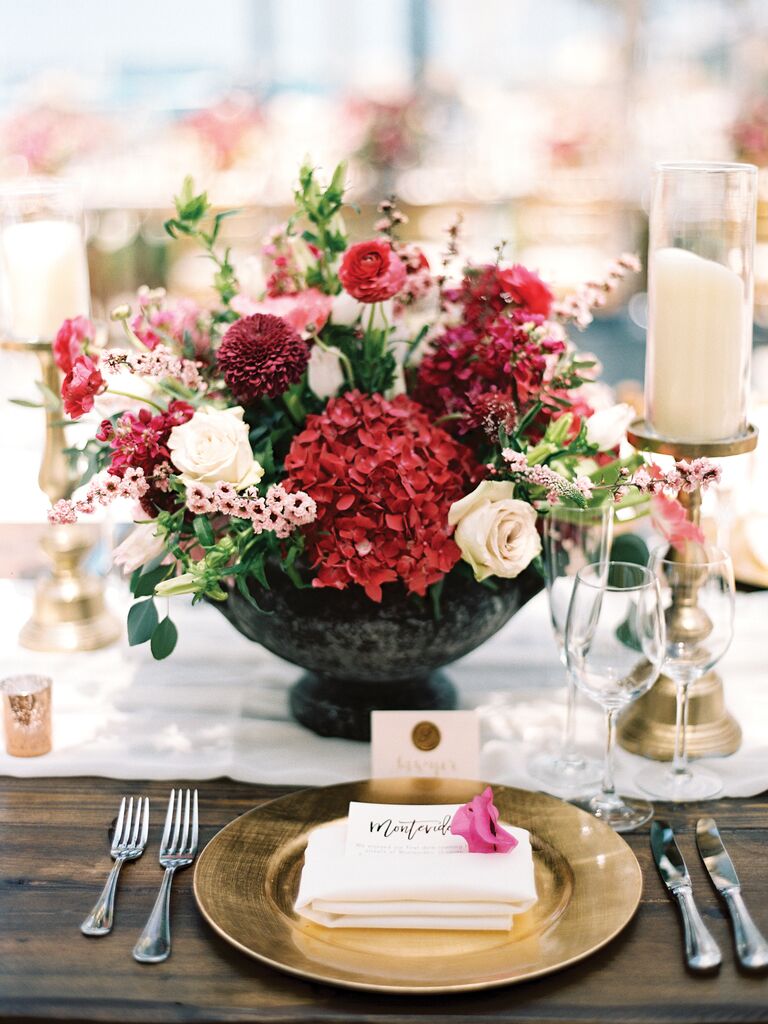 Use different shades of red in a bouquet for a unique winter wedding centerpiece.
Wintery White Lanterns
If you're looking for a rustic winter wedding centerpiece idea, consider this cute setup. Surround a white lantern with a circle of white flowers and greens.
Lanterns With Evergreen and Wood Accents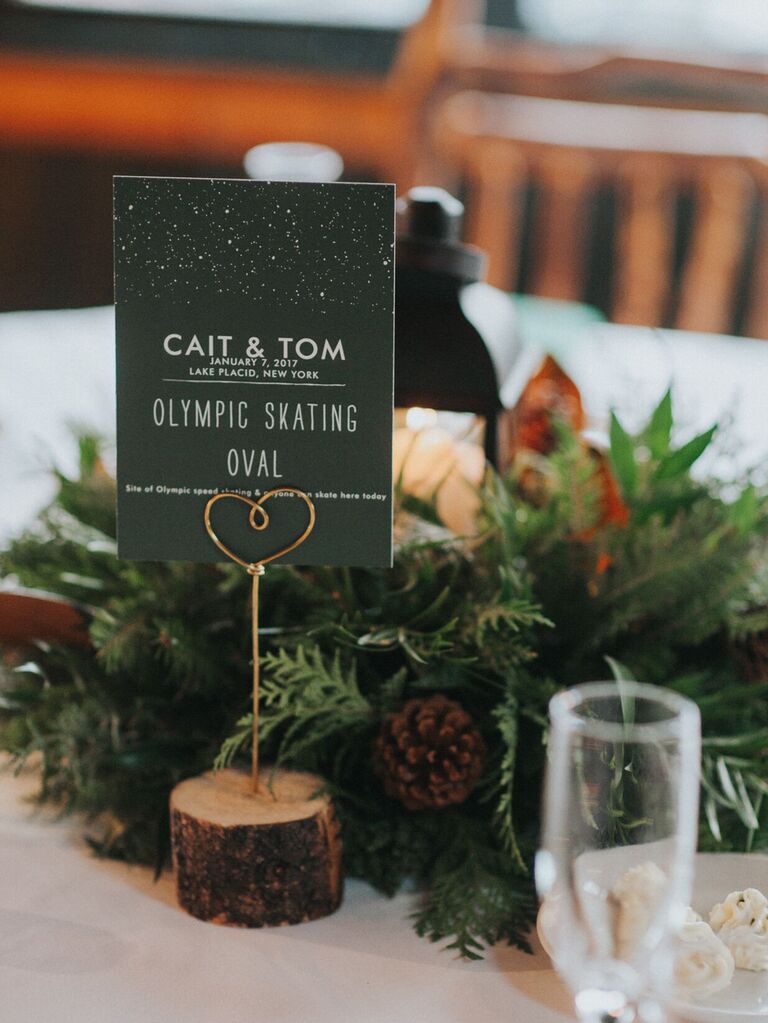 Surround a lantern with evergreen stems and wooden accents.
Black Candles
Line black candles down the length of the table for a moody, seasonal glow.
Peach Flowers and Branches
Place a single peach-colored bloom in a glass vase and add in branches for a charming winter wedding centerpiece.
Winter Garden Table Runner
Create a winter wonderland-inspired garden on each table. Group together small white blooms and line them down the table. Don't forget the candles!
White Flowers and Ferns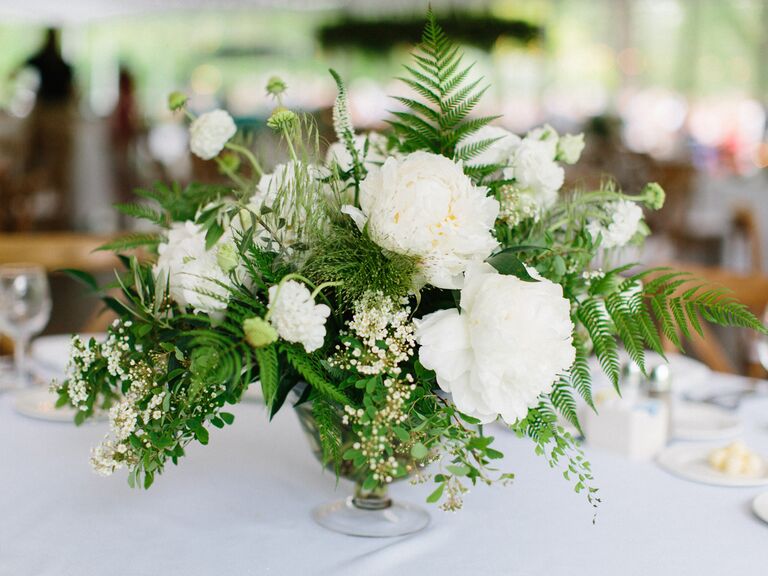 Add ferns to a bouquet of white flowers for a simple, wintery centerpiece.
Golden Terrarium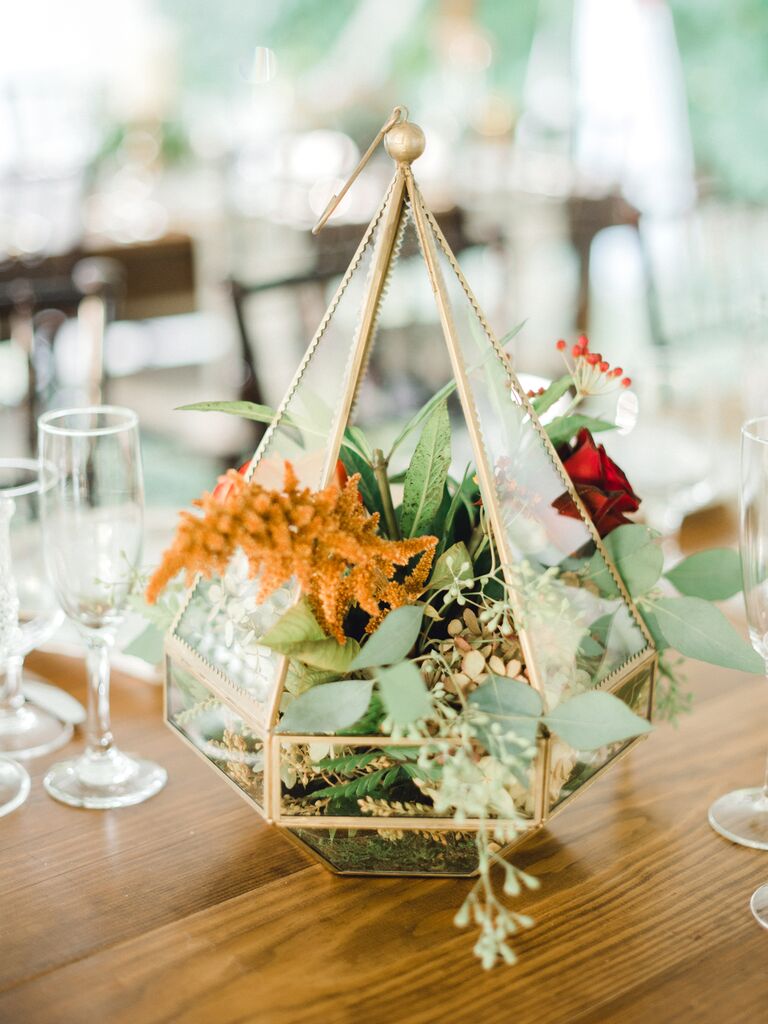 For a setup that's equal parts boho and glam, place greens into a golden, geometric terrarium.
White Rose Globe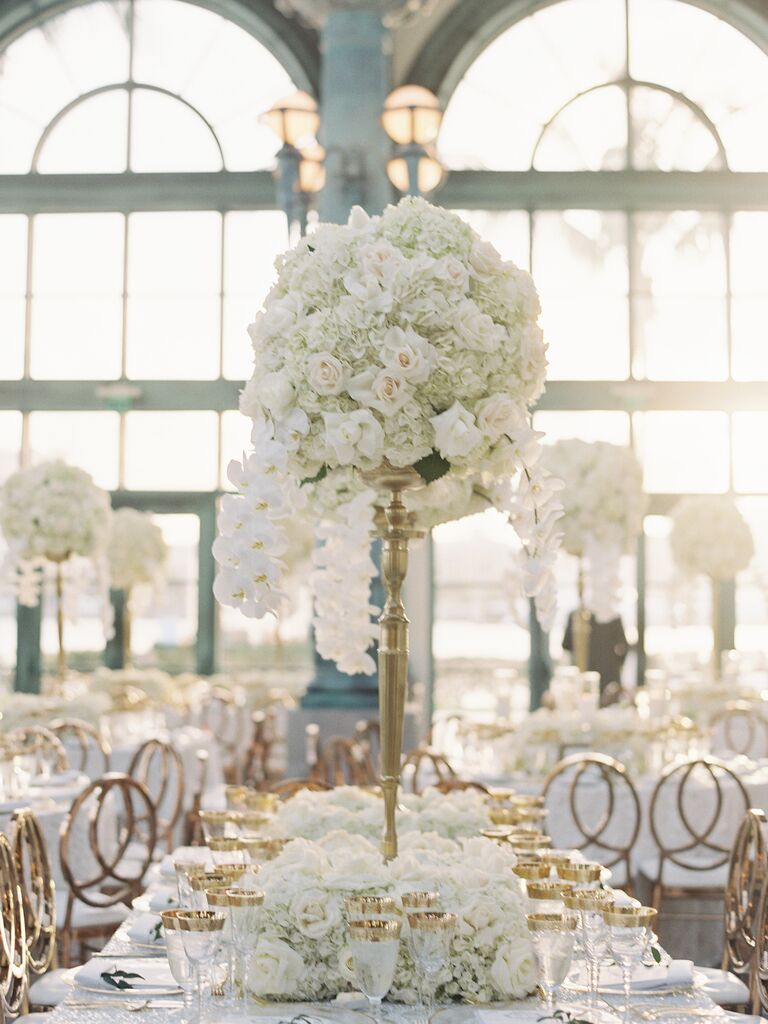 Mimic a snow globe by placing spheres of roses on tall, metallic stands.
Purple Flowers in Black Vase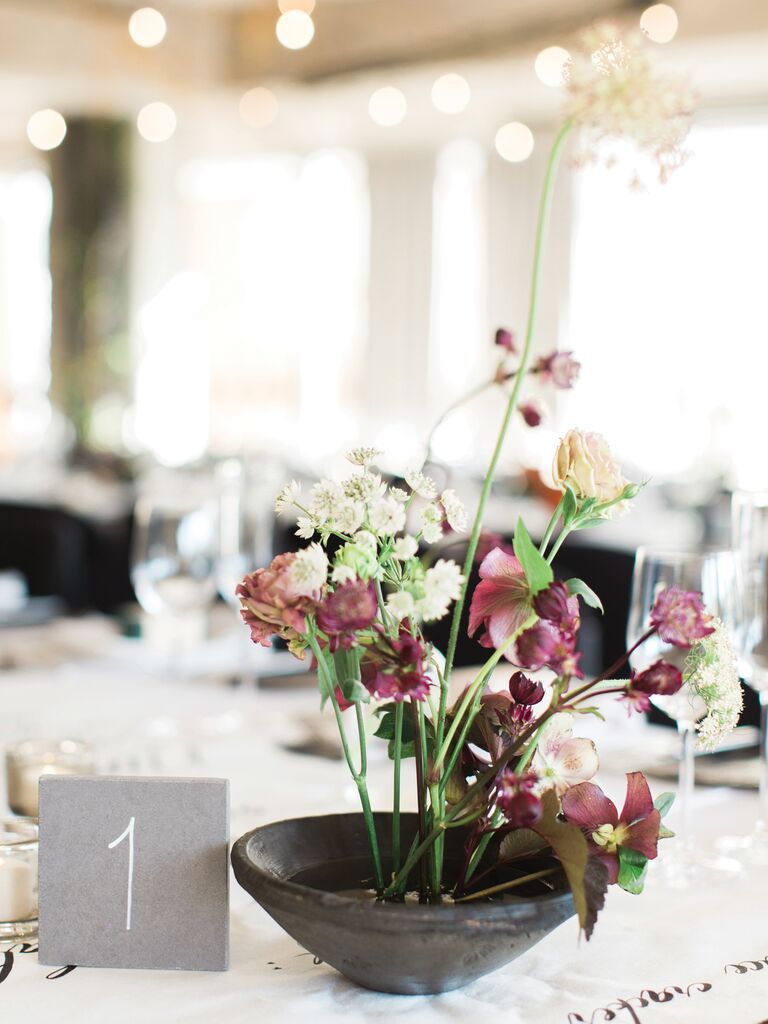 Don't shy away from color. Place bold-colored blooms in a black vase for a moody, wintery look.
White Orchids, Garden Roses and Hydrangeas
Transform your indoor space into a glamorous winter wonderland with these tall centerpieces. White orchids, roses and hydrangeas create a dreamy aesthetic.
Pine Needles and Pine Cones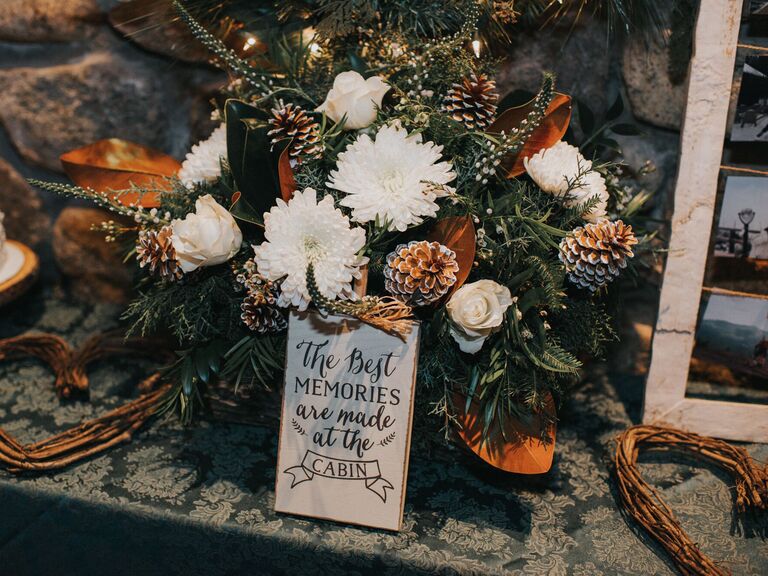 Wondering how to pull off a pinecone winter wedding centerpiece? Combine the winter accessory with pine needles and white flowers.
Winter Pinecone, Fir and Rose Centerpieces
For a more subtle take on pinecone winter wedding centerpieces, place them beside a pretty floral arrangement.
Pine, Mercury Glass, Snowflake Reception Centerpieces
For a wintery feel, top your tables with evergreen garlands, mercury glass candle votives and plenty of silver and gold sparkly snowflakes.
Rustic Hydrangea Arrangement
For a simple winter wedding centerpiece, place hydrangeas in a wooden box. Take it one step further by adding a tree stump platform.
Hydrangea, Pinecones and Red Berries
Pair white hydrangeas with red berries for a festive look. Accent with branches and pinecones for a dreamy, enchanting centerpiece.
Tree With Blue Orchids
No winter blues here—just gorgeous blue orchids. Place them atop a tree for a whimsical winter wedding centerpiece.
Glittering Winter Branches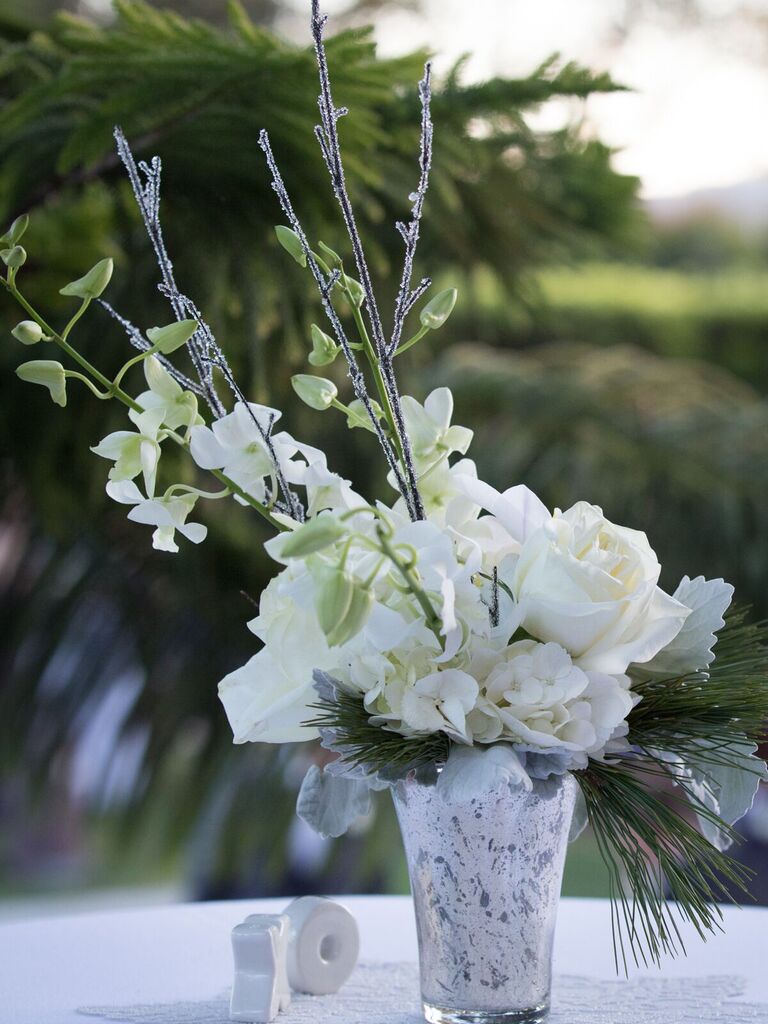 We're obsessing over this winter wonderland wedding centerpiece. It's made of pine needles, roses, peonies and glitter branches.
Tall Tree-Inspired Centerpieces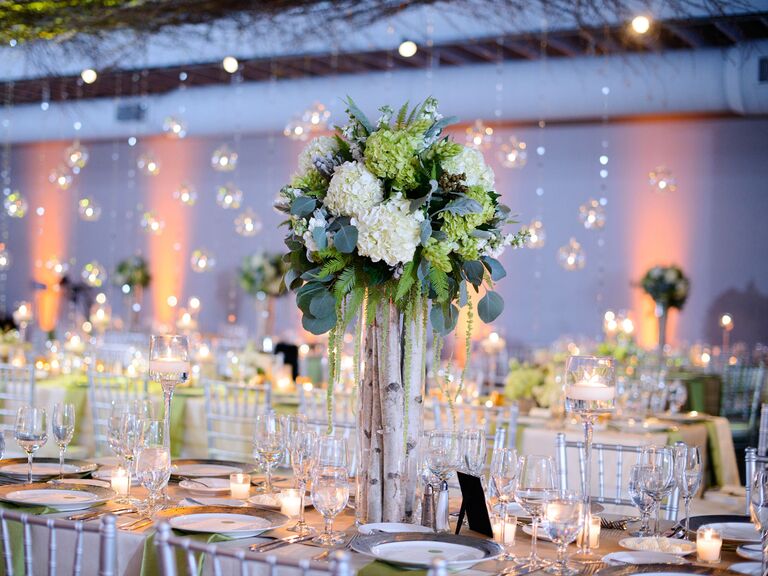 Create an enchanted winter wonderland with these centerpieces. Place white and green bouquets atop slim wooden logs.
Wintery Floating Tea Candles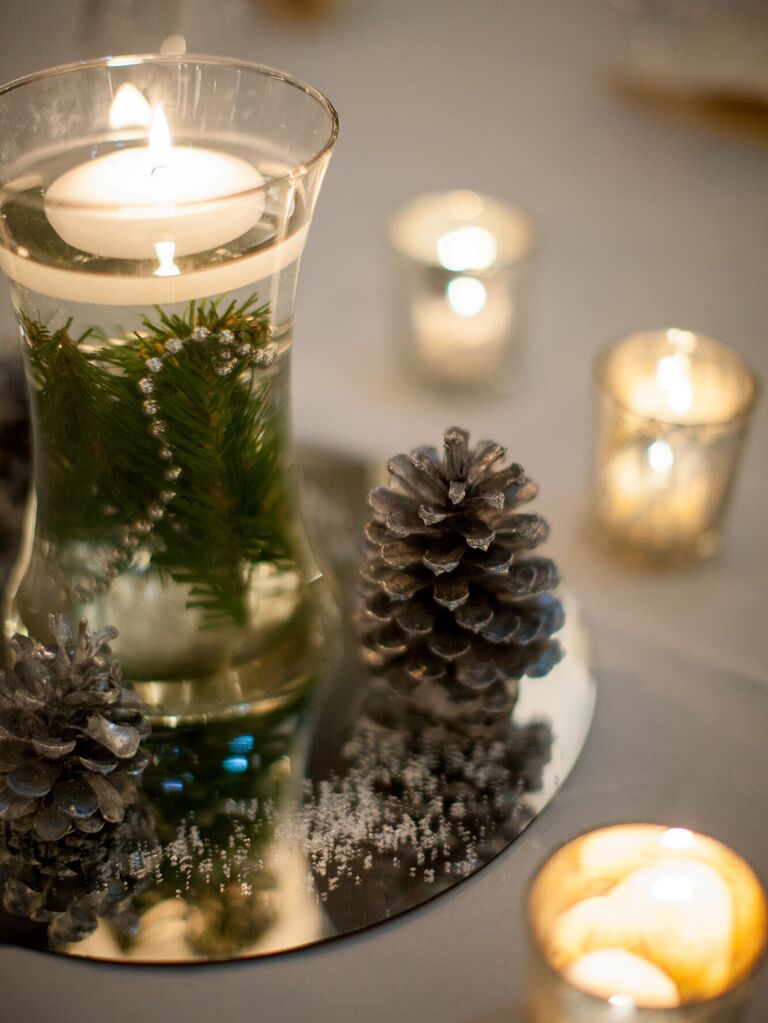 For a minimalist winter wedding centerpiece, use floating tea candles accented with pine needles and pinecones.
Rustic Candle, Cranberry and Pine Centerpieces
Fill your candle votives with salt to mimic snow. Accent with festive cranberries and greenery.
Pine and Gold Votive Candles in Wooden Boxes
Here's a rustic winter wedding centerpiece idea we love. Fill wooden boxes with pine and scatter gold votive candles across the table.
Dramatic White Feather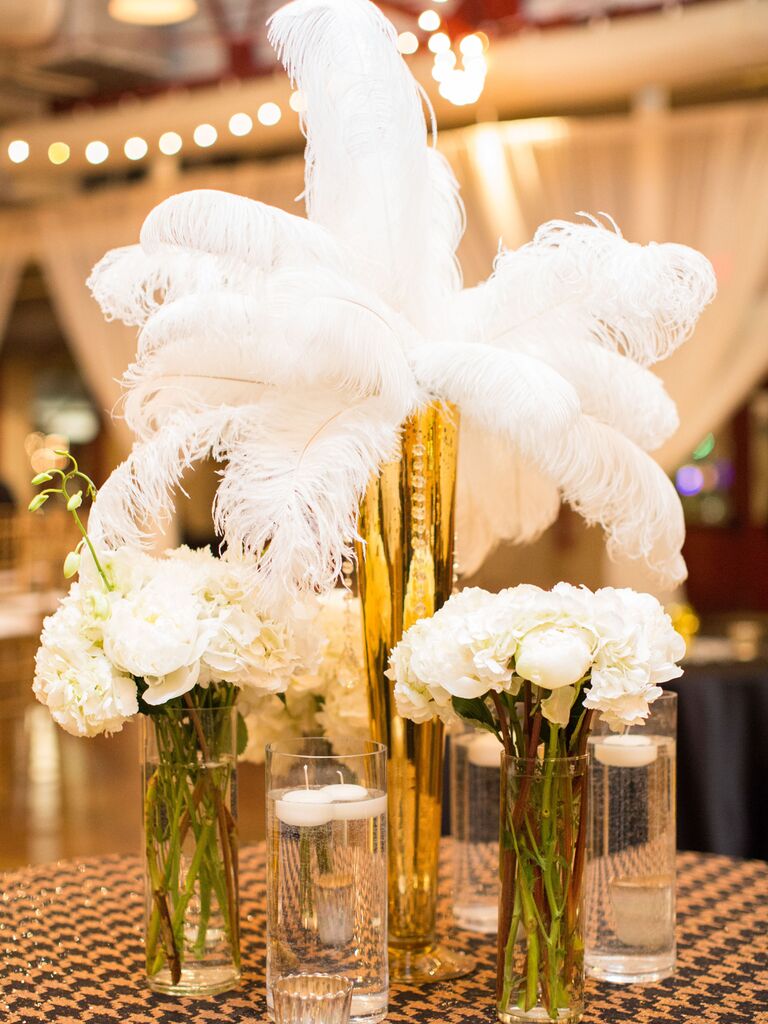 Lean into your glamorous style by using an oversized white feather for your winter wedding centerpiece.
Wreath and Mercury Glass Centerpiece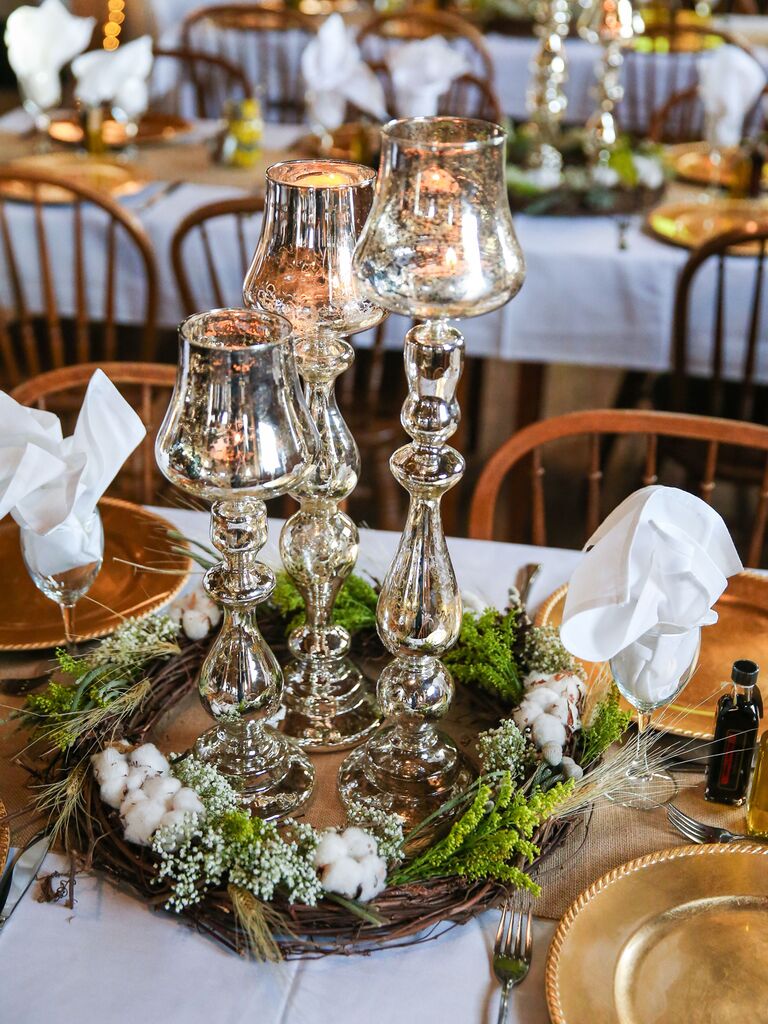 Frame mercury glass candles with festive wreaths made of twigs, baby's breath and greenery.
Floating Candle with Orchid
Capture the magic of the season with a floating candle centerpiece. Add an orchid for an extra-glam touch.
Winter Accessories
For a cute and cozy vibe, group pinecones, twine balls and candles wrapped in knit fabric on your tables.
Winter Terrarium
Create a winter terrarium with moss and pinecones. It's a more sophisticated snow globe.
Christmas Wedding Centerpieces
Celebrate your holiday-inspired nuptials with these stunning Christmas wedding centerpieces.
Holiday-Inspired Roses and Greens
If you're looking for an elevated Christmas wedding centerpiece, consider this chic arrangement of red, blush and white roses surrounded by greens.
Red Candles
For a moody Christmas wedding centerpiece, consider using red candles. They're a unique way to pay homage to the holiday.
Hanging Greenery
Transport your guests to a Christmas tree farm with hanging pine needles and matching red and green bouquets.
Festive Red and Green Arrangements
Seasonal picks like red roses, eucalyptus and pine needles evoke holiday cheer while still looking sophisticated.
Globe of White Roses
Here's a fun spin on the snow globe idea. Create a sphere of white roses and accent it with glowing candles.
Pine Garland and Berries
Sprinkle seasonal red berries into a garland made of pine for a simple, festive look.
Holiday-Themed Lantern
Surround a simple lantern with a pretty wreath and then add ornaments for a festive setup.
Ornament-Filled Centerpiece
Fill a glass vase with metallic ornaments and top it with white blooms. It's a glamorous way to celebrate the season.
Tree with Ornament Candles
The ultimate winter wonderland wedding centerpiece. Hang ornament candles from a tree for a magical tribute to the season.
Gold Ornaments
Fill a glass container with golden ornaments for a sweet, sophisticated Christmas wedding centerpiece.
Farm-Style Red Bouquet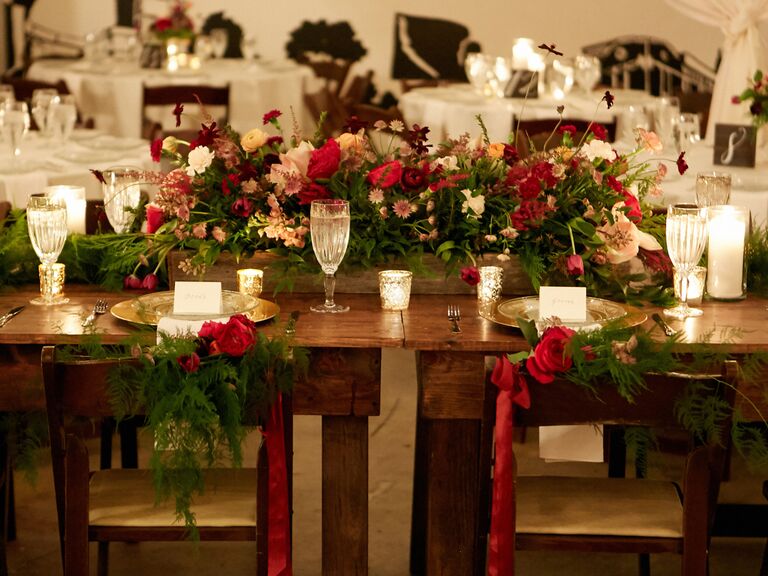 Combine all the in-season red-colored blooms you love and place them in a wooden container. The end result is a stunning, festive centerpiece.
Red Flowers and Greens on a Tree Stump
Another rustic winter wedding centerpiece idea is to place a festive red and green bouquet on a wooden tree stump.