27 Winter Wedding Bouquets That Look Beautiful Even When It's Cold Outside
And don't worry—they're not all red and green.
It's the most wonderful time of the year—and a surprisingly wonderful time for flowers too. If you think you can't have a lush winter wedding bouquet, think again. There are plenty of blooms at their peak during the winter season (not to mention all of the wedding flowers in bloom year-round), and they're perfectly paired with other seasonal accents, like pinecones, berries, fresh evergreens and more. When it's time to meet with your wedding florist and plan your flower arrangements ahead of the big day, it's helpful to bring photos and other ideas that inspire you so that you're both on the same page. Check out some of our favorite Christmas bouquets and other winter-themed bouquets below.
In this article:
What Are the Best Flowers for Winter Wedding Bouquets?
While it's true that there are fewer in-season flowers for winter weddings compared to other times of the year, there are still plenty of varieties to choose from. In fact, some of the most popular wedding flowers are actually in bloom between November and February, including anemones, orchids, ranunculus, blue thistle and sweet peas. You'll also have a ton of other seasonal flowers at your disposal, such as amaryllis, hellebores, holly berries and the ultimate Christmas bloom: poinsettias. Staples like roses, calla lilies and carnations are year-round flowers that complement most winter bouquets, boutonnieres and wedding decor. If your heart is set on using flowers that bloom during a different season (for example, peonies), your florist will help you source them or find similar alternatives.
Christmas Wedding Bouquets
1. Red Spray Rose and Evergreen Wedding Bouquet
Seasonal white cedar branches and eucalyptus acted as the base for this Christmasy bouquet, with red roses, orchids and white wax flowers finishing off the arrangement.
2. Winter Wedding Bouquet with Eucalyptus
Think beyond the traditional red and green color palette by adding varieties of lighter and darker hues. The bright red roses in this lush bouquet are bookended by deep burgundy scabiosa and blush roses, bringing a range of reddish tones throughout the design.
3. White Wedding Bouquet with Pinecones and Greenery
An oversized bouquet of white blooms, pinecones and winter greenery captures the spirit of Yuletide without relying strictly on red and green.
4. Red Winter Wedding Bouquet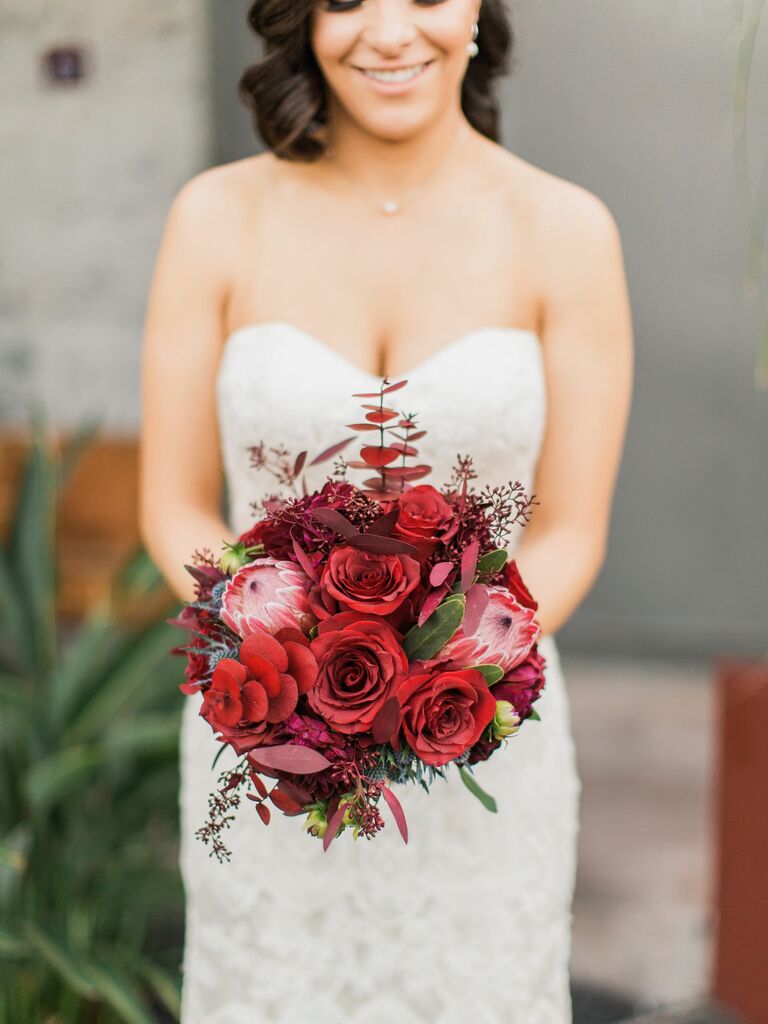 Go for a monochromatic winter bouquet by spray-painting the greenery and other accents to match the primary flowers, like this bundle of red roses and proteas.
5. Burgundy and Blush Wedding Bouquet with Ribbons
Use light pink and burgundy tones with hints of greenery to create a Christmas-inspired bridal bouquet that also feels super romantic. Wrap the bouquet stems in long satin ribbons to finish the dreamy effect.
6. Amaryllis and Berries Wedding Bouquet
Not only are amaryllis among the most popular winter wedding flowers, but they're a gorgeous option if you're looking for a standout bloom. While the bright red variety is perfect for a Christmas wedding bouquet, amaryllis are also available in white, pink and peach.
Find your kind of venue
From barns to ballrooms, discover reception venues that feel like you.
7. Classic White Winter Wedding Bouquet
This rounded bouquet is an elegant example of how you can tap into a wintry look with a neutral color scheme. Add a few sprigs of fragrant greenery, like cedar or pine branches, for a touch of holiday merriment (tartan wedding dress sash optional!).
8. Cascading Winter Wedding Bouquet
A cascading wedding bouquet adds the finishing dramatic touch to your look, especially when it's filled with deep red blooms. Use ribbons to emphasize one of the arrangement's accent colors, like the dark burgundy flowers here.
9. Modern Christmas Wedding Bouquet
Pale green eucalyptus, blush roses and silver brunia come together in this frosty, cool-toned arrangement. With pops of burgundy and a grand protea at the center, we love it as a trendy take on Christmas-inspired style.
10. Dark Red Wedding Bouquet with Amaranthus
Vine-like amaranthus gives you the effect of a cascading bouquet without having to carry an oversized arrangement.
Winter Wedding Bouquets for All Styles
11. Round All-White Wedding Bouquet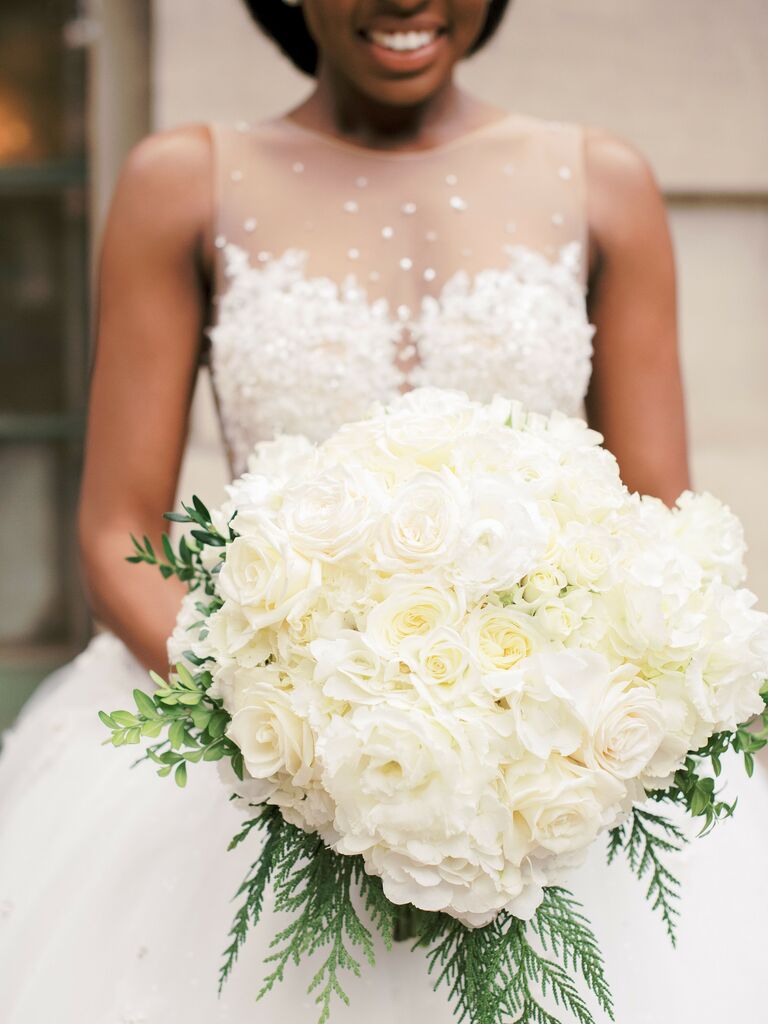 If your bouquet is relatively simple in terms of flower varieties, consider amping up the size to make it stand out just a little more. This classic design features spray roses, garden roses and hydrangeas, but its larger shape makes it impossible to miss.
12. Winter Wedding Bouquet with Peonies
Peonies are traditionally a springtime wedding flower, but they look right at home in this white bouquet of roses, ranunculus and greenery. Fluffy cotton bolls and gilded evergreens add a distinctive wintry finish.
13. Pink and Red Winter wedding Bouquet
Bridesmaid bouquets don't need to be an exact replica of the main bouquet, but it's common for them to feature the same types of flowers on a smaller scale. Silk ribbons finished off these arrangements of roses, astilbe and bay leaves.
14. Pastel Garden-Style Wedding Bouquet
If you're choosing pastels as your winter wedding colors, consider adding a darker accent tone for contrast. Mauve and burgundy tulips were an unexpected (but gorgeous) addition to this bouquet.
15. Burgundy Winter Wedding Bouquet with Greenery
Merlot and crimson flowers bring a sultry vibe to your wedding day. Offset the deeper colors of an arrangement with touches of greenery, such as spiral eucalyptus or ferns.
16. Blue Winter Wedding Bouquet
Perfect for a late winter or early spring wedding, this small posy includes blue delphinium, hydrangeas and ranunculus with soft dusty miller and lemon leaves.
17. Simple Greenery Winter Wedding Bouquet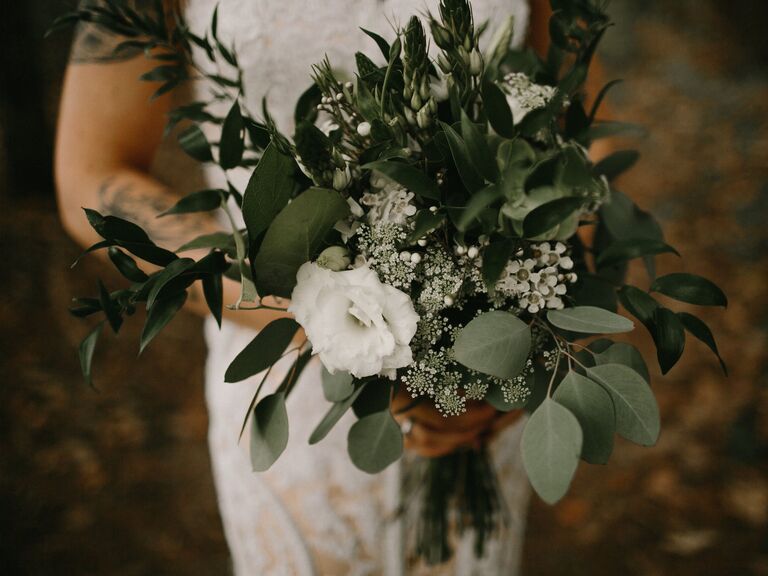 Greenery is always in season and goes with nearly any wedding style—plus, you can use it as the primary focus of your bouquet, like this minimalistic design featuring eucalyptus, white lisianthus and wax flowers.
18. Formal Winter Wedding Bouquet
Along with the addition of shimmering ribbons, tightly arranged flowers will give a more formal look to your bouquet. These bouquets were picture-perfect with a wintry assortment of cream roses, ivory ranunculus, silver brunia, succulents and baby's breath.
19. Alternative Hoop Bouquets for Bridesmaids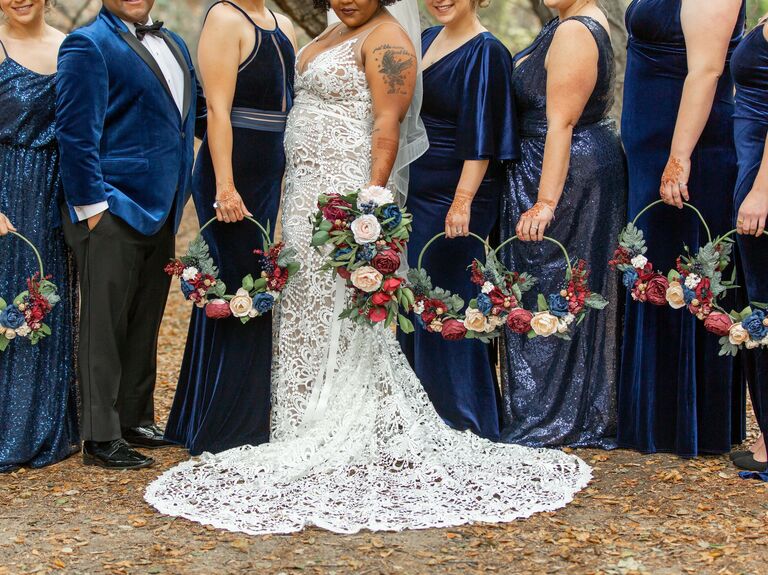 Don't feel restricted to traditional bouquets if they don't suit your style. Get creative with alternative wedding bouquets, such as carrying floral hoops, pomanders or baskets of flowers.
20. Small Winter Wedding Bouquet with Brooch
Expecting snow on your wedding day? Match the icy weather forecast with a simple bouquet of white roses (you'll love how the stems of greenery pop in the photos). A black ribbon bouquet wrap and sparkling brooch will also stand out.
21. Jewel Tone Winter Wedding Bouquet
A selection of gemstone-inspired jewel tones, like ruby red, amethyst, emerald and sapphire, taps into the festive vibes of the season without coming across as overtly wintry.
22. Romantic Blush Winter Wedding Bouquet
Soft pink is a popular wedding color no matter the time of year. For winter, we'd recommend pairing it with white and avoiding too many other pastels (think lilac or butter yellow) to prevent the color palette from looking out of place.
23. Boho Winter Wedding Bouquet with Dried Accents
Here's a statement bouquet if we've ever seen one. Featuring anemones, dark purple calla lilies, bleached greenery and dried sun palms, the arrangement is totally cool and unexpected for a winter wedding.
24. White Bouquet with Matching Hair Accessories
Take inspiration from your bouquet and incorporate similar flowers into your wedding updo or hairstyle as a sweet way to complete your look.
25. Winter Wedding Bouquet with Magnolia Leaves
Magnolias are closely associated with the holiday season, especially when it comes to festive garlands and wreaths. The leaves look gorgeous in wedding bouquets if you're after a timeless, sophisticated effect.
26. Crystal Wedding Bouquet with Feathers
This alternative winter bouquet idea is perfect if you're throwing an ultra-glam wedding or planning a winter wonderland theme. Carry a cluster of rhinestone brooches that sparkle with every movement.
27. Moody Winter Wedding Bouquet
Going for a darker Gothic aesthetic? Moody colors are popular for late fall weddings and winter themes if you want to avoid holiday-inspired decor. Finish a bouquet of dark burgundy dahlias and roses with a surprise detail: fresh pomegranates.