Roses 101
Isn't it romantic? Here's the really rosy 411 on everyone's favorite flower.
by Amy Elliott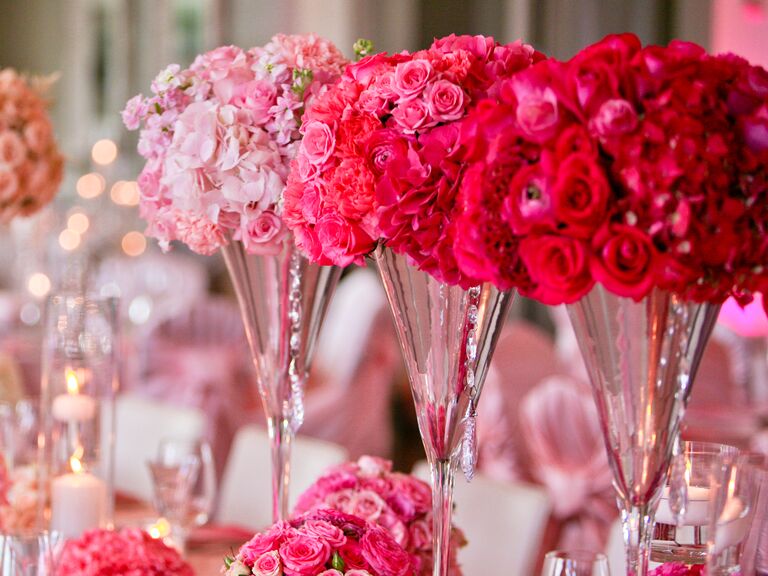 Roses hold rank as the most beloved of flowers, rivaling classic lily of the valley, stephanotis, and gardenia as the enduring emblem of bridal grace. The rose is an iconographic symbol with as many intricacies as there are possibilities for using them in the floral design of your wedding. Here, we unfold the petals of this timeless treasure to give you the goods on the Queen of Flowers.
La Vie en Rose
It's unanimous -- floral designers agree that for most brides, roses are synonymous with romance. Why? They're old-fashioned, emotional, and traditional without seeming hackneyed or over-precious. Princess Diana clutched them on her wedding day, but so countless other celebrity brides, showing the diverse appeal of the rose and its ability to make multiple style statements.
Our associations with roses are as equally diverse. Rose motifs echo in china and wallpaper patterns, in the windows of famous cathedrals, and in the world of fashion. Roses also figure in favorite childhood stories such as Beauty and the Beast, Sleeping Beauty, and in Lewis Carroll's Alice in Wonderland. So it's no wonder that brides keep returning to these beauties when they begin thinking about their wedding flowers.
The Language of Flowers
Roses are replete with symbolic meaning. During the Victorian era, the book The Language of Flowers created an ultra-romantic language for lovers' correspondence in which flowers replaced words. Some sweet signifiers: White and red roses together=unity; orange roses=fascination; coral=desire; pale pink=grace; lavender=enchantment; and red=true love. Try not to let "negative" connotations hinder your inclination toward yellow roses ("infidelity"); white rosebuds ("a heart that is ignorant of love"); primroses ("inconstancy"); or deep, dark red roses ("bashful shame"). Some floral designers may pooh-pooh choosing roses for your bouquet based solely on old-fashioned codes, but you might as well obey your inner sentimentalist. Any rose you choose will be an exquisite, right-for-you expression of emotion, personality, and style.
Communication & Quality
Newsflash: According to the Society of American Florists, there are close to 120 varieties of roses commercially available. Translation: Coming up with the composition of your wedding flowers will be a multicolored and possibly mystifying experience. When meeting with floral designers, try to convey the look and feel you want the roses to have using pictures and descriptive language like "architectural," "garden-like," and "Victorian." Or, just talk color. Try not to insist that the designer use a particular variety (e.g., Madame Delbard) because, on the day of your wedding, the rose you selected might not be available or might have flaws. Trust that your floral designer will adhere to your provisions and work with the most beautiful roses available.
Knot Note: Look out if you're marrying around Valentine's Day: in some areas of the country, select roses will skyrocket to about $7-$8 a stem.
Designers are likely to use hybrid tea roses, which are sturdy, fragrant, formally shaped, with high, pointy centers. Sometimes garden roses (those harvested from bushes as opposed to environmentally controlled structures) are also an option, though while experts characterize them as being "big," "full," and "luscious," the consensus is that aside from being quite expensive, they can also be "impractical," "risky," and "fragile." If the sweet, sensual, nostalgic fragrance of roses is your top priority, Roses Inc., a trade association devoted exclusively to roses, notes that scent is more prominent in roses from the lavender/purple family, such as "Blue Chip" and "Lavande."
Design Strategies
The types of roses used in bouquets and arrangements will vary according to region and to the look you want, but "Black Magic" (a velvety, mysterious, dark red), "Leonidas" (rust-colored with copper-tipped petals), and "Circus" (two-toned bright orange and gold) are the roses that are all the rage. Traditional brides might prefer to work with classic lavender roses like "Sterling Silver" or the consummate whites: "Virginia", "Bianca", or "Vendela" favored by Jennifer Aniston who used Vendelas in her bridal bouquet.
You may want your florist to use roses in offbeat colors such as mango, fuchsia, and purple, especially at casual weddings. Or consider contrasting roses with peonies, hydrangea, sweet pea, and lisianthus for a look that combines different shapes and textures. You might pair roses with casual blooms like chocolate cosmos, anemones, and tulips for an unexpected look.
Unconventional Uses
Roses lend themselves to all sorts of stylishly unconventional use. Create rose-scented astringents, lotions, and potpourri sachets to give as bridesmaid gifts. Have your flower girls tote rose-studded pomanders or "kissing balls" in lieu of baskets of petals. Instead of towering, formal centerpieces, scatter rose petals spontaneously on the tables and dance floor. Some roses are edible, ideal for whimsical presentations, so talk to your caterer about sprinkling some petals in the salads you serve in the reception, or float them in glasses of pastel-colored punch -- just make sure the roses haven't been sprayed with pesticides! Finally, when you draw baths during the honeymoon, heap several handfuls into the water.
Contributors:
Jen Stone, StoneKelly Events and Florals, New York, NY
Preston Bailey, Preston Bailey Designs Inc., New York, NY
Rebecca Cole, Rebecca Cole Designs, New York, NY
Resources:The Society of American Florists, www.RosesInc.org
The Language of Flowers illustrated by Kate Greenaway (Dover, 1993)
Paradise Found by Rebecca Cole (Clarkson-Potter, 2000)
Roses for a Scented Room by Barbara Milo Ohrbach (Clarkson-Potter, 2000)
Ultimate Rose by The American Rose Society (Dorling Kindersley, 2000)