33 Stunning Protea Wedding Bouquet Ideas That Command Attention
Make a bold statement, invoke island-inspired vibes, or create a bohemian style with beautiful proteas in your bouquet.
We stan a bold and beautiful wedding flower. Whimsical and dramatic, a protea wedding bouquet is sure to turn heads among your wedding guests. Native to South Africa and Australia, these versatile blooms include delicate pincushion varieties along with the bold king protea that always creates a statement. It's not hard to see why proteas are a popular flower for couples and wedding florists. The unique and adaptive flower can change the look of any bouquet depending on the variety. Whether you want an elegant, bohemian or tropical vibe to your wedding flowers, there's a protea type that matches your style.
In this story:
What Is a Protea?
Also known as a sugarbush, the protea is thought to be one of the oldest flowering plants on the planet, dating back approximately 300 million years. The bold-looking blooms come in a variety of shapes, colors and textures. They are aptly named for the Greek god Proteus who was known to take on different forms. The stunning king protea variety is also the national flower of South Africa.
What Does the Protea Flower Symbolize?
The protea symbolizes diversity, change, courage and hope. We love this flower for any couple who wants to make a statement with their wedding flowers. Protea also sends a strong message of power and beauty in any bouquet.
Types and Colors of Protea Flowers
Proteas grow in a variety of colors including white, yellow, pink and red. Some are also accented with black or pink tipped leaves. The king protea is one of the more popular varieties. Its grand size stands out as a statement bloom in a wedding bouquet. We also love the whimsical pincushion protea with its delicate leaves that curl up from the center. The skyrocket protea's leaves point down to make it look like a rocket blasting off, or fireworks.
Tips for Adding Proteas to Your Bouquet
Proteas are a gorgeous addition to a wedding bouquet. Keep reading to find out more about pricing and which flowers complement these stunning blooms.
Average Protea Flower Cost
The wedding flower cost for your proteas varies depending on the variety and size of the bloom. Single-stem proteas can range from $4 to $8. The large king protea has an average price point of $30 for a single stem.
When Are Proteas In-Season?
Proteas bloom from spring into early fall. That's why they're a popular choice as summer wedding flowers, as well as in the fall. While not as easily available in the colder months, you can also add proteas to a winter wedding bouquet.
What Flowers Go With Proteas?
Because proteas come in a variety of shapes and colors, they're a versatile option in a wedding bouquet. Arrange proteas with hibiscus, orchids and vibrant palm leaves for a fresh and tropical look. For a more bohemian bouquet, pair them with roses, peonies, ferns and eucalyptus.
Protea Wedding Bouquet Ideas
Create a statement with a bold king protea in your bouquet, or add a whimsical touch with delicate pincushion protea. No matter your wedding style, proteas are a gorgeous addition to any wedding bouquet.
Bright Pink Peony and Protea Wedding Bouquet
This Hawaiian-inspired bouquet comprises bright pink peonies, hibiscus, protea, and ranunculus. Accents of vibrant green leaves add to its island vibes.
Warm and Colorful Lily, Rose and Protea Bouquet
Warm hues offer a punch of color in this fall protea wedding bouquet. Lilies, peonies, roses and zinnias pair with proteas for a stunning combination of textures.
Boho Protea Wedding Bouquet
Protea is the center of attention in this rustic and bohemian wedding bouquet. Soft hues of pink and ivory give it its romantic charm.
Pink and White Protea and Anemone Bouquet
This Caribbean-inspired bouquet includes a stunning mix of anemones, roses, protea and ranunculus. Bold hues of hot pink and purple play beautifully with soft pink and white.
King Protea Wedding Bouquet With Thistle and Lavender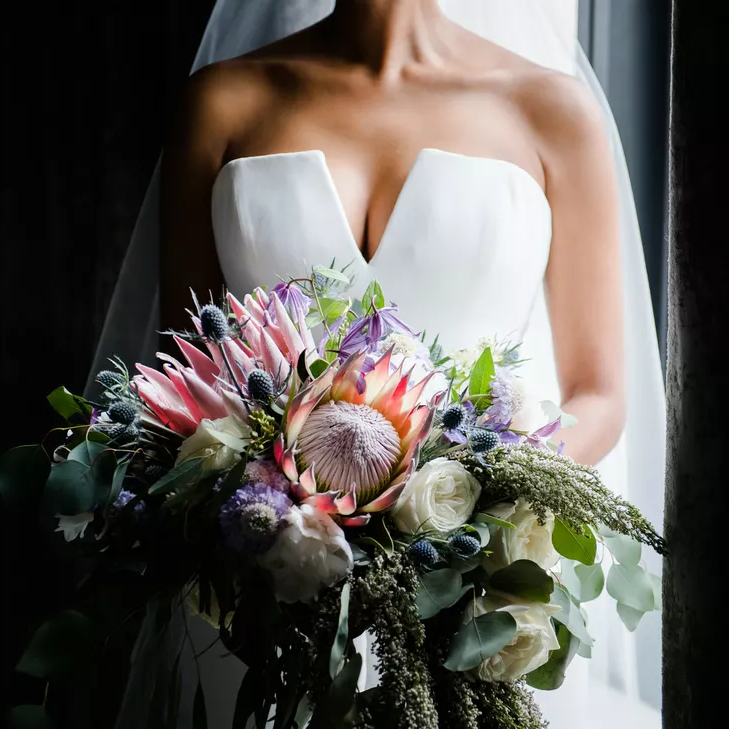 Stunning king protea, thistle, lender, scabiosa and heather make up this modern protea wedding bouquet. We love how the protea stands out among the more delicate flowers and greenery. This style fit in perfectly with the couple's French-inspired wedding.
Protea and Rose Wedding Bouquet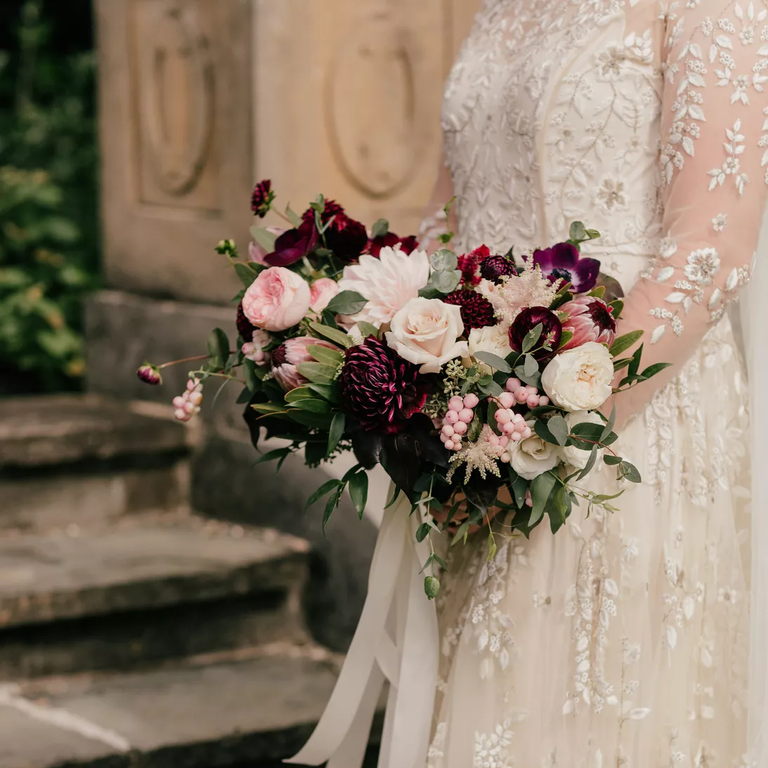 Deep purple and soft pink combine to create a striking contrast in this enchanting bouquet. Roses, protea, delicate berries and greenery are a perfect mix for a fall wedding.
Rustic Protea Wedding Bouquet
Burgundy proteas and pink peonies create a rustic and bohemian vibe. We love the vibrant greenery and carefully placed berries that complete this cascading bouquet.
Wedding Bouquet With Protea and Snapdragons
We love the combination of textures in this nontraditional and romantic pink bouquet. Proteas, snapdragons, ferns and sweet peas create a combination of visual interest that is both stunning and unique.
Moody Bouquet With Dahlias and Protea
Rich burgundy, muted greenery and deep red berries make this protea wedding bouquet ideal for a fall wedding. It features an eclectic combination of dahlias, protea and eucalyptus.
White and Orange Protea and Hydrangea Bouquet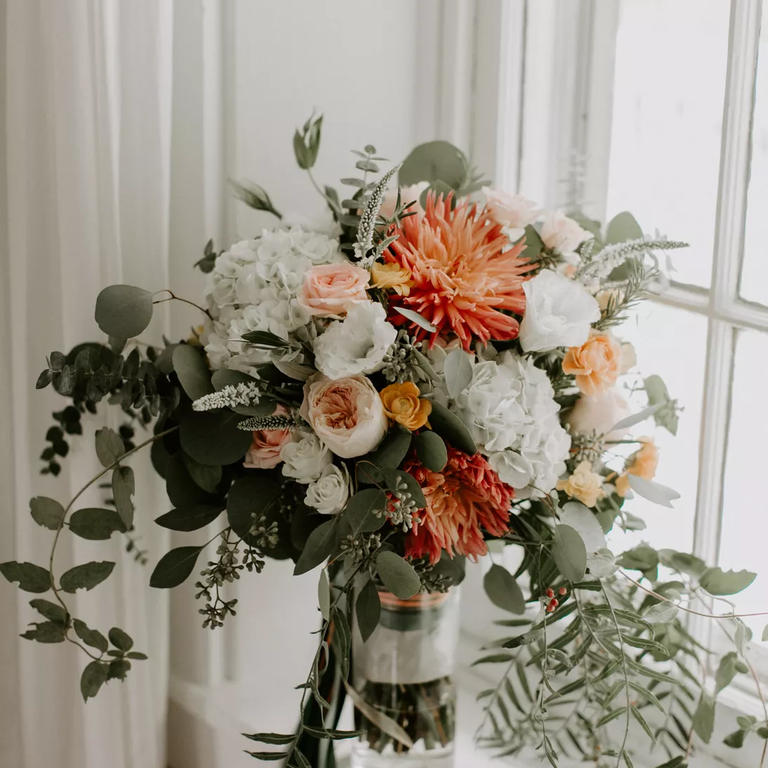 Bold shades of orange and yellow pop among bright white florals in this oversized, boho bouquet. Cascading eucalyptus surrounds proteas, peonies, hydrangeas and astilbes.
Modern Pincushion Protea Wedding Bouquet
A large white king protea serves as a commanding focal point in this modern bouquet. The beach-inspired combination also features orange pincushion proteas, red roses and thistles.
Hibiscus and Protea Tropical Wedding Bouquet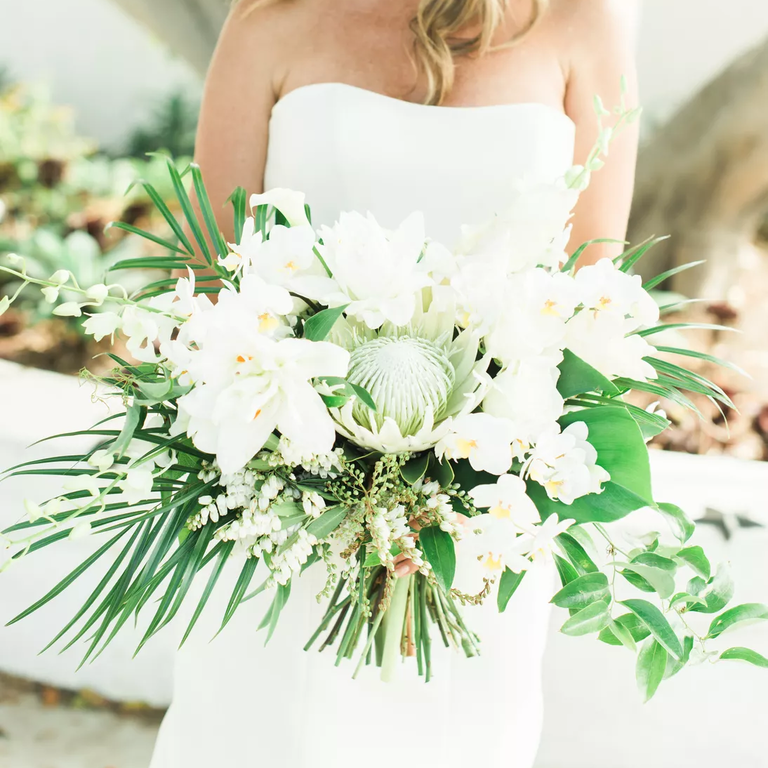 Bright white blooms with pops of green are a romantic addition to any beach wedding. This bouquet is comprised of a mix of hibiscus and protea surrounded by monstera leaves.
White Protea Wedding Bouquet With Purple Hyacinth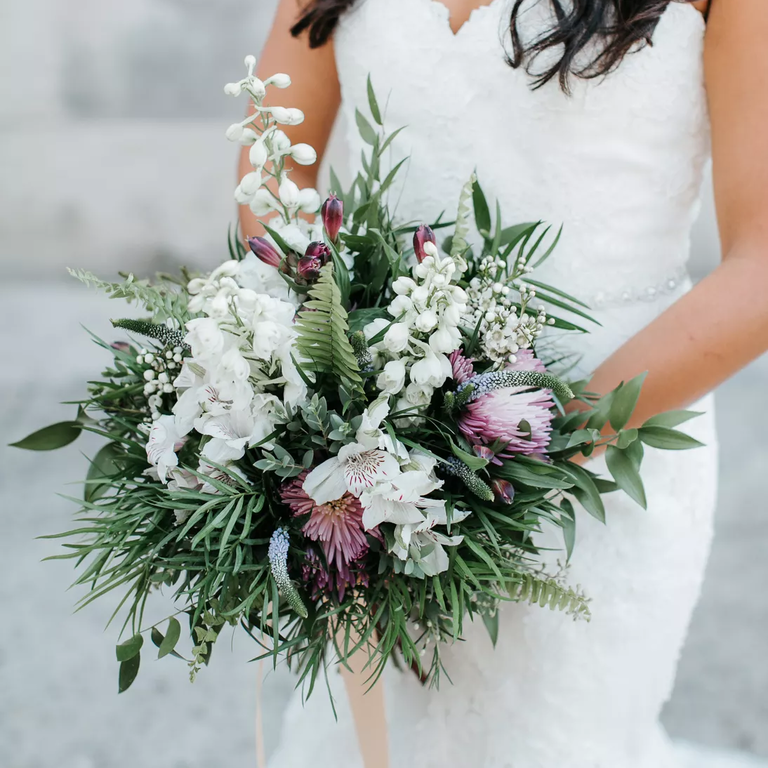 Delicate ivory blooms with accents of purple are encircled by vibrant greenery in this romantic wedding bouquet. The eclectic arrangement is made of protea, hyacinth and fern.
Tropical Bouquet With Bright Proteas and Roses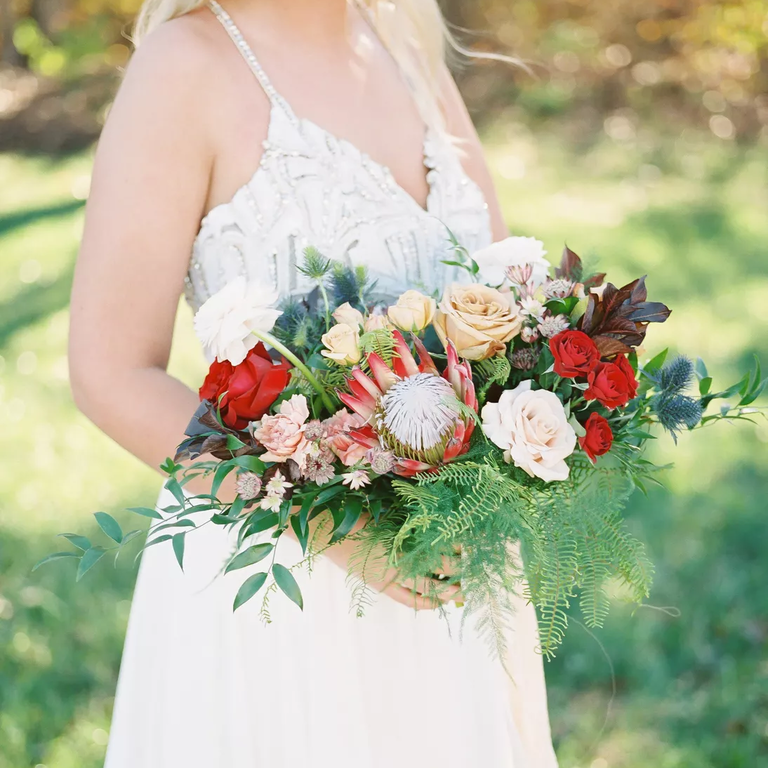 This tropical and boho bouquet includes proteas, roses and greenery in bright and bold colors. The addition of delicate green ferns gives it a slightly rustic feel.
Bright Sunflower and Protea Wedding Bouquet
Say "I do" on the beach with a romantic bouquet filled with sunflowers, king protea, orchid and veronica. Draping greenery and bright shades are a perfect addition to a summer wedding.
Rustic Wedding Bouquet With Protea and Dahlia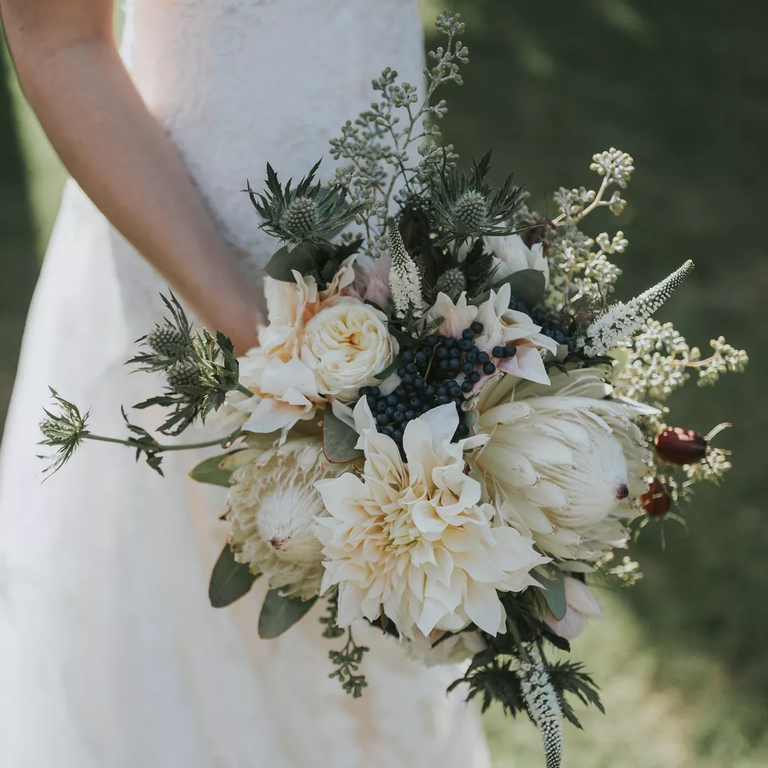 Ivory blooms pop among deep green thistle and dark berries in this romantic protea wedding bouquet. We love the combination of textures created with protea, dahlia and greenery.
Bohemian Protea Bouquet With Roses and Thistle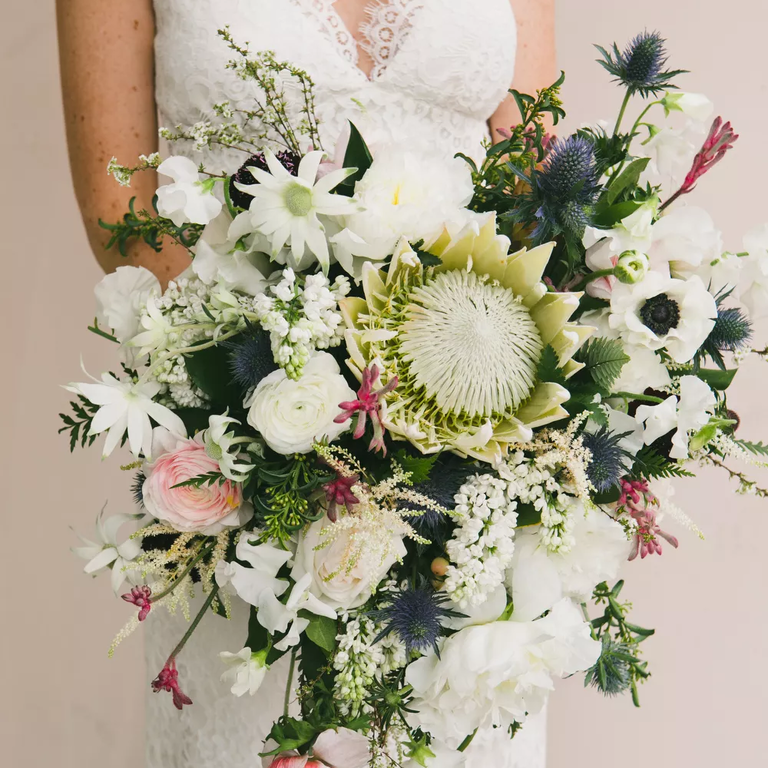 King protea, rose and thistle combine to create a dramatic, cascading arrangement. This woodland-inspired bouquet features dark and bright florals in white, forest green and burgundy.
White King Protea Bouquet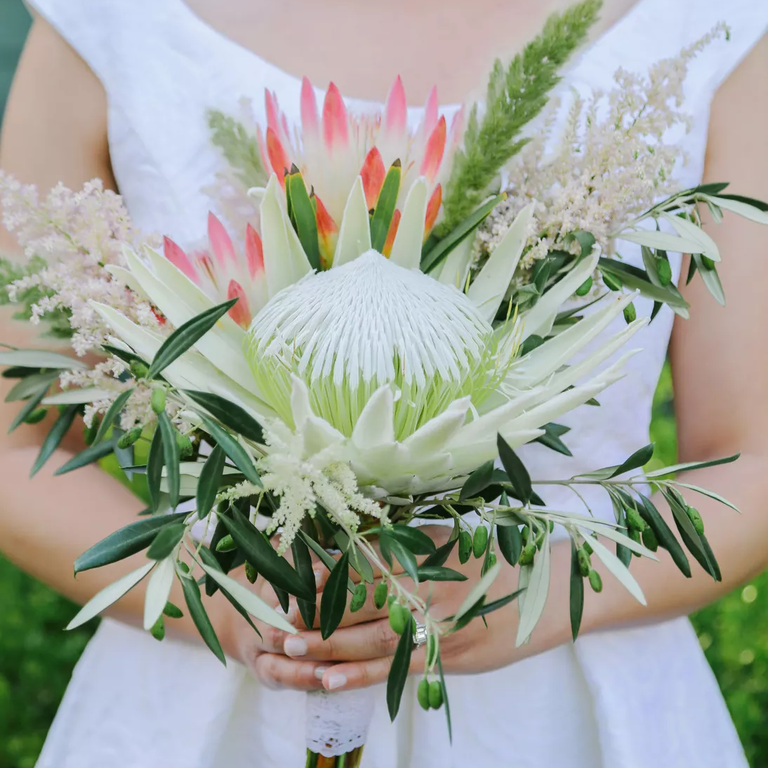 This almost all-white bouquet features stunning king protea and vibrant greenery. We love the combination of all-white protea with a second variety with bold pink tips in this small protea wedding bouquet.
Colorful Craspedia and Protea Bouquet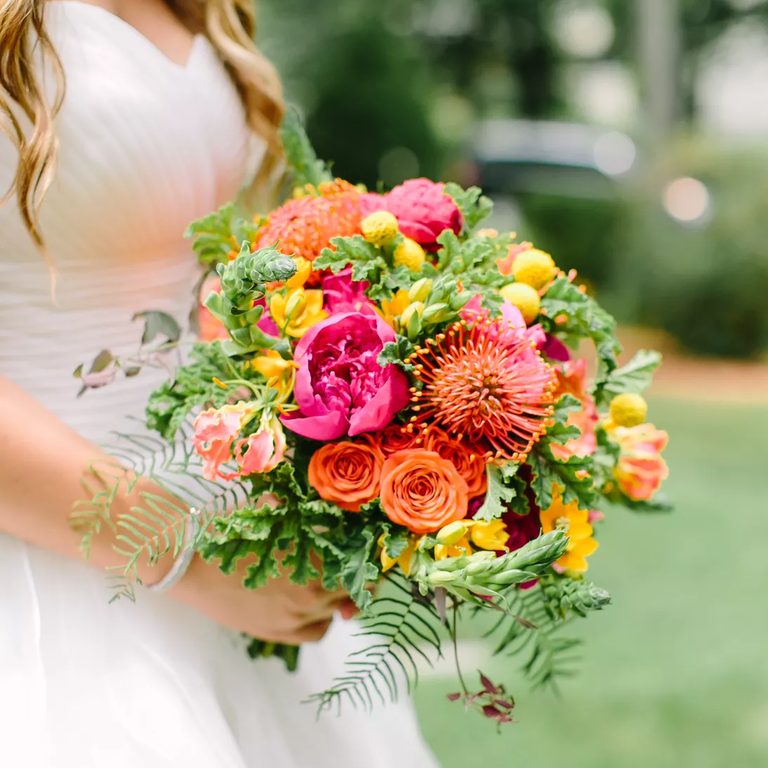 This bright and cheerful small protea wedding bouquet is a fabulous complement to a summer wedding. Pincushion proteas, roses, peonies, craspedia and ferns create a happy combination of yellow, pink, orange and green.
Wildflower-Inspired Bouquet With Protea
Rustic and romantic, this wildflower-inspired wedding bouquet features anemones, protea, amaranthus, ranunculus and thistle. We love the unique color combination of burgundy, white, deep purple, red and blue accented by muted greenery.
Vintage Rose, Peony and Protea Bouquet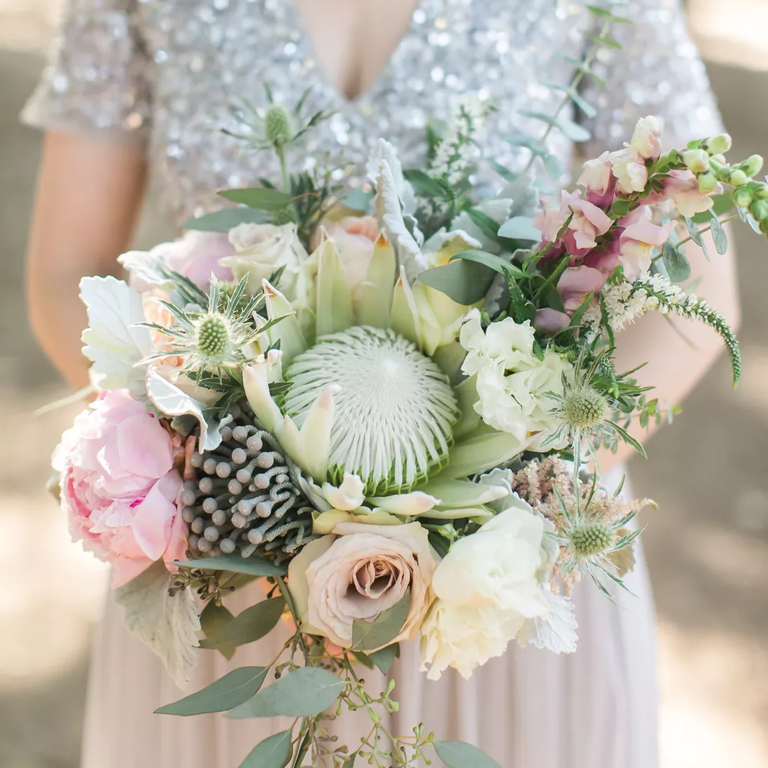 This dreamy protea wedding bouquet gives off vintage desert vibes with soft pink, ivory and green florals. Dramatic texture is created with the use of protea, thistle, silver brunia and eucalyptus alongside roses and peonies.
Protea and Eucalyptus Cascading Bouquet
Cascading eucalyptus surrounds protea and delicate roses. Perfectly peach and rustic, this bouquet is a beautiful choice for an autumn wedding.
King Protea Wedding Bouquet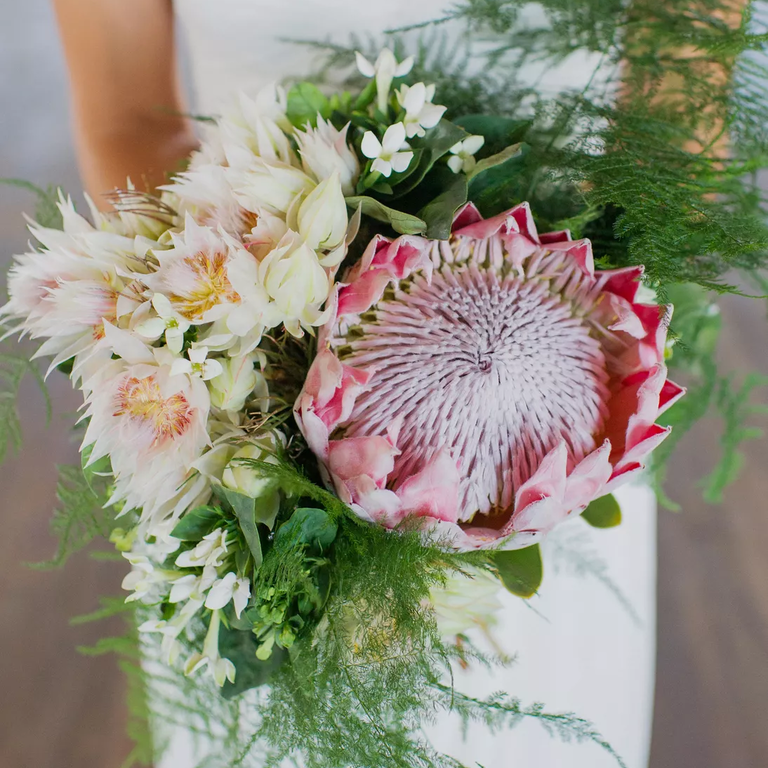 King proteas command attention when placed in a wedding bouquet. That's no exception here with this stunning blush protea as the statement bloom. Fern and delicate flowers balance the arrangement.
Air Plant and King Protea Bouquet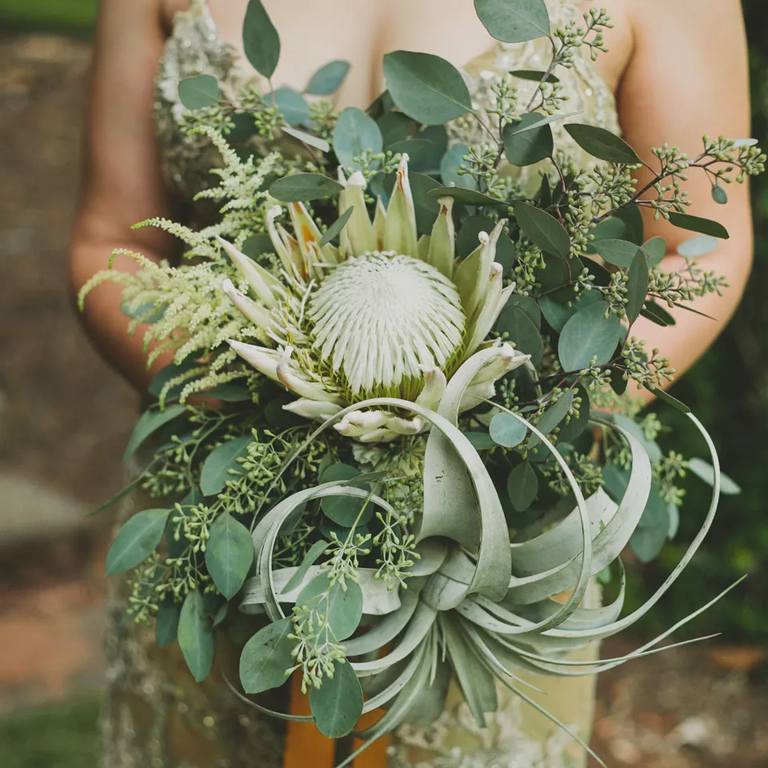 Light green king protea surrounded by air plants and greenery create a cool and vintage vibe in a wedding bouquet. This earthy arrangement is a stunning complement to a fall wedding.
Tropical Protea Wedding Bouquet With Monstera Leaves
Planning a tropical wedding? We love how bold and bright this wedding bouquet is—the orchid and monstera leaf accents enhance the already-beautiful protea bloom.
King Protea and Anemone Modern Wedding Bouquet
This wedding bouquet includes a colorful mix of king protea, coral roses, blue thistle and anemones. Eucalyptus and white hypericum berries accent the blooms and add texture and volume.
Pastel Protea Bouquet With Roses and Peonies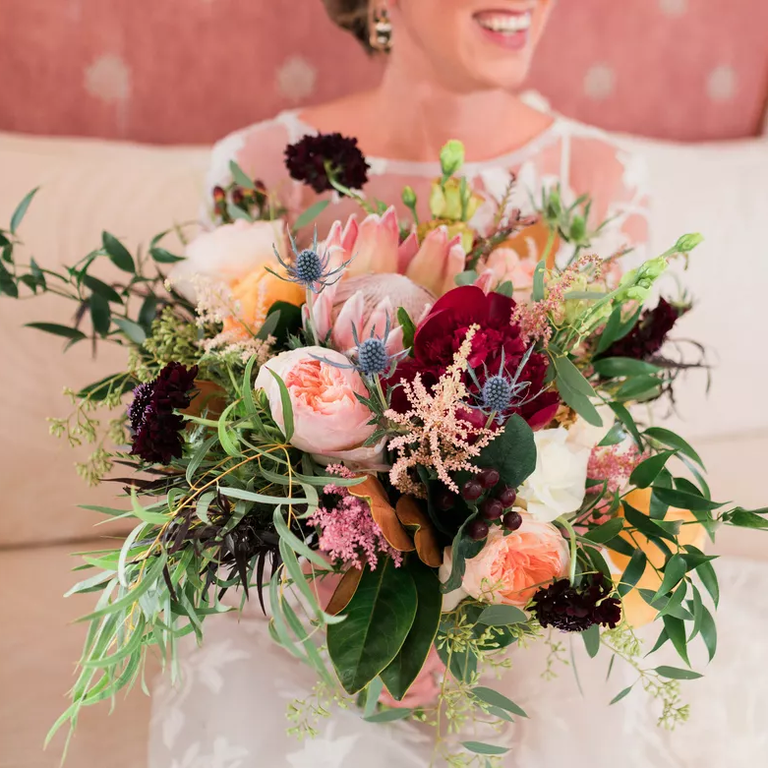 Soft pastel shades are contrasted by deep burgundy blooms in this stunning protea wedding bouquet. Roses, king protea, peonies and scabiosa are accented by rich greenery.
Fall Wedding Bouquet With Peonies and Protea
Proteas combine with peonies, scabiosa and eucalyptus in this elegant fall wedding bouquet. The soft pink, deep red and burgundy blooms are tied with a coordinating red ribbon for extra drama.
Tropical King Protea Wedding Bouquet
This striking tropical is bouquet is both simple and dramatic. Bright white king protea are paired with equally large vibrant leaves for an island-inspired feel with this simple protea wedding bouquet.
Stunning Pink Protea Wedding Bouquet With Red Roses
Gorgeous pink protea, red roses and soft green eucalyptus combine for an arrangement inspired by an island paradise. This bouquet pops among a white wedding gown or chic grey suit.
Blush Protea and Rose Wedding Bouquet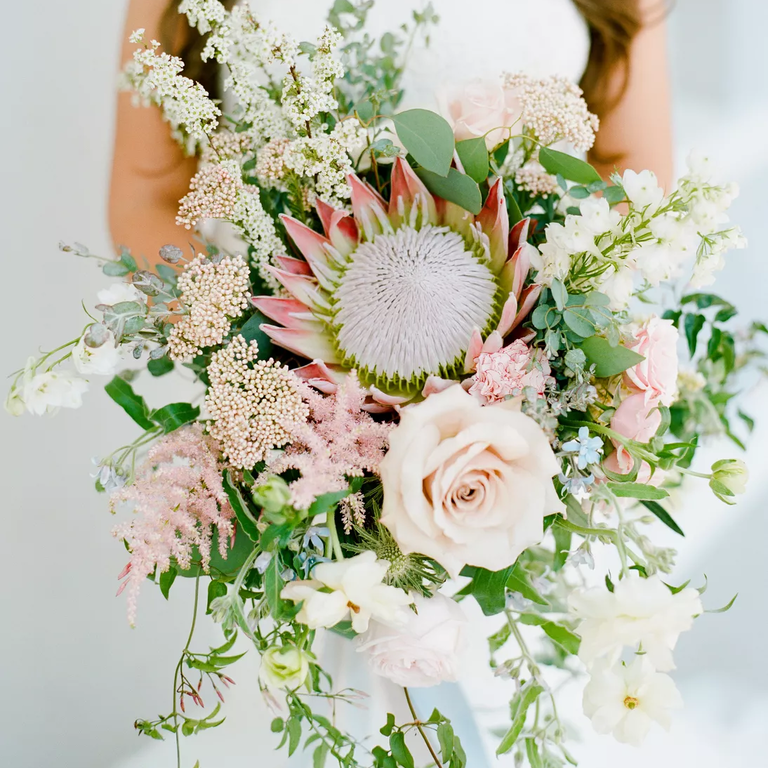 Blush and ivory florals make up this soft and romantic wedding bouquet. The modern pink protea wedding bouquet design includes king protea, roses and delphiniums.
Summer Protea and Ranunculus Bouquet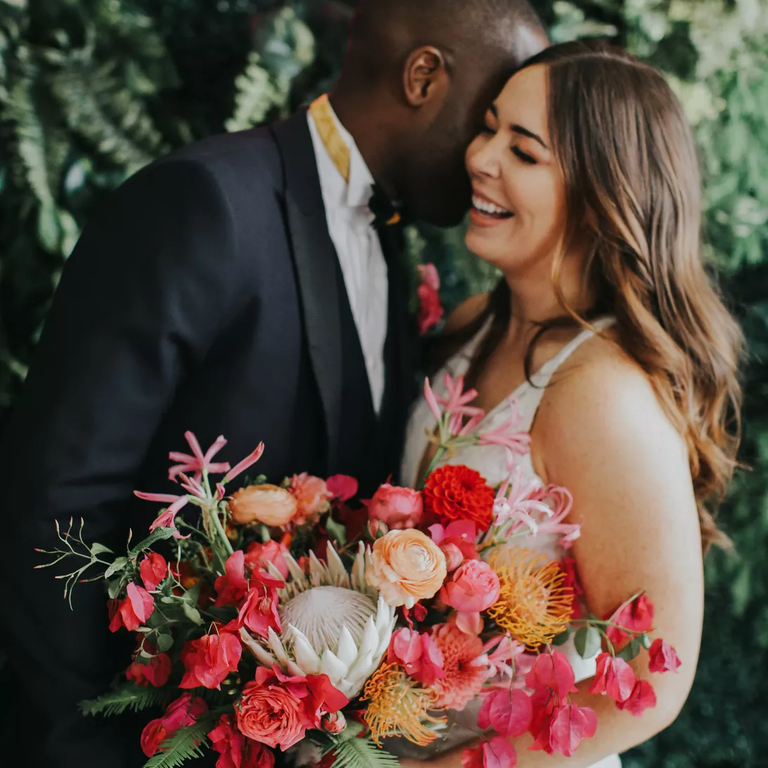 Looking for ideas for wedding bouquets with protea and ranunculus? The white king protea stands out among the colorful pink and orange blooms in this vibrant bouquet. We love this gorgeous bright arrangement for a summer or spring wedding.
Simple Protea Bouquet With Ribbon
Sometimes, less is more—that was certainly the case here. Three stems of protea held their own in this bouquet, which was tied together by embroidered black-and-white ribbon.