34 Dazzling Orchid Wedding Bouquets That Will Steal the Show
From simplistic to stunning, this flower can do it all.

Orchids are among the most popular flowers brides choose for their bouquets—and for good reason. They're not only gorgeous, they come in a variety of natural colors and they're easy to source. Orchid wedding bouquets are truly eye-grabbing, thanks to the flower's simplistic, yet elegant design that makes it easy to incorporate in any type of design from the classic and understated to the bold, in-your-face arrangements that command attention.
We connected with wedding flower expert Courtney Bowden of CB Blooms who shares that "orchids are the perfect element to add to a wedding bouquet. They're timeless, sophisticated, hearty and diverse. They work well in traditional, structured styles and more modern, airy bouquet styles. They are also the perfect statement piece for cascading and petite bouquets, both of which are trending again." The plant usually grows in the summer months, blooming first in the fall, then again in the winter and spring months and they last for two to three months once they bloom. Let's take a more in-depth look at this stunning flower.
In this story:
Different Types of Orchids
Orchids are one of those flowers that come in several varieties with slight variations in their appearance. According to Bowden, "orchids come in all shapes and sizes. Phalaenopsis and cymbidium orchids are stunning statement blooms that can make a big impact and communicate luxury and opulence." Phalaenopsis, also known as the "moth orchid," is the most commonly found and is easily recognizable by its wide flat flower adorned on long, tall stems with flat, dark leaves.
Cymbidium orchids grow in larger clusters with up to 15 or more flowers per stem, with grassy leaves. Cattleya are the largest variety by far with blooms that can expand as much as eight-inches wide. These are easily detected with their ruffled edges and strong fragrances.
"If one is looking to incorporate orchids into a bouquet in another way, oncidiums and pea orchids are beautiful and delicate and the perfect orchid to add as a detail of texture or color variation," says Bowden. "These are unique, unexpected and great for garden style bouquets. Mokara and dendrobium orchids are good options for an element of interest in a bouquet that are smaller than those statement blooms, but make a greater impact than a detail orchid."
Dendrobium orchids come in a stunning 900 species, but can be broken down into two main types: den-phal, short for Dendrobium phalaenopsis and nobile. The most commonly used in orchid wedding bouquets is the den-phal, which has the luxury of growing year-round in warm climates, which makes them an ideal addition.
What Do Orchids Symbolize?
Like gemstones, every flower has a meaning, or two or three. The orchid is no different and depending on who you ask it could symbolize many different things. The most common are beauty, unity and pure love, which are all perfect for your upcoming nuptials.
Average Orchid Wedding Bouquet Cost
Wondering about the average wedding flower cost when it comes to orchids? Orchids are usually in high demand, which raises the per stem price. The good news is that you don't need many of them to make a statement. If you want a simple orchid wedding bouquet using the blooms as an accent, you'll spend less than you would for an arrangement that's entirely or mostly made up of the flower.
Florists' Tips for Adding Orchids to Your Wedding Bouquet
While they're often easy enough to find, wedding flower experts say orchids can be a bit persnickety in a flower arrangement, which means there are some hard and fast rules to making sure they not only look amazing in your bouquet but also hold up throughout the wedding and beyond.
Use Local Growers
While it's possible to source orchids from around the country, it's best to use local growers. This not only keeps costs down, but it also ensures they remain hydrated, which is especially important for this type of flower. Long travel times without proper hydration can compromise the bloom.
Less is More
The orchid at first glance is a subtle flower, but add it into an arrangement and you'll soon see its ability to make a statement. If you're on a budget, but set on having orchids, this is the perfect way to include it.
Consider the Weather
"Orchids are a tropical flower, so they do best in warmer, more humid temperatures," says Bowden. "They need to remain hydrated and often your floral designer will include specific mechanics that will enable them to stay fresh all day, no matter the weather."
What Flowers Go With Orchids in a Bouquet?
Because the orchid is a versatile flower that serves well as either the star of the show or as an accent piece, there's virtually no limit to the blooms you can pair it with. "Orchids are beautiful with almost any flower," says Bowden. "For a more classic look, combine them with garden roses, lisianthus and ranunculus. If you're still relishing in the dried and preserved element styles, they can have an incredible contrast with pampas grass, preserved ruscus and palms, amaranthus and reflexed roses. For a truly grand bouquet, keep orchids with other tropical elements, like monstera or palm leaves, proteas, fern and anthuriums."
It's ultimately best to work with your florist to get their expert take on what to pair with orchids. "Find a floral designer whose style inspires and speaks to you and fully trust them to catch your vision. Often, when they have their clients' trust, they are able to create and deliver something that is better than expected," says Bowden. If you're in the market for a local florist to make your bouquet dreams come true, make The Knot Marketplace your first stop. You can break down your search by locale and read reviews from past satisfied customers.
Orchid Wedding Bouquet Ideas
Inspiration is an important part of having a florist bring your vision to life. Orchids are so versatile, we had a hard time narrowing down our favorites! Take a look at these ideas and see if they spark your fancy, then show them to your florist.
Tropical Cascading Orchid Bouquet With Anthurium
Calling all couples planning tropical weddings—this bouquet is for you. We love how the floral designer paired dramatic anthurium blooms with hot pink orchids to create an eye-catching, fresh design for this waterfront wedding in Hawaii.
Pink and Purple Orchid Bouquet With Iridescent Accents
How fun is this bold bouquet with iridescent moments? To match the bride's lavender wedding dress, the floral designer created an arrangement with pink and purple flowers.
Eclectic Orchid Bouquet With Crasperia and Birds of a Paradise
As a fun juxtaposition to the softness of orchids, this bouquet included angular Birds of Paradise blooms. Pops of yellow from craspedia rounded out the design.
Elegant White Orchids With Cascading Greenery in Bridal Bouquet
Green and white are a classic for a reason, just look at this timeless bouquet. Simple white orchids were surrounded by assorted greenery in this simple bouquet.
Boho Orchid Bouquet With Dried Foliage
Orchids aren't only for glam weddings. This couple proved that you can use orchids in boho arrangements as well.
Colorful Cascading Orchid Wedding Bouquet
This stunning cascade orchid wedding bouquet combines multiple shades of red with pops of pink and white to create a bold design that draws more attention to the bride. Pink orchids make a classic statement in this arrangement.
Blush and White Orchid Wedding Bouquet
Classic white orchids, combined with blush and deep yellow flowers, create a shabby chic look that's perfect for a rustic or boho wedding theme. The ferns add to the overall look, expanding the arrangement outwards.
Phalaenopsis Orchid Wedding Bouquet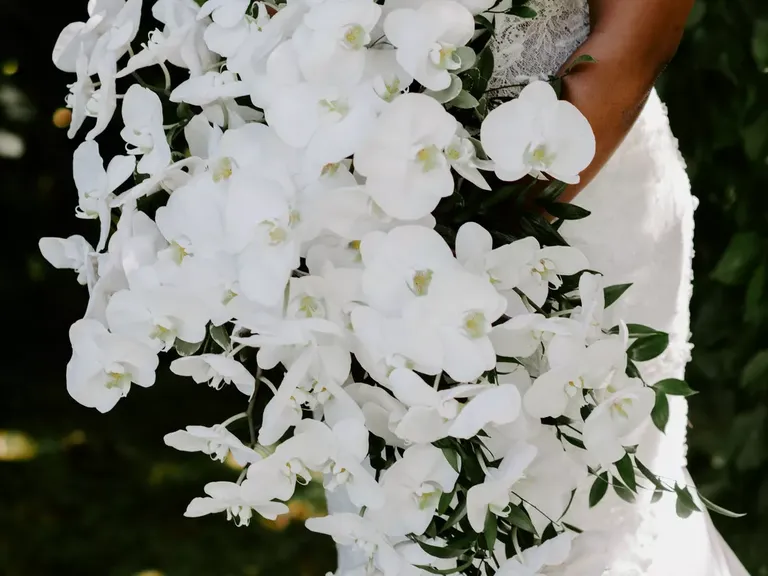 This simple orchid wedding bouquet is the perfect picture of elegance. The green stems add a burst of color in a timeless design.
Green Orchid Wedding Bouquet
Nothing makes a statement than green orchids backed by deeper, lush greenery to create an impact. The flowers take center stage here in a piece that's ideal for a spring wedding.
Whimsical Roses and Orchids Wedding Bouquet
Roses are the heart of this gorgeous bouquet which uses pink and white orchids as accents. This arrangement exudes romance, with just enough greenery to bring it all together.
Dazzling King Protea, Peony and Orchid Wedding Bouquet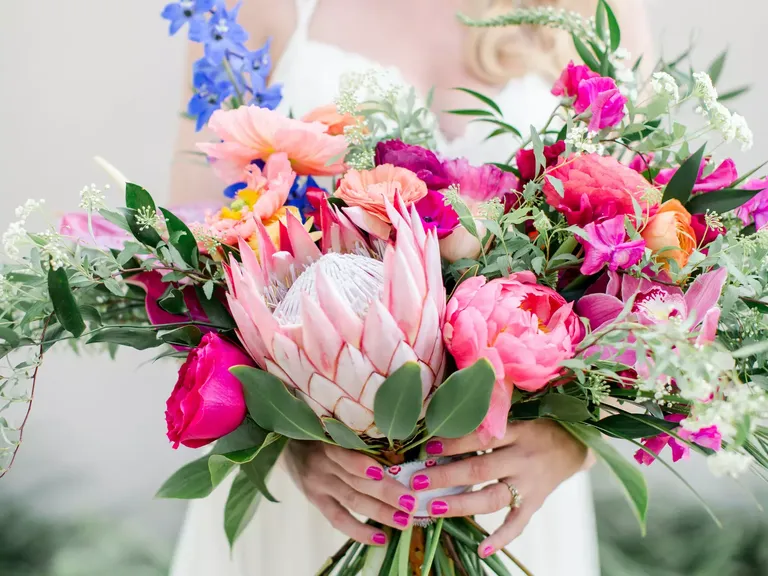 This colorful peony and orchid bouquet sets a king protea front and center with pops of pink, blue and white throughout. The colors are ideal for modern and bohemian-themed weddings.
Bright Pink Roses and Orchids Wedding Bouquet
The beautiful pink orchids make a gorgeous accent in this elegant, yet simple bouquet. Blooms are situated to look like butterflies sitting atop the arrangement.
Cascading Pink and White Orchid Wedding Bouquet
Romance comes to life in this stunning cascading design that perfectly blends white, pink and blush flowers with just the right amount of greenery. This timeless roses and orchids bouquet will fit just about any wedding theme.
Tropical Green Orchid Wedding Bouquet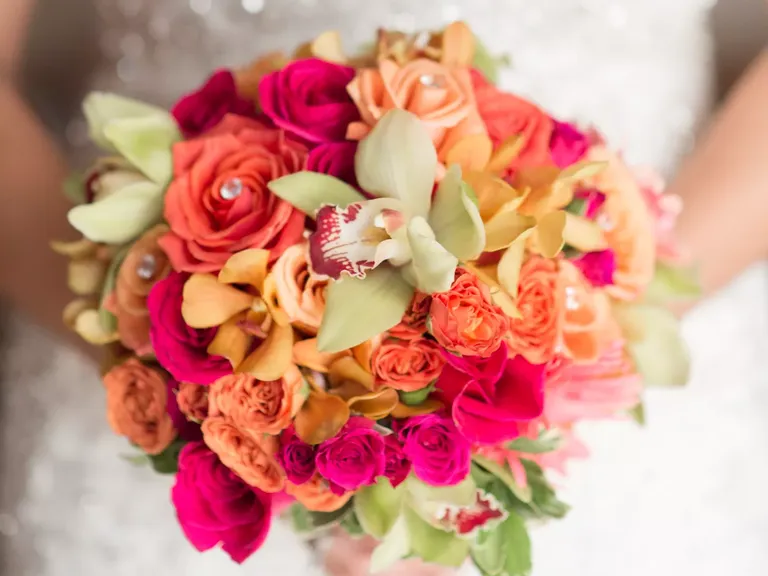 Vibrant hues of pink and orange come together with a stunning few green orchids that softens up the color palette just enough. The design is simple, yet a powerful pop of color against the bride's white dress.
Jewel-Toned Peony and Orchid Wedding Bouquet
A bright pink peony sits center of the design drawing attention to the stunning dotted orchids around the edges for a regal look that's ideal for modern and princess-style weddings.
Luxurious Calla Lily and Orchid Wedding Bouquet
Black calla lilies peppered throughout the pink and red orchids make a dramatic statement in this stunning display. It's one way to infuse daring colors into your decor without going overboard.
Ranunculas, Roses and Orchids Wedding Bouquet
This whimiscal bouquet design is an understated design that brings a soft, romantic touch to the bride's ensemble. White orchids, ranunculus and soft pink roses combine in a full bouquet that screams luxury.
Pink Dahlias, Roses and Orchids Wedding Bouquet
Dahlias and orchids add a dramatic flair to this pink-toned bouquet, while the soft pink roses add a touch of romanticism. A bouquet this gorgeous will be a real talking point.
Bohemian Roses and Pink Orchid Wedding Bouquet
When you need to make a statement, this stunning pink, red and white bouquet is just the thing you need. The lush greenery on all sides adds a bohemian feel that puts you one with nature.
White Orchid Wedding Bouquet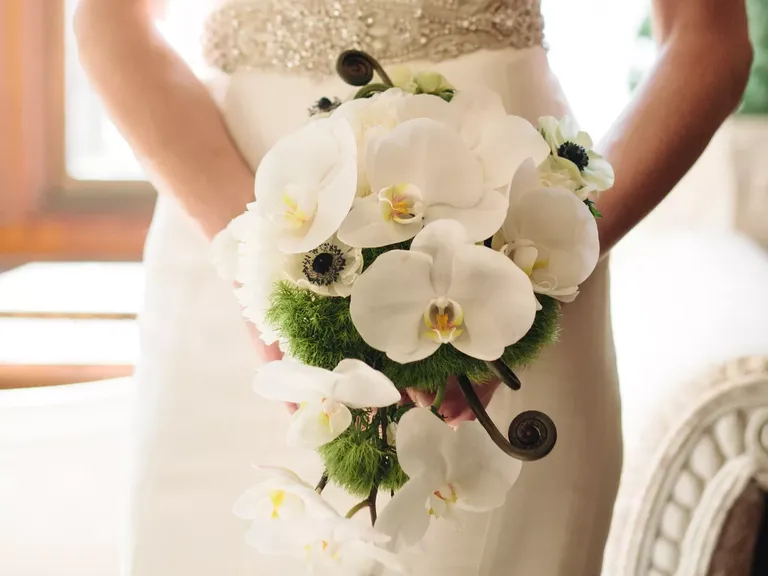 Simple elegance is a statement in itself. Nothing more than white orchids are needed to create this gorgeous small bouquet.
Rose and Phalaenopsis Orchid Wedding Bouquet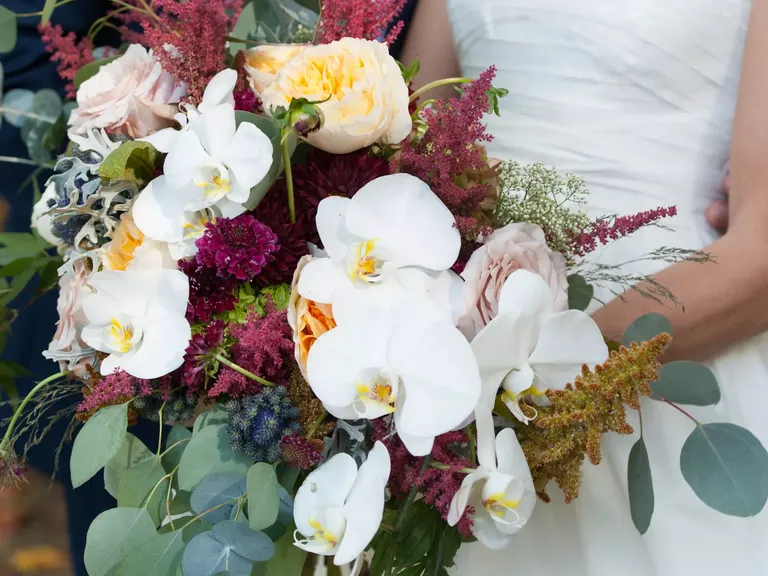 This bouquet resembles a classically-designed garden with stunning roses and white Phalaenopsis orchids. Eucalyptus and astilbes round out the lush greenery that's accented with pink blooms.
Orange and Burgundy Orchid and Rose Wedding Bouquet
White hydrangeas create the base of this dazzling bouquet that features a prominent orange rose peeking up the center, with burgundy and yellow orchids adding an exquisite touch. The burlap wrap adds a rustic feel that's perfect for outdoor weddings.
Pink and Green Hydrangea and Orchid Wedding Bouquet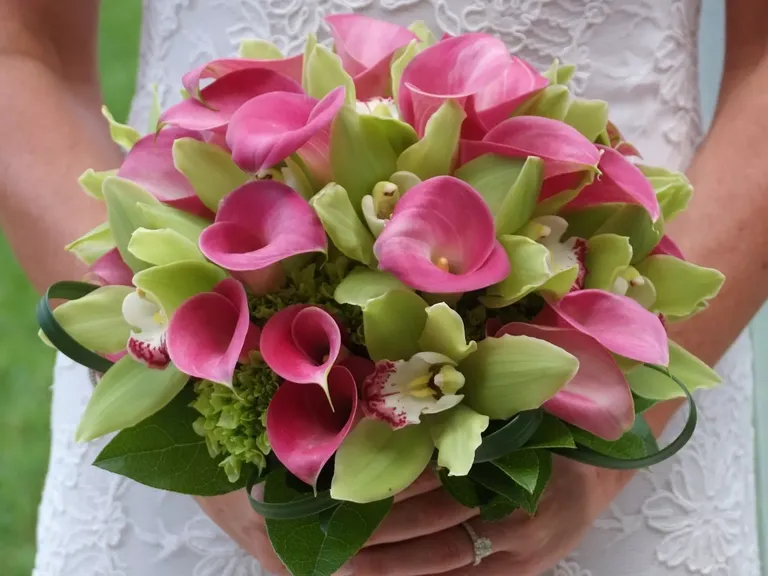 Sometimes a minimalist style says more than an over-the-top adornment and this is one of those perfect examples. Green orchids and hydrangeas surrounded by pink calla lilies add a romantic, elegant feel.
White Peony and Orchid Wedding Bouquet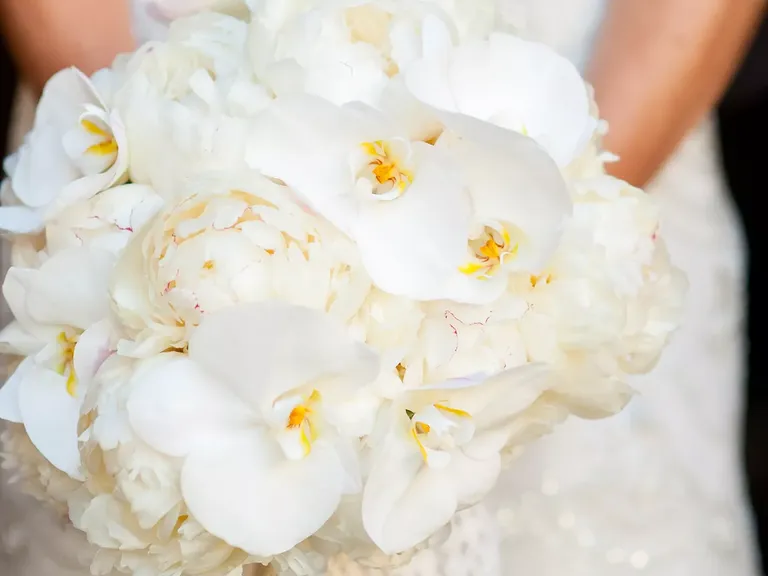 White is the staple wedding color and sometimes it's really all you need, color need not apply. This small design works well for spring or winter weddings.
Fuschia Phalaenopsis Orchid Wedding Bouquet
Montone wedding bouquets are a trend in themselves. This fuschia orchid bouquet is classic elegance without trying too hard.
White and Purple Calla Lily and Orchid Wedding Bouquet With Succulents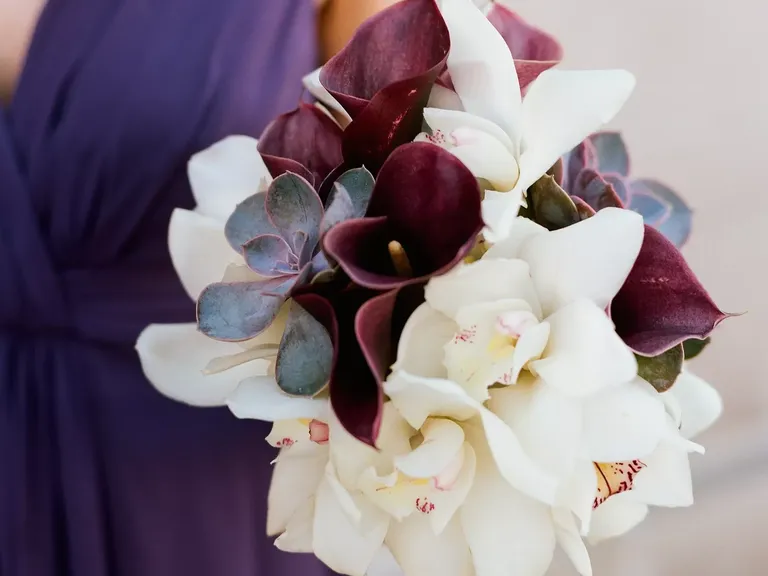 The deep hue of the eggplant purple calla lilies in this design is offset by the classic elegance of the white orchids. The darker tones make this bouquet a hit for fall and winter celebrations.
Peach and Orange Orchid Wedding Bouquet
The rich red and burnt orange tones in this bouquet are softened by the peach roses and white ranunculuses that work well together to create a romantic feel. It's a beautiful design that will be a hit at any fall wedding ceremony.
Blue and Purple Orchid Wedding Bouquet
Stunning purple and blue orchids surround a bed of white roses in this gorgeous tropical-inspired bouquet. The addition of peacock feathers and ferns add the right amount of luxury.
Calla Lily and Green Orchid Wedding Bouquet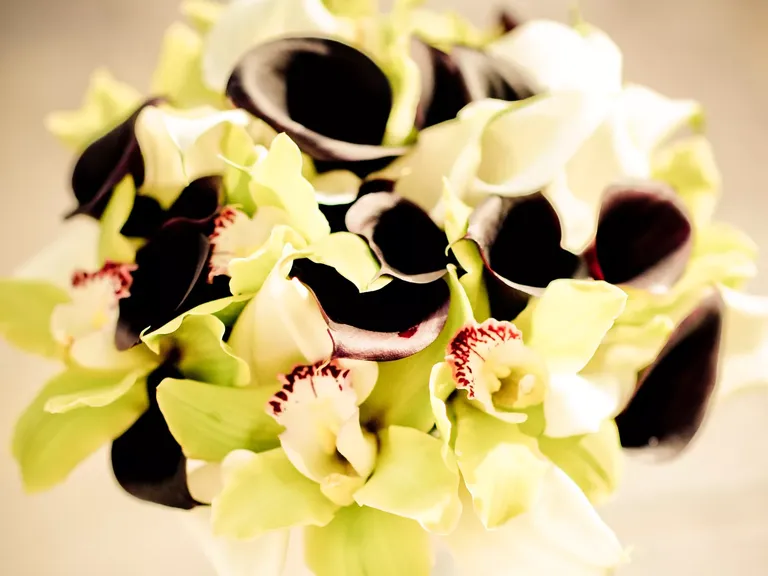 Sometimes less is more and that couldn't be truer of this calla lily and green orchid bouquet. The dots of burgundy tie in well with the black lilies for a dramatic feel.
White Orchid Wedding Bouquet Idea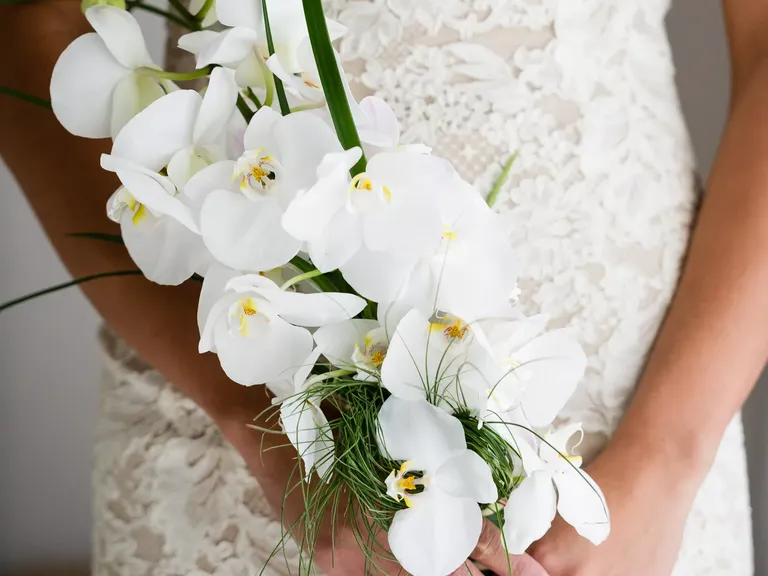 Classic, timeless, simple, yet, so, so elegant. This bouquet makes an impression for its minimalist design proving not all bouquets need to be flashy to catch attention.
Colorful Rose and Orchid Wedding Bouquet
If old-world Spain is your inspiration, look no further. The gorgeous red and orange palette is broken up with purple orchids to create a look that resembles a warm summer's eve sunset.
Fall-Inspired Orchid and Rose Wedding Bouquet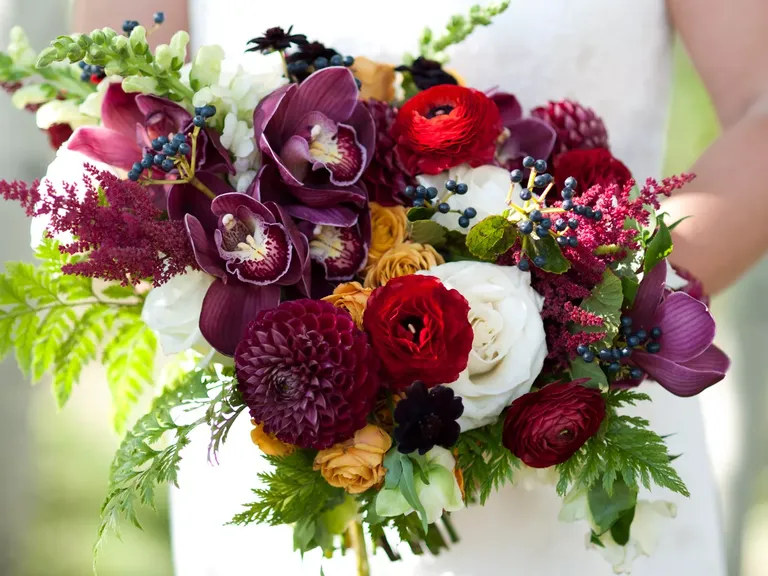 This bouquet has just the right amount of white to tie in to the bride's dress without overshadowing the gorgeous red, yellow and purple hues. This bouquet, complete with berry sprigs, would complement any fall color scheme.
Red and Orange Peony and Orchid Wedding Bouquet
If you're looking for the perfect rustic wedding bouquet, the amber and red orchids combined with the white peonies fit the bill perfectly. Pair this one with a little more greenery or free stems.
Mesmerizing Dahlia, Peony and Orchid Wedding Bouquet
There's dramatic, then there's eye-catching, jaw-dropping dramatic. This stunning bouquet is definitely the latter. The fuschia and red color scheme works so well with the cascading, we couldn't keep our eyes off of it.
Additional sources: Flower Shop Network