Wedding Cocktails Your Guests Will Go Crazy For
Sure, you can stick to the classics for your cocktail hour—beer, wine and a few tried-and-true mixed drinks — but if you're looking to shake up what you serve (and how you serve it), check these out.
Vintage Cocktails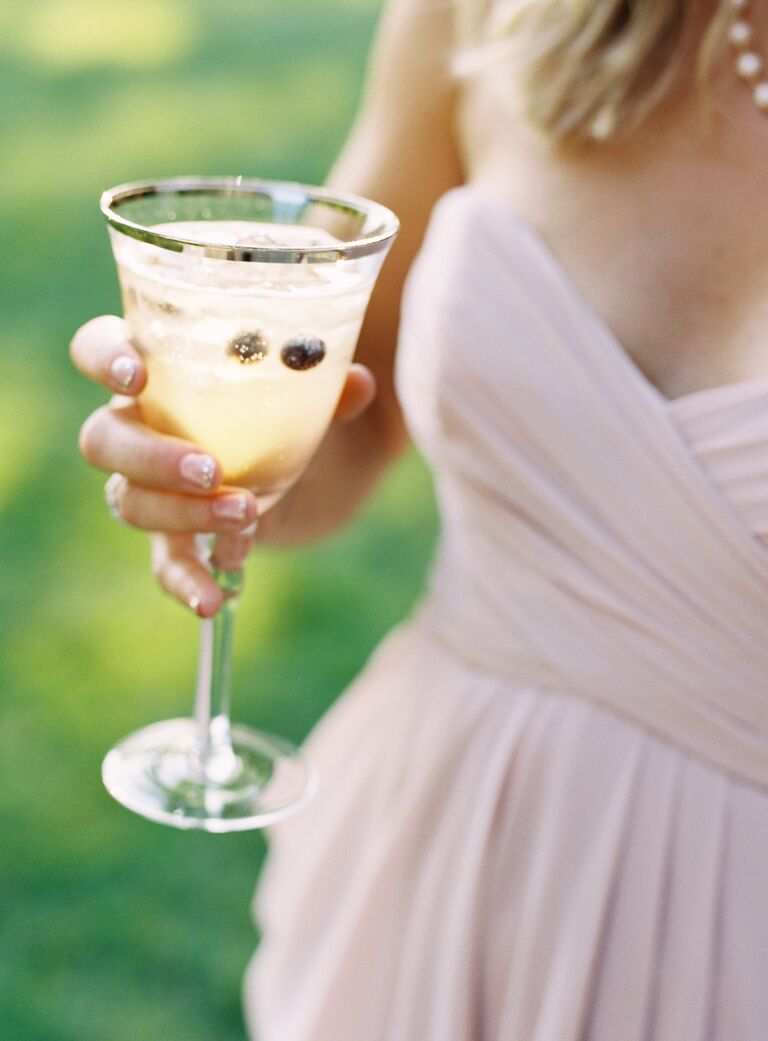 Take your guests back in time with a carefully curated menu of vintage libations, like the Bee's Knees -- a prohibition-era cocktail made with gin, honey and lemon juice. This is a fantastic addition to a retro-themed affair.
Popsicle Cocktails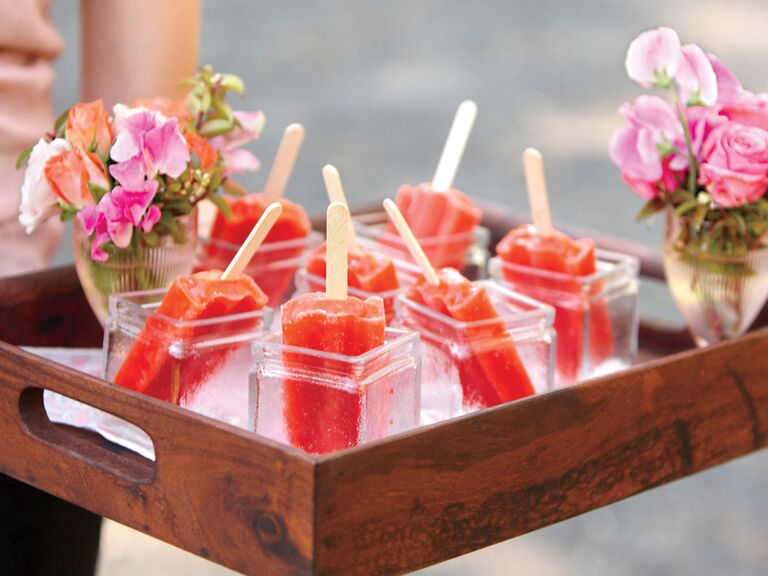 There's nothing more refreshing on a hot day than an ice-cold Popsicle. Now imagine the gourmet version, with flavors like lavender and orange crème. Or ask your caterer to try an adults-only version for the cocktail hour with your favorite liqueur for a frozen signature drink—watermelon, basil and St-Germain pops anyone?
Caffeine Kick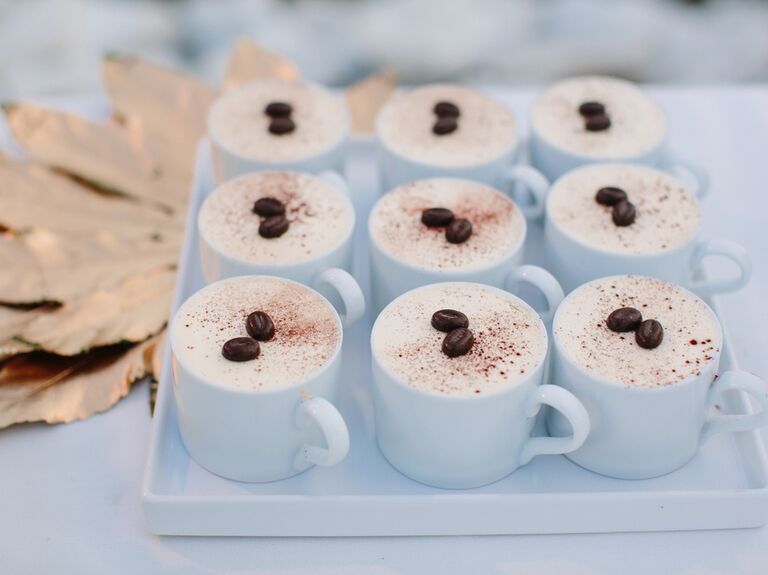 Give your guests a boost with coffee-infused desserts that will keep them on the dance floor until the last dance. Order espresso-spiked brownies or even Starbucks-inspired coffee dessert drinks, like Frappuccinos piled high with homemade whipped cream. Include a few decaf options too, like chocolate milk-shake shots or hot chocolate with flavored frothed milk.
Bubble Bars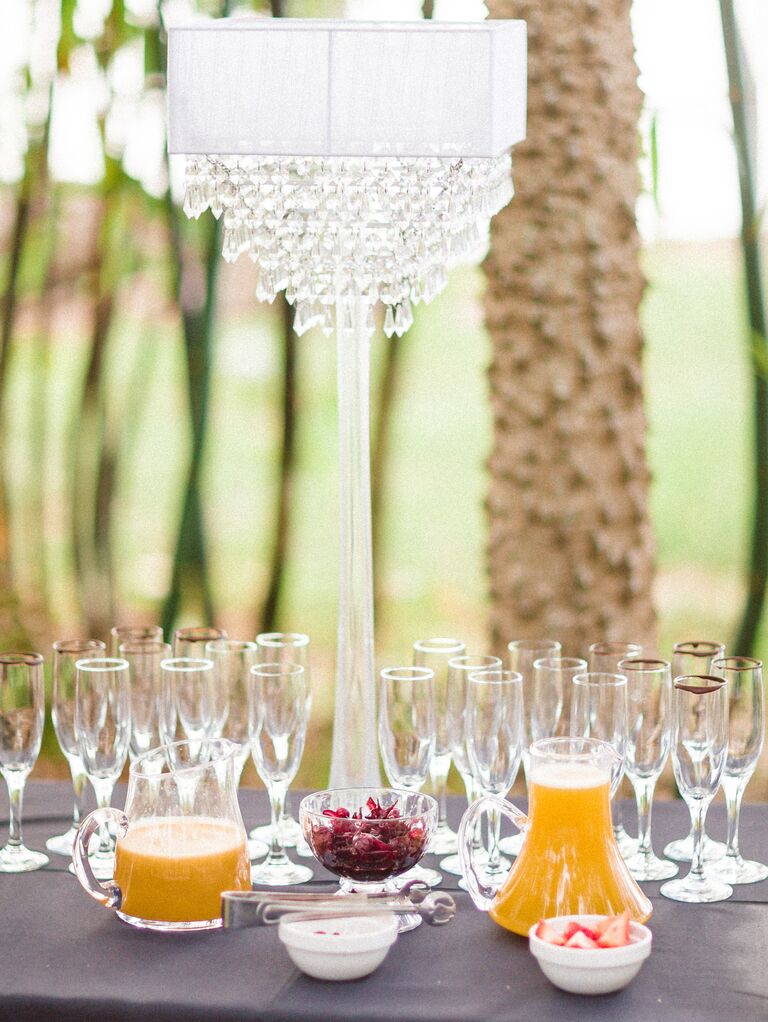 Serve a variety of sparkling wines or champagne with inspired mixers, like peach and strawberry juices and herbal simple syrups, and finish the cocktails with flavorful rims. Looking for some nonalcoholic options? Add a sparkling water or soda bar with similar syrups and pretty garnishes to make it feel extra-special.
Better Beverage Stands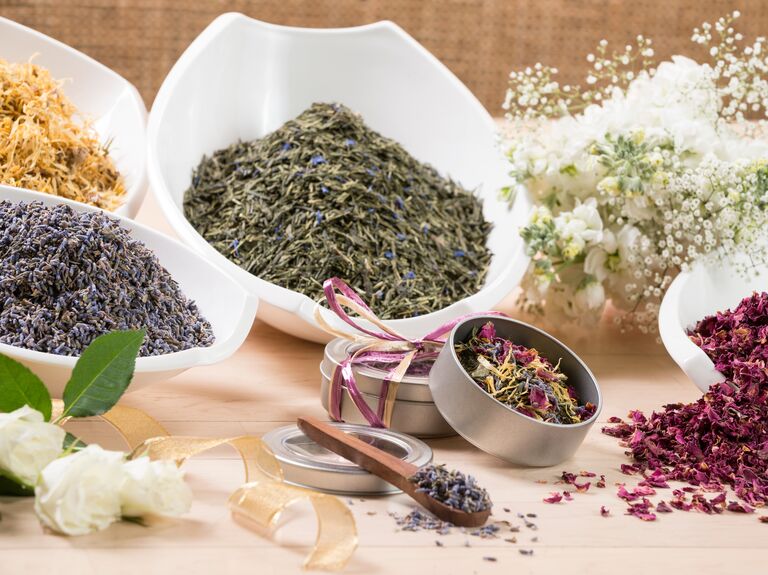 Serving iced tea or lemonade and displaying it in a cute way is nothing new (hello, mason jars). But a new twist on the beverage bar has unexpected add-ons, like lemongrass-infused ice cubes and fresh-pressed ginger drinks. We've even seen loose-leaf tea bars, where guests can mix and match their favorite leaves for a personal blend (perfect for a winter wedding).
Beer Gardens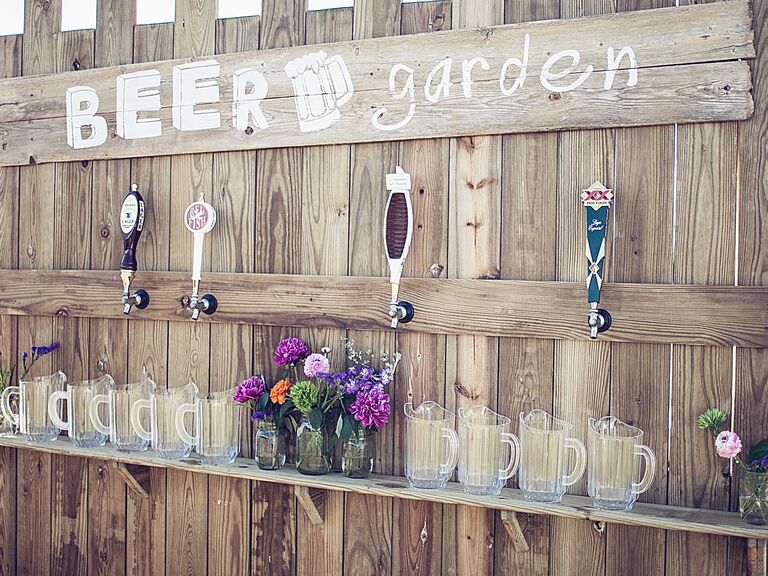 The beer garden trend is making its way into receptions. Let your guests kick back in true Bavarian style with a selection of your favorite craft beers. Throw in some lively music and lawn games for extra entertainment.
New Takes on Nonalcoholic Drinks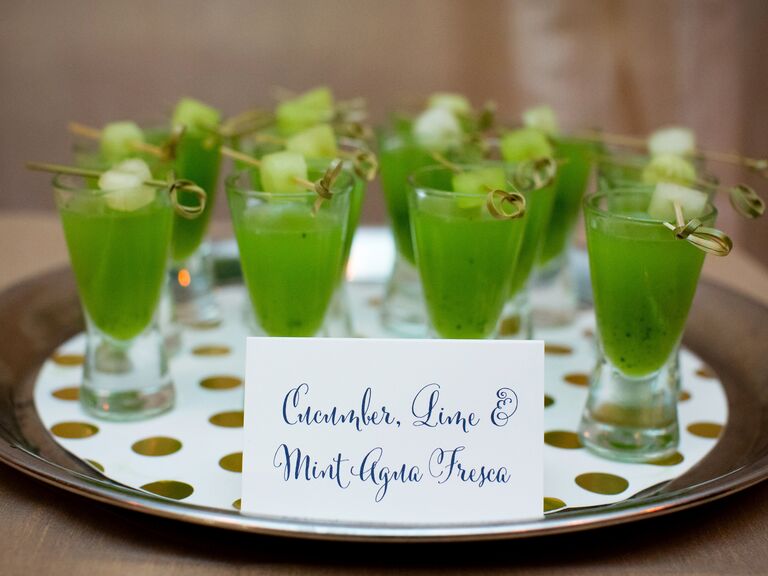 Signature sips don't have to be alcoholic. Companies like Jones Soda let you customize each bottle with a personalized label — you can even create your own flavor. Or have your bartender mix up souped-up virgin spritzers with flavors like rosemary citrus and blackberry elderflower.
His and Hers Cocktails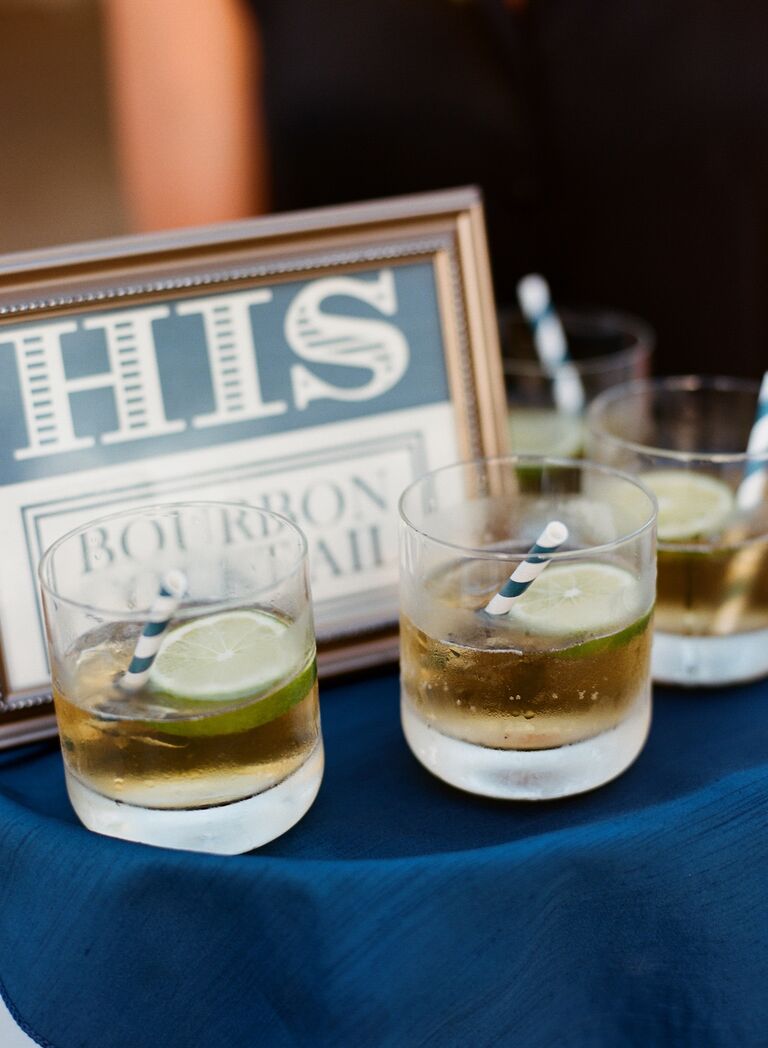 His and hers cocktails are not only a fantastic way to put a personal stamp on cocktail hour, they can also help cut down on costs (since you can have two different drinks instead of an open bar). Dress up your favorite sips with a fresh twist, like blood orange mojitos or a basil gimlet.
Herbal Infusions
Super-sweet cocktails just don't cut it for some people — especially martini lovers. Herb-infused spirits and simple syrups are easy ways to instantly upgrade any drink. Ask your caterer how you can freshen up the classics you drink regularly, like an Old Fashioned infused with blood orange or a martini flavored with rosemary and lime (instead of the expected apple).
Drinks From Around the Globe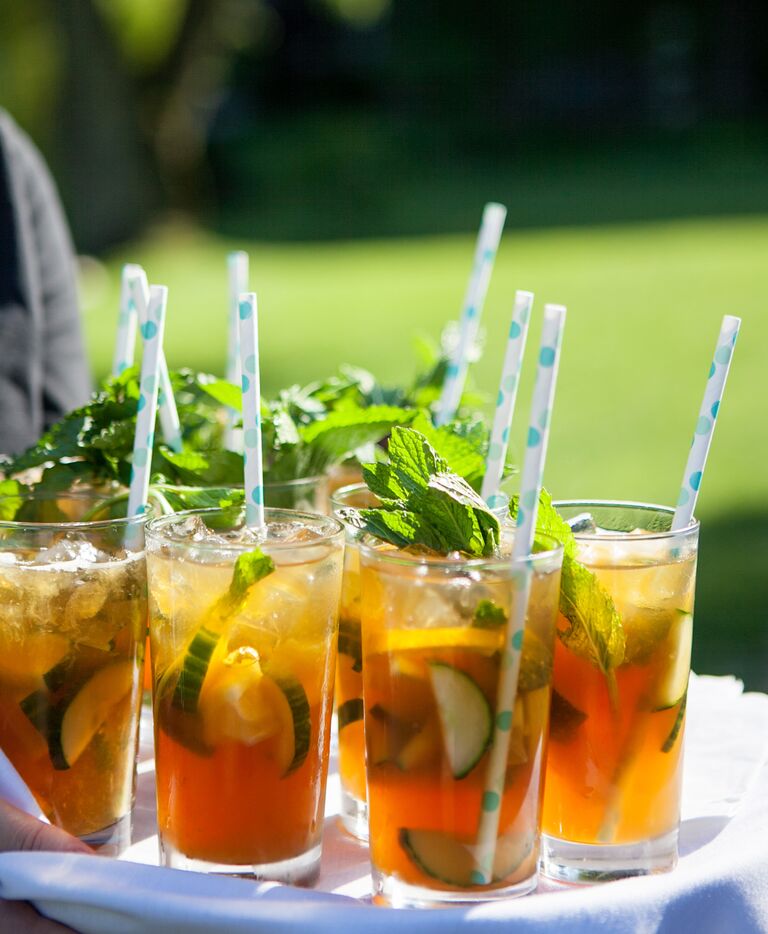 Use your roots or favorite vacation spot as the inspiration. For instance, serve a Pimm's Cup, a summertime staple in England served with fresh fruit and sparkling lemonade, or Pisco Sours, which are a favorite in Peru and Chile.
Preceremony Drinks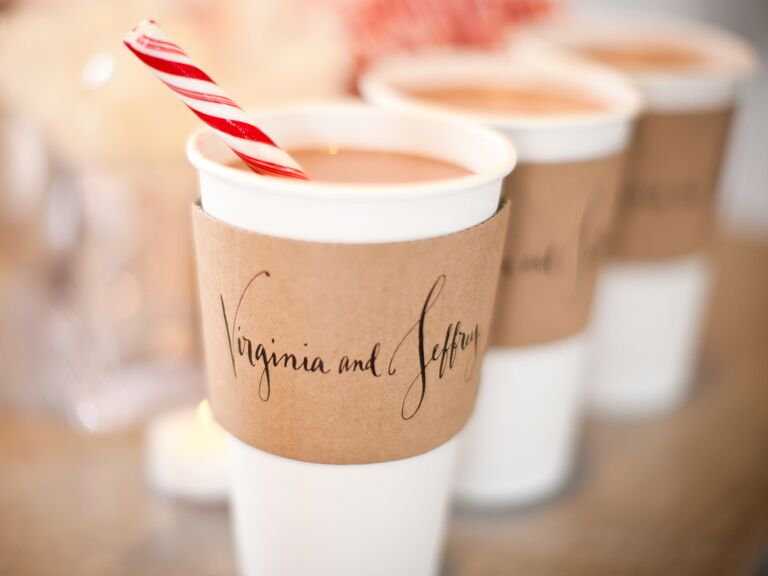 Think about the season when you're planning your drink menu. For example, keep your guests comfortable during your ceremony by offering infused ice water for a summer soiree or warm mugs of cider for a winter wedding.
Don't Forget the Kids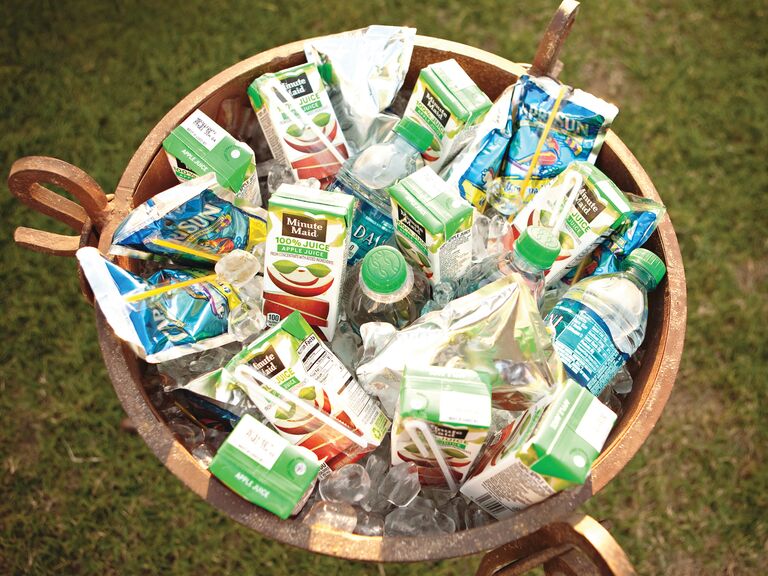 If you're having a lot of children at your wedding, have plenty of appropriate options on hand. Buckets filled with juice boxes are easy for them to access, while a mini-lemonade-stand is both decorative and kid-approved.