31 Fresh Ideas and Considerations for a Beautiful Easter Wedding
From officiant availability to whimsical flower displays, here is everything to take into account when hosting an Easter weekend celebration.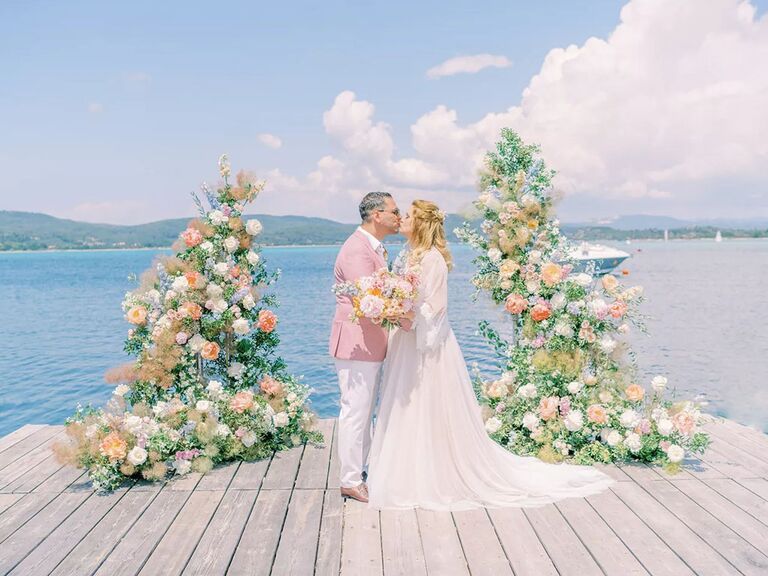 Spring is an incredible time to get married as fresh flowers start to bloom and people want to get out and about again after a long winter. With this in mind, many couples wonder if they can host an Easter wedding, and if so, what to take into account when planning for such an occasion. We've pulled together a few unique considerations for a celebration on this holiday as well as our favorite ideas to inspire a ceremony and reception that embrace an Easter theme.
In this story:
Can You Get Married on Easter Saturday or Sunday?
When searching for a spring wedding date, it is often difficult to plan around school schedules, family vacations and holidays like Easter. This Christian holiday and the days leading up to it are some of the holiest days in the church calendar, so many people will likely have other commitments to their friends, church or family already planned for that time.
Some branches of Christianity, including many Catholic and Orthodox churches, do not allow people to get married on Easter or the forty days leading up to it, a period called Lent, as it is a time of mourning, fasting and restriction. While some denominations allow weddings to take place, they may have other limitations, such as no decor allowed in the church or no singing.
Understanding the importance of this holiday in the Christian faith, hosting a wedding this weekend may complicate the planning process. But, as it is also a weekend many people have time off of work or school, it can still be the perfect time to bring two lives and families together.
Easter Wedding Considerations
Similar to getting married on another major holiday like Christmas, Memorial Day or Father's Day, there are a few aspects of wedding etiquette to consider before finalizing an Easter wedding. From vendor and venue availability to guest considerations, here are a few things to think about before locking in a date.
Officiant Availability
If you have a Christian officiant, Easter weekend is one of the busiest of the year. Services often take place Thursday through Sunday, sometimes with multiple in one day. With this, clergy in both Catholic and Protestant denominations will likely not have the time to oversee a wedding these days.
The flip side of this, however, is a church could be open to hosting your wedding on Good Friday or Holy Saturday, especially if you agree to leave your wedding flowers around to decorate the church on Easter Sunday. If your officiant is not a clergyman, you should still check with them first to see if an Easter weekend wedding is a good date, as they may already have a family gathering or religious service scheduled.
Guest and Bridal Party Attendance
Christmas and Easter are the two Sundays a year that churches see the most attendance. With this in mind, invited guests may choose to attend a religious service rather than a wedding on Easter. If you decide to host your celebration over this holiday, you may have more people decline the invitation than if you had chosen a different weekend. To help accommodate guests or bridal party members who observe the holiday, consider scheduling in time for them to attend a service at some point during the wedding weekend.
Venue Considerations
Most churches will not have the time or space to host a wedding on Easter weekend. However, other venues will have the space if booked early enough and if they can secure staffing for the event. It is highly likely that Easter egg rolls and similar events will be held over Easter weekend, filling up many popular venues. You may have fewer vendor options as well if some block off the weekend to spend with their own friends and family.
Find your kind of venue
From barns to ballrooms, discover reception venues that feel like you.
Hotel Bookings
Almost any major holiday, especially those that line up with school breaks, see an uptick in travel across the US. So, more hotels will be busy, likely with higher prices. With this, guests may have difficulty finding housing if coming from out of town.
Menu Adjustments
Many Catholics do not eat meat on Fridays during the Lenten season leading up to Easter. If you're planning a Good Friday wedding or rehearsal dinner, having alternative menu options like fish, beans or tofu is considerate for guests observing the holiday.
Easter Wedding Color Scheme Ideas
When Easter rolls around, spring is often in full bloom with daffodils, peonies and green grass sprouting up. Pairing these colors with the dainty blues of robin eggs or the calming pastels that many people decorate with in March, April and May can create a beautiful color scheme.
Pastel and Light Gray Easter Color Palette
While invitations and save-the-dates often tip off guests to the color scheme of the wedding and reception, the bridal party's outfits can do the same thing on the actual day. These pastel dresses pair well with the light gray groomsmen and allow the wedding and reception decor to pull from the rainbow of spring colors.
White and Gold Easter Color Palette
While a white and gold color scheme does not have to be associated with a religious ceremony, the pairing gave this Christian wedding an elegant and refined look. With small blue or green accents, this palette welcomes spring well on Easter weekend.
Bold and Bright Easter Color Palette
The bright yellow, orange and green hues in this wedding's color scheme gave a vibrant, spring feel to this garden wedding. Accenting with pink, white and even gold provides a freshness that everyone craves in spring.
Shades of Blue Easter Color Palette
Nearly every Easter celebration uses pastels, but that doesn't mean you have to use them. Consider using shades of blue with touches of green, white and purple to create a timeless look.
Easter Wedding Bouquet Ideas
Wedding bouquets are a great place to play with the Easter wedding theme. You can opt for an arrangement that uses a variety of pastel colors or incorporates small touches like Easter lilies or flower buds to give a nod to the holiday.
Cascading Clematis Wedding Bouquet
This stunning cascading clematis bouquet mixes purple, pink and white into a beautiful flower display. The roses and greenery provide an understated and whimsical elegance to their holder.
Pink and Purple Pastel Wedding Bouquet
By combining baby blue, a soft lilac and the white of baby's breath, this bride created a hopeful spring bouquet. The larger green leaves tucked throughout provide texture and depth to the arrangement.
Blue and Yellow Pastel Wedding Bouquet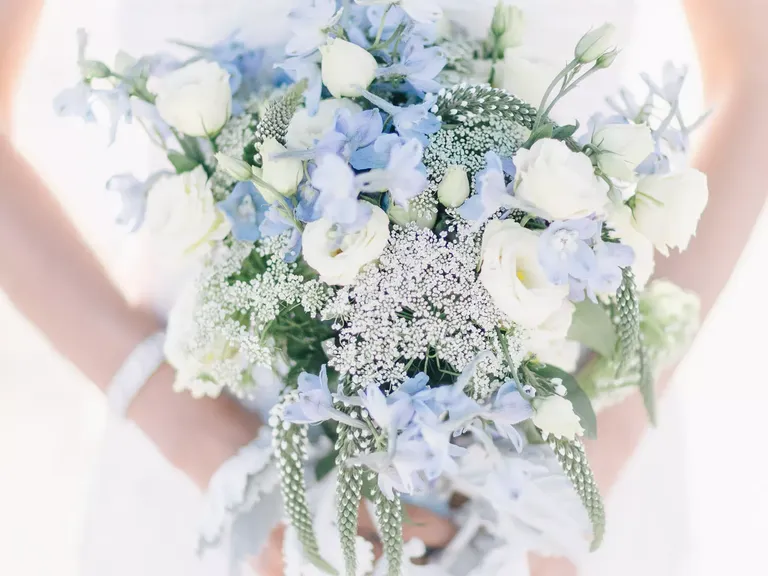 By pairing baby blue flowers with soft yellow buds, this wedding bouquet is immensely romantic. The draping green and white give it a soft touch, bringing refined warmth to any Easter bride.
Pink Peony and Rose Wedding Bouquet
Getting married during Easter means there is a wealth of flowers in season, including the beloved peony. This blush pink wedding bouquet uses various shades of roses with pink peonies, hydrangeas and proteas to bring it together.
Easter Wedding Cake Ideas
Figuring out the right design for an Easter wedding cake can be tricky, especially if you want to incorporate common themes from the holiday without going overboard. Here are a few ways to tie in the Easter wedding theme to your dessert table.
Blue and White Ombre Wedding Cake With Flowers
This cake keeps it simple with a white-to-blue ombre coloring. The robin's egg blue gives off Easter vibes as the dainty white flowers adorn the rim.
A Variety of Pastel Wedding Cakes
Just as easter eggs come in a variety of colors, so can wedding cakes. This assortment of cakes use blush pink, pale yellow, mossy green and a few other pastel shades. Dusted with flowers, this tiered ensemble doubles as decor until it is time to eat.
White and Blue Wedding Cake With Berries
Opting for a painted, watercolor effect, this cake brings in just a touch of blue with its icing. Topped with dainty pink and white flowers alongside blue berries, it is a soft, romantic option for an Easter wedding cake.
All-White Wedding Cake With Pastel Flowers
Keeping it elegant with a tiered white cake, this couple chose to use flowers to add in a pop of pastel color. The elegance and height of this cake make a statement without being over the top.
Easter Wedding Centerpieces
Table centerpieces allow the to-be-wed couple to bring a bit of personality to each wedding table. Choosing the right decor can tie the whole celebration together.
Whimsical Pastel Centerpiece
The gold vase and pastel flowers in this Easter wedding centerpiece added a whimsical touch to this wedding. Choosing warm oranges with pops of pink and blue brings warmth while various textures add a little extra spunk.
Pastel Arrangement With Wooden Accents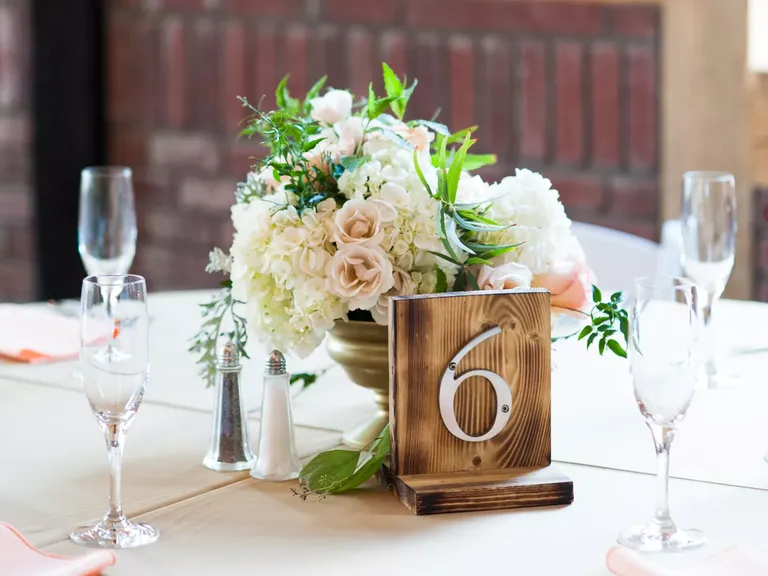 This centerpiece used wooden blocks with silver numbers to mark tables. The flowers in the middle of the table tied the look together by using a low arrangement of blush roses, blooming hydrangeas, and greenery.
Birdcage and Flower Centerpieces
Lace tablecloths and white bird cages brought some cottage vibes to this wedding. Decorated with pastel flowers and gold accents, any aspect of this centerpiece could be adapted for an Easter wedding.
Easter Wedding Decor Ideas
Between the wedding ceremony and reception, there are countless opportunities to add small or large decor items to create the right atmosphere. Consider the following Easter wedding ideas to bring a touch of spring to your celebration.
Peony Aisle Markers
This couple used the fact that peonies are in full bloom around Easter to line their aisle with the beloved flower. By hanging them on the chairs with peach and pink flowers too, the decor brought a personalized touch to the outdoor ceremony.
Floral Arch With Candles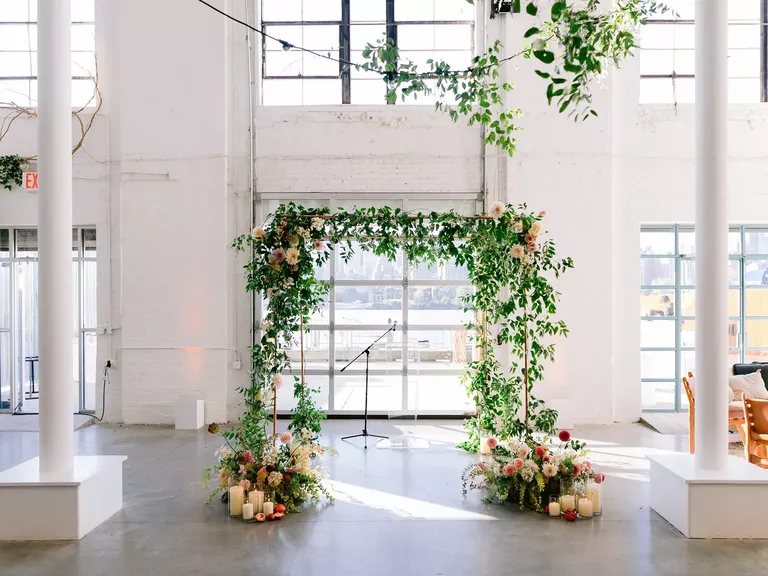 What says romance better than candles and flowers? This stunning wooden arch holds abundant blooms and greenery without overwhelming the space.
Pressed Flower Sign
Placing pressed flowers inside this unique ceremony sign brought a bright pop of color to this wedding. The green ferns and spunky lettering also feel like a personal touch.
Baby Animal Petting Zoo
Easter weekends are often filled with egg hunts or baby animal petting zoos, and there's no reason for your Easter wedding to not also join in on this fun. There are vendors that will supply your guests with soft, snuggly friends to hold during the reception.
Rustic Arch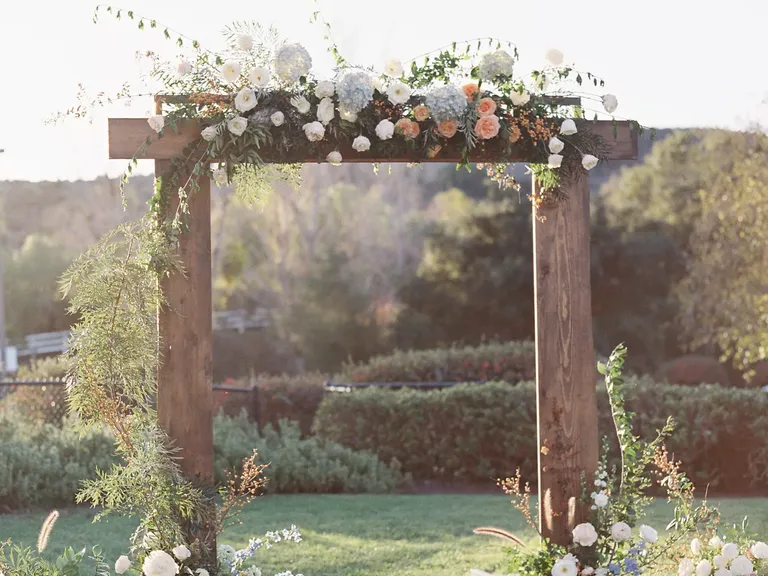 A bold, rustic arch can be a statement decor piece for any wedding. Draped with beautiful arrangements, this arch doubled as a focal point at both the ceremony and reception.
Rattan Outdoor Lounge
If you're planning an outdoor Easter wedding, creating a lounge space can give guests extra options to sit back and relax, especially if littles are running around looking for hidden easter eggs. The brown rattan furniture and white rug accent this tented wedding well.
White Blush Pew Arrangements
These white and blush cascading arrangements add immense beauty to the wooden pews. Whether inside or out, the draping buds bring a bit of nature to any aisle.
Easter Wedding Table Decoration Ideas
From the dinner and dessert tables to a spot for collecting cards and gifts, there are plenty of surfaces to decorate at a wedding reception. Here are a few ideas for decorating an Easter themed wedding table.
Macaron Favors
Many couples choose to use favors to decorate their reception tables. If that sounds appealing, consider a pastel-colored treat, such as a French macaron, to adorn your reception tables. Other couples have made look-a-like robin nests with chocolate-covered almonds as the eggs.
Whimsical Candle and Moss Display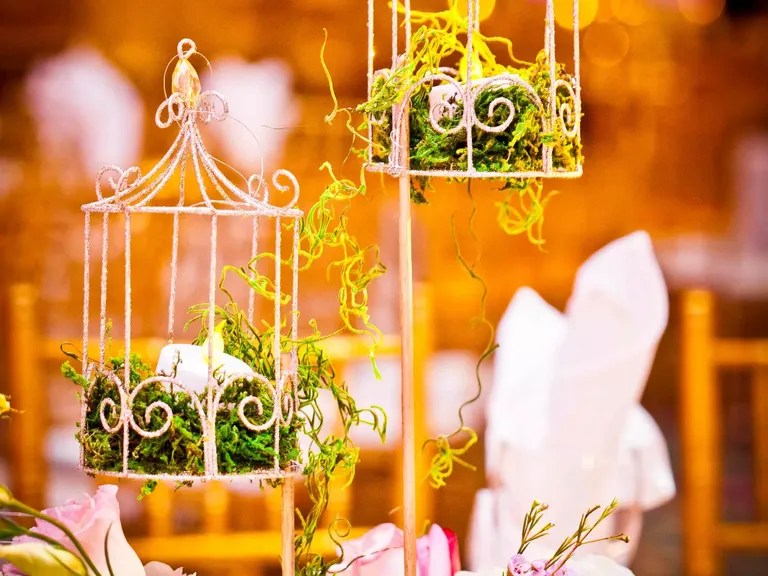 These tall, moss-filled cages bring guests' attention up off the table without blocking their view. The low flower arrangement combined with the birdcage look is a wonderful reminder of spring.
Painted Glass Bottle Flower Arrangements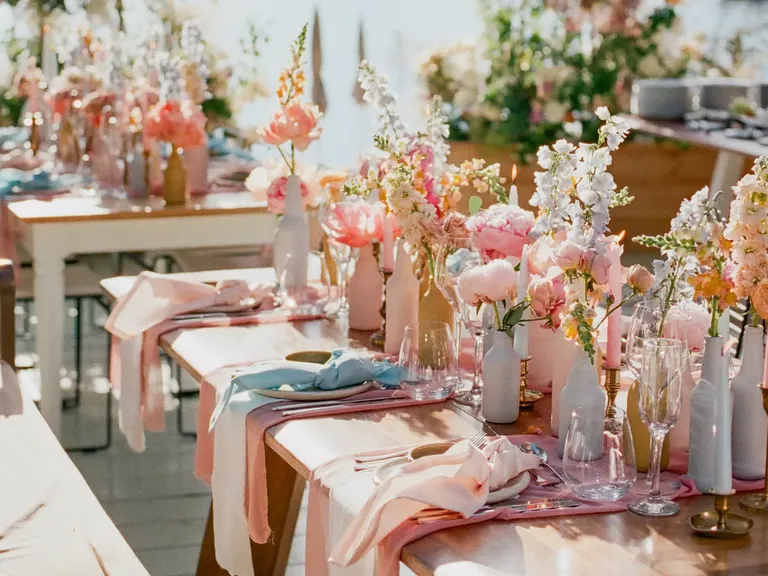 When it comes to flowers, it never hurts to add a few more. This table design opted for numerous small vases painted in various pastel shades. Peonies and other light-colored flowers bring spring romance right to the table.
Tulip Escort Cards and Favors
Fresh tulip buds make a cute wedding favor, and they can double as escort cards to help guests find their tables. As they come in nearly any spring color, this dainty display can adapt to almost any color palette.
Vintage Green Glass and Planter Boxes
Most people love the bright green that appears in spring. This reception brought that unique shade in through vintage glassware and paired it with mahogany planter boxes filled with in-season flowers. Brought together with matching linens, this decor accented the natural beauty of springtime.