27 Spring Wedding Cakes We're Swooning Over
Infuse a dose of seasonality into your wedding cake with these fresh spring bakes.
In much the same way that seasonality matters when it comes to wedding flowers, the time of year you've chosen to tie the knot will also have a major impact on your wedding food and desserts. If you're saying "I do" with a fresh spring celebration, then a spring wedding cake is a great way to end the celebration with a sweet note.
You might be asking yourself, "But how is a spring wedding cake different from a summer wedding cake, fall wedding cake or even winter wedding cake?" At the core all cake is cake, but there are some creative ways that you can bring nods to spring into your wedding cake, through flavor and design, that will ensure the bake shines and complements the rest of your wedding style and vision. Below, we've gathered spring wedding cake tips, with insights from trusted wedding pros, along with dreamy spring wedding cake ideas from real weddings to inspire your own springtime wedding dessert.
Top Tips for Spring Wedding Cakes
It's hard to go wrong with something as sweet as cake, but there are a few must-know tips to keep in mind that'll help ensure your spring wedding cake is as delicious as possible. Here's a look at what you should keep in mind when planning your spring cake—and for more general cake advice, check out these wedding cake frequently asked questions.
Spring Wedding Cake Flavors
"Floral flavors, like rose, orange blossom and lavender are perfect for spring. Incorporating flavors that draw inspiration from your decor is a super thoughtful touch," advises Allison Davis, wedding planner and owner of Davis Row. For example, if citrus or berries are being incorporated into your wedding reception centerpieces, consider keeping the theme going with a grapefruit or strawberry cake, or even cupcakes if you so desire. In the end, it's your cake so make sure you settle on a flavor you truly love. If a seasonally specific flavor, like rose, isn't quite your speed, timeless options like chocolate cake with chocolate ganache or even vanilla are sure to still be a big hit.
Spring Wedding Cake Decorations
"Chat with your cake artist and floral designer about your decorative options," advises Davis. "Sugar flowers are a heavy favorite, but as long as you make the request in advance you can decorate your cake with any fresh flowers you're using throughout your wedding floral design." You can't go wrong with seasonal spring flowers like peonies, cherry blossoms and sweet peas, especially if those blooms are being incorporated in the springtime big day's bouquets, boutonnieres and centerpieces."
Get Creative With Your Spring Wedding Cake
While flowers are the most common way to decorate a wedding cake, there's certainly not your only option. "Go for unexpected details that really speak to who you are," suggests Davis. "Draw inspiration from your favorite place to visit, a piece of art you love or a favorite memory. Don't feel like you have to know exactly what you're looking for! The experts will help you bring your vision to life. Your cake doesn't have to match anything. It can stand on its own as a part of your wedding story."
Find all the vendors you need
Meet every kind of expert from bakers to bartenders and more.
Spring Wedding Cake Ideas
To get your creative juices flowing, we've rounded up some of our favorite beautiful wedding cakes for spring that are sure to inspire you. Make sure to save the ones that pique your interest to share with your wedding cake baker.
1. Sky Blue Floral Wedding Cake With Edible Nasturtium Blooms
While many flowers are not edible and your catering team will take them off prior to cutting the cake, some flowers, like nasturtiums are edible and can be eaten after serving as a decorative garnish on your cake.
2. Hand-Painted Pastel Wedding Cake
This wedding cake design was finished with watercolor-inspired painted floral details that complemented the wedding color palette seen throughout the entire Pennsylvania wedding day.
3. Textured Gold-and-Seafoam Buttercream Wedding Cake
The confection for this couple's beach wedding day was a two-tier wedding cake with textured buttercream in soft shades of seafoam green with gold accents.
4. White Wedding Cake With Orange Sugar Flowers
A simple white base to this case ensured the vibrant orange floral decorations of this cake were the star of the show.
5. Five-Tier White Wedding Cake With Fresh Sweet Peas
A few fresh sweet pea blooms added a colorful pop of pink to this otherwise all-white wedding cake which sat atop a marble-and-wood cake stand.
6. White-and-Gold Wedding Cake With Fresh Fruit and Macarons
Jewel-tone macarons, which fit the wedding's overall color palette, served as this confection's cake topper and brought a nice finishing touch to the buttercream cake along with fresh figs and grapes in complementary shades.
7. Buttercream Wedding Cake on Cake Swing
This confection's decorative tiers, which featured Swiss dots on the middle tier and quatrefoil-inspired interlacing circles on the top tier and bottom tier, were beautiful on their own. However, the entire dessert was placed on a swing cake stand, making the design even more eye-catching.
8. Blue-and-White Wedding Cake With Fresh Peonies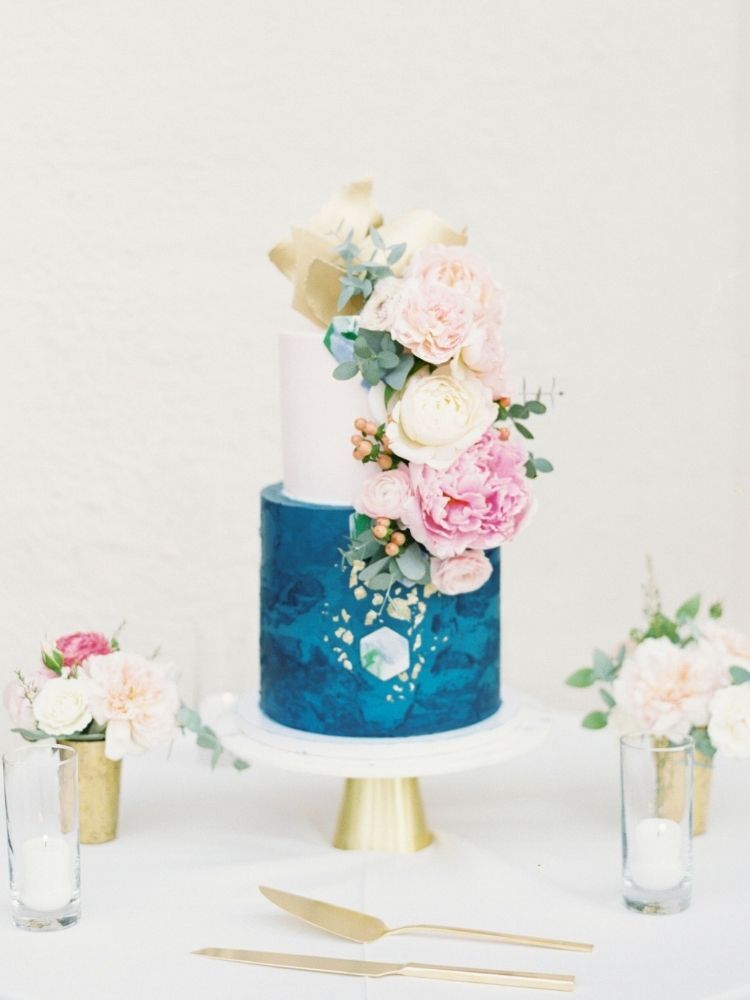 A cascade of fresh peonies finished off this cake, which included one blue tier and one white tier. To further enhance the elegance of the look, the couple selected a gold cake knife and server and a gold cake stand for their cake table.
9. Abstract Pink-and-White Wedding Cake
Instead of going with a more structured ombre design, this couple opted for an abstract hand-painted look with pink details that blended elegantly with the white buttercream cake base.
10. Wedding Cake With Hydrangeas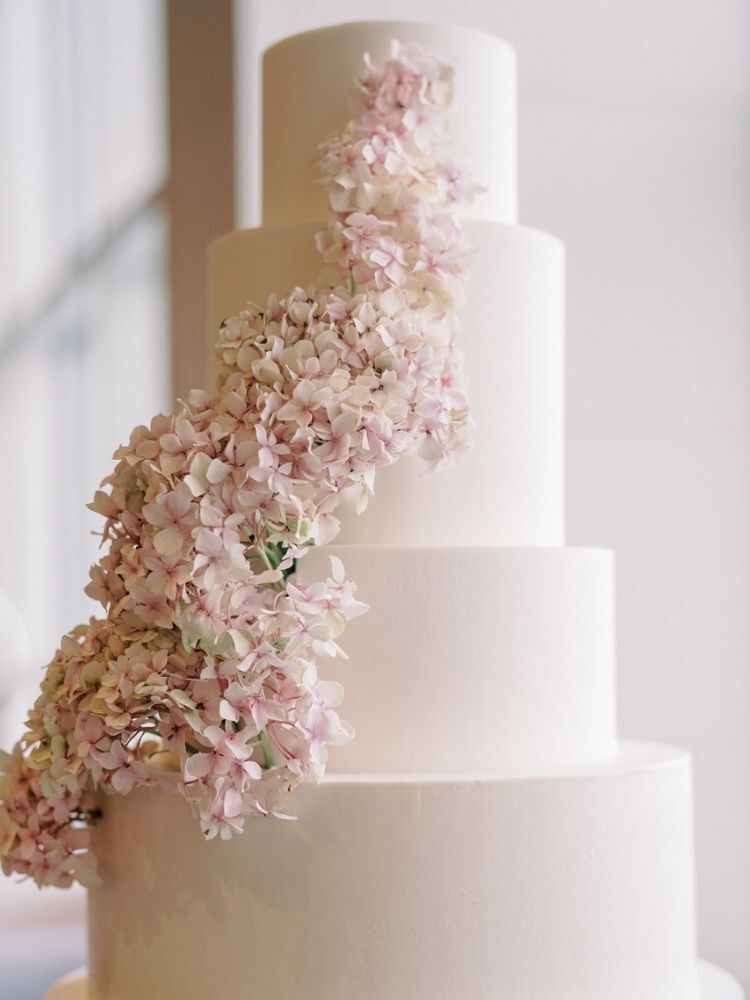 A cascade of hydrangeas brought elegance and movement to this classic three-tier wedding cake.
11. Two-Tier Fondant Wedding Cake With Sweet Peas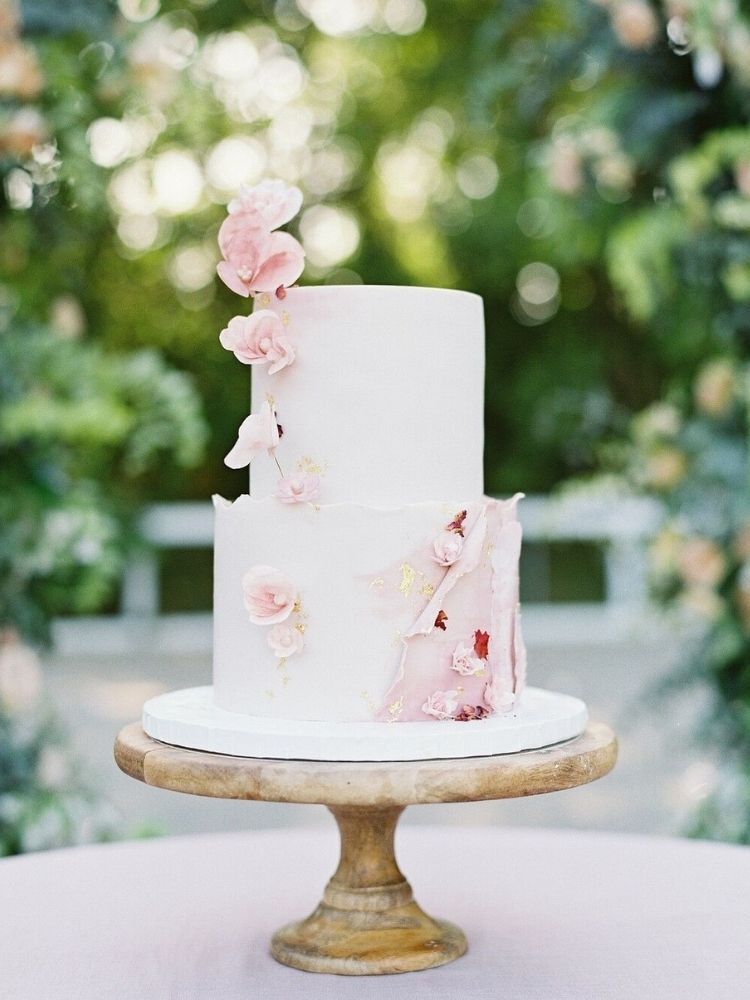 Despite the fact that they were made from sugar, the sweet pea blooms on this fondant wedding cake looked deceptively realistic.
12. Simple Wedding Cake With Greenery
Lush ferns and other greenery, paired with white peonies, added to the sophisticated vibe of this four-tier white wedding cake.
13. Textured Buttercream Wedding Cake With Greenery and Roses
A combed texture made this romantic wedding cake especially eye-catching.
14. Fondant Wedding Cake With Sugar Flower Peonies
Two things, in particular, made this cake especially stunning. First, the cake baker expertly made the fondant appear like marble. Then, to complete the confection, they crafted shimmery peony sugar flowers to complete the design.
15. Whimsical Garden-Themed Wedding Cake
This cake was just one tier, but it's impact was the furthest thing from small. A whimsical garden landscape design ensured the single-tier wedding cake made a bold statement.
16. Combed Buttercream Wedding Cake With Fresh Ranunculus
If roses aren't quite your style, consider having your cake baker decorate your wedding dessert with fresh ranunculus blooms instead, as this couple did.
17. Four-Tier Wedding Cake With Vibrant Yellow Flowers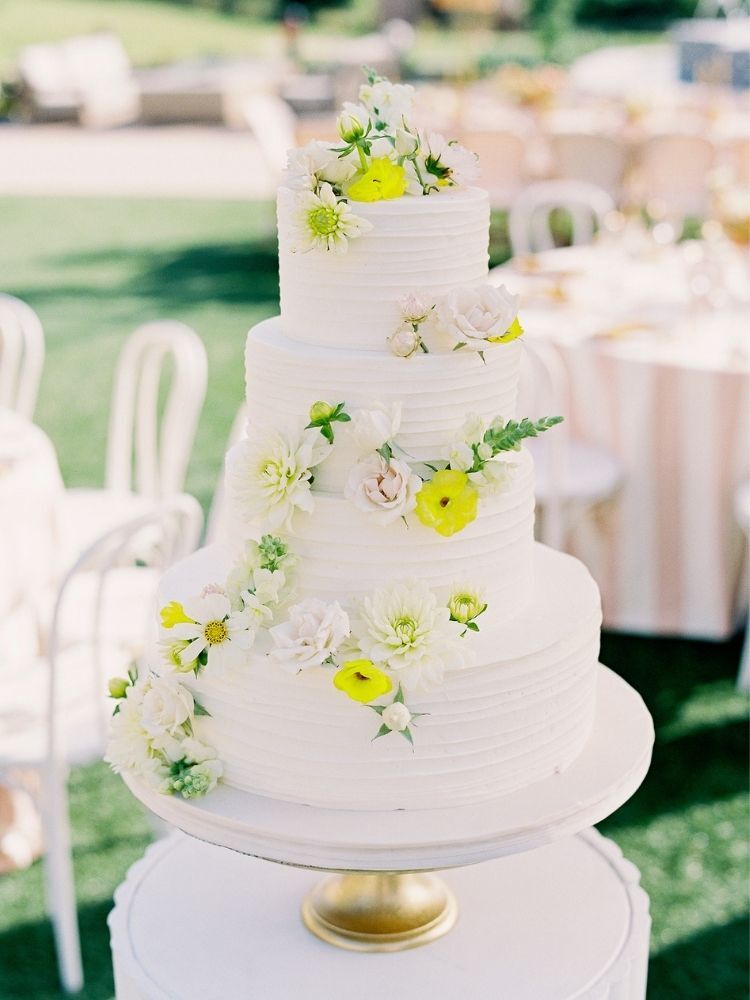 Yellow is a great wedding color to use for springtime nuptials. If you're using the hue throughout your wedding color palette, consider bringing it into your wedding cake with bright flowers, as this couple did.
18. Modern Rust-and-Blush Wedding Cake
Tying the knot during the spring doesn't mean you're limited to only pastel hues. We love how this couple creatively used rich rust hues, accented with blush, for their cake.
19. Wedding Cake With Pink Flowers
You can't help but smile when looking at this absolutely cheerful, springy wedding cake. The vibrant flowers and varied tier heights complement each other beautifully, resulting in a truly beautiful wedding cake.
20. Teal Wedding Cake With Lattice Design
If your spring wedding is happening in a garden with beautiful lattice fencing, pay homage to that with latticework on your wedding cake.
21. Simple Wedding Cake With Lisianthus Blooms
Lisianthus, which is often mistaken for roses, is available most of the year, making it a great flower to use to decorate your spring wedding cake.
22. Preppy Monogrammed Wedding Cake
If you and your partner have created a custom crest to use throughout your wedding stationery and signage, enlist your cake baker to recreate the design in icing so your entire wedding vision feels cohesive and seamless.
23. Yellow-and-White Classic Wedding Cake
If you're planning a classic, traditional wedding then a cake like this yellow-and-white one is the way to go.
24. Fondant Wedding Cake With Pink Sugar Flowers
One bonus of sugar flowers, as opposed to fresh flowers, is that they won't wilt. This is especially helpful if you're hosting an outdoor reception and don't plan to cut the cake until late in the evening.
25. Rustic Wedding Cake With Figs and Greenery
While most people picture naked wedding cakes when they think of rustic wedding cakes, this bake is proof that you can create an elegantly rustic cake design that includes icing. We love how fresh blackberries and figs created a border around each tier of the cake.
26. Duo of Single-Tier Wedding Cakes
If you like the style of wedding cakes with one tier, but are afraid you won't have enough cake to feed everyone with a single tier, consider serving multiple mini cakes.
27. Rustic Wood-Themed Wedding Cake
For this woodland-themed wedding, the cake baker painted the fondant to resemble tree bark and even included cute mini mushroom accents.