Yes, It's Possible to Elegantly Serve Comfort Food at Your Wedding—Here's How
Because who doesn't love comfort food?
Your menu options don't have to be limited to light bites and canapés like bruschetta and shrimp cocktails (although no will complain if you serve those up at your celebration). Some of the most unique menus we've seen involve heavier fare served in super-creative ways—aka comfort food with a classy twist—that every guest loves. Find some delicious inspiration below, and don't read while hungry (you've been warned).
1. Homemade Biscuits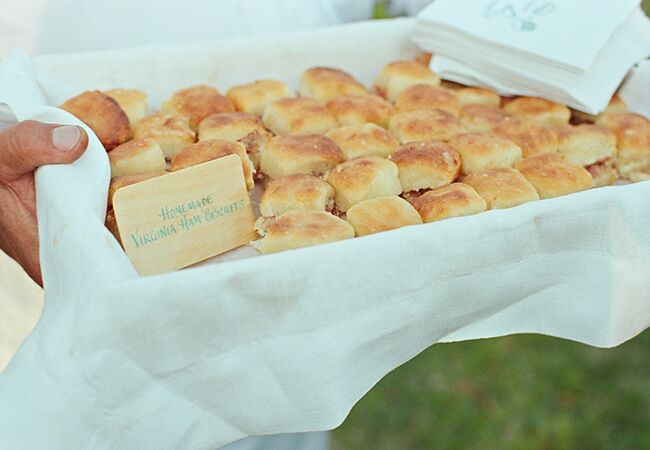 Delicious biscuits can take the place of typical bread baskets. In addition to squares of butter, consider adding some honey to the spread too.
2. Mini BLTs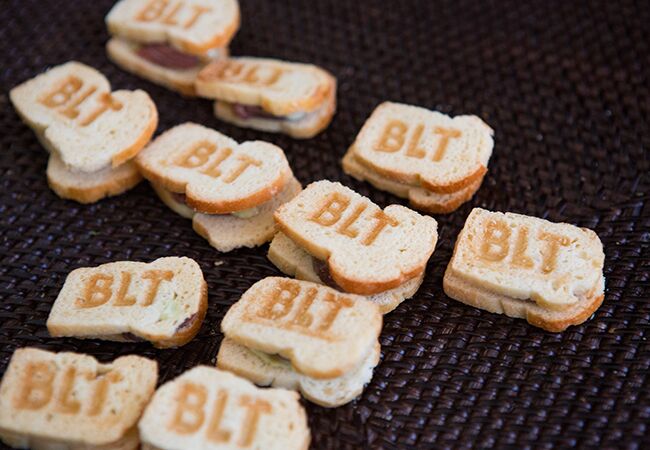 There's no reason you can't serve one of the most classic sandwiches ever. You can even up the presentation by having the letters "BLT" toasted onto the bread.
3. Tiny Cheeseburgers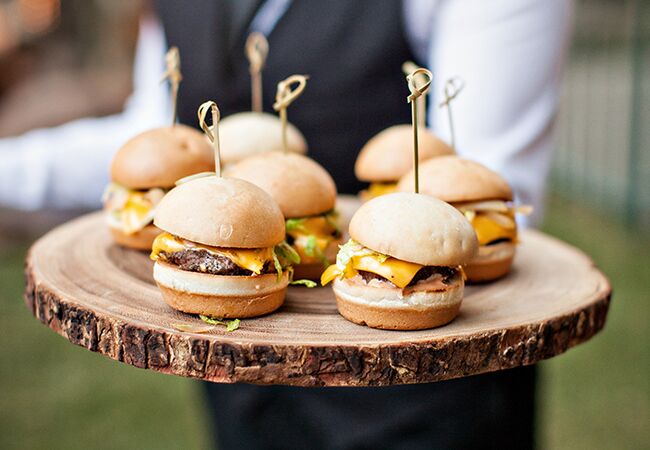 Serve satisfying mini cheeseburgers (or even veggie or black bean burgers)—and add a custom sauce and condiments station to the mix if you're feeling fancy.
4. Cute Ice Cream Cones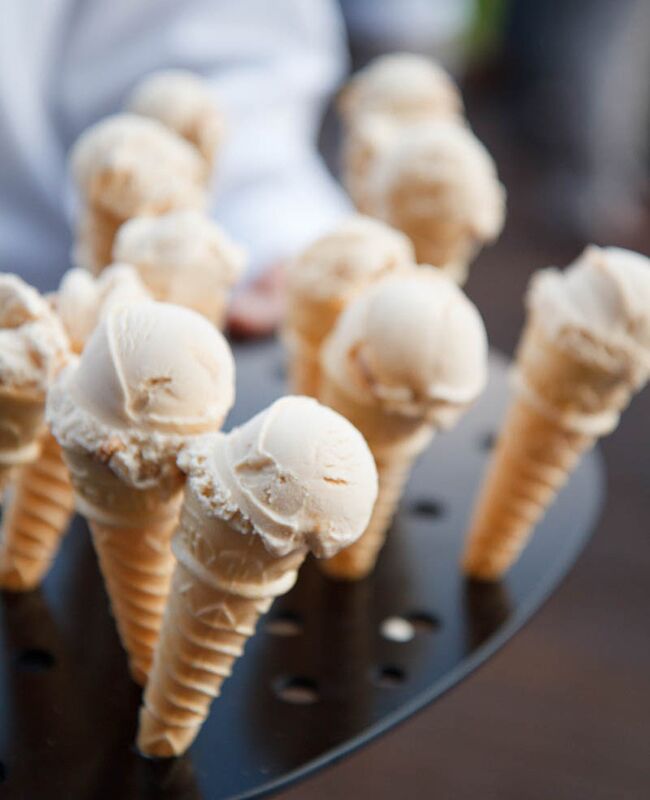 Fact: Nothing goes better with wedding cake than ice cream.
5. Pigs in a Blanket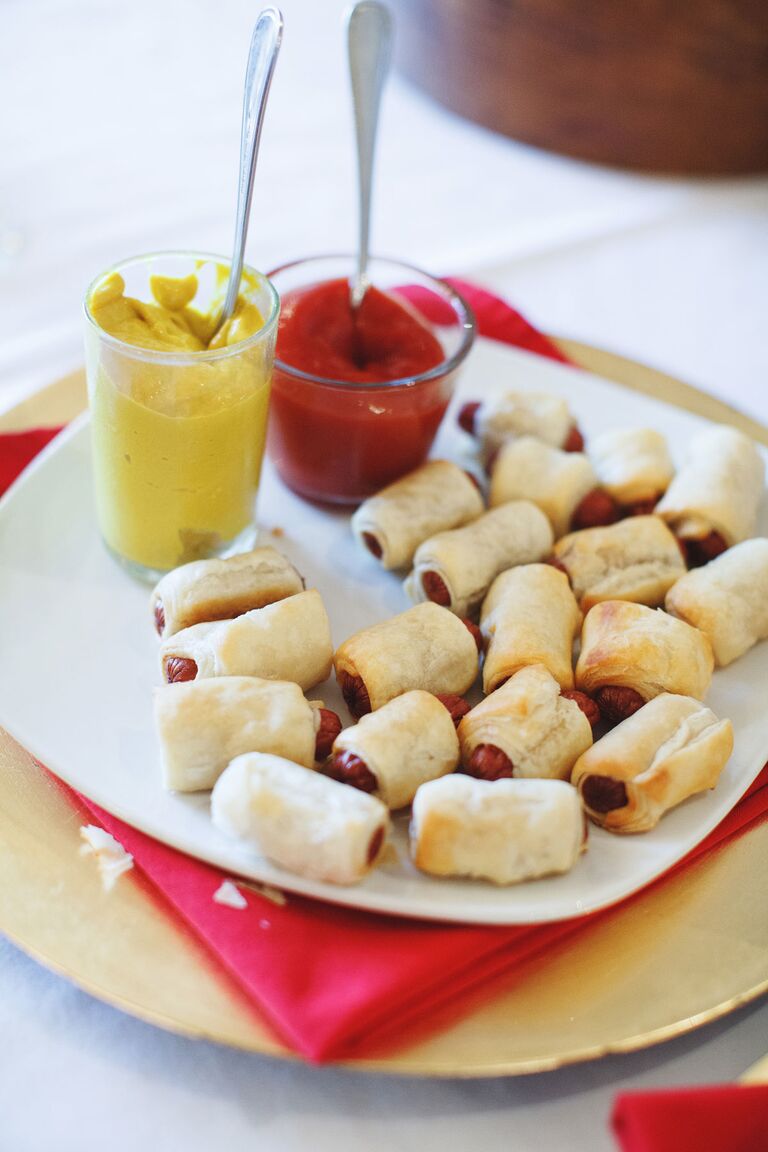 We love the idea of hot dogs for a backyard wedding or a fun Fourth of July bash. Even better? Pigs in a blanket.
6. Classic Grilled Cheese and Tomato Soup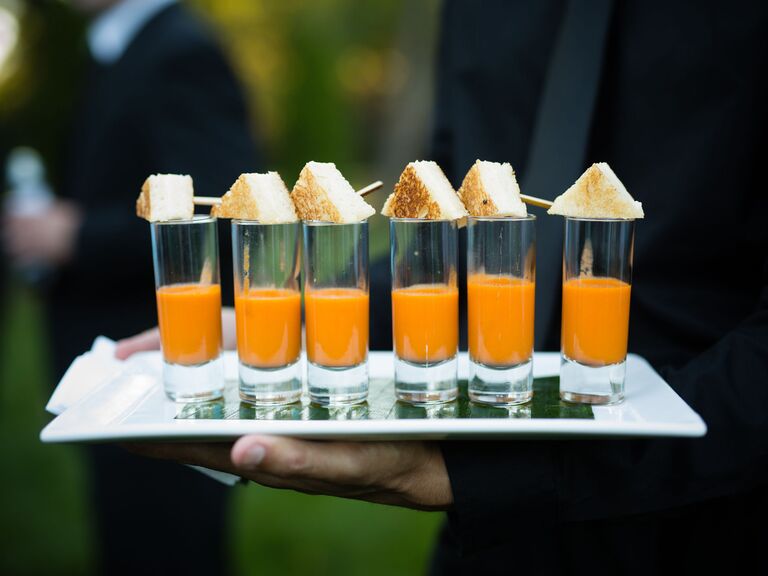 Name a more iconic duo than grilled cheese and tomato soup. You can create nostalgia with the meal but make it more adult by serving mini sandwiches on top of soup shooters.
7. Southern Fried Chicken and Biscuits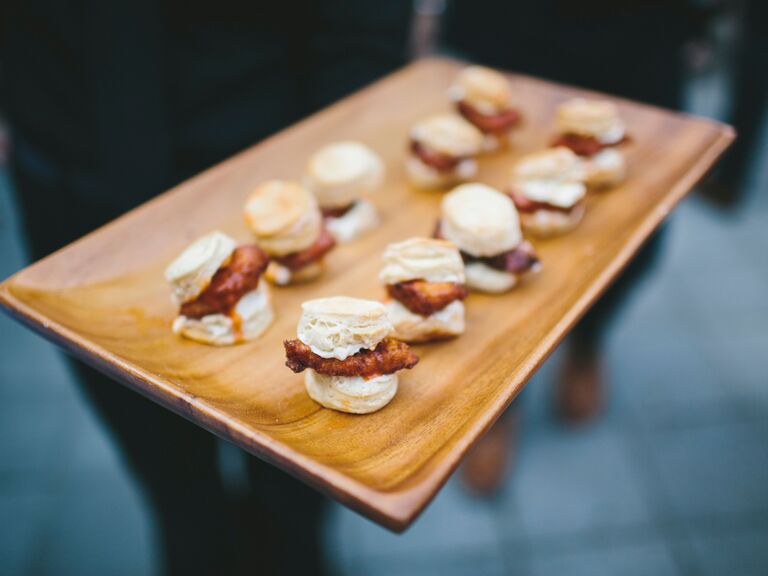 Yes, this delectable Southern staple might be a little messy, but that's what the 200 pretty, personalized napkins you ordered are for.
8. French Fries With a Side of Ketchup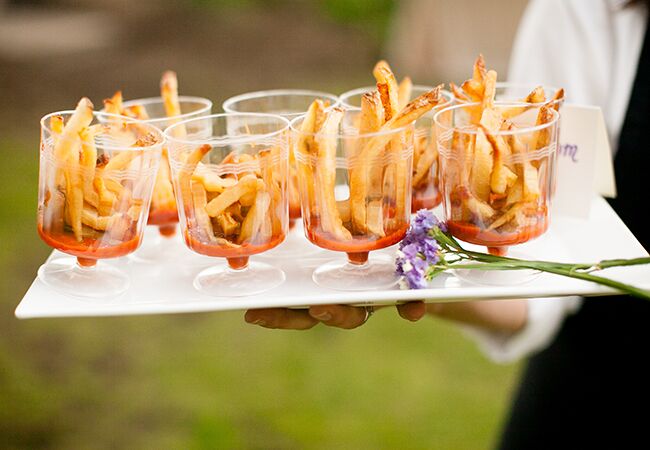 Fill a cocktail glass with ketchup or dipping sauce on the bottom and fries on top. It's easy for your guests to carry around without making a mess. (Plus, who doesn't love fries?)
9. Playful Doughnuts
Supplement your wedding dessert with some sweet, decadent doughnuts.
10. Savory Chicken and Waffles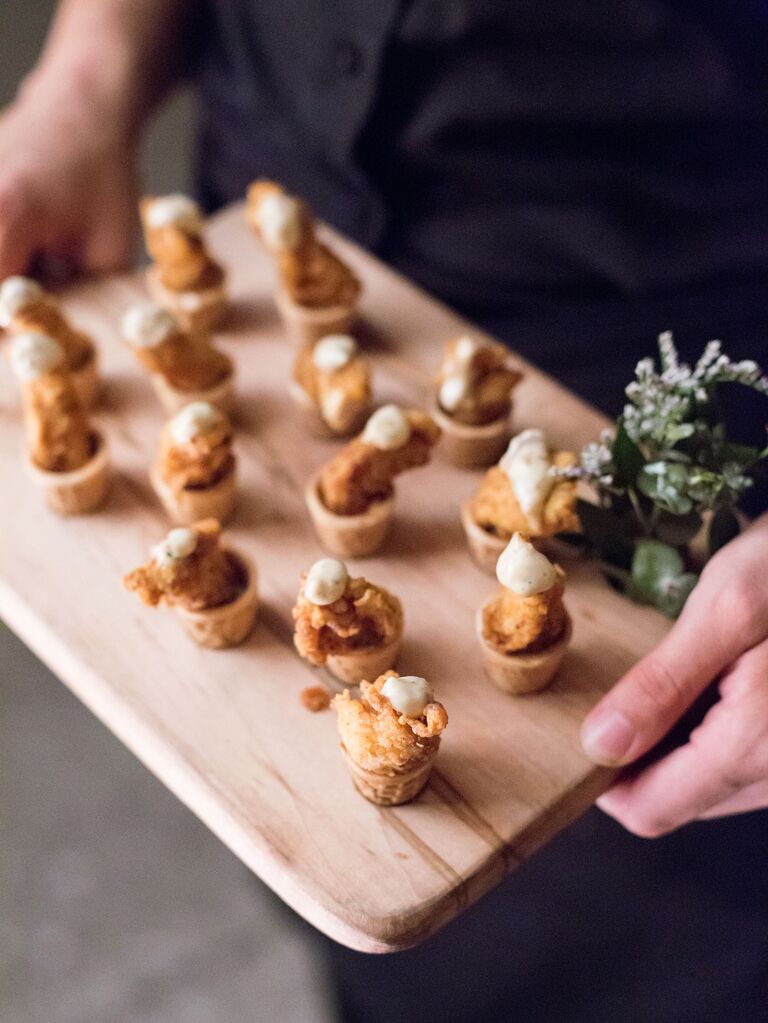 If you want to take fried chicken one step further, serve this classic duo in cute, bite-size waffle cones.
11. New England Lobster Rolls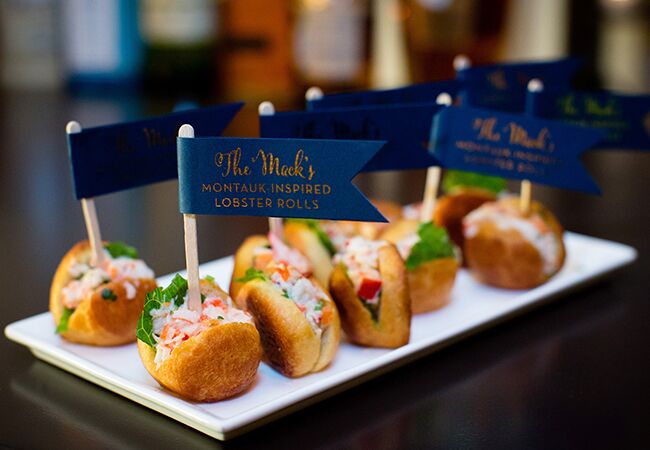 Buttery bread plus lobster equals a bite your guests will dream about forever.
12. Fried Macaroni and Cheese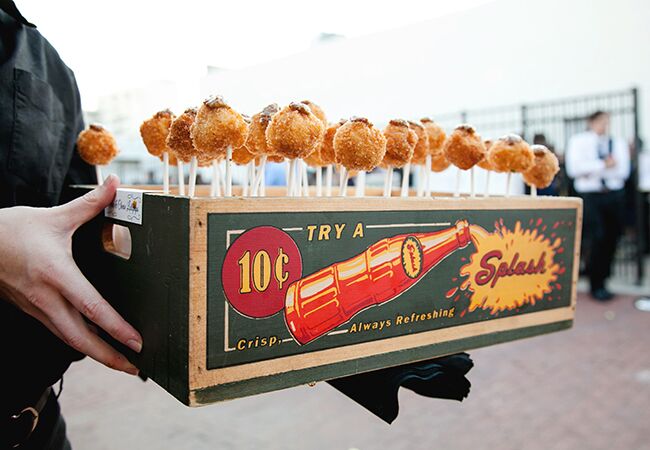 A macaroni and cheese bar is one of our favorite wedding ideas, but if you want to serve the dish as a finger food, consider frying it up and putting it on a stick.
13. Milk and Cookie Escort Cards
Give your guests a taste of what's to come with these milk and cookie escort cards to lead them to their seats.
14. Tasty Pies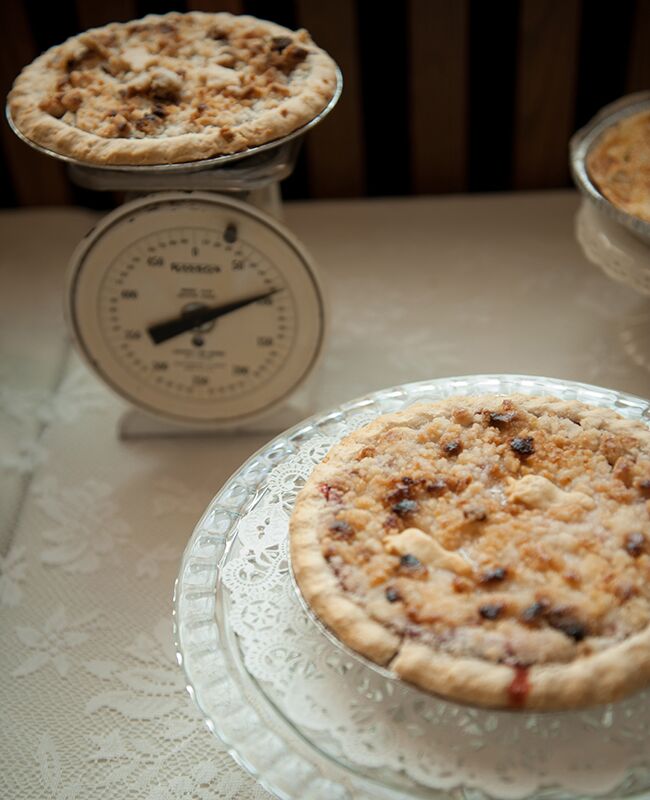 If cake isn't really your style, you can work with your caterer to create pies in a few different flavors that guests are sure to love.
15. Cheesy Pizza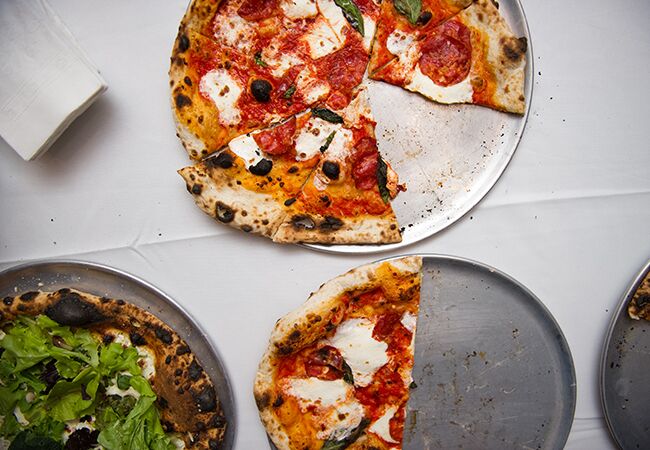 Consider serving pizza as a late-night snack to keep the party vibes going all night long.
16. Warm Pretzel Bar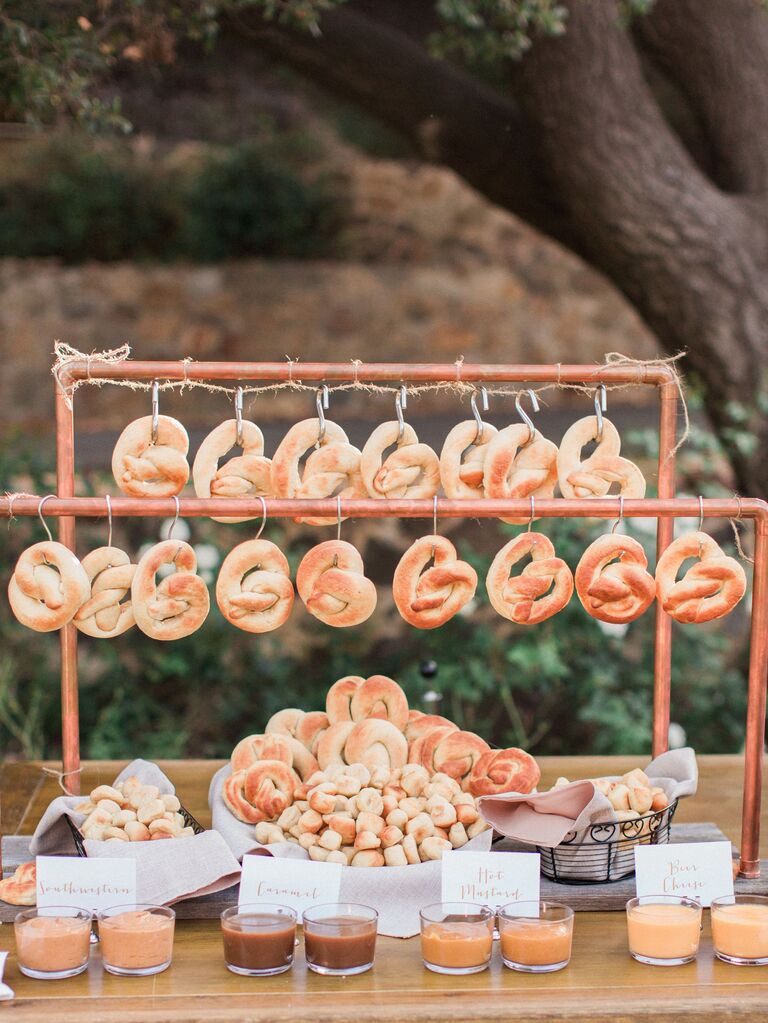 Of course, providing a variety of delicious dipping sauces is essential.
17. Belgian Waffles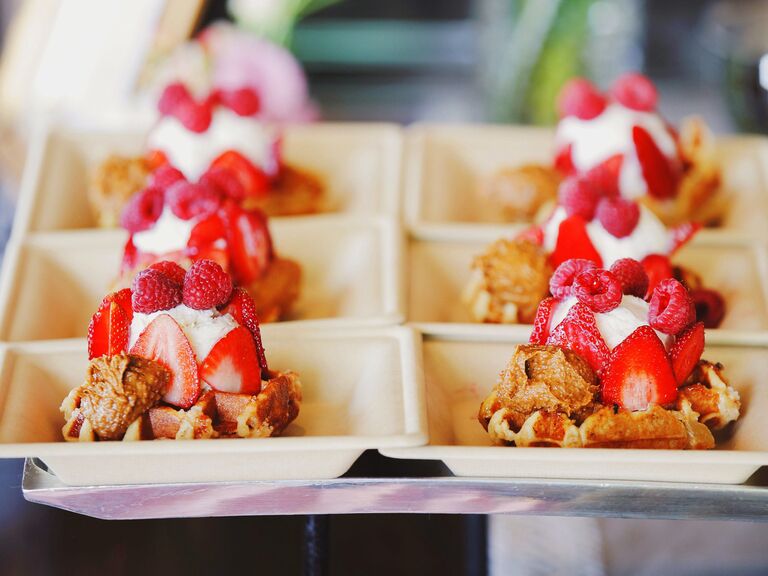 Serve with fresh strawberries, cookie butter, ice cream, whipped cream or all of the above. The possibilities are endless.
18. Garlic Knots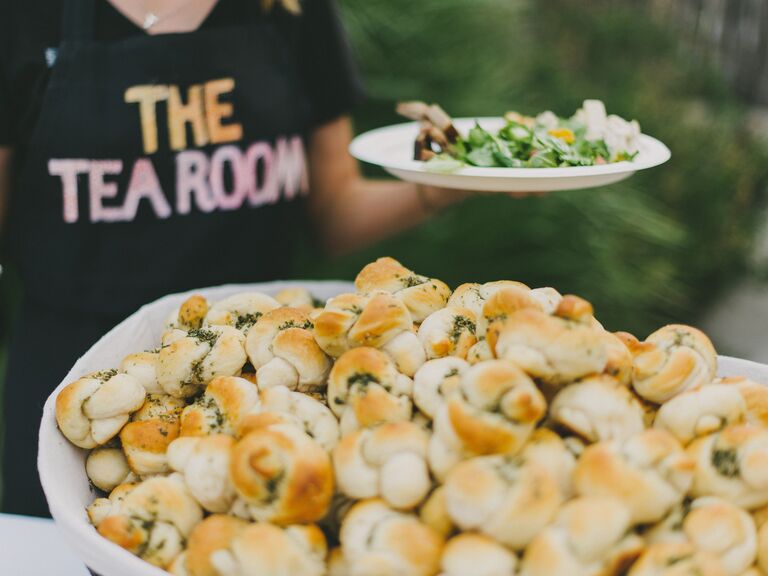 Everyone's favorite take-out finger food makes the perfect bar snack or late-night treat.
18. Bacon-Wrapped Breadsticks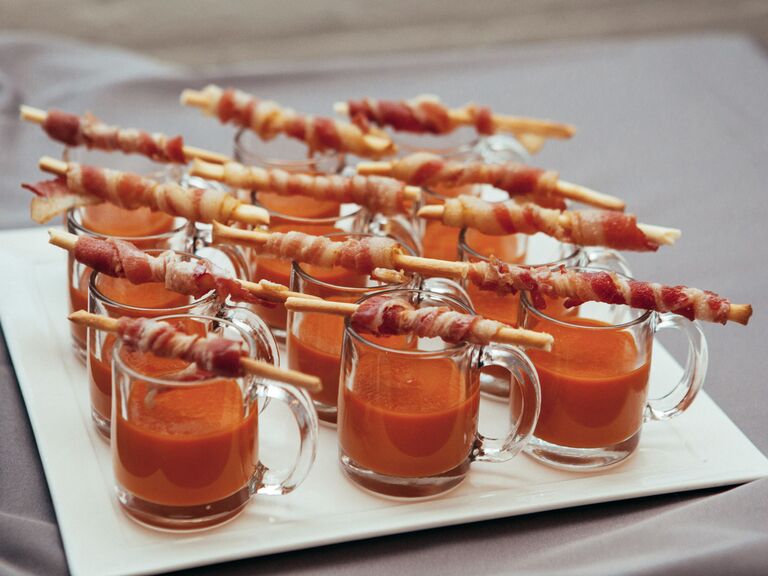 No one will see these bacon-wrapped breadsticks with tomato soup shooters coming, but everyone will love them.