The Starbucks Unicorn Frap Will Get You Through Wedding Planning
And it's getting Hayley Paige through Bridal Fashion Week.
by Maggie Seaver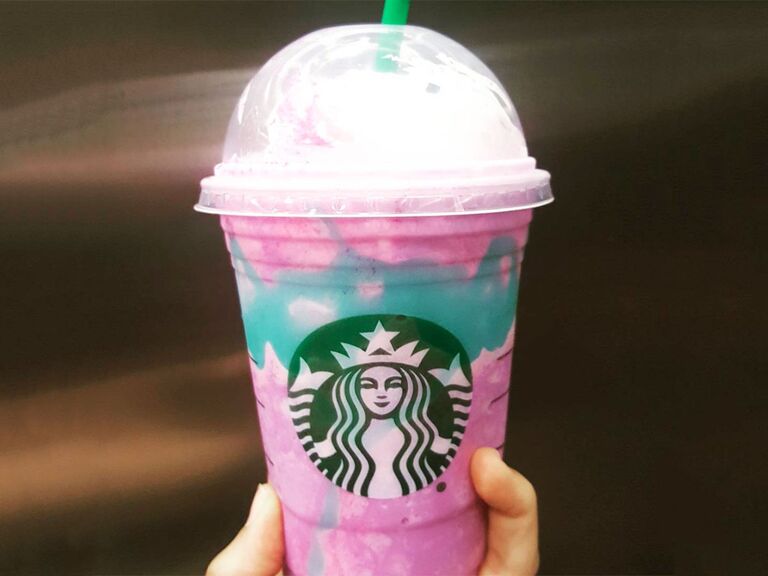 Hurry! You only have five days to get your hands on a very important wedding planning stress buster—the magical, multicolored Starbucks Unicorn Frappuccino, available from April 19 to 23. Its signature Crème Frappuccino gets a serious splash of color and flavor from vibrant pink and blue powder and mango syrup, finished with whipped cream decorated with more pink and blue powder. But it isn't all for show—your unicorn drink will change flavors, from sweet to tangy, and transform from purple to pink when stirred. Magic? We think yes.
Need a reward for deciphering all those vendor contracts? Unicorn frap. Have some DIYing to do with your wedding party? You can't not label 150 place cards without treating your pals to a sweet, swirly drink. Your third option includes ditching your wedding checklist to-dos altogether (just this once) and enjoying a stroll around town with your soon-to-be-spouse, rainbow frap in hand. As with a real unicorn, you have to see—and try—this enchanting, ephemeral treat to believe it. And if you don't post a photo of it (with your stunning sparkler in the snap, of course) did you really have one?
Bridal designer and unicorn enthusiast Hayley Paige is all about them too. How else is she going to get through the week before her Bridal Fashion Week collection shows on Friday?