7 Can't-Miss Groomsman Gift Ideas
Go the extra mile and give truly exceptional groomsmen gifts. Hey, they'd do it for you.
by Robert Mortiz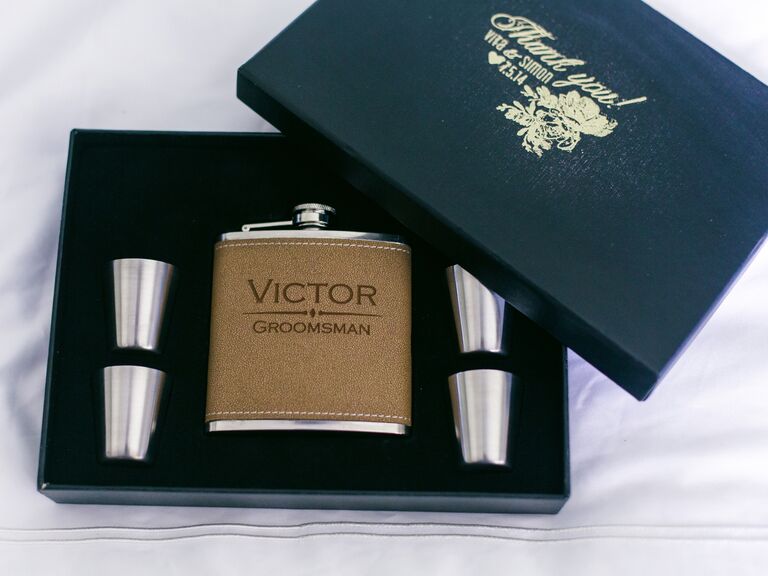 The groomsman gift is your way of saying thank you: for renting the tuxedo, ushering Great Aunt Edna down the aisle, and not saying anything obscene during the reception toast. Here are some simple groomsman gift ideas. (And get more great groomsman gift ideas in The Knot Wedding Shop.)
Look for something you wish you had, but could never picture buying for yourself. For example, when was the last time you purchased a velvet smoking jacket or a hand-carved pipe? Go for something luxurious, but hold back a little: If you buy something too outrageous, your groomsmen may never use it.
Go For Guy Things
Go for guy things -- it's as easy as that. A silver or leather flask is one of the all-time greatest groomsman gifts: classic, yet occasionally practical, with an unabashed male-bonding quality that's hard to beat for it's price.
Make It Personal
Don't get anything that has your blushing bride's signature on it. The groomsman gift is your final good-bye to bachelor life -- a last token high five. Make sure your buddies can tell the present comes from you.
Put Some Thought Into It
You should avoid gifts that are excessively flamboyant, ridiculously cheap, or still breathing -- but this doesn't mean you have to choose something boring. If you're absolutely positive your college roommate would forgo oxygen for a "My Buddy Got Married and All I Got Was This Stupid T-Shirt" rag, by all means buy it.
Add a Monogram
The best and easiest way to ensure your gift has that personal touch is to add a monogram. A well-placed set of initials can spice up even the most ordinary wallet, cigar case, or cuff link.
Give an Experience
Remember that your gift doesn't have to be something you can hold. If you've got a groomsman whose idea of fun involves training for that next triathlon, perhaps a mini membership to a gym or a few hours with a personal trainer would suit him. And, of course, a ticket to a sporting event is usually a hit.
Go the Extra Mile
Like the rest of your posse's loot, your best man's gift should say, in a personal and generous manner, "Thanks for helping make my walk down the plank so trouble-free and memorable." That means ballpoint pens are out and engraved humidors, round-trip tickets to Vegas, and courtside basketball tickets are in.
Don't Break the Bank, But Make It Meaningful
Still, you don't have to break the bank to show your gratitude. If your B.M. was a frat brother, a hearty dinner for two at an old hangout followed by a single malt scotch or Jaegermeister shot is an excellent gesture before the wedding day. Once again, the more personalized the effort, the more meaningful the message.