25 Moody Wedding Ideas to Nail the Sultry Theme
Come over to the dark side.
It's safe to say that the moody wedding trend is here to stay. Whether you're planning a wedding at the peak of spooky season or simply love the alluring pairing of a red and black color palette, we're giving you permission to go full goth, and we've got 25 ideas to spark your imagination. From moody wedding flowers to black wedding cakes and more, here's what you'll need to pull it off.
In this article:
What Is a Moody Wedding?
A moody wedding is a wedding theme that includes a dark and dramatic color palette, along with gothic-inspired elements, like velvet fabrics, red flowers and candles. The theme also pulls inspiration from Victorian style and can include details that are usually spotted at Halloween weddings, like faux cobwebs or skeletons. And even though the fall season is the most popular time of year for the dark and moody wedding aesthetic, you can embrace this edgy style year-round with a few tweaks.
Ideal Moody Wedding Venues
You can double-down on the moody wedding theme by choosing a wedding venue that stylistically matches your vision. Gothic wedding venues, like historical cathedrals and Gilded Age mansions will instantly set the scene for a slightly spooky (and maybe even haunted) wedding day. If you're going for a romantic moody wedding theme, choose a castle wedding venue or other location with ornate finishes, like a stone hearth, beamed ceilings and sunken gardens.
Moody Wedding Budget Priorities
Your wedding budget breakdown will depend on the details that are most important to you and your partner, but there are a few things we recommend keeping top-of-mind for a moody wedding theme. Details like flowers, rental furniture and stationery play a big part in achieving the right look, so spend time researching vendors who can confidently nail your moody wedding decor. Your fashion and beauty for the big day are two other important things to focus on. Nailing the sultry wedding makeup look or slaying in an unexpected outfit (like a black wedding dress) are a lot easier to do when you have some professional expertise on your team. Finally, look for a wedding photographer who specializes in the dark and moody photo style, which will help tie everything together in your wedding portraits. If you still need to fill out your roster of wedding vendors, you can easily search for pros by category and location on The Knot Marketplace.
Moody Wedding Colors
The wedding color palette influences almost every detail of the event, from the stationery and wedding party attire to your flower arrangements and decor. It's no surprise that black is a must-have moody wedding color—the hue adds drama and intensity to help you achieve an edgy, non-traditional wedding vibe. Jewel tones, including burgundy, navy blue, dark purple and emerald green, are other moody wedding colors that play up the mysterious tones of this theme, especially when you combine all of them together. Accent colors like antiqued gold or bronze will allude to ornate Old World style.
Moody Wedding Decor Ideas
Incorporate antique-inspired pieces and decor with spooky undertones to set the scene for your moody theme.
1. Hanging Ceremony Backdrop
Fill out a bare-bones industrial wedding venue by hanging flowers or greenery at the altar to spruce up your ceremony backdrop.
2. Mirror Welcome Sign
Decorative wedding signs should be used in moderation—their primary purpose is to share a message or important deets for guests, but you can get a little creative with them too. Crimson lettering on an ornate, antique-style mirror feels perfectly appropriate for a moody wedding theme.
3. Castle Wedding Venue
Your wedding venue can really set the tone for the entire day. Choose a location with details like iron chandeliers, stone walls, paned windows and dark wood trim to recreate a castle-like setting.
4. Greenery-Covered Candelabra
Drape greenery vines on a tall bronze candelabra and finish with taper candles (the more melted, the better) for a simple decorative accent that feels like something you'd find in an old gothic banquet hall.
5. Anthurium Display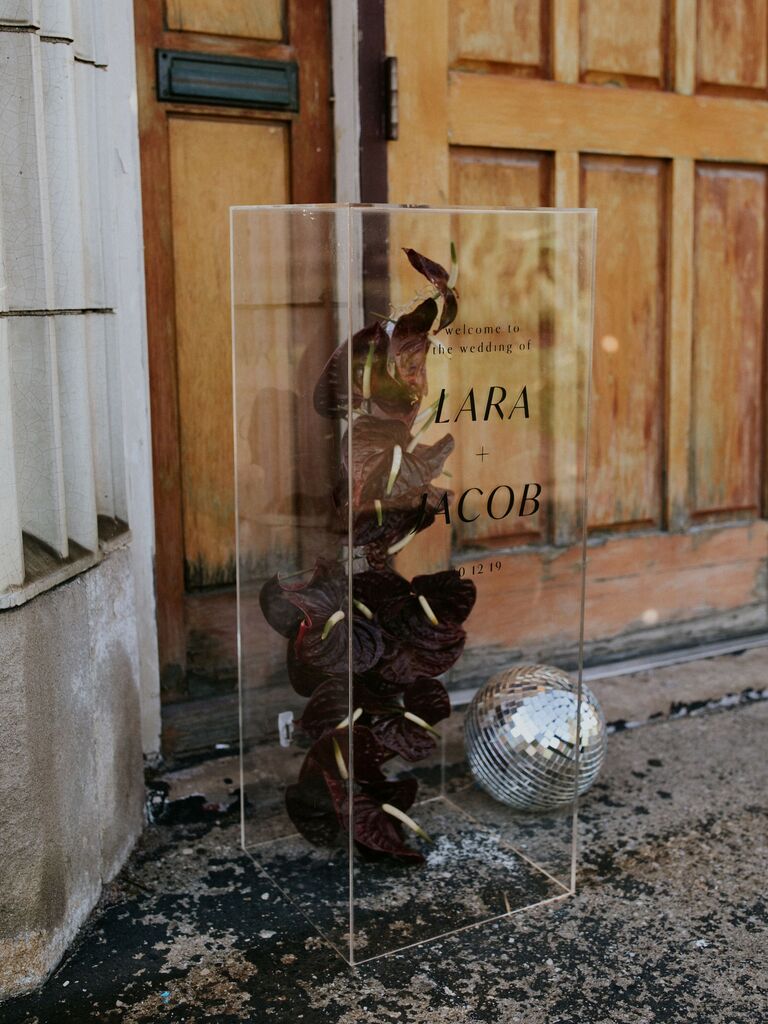 Incorporate acrylic decor if you're going for a modern moody wedding theme. This clear box showcases a black anthurium arrangement, turning the design into a total statement piece.
6. Black Ceiling Drapes
Ceiling drapes will always bring the wow factor to your wedding space, especially if you opt for black fabric. Use semi-sheer materials to soften the overhead lighting and create a sultry vibe in the room.
Moody Wedding Bouquet Ideas
Dark-colored flowers (think crimson roses, purple foliage and burgundy dahlias) are essential for this theme. Check out these examples of moody wedding bouquets for yourself or your wedding party.
7. White Anemone Bouquet
White anemones get a dramatic makeover when they're paired with dark burgundy blooms like dahlias and chocolate cosmos. Carry this bouquet for a moody wedding taking place in the winter months.
8. Anthurium Bouquet
A moody-meets-tropical wedding might not seem like an obvious theme, but that's what makes this pairing so unique. Tropical anthuriums in a scarlet red hue bring some unexpected detail to this bouquet of lunaria, dahlias, eucalyptus and amaranthus.
9. Burgundy Dahlia Bouquet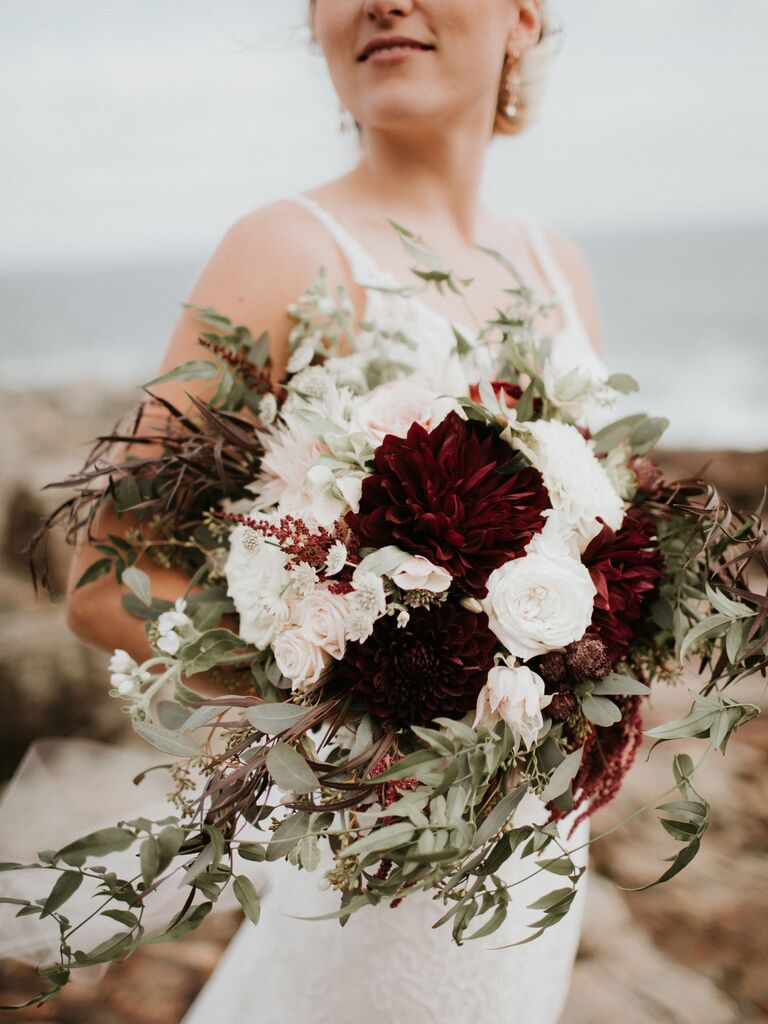 For a classic fall wedding, carry this moody bouquet of burgundy dahlias and amaranthus mixed with white and blush flowers, like roses, astrantia and blushing bride proteas.
10. Succulent Bouquet
Green tones can help to balance out a moody wedding color palette filled with red, black or blue hues. This succulent wedding bouquet is a great example of how the colors all work together, and it's a stylish pick for nearly any season.
Moody Wedding Centerpiece Ideas
Whether you want elaborate tablescapes or prefer to keep the decor simple, these moody wedding table settings and centerpieces are a good starting point.
11. Black Taper Candle Centerpiece
Make tall candles the focal point of your centerpieces. Use black tapers (or pick another moody hue, like emerald green or maroon) and display them with antique brass or silver candlesticks.
12. Burgundy and Blush Centerpiece
Low wedding centerpieces are ideal for a more casual tablescape. Incorporate your moody wedding theme by using berry-colored flowers and foliage, like roses, astilbe and viburnum berries.
13. Embroidered Table Runner
Add embroidered satin table runners to your centerpieces for a luxe look. Delicate pastel flowers will stand out against a dark green runner, creating visual contrast and a little bit of drama.
14. Hanging Wedding Centerpiece
You can keep your tabletop centerpieces minimal and hang flowers from the ceiling instead. Even if you don't do this above each guest table, it's a good way to add emphasis to the head table or sweetheart table.
15. Minimalist Candle Centerpiece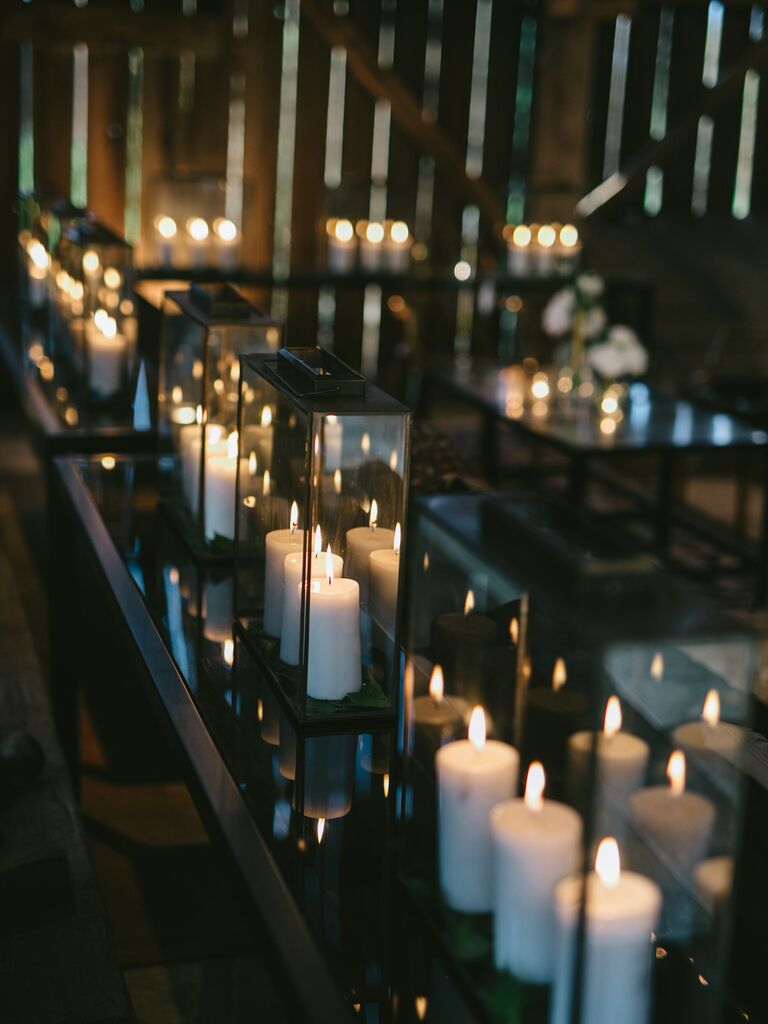 Turn your reception space into an extra-cozy, moody atmosphere by ditching overhead lights and lining tables with rows and rows of pillar candles instead. Keep the candles protected in glass lanterns to prevent any open flame mishaps.
Moody Wedding Cake Ideas
The dessert table is another opportunity to tap into your wedding theme—serve decadent treats like red velvet cake, berries dipped in dark chocolate or rich salted caramel brownies. These moody wedding cakes can be the centerpiece of the spread.
16. Black Wedding Cake
A black wedding cake is sure to draw attention. The smooth fondant tiers on this cake are decorated with sugar pieces resembling white crystals.
17. One-Tier Wedding Cake
You can bring a little bit of personality to a one-tier cake by adding textural elements, like the lunaria and dark purple scabiosa flowers on this small buttercream design.
18. Burgundy Wedding Cake
What better way to decorate a burgundy-colored wedding cake than with matching plums and berries? The realistic floral motifs (made printing edible ink onto fondant) are an edgier alternative to fresh blooms.
19. Emerald Green Wedding Cake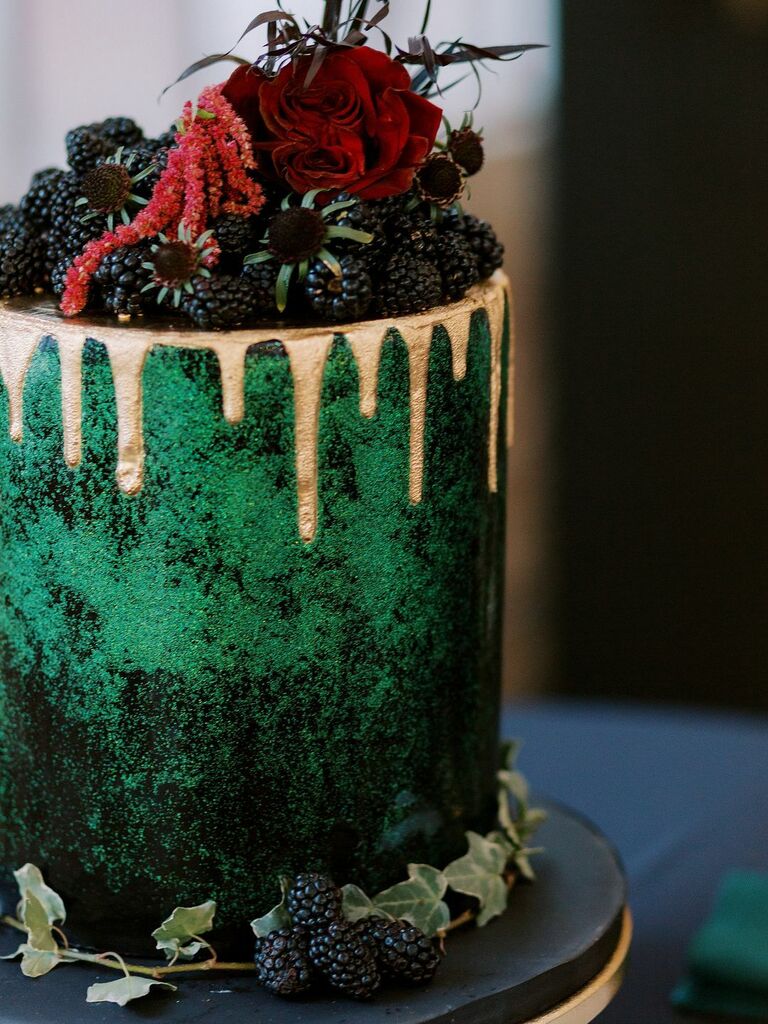 For a wedding taking place around the holiday season, an emerald green cake is a great way to get inspired by the festivities while also sticking with your moody wedding theme. Decorate it with golden drip icing for a decadent look.
20. White Buttercream Wedding Cake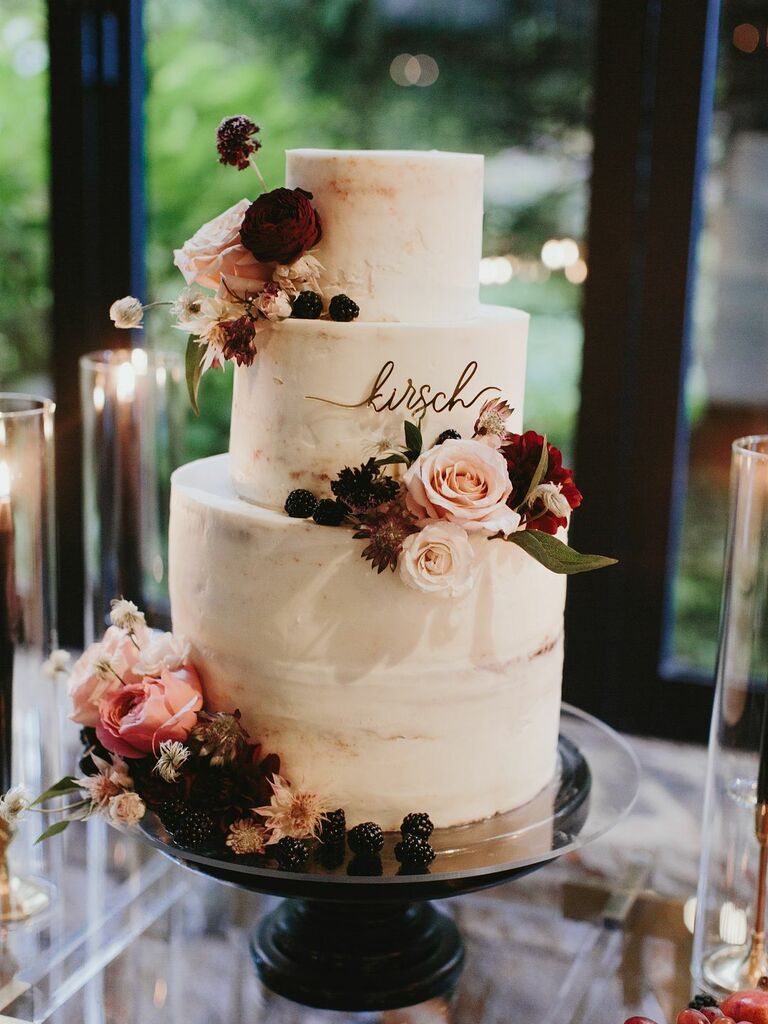 If you prefer to keep your dessert table fairly straightforward, decorating your cake with fresh flowers is always a go-to. Choose buds in a blush, burgundy and purple color palette and finish with red and blue berries.
Editor's Moody Wedding Favorites
We see hundreds—sometimes thousands—of different wedding ideas on a weekly basis (it comes with the territory), but that also means we can easily spot ideas that are truly unique. These dark and moody wedding ideas get our vote as standout picks.
21. Invitation Suite
From colors to decorative motifs, your stationery is the first hint of what's to come on your wedding day. Moody wedding invitations with ink splatters, wistful florals and a dramatic color palette will give guests a sneak peek of your dark and mysterious aesthetic.
22. Skull and Crossbones Loafers
You don't have to be getting married on Halloween to outfit yourself in spooky attire. Accessorize with a pair of loafers embroidered with a skull and crossbones motif as a subtle nod to your moody wedding theme.
23. Black Wedding Dress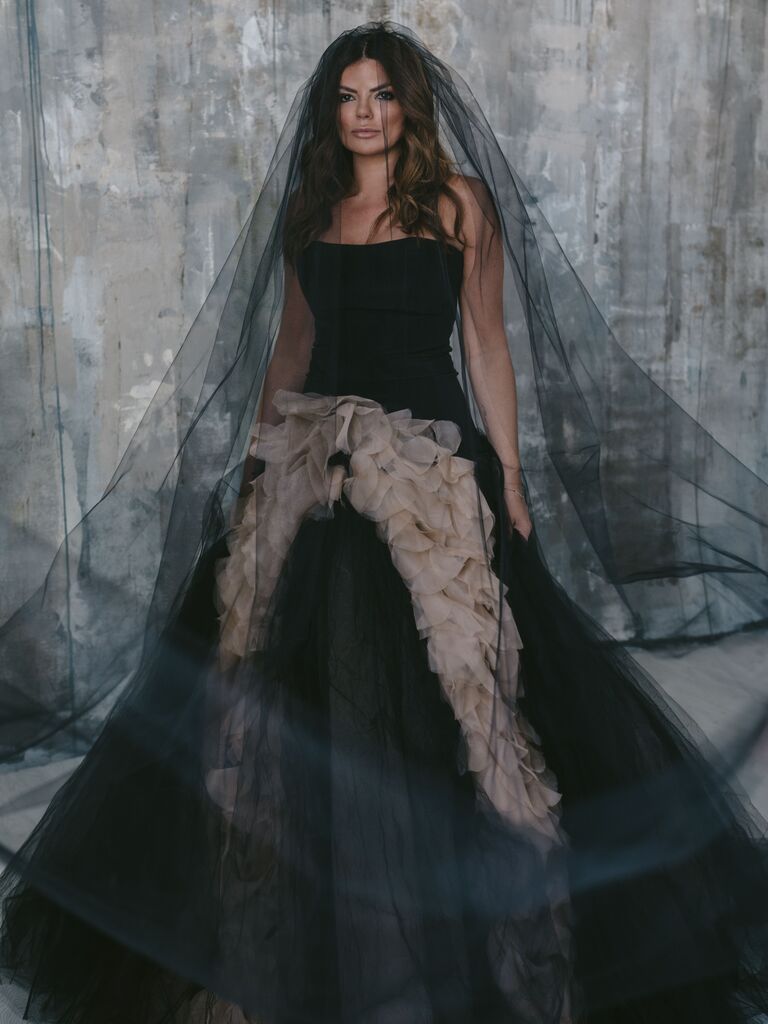 Wearing a black wedding dress is a bold move—one that we fully support. Lean into the goth bride vibes with a black tulle veil to complement your sultry gown.
24. Ouija Board Wedding Favors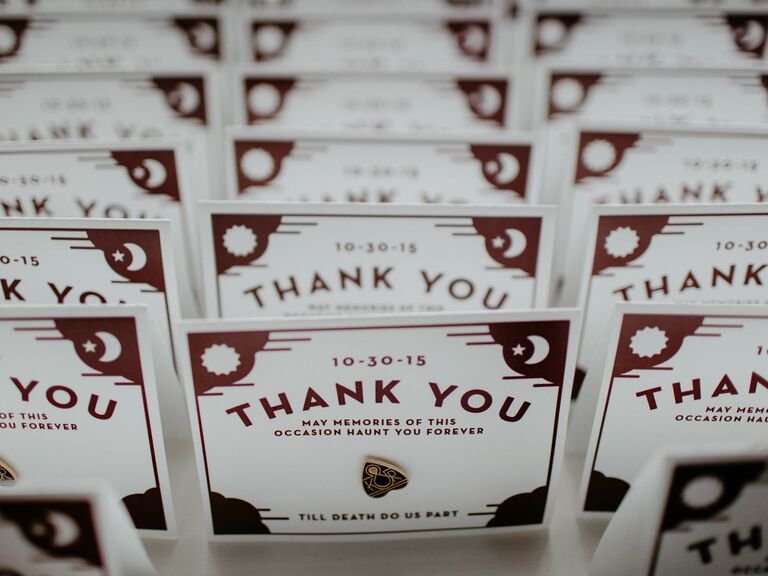 A unique wedding theme needs equally unique wedding favors, and your guests won't have seen these miniature Ouija board pins before.
25. Antique Wedding Sign
If you're into crafting and upcycling, use opaque contact paper to cover the glass on an antique picture frame or mirror. It becomes a decorative sign that you can use to display a cocktail menu or other message for guests.