The 35 Best Engagement Photo Ideas To Ensure You Rock Your Photo Shoot
Inspiration and expert tips to pull off an engagement session you love.
Getting your engagement pictures taken is not only a fun task, but it's also a great way to relax with your partner. Conveniently, the ideal time to have your engagement photo shoot happens to be right around when a lot of couples start to feel overwhelmed with wedding planning—just about halfway through the whole process. Ideally, you would have engagement photographs taken once you've booked your major vendors, but before you've sent out save-the-dates, assuming you're using an engagement picture as part of the stationery design, and before a lot of the smaller wedding details come together.
Taking time to enjoy the partner you've chosen to wed is always a must so turn your engagement photo shoot into a date with a nice dinner afterward and just have fun. Take the evening away from the stress of wedding planning and bask in your love, while conveniently having all that joy immortalized on film. To help you prepare, we tapped Wedding Pro educator Terri Baskin of Terri Baskin Photography, along with some of our other go-to wedding photography experts, to share their best tips and insights into the realm of engagement photography. These engagement photographers open up about everything you need to know to ensure you are camera ready for your close-ups.
Whether you use your engagement photos as part of a save-the-date or simply take advantage of your engagement photo session to get more comfortable in front of the camera ahead of your wedding day, engagement photos are an important part of the pre-wedding process. "Engagement shoots are important because they allow the couple to spend time getting to know their photographer prior to the wedding day. Photographers are the one vendor that is with the couple the longest on the wedding day, so it's important that the chemistry is right so that the couple can relax and get the most authentic images," explains Baskin.
Wedding photographer Lynne Reznick of Lynne Reznick Photography concurs with Baskin's advice, sharing with couples that, "engagement sessions are important for both logical and emotional reasons. Logically speaking, they allow you to get some practice in front of the camera and get to know your photographer better. Not only will it help your photographer feel like a friend arriving on your wedding day, but it will also help you get to know the way your photographer works and what to expect as they give you posing prompts. This way, you'll be pros on your big day from the very first click of the shutter. Emotionally, your engagement is an exciting and special time in your relationship with your significant other. It's a time of transition, anticipation, and planning as you look toward your future together as a married couple. An engagement session will help you slow down and soak in this special time in your relationship and will leave you with beautiful images. Ideally, you'll work with your engagement photographer to choose a location for your session that is meaningful to you, as well as beautiful. So the engagement photos will also honor your relationship and memories you've made with each other so far."
In this story:
Relaxed and Laid-Back Engagement Photos
Booking an engagement session is a helpful way to ensure you and your partner will be comfortable in front of the camera on your wedding day. Many couples aren't used to being the subject of a photo shoot and, understandably, feel a little nervous prior to their engagement session and their wedding photos. First, take a breath. Your photographer is here to help. "Engagement photo shoots really allow you to practice and get comfortable in front of the camera and with your photographer. They give you an opportunity to see what you like and dislike to make adjustments before the big day," says wedding photographer Jenny DeMarco, owner and lead photographer of Jenny DeMarco Photography.
While it's alright to start out a little jittery, there are a few things you and your significant other can do to eliminate some stress before the engagement photo shoot gets underway. Notably, punctuality is an important part of ensuring you feel relaxed at your engagement photo session and look your absolute best. "Most couples aren't comfortable in front of the camera when we first start. I stress the importance of them arriving on time so that we can spend a few moments talking before the session starts. I expect the first 15-20 minutes of the session to be used getting the couple 'warmed up.' If couples try to 'practice' their engagement photo poses for too long they can get stuck when trying to receive direction from the photographer. For the couple that feel nervous, communicate your favorite features early on, so that your photographer can be sure to capture those during the session," advises Baskin.
In the end, just having fun is the key to getting the best engagement photos. Your joy will come across vividly in your images if it's genuine. "One misconception that I hear couples make is that their session is going to be awkward. If you choose a photographer whose portfolio shows images that are candid and fun, your session will likely feel that way as well," says wedding photographer Savannah Brown, owner of Savannah Brown Photography.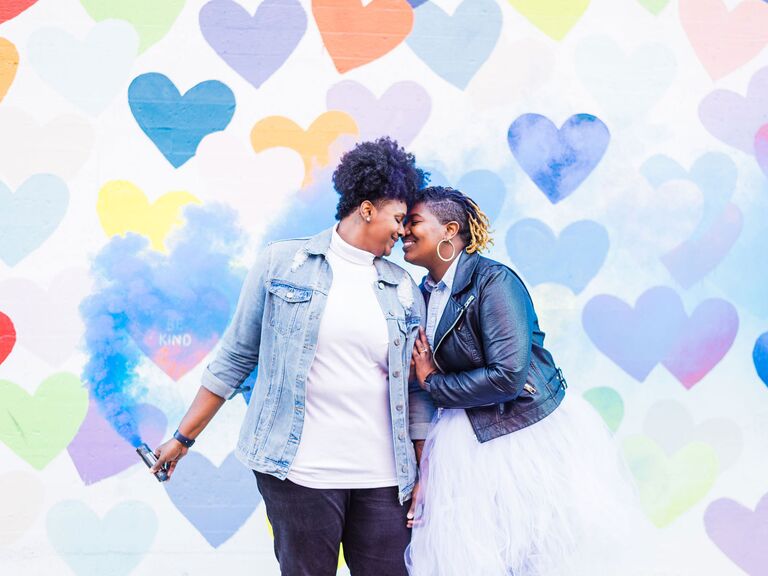 A colorful heart mural, paired with a blue smoke bomb, brought a fun vibe to this couple's engagement shot. However, the duo's radiant joy stole the show.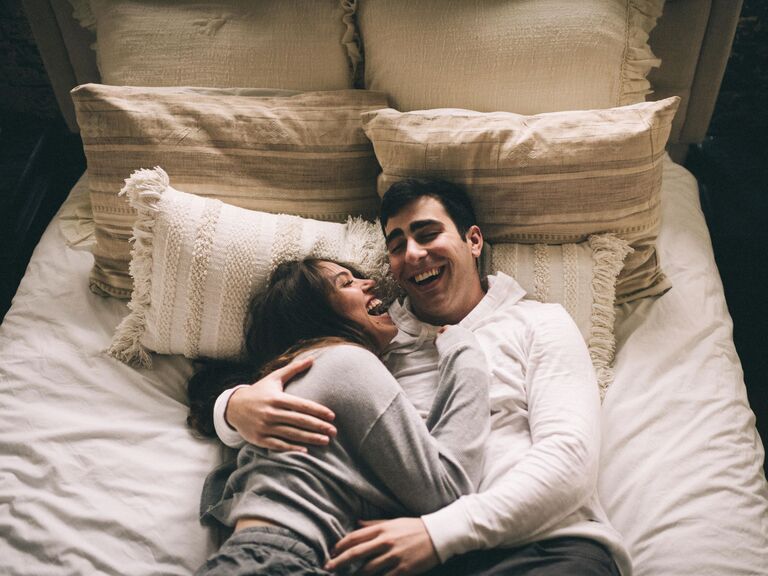 Celebrate the house you've invested in making a home by having engagement pictures taken at your abode.
If you feel most relaxed in a t-shirt dress or linen button-down shirt then rock a laid-back look for your engagement pics.
You're getting married—that's reason enough to jump for joy.
A sweatshirt, denim dress and a whole bunch of laughter made this engagement shot feel genuine, relatable and full of love.
For many, long walks on the beach are the epitome of relaxation. Celebrate your engagement with a laid-back photo shoot on the shore.
A colorful mural backdrop added to this couple's palpable joy.
Fashion-Forward Engagement Pictures
Attire is a crucial part of your engagement photo session. When getting ready to have your engagement pictures taken, there are a few things to keep in mind as you curate your engagement photo outfits for the day. "I ask couples to plan two outfits. The first engagement photo outfit that I ask them to plan is the one that sets the tone of their wedding. If they are having a formal event, I ask them to wear a date night or night-on-the-town look. This works especially well if the couple will use their engagement photos for their save-the-dates or wedding website. I consider this look a guide for their guests. Their second outfit can be a fun or more casual look. This allows anyone viewing their photos to see the essence of who they are as a couple," says Baskin.
Hats off to this stylish duo. "Accessorize! Bring cute hats, tons of jewelry, scarves, heels, you name it," advises DeMarco.
Although an engagement picture is a still frame, if you're moving around and having fun during your photo shoot, that'll translate onto the camera, as it did here.
No need to go over the top with glam (unless you want to, of course!). A linen shirt and a summertime sundress helped this couple ace their pics.
Consider coordinating without being too matchy-matchy. This couple rocked the same shirt, but styled it completely differently.
Jewelry, more specifically your engagement rings, shouldn't be overlooked when planning your engagement shoot. After all, this ring is what started everything! Ask your engagement photographer to snap a few pics of your engagement ring during your session.
This duo rocked their engagement session clad in coordinating denim looks.
A red jumpsuit added a fun pop of color to these studio engagement photos.
It's important to make sure you feel like yourself during your engagement session. If you have a favorite hat or go-to bomber jacket, don that for your pics.
Golden Hour Engagement Photography
Beyond fashion and styling, location and lighting need to be considered when planning your engagement pics.
DeMarco offers great advice for couples trying to nail down a location for their engagement shoot. "The photoshoot is really about you and not the location. Try not to overthink locations and also keep locations to one or two places. Photographers need time to tweak poses and get you comfortable. You cannot do that if you are taking a tour of all the hot landmarks and hitting up many locations. Also, light is more important than the location. So getting the timing right is more important than getting a location right. If you want your shoot to be more private, opt for early morning and weekday versus a crowded weekend," She goes on to remind couples that "most engagement shoots will happen during the week, and you might need to take time off work, especially during times of the year when sunset is earlier in the day. Your wedding photographer is photographing weddings and events on Saturdays and most likely will need to take Sunday off to be with family."
At this shoot, the sunlight caught a dramatic art installation perfectly, bringing a stunning glow to the capture.
During golden hour, the sunlight will add romantic sparkle to the leaves it illuminates.
A beach engagement shoot is always a good idea. It's an even better idea during golden hour.
The sunlight breaking through the trees adds a dreamy note to this couple's evening walk through the park.
If, for some reason, you're still on the fence about the magic of golden hour, this couple's snap will immediately win you over.
Seasonal Engagement Pictures
Consider the season when you're planning out all the details of your shoot. If you're planning a beach engagement shoot during the summer, dress accordingly. Additionally, keep in mind that you'll want the seasonality to complement your wedding if you plan to use images from this photo shoot as part of your save-the-dates or wedding invitations. If you're having a fall wedding, pictures from a snowy winter engagement shoot might feel out of place on your wedding invitations. Baskin asks her engagement photography clients to "keep their session location and season in mind when planning outfits. For example, couples who take engagement photos during the fall can use the beautiful warm colors of the foliage to complement their outfits. I also love when couples plan their outfits together so they ensure a cohesive look without feeling the need to match."
For autumn engagement shoots, highlight the fall foliage.
Dancing with your significant other in a field on a warm summer night—we can think of few activities that sound more fun than this.
Palm trees add a distinctively summery vibe to this couple's architecture-centric engagement pic in Charleston, South Carolina.
An autumn romp through a vineyard or apple orchard is a great way to capture both your love and the fall foliage.
End a balmy summer engagement session with a fun splash in a pool or fountain as this San Diego couple did.
The soft colors of spring are reason enough to celebrate your engagement with a garden engagement photo shoot.
If your summers are marked by memorable beach trips, make the most of one of those vacations by scheduling a waterfront engagement shoot.
Hobby-Focused Engagement Photo Ideas
If you're having a hard time deciding where you want your engagement photos taken, think about your favorite hobby or pastime as a couple, or even what you did on your first date. "Pick an activity that you love to do together (i.e. outdoor picnic, wine tasting, window shopping, etc.) and make it the engagement session. This will allow you as a couple to focus more on the activity and less on the camera for the beautifully candid shots. The end result will represent you authentically as a couple," suggests photographer Valorie Darling of Valorie Darling Photography. Maybe your first date involved grabbing ice cream and walking around New York City or a beach stroll near your significant other in Los Angeles. Whatever the case, your first date or a favorite go-to date can serve as excellent inspiration for engagement photo ideas.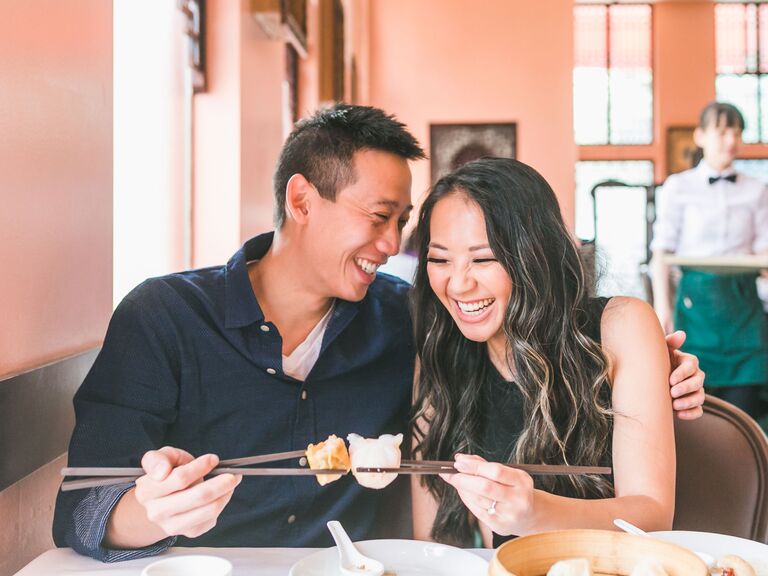 Maybe one of your favorite activities as a couple is to grab dim sum at a local NYC eatery. Visit the restaurant and snap a few pics to commemorate your go-to dinner date.
Ski-bunnies, hit the slopes with your significant other to capture winter wonderland engagement photographs.
If collecting vintage vinyls is your hobby of choice, ask your engagement photographer to highlight your love of music.
Celebrate your nautical interests with engagement pictures taken on a boat.
Art lovers, head to your favorite museum to snap engagement photos. Museums typically have absolutely amazing architecture that can serve as a great photo backdrop.
If you and your significant other love craft cocktails then hit up your go-to watering hole to toast to your engagement.
However, vino lovers may consider visiting their winery of choice to capture engagement photos.
Of course, you don't even need to leave home to toast to your relationship. This couple cozied up with a bottle of wine at home for their engagement photo shoot.
Engagement Photography Misconceptions
Even if you had your marriage proposal captured on camera, it's worth noting that proposal photography and engagement photography are not the same things. Baskin explains that she's "had some couples who had a photographer at their proposal and sometimes think they don't need engagement photos because of this. Oftentimes I find myself educating clients that taking engagement photos involves doing more than just taking photos. This time allows the photographer to teach the client how they pose and give direction. The wedding day moves fast and this session can prove to be a time-saver because the couple is already familiar with receiving direction. Also, the wedding photographer gets a chance to see how you and your partner connect so that we can capture photos that best showcase you two as a couple. So, I encourage couples to still take engagement photos because it is a different experience from the proposal."
In the end, "if you find a photographer who has a portfolio that you love, trust them as they help you plan your session. They are working from experience and wanting to ensure that your session matches what you fell in love with within their portfolio. However, above all, this is your experience so have fun while taking great photos!" says Baskin.