30 Winter Wedding Cake Ideas Perfect for Your Frosty Fete
We'll take a slice of each, please!
Now that you've nailed down your dream wedding date, it's time to start deciding on seasonally inspired wedding details to fill your nuptials with. From winter wedding flowers to color palettes fit for the colder weather, keeping the time of year in mind is a great way to ensure your wedding day is beautiful and filled with accents that look at-home in your venue. Selecting a winter wedding cake is another such detail that will help bring home the seasonality you wish to weave into the cold-weather celebration.

We've rounded up our favorite winter wedding cakes to inspire your own confection's design. Peruse the gorgeous cake options below and save your top picks to share with the cake baker you hire for your big day.
1. Glam Black-and-White Wedding Cake
While a black-and-white color palette works any time of year, adding a pop of gold is a great way to make the palette fit with a winter aesthetic. Imagine cutting into this glam bake during a New Year's Eve wedding—talk about wow factor.
2. Marble-Inspired Cake
There's something so regal about marble-inspired details. If you're tying the knot at a historic estate, consider a stone-like bake to complement the surrounding architecture. Meanwhile, an acrylic topper is a great way to modernize a marble-like cake.
3. All-White Staircase Cake
A great way to ensure that your cake is a memorable showstopper is to stack it in an out-of-the-box way. This all-white winter wedding cake had a romantic staircase-like appearance.
4. Ski-Inspired Wedding Cake
This couple celebrated their love of skiing not only by tying the knot at a ski resort but also by having their cake decorated to resemble a ski slope. In addition to icing that resembled snow-capped peaks, the cake also was also topped with wire figurines that appeared to be downhill skiing.
5. Amaryllis-Topped Chocolate Cake
While some blooms are harder to procure during cooler months, amaryllis is a great statement bloom that's naturally in-season during winter. We love how this decadent chocolate cake was topped with a lush red amaryllis bloom.
6. White-and-Gold Art Deco Cake
Maybe it's the prevalence of metallics, but there's something that feels so naturally wintery about Art Deco details. A New Year's Eve Great Gatsby wedding wouldn't be complete without this towering bake.
7. Winter Cake With Cascade of Burgundy Blooms
If you've always imagined a tiered wedding cake covered in fresh flowers, make sure to connect with your wedding florist early on to discuss what varieties if flowers would look good, and be available, at the time of your wedding.
8. Modern All-White Cube Cake
Contemporary couples, this look is for you. Instead of traditional round tiers, this minimal white dessert was comprised of three cube-shaped tiers stacked atop each other.
Find all the vendors you need
Meet every kind of expert from bakers to bartenders and more.
9. Semi-Naked Wedding Cake With Dried Leaves and Fresh Fruit
While a summer cake might look great topped in fresh citrus, pomegranate is the way to good for a winter or Christmas wedding cake. The luscious fruit is a staple during cooler months of the year and it's bright appearance will turn heads as a cake accent.
10. Five-Tier Cake With White Flowers
Although the overall design of this all-white cake was simple, there was nothing plain or boring about it. Sometimes sticking to a monochromatic colorway, like white icing finished with fresh white blooms, is the way to go. Moreover, the great thing about a monochromatic cake is that it looks just as good at summer weddings or fall weddings as it does during the holiday season.
11. Abstract Blue-and-White Cake
This three-tier masterpiece looked like it belonged in an art museum beside a Monet. Though the bake was covered in icing, the blue and white shades looked like they'd been abstractly painted onto the tiers.
12. Burgundy Cake With Painted Flowers and Fresh Berries
Some couples opt for fresh blooms to decorate their wedding dessert, but this couple instead enlisted their cake baker to paint a floral illustration directly onto their moody burgundy cake before finishing the sweet off with fresh blackberries.
13. Semi-Naked Cake Topper With Evergreen Boughs and Cinnamon Sticks
What's more wintery than evergreen and cinnamon? We can almost smell the dreamy combination. If you're having a single-tier cake that doesn't have much space for surface decoration, pay attention to your cake topper and make it the star of the show.
14. Classic Three-Tier Cake With Wreath and Monogram
This classic three-tier dessert showcased a monogram, encircled by a vibrant green wreath. And to finish it off, each tier was bordered in silver.
15. Semi-Naked Cake Topper With Gold Fox
We simply can't decide whIch part of this cake is our favorite. Fresh figs, trendy semi-naked icing and a gold fox figurine cake topper—a jaw-dropping combination of ever we saw one.
16. Winter Wedding Cake With Balloon Display Backdrop
When planning out your cake design it's important to also spend time planning your dessert table and how you want the entire display to look. By planning holistically you'll ensure that the entries sugary spread looks like a million bucks and also fit into your overall wedding theme.
17. Two-Tied White Fondant Cake With Red Anemones
Anemones, which are in-season during the winter, are a great choice to decorate your dessert. Especially for couples leaning into a Christmas-inspired green-and-red color palette, these bright crimson blooms are a must-have.
18. Two-Tier White Cake With Cosmos and Dried Leaves
Cosmos' dramatic dark coloring makes them a great bloom to use throughout your wedding, from boutonnières and bouquets to centerpieces and even your wedding cake design. This petite all-white cake was finished off with a few cosmo blooms and just a handful of leaves.
19. Cake With Gold Leafing and Laser-Cut Cake Topper
Gold leafing gave this buttercream cake, which sat atop a wood cake stand, a whimsical winter wonderland feel.
20. Rustic Wedding Cake With Pinecones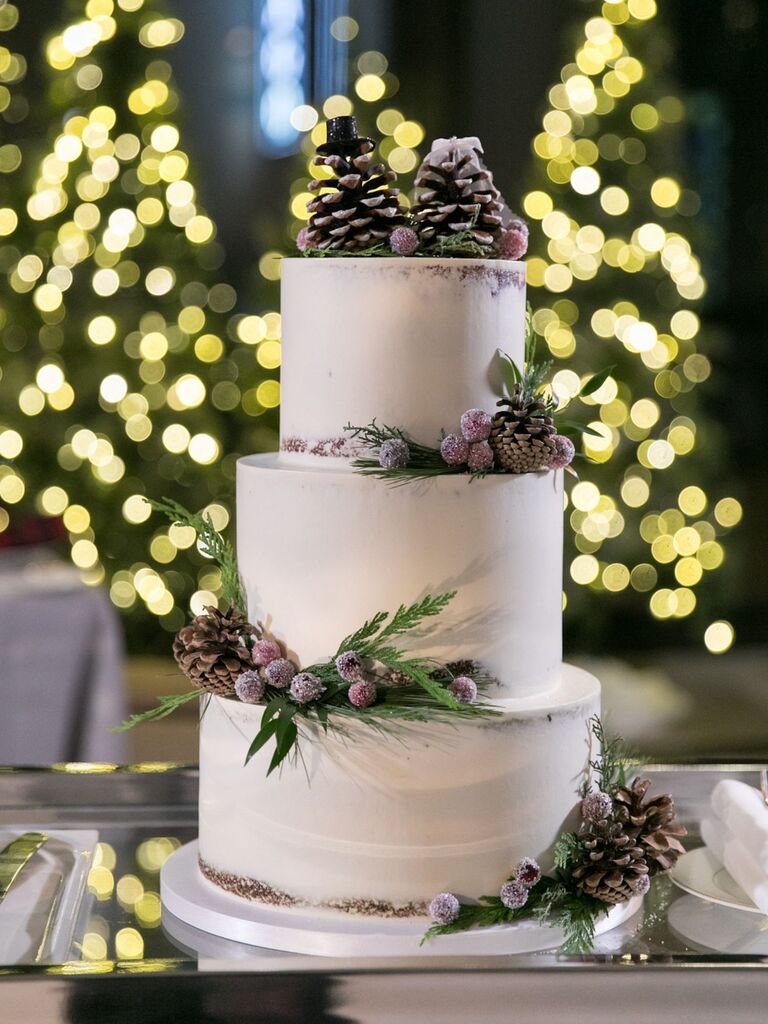 Pinecones brought a cozy vibe to the three-tier cake at this rustic winter wedding.
21. Simple Two-Tier Wedding Cake With Flowers
Your confection doesn't need to be dripping in icicles and snowflakes in order to celebrate the winter season. Take this simple two-tier wedding cake—wildflowers paid homage to the season in a beautiful, yet subtle, way.
22. White Fondant Wedding Cake With Sugar Flowers
While many desserts are finished with wedding cake toppers, it's totally alright to forgo a topper if the rest of your cake makes a statement on its own. White roses, made of sugar, decorated the bottom of this four-tier wedding cake. The confection, which resembled a chic wedding dress, was so stunning on it's own that a topper was unnecessary.
23. Abstract Emerald Wedding Cake
Jewel tones look good all year round, but we especially love emerald during the holiday season. This unique wedding cake featured an agate-inspired collar around the bottom and geometric details at the top.
24. Marble-Inspired Wedding Cake With Gold Leafing
Because of its dough-like texture, fondant can be manipulated and colored to look like marble. If you're planning a contemporary- or modern-themed wedding then marble is a great accent to bring in that looks beautiful at winter celebrations.
25. Two-Tier Dessert on Marble Cake Stand
Flowers and greenery decorated this petite confection which was displayed on a marble cake stand.
26. Dramatic Wedding Cake With Textured Decoration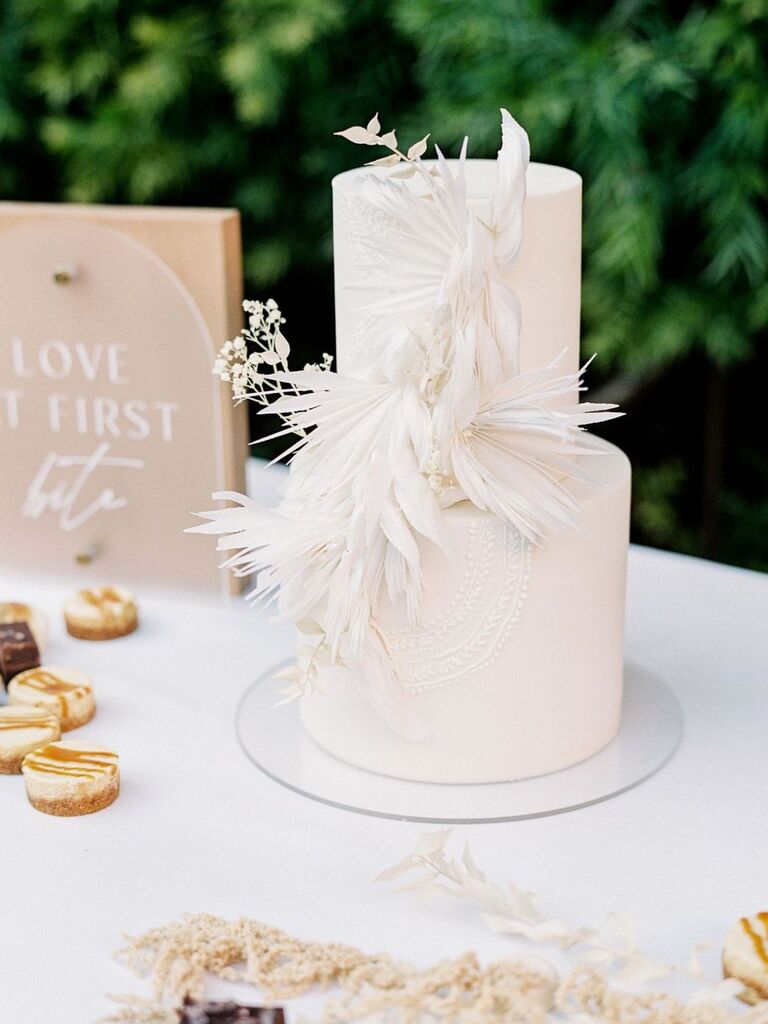 This two-tier wedding cake wasn't simply a dessert, it was also part of the wedding decor at this boho-themed wedding in California.
27. Buttercream Wedding Cake With Fresh Figs and Greenery
Figs not only look great as a cake decoration, but they also taste great inside wedding cake as well. In addition to figs, cranberries are a great winter fruit that can be utilized in cake design.
28. Glam Burgundy-and-Gold Wedding Cake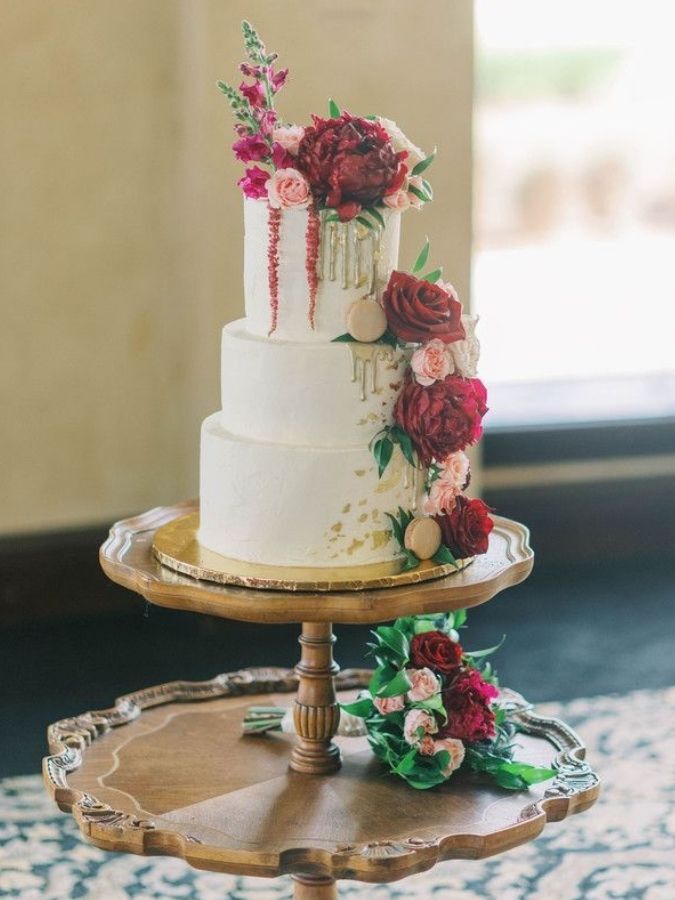 Many times other desserts like cupcakes and macarons sit on a dessert table beside the wedding cake. However, for this dessert, the baker decided to put fresh macarons directly onto the confection.
29. Hand-Painted Red-and-Green Wedding Cake
If you're having a Christmas wedding then consider serving a red-and-green confection as this couple did. For a dessert that truly decks the halls, gingerbread is a great flavor for a holiday sweet.
30. Present-Inspired Christmas Wedding Cake
This wedding cake was decorated with a topper that resembled a gift bow, perfect for a Christmas wedding.