We Love These 35 Unique Lantern Wedding Centerpieces
Light up your wedding reception with these statement decor pieces.
Left to right: Jessica Manns Photography, I Heart My Groom, Garrett Richardson Photography
Lighting is an important, but easily overlooked, element of wedding decor. From uplighting and chandeliers to candles and lanterns, there are plenty of different ways you can infuse light into every part of your wedding, from the wedding ceremony through to the wedding reception. Specifically, lanterns are a great way to enhance the ambiance of the wedding day while also reinforcing your overall wedding theme and aesthetic.
The concept of wedding lantern centerpieces is nothing new. But just because an idea has been done before, that doesn't mean you shouldn't consider it for your wedding. If anything, the fact that many other couples love the idea should let you know that it's a solid wedding choice. There are plenty of unique ways to incorporate lanterns into your wedding, and specifically your reception centerpieces, no matter what your wedding vision or style is. Below we're taking a look at some of our favorite lantern wedding centerpiece ideas to inspire your reception lighting plans and wedding table centerpieces. Keep these wedding decoration ideas in mind throughout your wedding planning journey.
In this story:
Elegant Lantern Centerpieces
There's something so whimsical about soft candlelight. That's why lantern centerpieces work well with an elegant wedding aesthetic. Don't believe us? Look at the romantic lantern centerpiece ideas below.
1. Lantern Table Number
Because of their inherent verticality, lanterns make great table numbers. This couple had die-cut black vinyl sticker numbers placed on the lanterns that sat on each table.
2. Large Gold Lanterns Beside Wedding Table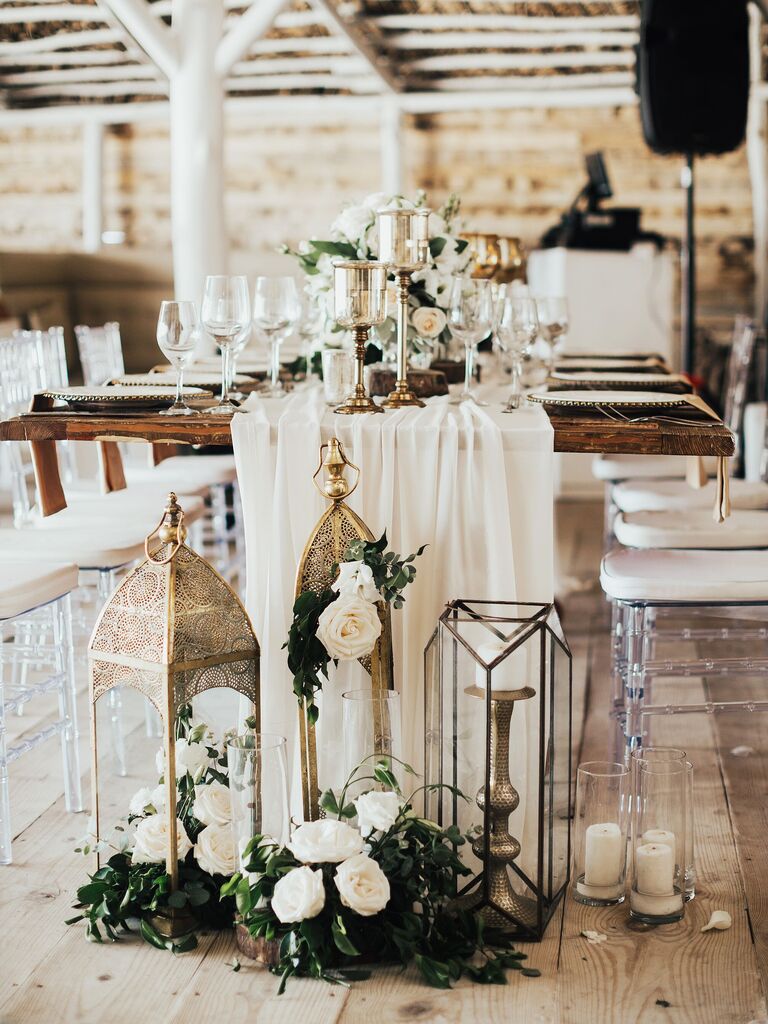 Because of their size, these "centerpieces" couldn't actually sit on the table. Instead, the lanterns decorated the ends of the table. While they weren't atop the table, the lanterns had the same effect as a typical centerpiece—they decorated the tables and anchored the design.
3. Elegant Gold Lantern Surrounded by Flowers
Fresh roses and hydrangeas encircled the modern gold lanterns on this tablescape. This was a nice way to ensure the centerpiece didn't have a "front" and "back," rather everyone got to take in some of the beauty.
4. Wood Table With Elegant Lanterns and Flowers
Lanterns don't have to be the only element in your wedding centerpieces. This couple chose to place groupings of both flower arrangements and lanterns along the length of their wood reception tables.
5. Ornate Lantern With Stained Glass Panes
Instead of emitting plain candlelight, this ornate metal lantern gave off pink light thanks to its stained glass panes. Rose petals surrounded the lantern to mirror the rosy hue.
6. Mercury Glass Lanterns
Centerpieces needn't be limited to your wedding reception tables. Take a moment to consider any other tables and surfaces that will be present on the big day. This couple used lanterns to decorate the coffee table they included in their lounge seating area.
7. Christmas Lantern Centerpiece With Winter Wreath
For this Christmas wedding, the couple lay wreaths and ornaments on their reception tables. In the middle, they placed black lanterns for the wedding centerpieces.
8. Ornate Gold Lanterns for Wedding
This tablescape had gold lanterns everywhere. Small ones sat atop the table while larger wedding lanterns were placed directly beside the table.
9. Modern Gold Wedding Table Lantern
Lanterns come in a variety of styles. At this wedding, modern lanterns with an overlapping-circle pattern were utilized.
Rustic Lantern Centerpieces
Getting married in a barn? Lean into the rustic wedding aesthetic with on-theme lantern centerpieces.
10. Silver Wedding Latern With Moss and Ferns
It's important to consider your centerpiece design holistically, including any accessories or foliage you plan to incorporate. While the silver lantern on its own feels regal and romantic, the bed of moss and ferns it sat atop gave it a rustic feel.
11. Lantern Centerpiece With Books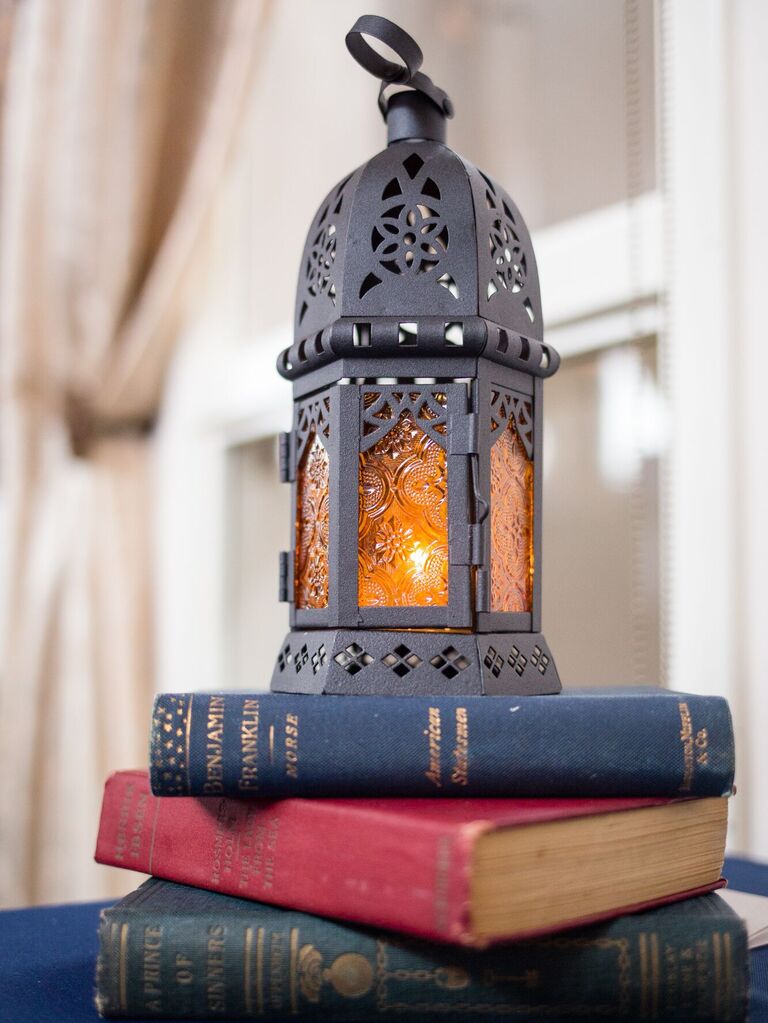 We love this idea for a literary couple in search of rustic wedding centerpieces. For this rustic scene, a dark-brown metal lantern sat atop a stack of antique books.
12. Wedding Table With Metal and Paper Lanterns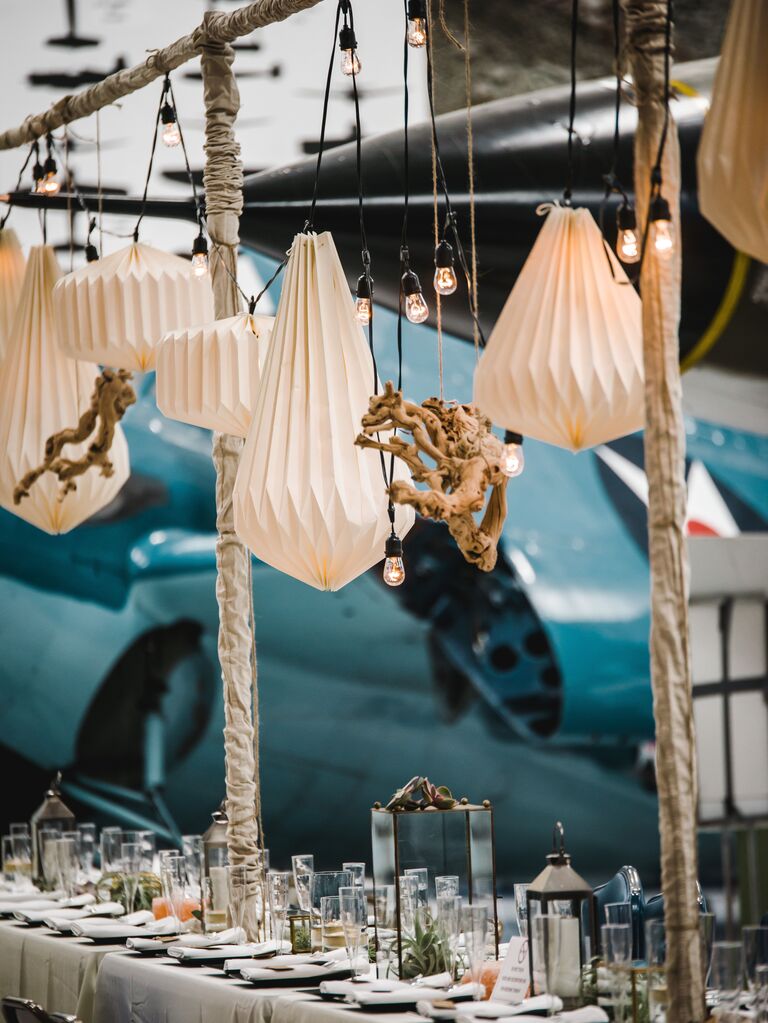 This tablescape had wedding lanterns two ways. Paper lanterns were suspended above the table while metal lanterns sat on the table.
13. Rustic Lantern Centerpiece on Wood Stump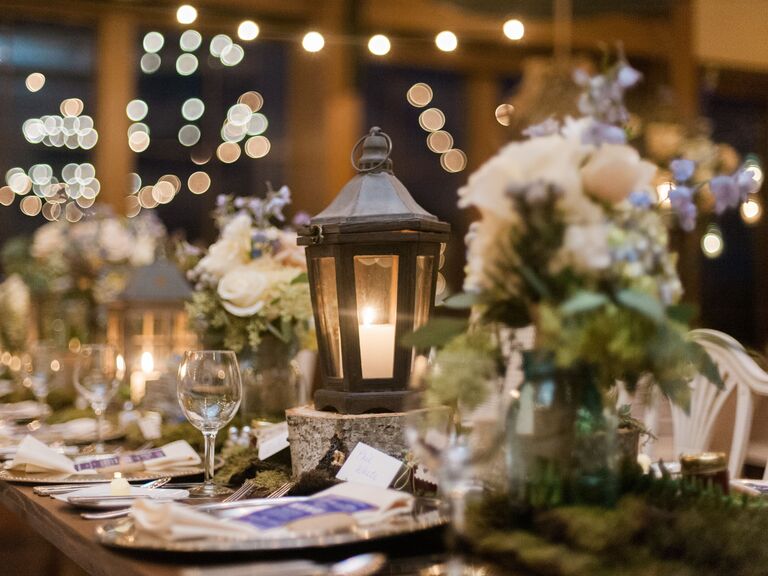 Don't be afraid to use a mixture of materials, like wood, metal and botanicals, in your centerpiece design. Using a wood stump to anchor this lantern reinforced the rustic aesthetic this couple was hoping to achieve.
14. Rustic Lantern Wedding Centerpiece With Roses
For this centerpiece, a lantern was encircled by a rose and greenery halo. Then, the entire arrangement was set atop a slice of wood.
15. Metal Lantern and Wood Table Number
A metal lantern, interwoven with vines, was used to help support the wood table numbers at this wedding. We love how the entire rustic lantern wedding centerpiece came together.
Fall Wedding Centerpieces With Lanterns
Crisp leaves, warm candlelight, cool weather—fall and lanterns just make sense together. Let the ideas below inspire your autumn nuptials.
16. Vintage Lantern With Fleur-de-Lis Pattern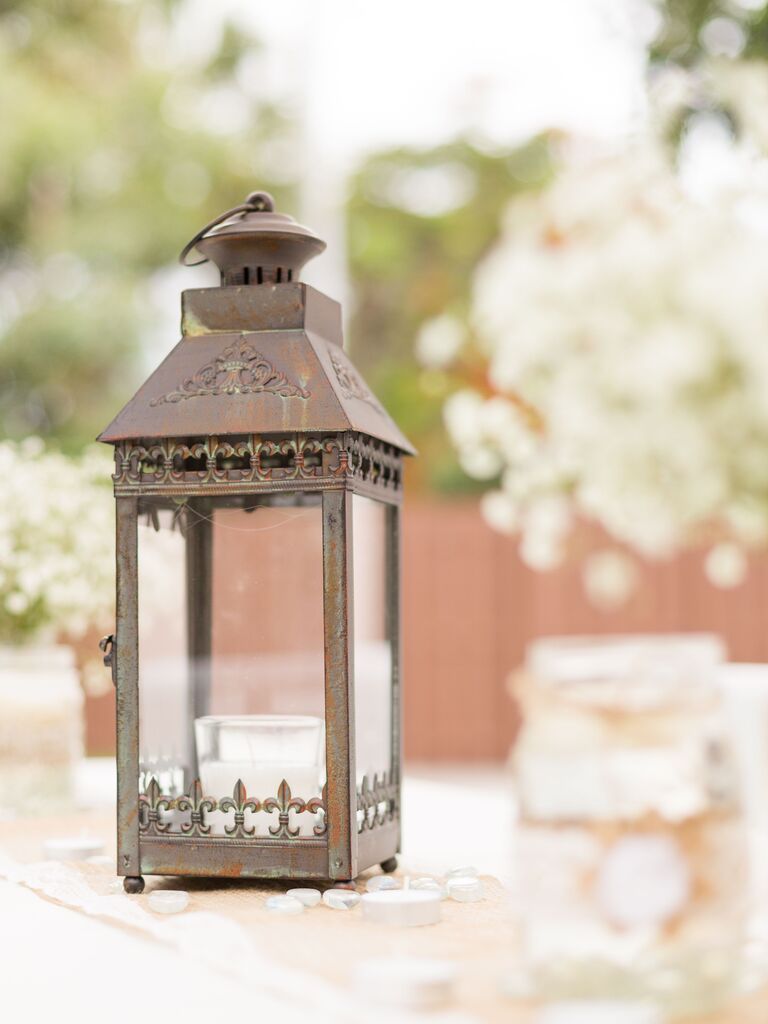 A unique fleur-de-lis pattern set apart this brown metal lantern. Meanwhile, the slight oxidization of the metal gave the entire piece a homey, vintage feel.
17. Gold Wedding Lantern Beside Table Number
To ensure the entire centerpiece design was cohesive, this couple selected gold table number frames that matched the color of their chosen gold lanterns. The result was a striking combination.
18. Copper Lantern Centerpiece With Flowers
A lush burst of flowers surrounded a duo of copper lanterns on this wedding reception table. We love the juxtaposition between the dark copper and the soft white flowers—perfect for an autumn wedding.
19. Metal Filigree Lantern Centerpiece
Since the lattice-style lantern this couple chose was so eye-catching on it's own, they added to it sparingly with just a few sprigs of greenery. The entire look felt cozy and welcoming for the fall wedding.
20. Rustic Camping Lantern Table Number
What's more rustic than an oil camping lantern? As if we didn't already love this enough, the lantern also doubled as a table number. Talk about a win-win.
Simple Lantern Centerpieces
Lantern centerpieces don't need to be complicated or over-the-top. These simple lantern wedding centerpiece ideas are a reminder that less can be more.
21. Copper Lanterns Filled With Flowers
Don't limit yourself to just candle lanterns. Instead of filling lanterns with candles, this couple decided to place vibrant flowers inside the decorative lanterns they used at their wedding. In essence, their lanterns acted like vases as part of the reception floral design.
22. Black Metal Lanterns in Boho Tablescape
Since the lanterns this couple selected for their wedding table decorations were tall they decided to place them on the ground beside the table. A gauze table runner helped ensure the entire design looked cohesive.
23. Small Lantern on Bed of Ferns
We love how simple this woodsy vignette was. A bed of greenery set the stage for a petite lantern to illuminate this wedding reception centerpiece.
24. Gold Lantern Surrounded by Pink Roses
A small gold lantern and fresh pink roses worked in harmony in this wedding centerpiece design. This look is proof that a pared-down concept can still pack a punch.
25. Gold Terrarium Lantern
Terrariums are very similar to standard lanterns, the main difference being that one normally holds plants and the other holds candles. In this case, a couple used a terrarium object but placed a candle in it to turn it into a lantern for their centerpiece design.
26. Gold Lanterns on Table Runner
If you have long tables then consider a table runner to add cohesion to your centerpiece design. Here, a greenery garland and a gray fabric runner tied everything together.
27. Pillar Candles in Gold Terrarium Lantern
This terrarium-like orb was transformed into a fun lantern-like candleholder with the addition of two white pillar candles. The end result? Simple, but effective.
28. Lantern Filled With Twinkle Lights
Instead of candles, this couple placed twinkle lights inside their lantern centerpieces. The creative concept almost looked like fireflies in the night sky.
29. Modern Gold Wire Lantern
This look is great for couples who want a minimalist vessel. While most lanterns have glass panes encasing them, we love how this glass-free wire lantern brought a modern spin to this tablescape.
Wood Lantern Centerpieces
Many lanterns are constructed out of wood and it's not hard to see why. Wood lanterns are cozy and would bring a welcoming vibe to any tablescape.
30. Wood Lantern Centerpiece Filled With Flowers
We love the cascade of fresh flowers bursting forth from this wood lantern centerpiece. If you love lanterns but don't want to fill them with candles, flowers are a great alternative to consider.
31. White Lantern Centerpiece for Wedding
The great thing about wood lanterns is that they're easy to paint. While this couple opted for white, you could easily DIY a lantern to match any shade from your wedding color palette.
32. Rustic Wood Lantern Centerpiece
Not only are lantern centerpieces cute, but they're also practical. If you're hosting an outdoor wedding then the wind might extinguish your candles. However, if they're protected inside a lantern you'll be protected.
33. Lantern in Wood Crate With Flowers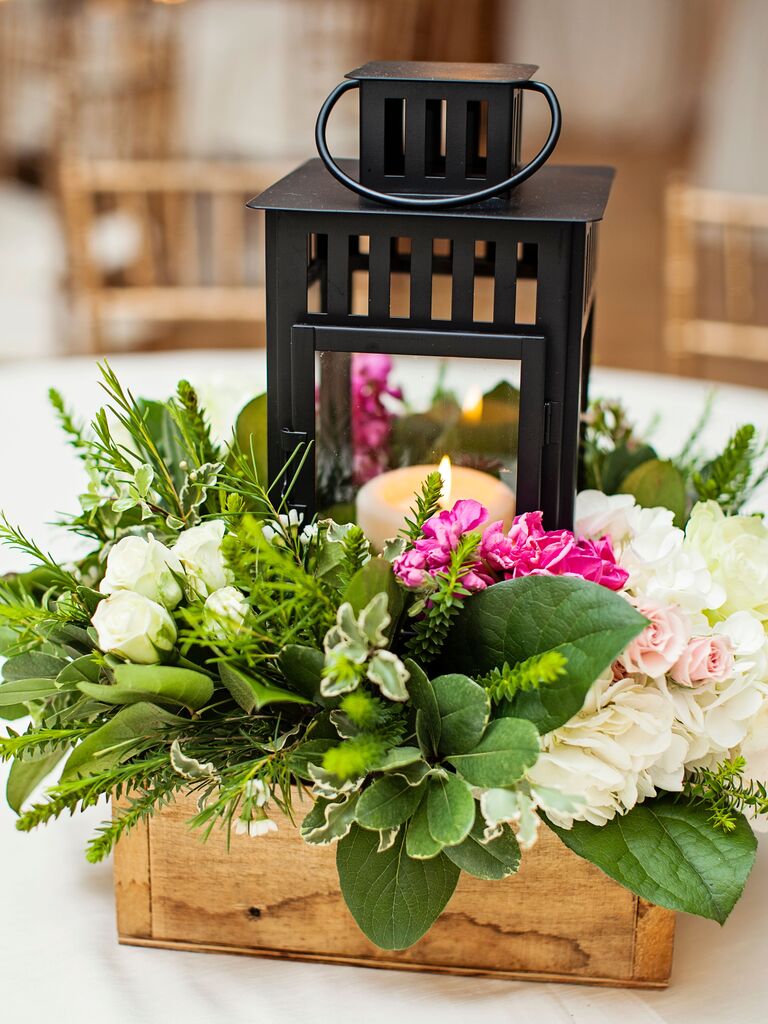 How fun is this idea? A wood crate served as the vessel for these centerpieces. The couple placed fresh flowers and a lantern inside.
34. Sweetheart Table With Lanterns
Two large wood-and-metal lanterns sat beside this couple's sweetheart table. While not strictly a centerpiece, the lanterns still anchored the space in the way that a typical centerpiece would.
35. Wood Lantern With Greenery and Butterflies
Butterflies are a whimsical addition to any wedding decor. This wood lantern was decked out with greenery and faux butterfly figurines.
Other Lantern Decor Ideas
The ideas shared above should be just a starting point as you begin brainstorming your ideal lantern centerpieces. Do you have an idea in your mind that you've never seen done before? Go for it! Lanterns are incredibly versatile and can fit just about any wedding style. Whether you're hosting a beach wedding or a rustic barn wedding, there's a lantern decor idea our there for you.
What to Put in Lanterns Besides Candles
Almost anything that fits can go inside a lantern. You can put flowers and plants inside lanterns. Or even other on-theme objects and figurines as you see fit.
How to Decorate Lanterns With Flowers
Work with your wedding florist to come up with a plan for your wedding flowers and centerpieces. Flowers can either go inside the lanterns or surround your lanterns.
How to Decorate Lanterns With Greenery
Just like with flowers, the best course of action is to speak with a professional florist about how to decorate wedding lanterns with greenery. They will have ideas of what type of greenery is best for your vision. Like flowers, you could either put greenery inside lanterns or surround them with boughs of greenery.
How to Diy Lantern Wedding Centerpieces
If you're planning a DIY wedding, a quick trip to the craft store or hardware store should be your first step. If you envision DIYing your lantern centerpieces you should make a mood board before purchasing lanterns. Once you have a plan in place you'll know all the materials to buy to bring the vision to life.