40 Unique Party Favor Ideas for 2022 Weddings
These cute keepsakes are hard to beat.
We have included third party products to help you navigate and enjoy life's biggest moments. Purchases made through links on this page may earn us a commission.
There are lots of reasons why couples give out wedding favors—they serve as a thank-you to your guests and provide a tangible memory of your celebration. As you head into the final months before your wedding, you'll want to start browsing party favor ideas to pick the right gifts for your guests. From heart-shaped tea bags to commemorative photo magnets, environmentally-friendly options and much, much more, there are lots of wedding favors to choose from (including hand sanitizer and masks if you're getting married in the time of COVID-19).
The first step to choosing the perfect wedding favor is to figure out your budget, as the average cost of favors is about $400, according to a survey of over 27,000 newlyweds who married in 2019. Then, choose the type of party favors you'd like to give out, whether they're edible gifts, cute keepsakes or something else. (And don't worry if you're not sure—we've got lots of classic and unique wedding favor ideas below.) Keep reading for the low-down on wedding thank-you gifts for guests, plus 40 editor-approved recommendations.
In this article:
What Are Wedding Favors?
"Giving favors to guests is something that dates back to the 16th century as a way for couples to thank their guests for attending their wedding," says Susan Dunne, designer and planner at Weddings by Susan Dunne. These gifts typically come in the form of small tokens that correspond with the wedding's theme (think: hand fans for beach nuptials or mini jars of honey for a rustic affair). But nowadays, picking on-theme gifts for guests isn't the only way to go. Party favors that reflect your personalities or love story are an equally meaningful option that'll make your loved ones feel close to you.
Of course, buying traditional wedding gifts for guests isn't a necessity. Some couples are reallocating their favor budget entirely to focus on the overall guest experience. "We have suggested to some of the clients to shift their wedding favor budget to an experience, whether that's a photo booth service or maybe a nitrogen ice cream bar or a food truck as a late-night snack," says Dunne. Ultimately, how you decide to thank your guests is up to you (and potentially your parents or anyone who's helping to pay for the wedding).
The Best Wedding Favor Ideas
Believe it or not, there are lots of different places to draw inspiration from. "When it comes to favors, many of them can stem from tradition, religion or culture," says Dunne. Alternatively, you can look to your wedding theme or location, or your relationship. For example, if you and your S.O. had your first date at an Italian restaurant, mini jars of gourmet pasta sauce are an adorable (and delicious) wedding party favor idea.
1. Starry Night Coasters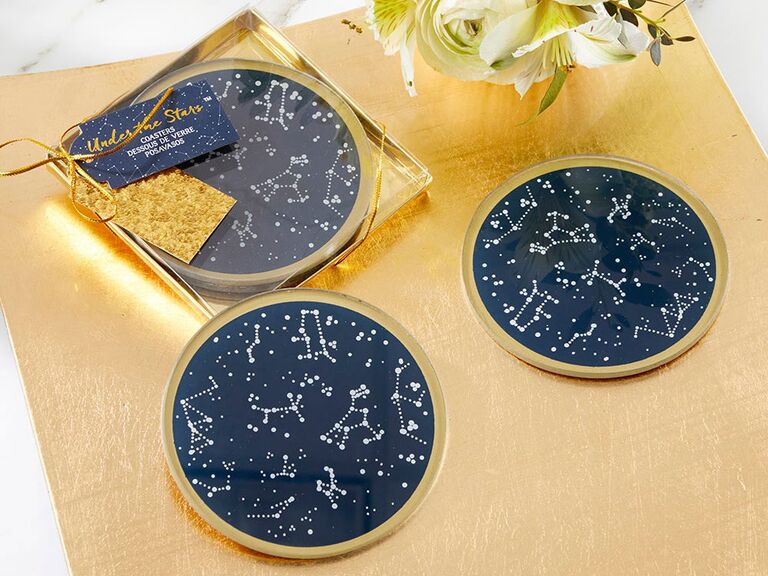 Get excited, because we've found the best wedding party favors for a celestial-inspired celebration. These constellation-adorned coasters are the perfect finishing touch to your tablescape and your loved ones can take them home afterward. A unique favor that doubles as wedding decor? It's basically a win-win.
2. Country-Style Floral Magnets
These cute wedding favors contain actual dried flowers for a quintessential rustic effect. But that's not all: Each adorably packaged bouquet is actually a magnet your guests can display on their fridge. How sweet!
3. DIY S'mores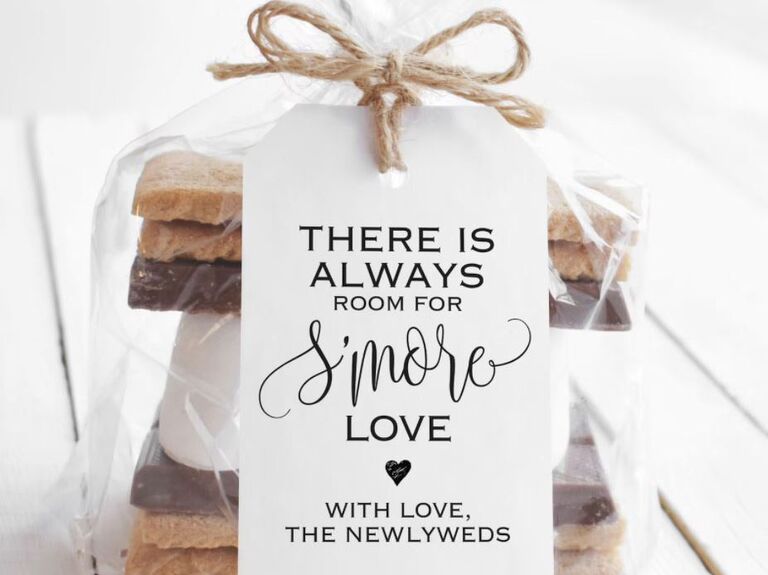 While you might be tempted to DIY your wedding favors, know that the process may be a bit time-consuming, so make sure you have the time and energy to assemble your giveaways. If you're set on putting together your own party favors, s'mores kits are a classic option. Though this wedding favor idea doesn't include the ingredients to make a mouthwatering s'more—graham cracker, chocolate and marshmallow—it's the favor tag to seal the deal.
4. Pocket-Size Hand Sanitizers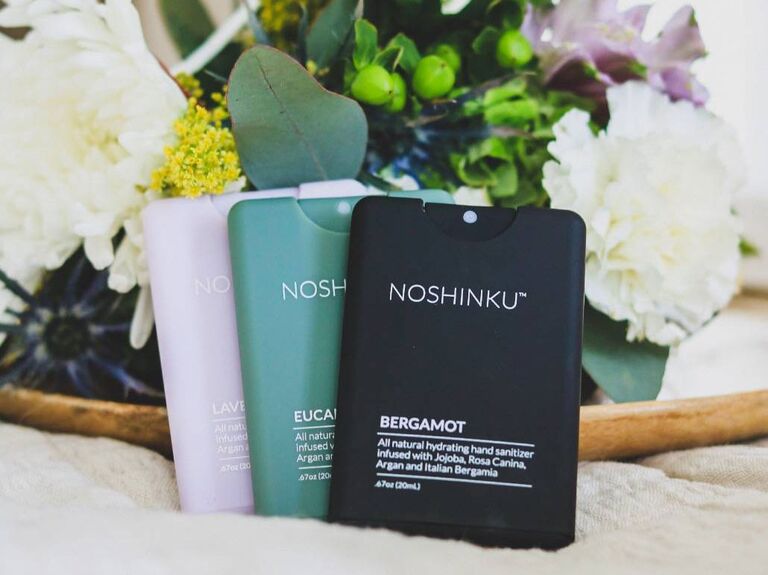 Hand sanitizer is one of the most practical and popular wedding favors to give guests in 2022. Noshinku has beautifully scented options you can buy in bulk for your big day, including bergamot, eucalyptus and lavender. While personal hand sanitizer wedding favors are a cute way to keep guests safe at your wedding, cleanliness is ultimately a gift that keeps on giving.
5. Shiny Compasses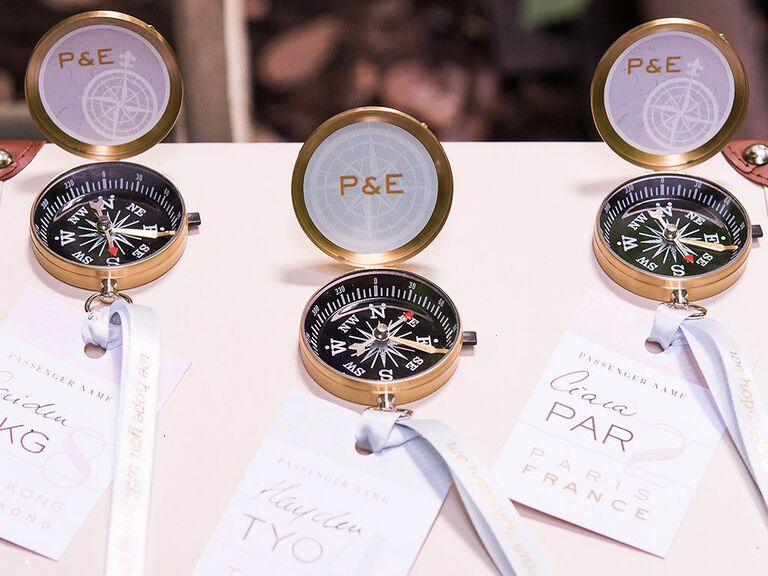 Finding your S.O. felt like finally finding your way home. Help make sure your guests are always able to find their way home by handing out these useful brass-finish compasses as souvenirs. We love this cool wedding favor for a travel-themed reception.
6. Mini Hot Sauce Bottles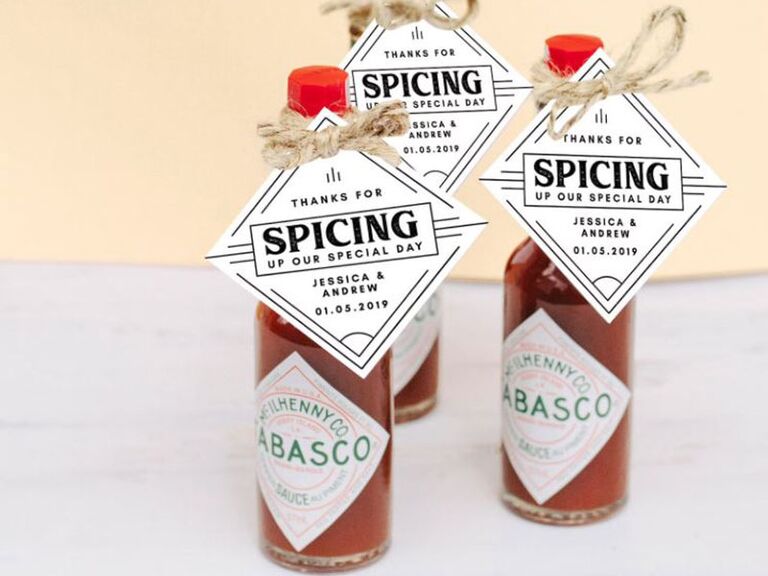 If you're never without hot sauce in your bag, these wedding favors are totally ideal. Just print out the tag and tie it to a bottle of your favorite hot sauce—you've got an unforgettable giveaway that your guests will be totally hot for! Just snap up enough mini bottles of Tabasco, print out these favor tags and you're good to go.
7. Mini Sparkling Wine Bottles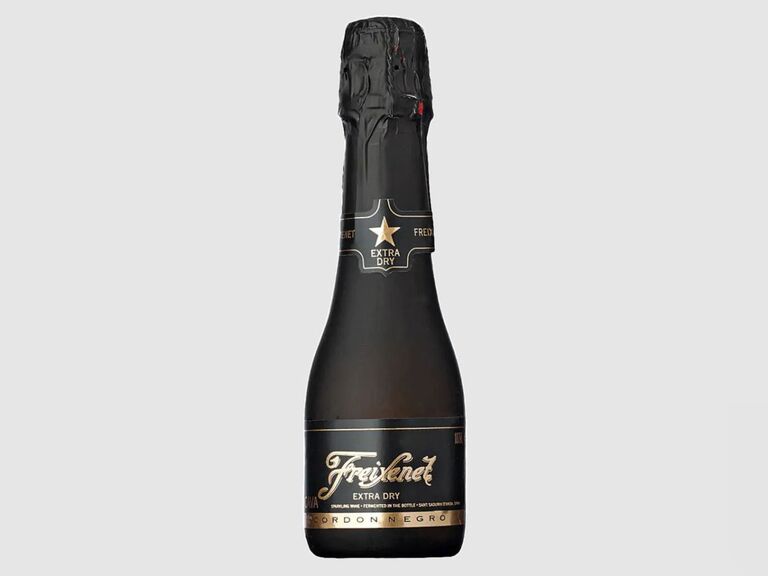 Planning an NYE-themed or otherwise glamorous wedding? Meet your perfect wedding favors: miniature bottles of bubbly. Save time by ordering online or pop into your local liquor store and stock up there instead. Pair your mini champagne bottles with these personalized labels to give your party favors a luxe finishing touch.
8. Whimsical Pear Soaps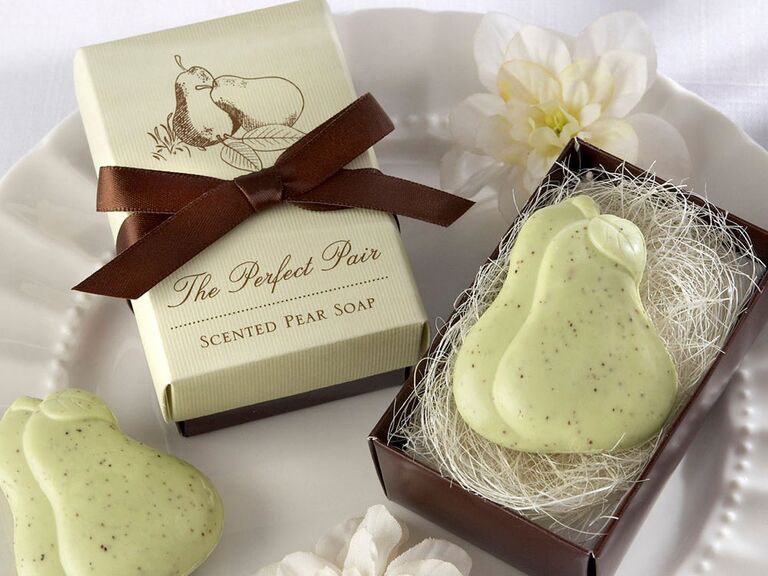 Some of the best wedding favors have a clever hidden meaning, like these cute pear-shaped soaps packaged in a gift box that reads: "The perfect pair." This sweet-scented giveaway will offer guests' bathrooms a hotel-worthy touch.
9. Nostalgic State Ornament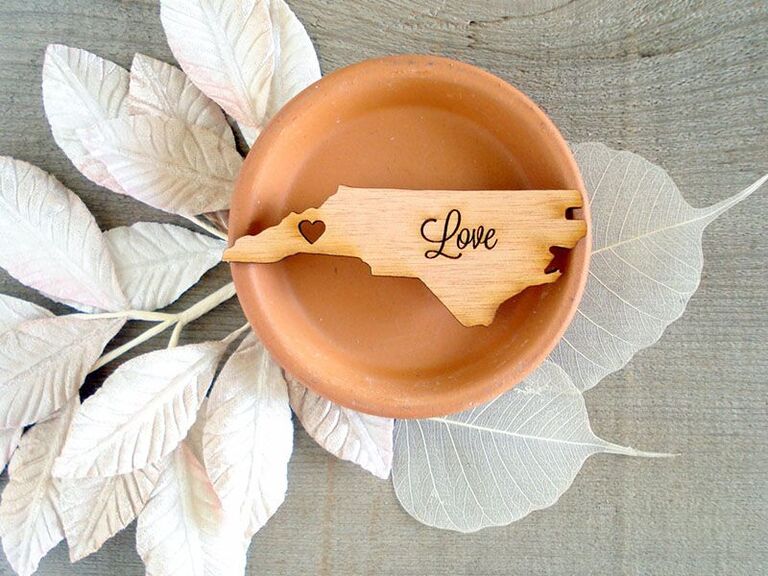 Visiting a new place calls for a wedding keepsake for guests that'll help them remember the journey. We love these wood ornaments shaped like various states and countries. While North Carolina is pictured here, you can find every state in this Etsy shop.
10. Personalized Koozies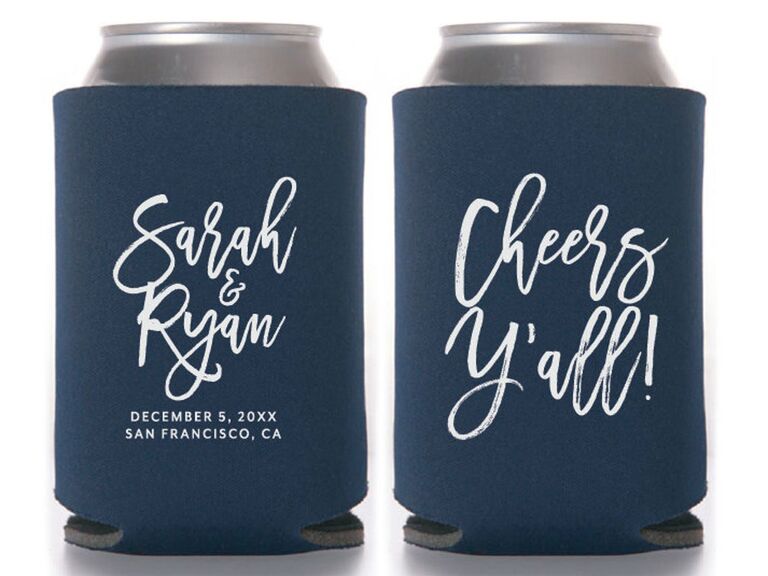 Tailgating during football season, lounging by the shore, enjoying a round at home—wherever your guests are, they'll appreciate having a koozie to keep their drinks cool. Buy these personalized can coolers in bulk as a nice way for loved ones to sip in style.
11. Practical Coffee Bags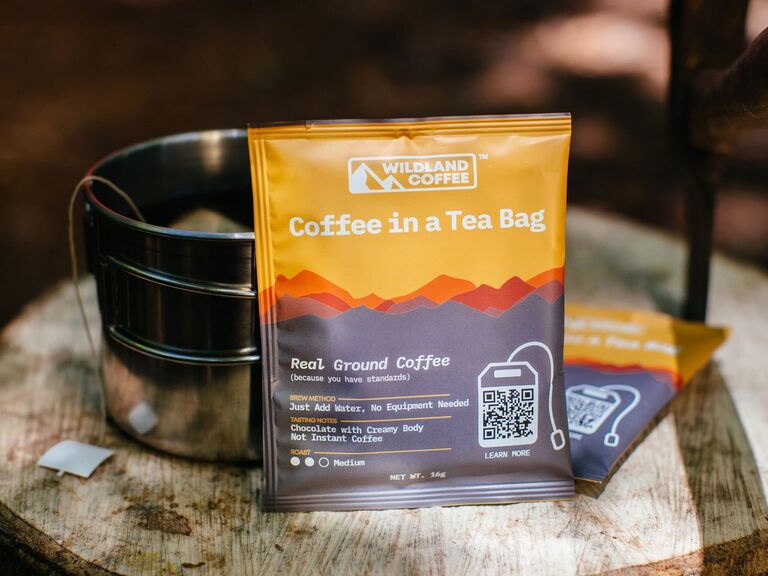 If you're having a camp- or otherwise outdoor-themed wedding, check this out for a clever wedding favor idea: individually packaged coffee in a tea bag. Not to be mistaken for instant coffee, these useful wedding favors aren't just easy to brew—they're tasty as well. It's a lovely tribute to your relationship if you're always exploring the outdoors together (and love coffee).
12. Keepsake Wooden Ornament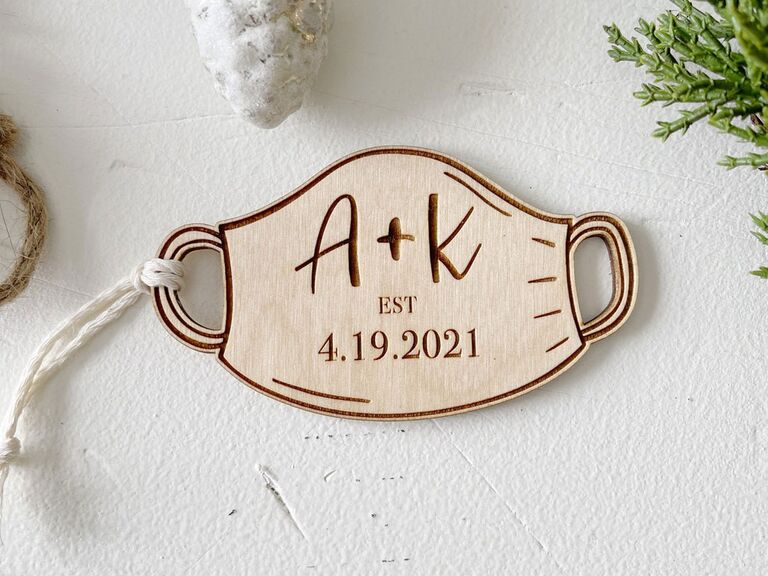 These engraved wooden ornaments might go beyond your budget if you have a big guest list, but they're a great wedding favor idea for more intimate gatherings. If you're holding a smaller celebration, up the ante with luxury wedding favors your loved ones can hold onto as a permanent reminder of your special day. These personalized, mask-shaped keepsakes are a fun and unique marker of when you tied the knot.
13. Tea Test Tubes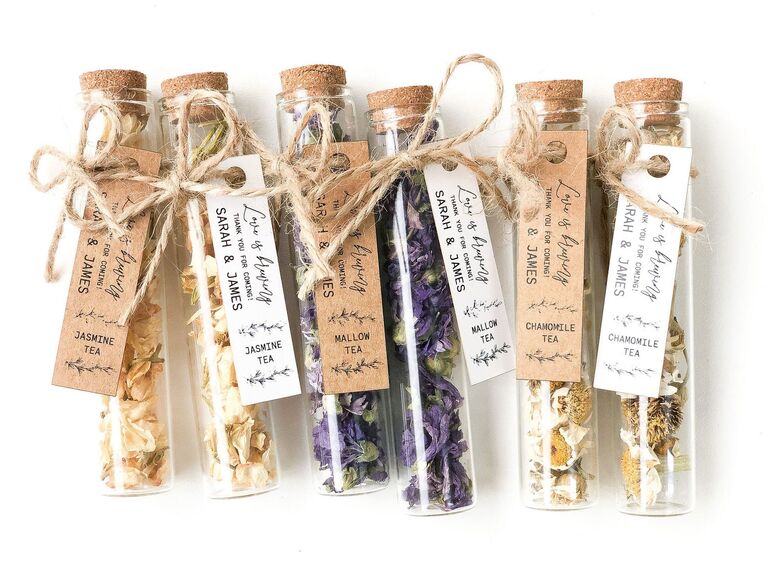 Regardless of where you fall on the rivalry between coffee- and tea-drinkers, this take-home tea vial is a creative wedding favor that can also double as decor—just imagine how pretty it would look sitting on a guest's kitchen counter. Choose one type of tea for every guest or mix and match by requesting an equal amount of each. If you're taking inspiration from Pantone's 2022 color of the year in your wedding, the mallow tea gives serious Very Peri vibes.
14. Unusual Lollipops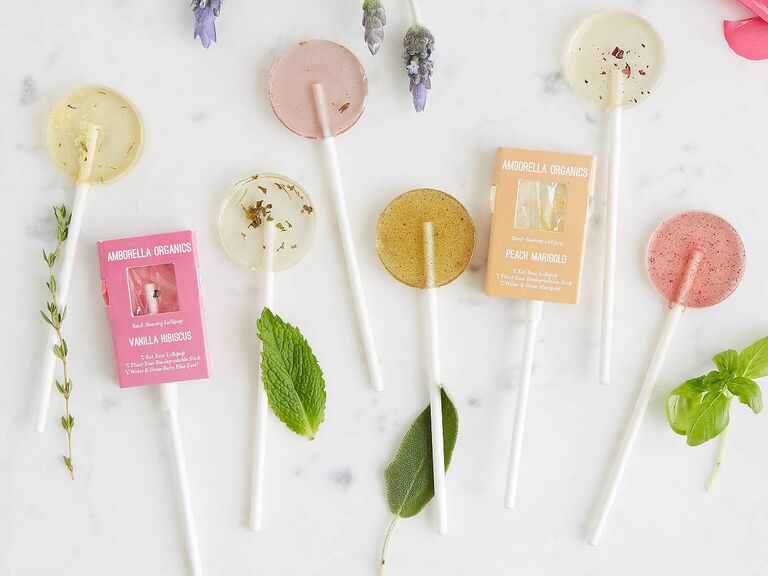 Calling all foodies: Your search for edible wedding favor ideas ends here. For a celebration that's big on blooms, hand out these floral-inspired lollipops as party favors. There are eight unique flavors in each set, including sweet champagne and roses, refreshing rosemary and mint, and zingy lemon and thyme. But that's not all: The sticks are infused with seeds, so guests can plant their own herbs or flowers when they get home. Giving guests a gift this sweet is certainly one way to make them happy.
15. Useful Bottle Openers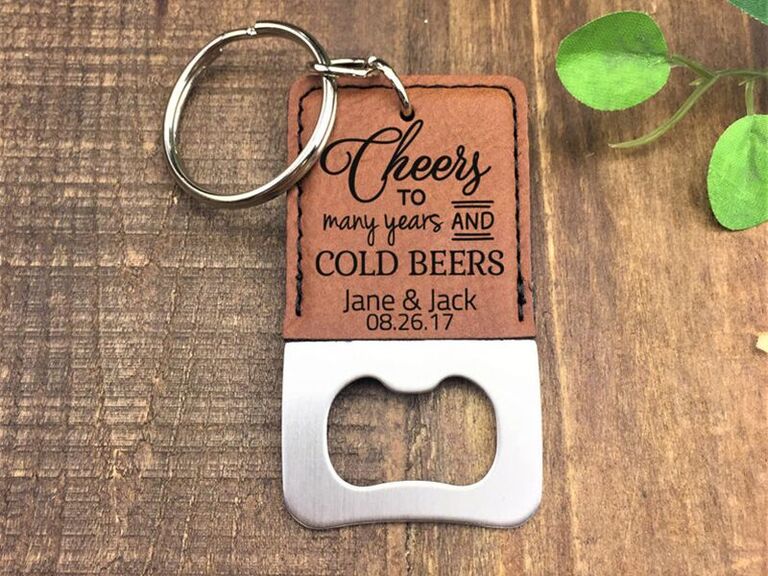 Want your guests to think of your wedding even after the day passes? Give them personalized key chains that double as bottle openers. It's a tool most people don't even realize they need until they have it on hand. And thanks to the personalization, these practical wedding favors will always remind your loved ones of you.
16. Engraved Coasters
You can never go wrong with wedding favors for guests that they can hold onto as a keepsake and put to good use in their home. If you're hosting a rustic wedding, these alderwood coasters are an ideal end-of-night surprise. Customized with your names and date, guests can protect their furniture all while remembering your beautiful day.
17. Seasonal Bottle Stoppers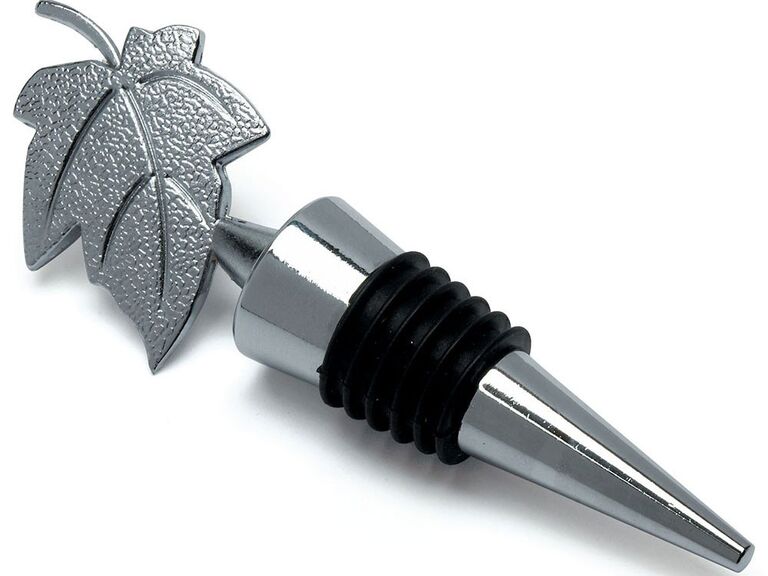 Another great place to get inspiration for your guests' wedding souvenirs? The season you're tying the knot in. If, like so many you've fall-en in love with the idea of a fall wedding, these leaf-motif bottle stoppers are the perfect party favor. The next time your guests open a bottle of wine but don't polish it off by the end of the night, they'll pull out this bad boy.
18. Elegant Chopsticks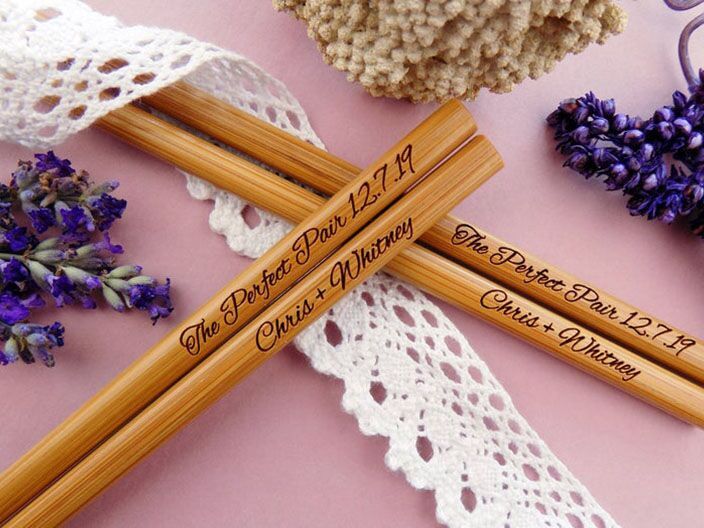 For a Mother Nature-friendly wedding favor idea, we love these personalized bamboo chopsticks. Every time your loved ones enjoy traditional East Asian cuisine, they'll pull these out and reminisce back to your nuptials.
19. Romantic Tea Bags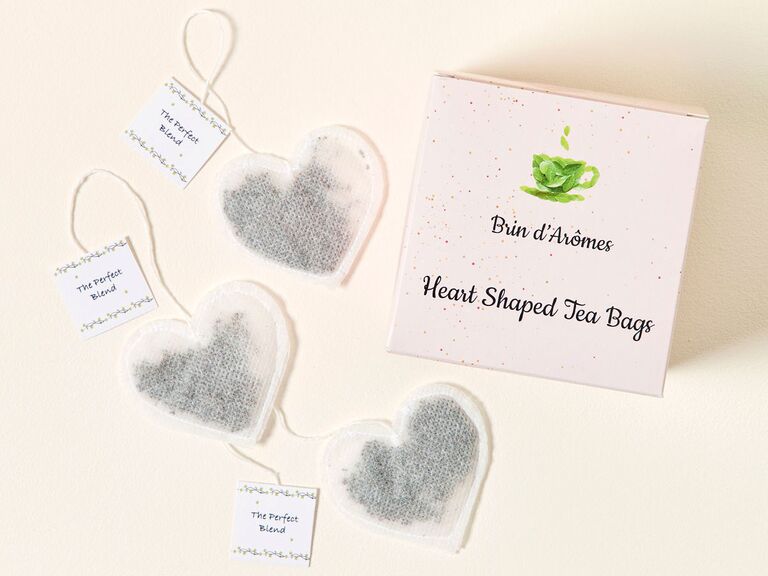 For smaller affairs—or perhaps even as a bridal shower favor—these heart-shaped tea bags are simply adorable. Each tea bag has an on-theme label attached that reads: "The perfect blend." We appreciate the sentiment and the attention to detail.
20. Adventure-Themed Matchboxes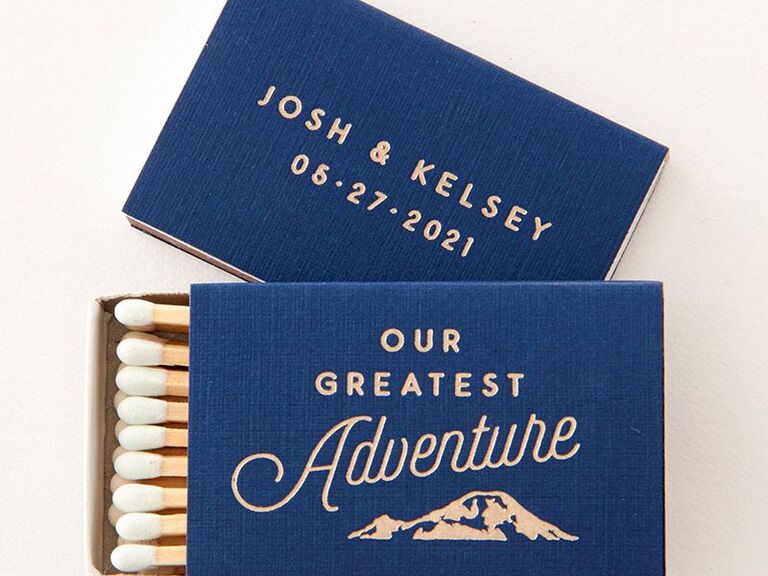 For wedding favor ideas that really strike a chord in cuteness and practicality, try this personalized matchbox set. Not only is it a nice design, but your guests will get plenty of use out of it too. It's an especially fitting wedding guest gift idea if you're saying "I do" in the mountains or against another scenic, natural backdrop.
21. Cute Coffee Mugs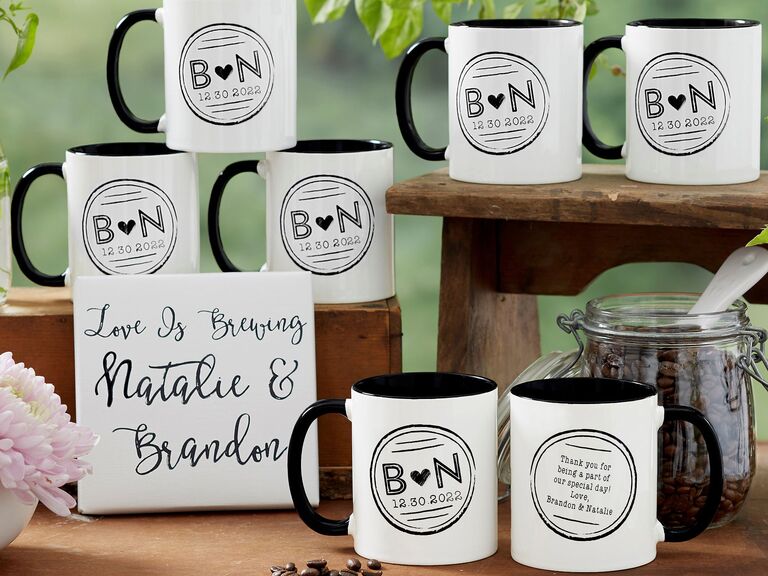 Some wedding favor ideas may seem cool in theory but can potentially be forgotten after the wedding. That's not the case with these super-useful mugs. Each one is personalized with your initials and wedding date on the front, while the back is reserved for a personal thank-you message. Trust us, your loved ones will be drinking their morning tea or coffee from these clever keepsakes on the daily.
22. Fun Guitar Picks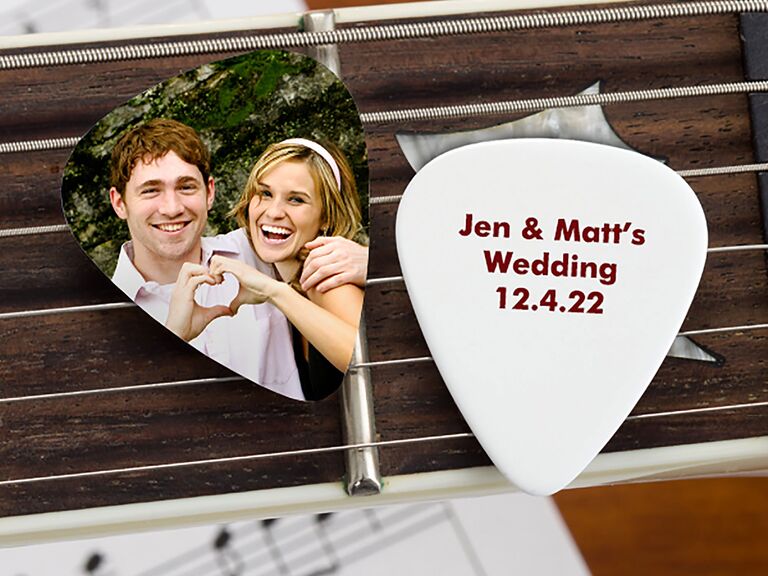 Ready for one of the most unique wedding favors for guests on our list? These guitar picks might be a tad unconventional, but they'll definitely get your loved ones' attention. If music has played a big role in your relationship, they're also a super-meaningful way of sharing your love story. There's space for a photo on the front and the date of your nuptials on the back.
23. Modern Salt and Pepper Shakers
Want to make sure your wedding favors get plenty of use? Practical and decorative homeware is the way to go. Exhibit A: These stylish salt and pepper shakers that are not only useful, but a fun addition to any tablescape. We love how these shakers are fashioned in trendy geometric shapes.
24. Magical Wish Cards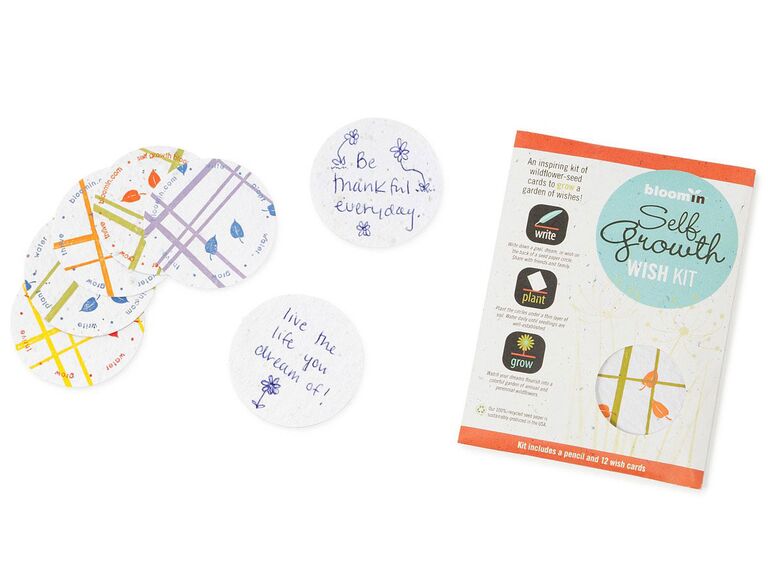 Your soon-to-be-spouse is your dream come true. Help others make their own wishes that will bloom into gardens with this sweet wedding favor idea. Each pack includes 12 plantable cards that you can write on.
25. Classy Hand Fans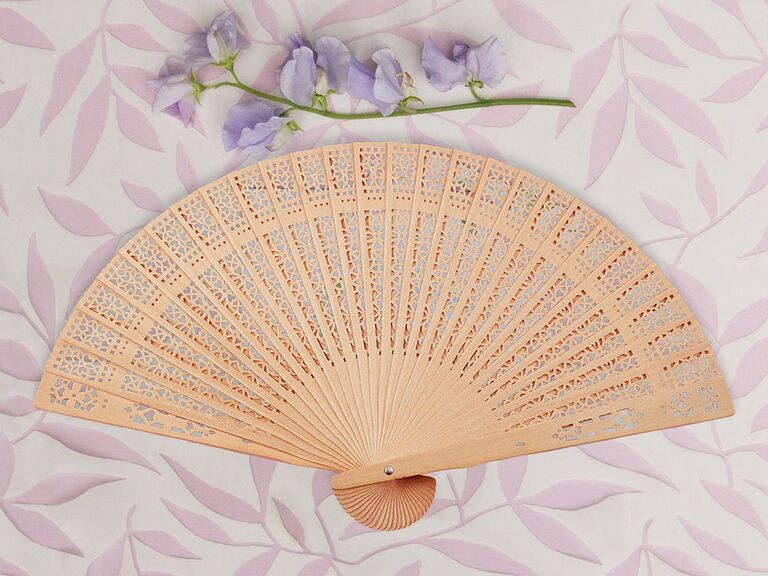 Perhaps you picked a beautiful, tropical oasis as the backdrop for your big day. Here's another thoughtful wedding souvenir idea for your attendees. These sandalwood hand fans are a classy wedding favor idea that will come in clutch during the ceremony, reception and beyond.
26. Shabby-Chic Honey Jars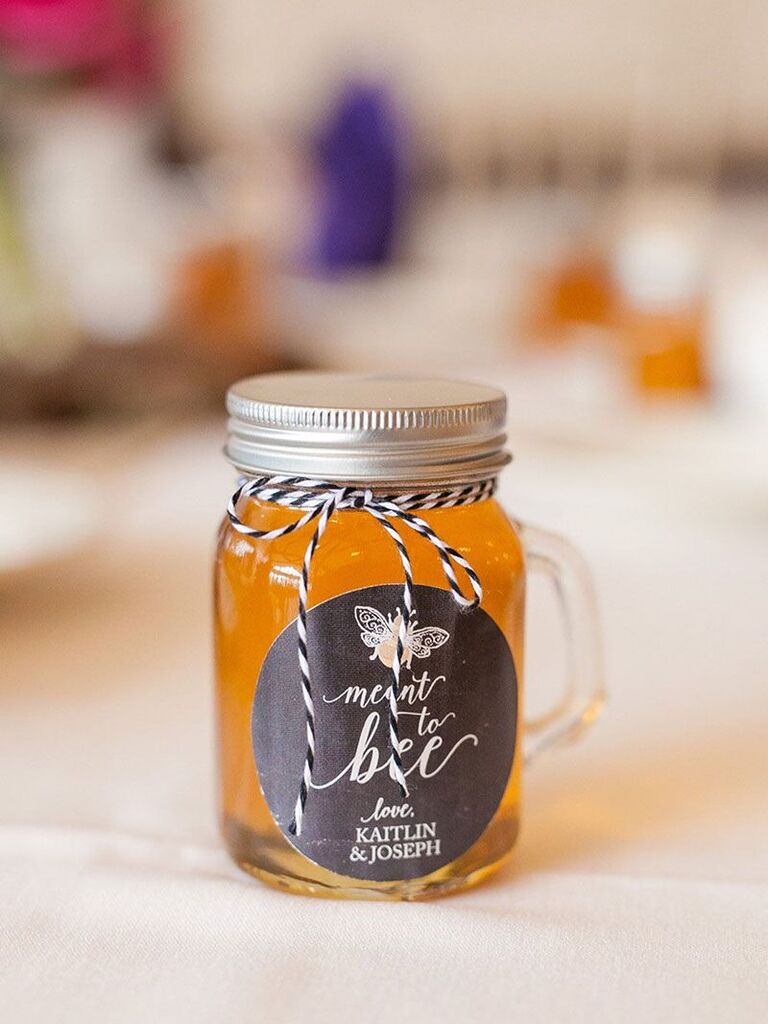 How sweet it is to be surrounded by love on your big day. These personalized honey jars are fun items for your guests to take home and enjoy as part of a tasty postwedding breakfast. They're especially fitting for summer and spring celebrations in the great outdoors.
27. Wedding Face Masks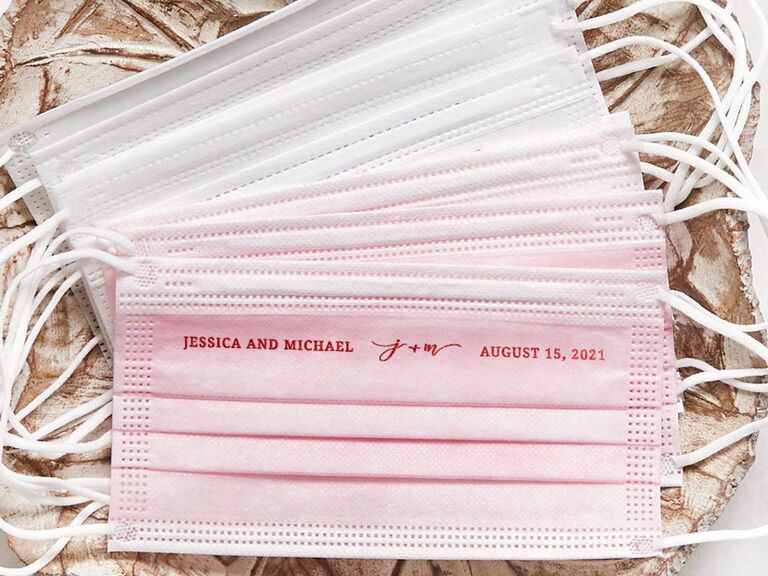 If masks are a requirement at your wedding venue, encourage guests to stay protected by distributing custom wedding masks. With your names and the date inscribed in metallic foil on the front, these custom masks are a cute (and useful) wedding favor that won't go untouched. Plus, you can customize the mask and font color to match your wedding theme.
28. DIY Scratch-Card Bags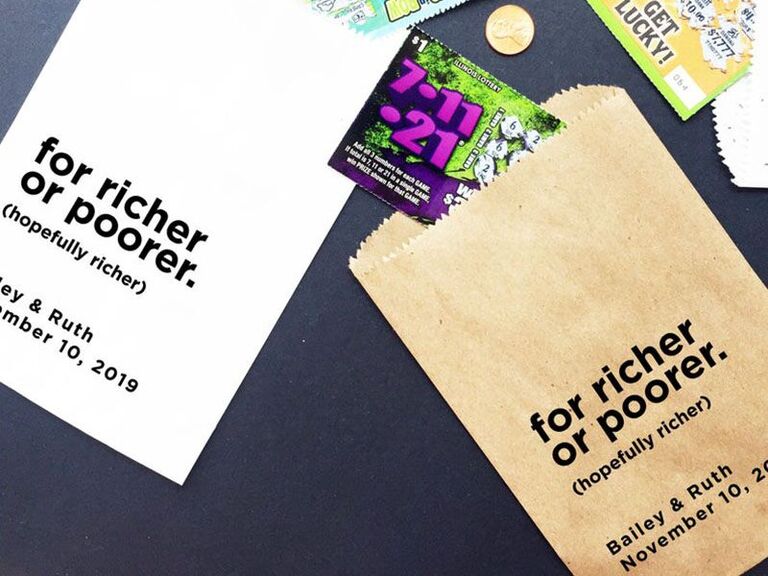 Marrying your partner is just like winning the lottery. Pay the gesture back to your loved ones with these personalized scratch-card bags—just add the lottery tickets yourself. It's a thoughtful gift idea for your wedding guests that's easy to pull off.
29. Leather Luggage Tags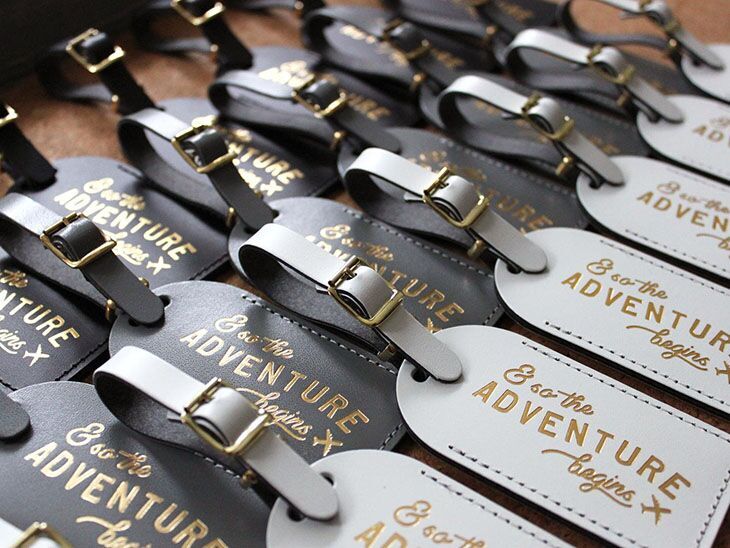 Yes, you can (and should) give guests wedding favors if you're hosting a destination wedding. One really cool idea? Stylish luggage tags printed with a fun, travel-themed phrase. These leather luggage tags will come in handy on the trip home. Plus, since they aren't personalized, your loved ones can use them for all their future travels. Talk about great take-home wedding gifts!
30. Plantable Pine Seedlings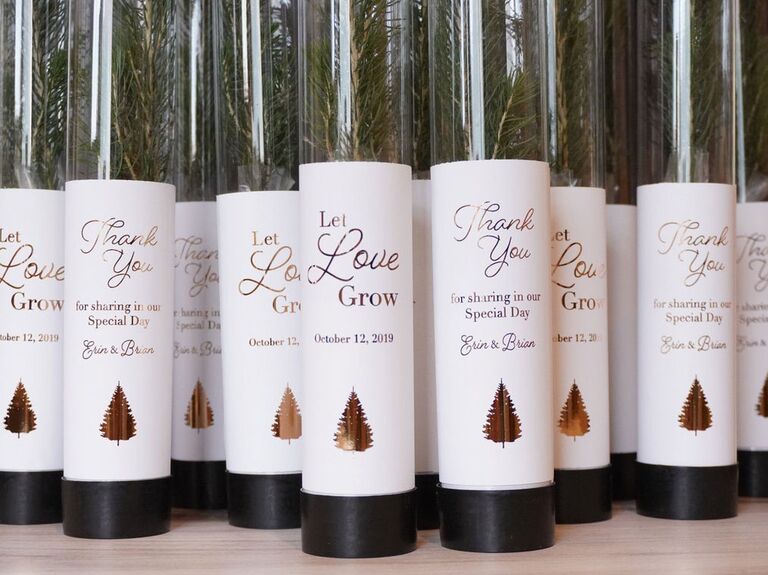 For those hosting a wedding in the colder months of the year, this spruce seedling is a fragrant and seasonally-appropriate winter wedding favor idea. Even if your guests don't grow a tree from it, they'll enjoy receiving a gift from nature.
31. Photo Magnet Mementos
A photo of you and your sweetheart is a lovely wedding souvenir for guests, especially if you're holding an intimate wedding with only your nearest and dearest. Simply choose a snapshot you both love and have it personalized with your names and the word "love" in romantic script. Your guests will smile fondly every time they see it on their refrigerator.
32. Funny Airplane Gliders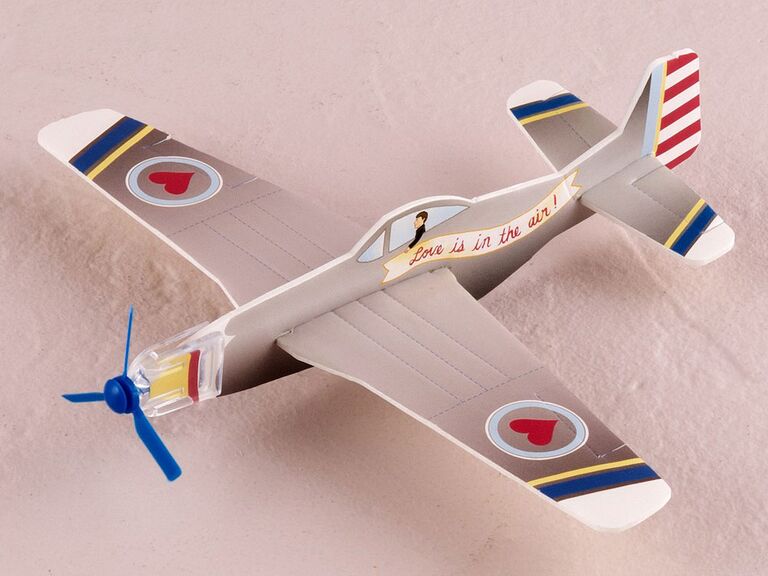 Up, up and away you go into a happy marriage. We love these sweet personalized gliders to hand out at a destination wedding that takes your romance to new heights. This is a particularly great wedding favor idea for guests if you're hosting lots of little ones at your event.
33. On-Theme Favor Bags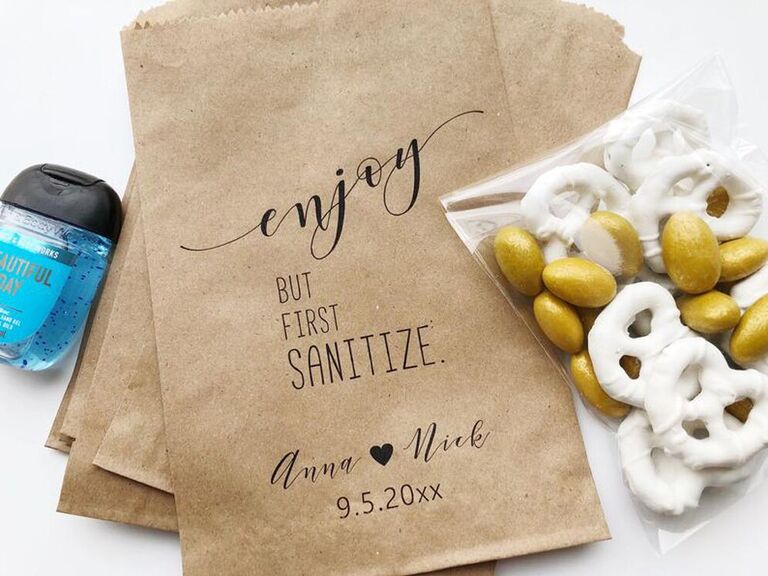 For those supplying wedding face masks, hand sanitizer or other health and safety-inspired gifts, distribute them in these custom treat bags to limit direct contact. Or, fill them with pre-packaged treats or snacks for guests to enjoy at the end of the night.
34. Rustic Drinkware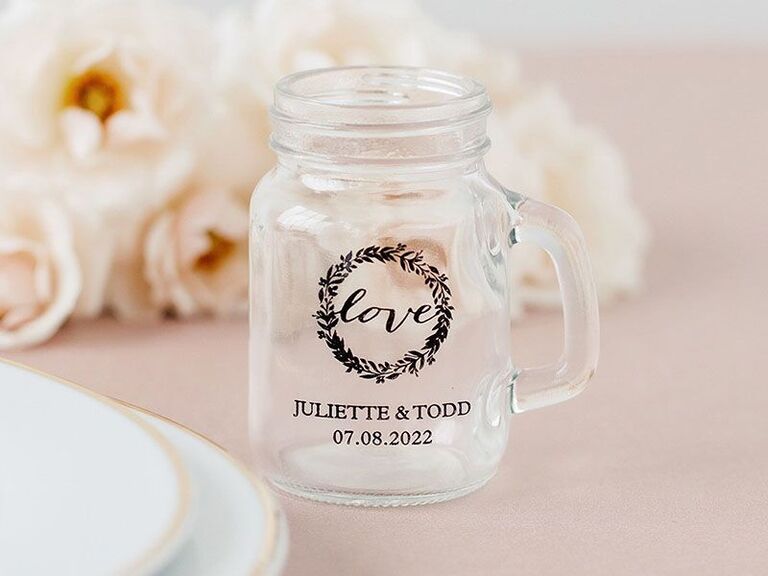 Add your name or wedding hashtag to this cute favor, fill it with your potion of choice and have all wedding guests take a shot. Then, they can take it home to remind them of the fun evening they had with loved ones. The best wedding favors are practical and sentimental, and this is one of our favorite examples.
35. Scented Candles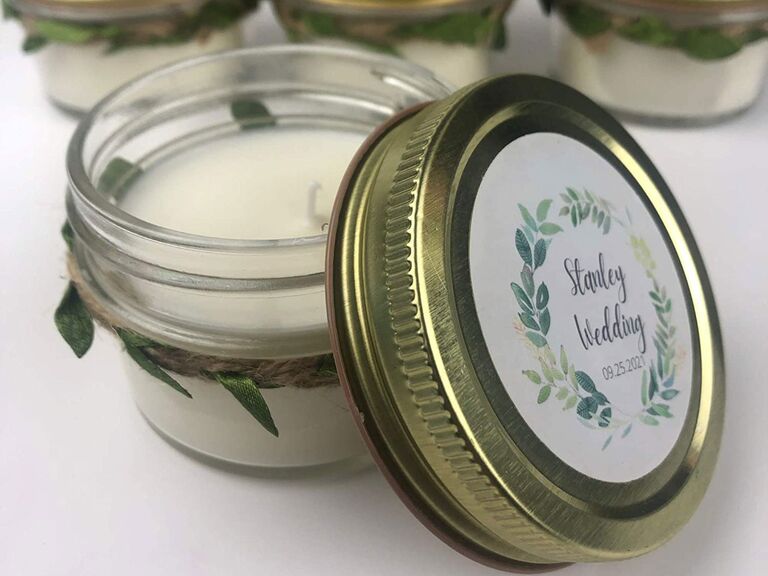 Still wondering what to put in your wedding favor bags? You can buy these personalized scented candle favors from Woven Wax in bulk. Choose between 10 different fragrances ("love spell" is especially appropriate), then customize the writing for the lid. You can opt to include your new titles and shared last name (Mr. and Mr., Mrs. and Mrs., or Mr. and Mrs.) or just your last name.
36. Mint to Be Favor Bags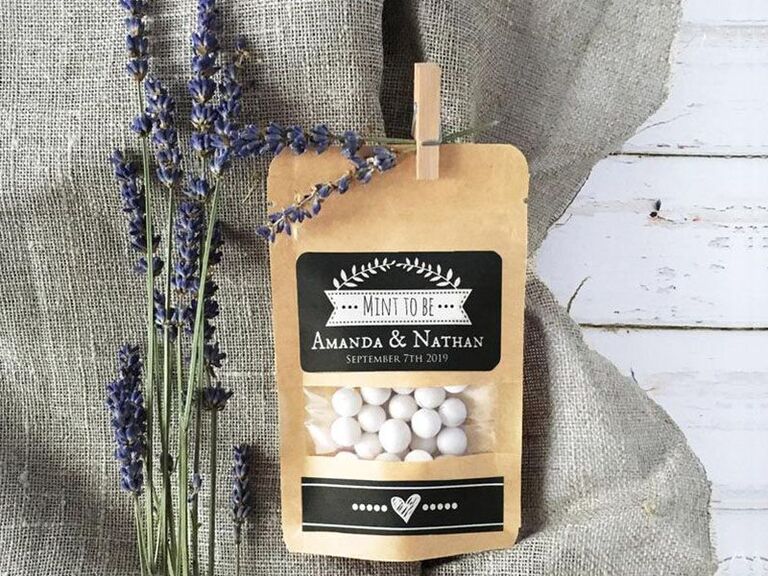 If you're up for the challenge, DIY wedding reception favors are a good way to save on your guests' souvenirs. Plus, handmade party favors come with an extra dash of love from you and your soon-to-be spouse. These rustic gift bags are personalized with your details beneath the romantic phrase: "Mint to be." Simply add your own candy or homemade mint-flavored treats.
37. Personalized Golf Balls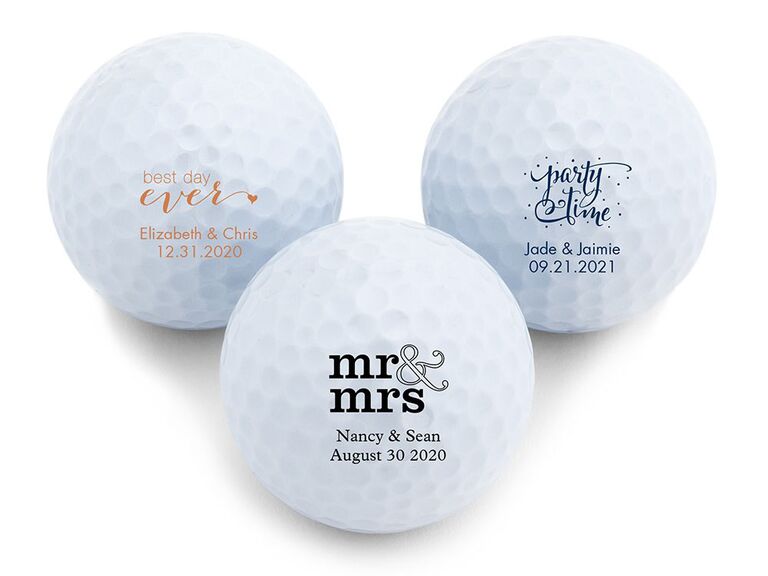 Leave it to The Knot Shop to have some really fun wedding favors! If you're saying "I do" at a country club or planning to include other golf-inspired details in your big day, these are the wedding favors for you. Gift each of your guests a golf ball personalized with your wedding details and a cute graphic or elegant monogram.
38. Useful Whisks
Good wedding favors are small, practical and meaningful to boot. Is baking a big part of your lives or relationship? Give your loved ones a sneak peek into your union with these mini silicone whisks in a romantic shade of pink. They'll be a hit with guests, especially if you pair them with a small sweet treat like a cupcake.
39. Custom Photo Playing Cards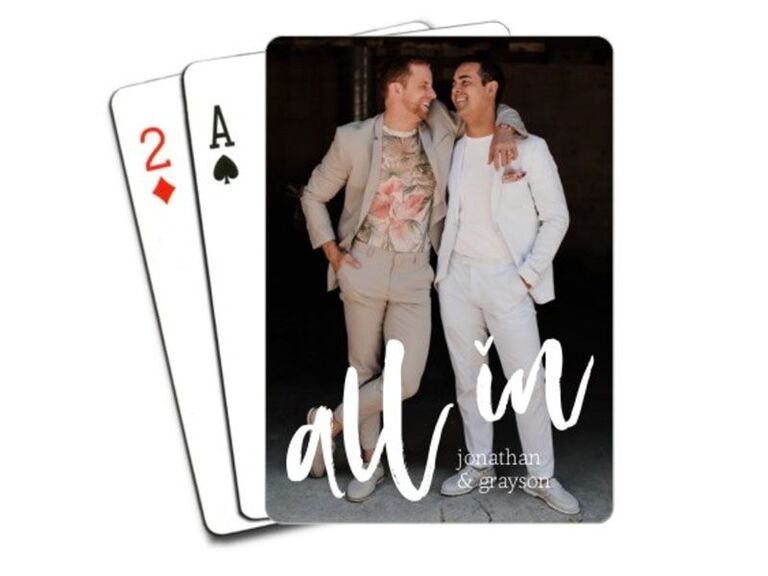 After playing games with far too many singles, you finally drew a solid hand with your one-and-only. These playful cards will lead to plenty of games for your guests in the future. The back of each card is printed with a romantic couple's portrait paired with your names and the words, "all in." (Awwh!) Don't forget to nab a deck of these romantic cards as a keepsake for yourself too.
40. Luxe Favor Bags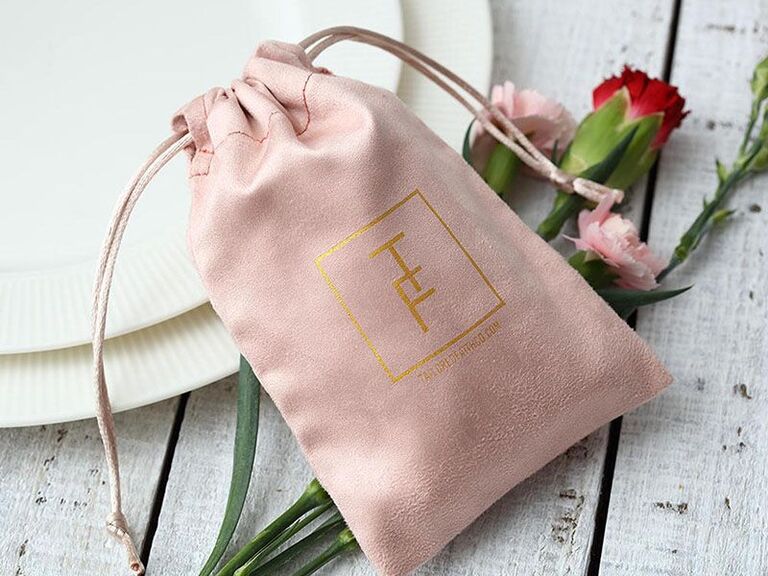 Don't be afraid to think outside the box with your wedding guest gift ideas. Anything goes with these custom pouches. Fill them with homemade treats, or gift them to your bridesmaids to transport jewelry and other essentials on your big day. Regardless of their purpose, these chic bags are sure to make the receiver happy.