Your Guests Will Love These 7 Booze-Centric Destination Wedding Locations
Bottoms up!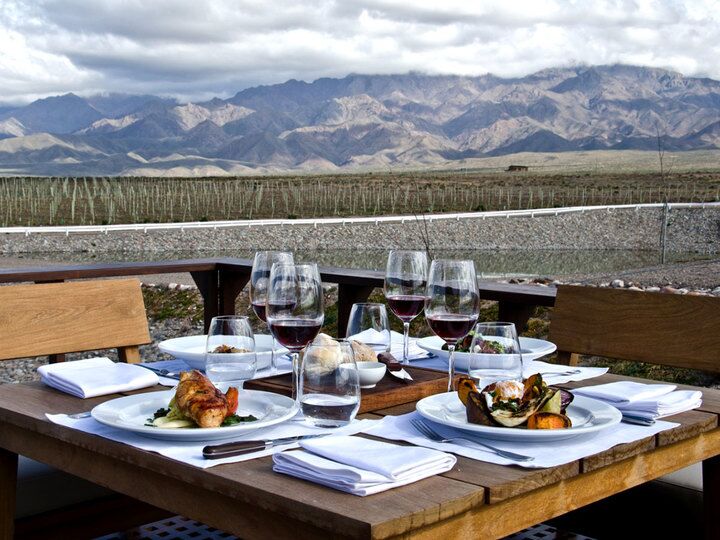 Casa de Uco
Epicureans may want to sip a little something special throughout their wedding weekend—so if you're planning a destination wedding, check out these locations that offer up a special regional drink or experience that you and your guests will love. 
Wine in Argentina
Situated across a 790-acre estate and vineyard in Argentina, Casa de Uco's parcel tasting excursion allows travelers to ride on a tractor with the sommelier and chef, hopping from plot to plot where a glass of wine from each plot awaits the guests with food pairings.
Whiskey in New Orleans
Steps from the French Quarter, Hilton New Orleans Riverside's speakeasy, Public Belt, features mixology classes where guests can craft America's first cocktail, the Sazerac, which was created in New Orleans. The classes begin with a history lesson followed by an interactive demonstration creating the city's signature drink.
Rye in Charleston
Master cocktail craftsmen at Charleston's 1920s-inspired speakeasy, The Bar at The Spectator Hotel, offer travelers the chance to indulge in the South's elixir of choice in one-on-one mixology classes that showcase an array of locally-sourced ryes, such as Virgil Kaine's High-Rye Bourbon and Calhoun's Rye, all produced in the heart of the Lowcountry.
Rum in Key West
Casa Marina and The Reach, sister Waldorf Astoria properties sitting on a private beachfront in Key West, offer guests an immersive rum experience paying tribute to the island's rum running history. The resorts offer educational tours of Key West's first legal rum distillery, Key West Legal Rum, followed by rum tastings at Casa Marina's newly opened rum bar featuring the most expensive collection of rum in Key West.
Bourbon in Kentucky
Located in the heart of the "birthplace of bourbon," Lexington, Kentucky's Griffin Gate Marriott Resort & Spa allows travelers to indulge in the hotel's very own Private Select single barrel bourbon finished from fully-matured cask strength Maker's Mark Bourbon and a custom selection of oak staves. Building out a flavor profile, the Griffin Gate team aged the barrel for nine weeks before offering the ultra-exclusive pour to guests.
Beer in Hawaii
Hilton Waikoloa Village on Hawaii Island recently opened Kona Tap Room, Kona Brewing Company's first branded tap room. As a locally-beloved brewery that's gained international popularity, guests enjoy immersive brewery tours followed by beer and food pairing classes featuring small-batch beers that are only available in Hawaii.
Spiked Mayan Coffee in Mexico
As a part of their all-inclusive offering, Sandos Caracol Eco Resort offers guests the chance to sip a cup of brew with traditional Mayan flair during each of Sandos' evening shows. As a part of their Xcalacoco Experience, a dedicated Mayan coffee master brews espresso over an open flame and accents each cup with the typical liquor of the region called Xtabentun.