40 White Wedding Flower Ideas For Monochrome Lovers
One color doesn't have to mean one-note, as these stunning arrangements prove.
White is the color most traditionally associated with weddings and it's not hard to see why so many to-be-weds choose a color palette with the crisp shade. When it comes to white wedding flowers, the options are nearly limitless. Not only are there plenty of great white cut-flower varieties (from rose and tulip to hyacinth, lily and mascari), but there are also plenty of white foliage and filler options to ensure your monochromatic designs are anything but one-note. As you scroll through the ideas below, make sure to save all the options that pique your interest so you can share them with your floral designer.
In This Story:
Top Tips for White Wedding Flowers
Focus on Texture
A lack of color doesn't have to mean a lack of visual intrigue. By utilizing different types of all-white botanicals, you can still have a bouquet that's eye-catching thanks to ample texture. "While this can sometimes be difficult to achieve, making an all-white floral arrangement multi-dimensional is a sure-fire way to avoid falling flat. You can pull this off by weaving in various types of flowers and playing around with different dried grasses or greenery. This creates character and movement, and your arrangement will look like a high-end monotone creation rather than something that's too plain and one-note," says Eddie Zaratsian, owner of Eddie Zaratsian Lifestyle & Design.
Trust Your Floral Designer
Remember that your floral designer is the expert and they know what varieties will be available on your wedding date in your wedding location. If they suggest swapping lisianthus for peonies because peonies won't be available, defer to their expertise. They'll be able to artfully meld your vision and aesthetic with materials that can be procured for a reasonable price. Michelle Norwood, owner of Michelle Norwood Events, advises to-be-weds to "choose a florist whose style you like. But don't get caught up on a specific type or color of flowers."
White Wedding Bouquets
Whether you're wearing white wedding attire or mixing it up and donning a color-packed ensemble, an all-white bouquet will complete the look beautifully. White wedding bouquets are a truly classic and timeless option you're sure to look back on in ten years with the same level of fondness you felt on the day you said "I do."
1. White Hydrangea and Rose Bouquet
Fluffy white hydrangea blooms made this bouquet feel totally elegant.
2. White Astilbe, Rose and Veronica Bouquet
To add more dimension to this rose bouquet, the floral designer layered in astilbe and veronica.
3. Monochromatic Orchid and Baby's Breath Bouquet
Since orchids are such small blooms, bunches of baby's breath added volume to this cascading bouquet.
4. White Bouquet With Lisianthus, Peony, Ranunculus and Rose
While people generally picture a pink bloom when thinking about peonies, there are white varieties that are absolutely beautiful.
5. Long-Stemmed Bouquet of Orchid and Rose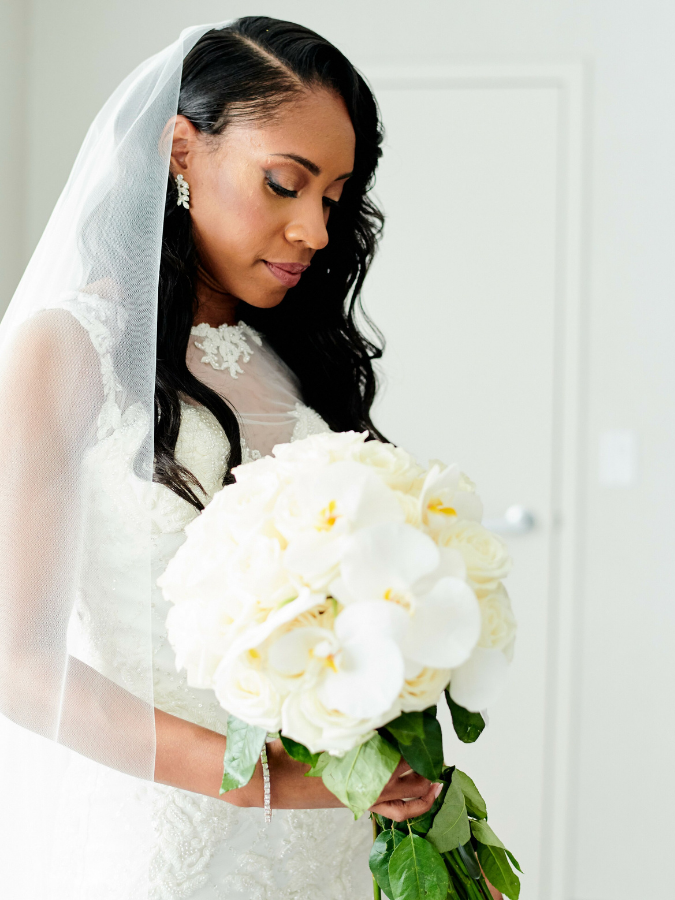 While the stems from cut-flower bouquets are generally cut short, if you'd rather carry a dramatic arrangement with tall stems then ask your florist to keep some length intact.
6. Nerine and Ranunculus Bouquet With Trailing Greenery
For this California wedding, trailing greenery ensured the bridal bouquet fit with the day's relaxed vibe.
7. Boho Anthurium, Palm and Sweet Pea Bouquet
A dried palm frond fanned out behind this neutral bouquet and added a nice backdrop to the boho clutch.
Find your kind of venue
From barns to ballrooms, discover reception venues that feel like you.
8. Hydrangea and Rose Bouquet With Evergreen Foliage
Since this Washington, DC, wedding was filled with wintry details, it was only natural that the floral designer would add in evergreen sprigs to complete this white bouquet.
9. Anemone, Orchid, and Scabiosa Bouquet
The juxtaposition from the black center of the anemone blooms in this bouquet added a fresh and modern feel to the otherwise monochrome bouquet.
10. Cascading Orchid Bouquet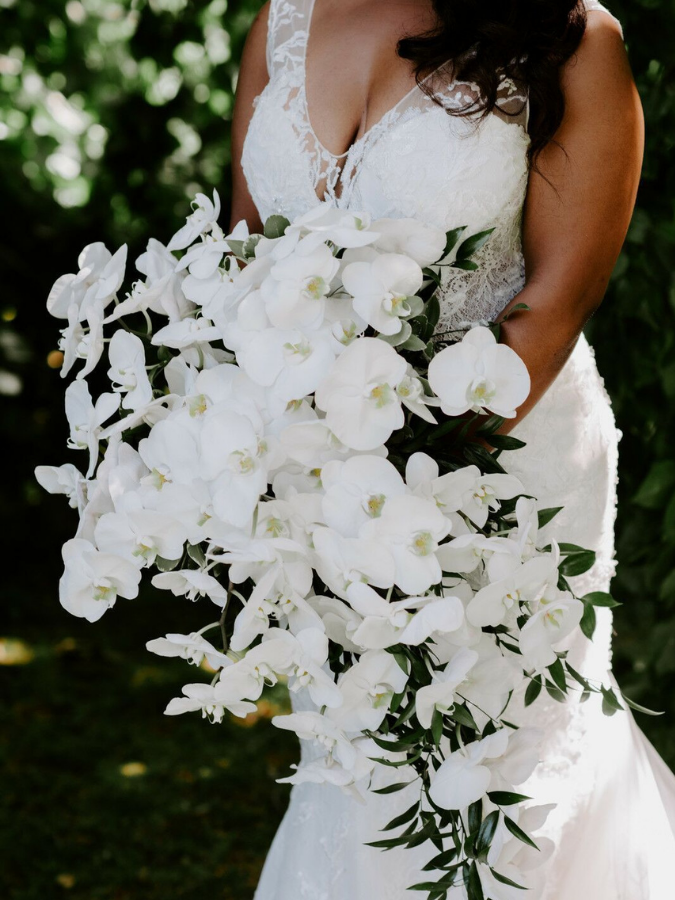 If you're interested in a bouquet with only one variety of flower, you can never go wrong with a classic choice like all orchids or all roses.
11. Classic Astilbe, Peony and Sweet Pea Bouquet
Every bloom in this dainty spring wedding flower arrangement was an absolute dream.
12. White Peony and Rose Bouquet
When it comes to designing bridesmaid bouquets, it's a great idea to have them mirror your bouquet, just on a smaller scale.
13. White Rose Bouquets
These big day flower arrangements were filled with nothing but white spray roses. The clutches popped beautifully against the bride's white wedding dress and the caramel-hued bridesmaid dresses.
14. Peony and Stock Bouquets
Lush white peony blooms were accented by sprigs of stock in these summer wedding bouquets.
15. Elegant Peony Wedding Bouquet
This white bridal bouquet was filled with dreamy white peony blooms that further elevated this elegant wedding.
16. Dahlia, Garden Rose, Orchid and Ranunculus Bouquet
This bouquet was a great reminder of the power of texture. Despite being monochrome the fall wedding floral arrangement was absolutely stunning, thanks in part to ample texture.
17. White Garden Rose Bouquet With Leaves
Since the bride and bridesmaids at this wedding were dressed all in white, a pop of green in the otherwise all-white bouquets added a little whimsy to the overall wedding day look.
18. White Bouquet With Olive Branches
To complement the white blooms in this summer wedding bouquet, the floral designer added in olive branches as filler.
19. Peony and Rose Bouquet With Seeded Eucalyptus
A few sprigs of smilax and seeded eucalyptus filled out this white bouquet that was filled with peony and garden rose blooms.
20. Boho Bouquet With Ranunculus, Rose, Ruscus, Orchid and Pampas Grass
While orchids are often associated with glam or modern wedding styles, we love how this floral designer utilized the white blooms alongside pampas grass to bring a boho, whimsical feel to the bouquet.
21. Classic Peony and Veronica Bouquet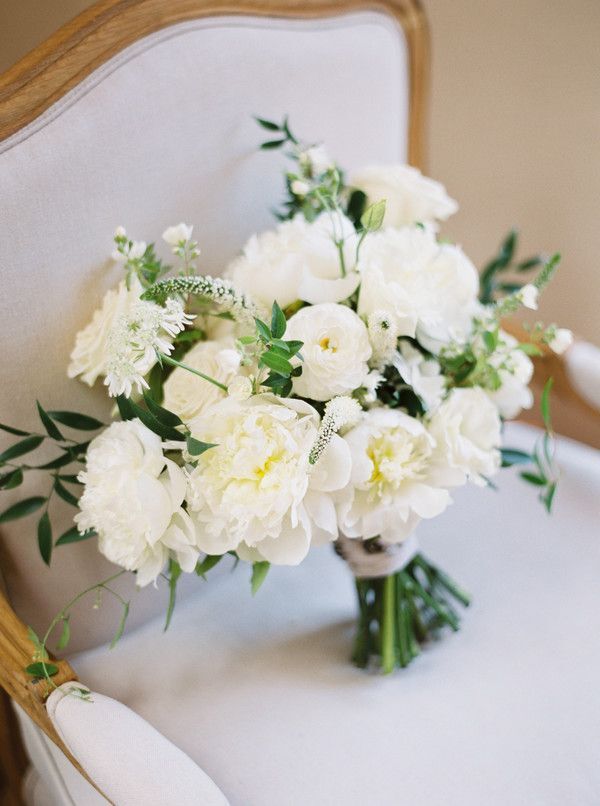 We simply can't get over how lush these white peony blooms are in this spring wedding bouquet.
White Boutonnières
Chances are the wedding suits you've selected are black or navy. To ensure your boutonnières don't get lost on the lapel, opt for white wedding boutonnières or corsages that'll pop nicely against a black or navy background.
22. Hypericum Berry and Lisianthus Boutonniere
For boutonnieres, lisianthus is a great alternative to rose because the blooms are often a bit smaller and don't overpower a lapel.
23. Nerine Boutonnieres With Eucalyptus
A single silver dollar eucalyptus leaf was used as the backdrop to these white nerine boutonnieres.
24. Dried Flower Boutonniere With Heirloom Photograph
A charm with an heirloom family photograph completed the groom's boutonniere at this coastal wedding in Georgia.
25. Calla Lily and Lily of the Valley Bouquet
Lily of the valley, the preferred bloom at many royal weddings, ensured this calla lily boutonniere felt totally regal.
26. White Ranunculus Boutonniere
This groom wore a simple white ranunculus boutonniere on the lapel of his tux for his wedding in Costa Mesa, California.
27. Boho Boutonniere With Bunny's Tail
Bunny's tail is a petite, feathery white foliage that's similar aesthetically to pampas grass but works really well on a small scale, like in this boutonniere for a wedding in San Juan Capistrano, California.
White Wedding Ceremony Floral Arrangements
From a floral altar arch to lush arrangements lining the aisle, the wedding ceremony is one area you shouldn't overlook while planning out your floral designs. Baby's breath is an on-trend and hearty option for large-scale installations like arches, but white roses are a great choice if you want a look that feels totally classic.
28. Flower Girl With Baby's Breath Flower Crown
A simple flower crown of baby's breath completed this flower girl's adorable look.
29. Modern Anthurium Ceremony Aisle Arrangement
Arrangements of white anthurium sat atop acrylic pedestals and lined the aisle at this oceanfront wedding in Montauk, New York.
30. White Ceremony Backdrop Wall
If you're commissioning a dramatic installation, like this all-white flower wall, carnations are a great swap for roses to help stretch your budget a little further.
31. Urn Arrangement With Amaranthus, Hydrangea, Stock and Veronica
Large arrangements in urns work well to anchor the entrance to a wedding ceremony.
32. Baby's Breath, Hydrangea and Rose Ceremony Arch
An all-white altar arch is a great way to frame your wedding ceremony. For more wedding arch ideas, take a peek at these inspirational arches.
Wedding Wedding Reception Floral Arrangements
Centerpieces will likely be the focus of your reception florals, but don't feel like you have to stick with tradition. If you want to commission dramatic floral chandeliers, go for it. Maybe you dream of a floral backdrop for your photo booth, that's an idea we fully support. No matter what, using nothing but white flowers in your designs is a modern and chic choice that'll have your guests raving.
33. Acrylic Table Filled With Roses
This couple served dinner on a table that was similar to a shadow box and filled with monochromatic spray roses. Pro tip: Leave a decor moment like this to the pros, there are some wedding details it's better not to DIY.
34. Dried Ruscus and Pampas Grass Chandeliers
Guests at this wedding in California dined under an assortment of boho hanging arrangements made of ruscus and pampas grass.
35. Cake With Cascade of White Blooms
Talk about a wow moment! This wedding cake featured an over-the-top swirl of fresh flowers.
36. Modern Calla Lily and Orchid Centerpieces
Elephant ear leaves and a few sprigs of stock completed this modern tablescape that focused on vases filled with calla lily and orchid blooms.
37. Tablescape With White Floral Runner and Tall Centerpieces
Instead of a cloth table runner, this couple opted for a dramatic runner made entirely out of white flowers.
38. Romantic Hydrangea and Rose Centerpiece
What's not to love about this classic floral arrangement? For even more ideas, peruse these real weddings that utilized white centerpieces as part of their reception design.
39. Neutral Tablescape With Bud Vase Arrangement
Instead of placing large centerpieces atop the reception tables, this couple opted for groupings of petite designs in soft gray vases.
40. Minimal White Rose Tablescape
A grouping of vases, each with a single white rose, caught guests' eyes at this reception.