5 Genius Takes on the Classic Hot Dog
As if you need another reason to enjoy a good hot dog.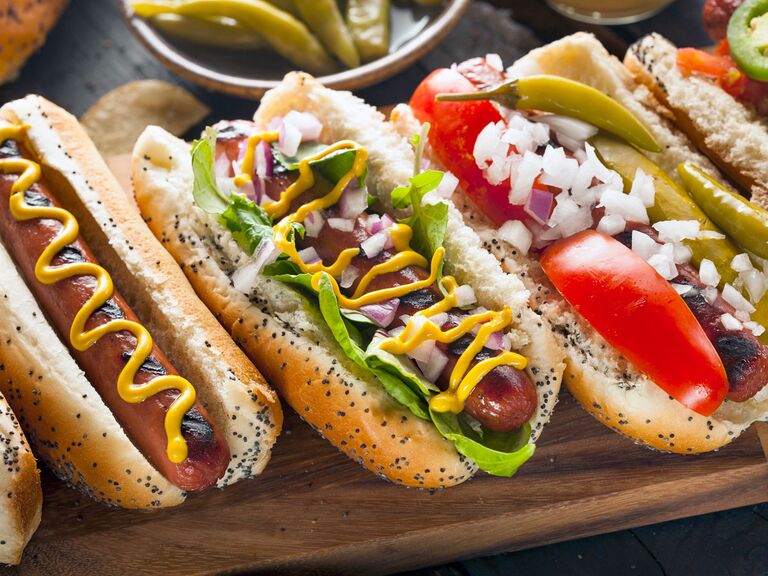 iStock
Hot dogs are often underrated—their companion, the burger, tends to take the front seat at summertime barbecues. We get it—plain hot dogs aren't anything special, but when loaded with yummy toppings, this American classic transforms into a culinary masterpiece. Dressed up dogs make the perfect addition to an outdoor or summer wedding. So check them out for a little inspiration, then fire up the grill and create your own renditions of this hand-held favorite.
Cheesy Hot Dog
You won't forget this dog's toppings: whipped herb goat cheese, caramelized onions and candied jalapeños.
Fancy Danish Hot Dog
Pickled radishes and arugula make this gourmet dog extra special.
Cheesesteak Hot Dog
If you love the Philly cheesesteak, try this hot dog version that includes thinly sliced beef, peppers, onions and, of course, that famous Philly Cheez Wiz.
Mexican Hot Dog
Put your nachos on a hot dog with black olives, Mexican blend cheese, sour cream and guacamole.
Pickle-Enhanced Dog
If you're hesitant to deck out your dog, dip your toes in the toppings pool by adding a few pickles, some Dijon mustard and ketchup.