You've Got to See The Knot Dream Wedding Bride's Bridesmaid Proposal Gifts!
The Knot Dream Wedding Bride, Asha Joyce, gave us the scoop on her bridal party proposal—you'll love her sweet sports-themed gift idea!
by Maggie Seaver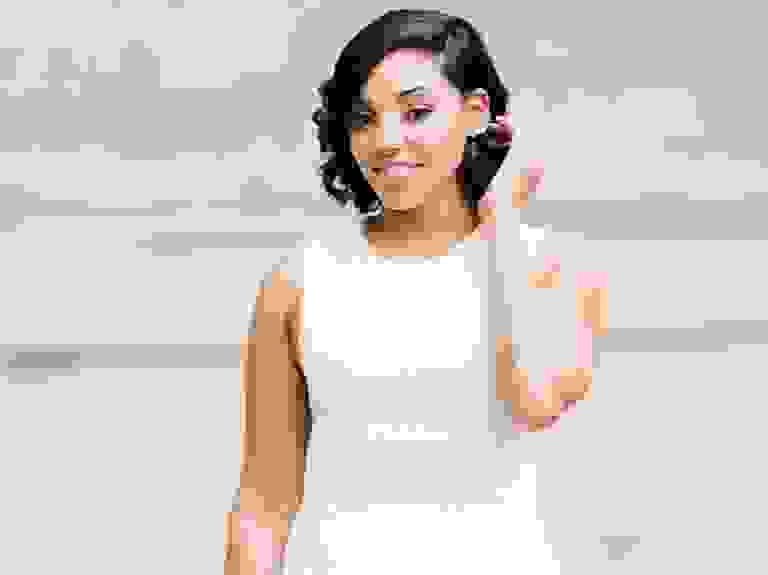 Wedding planning is finally starting to feel real for The Knot Dream Wedding's bride-to-be, Asha Joyce! Joyce, who's been engaged to Devon Still, NFL defensive tackle for the Houston Texans, since 2014, recently asked seven of her closest friends and family members to be her bridesmaids. While Joyce excitedly waits for The Knot readers to vote on her 2016 wedding details, she's thrilled to have her bridal party set!
And what better way to propose to her bridesmaids than with customized football jerseys? "I definitely wanted to have a football theme, because it's our life," Joyce tells The Knot. "I thought it'd be really cute if we all had jerseys, especially if we could wear them at the same time." (We're thinking bachelorette party uniforms!)
For the proposal, Joyce and her ladies got together at a local sports bar for a Monday Night Football game, where she presented them with the sweetest bridesmaid proposal goodies: pink football jerseys with "Bridesmaid" written across the back and a number "1" for each of them.
"They all knew why we were together, because we'd been talking about different ideas for the wedding," Joyce says. "But they didn't know about the gifts, so they were surprised!" Naturally, Joyce needed a jersey too—a white one with "Bride 2B" stamped on the back.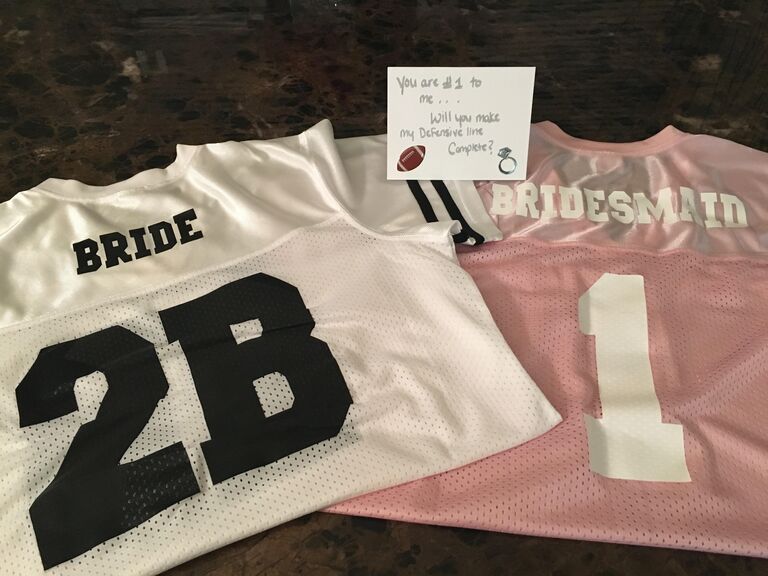 Along with the custom jerseys, Joyce handed out notebooks and cards. The note cards, each decorated with cute stickers of a football and an engagement ring, read, "You are #1 to me… Will you make my defensive line complete?" So sweet!
There's no "Maid of Honor" jersey, though, because Joyce and Still want to have just bridesmaids and groomsmen. "On both sides, we're really close to our wedding party," Joyce says. "It's hard to pick one maid of honor and one best man. We decided to avoid all confusion and conflict and just make everyone equal."
As for the flower girl? She's Devon Still's amazing daughter, 5-year-old Leah Still, of course. "I haven't asked her yet, but she already knows she's the flower girl—she's not having it any other way!" Joyce says.
Want to steal her idea? Joyce ordered the jerseys from LogoSportswear and had a family friend, a photographer and graphic designer at SB Dezign, customize the names and numbers.

Want more details on The Knot 2016 Dream Wedding couple? (Of course you do!) Here are 10 things you need to know about Joyce and Still. And don't miss their stunning engagement photos!