The 10 Most Popular Wedding Themes Right Now
The to-be-weds have spoken and rustic weddings still reign supreme.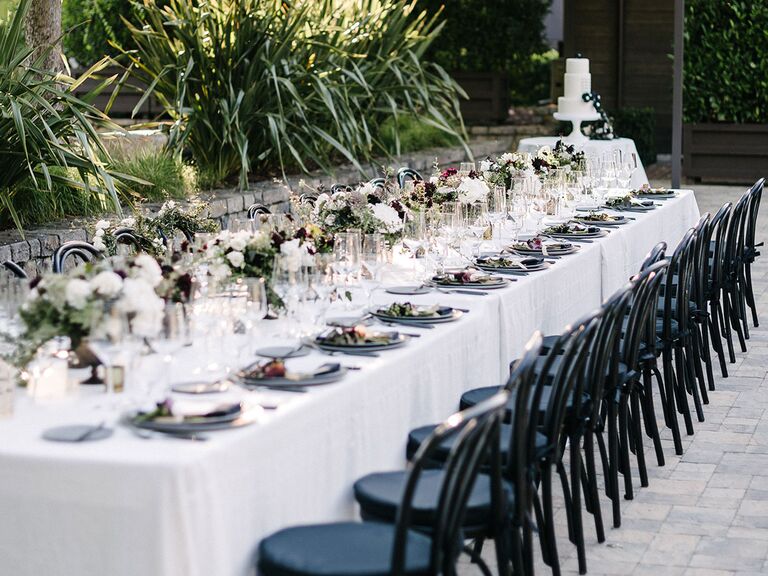 Melanie Duerkopp Photography
Nearly 25 percent of all couples incorporate some sort of customized theme into their wedding, according to The Knot 2016 Real Weddings Study. We've seen couples create thematic experiences that are completely unique to their relationship—one creative couple wove a quilting motif throughout their entire celebration because their loved ones insist they're "cut from the same cloth" (how cute is that?). But you don't have to put pressure on yourself to break new ground with your wedding theme (unless you want to, of course). There are so many fun and beautiful ones to play around with, and we've rounded up 10 great themes couples are currently loving. See if yours made the list!
1. Rustic
Typically more relaxed, natural and full of local, homespun touches (like handmade wood tables and chairs in a barn venue), rustic weddings have been number one on this list for a few years now.
Synonyms: rustic chic, rustic country, rustic elegant and modern rustic
2. Beach
The smell of the salt air, the sound of the tide and the feel of fresh sea breeze on your cheeks as you exchange vows. Is there anything better than a wedding by the shore?
Synonyms: beachy, nautical or yacht
3. Vintage
Why not make your "something old" your wedding theme? Sprinkle antique touches and other heirloom details throughout your attire and décor for a timeless, vintage feel.
Synonyms: vintage elegant, modern vintage, vintage glam and antique
4. Travel
Bring your shared sense of wanderlust to life at your wedding. Your options are endless: Name reception table after your favorite places, make your seating chart out of a giant map or design your escort cards like passports.
Synonyms: adventure, world travel, and vintage travel
5. Country
A country wedding is all about playing up the charm of your locale. Often in a rural setting, you might find cowboy boots, farm-to-table fare and a pickup truck getaway car.
Synonyms: country chic, country rustic and country glam
6. Fall
Fall has gradually taken over as the most popular wedding season. For your autumn nuptials, embrace the chilly air and enjoy an excuse to wear a fun fur stole, not to mention eat mini apple hand-pies, cider doughnuts and pumpkin-spice cookies.
Synonyms: autumn and "fall in love"
7. Garden
A wedding in the garden is romantic and natural, with lush beauty built right into your site. But if you can't bring your wedding into the garden, you can always bring the garden to you, whether you're celebrating indoors or out.
Synonyms: secret garden and garden party
8. Disney
Incorporating a Disney theme in large or subtle ways is always a fun idea (and, let's be honest, never going out of style). Celebrate your marriage with the perfect dose of playfulness, nostalgia and whimsy.
9. Winter Wonderland
Frosted window panes, deep color palettes and merry holiday spirits make more couples want to say "I do" in winter. The season lends itself perfectly to a formal or black tie wedding too, since no one will have to worry about burning up in a tux or floor-length dress.
Synonyms: winter, snow and Christmas
10. Gatsby
Since the Gatsby-themed wedding boom, which came on the heels of the novel's latest film adaptation in 2013, art-deco-inspired décor, luxe centerpieces and champagne towers remain all the rage.
Synonyms: The Great Gatsby, 1920s and art deco
Read our ultimate guide to wedding styles and themes, right here.