Customize Your Bridal Party Looks
Lena Dunham's bridesmaid look proves your bridal party can personalize their style and still fit your wedding theme. Get inspired by these Instagrams.
by Carrie Anton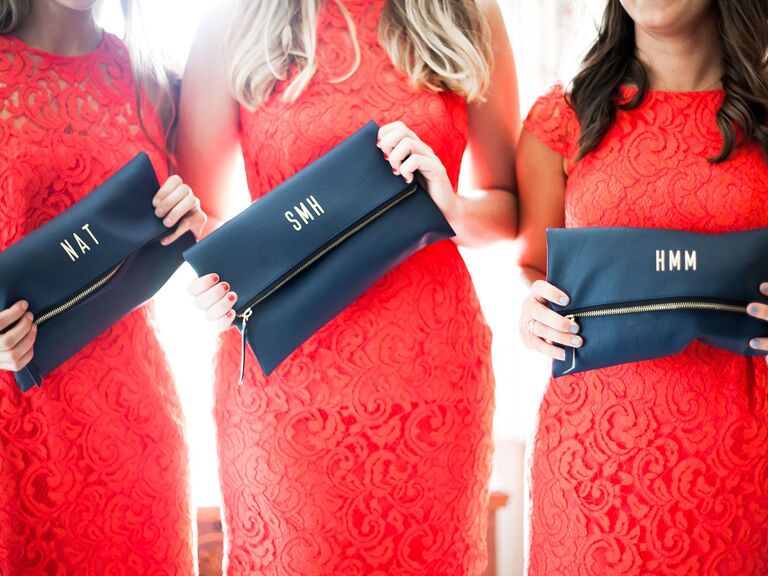 photo by
Jacqueline Patton Photography
Gone are the days when your bridal party has to where the exact same thing—from headpieces down to pedicure shades. And while mix-and-match dresses have been a hot wedding trend for a while now, we loved seeing Girls actress Lena Dunham wear a personalized sequined skirt as a bridesmaid in her friend's recent wedding. Working with Jenna Lyons, creative director and president of J.Crew, this bridal party wore stylish nude dresses with three-quarter-sleeve turtleneck tops and customized sequined pencil skirts—each embroidered with meaningful phrases, colorful shapes and faux flowers. The result was nothing short of gorgeous.
While we can't all have access to a fashion maven like Lyons, your bridal party can steal this idea and individualize their wedding outfits. Check out a few looks here.
Go Bespoke
Bespoke isn't just for brides anymore! If it's within your wedding budget, consider custom gowns for your bridal party for dresses that fit their style and shape perfectly.
Initial Thoughts
Have each bridesmaid wear a monogrammed necklace—their jewelry will look uniform from afar, but feel special close up.
Nail It
Your bridesmaids can get creative with their wedding manis for subtle personalization.

Fascinate Them
Hats and fascinators aren't just for derby days and royal weddings. Have each bridesmaid wear a fun topper for a flirtatious hint of whimsy.

Mane Attraction
You probably wouldn't ask your brunette friend to go blonde for your day, so the same should hold true for any friends with colorful locks. It's part of why you love them! Let their personality shine.