5 Totally Unexpected Wedding Locations
Say "I do" somewhere unique and unpredictable, like these destination picks from Jet Fete by The Bridal Bar.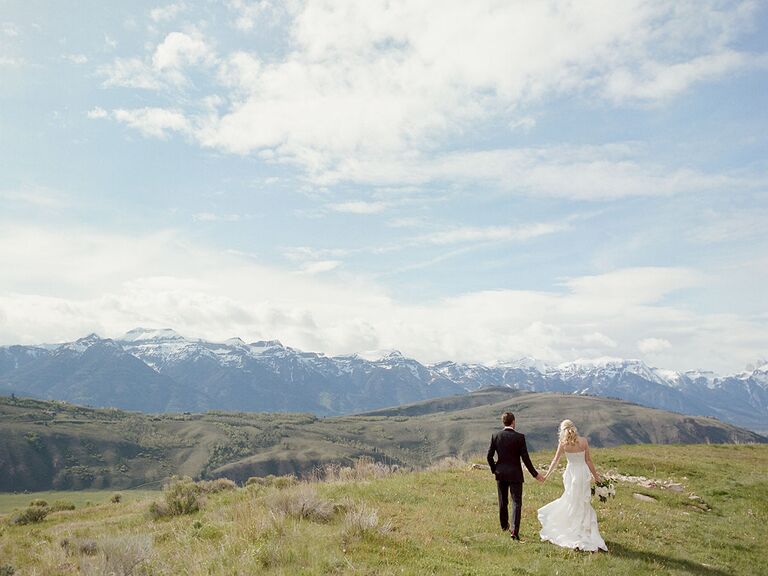 carrie patterson
You want your destination wedding site to be as unique as the two of you—somewhere that surprises and delights you and your guests, and maybe a place that's off the beaten path (AKA you won't need to worry about getting an invite to someone else's nuptials there this season). These five unexpected places to tie the knot are the ultimate location inspiration.
1. On a Snowy Mountaintop
Destination weddings don't have to be barefoot in the sand—winter weddings have their own distinct magic. Dazzle your guests with the beauty of a snowy destination and wed at the very top of one of world's best ski resorts. The Little Nell in Aspen, Colorado, or Mammoth Mountain in California both offer ceremony and reception sites above 11,000 feet with views of majestic valleys below. And if riding a gondola as a getaway plan isn't your thing, why not have a lakeside wedding? For a winter wonderland at a slightly lower elevation, try Convict Lake Resort in Mammoth Lakes, California, or even cross-country ski to your ceremony site at The Ranch at Rock Creek in wilderness of Montana.
2. On a Ship
Set sail for your day! Embark on a romantic boat ride with Windstar Cruises, an intimate setting ideal for gathering your nearest and dearest to watch you marry on the water. You can also exchange vows once you've docked at one of the destinations of your choosing.
3. On a Private Island
Touch down on a private island for unparalleled privacy and pure relaxation. Not only do you get to wed in paradise, but your getaway doubles as an unforgettable vacation with loved ones. Kamalame Cay in The Bahamas offers accommodations for up to 75 guests between the resort and the island's private residences—and there's plenty of open beach to host your nuptials.
4. Amid Ancient Ruins
This is the ultimate "something old." Marry in an ancient house of worship or other timeworn site for that "bigger-than-us" energy only history can bring. Head to Barbados where the 17th-century ruins of St. John Parish Church offer an idyllic outdoor wedding ceremony site. Or pack your bags for Tuscany, Italy, and stay at Monteverdi, a 900-year-old village transformed into a boutique hotel of rooms, suites and villas and an ancient chapel on the property.
5. At an Iconic Attraction
Why not weave your love of the sea, history or even Disney into your wedding? Travel to Atlanta and say "I do" surrounded by waters and sea life at Georgia Aquarium, jet to Southern California for a magical day at Disneyland or even dance the night away among the dinosaurs at the Natural History Museum in Los Angeles.
Harmony Walton is the founder of The Bridal Bar, host of Bridal Bar Radio airing on iHeartRadio and editor of destination wedding blog Jet Fete by Bridal Bar. With a vast celebrity clientele and over a dozen years of experience, her brands have been recognized around the world and featured in media outlets such as The Associated Press, The New Yorker, The Knot, The New York Times, Entertainment Tonight, People Magazine, The Los Angeles Times and many more.