17 Wedding Ceremony Altar Alternatives
Put a twist on the traditional ceremony with one of these creative altar ideas.
If you're exchanging vows somewhere other than a church, you might have to craft up an altar space—don't worry, we've got lots of wedding altar decoration ideas. Draw inspiration from your venue and wedding theme to get a few ideas together, then decide on specifics like a color palette or types of flowers to incorporate. Your wedding planner might have some ideas, as would the manager of the ceremony space. To get started, take a look at some of our favorite alternative wedding altar ideas below. From floral and natural to colorful and artsy, the following wedding altar decorations are sure to get you feeling inspired.
24 Amazing Wedding Altar Ideas
1. Art Canvases
From: An Intimate Courtyard Wedding at Hotel Saint Cecilia in Austin, Texas
2. Palm Tree Leaves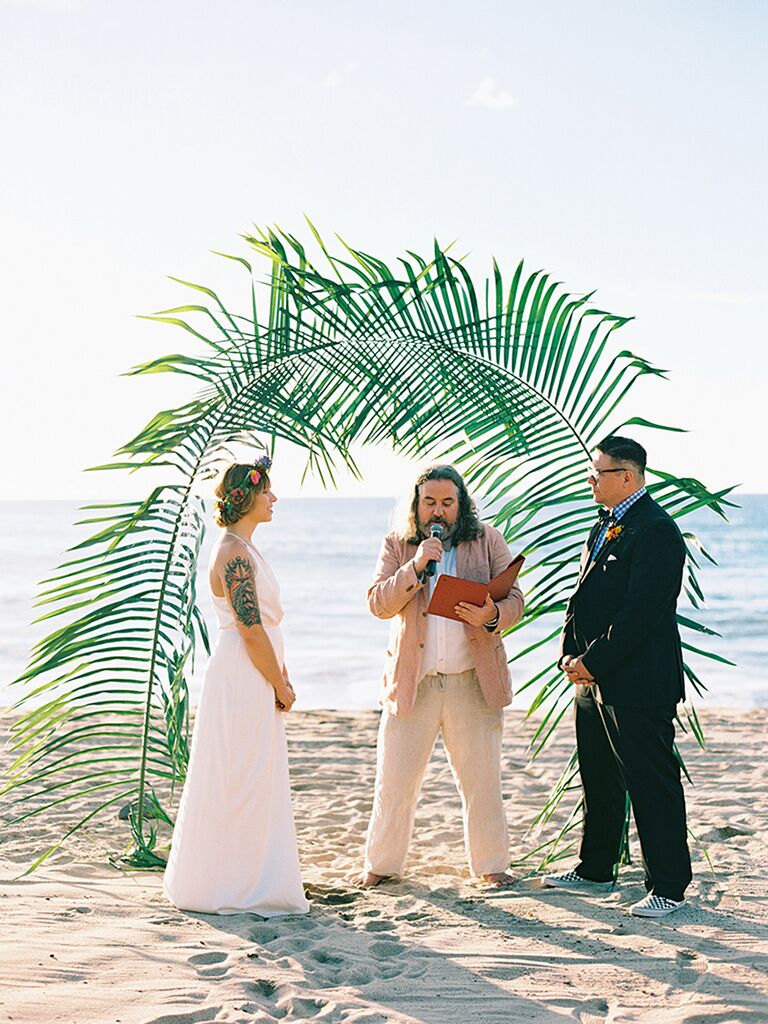 From: A Beachfront Fiesta-Inspired Wedding at Las Casitas Bonitas in San Francisco, Mexico
3. Fabric Draped Arbors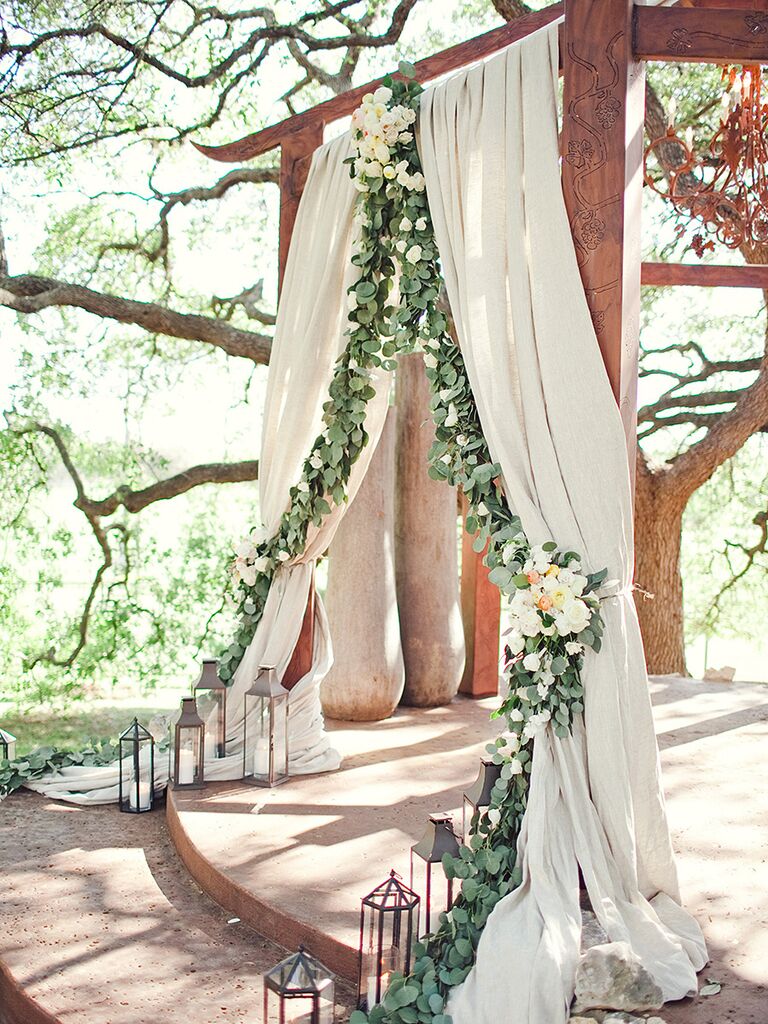 From: A Romantic, Outdoor Wedding in Austin, TX
4. Floral Installation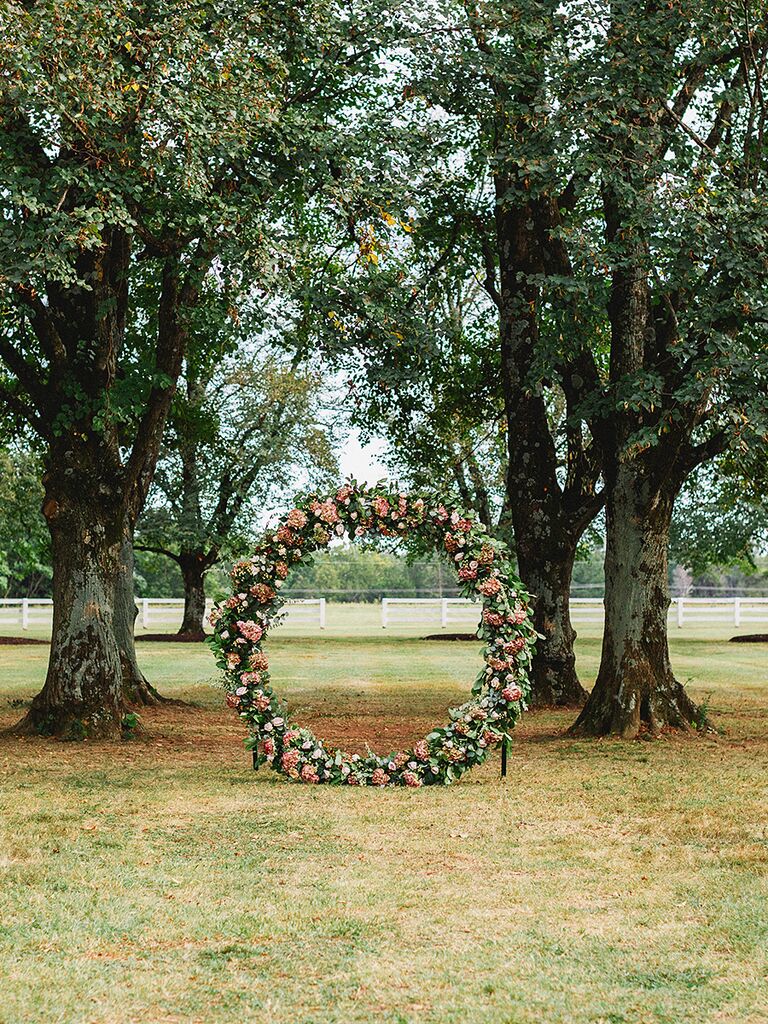 From: A Romantic Mountainside Wedding at Castle Hill Cider in Keswick, Virginia
5. Ribbon Background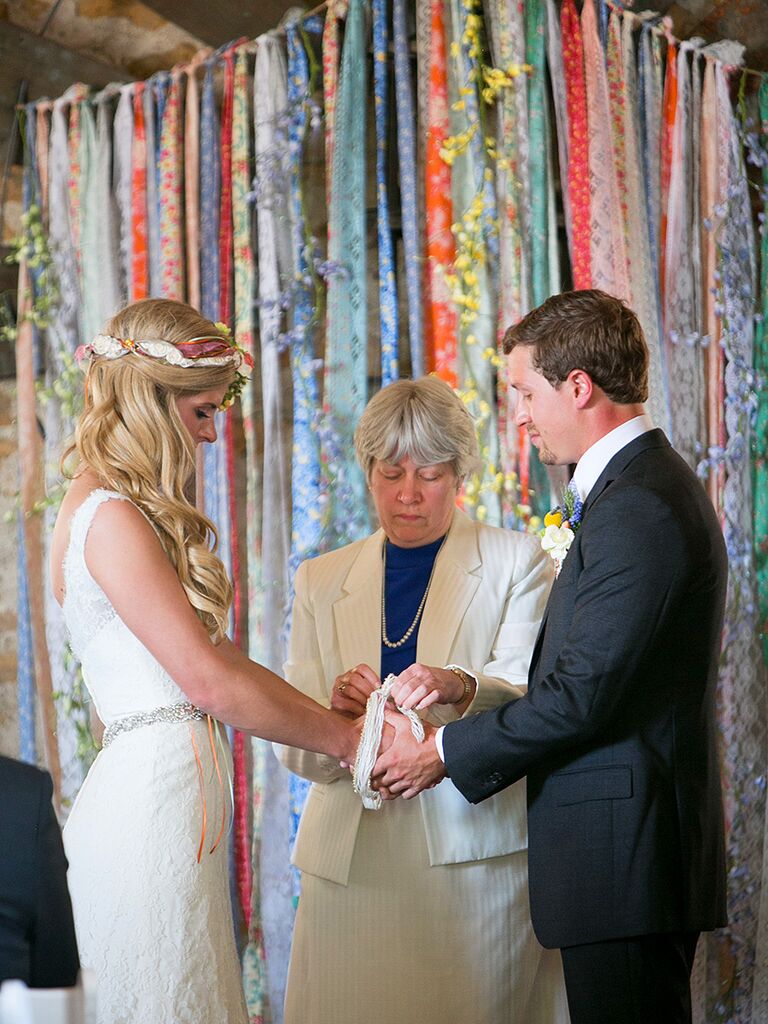 From: A Colorful DIY Wedding at Historic Taylor Barn in Lawrence, Kansas
6. Window Frames and Tassels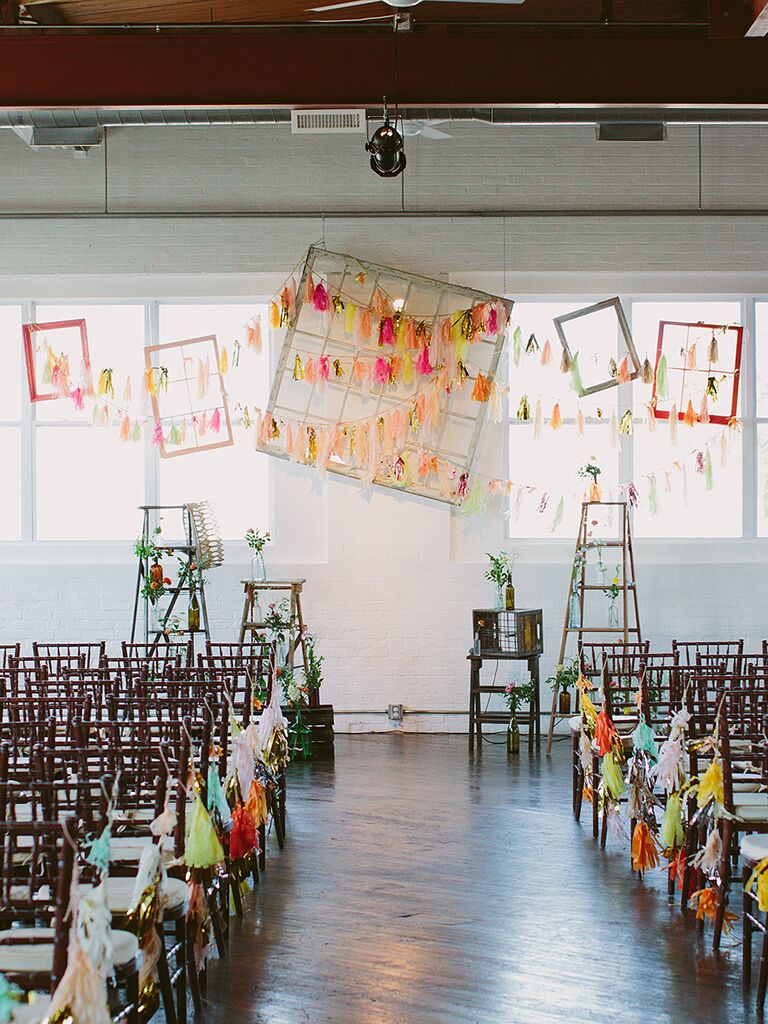 From: An Eclectic Wedding in Reading, PA
7. Tassel-Covered Arbor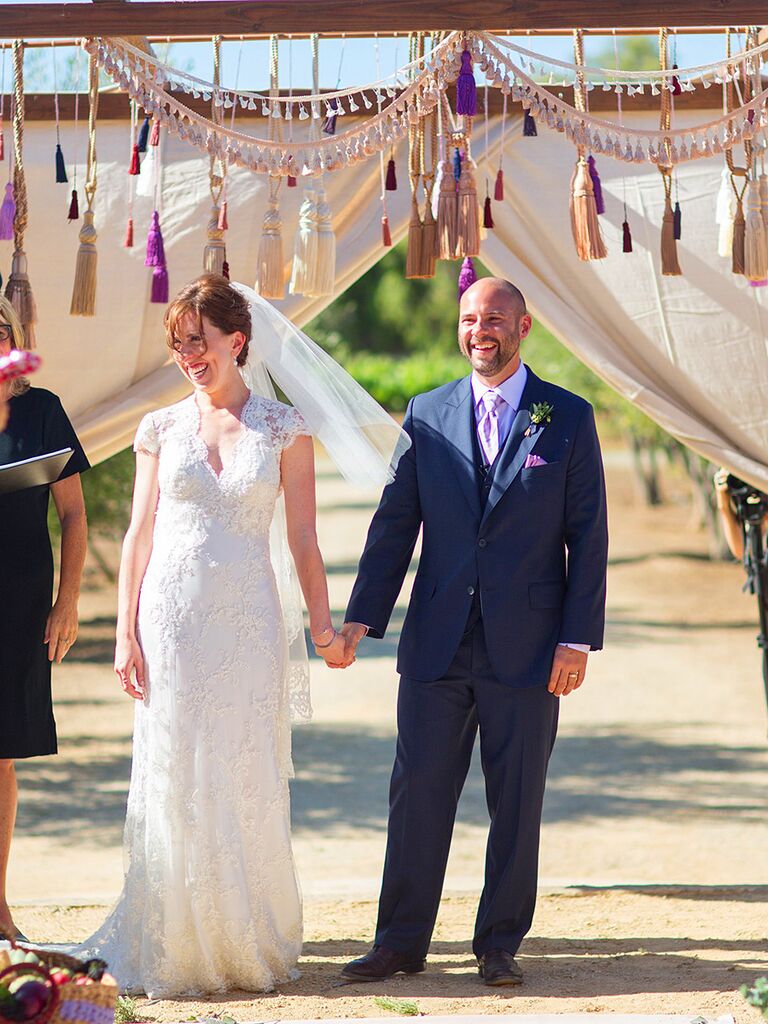 From: A Villa at Sunstone Vineyards Wedding in Santa Ynez, California
8. Whimsical Chandelier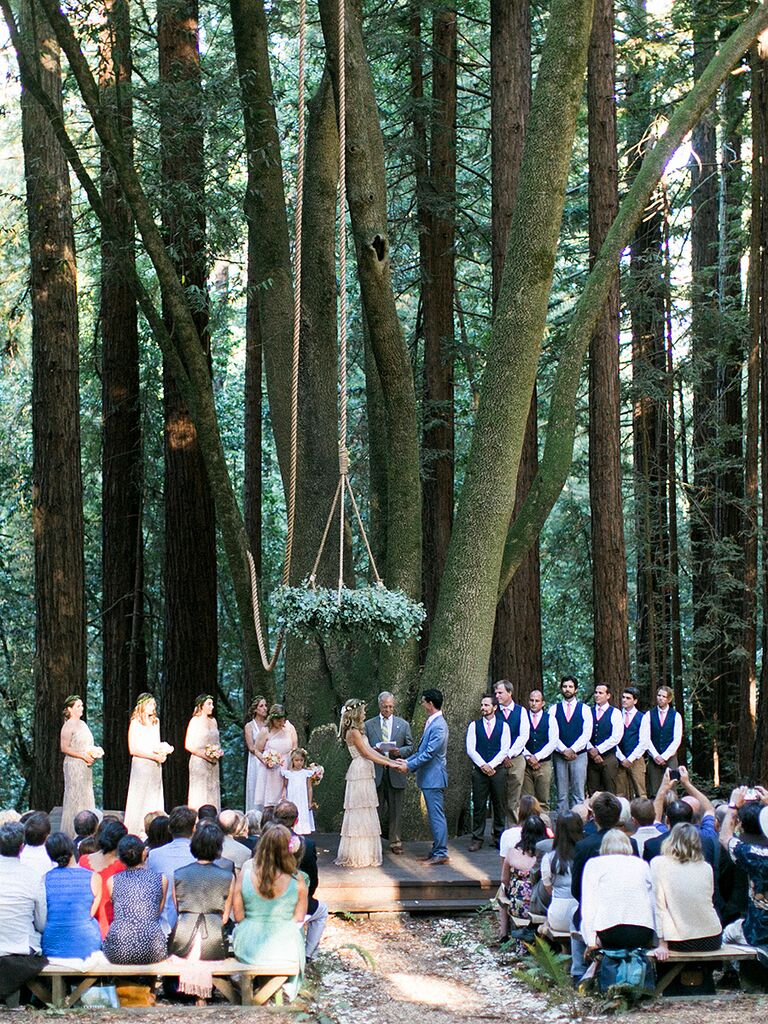 From: A Formal, DIY Woodland Wedding With a Bohemian Spin at a Private Residence in Sebastopol, California
9. DIY Backdrop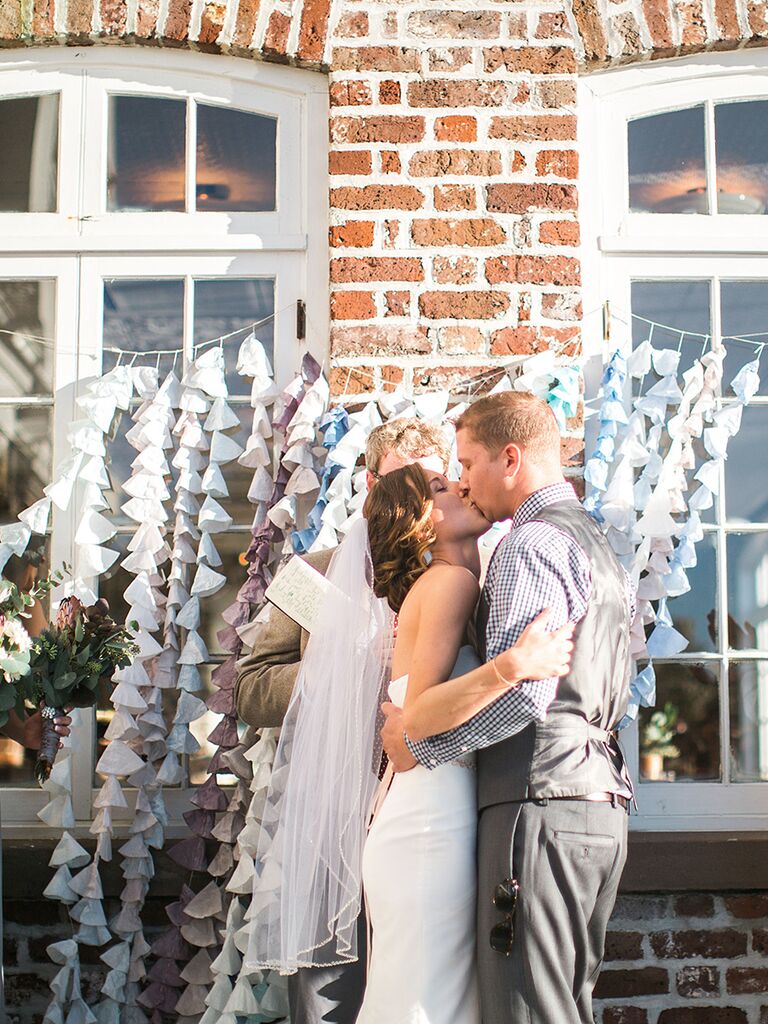 From: A Colorful DIY Wedding at the Historic Rice Mill in Charleston, South Carolina
10. Natural Scenery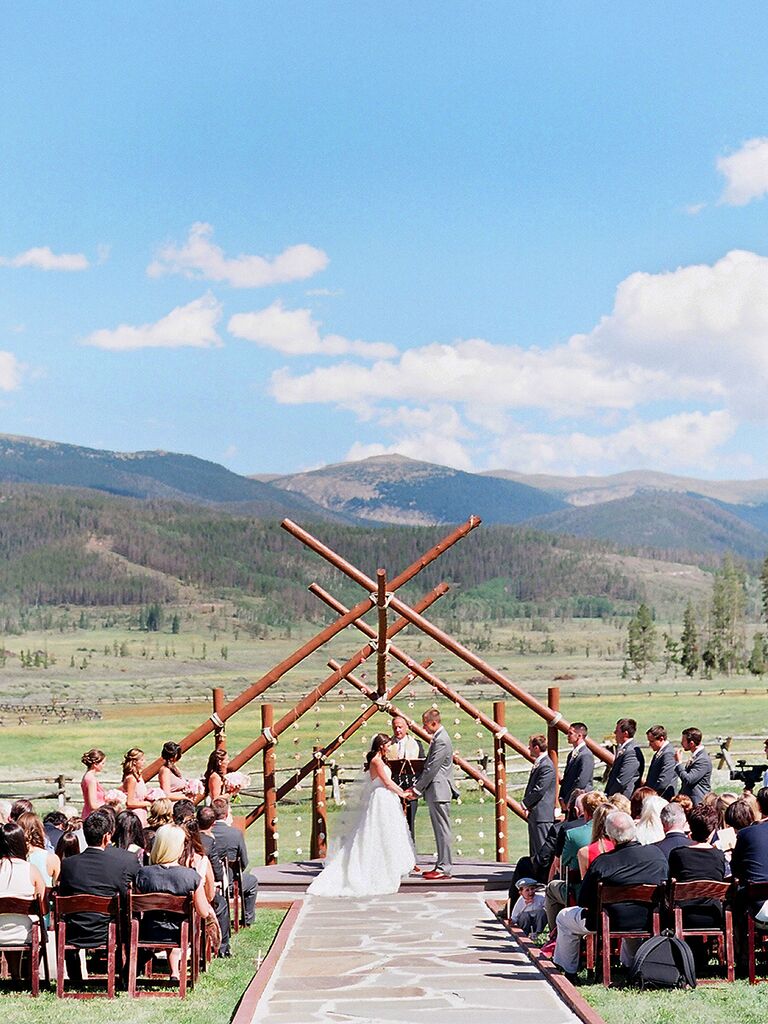 From: A Romantic Weekend Wedding in Tabernash, CO
11. Vintage Furniture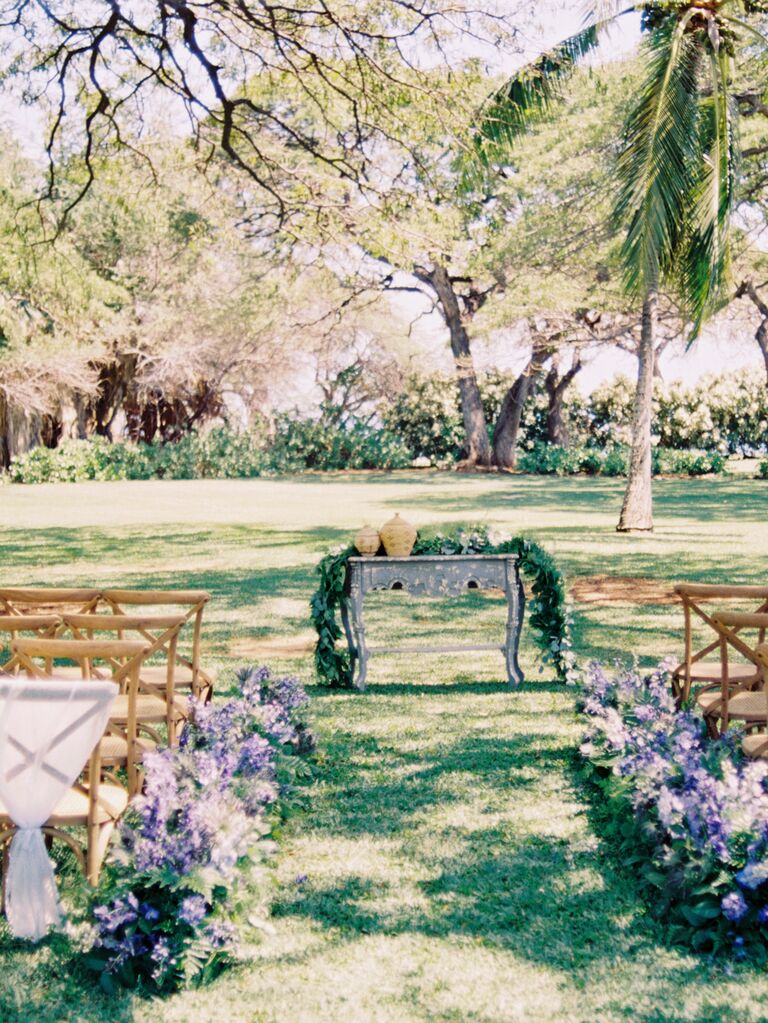 12. Mismatched Rugs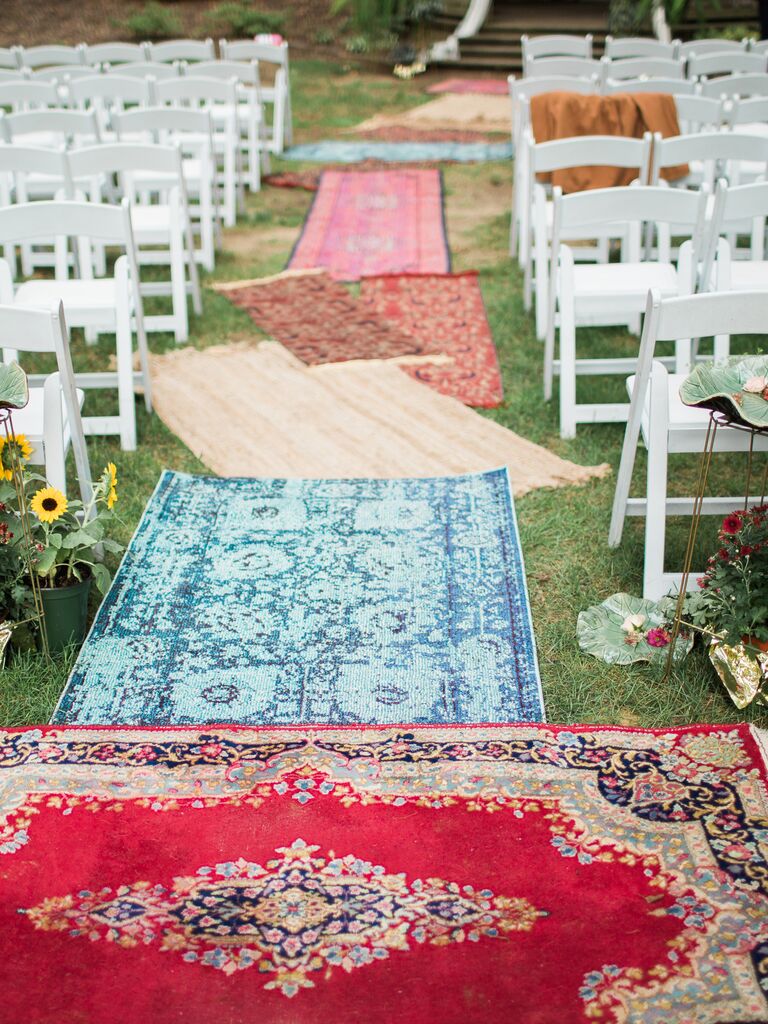 From: A Boho-Chic Wedding at Degage Jazz Cafe in Maumee, Ohio
13. Rustic Barn Background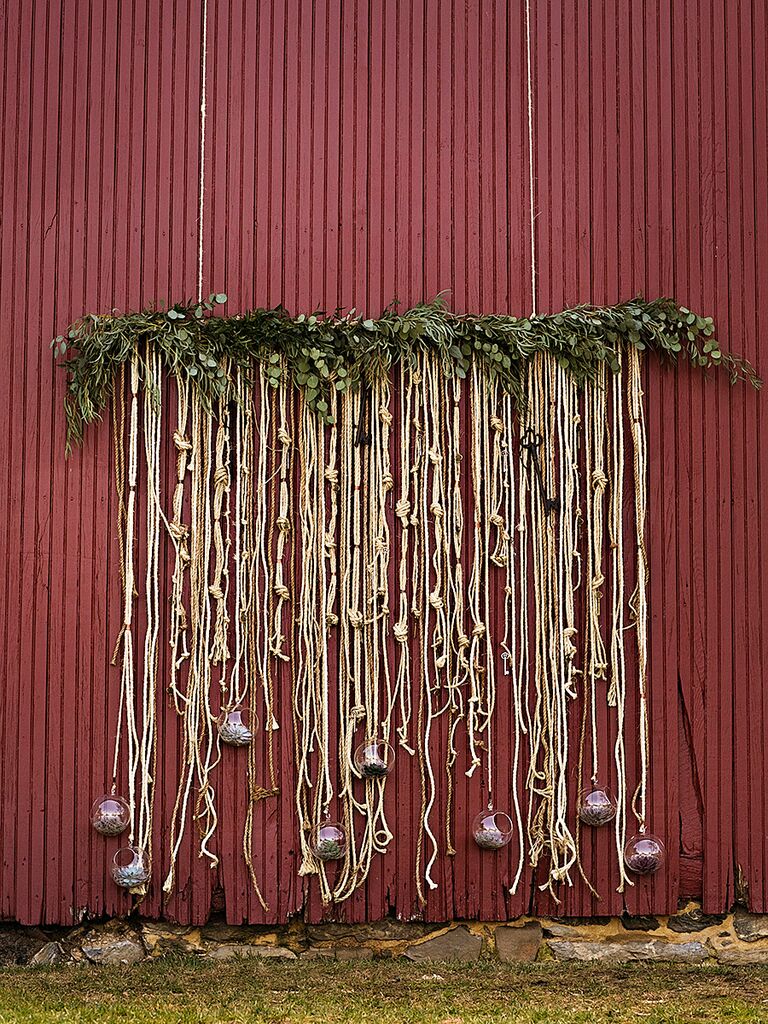 From: An Elaborate Rustic Wedding at the Farm at Eagles Ridge in Lancaster, Pennsylvania
14. Driftwood Beach Arbor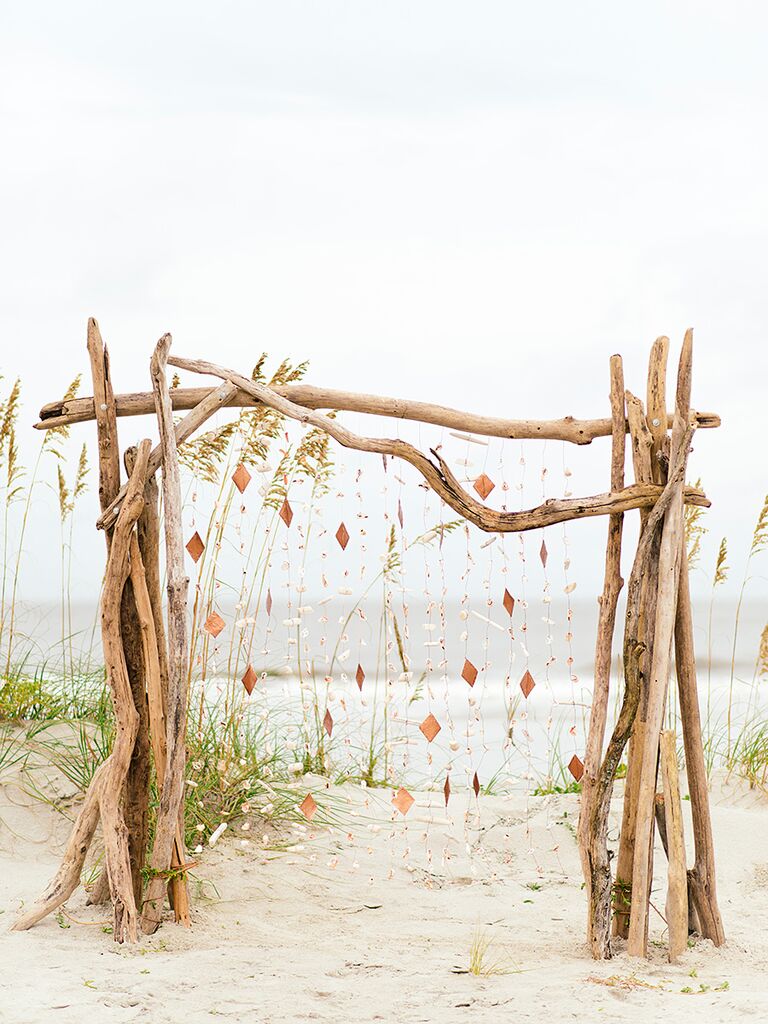 From: A Romantic, DIY Beach Wedding at the Omni Hilton Head Oceanfront Resort in Hilton Head Island, South Carolina
15. Modern Space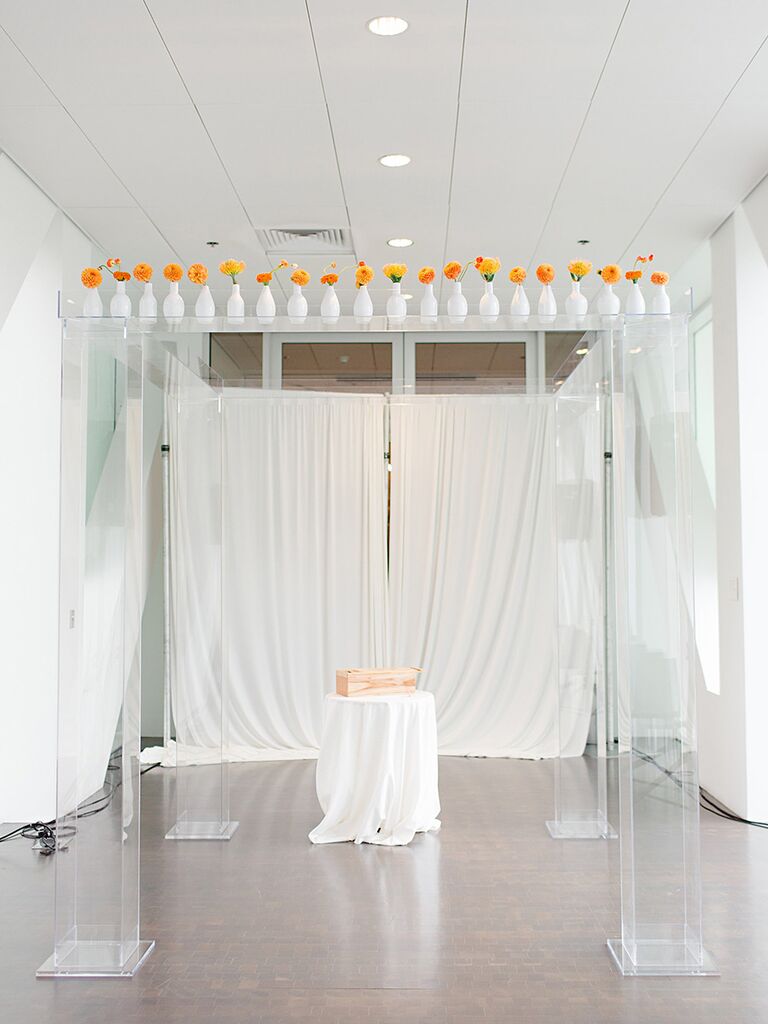 From: A Denver Art Museum Wedding in Denver, Colorado
16. Tissue Paper Pom Background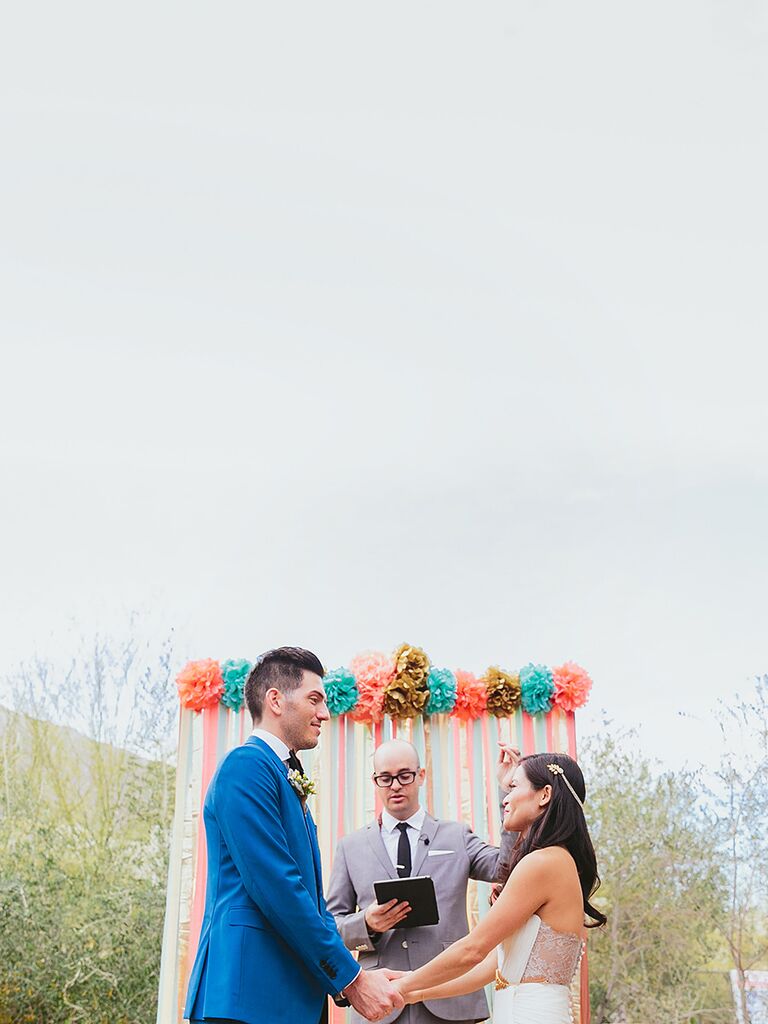 From: A Modern Wedding With a Southwestern Style at Ace Hotel & Swim Club in Palm Springs, California
17. Lots of Lights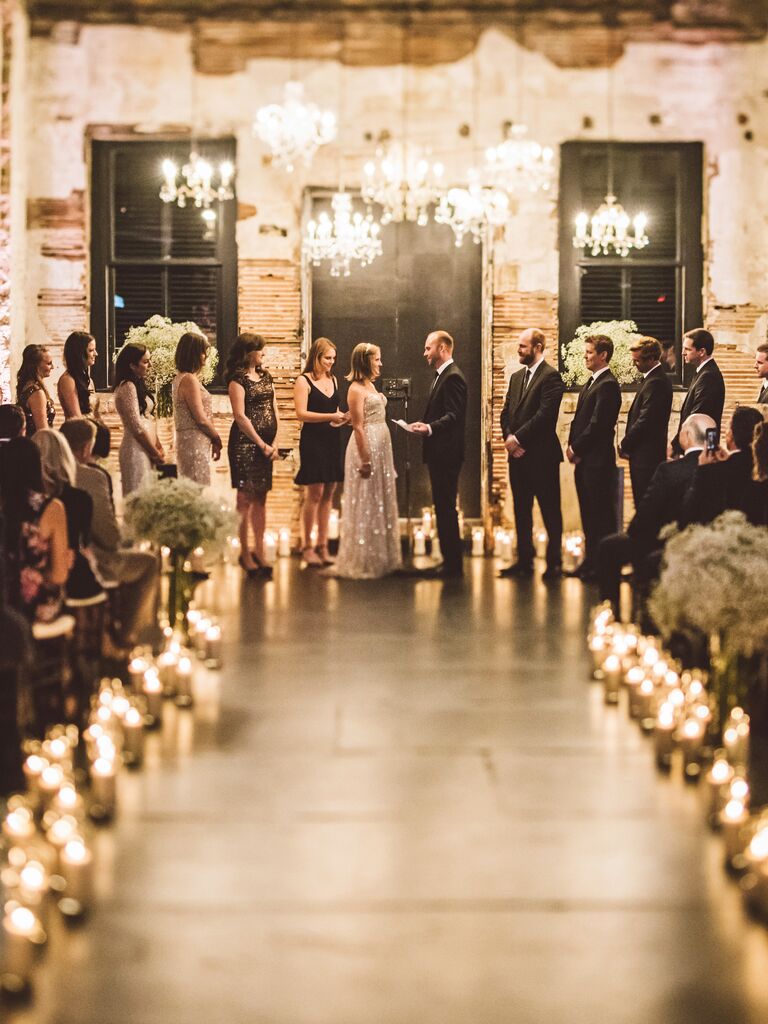 From: A Romantic Loft Wedding at Aria in Minneapolis, Minnesota
18. Lovely Lavender
Not only is lavender nice to look at, but it smells wonderful, too. Weave a natural arch with lavender blooms as your wedding altar and the deep purple color will create the ultimate backdrop for when you and your partner say, "I do." Added benefit? Lavender naturally repels flies and mosquitoes.
19. Iron Gate
Something as simple as a wrought iron gate can make the most enchanting wedding altar decoration. Find an interesting gate--the more intricate, the better--to stand in front of on your special day. For extra allure and a pop of color, thread some wildflowers through the rails.
20. Fun with Macrame
Create a macrame display to hang as your wedding altar decoration. It's simple and understated, and the best part is that it won't steal the attention away from the couple.
21. Dream Catcher Chic
Looking to create sweet dreams for your future? Play with the idea of hanging dream catchers around your wedding altar. They're light and whimsical and will look lovely floating in the air when the wind gently blows.
22. Candle Glow
Set a romantic mood with some soft glowing candles. This wedding altar idea incorporates different sized candles for an enchanting setting behind the couple. You can even mix and match candles for an added touch.
23. Pop of Color
For this amazing wedding altar decoration, have fun with different colors. Create a solid-colored banner or mix in different colors for some brightness. The pop of color will really stand out against the couple's black and white attire. To make it even more meaningful, design the banner with your significant other.
24. Vintage Folding Screen
When it comes to your wedding altar decorations, you don't have to go all out with floral arrangements or elaborate decor. Go the simpler route and track down a vintage-inspired folding screen. It's simple and easy, but it'll really bring your altar up a notch.