19 Stunning Flower Dog Collar Ideas for Your Perfect Pup
A flower dog collar is the perfect wedding accessory for your furry VIP.
For many dog owners, their four-legged friend is one of the most important wedding guests. While most attendees obsess over which wedding guest dress or suit to purchase, a pup doesn't have that same problem. But they still deserve to be dressed to the nines, which is why we love flower dog collars for weddings.
Some couples choose to include a nod to their pet in the wedding without the canine actually attending. But if you and your partner want to have your dog actually attend the wedding, there are a few decisions you'll need to make, including dog wedding attire. Many dogs don't love having an actual sweater or restrictive piece of clothing on, which is why dog flower wedding collars are a great alternative. You could simply buy a cute dog wedding collar and leash for the occasion, but we're partial to the idea of working with your professional floral designer to create a flower collar, flower crown or flower leash for the dog at the wedding.
We've gathered some of our favorite pictures of dogs with flower collars and even dogs with flower leashes to inspire your wedding planning. We're sure these puppy-approved ideas will pique your interest.
1. Dog With Flower Collar at Winter Wedding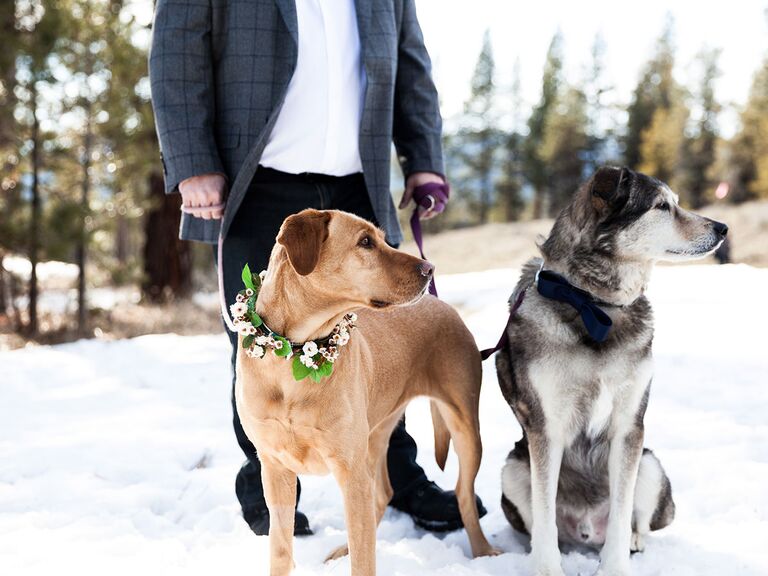 When deciding on dog wedding attire and accessories, feel free to outfit your furry friend in a way that matches their personality. And remember that your dogs don't have to match if more than one will be at the wedding. At this snowy wedding, one pup rocked a simple flower collar while their sibling sported a dapper navy bow tie dog collar.
2. Elegant and Simple Dog Collar With Flowers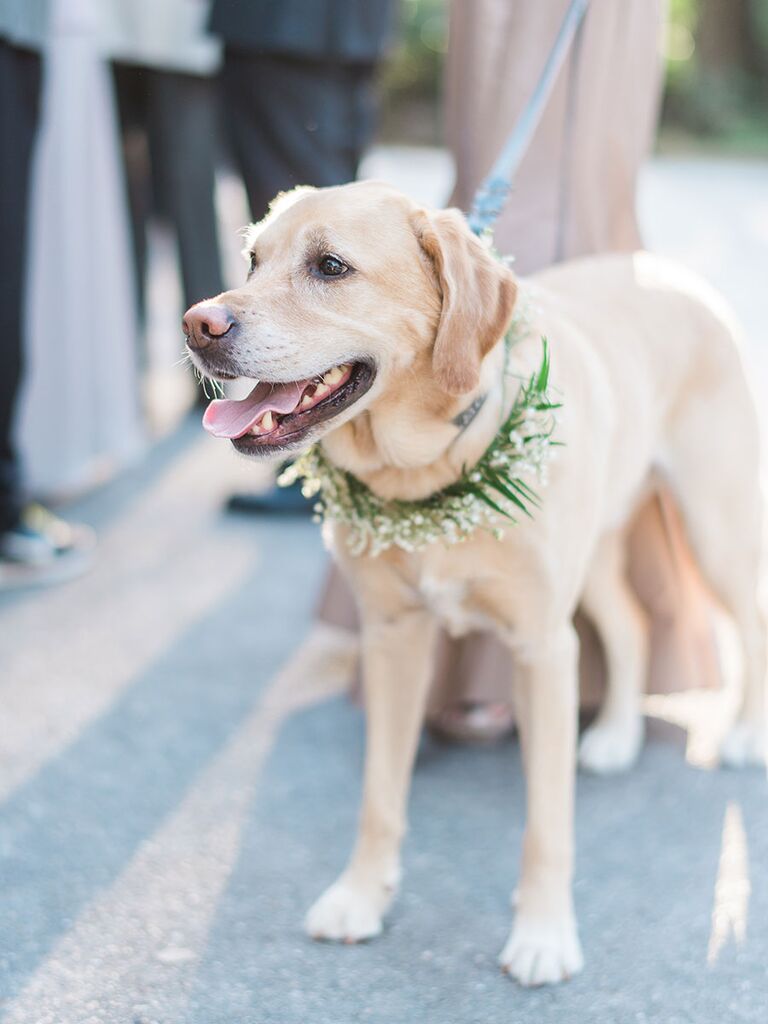 This four-legged attendees rocked a simple dog collar with white flowers and greenery. Keep in mind that the flower collar for your dog at the wedding will need to endure lots of tail wagging and generally more wear and tear than other flower arrangements. Feel free to skip expensive blooms, like orchids, for a dog wedding collar and instead ask your florist to use budget-friendly flowers.
3. Eucalyptus and Chrysanthemum Dog Wedding Collar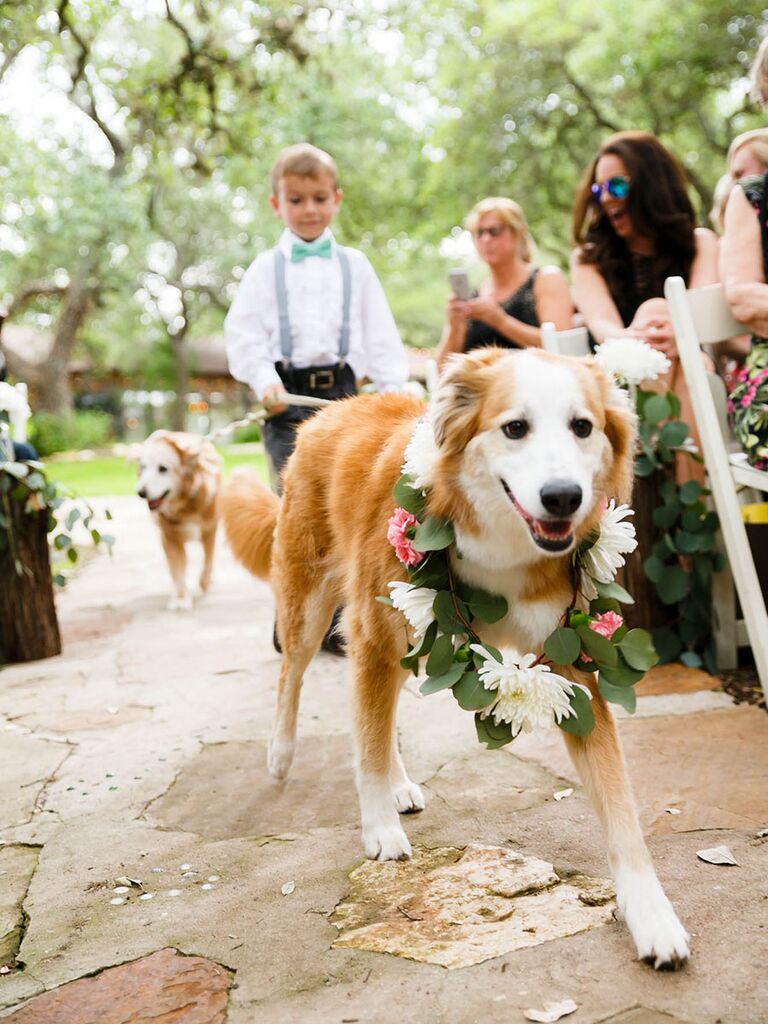 We love this dog collar with chrysanthemum flowers and silver dollar eucalyptus. Big blooms like chrysanthemum might overpower a small pup, but the large scale of the flowers looked great in this dog flower collar since a bigger canine was sporting the design.
4. Dog Flower Collar With Faux Roses and Hydrangea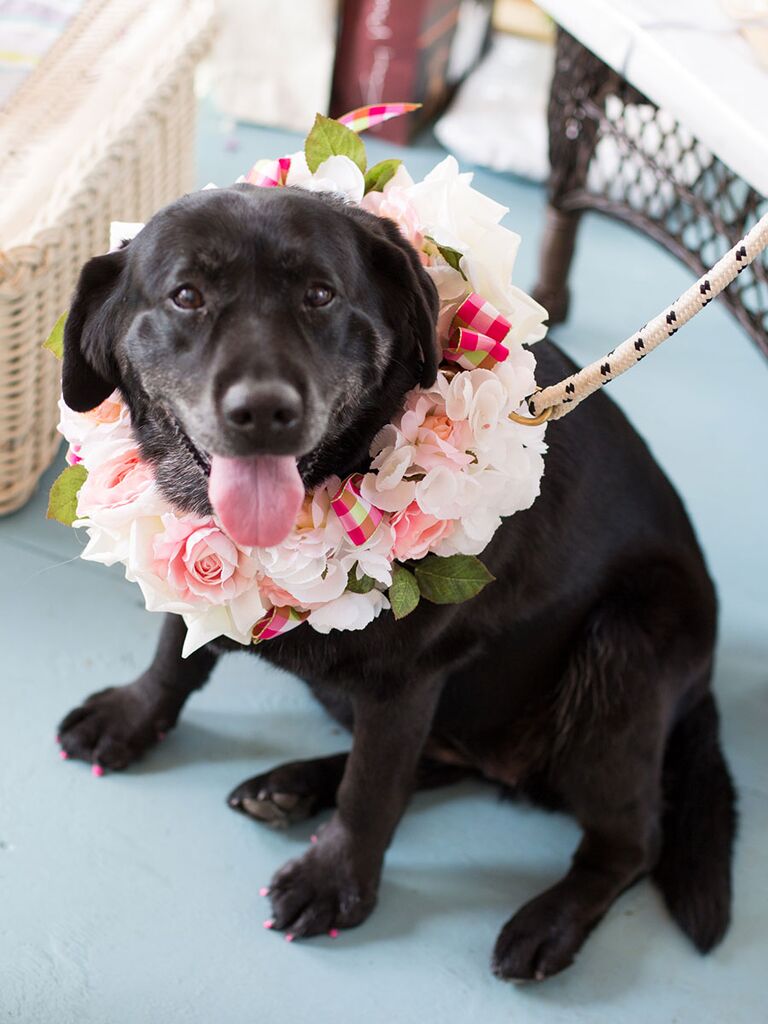 Since artificial wedding flowers are more durable than fresh blooms they are a good option if your dog is especially active and likes to roll around. Artificial flowers, like the faux roses and hydrangea blooms seen here, will hold up against even the most energetic game of fetch.
5. Rustic Wildflower Flower Dog Collar at Wedding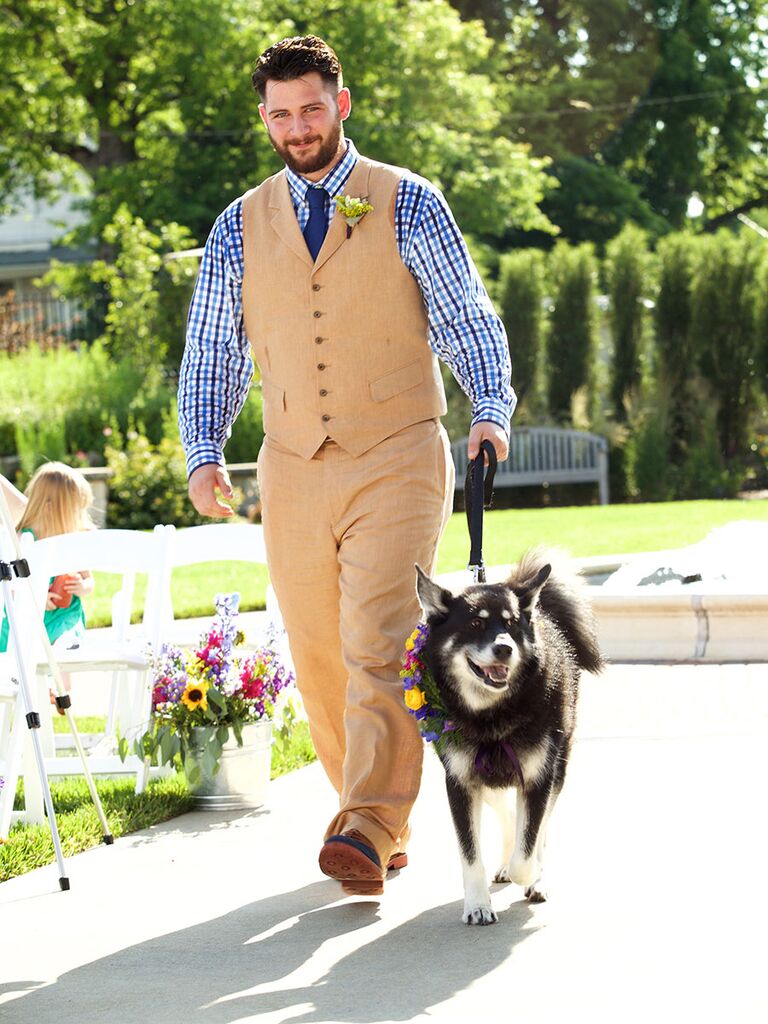 At this rustic wedding, the dog collar included multicolor wildflowers. The blooms coordinated with the flower aisle markers to create a unified, cohesive aesthetic.
6. Romantic Rose Flower Dog Collar Idea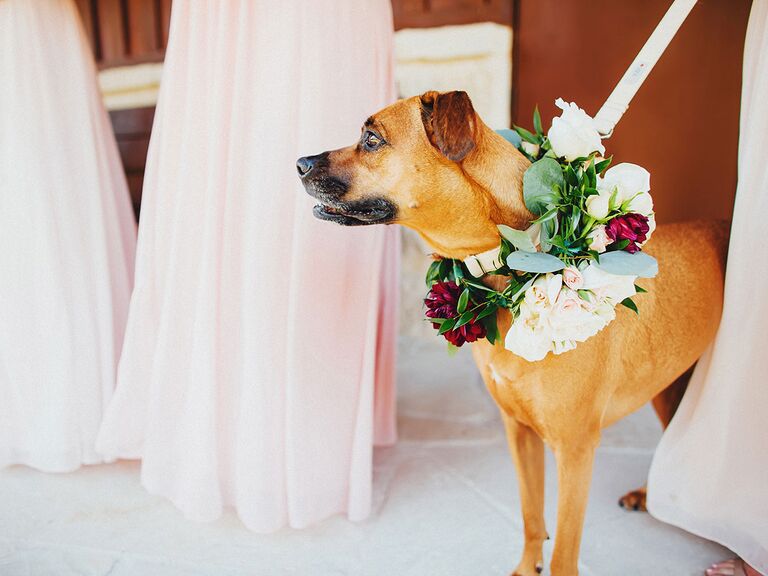 This four-legged wedding guest sported a romantic and whimsical bundle of roses and greenery around its neck. While bigger can be better, make sure you're still able to access the dog's main collar so you can still attach a leash to the pup.
7. Hydrangea Flower Dog Collar With Bow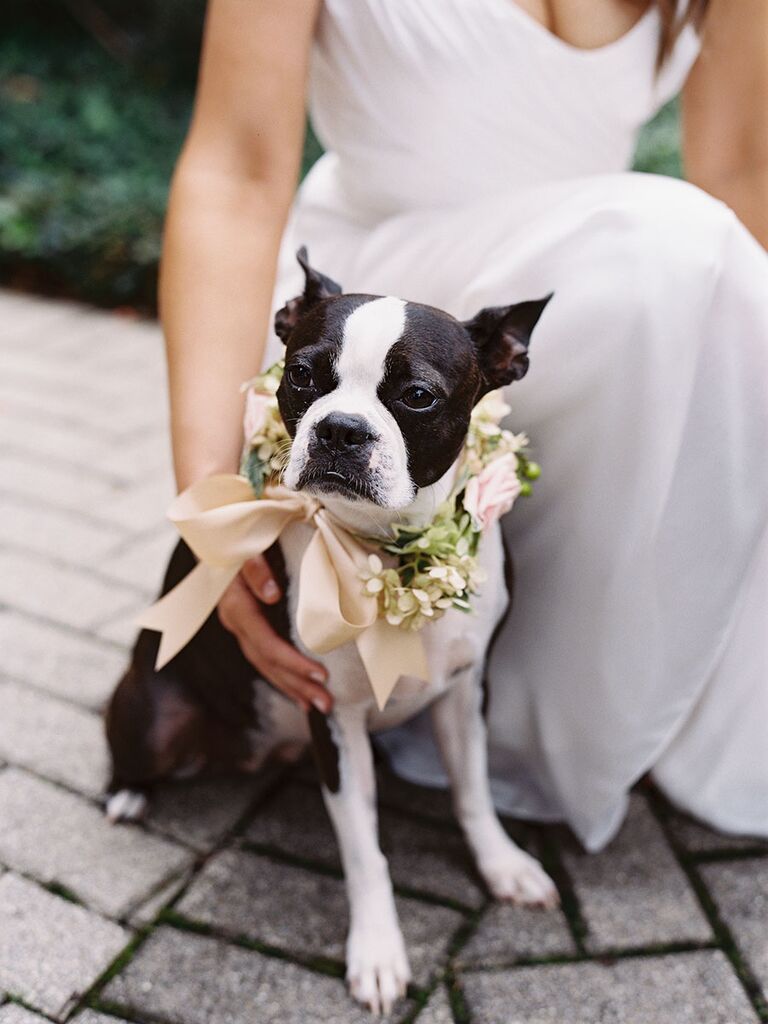 How precious is this Boston terrier with a dog flower collar tied up with a bow? If your wedding bouquet is going to be tied up with ribbon, consider using the same ribbon as an accent for your dog collar with flowers as well to create cohesion.
8. Eucalyptus Flower Dog Collar for Boho Wedding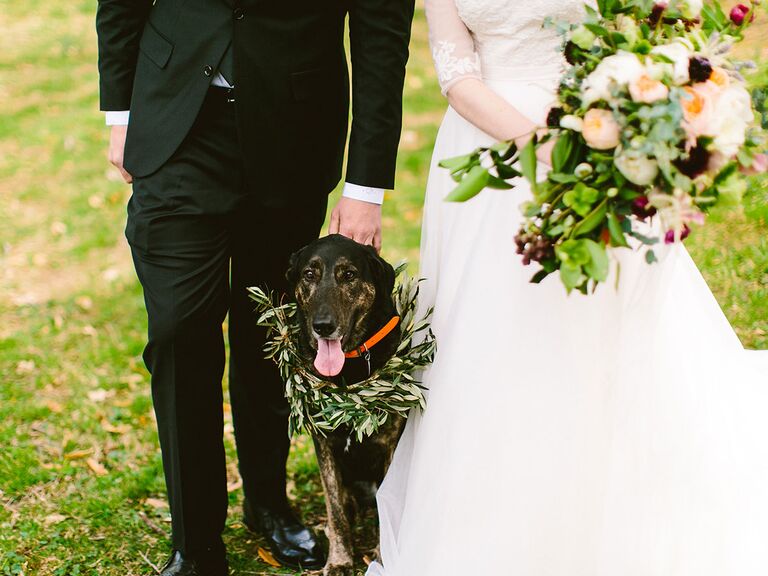 While we love dog flower collars for weddings, greenery-only dog wedding collars can be just a nice, especially if you're planning a boho wedding. This pup looked beautiful in a wedding collar made of eucalyptus.
9. Elegant Floral Dog Wedding Collar and Leash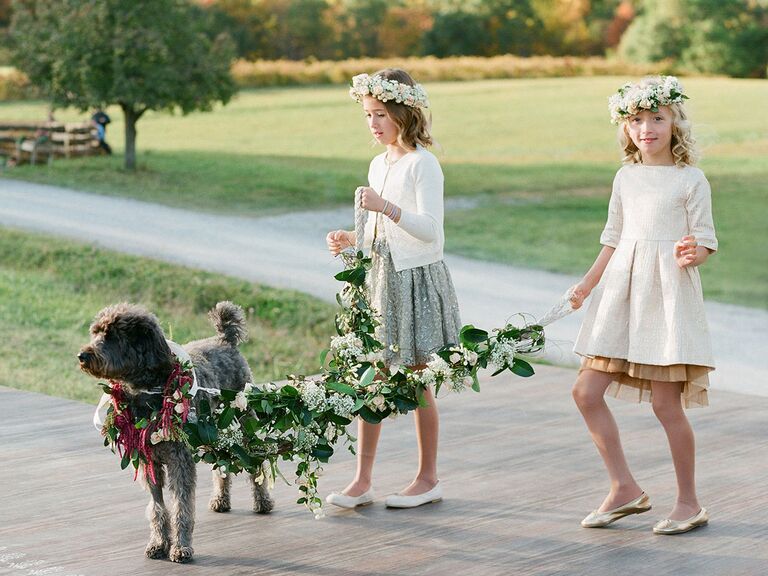 Why stop with just a flower dog collar? We love that this pup's ensemble included both a dog wedding collar and leash.
10. Vibrant Fuchsia Flower Dog Collar at Wedding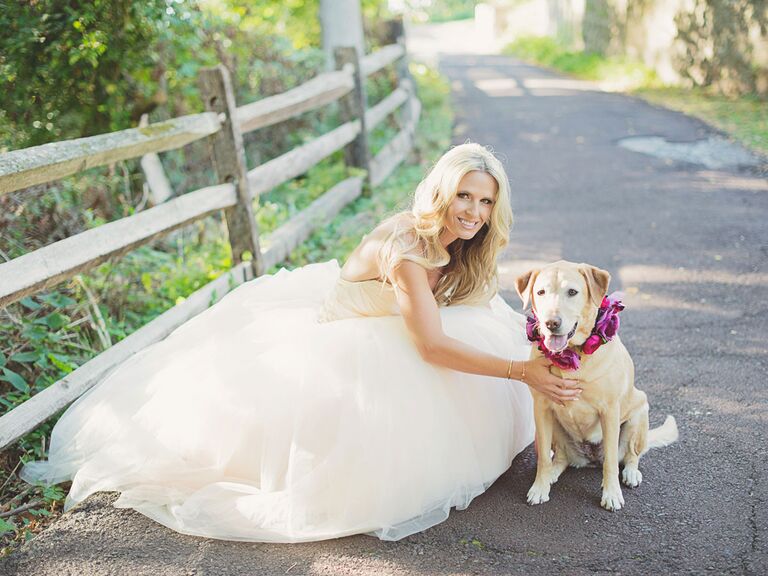 Don't be afraid to go bold with a flower collar for your dog at the wedding, especially if it will match your color palette.
11. Pug With Rose and Hydrangea Flower Dog Collar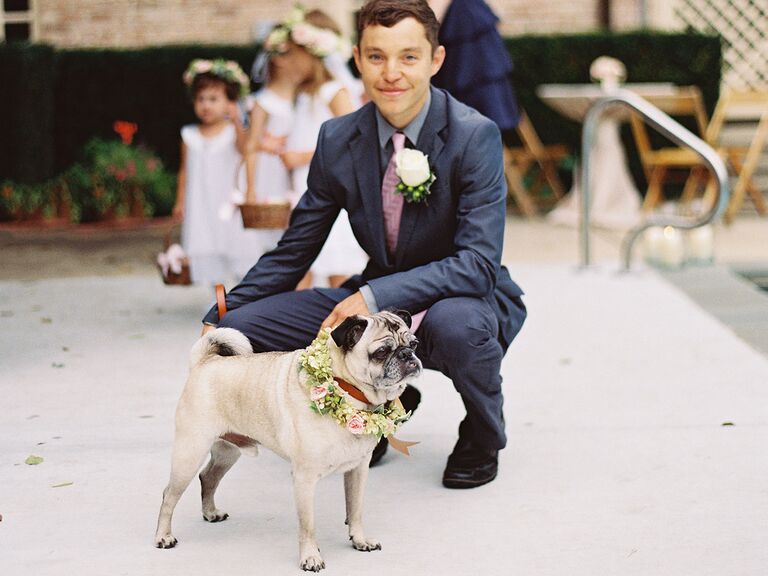 How cute is this lil' pupper? The blonde pug rocked a dog flower wedding collar made of roses and hydrangea blooms.
12. Dog Wedding Collar With Leaves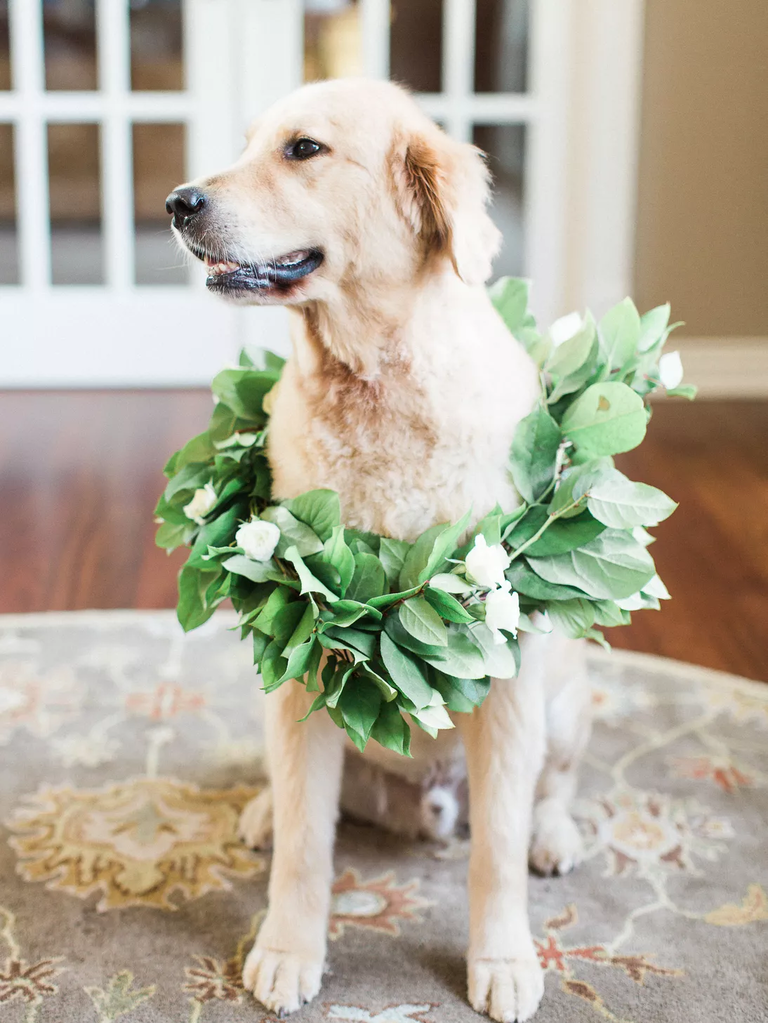 This pup's wedding collar is nearly a wreath! The furry VIP donned a leafy collar for the big day.
13. Whimsical Rose and Lisianthus Flower Dog Collar at Wedding
We love how loose, organic and whimsical this dog collar with flowers is. The key to ensuring your pup's wedding accessory is perfect is to work with your florist to incorporate blooms you're already using elsewhere in your wedding decor so that everything feels seamless.
14. Romantic Greenery Dog Collar With White Flowers
This wedding flower dog collar is a ten out of ten, and a great reminder that less can be more. A simple collection of greenery and white flowers made a big impact in this flower dog collar design.
15. Dog Wedding Collar With Faux Ferns and Leaves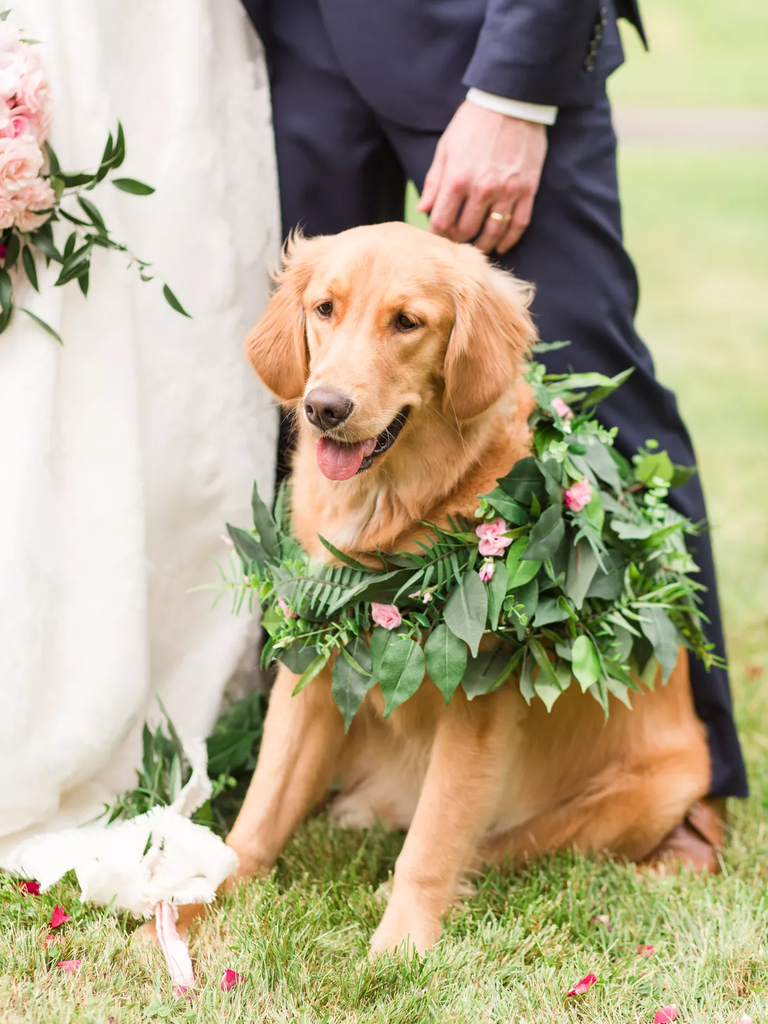 A lush assortment of artificial greenery popped beautifully against this labrador's smooth blonde fur. We love how the design is more than just a collar and is almost a cape of sorts.
16. Pug With Wedding Flower Corsage
Since pugs have such thick necks with lots of folds, a collar might not always be the best option. Instead, this pup rocked a corsage of flowers.
17. Terrier With Pink Flower Dog Collar at Wedding
Not only did this four-legged attendee don a pink flower dog collar, but they also sported a cute bow tied to their head. To bring the whole look together, the dog was escorted with a pearl wedding leash.
18. Simple and Beautiful Flower Dog Collar Idea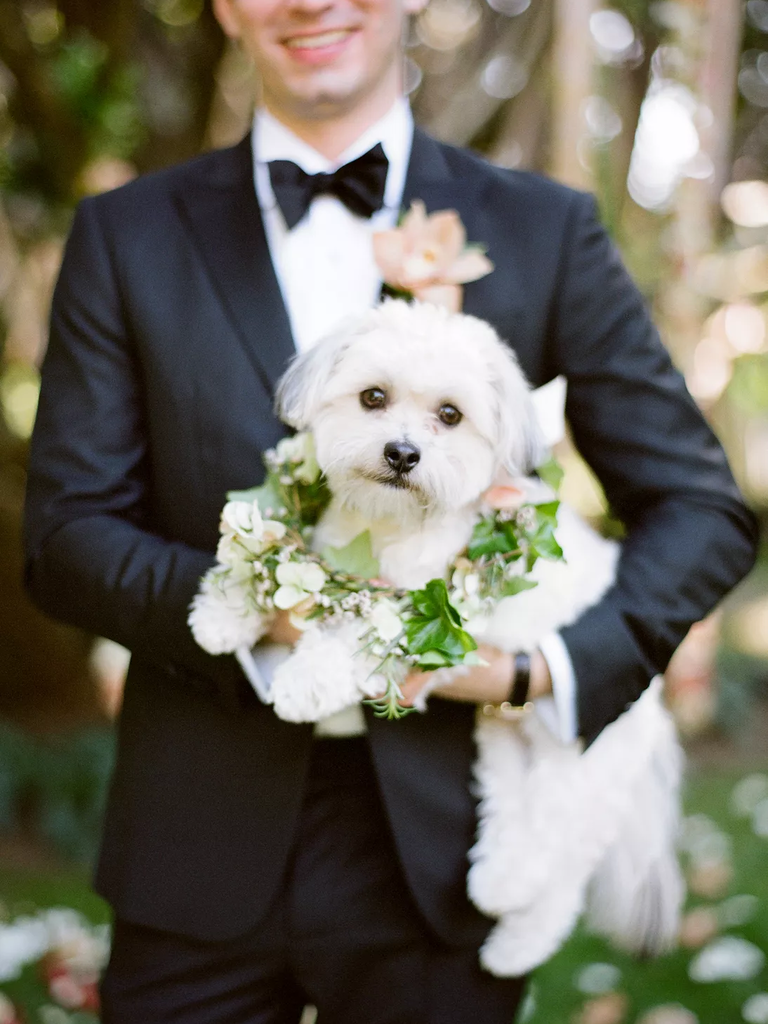 This lush collar of verdant flowers is simply stunning. If you do decide to outfit your pup with a flower dog collar, make sure the photographer snaps photos of them early in the day before the accessory is subjected to wear and tear.
19. Stunning Flower Dog Collar With Pink Roses and Eucalyptus
We can't get enough of this precious pup. The canine sported a dog flower collar made of pink roses and eucalyptus to its owner's wedding.