63 Camo Wedding Rings and Engagement Rings
Find everything you need to hunt down the perfect camo wedding rings.

We have included third party products to help you navigate and enjoy life's biggest moments. Purchases made through links on this page may earn us a commission.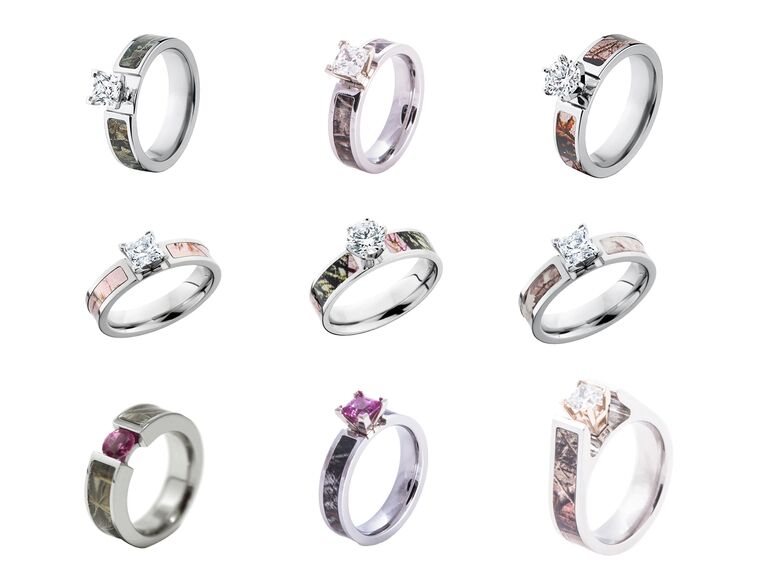 Gold, platinum...camo? Tradition isn't for everyone, and even though the hunt might be over in terms of finding the perfect partner, it's now time to track down the right rings to show your commitment to one another. Gone are the days when engagement rings and wedding bands meant simple styles and traditional metals. From custom creations to elegant engraving and alternative metals, today there are hundreds of ways to put your own personal spin on your wedding jewelry. So why not choose a wedding ring that's as unique as you are? Camo wedding rings sets for him and her and camo engagement rings are perfect for the couple who loves the great outdoors. Like the idea? Check out all of our must-know info on buying a camo wedding ring set or camo engagement ring below.
Camo Patterns Overview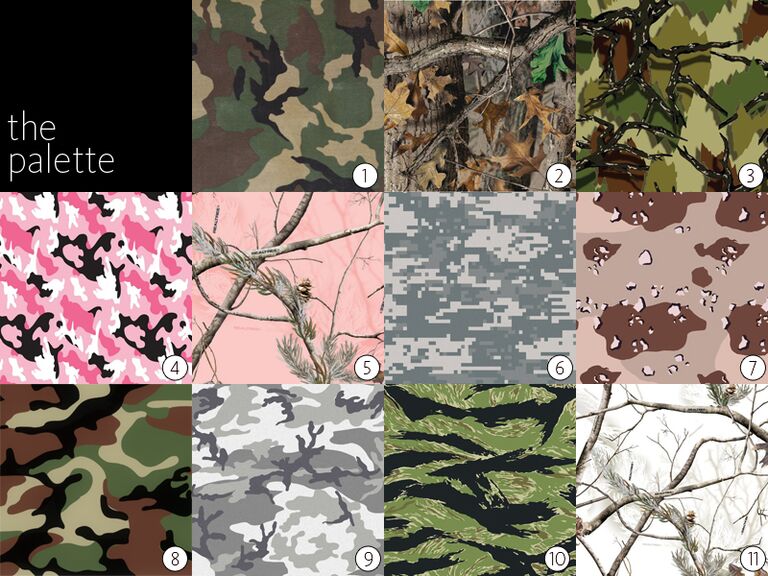 From snow camo to Realtree camo and everything in between, there are almost as many camo patterns as there are shades of white. Below are some of the most common camo patterns in use.
Hunting Camouflage
Hunting camouflage is used by hunters to blend into their surroundings by mimicking a specific environment. This type of camouflage uses earth tones as the base color overlaid with images of tree branches, leaves and other types of vegetation, but you can also find it in bright colors like pink, orange, red and purple.
Military Camouflage
Unlike hunting camouflage, which is characterized by complex and detailed images of vegetation, military camouflage uses intricate patterns and color combinations to render the wearer invisible or difficult to detect.
1. Army Camo
Army camo refers to two different styles of camouflage: woodland camo or digital camo (see descriptions above). These two patterns represent the last two types of camouflage used by the US military.
2. Realtree Camo
Realtree camo is a popular brand of hunting camouflage known for its unique three-dimensional patterns that mimic a variety of different landscapes.
3. Predator Camo
Like Realtree camo, Predator camo is also a brand of hunting camouflage. Unlike Realtree Camo, which uses 3-D patterns, Predator camo uses an open pattern technology characterized by bold, irregularly layered images of leaves and branches for a high contrast look.
4. and 5. Pink Camo
Pink camo feels distinctly feminine, but is still edgy. From 3-D graphic patterns with realistic vegetation to the classic woodland style, almost every camo pattern on the market comes in a shade of pink.
6. Digital Camo
This camo pattern might look familiar — it was the go-to pattern for the US Armed Forces up until 2014. The pattern is computer generated and has a pixelated appearance. You'll typically find it in shades of gray, though more colorful options like blue and green are also available.
7. Desert Camo
Desert camouflage utilizes different shades of tan, brown and black to create what is known as a chocolate chip pattern. Bands of brown and tan are overlaid with clusters of black and white spots to mimic rocky, desert environments.
8. Woodland Camo
When you think camouflage, the first thing that comes to mind is likely this classic camo pattern. Woodland camo was used by the US army between 1981 and 2006 and uses a high contrast, disruptive pattern in earthy, neutral tones like sand, brown, green and black.
9. Urban Camo
Using a similar high contrast, disruptive pattern as Woodland camo, Urban camo is designed to blend into urban environments, although it's used more often in fashion than in the field. Different shades of gray make up the color palette for this type of pattern.
10. Tiger Stripe Camo
Designed for dense jungle environments, tiger stripe camo uses a series of tiger stripe-inspired brushstrokes in green, brown and black. This particular camo pattern was used during the Vietnam War.
11. Snow Camo
Snow camo is designed for use in snowy landscapes. It's characterized by a white backdrop, as opposed to the standard green or brown, and sparse seasonal vegetation (leaves, branches and sage).
Men's Camo Wedding Bands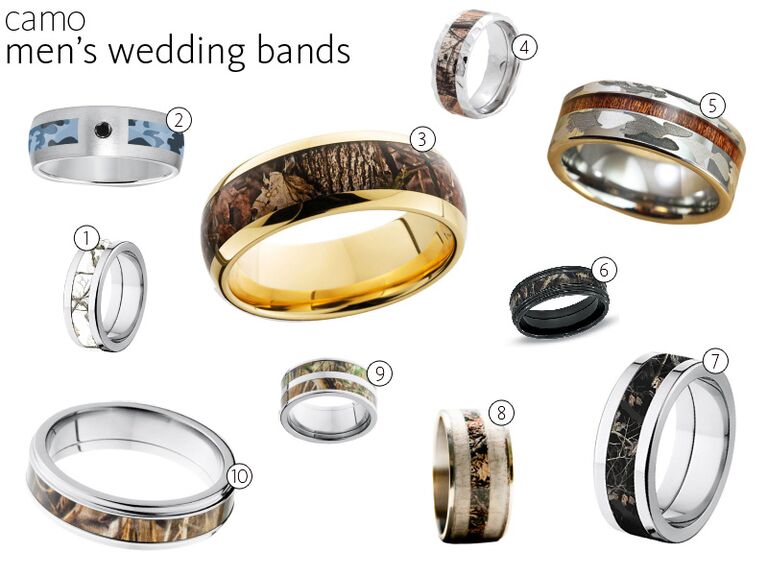 Jewelry can be a tough sell for a guy — even when it comes to wedding bands — so it's important to find one that really suits his unique style sensibilities. Hunting wedding bands and men's camo wedding bands are the ideal choice for the guy with rugged style and a passion for the outdoors. Typically made from alternative, contemporary metals like titanium, cobalt, stainless steel and zirconium, these camo wedding bands are built tough. From a variety of camo patterns (Realtree camo, Mossy Oak and King's Mountain Camo are most popular) to hammered metal and black diamonds, the options are endless, so you'll have no trouble finding a one-of-a-kind band he'll love.
1. This camo wedding ring's snow camo inlay is both soft and subtle, yet still manages to make a big statement. Two sleek bands of polished Aerospace Grade titanium frame the cool winter-inspired inlay, adding a layer of dimension and contrast to give the ring a striking, contemporary look. Tip: Titanium rings cannot be resized, they have to be remade, so be sure to get your size correct before ordering. Shop it: Snow Realtree camo ring, $396, TheJewelrySource.net
2. Made from ultra-durable tungsten, this camo wedding band is an ideal choice for the modern man on the go. Sleek polished metal and a single black diamond accent are eye-catching and elegant. But the standout detail, the blue camouflage inlay bordered with beveled edges, gives this ring a major edge. Shop it: Men's black diamond blue camouflage tungsten wedding band, $349, Triton, Helzberg.com
3. Classic and traditional, but with a woodland twist, this 14-karat gold camo wedding band is perfect for the guy who wants timeless style with a contemporary edge. The ring's camo inlay, shown above in King's Camo Woodland Shadow, is customizable, so you can give your ring your own personal touch. Shop it: 14 karat gold woodland shadow ring, $1,050, KingsCamo.com
4. If you're looking for a ring that will stand the test of time (as in it can take some serious wear and tear) without compromising on looks, this cobalt chrome camo wedding band is it. The properties of this super-strong metal give you the best of both worlds — a high level of durability and the bright reflective look of white gold. A customizable camo inlay and hammered detail give the ring a distinctive, textured look he'll love. Shop it: Cobalt chrome rock hammered camo ring, $499, Titanium-Buzz.com
5. Between the woodland camo-inspired design and wood inlay, this tungsten ring is truly one of a kind. The ring is handcrafted and uses locally sourced koa wood for the off-centered inlay to add an element of warmth. The ring is highly scratch resistant, as well as cobalt and nickel free, making it safe for sensitive skin. Shop it: Camo pattern tungsten carbide ring with koa wood inlay, $55, HappyLaulea, Etsy.com
6. Inlayed with the Realtree camo pattern, this black zirconium camo wedding ring is sure to be a hit with the hunter or outdoorsman looking for something a little different. Super-durable and corrosion resistant, zirconium is a great choice for the guy who likes to get his hands dirty. (We're not kidding — this stuff is used to build nuclear reactors!) Plus, the dark hue makes it feel fresh and modern. The lightweight, nontoxic material also makes it a good choice for sensitive skin. Shop it: Inlay comfort fit black zirconium ring, $349, Zales.com
7. Sophistication and the outdoors come together in this classic camo wedding band. The dramatic black Realtree AP camo inlay is a refreshing alternative to the more standard camo patterns on the market. Framed by two strips of polished titanium, this camo ring offers an attractive juxtaposition of the rugged and refined. Shop it: Black Realtree AP camo wedding band, $396, TheJewelrySource.net
8. Made with genuine deer and elk antlers, this handcrafted wedding band is truly a hunter's dream. A dark camo inlay against an ivory backdrop made from naturally shed antler creates a bold contrast with a raw, rustic appeal. The ring is lined with titanium for a strong construction and is sealed with a protective finish to protect against water. Shop it: Camo ring with antler and titanium band, from $400, Stag Head Designs, Etsy.com
9. Big and bold, this 10-millimeter-wide camo wedding ring boasts solid titanium construction, titanium sidewalls and a split camo inlay. Each inlay is 3-millimeters- wide and can be customized with the camo pattern of your choice and is separated by a polished titanium rail that runs through the center of the ring. This is the ultimate camo wedding band for the guy that wants to stand out. Shop it: Double barrel Realtree camo ring, $269, Realtree.com
10. Crafted in sleek and strong titanium, this camo wedding band features a ribbon of Realtree AP or Realtree Max-4 camo and a smart beveled edge for an understated, outdoors-inspired look he'll appreciate. The 6-millimeter-wide band is buffed to a brilliant luster, and the inside of the comfort fit ring can be engraved, so you can add an extra-personal touch. Shop it: Titanium Realtree camo ring, $275, Realtree.com
Women's Camo Wedding Rings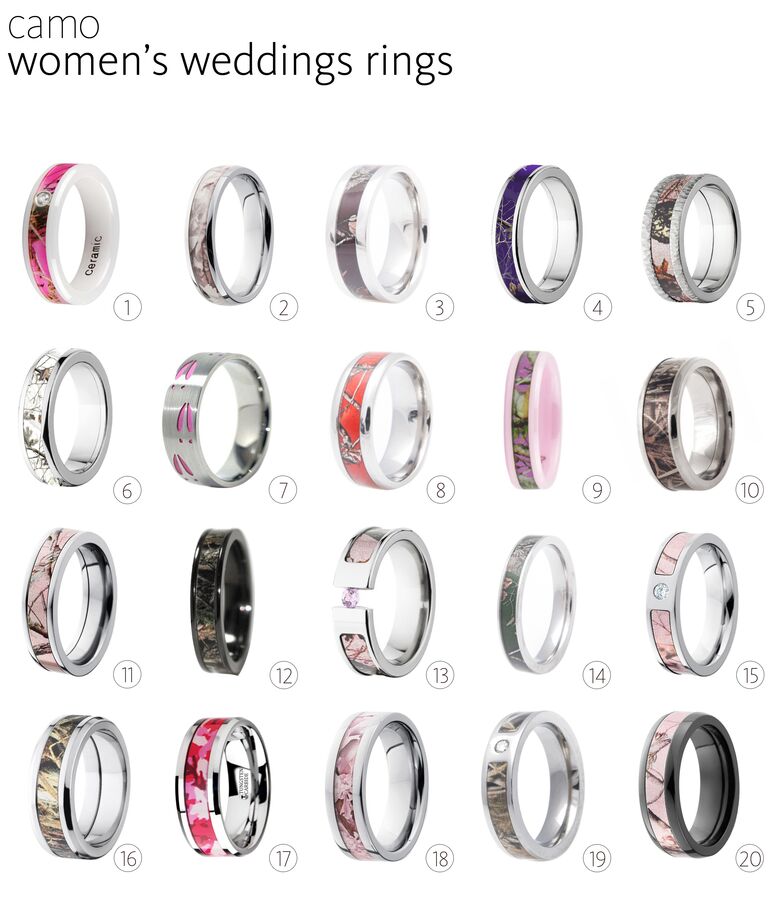 Camo isn't just for the guys. Ladies love camo too, so why let him have all the fun? Wedding ring makers hear you — which is why they've started to create custom lines of camo wedding rings designed with women in mind. Whether you want simple and sweet, bold and brazen, or classic and elegant, there's something for even the most discerning camo-wearing woman. From snow camo wedding bands to diamond-dotted baubles and pink camo wedding rings, check out this unique collection of camo wedding bands to start getting inspired for your day. We're willing to bet you'll love them all!
1. If you're more into trendy bold looks, this 5-millimeter white black zirconium band is a perfect choice. With a flat profile, camo inlay in your choice of Realtree AP, Realtree Max-4 or Mossy Oak Break Up camo patterns, and a comfort fit, he'll want a matching camo wedding band of his own! Shop it: Ladies black zirconium narrow camo ring, $289, Titanium-Buzz.com
2. Snow camo just screams bridal, but this wedding band by King's Camo takes things to another level with its own snow camo pattern that is characterized by subtle contrasts from light to dark with realistic colors and shadows that give it softness and depth. The polished cobalt chrome band is 5 millimeters and has a custom dome design. Shop it: Cobalt chrome band in snow shadow, $250, KingsCamo.com
3. Want something a little unexpected but not totally over the top? The maroon Realtree camo wedding band is just what you're looking for. The ring combines the Realtree AP camo pattern you love with a cool twist — a rare, deep maroon background that complements the pattern's earthy tones. The lightweight and beautifully polished titanium band is built to last and designed with a comfort fit. Shop it: Maroon Realtree camo wedding band, $250, Titanium-Buzz.com
4. Not for wallflowers, this vibrant purple camo wedding band commands attention. Realtree purple camo is a fun, playful alternative to classic and pink camo patterns. This unusual ring is most certainly for the woman who dares to be a little different. Strong materials in a high-shine finish give the ring a luminous look. Shop it: Purple Realtree camo ring, $426, Official Licensed Realtree Rings, Amazon.com
5. The nature fanatic will totally flip for this camo wedding band. Made with Mossy Oak's Duck Blind camo pattern, this ring channels the great outdoors, while delivering elegant style. Designed for a modern woman on the go, the ring is crafted from high-performance metals that are durable, comfortable and fashionable. The inside of the ring is rounded to maximize comfort. Shop it: Duck Blind Mossy Oak camo ring, $426, Official Licensed Realtree Rings, Amazon.com
6. Wish you could wear your camo wedding dress every day? Now you can take a piece of it with you everywhere you go with the Realtree snow camo wedding band. The wintry white camo pattern will whisk you back to the day you said "I do" every time you look at it. The clean, subtle color of the camo lends the ring a soft, feminine feel. Love the look? Choose a matching band for your husband-to-be. Shop it: Realtree Snow camo wedding band, $426, Official Licensed Realtree Rings, Amazon.com
7. This camo wedding band was designed with the glamorous country girl in mind. The ring is characterized by a 5-millimeter, flat titanium profile with a 3-millimeter inlay of customizable camo (choose from Realtree Max-4, Realtree AP, Mossy Oak Break Up and Mossy Oak Infinity) that has been segmented on both sides of the ring. A .05-carat diamond insert gives the ring a little bit of glitz. A great companion to a camo engagement ring! Shop it: Diamond camo wedding ring, $475, Titanium-Buzz.com
8. Bolder and brighter than any other camo wedding band on the market (besides purple that is!), this red Realtree wedding ring is not for the woman who wants to blend in, but for the woman who is adventurous, daring and loves to make a statement. The ring uses a special dome profile titanium band that's both durable and stylish to highlight the fiery recessed camo inlay. Shop it: Red Realtree wedding ring, $250, Titanium-Buzz.com
9. Richly hued, dark green Realtree camo is sure to make your friends green with envy. The rare color gives the rustic ring a slight regal feel. The camo inlay is bordered by thin, polished titanium edges running the entire diameter of the ring. The band is designed for maximum comfort too, so you'll never want to take it off. (But then again, why would you?) Shop it: Green AP Realtree ring, $250, Titanium-Buzz.com
10. The woman with a taste for the practical and classic (not to mention a passion for the outdoors) will find this simple, flat profile camo ring particularly attractive. The durable and lightweight zirconium band with a comfort fit interior will appeal to her sensible side, but the sleek, gorgeous camo inlay with a Realtree camouflage pattern will grab her attention and allow her to give the ring a bit of a personal flair. Shop it: Ladies camo wedding ring, $199, Titanium-Buzz.com
Pink Camo Wedding Rings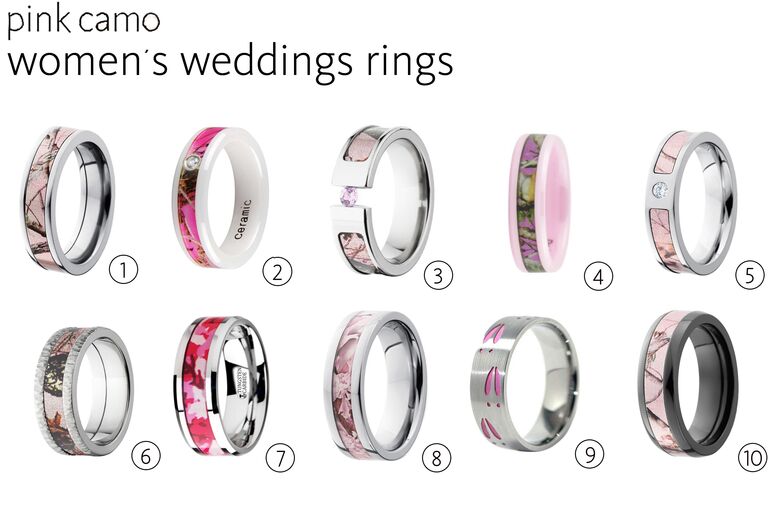 1. This camo wedding ring is truly a classic. A strip of Realtree camo in a sweet, feminine pale pink color runs down the center of the 5-millimeter-wide titanium band with polished edges. The no-frills attitude of this band makes it perfect for pairing with a more attention-grabbing ring, but can also hold its own. Shop it: Flat profile Realtree AP pink wedding ring, $285, Realtree.com
2. With its high-quality materials, eye-catching design and an accessible price point, you'll definitely want to consider this camo band. Made with ivory ceramic, a lightweight and scratch-resistant alternative to standard alloys, you'll get all the benefits of materials like tungsten and titanium at much less of a price. The pink camo inlay pops against the vibrant ceramic band and the .010-carat cubic zirconia adds a hint of shimmer. Shop it: Hot pink ceramic camo wedding ring, $155, The Ice Empire Jewelry LLC, Amazon.com
3. This pink camo wedding ring takes things to the next level with a tension set pink sapphire. A Pink Mossy Oak camo inlay in a cherry blossom pink hue adds to the overall delicate look of this timeless piece of jewelry. Rounded, polished edges allow for an easy, comfortable fit. Shop it: Pink sapphire camo wedding rings, $396, TheJewelrySource.net
4. The cheerful pink hue of this ceramic wedding band is utterly unexpected and original. Juxtaposing resilient construction (ceramic is surprisingly tough, not to mention affordable) with ultra-feminine details, like its rose-colored camouflage pattern, this wedding band is the perfect choice for the camo-wearing, outdoors-loving woman. Shop it: Women's ceramic camouflage wedding band, $150, David Jewelers, Amazon.com
5. This elegant camo wedding ring by Realtree Camo pairs feminine pink camo with a hint of sparkle (from a .05 round diamond to be exact) for an ultra hunter-chic look. The 3-millimeter pink camo inlay is set against a 5-millimeter-wide high-shine and sturdy cobalt chrome band. Each ring uses a different pattern to ensure that no two are identical. Shop it: Realtree ladies AP pink diamond ring, $629, Realtree.com
6. With strips of textured metal, this wedding band is a little rough around the edges — but in a good way. Made for the girl who doesn't want to blend in, this camo band is dramatic and nontraditional. A strip of pale pink Mossy Oak camo gives the ring a subtle feminine touch without losing that rustic, woodland vibe. Shop it: Mossy Oak camo wedding ring, $426, Official Licensed Realtree Rings, Amazon.com
7. Tough tungsten carbide and a modern camo design deliver major wow factor in this Thorsten wedding band. Polished beveled edges give the ring a lustrous look, while a bold pink and white camouflage inlay adds a pop of vibrant color. The band itself is made from one of the most scratch-resistant metals around, but the resin inlay requires a bit more care. Shop it: Tungsten wedding ring with pink and white camouflage inlay, $290, Thorsten, LarsonJewelers.com
8. Unlike many of the other types of pink camo patterns on the market, King's Camo's Pink Shadow camo pattern has a distinct feminine feel. Floral accents in a spectrum of pink replace the more traditional outdoor leaf and branch prints for a flirty, soft look. This is an ideal choice for the woman who wants something that feels classic and ladylike with an understated, modern edge. Shop it: Titanium pink shadow ring, $250, KingsCamo.com
9. While not exactly camo, this unique band still has an undeniable woodland appeal. A simple polished titanium band with a satin finish promises durability, while bright pink deer tracks really bring the ring to life. An excellent choice for the woman who wants a bit of hunter-inspired style, but without the camo. Shop it: Pink deer track ring, $255, Titanium-Buzz.com
10. Want your ring to stand out from the crowd? Go bold with a black zirconium camo wedding band. A strip of Realtree Pink camo creates brilliant contrast with the polished dome edges of the jet-black band. The ring can also be cast in gold or platinum if a more classic look is what you're after. Shop it: Black zirconium Realtree AP pink Ring, $415, Realtree.com
Blue Camo Wedding Rings
1.  This striking blue camo wedding ring for men is certainly an eye-catcher. The Realtree camo pattern lays over for the stunning royal blue band. As for the metal, you can choose serinium or for a more dramatic look, go with the black ceramic setting. 

Shop it: Blue camo wedding ring, $355, CamoKix.com

2. This turquoise blue number is something you will get compliments on for years to come. The brilliant aqua blue features a delicate design of twigs, pine needles and leaves, giving it rustic and natural appeal. The camo wedding ring is titanium with an acrylic seal. 
Shop it: Turquoise blue camo titanium ring, $42, Etsy.com

3. These lovely camo wedding ring sets for him and her are a match made in Heaven. Perfect for the outdoorsy duo, this camo wedding ring set comes with a titanium ring with black camo for him. As for her, you can choose a wedding band with blue camo and a matching engagement ring with a sparkly, blue heart-shaped cubic zirconia stone. 
Shop it: His and her camo rings heart stone wedding ring set, Etsy.com

4. Another dazzling camo wedding ring sets for him and her, this four-piece ring set will make you swoon. The women's wedding set features three stackable rings. One includes a beautiful snowy blue orchid camo design, the other boasts a solo blue cubic zirconia gemstone, and the third ring includes 27 alternating blue and white stones. As for his ring, it features a rugged forest oak camo design, which perfectly compliments her ring set. 
Shop it: 4 Piece blue camo wedding ring set for him and her, Etsy.com

5. Ideal for men or women, this understated blue camo wedding ring is a prime option for lovers of the outdoors. Whether you choose to wear matching blue camo rings or you want to surprise your partner with this unique design, be sure to add a complimentary customized engraving on the inside to make it extra special. This ring is lightweight and titanium. 
Shop it: Customized engraved titanium unisex wedding ring, Etsy.com 

Camo Wedding Ring Sets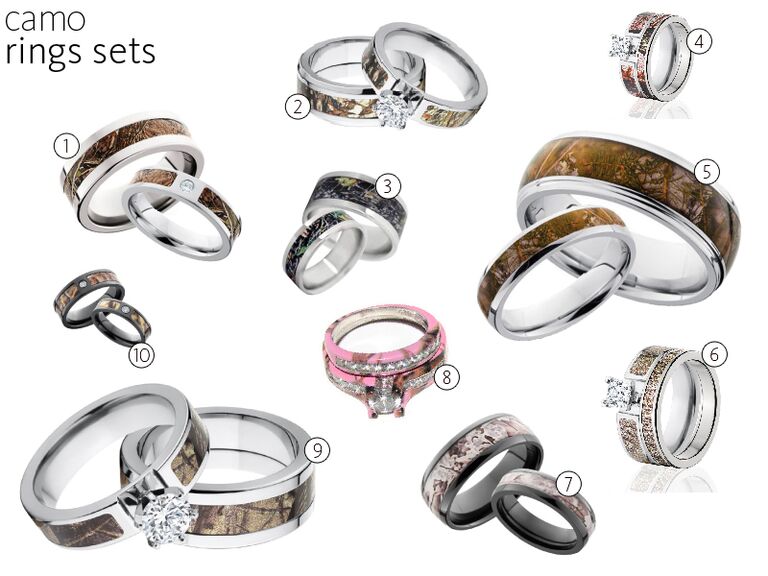 If you both love a little camo in your lives, why not kick off your new married life together with matching wedding bands that celebrate your love of the great outdoors and commitment to each other? Opt for a set of his and hers rings with your favorite camo pattern and tough, durable materials that can stand up to all the outdoor activities you love to do together. Another idea? Pop the question with a camo bridal set that's sure to wow your camo-wearing lady. From simple, contemporary styles to bands dripping in bling, there's a perfect pair to represent your unique bond.
1. When choosing your wedding bands, you want something that feels not only unique, but a true representation of your styles and personalities. And with this stunning his and hers camo wedding band set, neither one of you will have to settle for anything less. Customizable camo inlays (although we love this woodland print!) stand out against the lustrous cobalt chrome. A bezel-set diamond adds an extra-glamorous touch to her ring. Shop it: Camo ring set with bezel diamond, $1,764, CamoKix.com
2. Looking for wedding rings that represent your commitment to each other as well as your love for the outdoors? This spectacular set of his and hers camo wedding rings with Mossy Oak branded camo will do just that — and more. Now you'll have an excuse to wear camo every day of the year. You can get on board with that, right? Shop it: His and hers matching mossy oak duck blind camo wedding ring set, $2,490, The Jewelry Source, Amazon.com
3. Put aside those traditional bands. Stand out as a couple by choosing matching camo wedding rings in your favorite camo style. These polished, scratch-resistant Vitalium wedding bands can be ordered flat or beveled and are inlaid with your choice of Mossy Oak or Realtree camo for a look that's far from boring. Shop it: Camo wedding band his and hers Set, $804, CamoKix.com
4. With a brilliant cubic zirconia center stone on one band, this coated camo bridal set has plenty of eye-catching shimmer. Choose this gorgeous Mossy Oak camo pattern in a striking pink hue for a unique look. Smooth rounded edges on the titanium rings offer a comfortable fit. Shop it: Camo CZ wedding titanium set, $670, Etsy.com
5. Camo-loving country folks will fall for this beautifully crafted set of his and hers camo wedding bands made with durable, scratch-resistant and hypoallergenic cobalt chrome. You can't go wrong with their timeless design and the King's camouflage woodland pattern inlay, which you can switch up to cater to your individual tastes. His ring is an 8-millimeter band with 5 millimeters of camo and a grooved edge, while hers is a 5-millimeter band inlaid with 3 millimeters of camo. Shop it: His and hers camouflage ring set, $930, CamoKix.com
6. If she loves camo as much as you, this bridal set was made with her in mind. The titanium rings are coated with high-gloss camo in beautiful Mossy Oak camouflage pattern that will perfectly match any bride's style. And don't forget about all that bling. The engagement ring is dripping in cubic zirconia for a striking outdoor-inspired look. Shop it: Titanium Camo bridal set, $670,Etsy.com
7. You might have totally different styles, but this matching set of camo wedding rings is something you'll both be able to agree on. Made with hard-as-nails black zirconium, these rings are not only stylish, they're built to last — something you'll both appreciate, along with the (customizable) camo inlays that speak to your passion for the outdoors. Shop it: His and hers domed camo wedding ring set, $1,148, CamKix.com
8. Wow her (even more!) with not one but two rings that represent her love of the great outdoors while showing off her glamorous, feminine side with this bright camo bridal set. Made with stainless steel coated in pink camo, the cathedral-style engagement ring has a 6-millimeter princess cut cubic zirconia center stone and is flanked by a series of side stones. Save the matching band for the wedding day or have her wear it right from the start for the ultimate camo look. Shop it: Cathedral camo wedding set, $272, Sweet-southern-shop.highwire.com
9. Simple, yet totally unique, this matching set of his and hers camo wedding rings is proof that camo can most certainly be classy. Cobalt chrome material gives the rings the same brilliant shine of more expensive gold or platinum, but with the added benefit of being able to handle even the harshest of environments. Shop it: His and hers matching Realtree AP camouflage wedding ring set, $2,490, The Jewelry Source, Amazon.com
10. You'll both be shining bright with these bold black zirconium camo wedding rings. They're the perfect compromise — he can have the camo he wants, and she gets a bit of sparkle. Each wedding band is designed for a comfort fit and has a .05 bezel set diamond surrounded by two segments of Realtree camo inlay. Shop it: His and her black zirconium Realtree ring set, $1,100, Titanium-Buzz.com
Camo Engagement Rings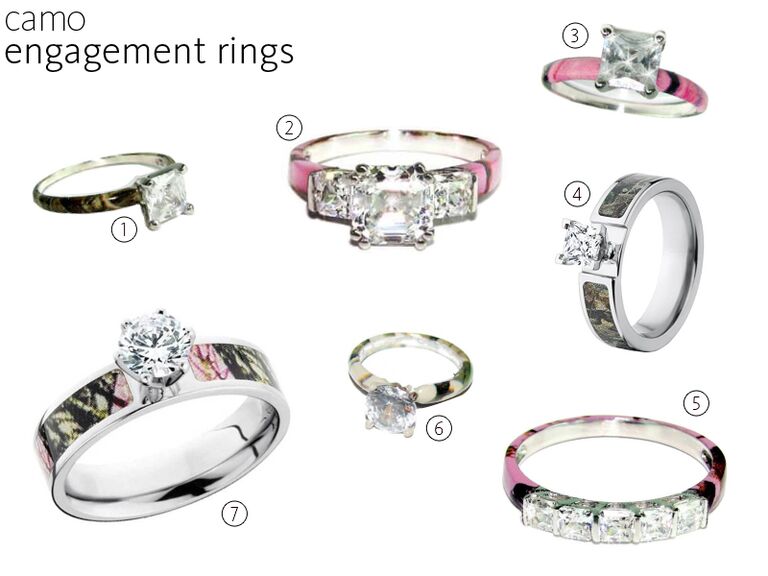 If you're planning on popping the question anytime soon, you're going to want to find a ring that really represents her individual style. And if a classic style just isn't her thing, you need something that really stands out and appeals to her unique sensibilities. A little bit elegant, a little bit country, camo engagement rings are the ideal fit. Not only will you wow her with a one-of-a-kind ring that speaks to her love of everything outdoors, you won't have to break the bank to do it. These cubic zirconia and real diamond camo engagement rings will give her the diamond look she wants without the hefty price tag.
Cubic Zirconium
1. A 1-carat cubic zirconia sparkler in a four-prong setting steals the show on this simple camo engagement ring. Made with sterling silver, the band comes in 10 different camo patterns, so you can choose the color or print that best suits her individual style. The inside of the ring is coated with rhodium to prevent tarnishing. Shop it: Camo princess solitaire ring, $160, CamoRing.net
2. Though it might not be made with expensive materials like platinum or gold, this pink camo engagement ring makes a bold statement. Boasting a 1.96-carat cubic zirconia center stone and two .78-carat side stones aligned along the center, this nontraditional ring is anything but short on style. She'll love the band's bright pink muddy girl pink camo pattern, plus all that extra sparkle from the special asscher cut of the cubic zirconia stones. Shop it: Camo anniversary ring, $199, CamoRing.net
3. This playful pink camo engagement ring is fit for a princess, making it an obvious choice for the huntress in your life. The 1-carat princess-cut cubic zirconia stone is all the sparkle she needs and more, plus the camo-plated sterling-silver band packs plenty of personality and is available in 10 different camo patterns. Shop it: Camo princess solitaire engagement ring, $160, CamoRing.net
4. This camo engagement ring strikes the perfect balance between timeless elegance and rustic charm with a princess-cut center stone, lustrous finish and camo inlay. The .5-carat cubic zirconia stone is set in a 14-karat gold prong and is highlighted by the bright cobalt chrome band. Realtree Timber camo adds an earthy, organic touch any outdoorswoman will love. Shop it: Realtree Timber engagement camo ring, $850, TheJewelrySource.net
5. This flashy piece of camo jewelry can be worn as an engagement ring or as an accompaniment to a similar pink camo style (or with another camo pattern for an edgier look). The ring is made of fine sterling silver and has five princess-cut, bar-set cubic zirconia stones. Shop it: Camo CZ bar set engagement band, $125, CamoRing.net
6. Is your girl big on bling? You may not be able to shell out thousands for a three-carat bauble, but this princess-cut cubic zirconia stone will give her the bold sparkle she wants without breaking the bank. The six-millimeter-wide ring is cast in cobalt and is available in a Mossy Oak Obsession Camouflage inlay. Shop it: Camo solitaire with CZ stone setting, $550, Overstock.com
7. A classic engagement ring that is anything but ordinary, this camo ring is for the sassy country girl who loves dressing up with a little bit of camo. The Mossy Oak Pink Break Up camo is inlaid into a high polish six-millimeter-wide Vitalium band, an incredibly durable and scratch-resistant metal that's even stronger than cobalt chrome. The best part about this ring? It gives you the look of a real diamond at a more affordable price, but you have the option of swapping it out for a real stone later. Shop it: CZ Mossy Oak camo engagement ring, $1,189, CamoKix.com
Real Diamond and Gem Camo Engagement Rings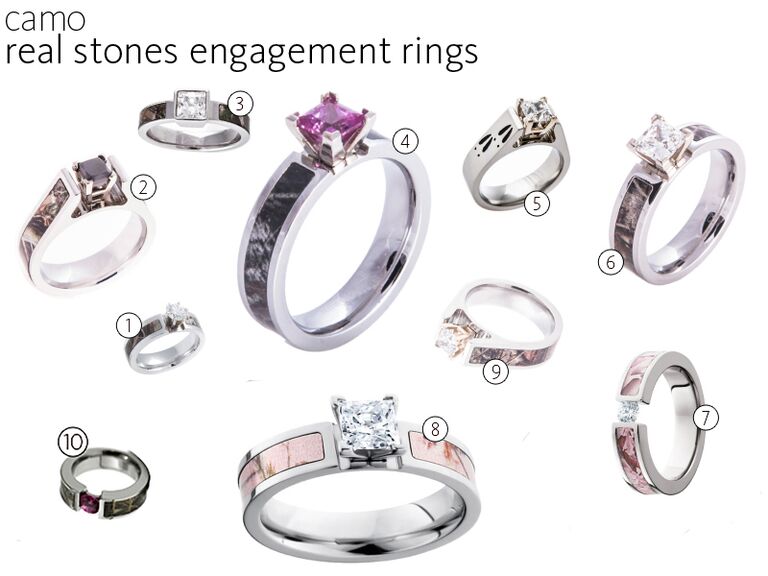 1. There's no way she'll say anything but yes when you present her with this stunning pink camo engagement ring. Constructed with cobalt chrome, this ring will last a lifetime and then some. The brilliant polish gives the impression of platinum or white gold and pairs perfectly with the pale pink color of the Realtree AP Pink inlay. Shop it: Realtree ladies camo .5-carat diamond ring, $2,799, Realtree.com
2. This camo engagement ring seriously delivers on style, but won't burn a hole in your wallet. The high-gloss cobalt chrome finish and princess-cut center stone give the ring a glamorous look that will endure through time. The camo inlay is customizable and adds a wilderness-inspired touch. Shop it: Princess-cut camo engagement ring, from $699, Titanium-Buzz.com
3. Pop the question with a ring that's positively one of a kind. Skip the diamond and opt for a brilliant princess-cut pink sapphire instead for a fresh splash of color that will leave her speechless. Realtree or Mossy Oak runs along the center of the glossy band for an engagement ring like you've never seen. Shop it: Pink stone camo ring, from $999, Titanium-Buzz.com
4. If you're looking for an engagement ring with a lot of character, this is it. The titanium tension setting and camouflage inlay make this ring anything but generic. The subtle sparkle of the .25-carat diamond center stone and pink shadow camo create an elegant feminine look that will make her jaw drop. Resistant, lightweight material and a comfort-fit band means she can do all the outdoor activities she loves without ever having to take it off. Shop it: Camo diamond ring tension set, $1,494, CamoKix.com
5. This cathedral-cut camo engagement ring lets her embrace her love of the woods without giving up her soft, feminine side. The sleek cobalt ring has a tapered peak, Realtree camouflage inlay running through the center and a spectacular black diamond for an unconventional appearance that will set her apart from the crowd. Shop it: Black diamond cathedral cut camo ring, from $1,120, Titanium-Buzz.com
6. This engagement ring is for the girl who loves pink almost as much as she loves camo. This isn't your average engagement ring — the pink sapphire and tension setting set it apart. Add a personal touch with your pick of four different camo patterns from Realtree and Mossy Oak. Shop it: Camo chick ring, from $1,200, Titanium-Buzz.com
7. This wilderness-inspired engagement ring is sure to be a conversation starter. Black enamel deer track carvings along each side of the cobalt chrome band put an unconventional twist on this simple ring. While you find just a speck of camo here, we think it has just as much backcountry charm. It's the perfect compromise for couples who want to blend the classic and the unexpected. Shop it: Deer track engagement ring, from $928, Titanium-Buzz.com
8. Whether you choose a diamond that's .25, .33 or .5 carats, this camo engagement ring is stylish and stunning. The diamond sits in a 14-karat white gold prong setting placed atop a contemporary cobalt chrome band. A camo inlay in either Realtree or Mossy Oak camo wraps around the entire band. Shop it: Camouflage engagement band, from $1,045, Titanium-Buzz.com
9. For a sleek modern look, kick traditional settings to the curb and opt for something a little more out of the box. This square diamond camo engagement ring is trendy but still gives you a taste of the great outdoors. The princess-cut diamond sits in a high-shine cobalt chrome band with two Realtree or Mossy Oak camo inlays on each side. Shop it: Square diamond camo ring, from $879, Titanium-Buzz.com
10. Framed in a box setting, the design of this striking princess-cut diamond camo engagement ring was inspired by pro hunter Tiffany Lakosky of the TV show Crush With Lee & Tiffany on the Outdoor Channel. Choose from Realtree AP, Max-4 or Pink Realtree AP camo to adorn the sides of the cathedral-cut cobalt chrome band. Shop it: Cathedral cut camo ring, from $925, Titanium-Buzz.com
Where to Buy Camo Wedding Rings
Outdoor, hunting and camo wedding rings are carried in lots of fine jewelry stores, but finding them locally can be a challenge.

Online
The easiest place to find your camo wedding rings and camo engagement ring is actually online, especially if you're looking for hunting-style camo from brands like Realtree, Mossy Oak and King's Camo.
Before you buy a camo wedding ring online, you should visit a local jeweler to get sized and try on a few different ring styles to get an idea of what you like. This will help ensure that you end up selecting a style you really love. Most camo wedding rings are made from alternative materials like tungsten, cobalt chrome, titanium and stainless steel, which means they may not be able to be resized once they're made, so it's important to order the correct size.
Finally, when ordering your wedding jewelry online, you should review the shipping cost, cancellation and return policy in the event that you run into any issues with your rings. If you have any questions or concerns, call customer service before placing your order.
The following sites offer the most comprehensive offerings of camo wedding rings currently available:
In-Store
We've put together a list of jewelry stores that carry camo wedding rings for some of the states with the highest demand. Bought one in a state you don't see on this list? Let us know!
Zales and Kay Jewelers are two jewelry stores with locations across the country that offer a limited selection of camouflage wedding bands for men. The styles most commonly offered at these stores are a military camo, ranging from traditional woodland to more modern interpretations in gray and blue.
Arkansas
Georgia
Kansas
Kentucky
Louisiana
Michigan
Mississippi
Missouri
Oklahoma
Tennessee
West Virginia
If you can't find a jeweler located near you that carries camouflage wedding rings, you can always go the custom route. Most jewelers offer this service and you'll be able to have a ring tailor-made to suit your tastes. This is also a good option if you have a particular setting or gem in mind, as most camo wedding rings on the market are only available in a very limited range of styles and customization options.