25 Stunning Wedding Arbor Ideas
There's an arbor for that will fit every size and style of wedding. Take some inspiration from our favorites to find the perfect style for you.

If you're choosing to get married outdoors, it's probably because you love the scenery at your venue. Still, most couples want to put their own personal style stamp on their wedding site to truly make it their own. A wedding arbor is an easy way to personalize an outdoor wedding and define the ceremony site within the open space. But don't think there's just one way to make a wedding arbor. Now is the time to think outside the box. Whether you're looking for ideas for a chuppah or a decorated archway to frame your nuptials, there are so many ways to personalize a wedding arbor and make it special.
Pull inspiration from your color palette, theme or season—there are no rules. You could even get creative with different fabrics, florals and textures. Just make sure your wedding arbor fits the vibe of your ceremony, reception and décor. Whether you're going whimsical, classic or totally homespun, there's a style and design that's right for you.
Pro tip: Use what's around you! Incorporating florals and greenery or wood and fiber is an organic way to blend your décor with the natural setting without overpowering it. Look below for some wedding arbor ideas to inspire you.
1. Natural Wood Ceremony Wedding Arbor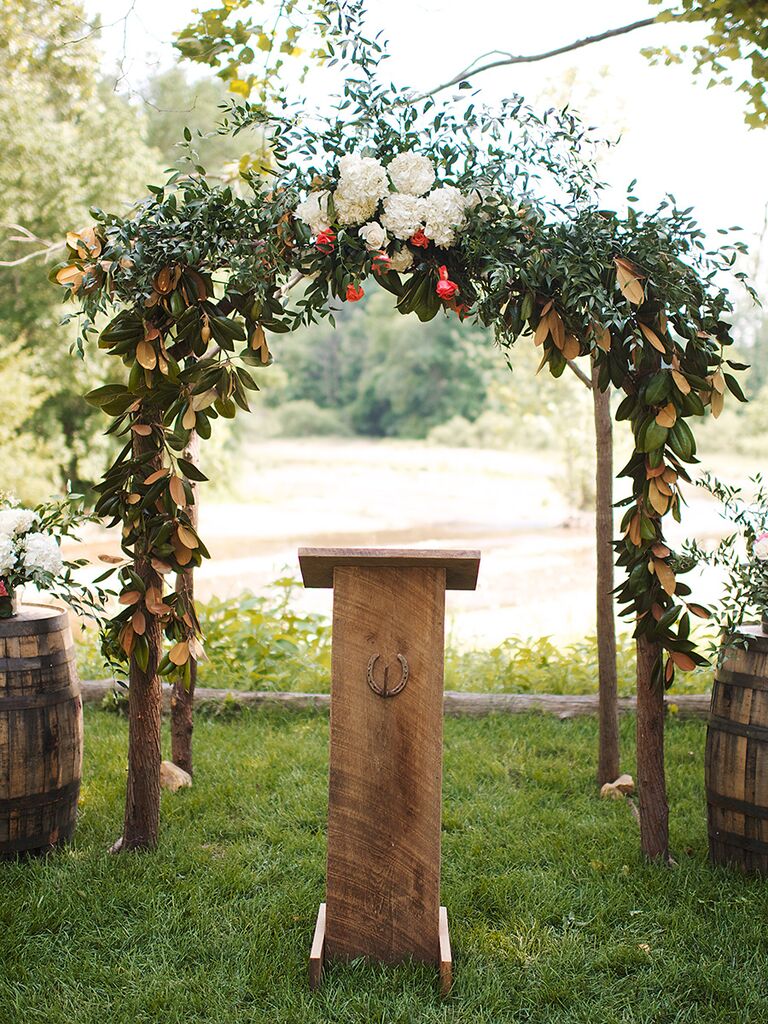 From: A Country Rustic Wedding at Cactus Creek Barn in Dickson, Tennessee
2. Wedding Arbor Using a Rustic Wood Door With a Lavender Wreath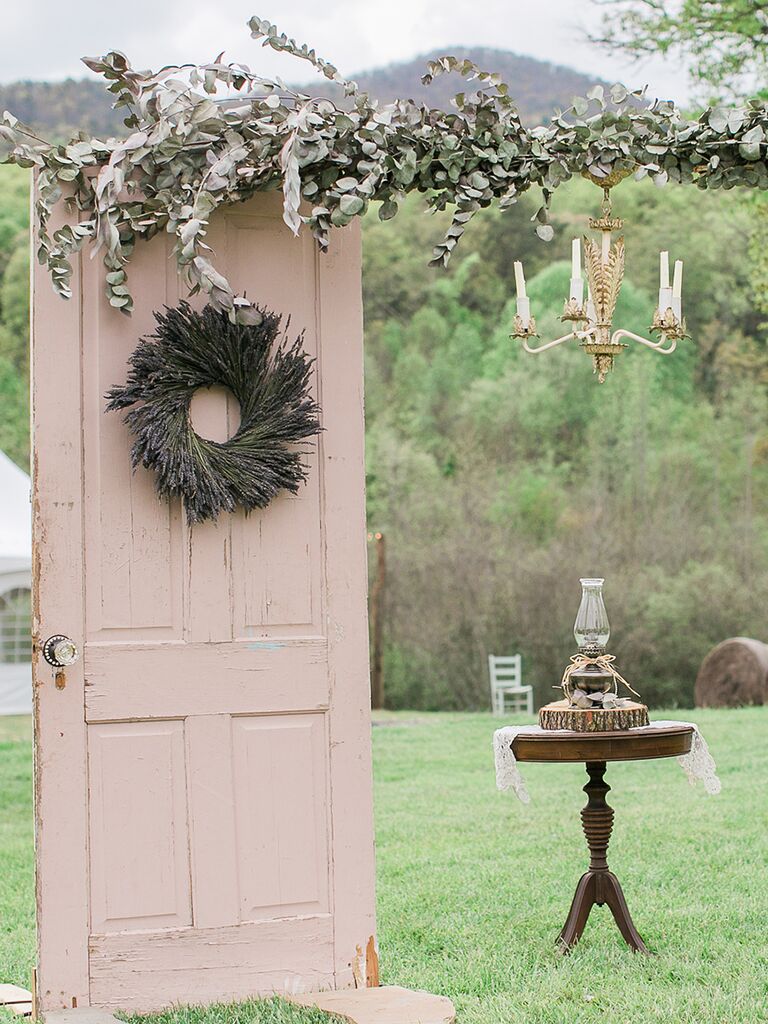 From: A Rustic, Vintage Wedding at Mountain Laurel Farms in Cleveland, Georgia
3. Romantic Heart-Shaped Wedding Arbor With Fairy Lights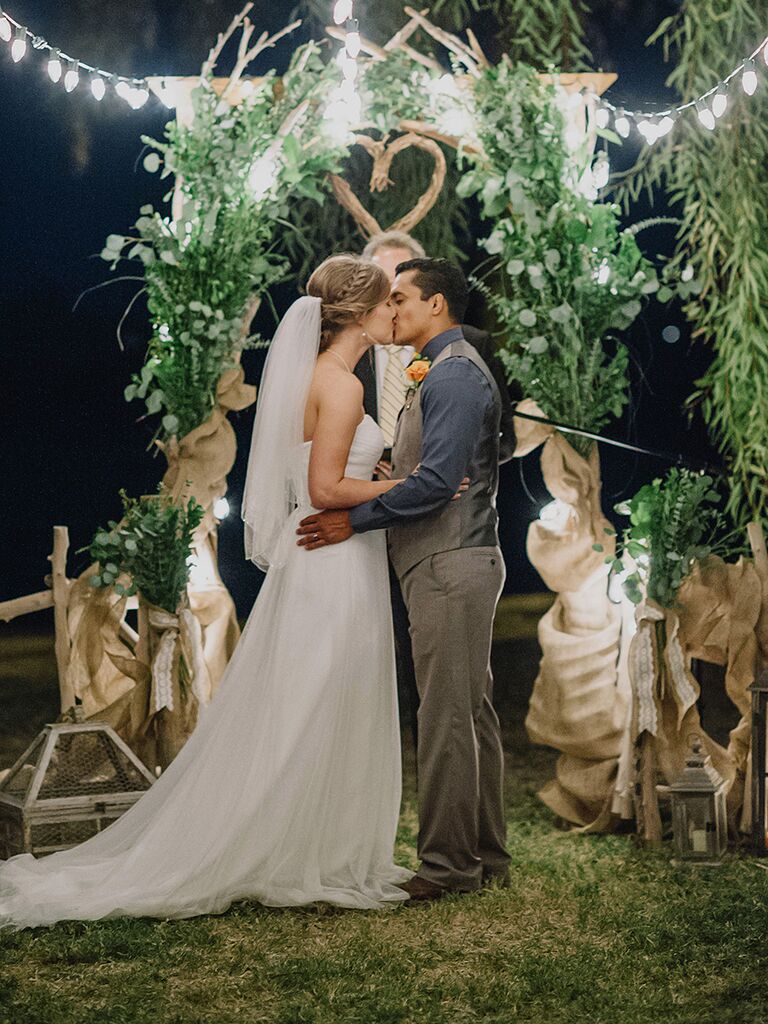 From: A Shabby-Chic Outdoor Wedding at a Private Residence in Brawley, California
4. DIY Ribbon Curtain Wedding Arbor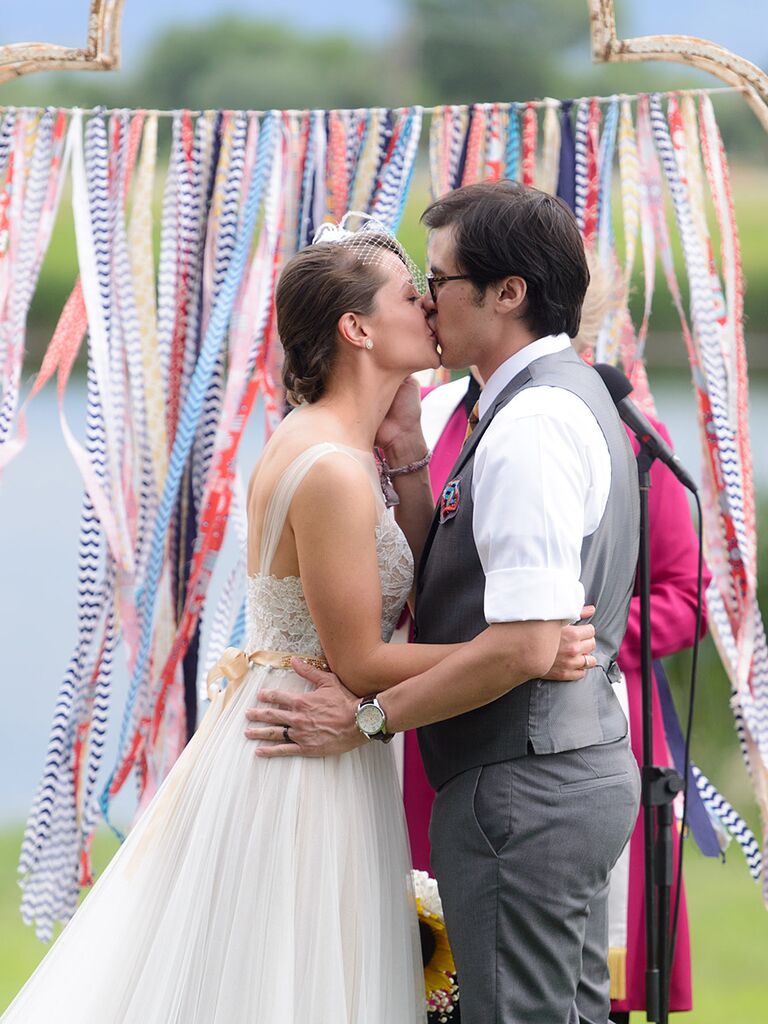 From: A Colorful, Rustic Wedding at Osborn Farm in Loveland, Colorado
5. Birchwood Wedding Arbor With Rustic Chandelier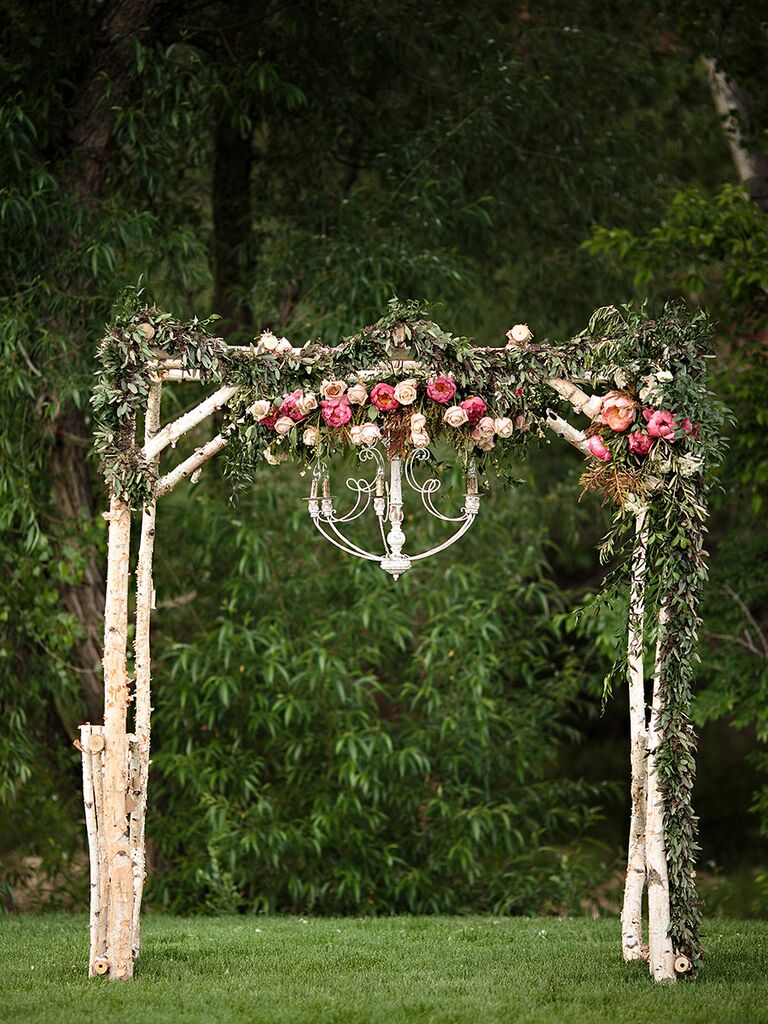 From: A Romantic Wedding at Planet Bluegrass in Lyons, Colorado
6. Simple Draped Ivory Fabric Wedding Arbor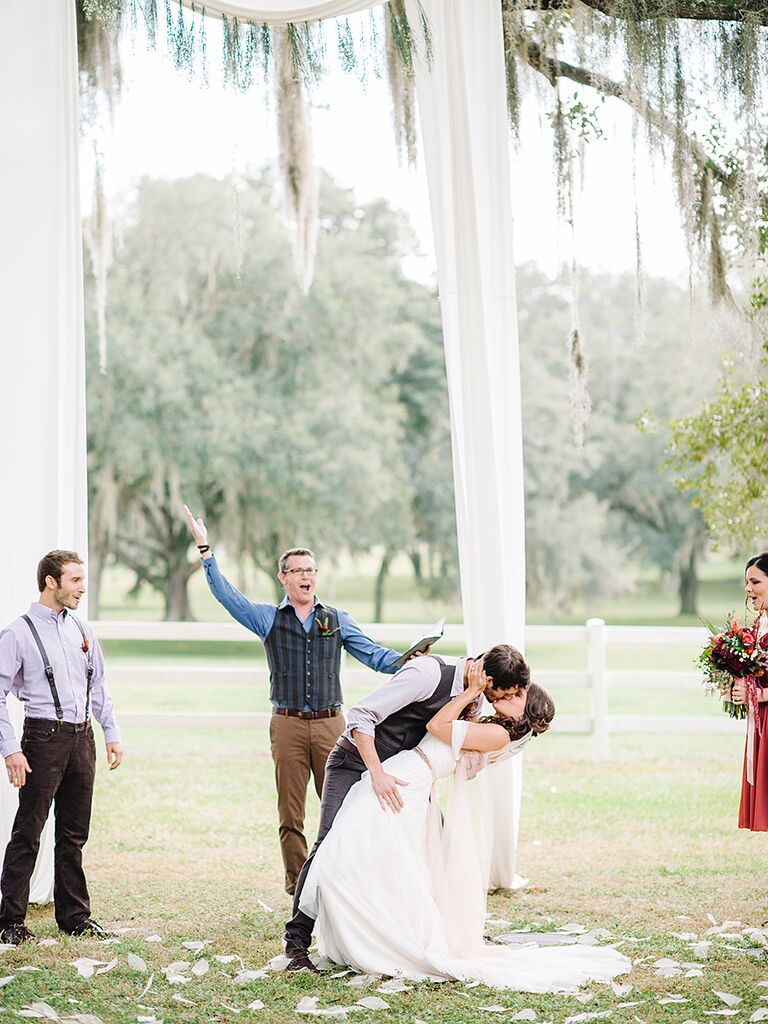 From: A Natural, Fall Wedding at Lange Farm in Dade City, Florida
7. Rustic Wood Wedding Arbor With Greenery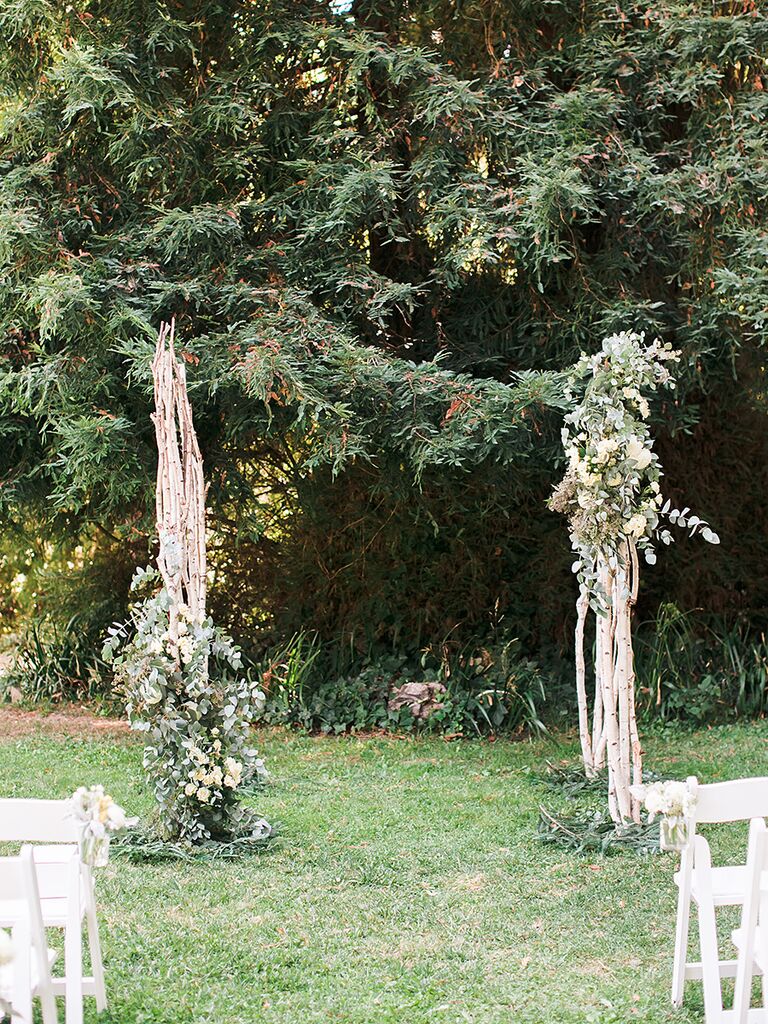 From: A Natural, Rustic-Chic Wedding at Dawn Ranch Lodge in Guerneville, California
8. Rustic Double-Door Wedding Arbor Ceremony Entrance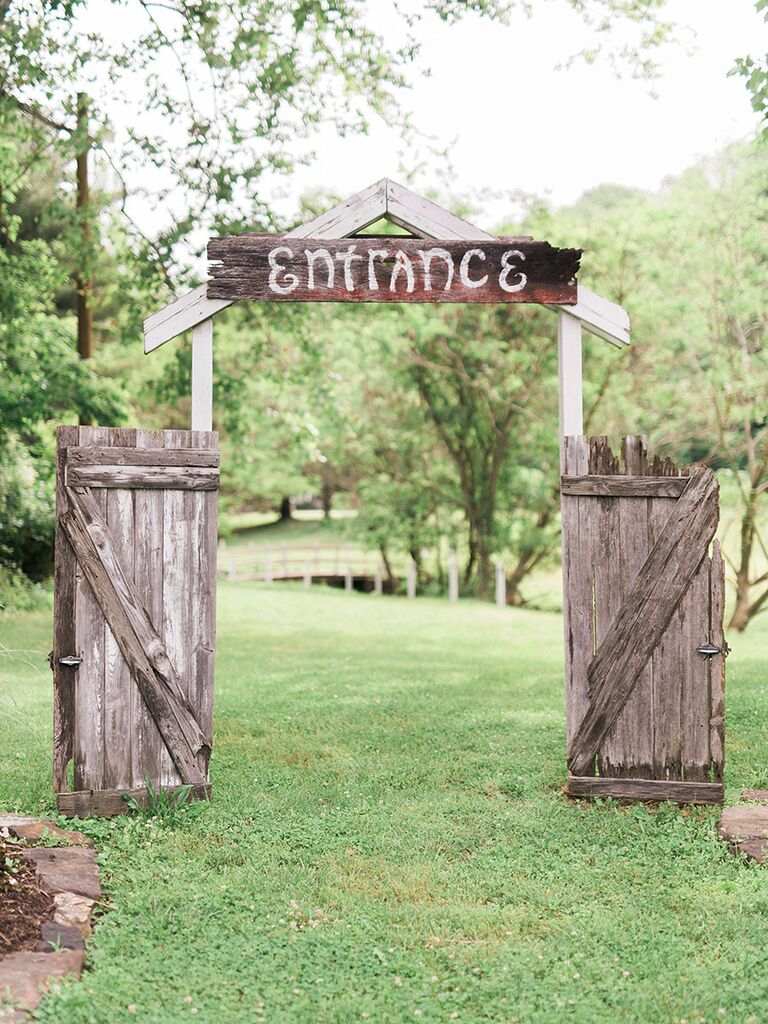 From: A Romantic, Rustic Wedding at Creekwood Gardens in Rogers, Arkansas
9. Gazebo Entrance Made Into a Floral Wedding Arbor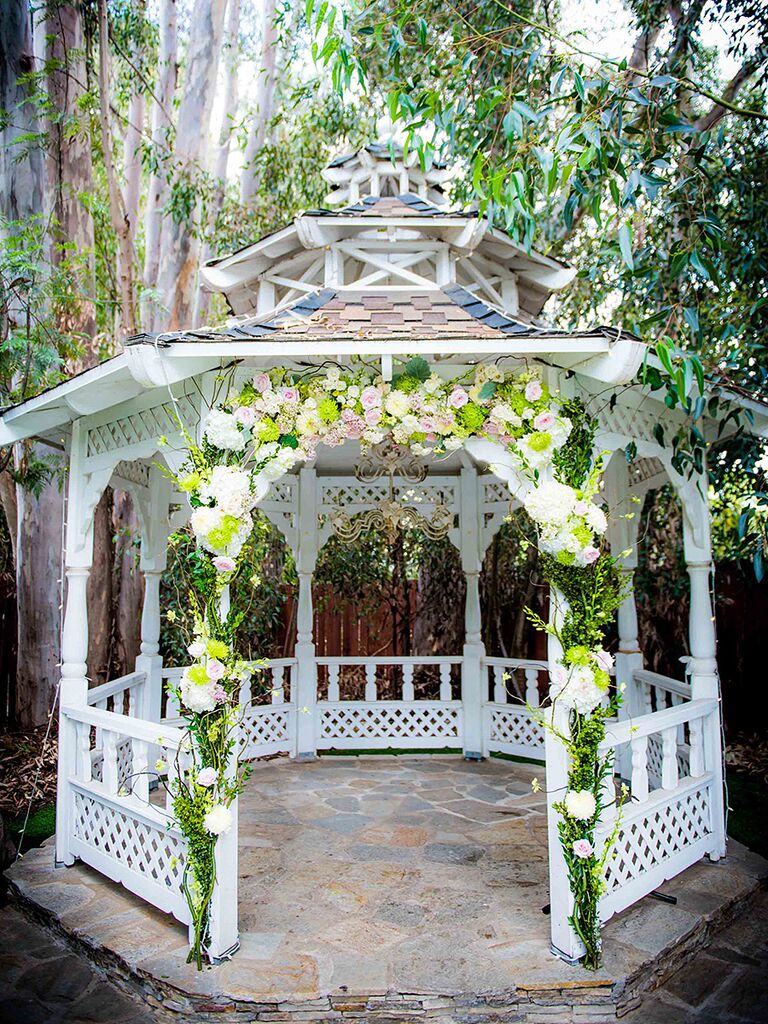 From: A Classic, Elegant Wedding at Twin Oaks House & Garden Estate in San Marcos, California
10. Boho Wood Wedding Arbor With Dream Catchers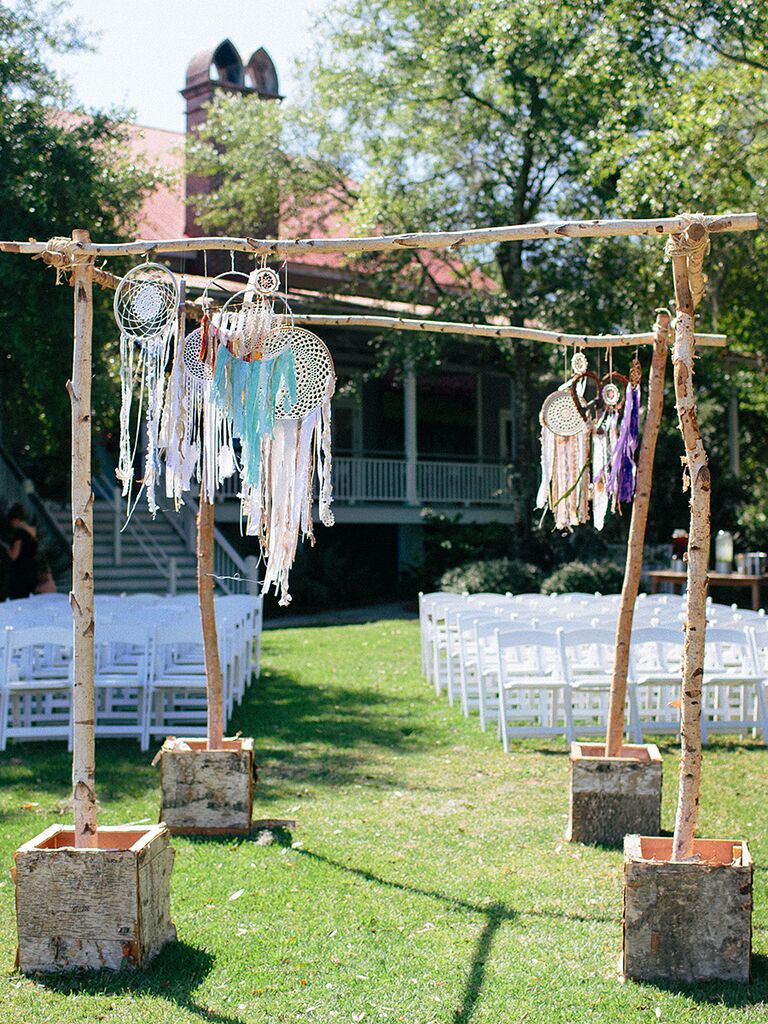 From: A Farm-To-Table Wedding at Creek Club at I'On in Mount Pleasant, South Carolina
11. Beach Wedding Arbor With Bamboo and Sheer Draped Fabric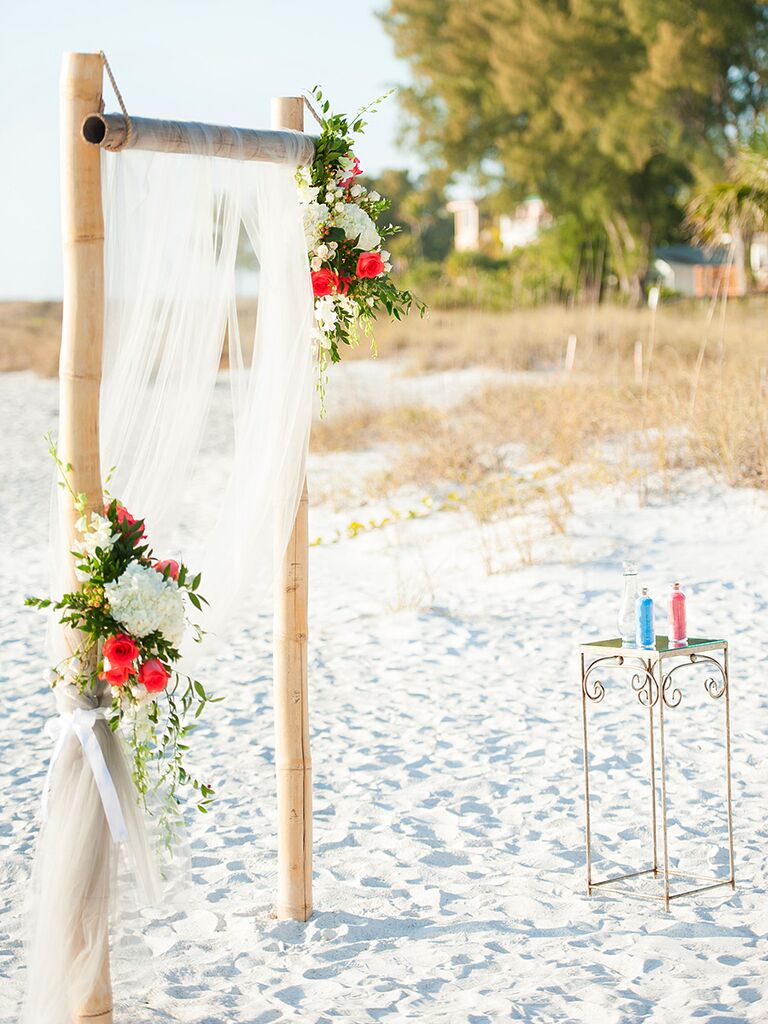 From: A Romantic Beach Wedding at the Sandbar Restaurant in Anna Maria Island, Florida
12. Hydrangea- and Rose-Covered Wedding Arbor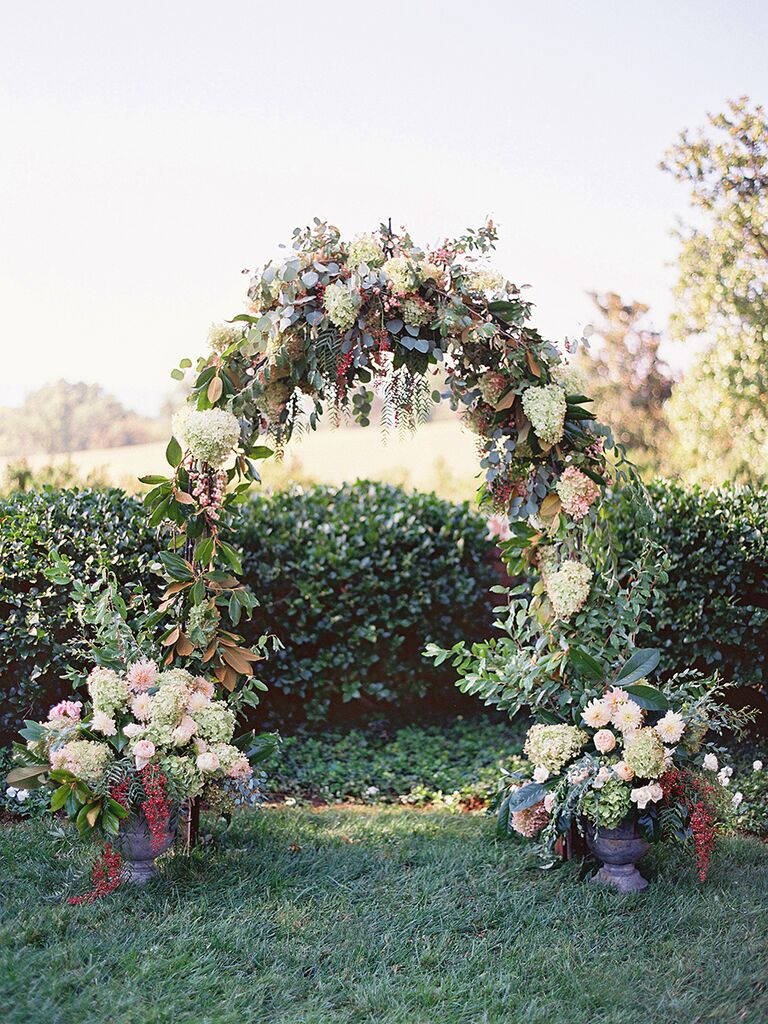 From: A Sophisticated Southern Wedding in Charlottesville, Virginia
13. Bright Orange and Pink Tulle-Draped Wedding Arbor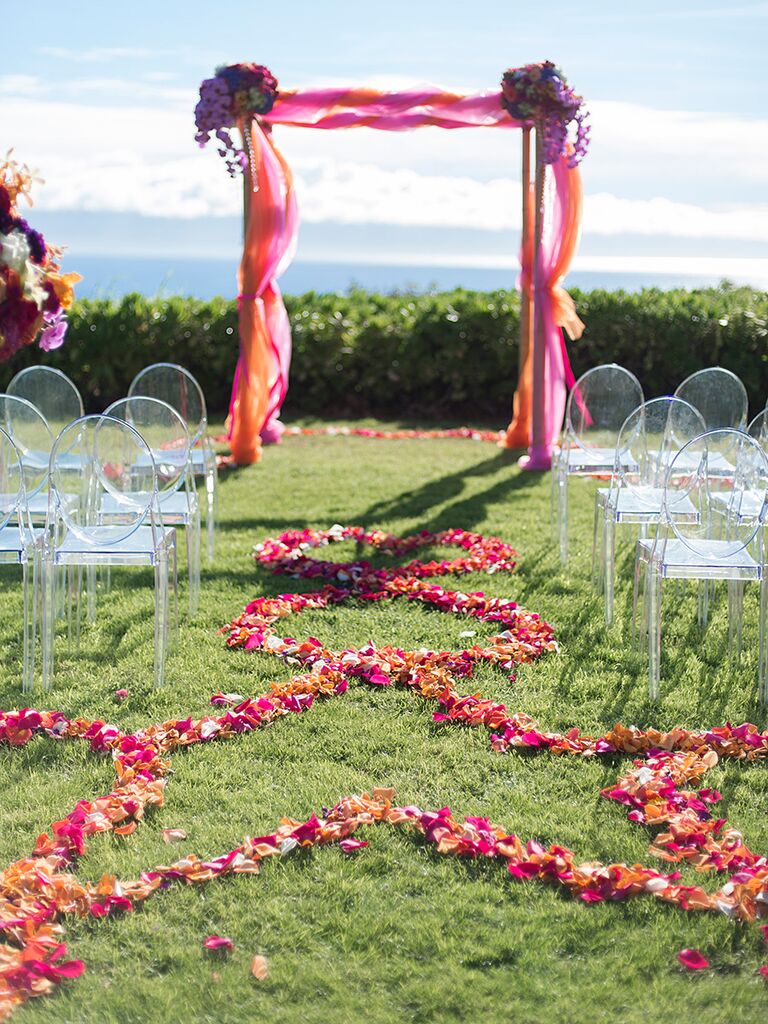 From: A Tropical Destination Wedding at Sky Dweller Estate in Maui, Hawaii
14. Moss-Draped Birchwood Wedding Arbor Wrapped in Vines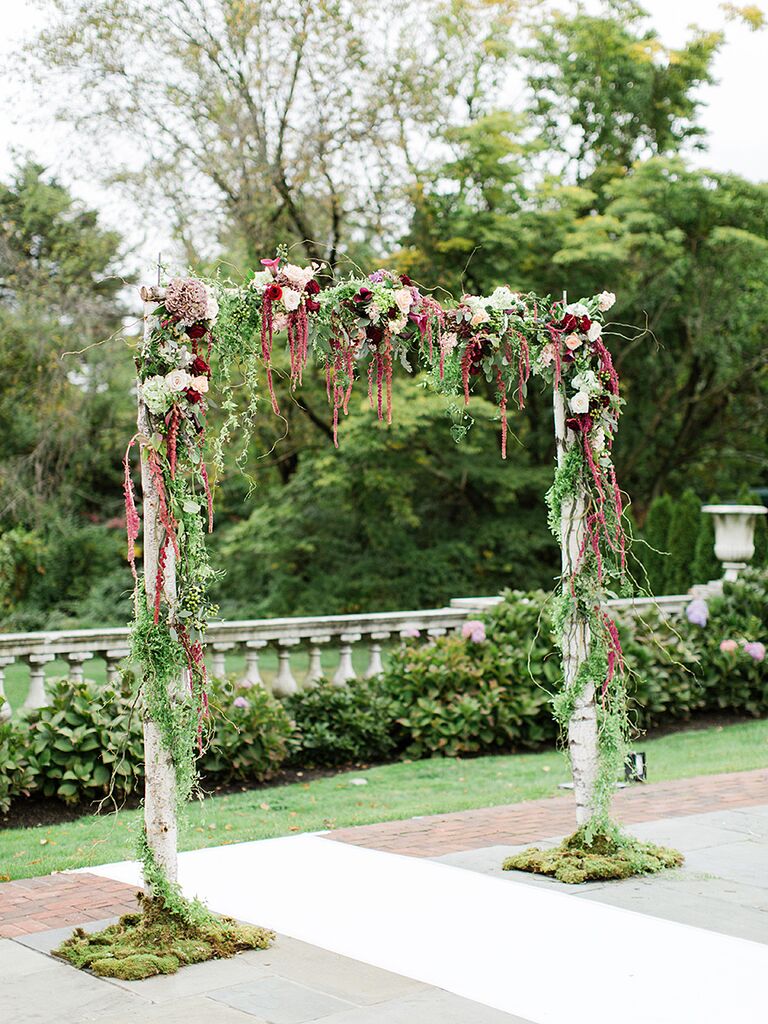 From: A Romantic Art Deco Wedding at NYIT de Seversky Mansion in Old Westbury, New York
15. Simple Wedding Arbor With Draped White Curtains and Garlands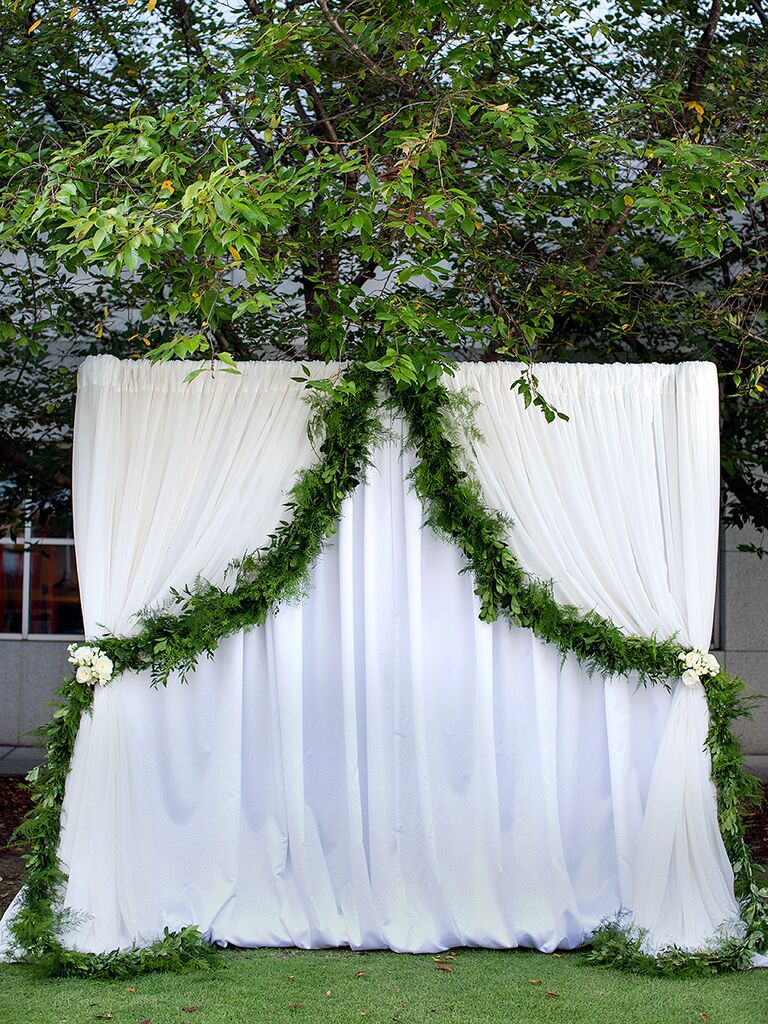 From: A Modern, Chic Wedding at High Museum of Art in Atlanta, Georgia
16. Simple Draped Fabric Wedding Arbor With Purple Orchids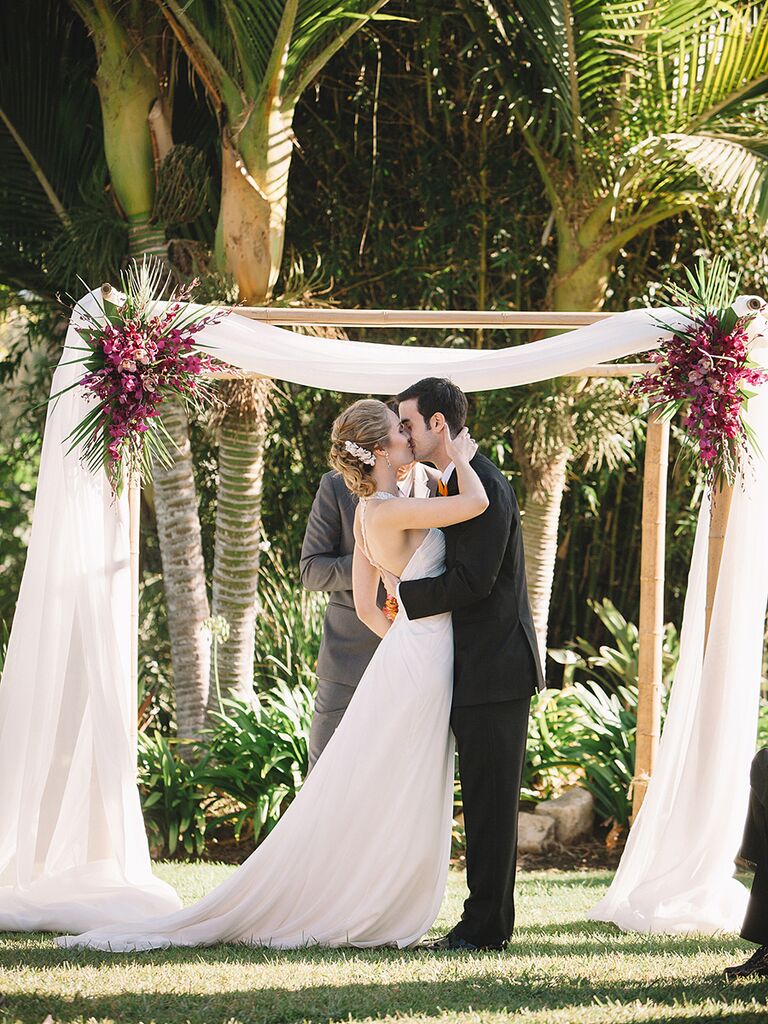 From: An Outdoor Animal Inspired Wedding at Santa Barbara Zoological Gardens in Santa Barbara, California
17. Willow Branch Chuppah Wedding Arbor With White Orchids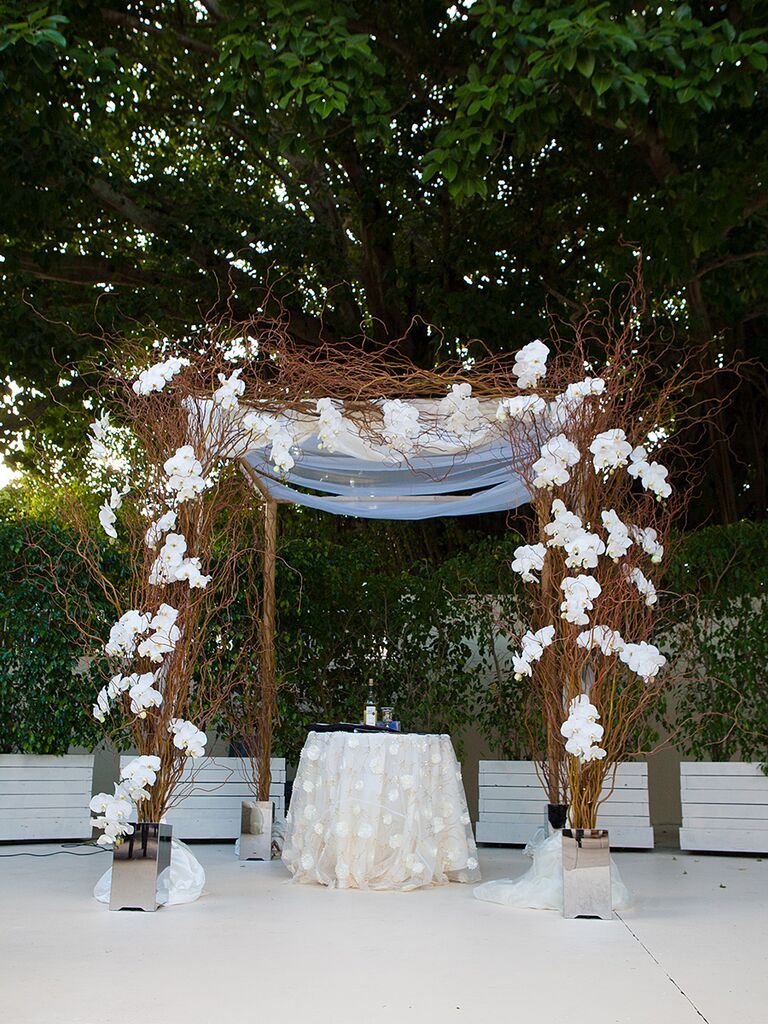 From: A White Wedding at Coral Gables Country Club in Coral Gables, Florida
18. Draped Linen Curtain Wedding Arbor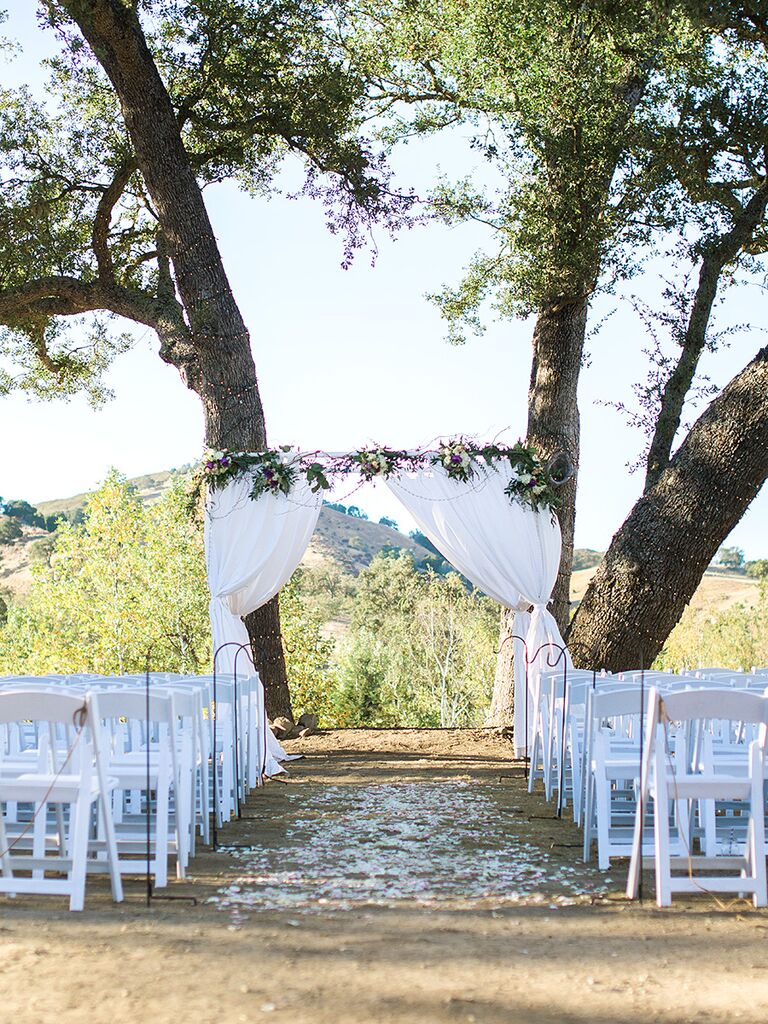 From: An Elegant, Vintage-Inspired Wedding at Spanish Oaks Ranch in Santa Margarita, California
19. Natural Tree Trunk Wedding Arbor With Fabric Draping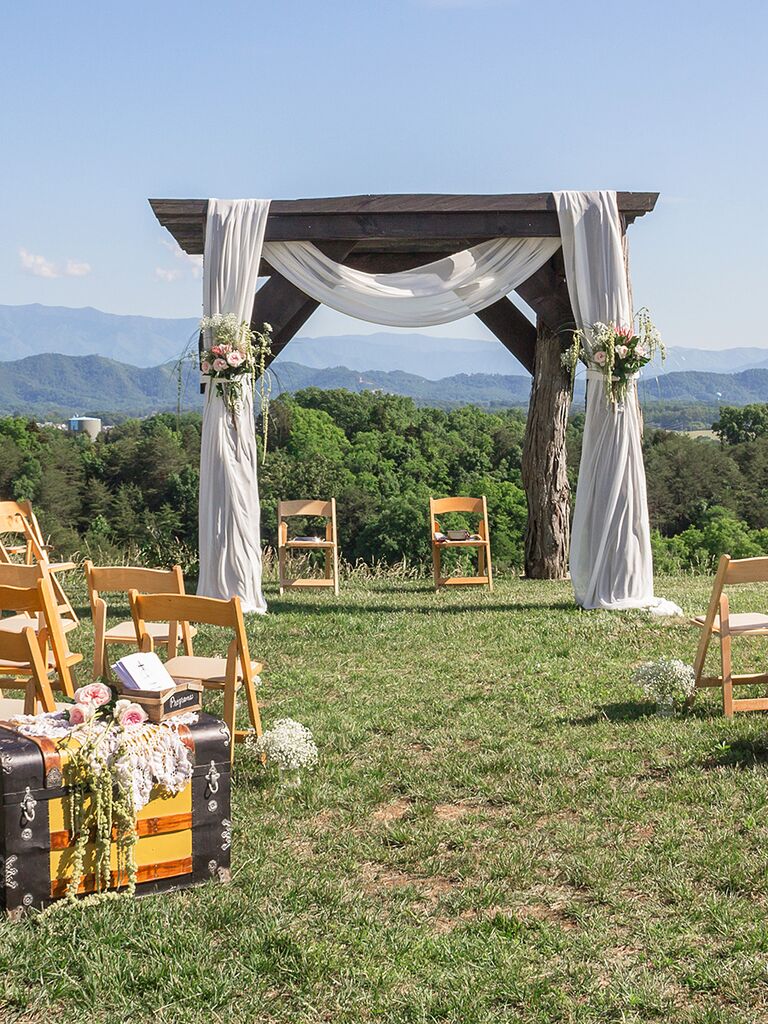 From: A DIY Vintage Mountain Wedding at Smoky Mountain Haven in Sevierville, Tennessee
20. Circular Wedding Arbor
​
21. Simple Graphic Geometric Wedding Arbor
​
22. Found Object Driftwood and Sea Glass Wedding Arbor
​
23. Crocheted Macrame Wedding Arbor
​
24. Upcycled Wedding Arbor With Vintage Windows
​
25. Handmade Origami Paper Wedding Arbor
See one you like? Whether you're a crafty couple and opt to make your own wedding arbor, or just need wedding arbor ideas to inspire your venue designs and bring to your florist, there are tons of ways to make one that represents you and is uniquely yours. You can even recruit friends and family to help so that your wedding arbor has special significance.
No matter what kind of outdoor wedding arbor you decide on, enjoy the process, get creative with your materials and let your venue and outdoor scenery inspire you.
Check out the most beautiful outdoor wedding venues here.