The Biggest Wedding Trends We Saw at The Knot Gala 2018
Conveyor belts, baby's breath and ballet flats—oh my!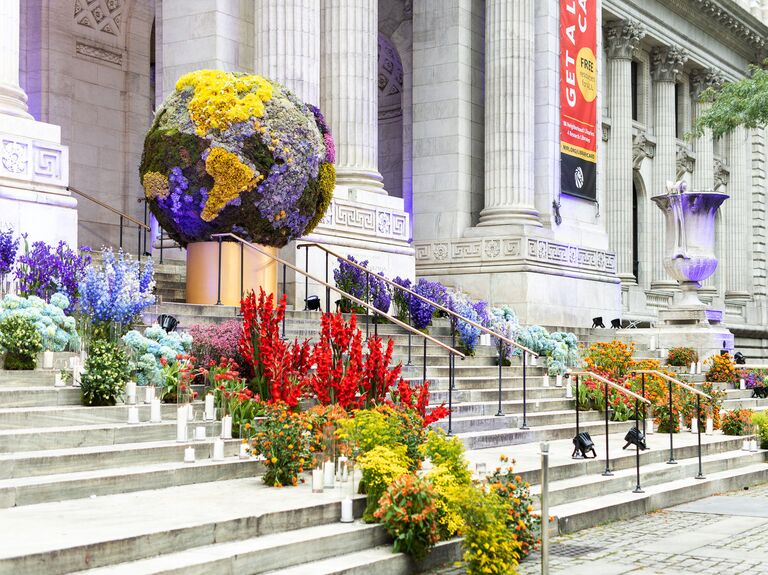 Roey Yohai Studios
At The Knot, we've always thought love could change the world—but leave it to wedding planner extraordinaire and event designer Amy Shey Jacobs from Chandelier Events to bring that vision to life. With that theme in mind, Jacobs and her team of pros planned the ninth annual The Knot Gala—and it was every bit as glamorous as you'd expect.
Set at the storied New York Public Library in New York City, some of the best pros in the wedding business created stations inspired by global destinations, offered worldly cuisine at every turn and much, much more (including a section of the venue dedicated to a good cause—VOW—which The Knot has partnered with to help end child marriage). Basically, The Knot Gala 2018 was the party of the year with a purpose. See some of our favorite moments and trends—captured by Roey Yohai Studios and Monachetti Weddings—and gather inspiration for your own celebration.
Baby's Breath Clouds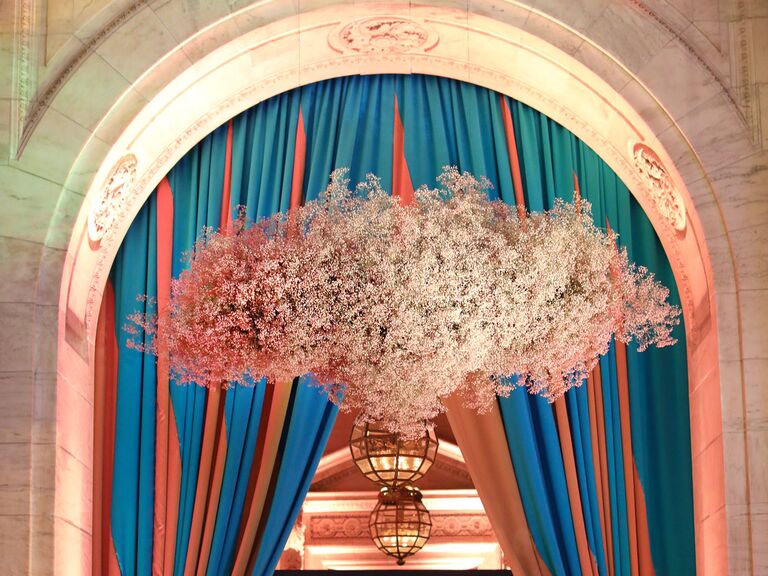 We all know baby's breath is making a major comeback—but the famed florists at L'Atelier Rouge took it to the next level (literally) with breathtaking hanging clouds rendered in the delicate flower.
Cocktail Hour Conveyor Belts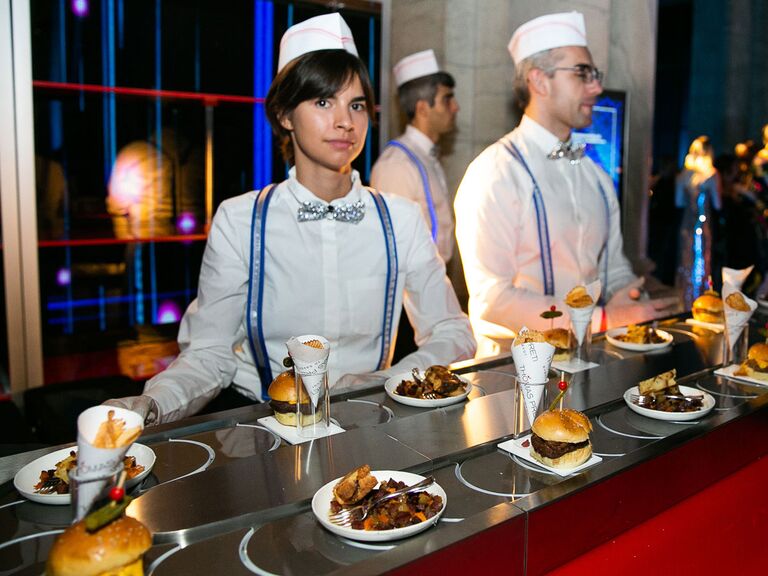 Make your guests feel like they've stepped into the future with a cool conveyor belt at your cocktail hour or late-night after-party—like this one, courtesy of Thomas Preti Caterers, with delicious fixings like French toast and sliders served on chic glassware supplied by Something Different Party Rental. 
Cotton Candy Cocktails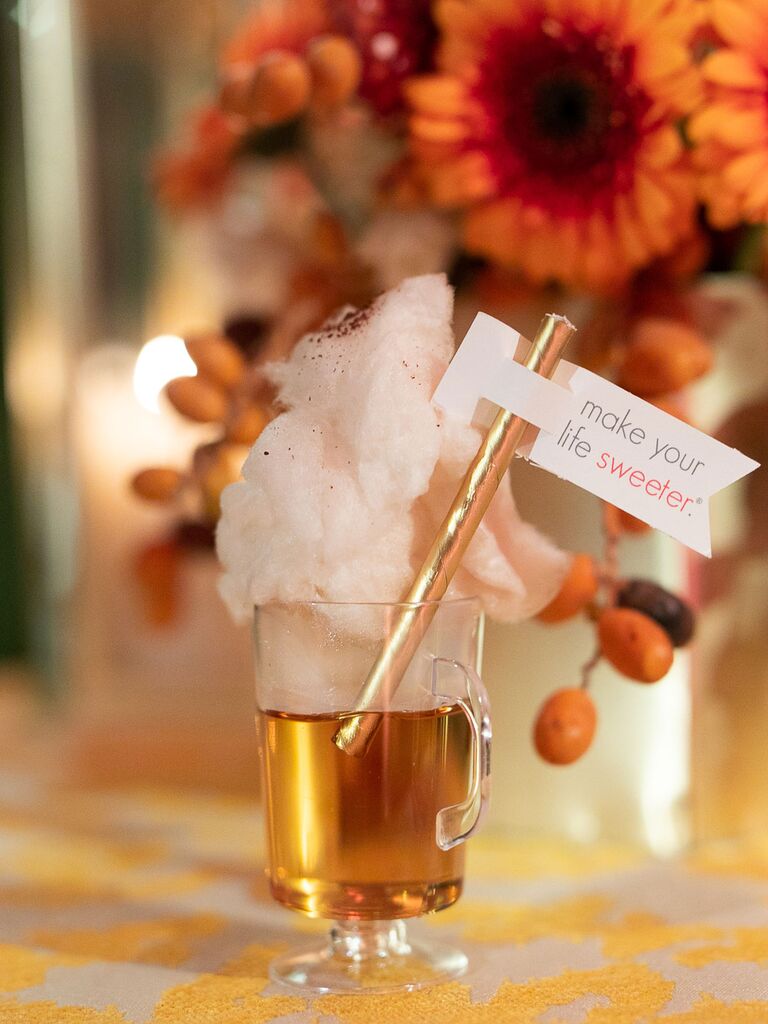 Who doesn't love a boozy dessert? Make Your Life Sweeter hooked the party up with sweet cotton candy–topped cocktails that no one could resist.
On-Site Oyster Shuckers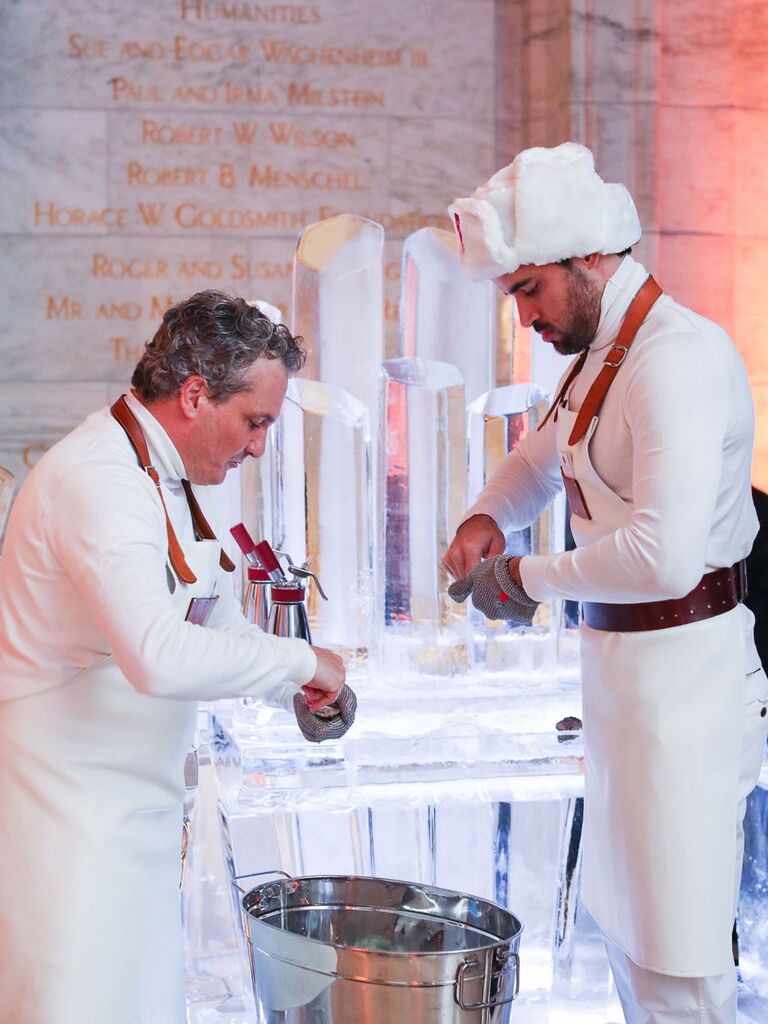 Your guests will never go hungry with real-life oyster shuckers at every turn—bonus points if they're in on-theme outfits, like these ones by Oysters XO.
Step-and-Repeat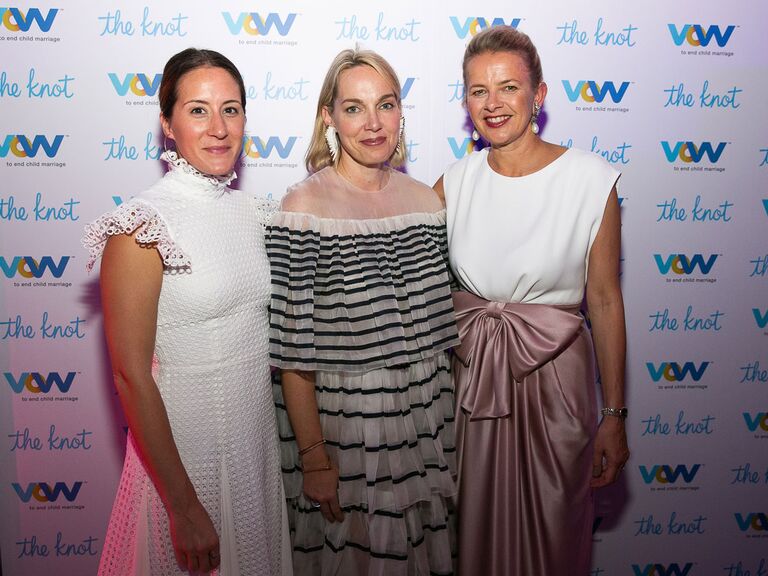 Roey Yohai Studios made sure all of our guests felt like the A-listers they are by photographing them on a step-and-repeat before entering the venue.
Creative Invitation Suites
Don't think you're relegated to boring card stock for your invitation suites. Take a cue from the ones CECI New York crafted for us by incorporating creative design elements and unexpected envelopes.
Elderflower-Infused Desserts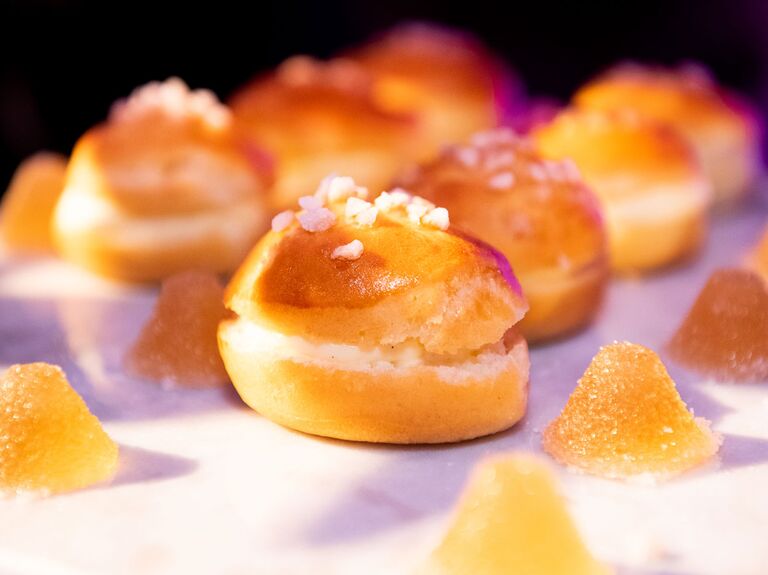 Thomas Preti Caterers took a cue from the royal wedding and served up delicious desserts with elderflower cream.
360 Photo Booths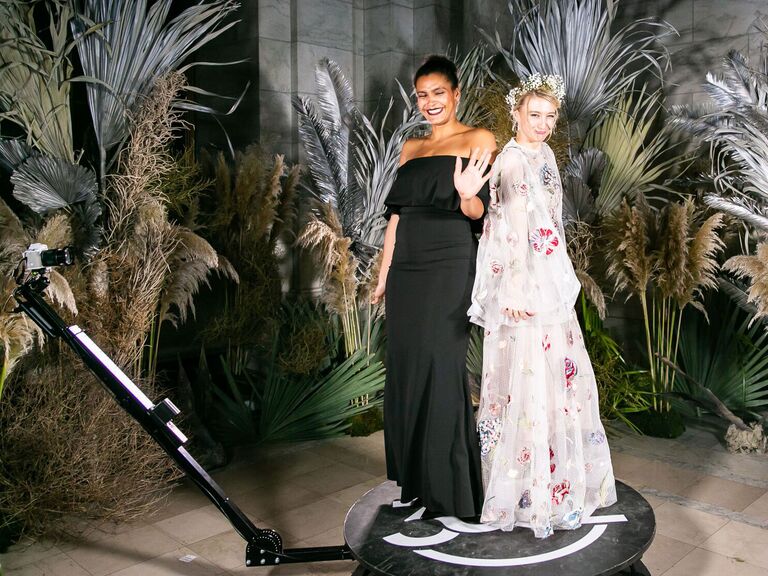 Studio Z Photo Booth set up an epic 360 situation. 
Next-Level Portraiture Stations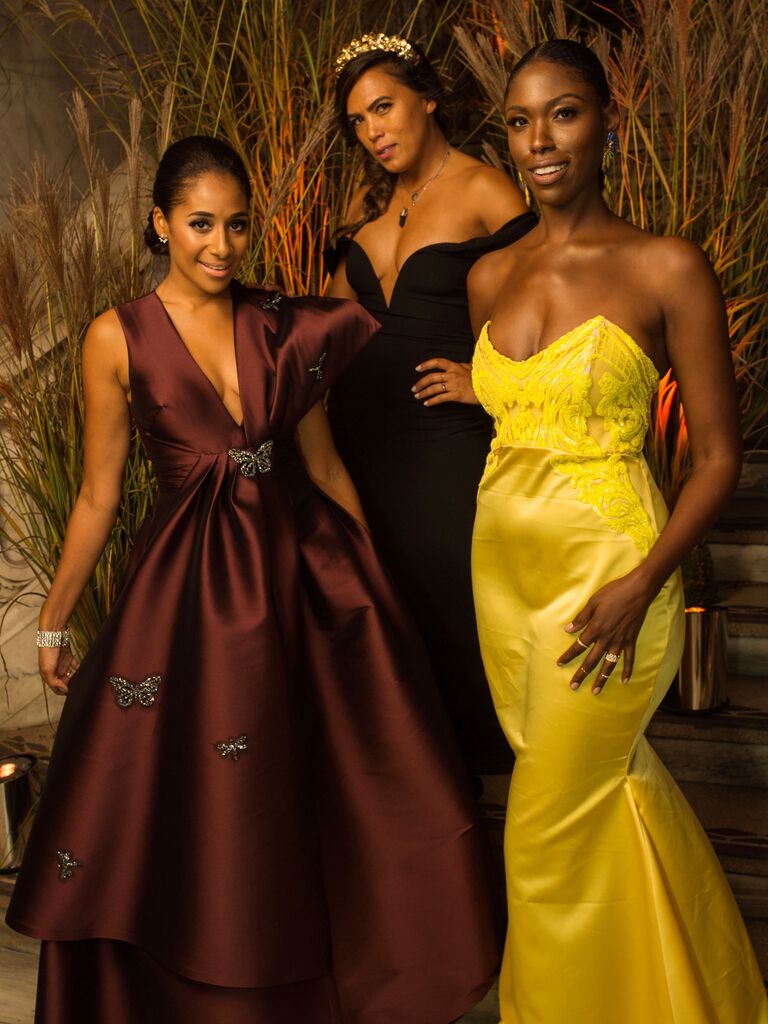 Yes, you can have more than one photo booth setup—Banga Studios knocked it out of the park with an elaborate portraiture station too. 
Inky-Blue Bridesmaid Dresses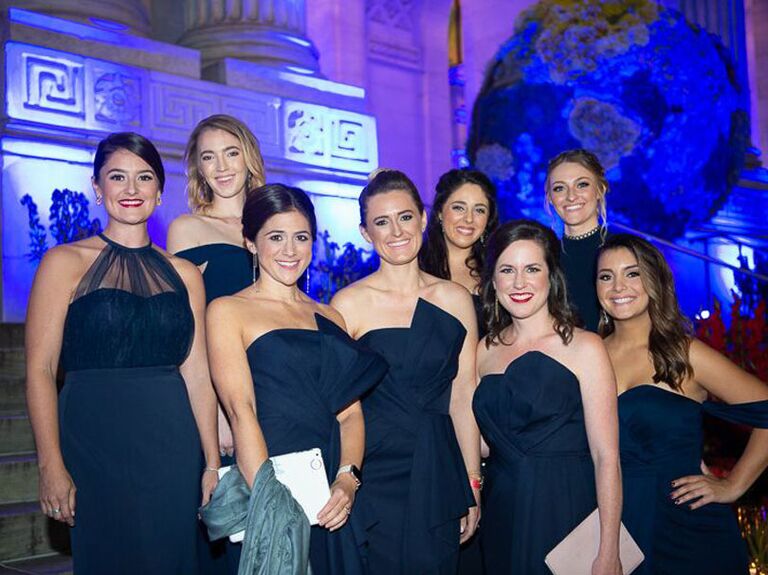 Get your girls the gift of on-trend gowns by using a site like White Runway.
Laser-Cut Signage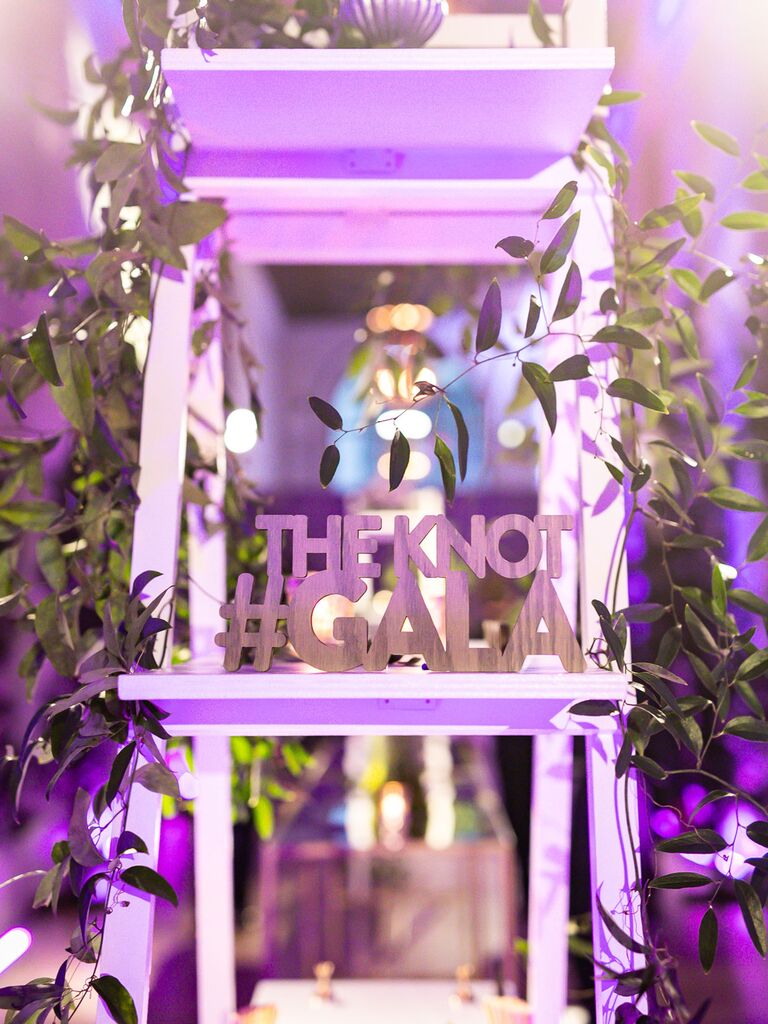 Dogwood Blossom Stationery helped decorate the venue with chic laser-cut signage (try the same technique with your wedding hashtag).
DJ Booth and Band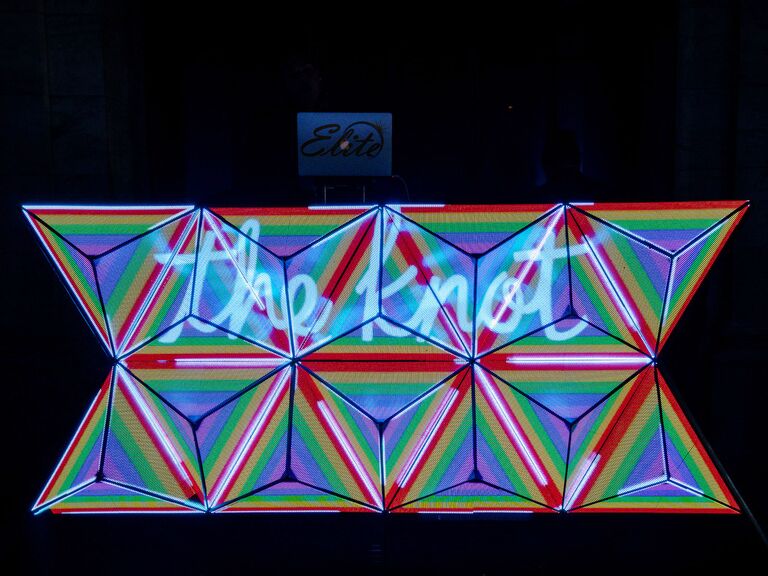 You don't have to choose just one. We enlisted a live band by On The Move Entertainment in one section of the venue while DJ Brian B spun tracks for the rest of the party (complemented by live entertainment courtesy of Shien Artists).
On-Site Mixologists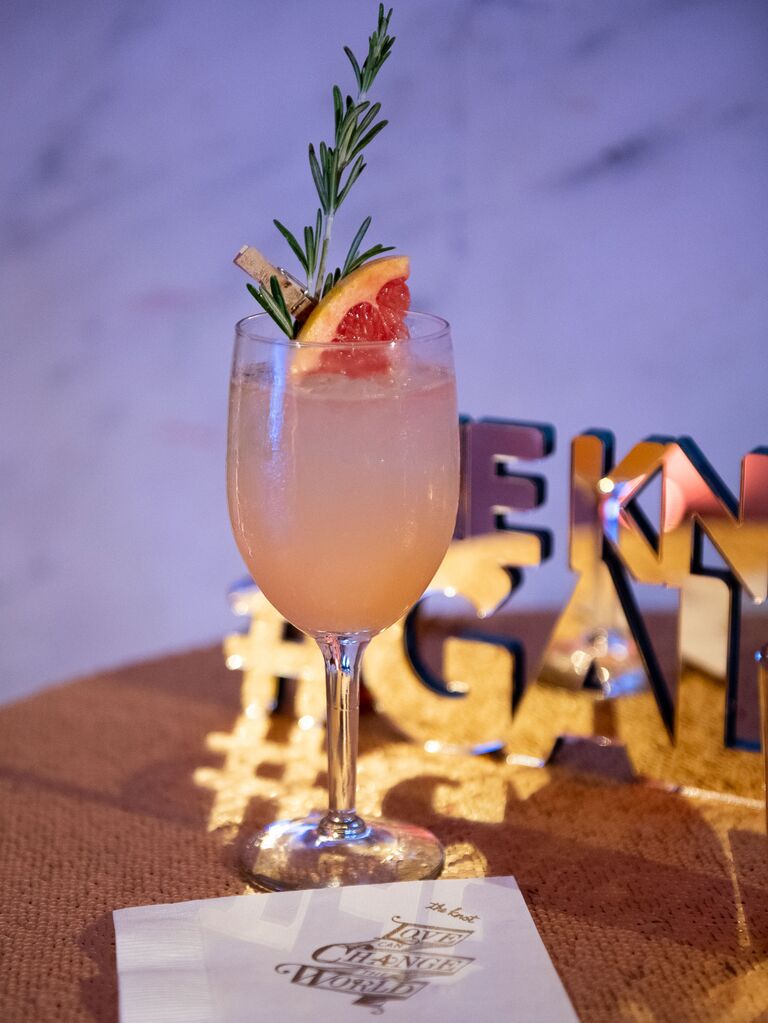 Here's how to avoid boring, uninspired cocktails at your event. Mixology extraordinaires made sure guests were satisfied with Total Wine vino and cocktails, delicious Blue Chair Bay rum drinks, Notorious Pink rosé sips and more.
"Chill" Spots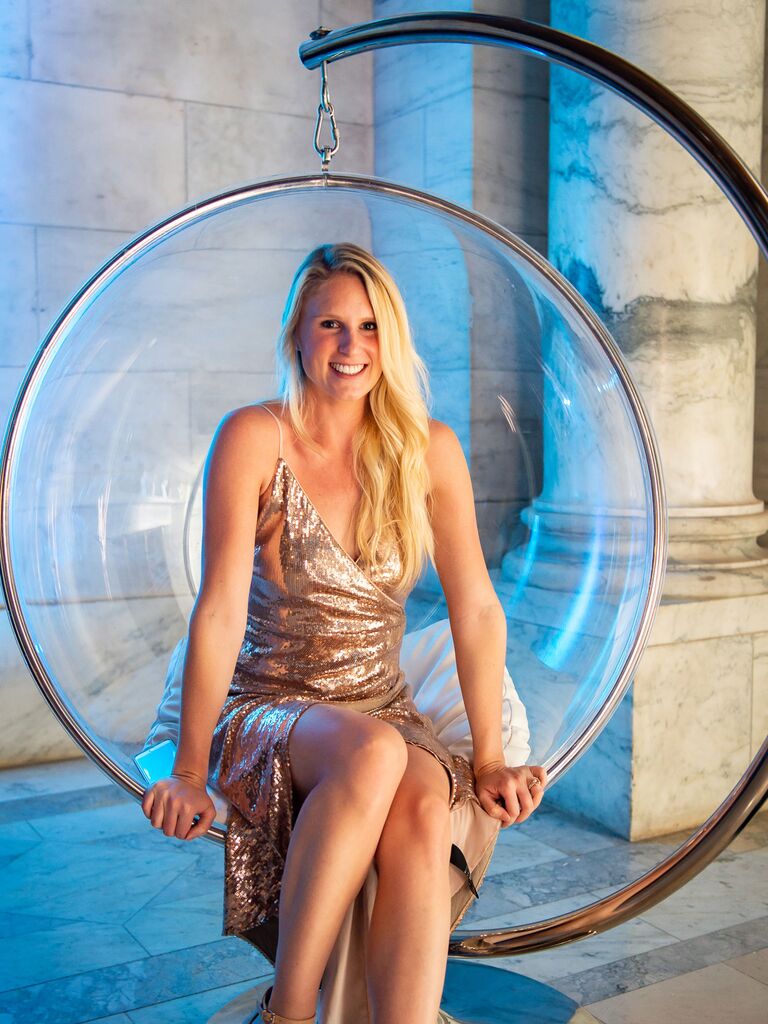 RentQuest supplied sleek pieces of furniture so our guests could take a breather—in style—when they weren't on the dance floor.
Rescue Flats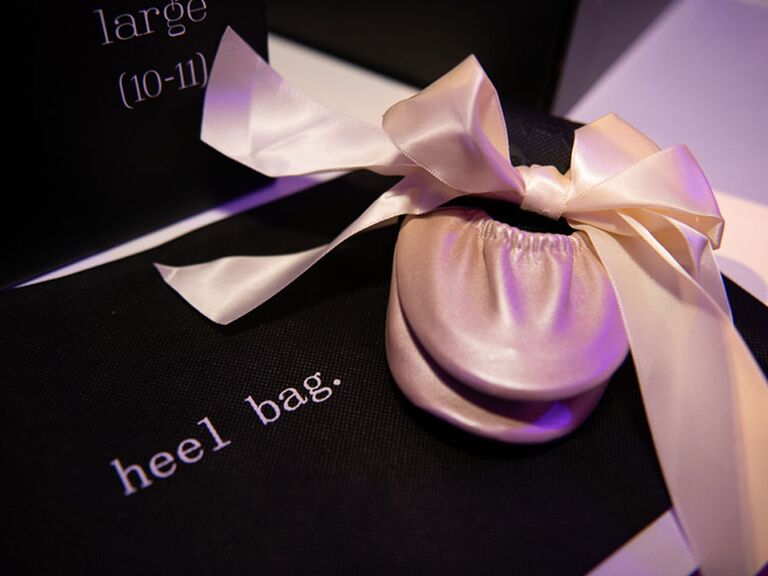 If you equip your guests with comfortable Rescue Flats so they can toss their heels aside, your dance floor will be packed all night long.
Eye-Catching Uplighting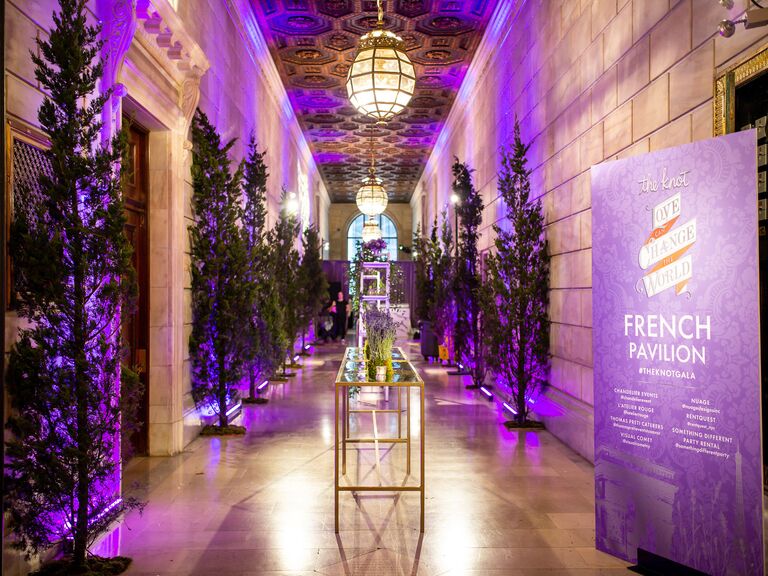 Visual Comet made sure every corner of the venue looked its best with colorful—but still refined—uplighting.
Custom Ice Sculptures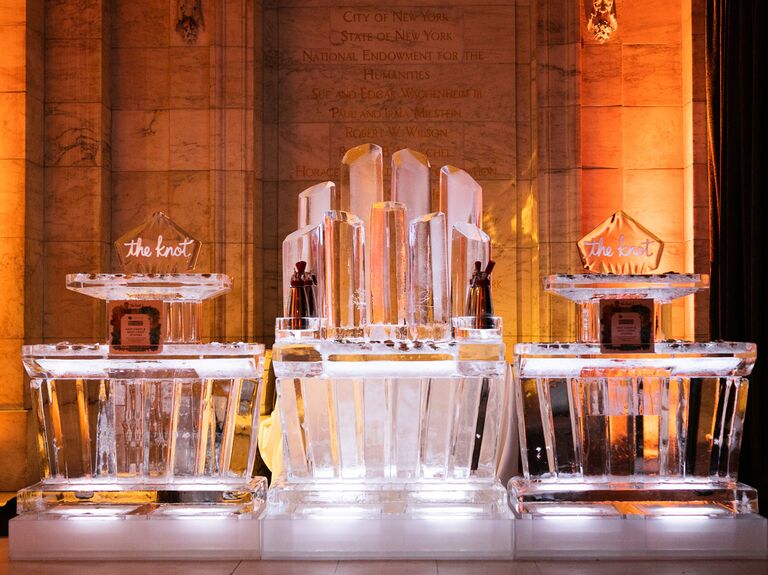 Take a cue from the custom ice bar Okamoto Studio. It made a luxe statement all its own.
Moving Moments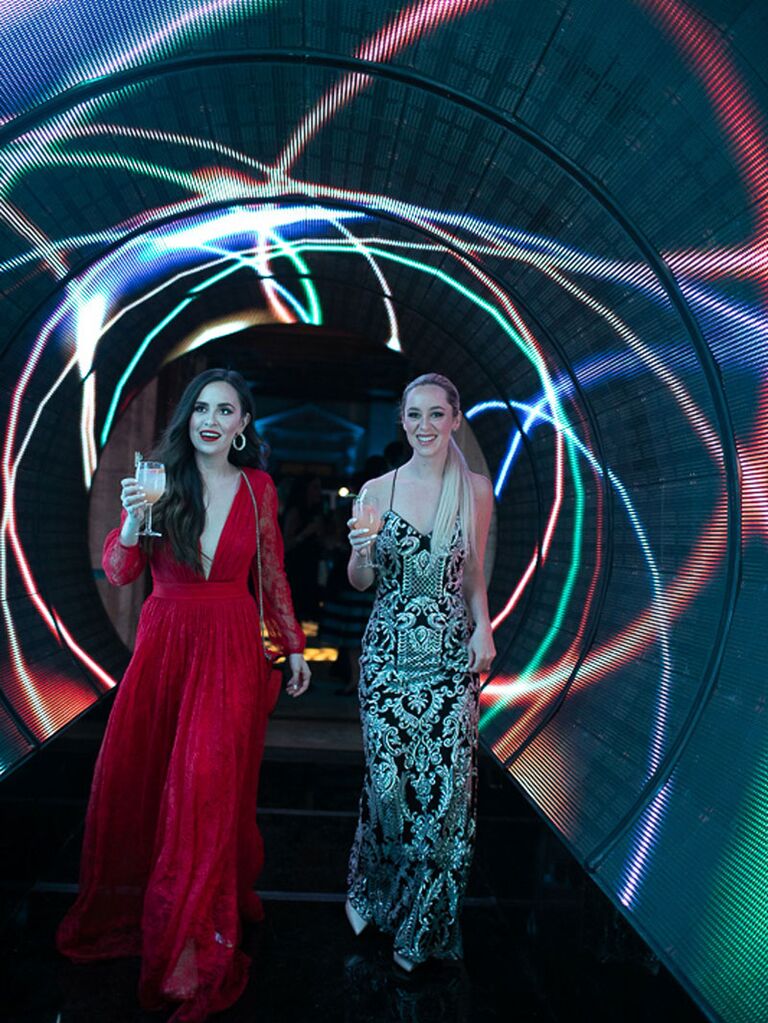 We clearly have a thing for photo booths, but our videographer Monachetti Weddings made sure all the candid moments (like this multidimensional tunnel situation set up by Visual Comet) and dance floor moves were captured on camera too.
Dramatic Backdrops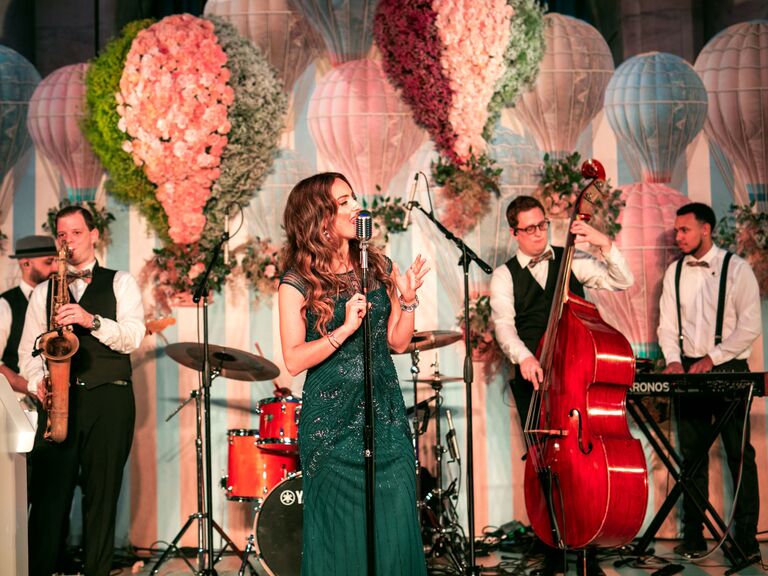 To match the theme of the event, Bombshell Graphics created an unforgettable backdrop in partnership with floral accents by L'Atelier Rouge and artwork by CECI New York to take the live band's stage up a notch.
Architectural Draping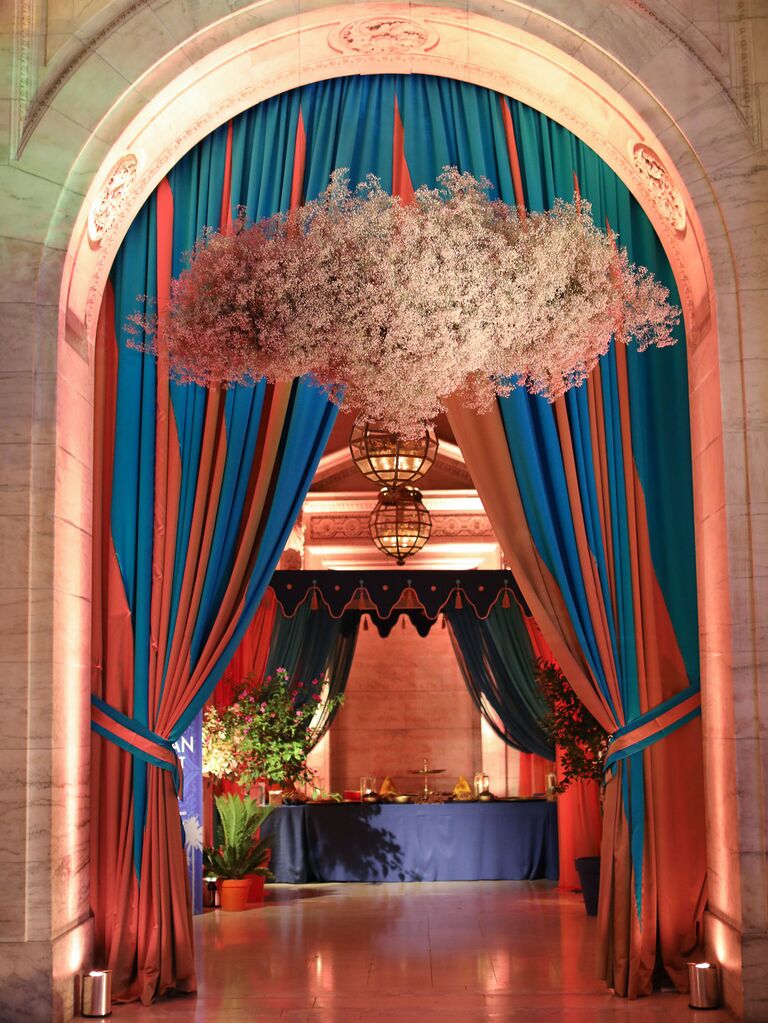 Gio Draping Events used architectural drapery—that perfectly complemented the linens by Nuage Designs—to prove florals and candles aren't the only way to make your venue décor pop.
Edgy Entertainment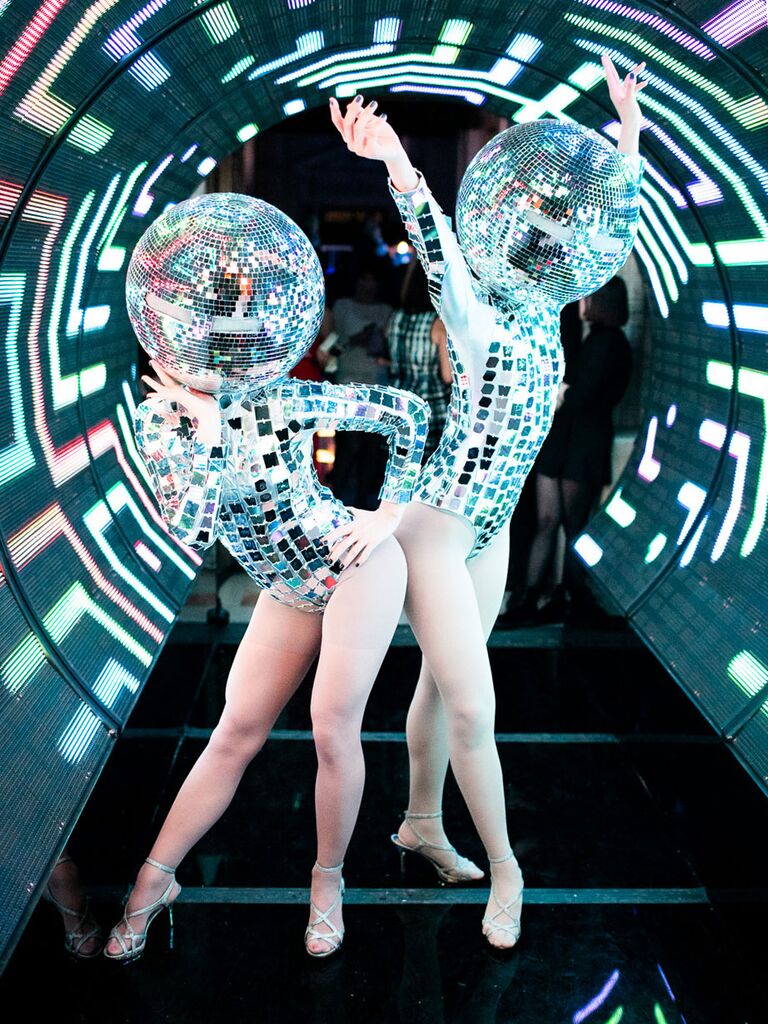 Take your party up a notch with live entertainment, like these disco dancers from Shien Artists who took the multidimensional Visual Comet tunnel by storm. 
Thanks to MG Hair & Makeup, Beautini, Domenica Beauty and LeJeune Artistry, The Knot squad looked glamorous all evening long.
And as always, The Knot Gala would be nothing without the incredible pros behind it:
Planning and Design: Amy Shey Jacobs at Chandelier Events | Venue: The New York Public Library | Catering: Thomas Preti Caterers | Rentals: RentQuest | Catering Rentals: Something Different Party Rental | Rosé: Notorious Pink | Rum Bar: Blue Chair Bay | Spirits: Total Wine & More | Flowers: L'Atelier Rouge | Stationery: CECI New York | Live Band: On The Move Entertainment | Entertainment: Shien Artists | DJ: DJ Brian B | Event Photographer: Roey Yohai Studio | Portraits Photographer: Banga Studios | Videography: Monachetti Weddings | Lighting & Technology: Visual Comet | Photo Booth: Studio Z Photo Booths | Custom Ice: Okamoto Studio | Printing: Bombshell Graphics | Linens: Nuage Designs | Cotton Candy: Make Your Life Sweeter |  | Drape: Gio Draping Events | Oysters: Oysters XO | Cutout Signs: Dogwood Blossom Stationery | Hair and Makeup: MG Hair & Makeup, Beautini, Domenica Beauty and LeJeune Artistry | Dresses: White Runway | Shoes: Rescue Flats