13 Black Wedding Cake Ideas That'll Make a Serious Statement
Who says wedding cake has to be white?
When it comes to wedding cakes, there are no rules that dictate what color your sweet treat should be. If you want to serve guests something they'll never forget, consider breaking the mold with a black wedding cake. The latest wedding cake trends are all about originality and personalization, and there's no better time to experiment with a moody color scheme. And, believe it or not, black cakes are more attainable than you realize—you don't even need a Halloween- or New Year's Eve-themed wedding to pull it off.
If a black wedding cake is right for you, work with your caterer or pastry chef to create a design that fits your vision. Whether you dream of sky-high tiers or intricate hand-painted accents, your pro will make your black wedding cake dreams a reality.
To help you get started, we've rounded up 13 black wedding cake ideas that'll stand out among your dessert spread. Take notes of your favorite details below, and bring them to your pros to create a cake that's simply unforgettable.
Contrasting Florals
Make your black wedding cake pop with contrasting floral accents. We love how this oversized white flower stands out against black fondant and shimmering gold foil. If you're worried a black wedding cake might look too dark, bright decorations will lighten up the color palette.
Modern Geodes
Guests will be enthralled by icy geodes on your black wedding cake. Colorless gems add unexpected texture and dimension to this three-tier cake, making it a focal point at the reception.
Custom Cake Topper
A black wedding cake will stand out on its own, but you can up the wow factor with a unique cake topper. We love how this couple enhanced their edgy black cake with bright flowers and sprigs of greenery, but the custom motorcycle topper steals the show.
Gradient Hues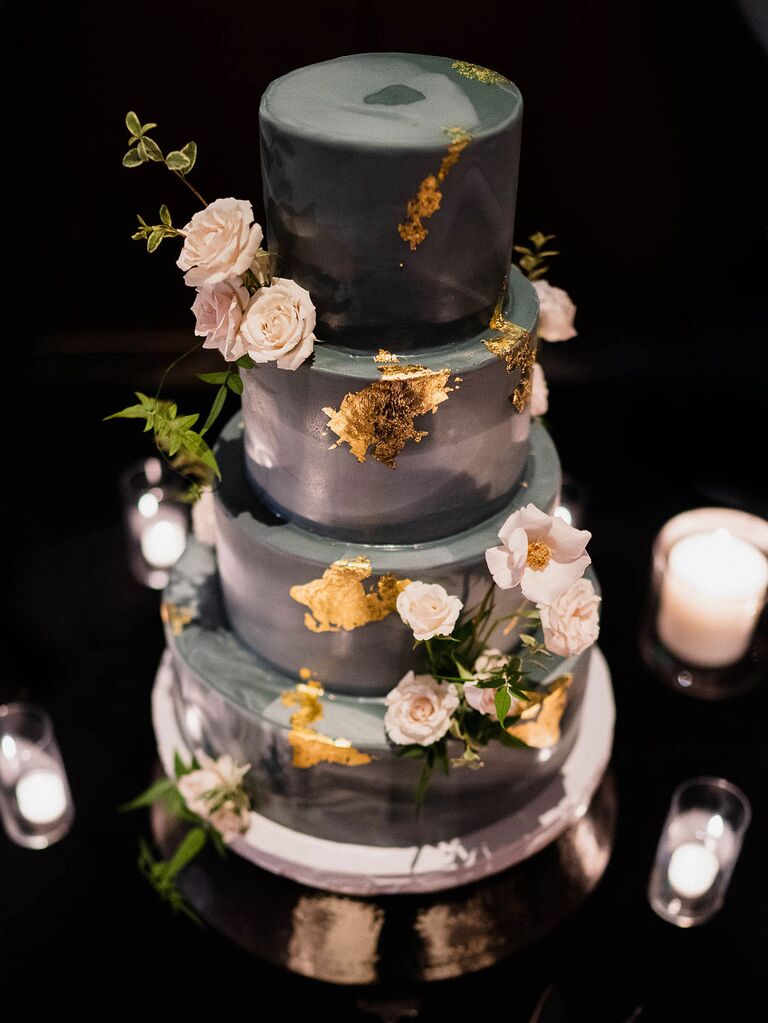 Bold wedding cake designs aren't all about fondant decorations or buttercream frosting. For something a little more out of the ordinary, lean into the color wheel with ombré gradients of black and gray. Additional details like fresh flowers and gold leaf foil make this black wedding cake idea one of our favorites.
Abstract Lines
Turn your confection into a work of art with abstract black lines throughout. This modern design is perfect for couples who aren't totally sold on a monochrome black cake. Instead, this simple black motif will make just as much of a lasting impression.
Fresh Fruit
Blackberries, anyone? This two-tier black wedding cake proves that even small confections can have a big presence. Artfully strewn blackberries on the top layer give this mouth-watering treat an elegant finish.
Gold Foil
Cover your black wedding cake with gold foil flecks on the outer layer of fondant. This subtle design hack will give your treat a metallic sheen that'll glimmer from all angles. Additional elements like colored sugar flowers will make your cake one to remember.
Black Tulle
While technically not a true black wedding cake, this gothic idea is a must for an upscale black-tie affair. If you're not sold on an all-black design, go for a white wedding cake instead. Then, bring in the dark hue with a black cake topper and black tulle tied around the middle. The final product will be almost too pretty to eat.
Pop Culture Influences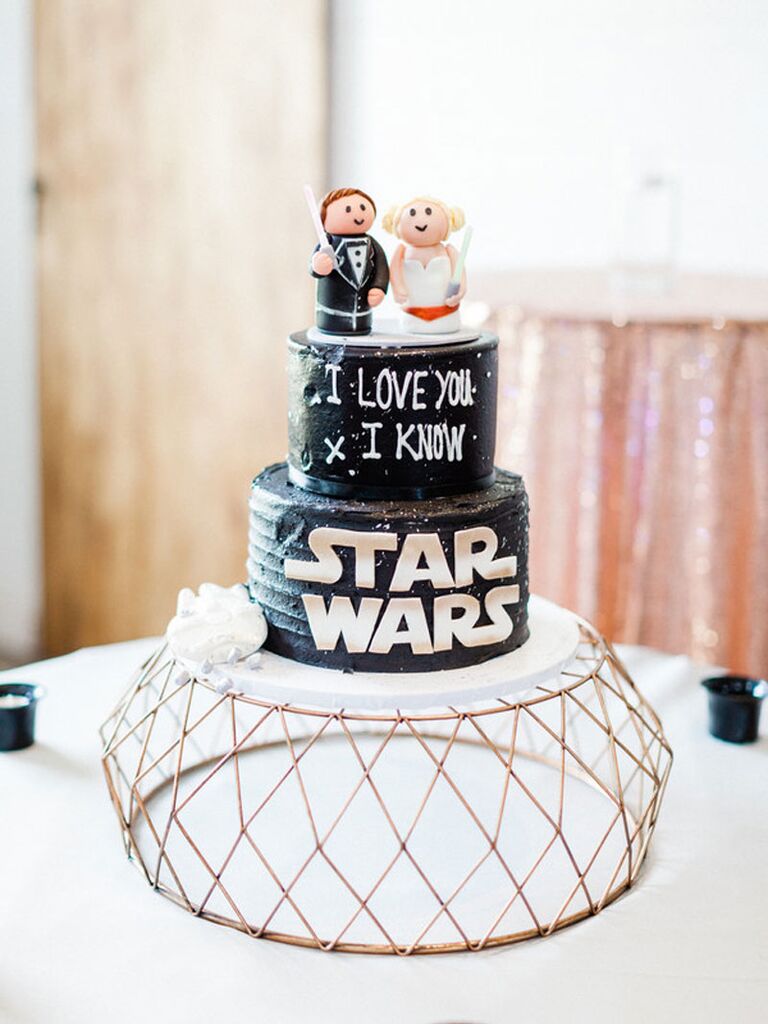 We're obsessed with this black Star Wars-themed cake, which has a custom cake topper inspired by the film's most iconic characters. A gold wire cake stand helps elevate the treat so it can be admired from all angles. If you're not sure how to personalize your wedding cake, motifs from your favorite movie or TV show will make it feel uniquely yours.
Colorful Base Tier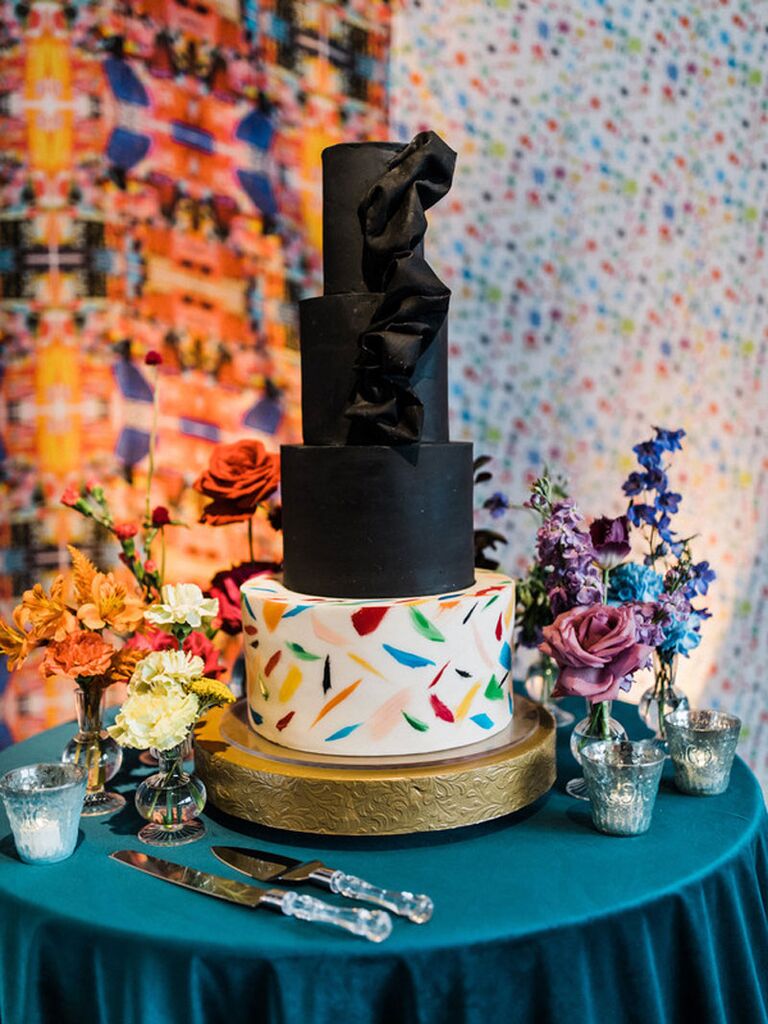 Who says your black wedding cake can't be playful too? This towering four-tier dessert has three black layers with a black fondant ribbon cascading from the top, but it's the bottom tier that grabs all the attention. The white base and colorful confetti print offer a playful contrast to the glam tiers above.
Black Cupcakes
Upgrade your dessert table with a variety of sweets for guests to enjoy. We love how this couple opted for a small cake and cupcakes in matching red and black icing. After all, there's no such thing as enjoying too many desserts on your wedding day.
Black Ribbons
Feeling indecisive? Go for a black and white wedding cake. Sleek black ribbons adorn this white buttercream treat, which has elegant red roses placed throughout for a romantic touch.
Art Deco Pattern
Incorporate your color palette to make your wedding cake feel like an extension of the theme. We love this Art Deco cake, which has modern square tiers and a metallic pattern. Silver, black and gold create the perfect palette for a New Year's Eve or 1920s-inspired wedding.