These 5 Wedding Pets Nearly Stole the Show—See the Videos!
Because who can say no to a dog in evening wear?
by Vanessa M. Buenger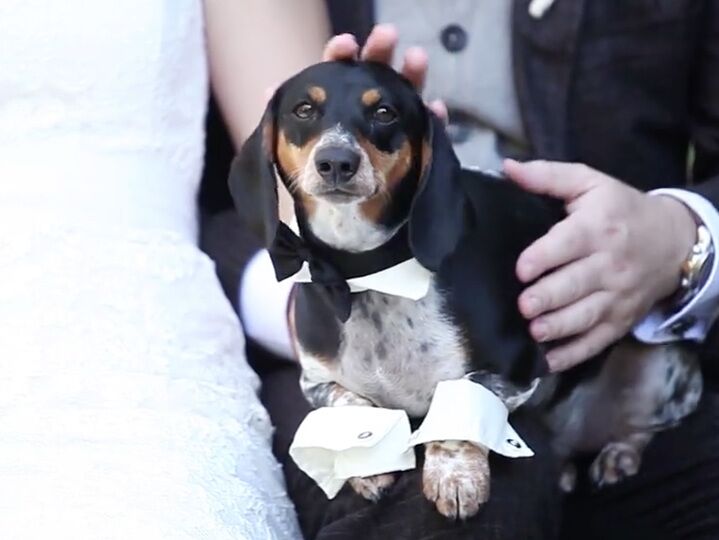 Always wondered what it would be like to include your pup in your wedding? Whether you're searching for creative ways to incorporate your pets into your day or you're just here for the dogs in tuxedos, you'll get a kick out of these sweet wedding videos from Love Stories TV—the place to watch wedding videos—and get inspired by these real couples.
Video by: SJ Videography

First, let's take a moment to appreciate this dog's bow tie, and then we'll get to the cuff links. Don't let anyone tell you your pets won't fit in at your wedding, especially when they follow the dress code!

Video by: LMV Productions

Natalie and Tom have the most adorable French bulldog who sits patiently while the boys play some preceremony corn hole. You can tell he has this whole wedding day thing down.
Video by: SparkStory
Just when you think nothing could possibly get any better than Pati and Antonio's heartfelt vows, in walks their adorable pup, dressed for the occasion.

Video by: With The Film

Brooke and Patrick's dog, Brodie, has been a part of their story from the very beginning. In fact, he played a big role in Patrick's proposal, so it was only right that Brodie would have a starring spot in their wedding day.

Video by: True Love Weddings
Their dog is wearing an evening gown and pearls—that's all.

Vanessa M. Buenger is the head of growth at Love Stories TV, the place to watch and share wedding videos. Browse their library of curated and categorized real wedding films to get ideas and inspiration for your day. Share your wedding video on LoveStoriesTV.com to inspire others.