These Vibrant Modern Wedding Details Will Give Your Celebration Life
A quirky color palette, graphic patterns and contemporary accents inject fresh energy into classic nuptials.
Feeling tired of the same old wedding inspo you see over and over again? Not anymore. Thanks to Gretchen Culver of Rocket Science Events, we pulled together a modern styled shoot complete with punchy color combos, unconventional designs and playful touches for a contemporary celebration full of vim and verve.
Work of Art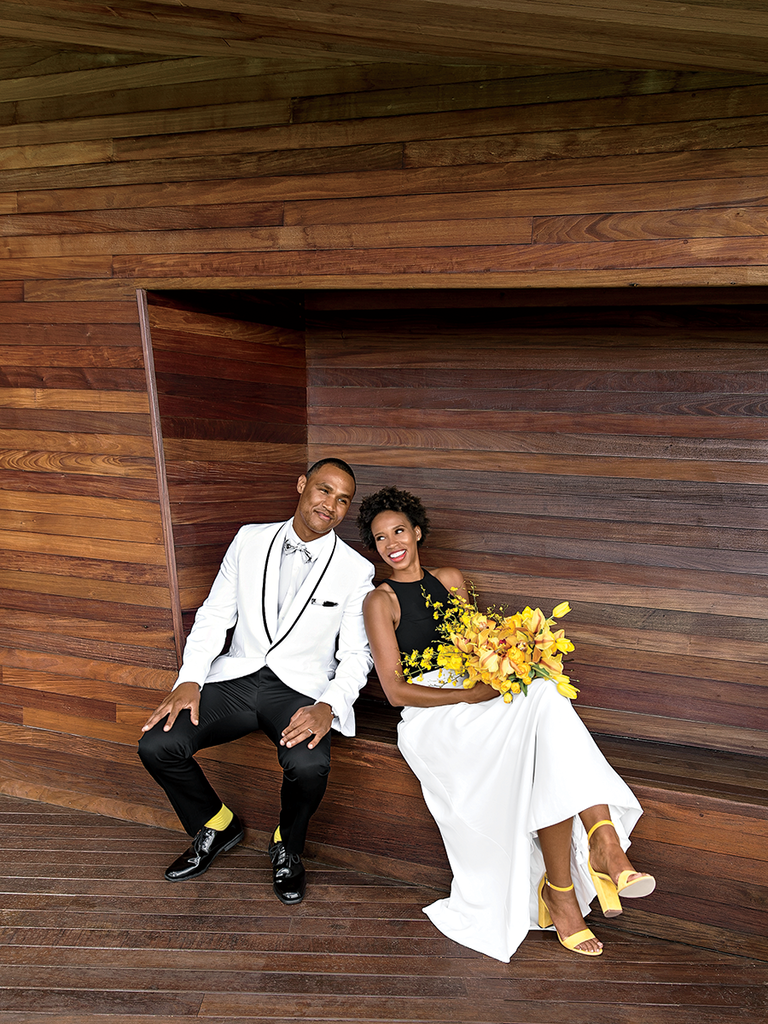 The Walker Art Center in Minneapolis acted as an original venue—and source of inspiration—for event designer Gretchen Culver, who pulled from the surrounding artwork and architecture to inspire the fete. "I envisioned a young, hip couple who aren't afraid of expressing themselves through thought-provoking design. They have colorful, interesting lives and I wanted their wedding to follow suit," she says.
On Her:
Jill Jill Stuart black pop-over gown, $70, RenttheRunway.com
Sam Edelman The Yaro block-heel sandal in sunset yellow, $70, 6pm.com
On Him (Similar):
Menguin The Savannah Tuxedo, from $89, Menguin.com
Standout Shapes
Include unexpected papershapes in your invitationsuite for mail your guests can'twait to open. Artist-worthybrushstroke lettering, envelopeliner details and saturated,color-blocked hues make askinny horizontal invite pop, as proven by these beauties from Gretchen Berry Design Co. (And don't forget to seal them with fun stamps—these are from Minted.com)
Specialty Sips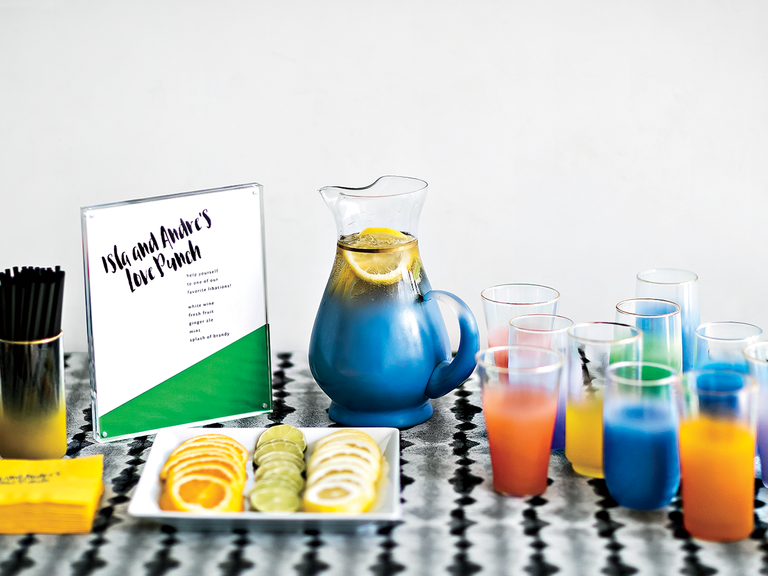 Encourage guests to help themselves by presenting your signature cocktail in a pitcher. Tinted glassware gives this white sangria dubbed "love punch" a colorful kick.
The Festive Frog glassware, TheFestiveFrog.com; La Tavola Linen tablecloth, LaTavolaLinen.com; Gretchen Berry napkins, GretchenBerry.com
Graphic Greeting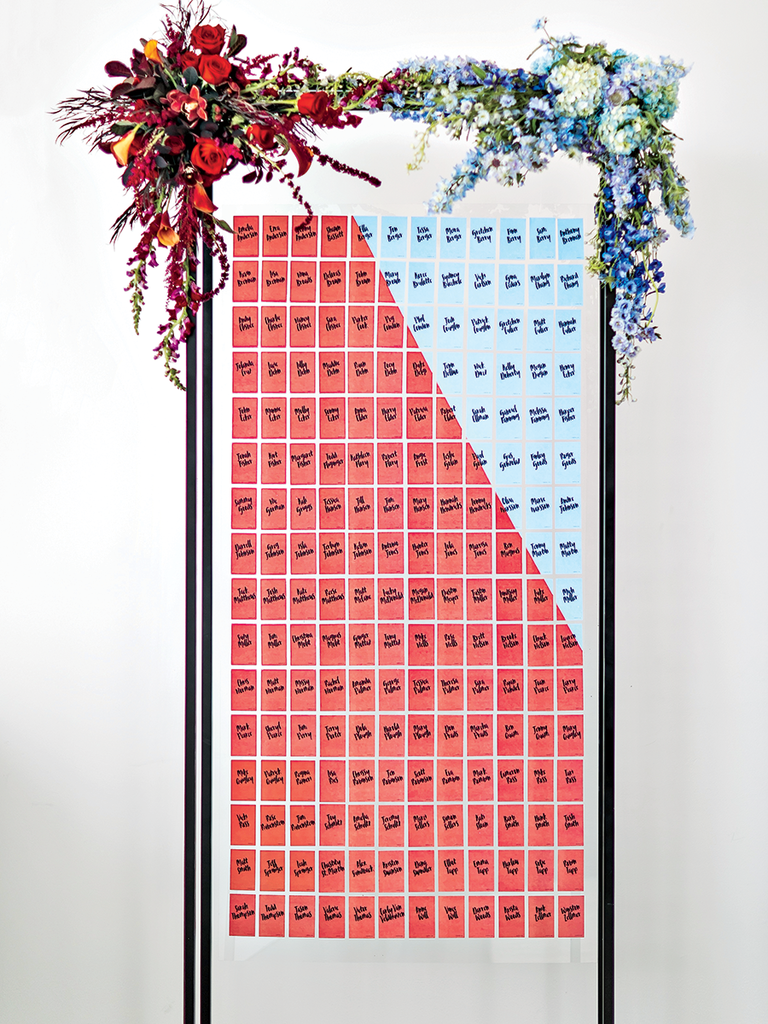 Paper escort cards in punchy red and blue are a visual "wow" when hung in a diagonal color split. Flanking blooms of red roses, fiery calla lilies and smoke bush pair with blue delphinium and hydrangeas to lend a wedding vibe and reinforce the palette.
Girl Friday Creative structure, GirlFridayCreative.com; Gretchen Berry escort cards, GretchenBerry.com; Bloommönster florals, Blommonster.com
Bright Blooms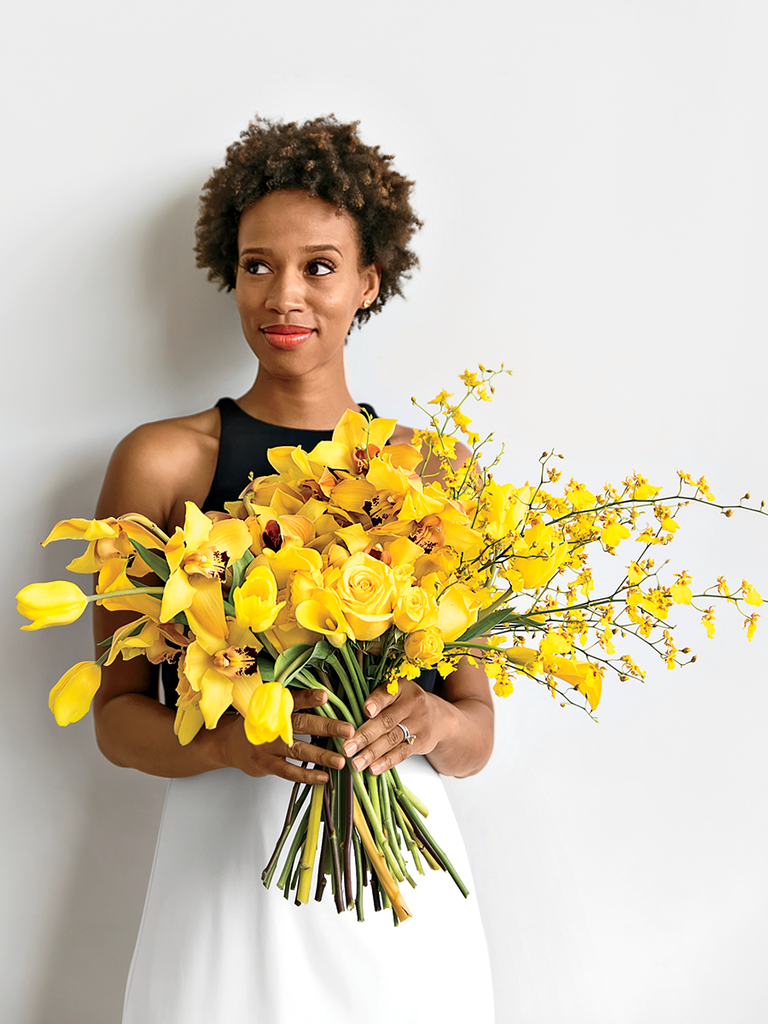 Vary your buds to add texture and interest to a monochromatic bouquet.
Dramatic "I Dos"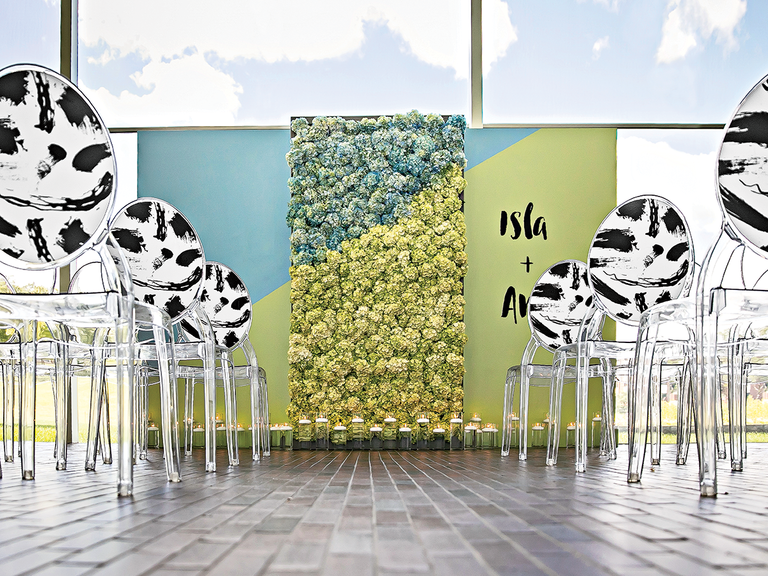 For an Insta-worthy ceremony backdrop, task your florist with creating a bold floral statement wall. This blue and green hydrangea display carries the color palette from the painted wall behind it. A brushstroke pattern (the same as the envelope liner) was printed onto vinyl, then cut to fit the acrylic chairbacks.
Bloommönster florals, Blommonster.com; Girl Friday Creative backdrop GirlFridayCreative.com; Wayfair chairs, Wayfair.com; Gretchen Berry chairback pattern, GretchenBerry.com; Cricut vinyl chair design, Cricut.com
Dine Under Design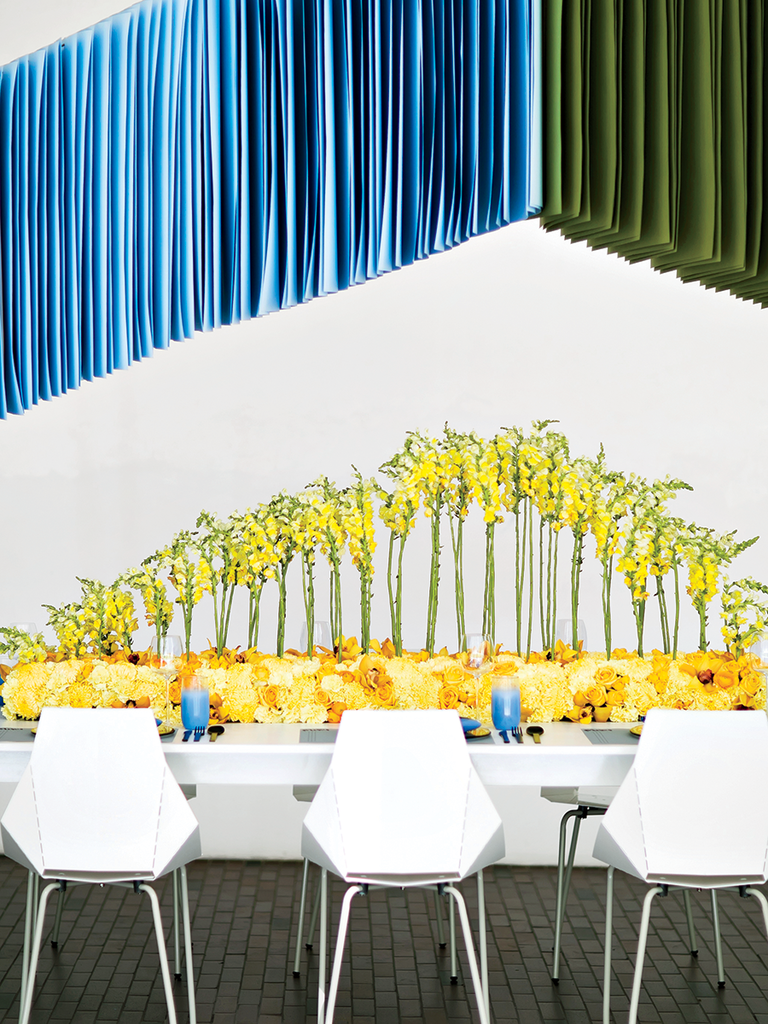 Make a cavernous loft venue feel more intimate by creating a mock "ceiling" above your dining tables. This hanging installation is made from sheets of colored paper and features a peaked shape that mimics both the angles found on the dining chairs and the towering snapdragons in the bold yellow floral runner.
Girl Friday Creative paper display, GirlFridayCreative.com; Blommönster florals, Blommonster.com; Rudy's Event Rentals table, RudysEventRentals.com; Blu Dot chairs, BluDot.com
Sweet Ending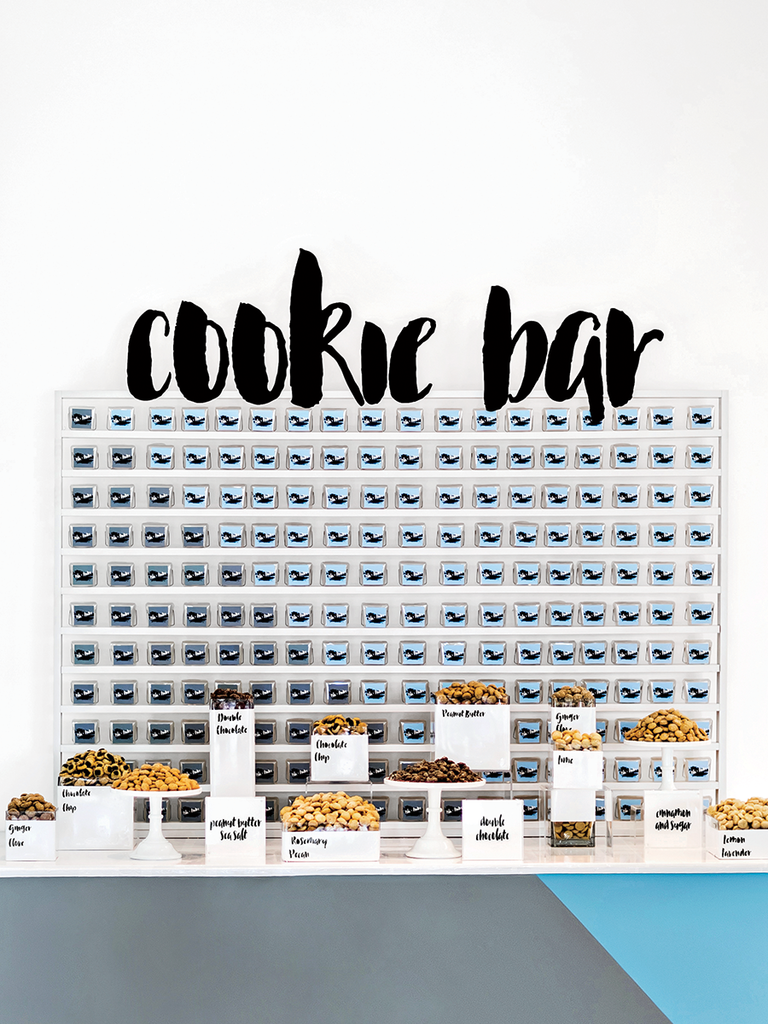 Looking for a clever (and edible) wedding favor? Try an interactive cookie buffet. Guests can browse the selection of cookies, then fill takeout containers with their favorite picks.
Thumbs-Cookies cookies, Thumbs-Cookies.MyShopify.com; Girl Friday Creative custom shelving and laser-cut sign, GirlFridayCreative.com; Farina Baking Company cake stands, FarinaBakingCompany.com
Artistic Details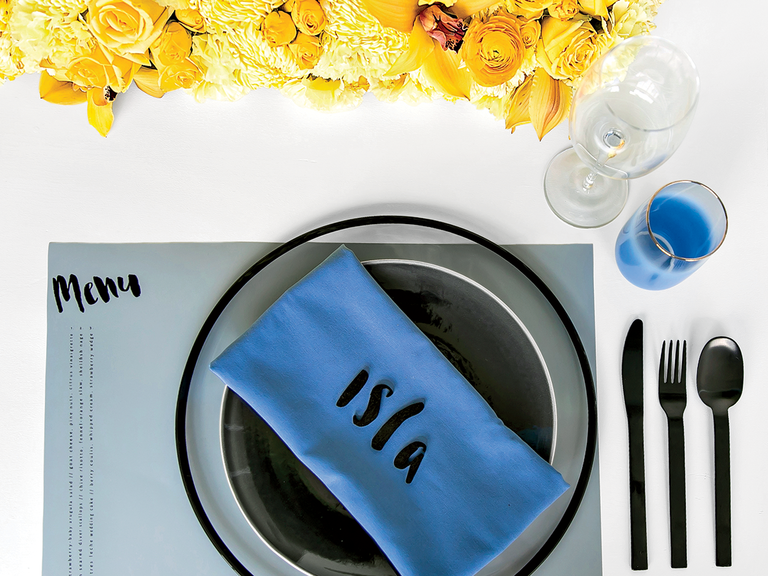 Give the traditional menu card a playful twist by reinventing it as a place mat. It goes perfectly with a sleek acrylic name card to anchor a simple yet stunning setting. Above, the square-tiered cake takes its color inspiration from the hues in Motherwell's work.
Gretchen Berry menu, GretchenBerry.com; Girl Friday Creative lasercut place card, GirlFridayCreative.com; Cada de Perrin charger, CasaDePerrin.com; West Elm dinner plate, WestElm.com; CB2 flatware and wine glass, CB2.com; The Festive Frog drinking glass, TheFestiveFrog.com; La Tavola Linen table linen and napkin, LaTavolaLinen.com
Cake With a Twist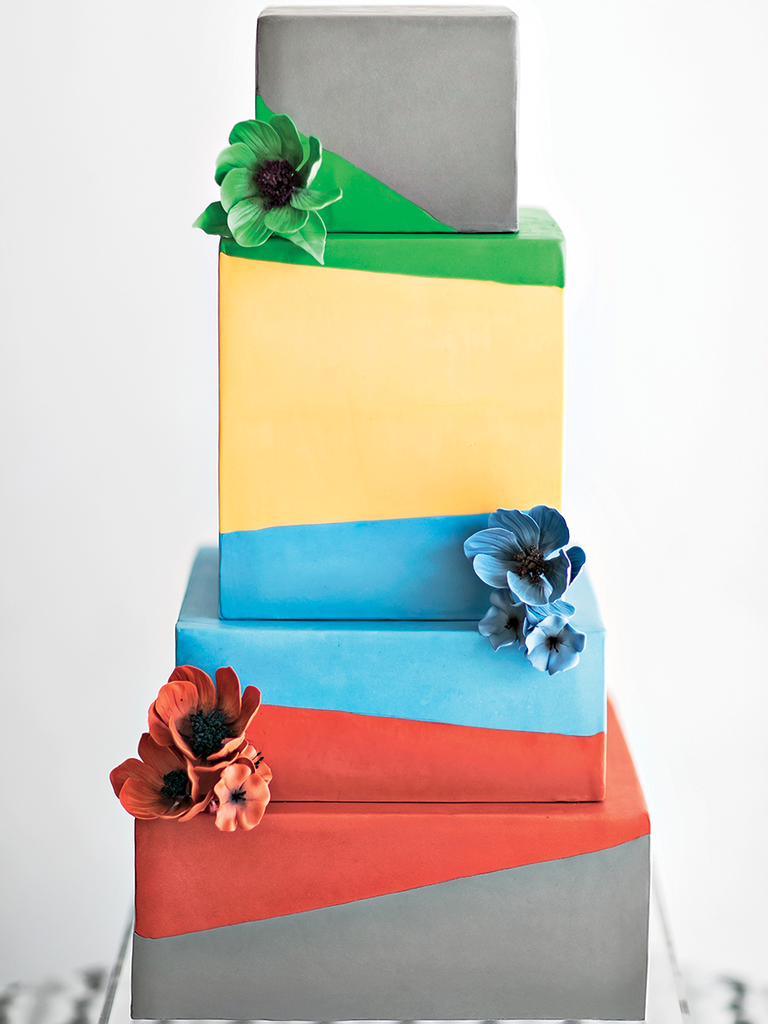 Farina Baking Company cake, FarinaBakingCompany.com
Fabulous Favors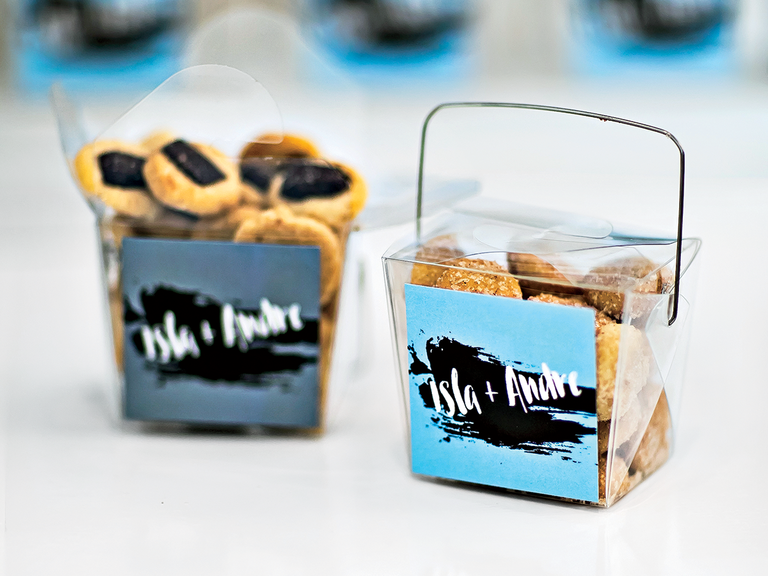 Custom stickers give personalization to clear takeout containers.
Style Inspiration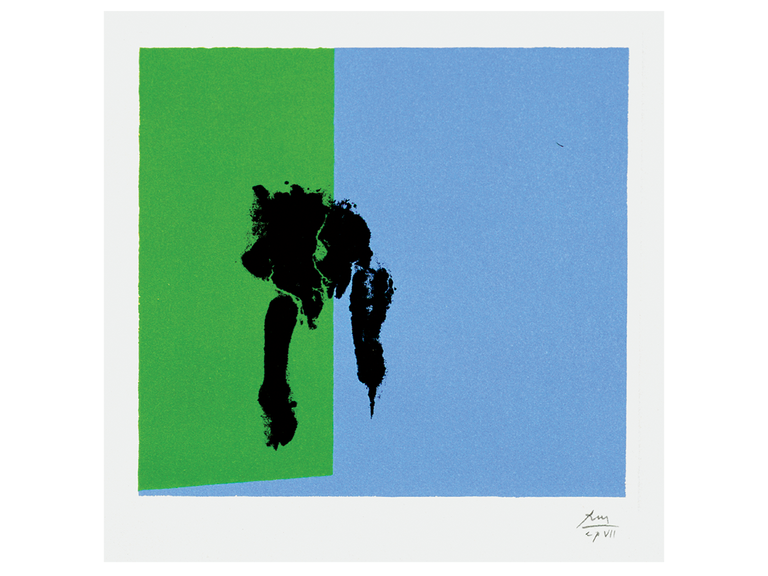 Robert Motherwell's "Paris Suite" series (below) at the Walker Art Center served as a source of inspiration for Culver. "I was drawn to his use of color in a way that felt fresh and alive," she says. "I wanted to use it as a jumping-off point for this style, but it's important not to go too literal when translating inspiration. Embrace one or two elements that speak to you and build upon them in a way that's uniquely yours."