Elevate Your Wedding Venue Lighting With Chandeliers
Instantly add height and glamour to your wedding venue with stunning chandeliers.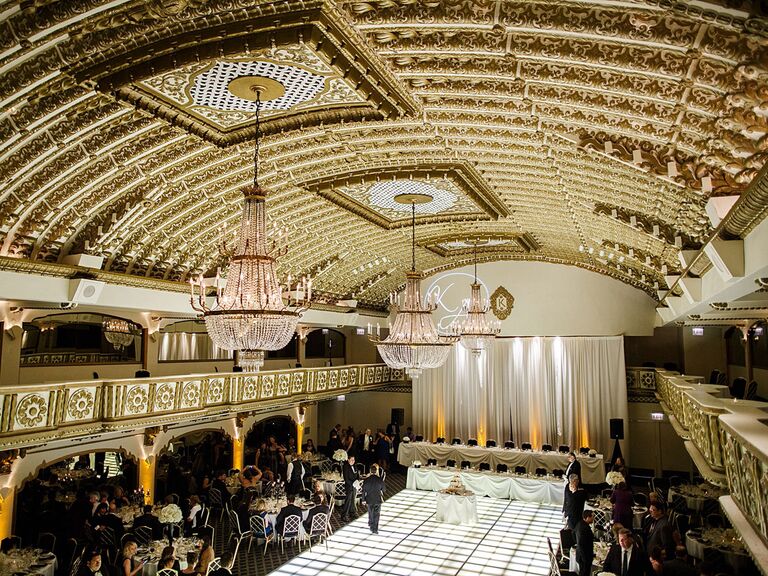 Elizabeth Greve Photography
Unique lighting can instantly transform any space—that's why so many couples are drawn to chandeliers. Whether your event aesthetic is glam, rustic or somewhere in between, a chandelier can be a wonderful way to create a little drama and dimension.
Indoor Lighting
"Weddings are typically elegant affairs, and chandeliers help to add that finishing touch and really put a couple's event over the top," says Kevin M. Dennis, owner of Fantasy Sound Event Services. "Additionally, chandeliers come in so many designs that couples can always find one that speaks to their personal style."
If you've always dreamed of having chandeliers adorn your wedding site, your best (and least expensive) bet is to look for a venue that has them already. But if your ideal spot doesn't include chandeliers, don't fret—there are other ways to bring these stunning fixtures into the mix.
"The discussion of chandeliers in a space that doesn't have them should begin as soon as the design concept is in place," says Fabrice Orlando, CEO of Cocoon Events Group. "If a venue doesn't have chandeliers already, it's more than likely because it can't support a lot of weight. The good news is, you can always find a technical solution to allow for the use of chandeliers."
"You want to make sure the venue is on board first. Communication is key!" Dennis adds.
Outdoor Lighting
Think you can't have chandeliers at an outdoor venue? Think again. "If you have access to power outside, you can use any type of chandelier as long as you can find a hanging point," says Dennis, who suggests trees with strong limbs and any existing structures like a gazebo or porch.
Ultimately, it comes down to creativity. "For example, if you'd like the chandelier situated above a pool, then it's a matter of finding either transparent rope (or black rope for an evening affair) and hanging it between two structures," Orlando says. "And if power is an issue, you can use chandeliers with candles and it will add that same elegance you're looking for."
Find a wedding venue that makes you want to swing from a chandelier, here!