50 Eye-Catching Ideas for an All-White Wedding Color Palette
The best tips and inspiration to pull off an all-white wedding that is anything but one-note.
Not only are weddings with all-white color palettes beautiful in this moment, but white weddings are also absolutely timeless. After all, some of the most iconic celebrities chose a white color palette when it came time for them to tie the knot. From the epic white flower wall at Kim Kardashian and Kanye West's 2014 wedding to guests dressed all in white at Solange Knowles and Alan Ferguson's wedding that same year, celebs keep coming back to white wedding color palettes, and you should, too.
Choosing a color palette is an important task that should, ideally, happen early in your wedding planning process. Once you and your partner have settled on a color palette for your big day, it's time to get to work on threading your chosen hues through all of your wedding plans, from your wedding fashion to your reception decor and beyond. With a minimal color palette like white, planning how to execute each wedding detail flawlessly is of the utmost importance. To help you tackle this task, we've gathered all the best white wedding inspiration to inform your own wedding design. We also tapped some of our favorite wedding professionals to offer tips and advice on how to pull off a white wedding elegantly.
In this story:
White Wedding Invitation Ideas
Wedding invitations set the tone for your entire celebration as they're the first peek at your design wedding guests receive. Get your white wedding aesthetic started with a refined, neutral invitation suite.
1. Typography-Centric White Wedding Invitation
Instead of relying on colorful illustrations to add personality to this neutral wedding invitation, an eye-catching serif typeface brought the stationery design to life.
2. Classic and Traditional Wedding Invitation
This wedding invitation suite kept things simple, adding minimal touches of black to create contrast in the otherwise white stationery design.
3. White Wedding Invitation Suite
In addition to sticking to a white palette, with bits of gray, white styling details kept the whole composition elegantly monochromatic.
4. Unique Stationery Shapes
The add interest to this white wedding invitation suite, a parallelogram details card was used.
Inspiration for All-White Wedding Fashion
Your chosen wedding fashion is a great spot to highlight the big day's color palette. From dressing the entire wedding party in white outfits to simply picking white as the color of the moment for you and your partner, white wedding fashion is sure to be jaw dropping.
5. Bridesmaids in Long White Dresses
"Personally, I love an all-white wedding palette. It feels chic and elegant. I've had bridesmaids wear all white before and everyone looked beyond classy and stunning," says wedding planner Kari Dirksen of Feathered Arrow, a Los Angeles event planning company.
6. White Tuxedo Jacket
For this wedding in Rhode Island, the groom chose a white tuxedo jacket with contrasting black lapel which complemented the bride's white wedding dress flawlessly.
7. Summer White Wedding Attire
For this summer wedding, the groom wore a white-and-tan light linen outfit, with his son and best man in a coordinating kid's suit. Wedding planner Sara Bauleke of Bella Notte in Washington, D.C., advises that couples take seasonality into consideration when picking white wedding attire. "I don't think an all-white color palette is ever out of season, but I do think you want to take your season into account when determining what you're doing for your all-white design. A spring white look is likely going to look very different than a winter white look."
8. White Bridesmaid Dresses in Various Styles
If you're dressing all your bridesmaids in white, having each attendant in a different silhouette will add a bit more personality to the collection. "When it's time to decide on the dress options for the bridesmaids, definitely consider offering a variety of styles, fabrics and shades of white. This is a fun play on the all-white color palette through fashion for the wedding," advises Bri Marbais, a bridal stylist with The Bridal Finery in Winter Park, Florida.
9. Wedding Party in White Attire
Bridesmaids aren't the only ones who can wear white attire. The male attendants in this wedding party also rocked white suits with coordinating white shoes and shirts.
10. White Wedding Jumpsuit
Both partners at this wedding wore white. However, to differentiate their looks one bride chose a halter jumpsuit instead of a traditional white wedding dress.
11. White Pakistani Wedding Attire
Although Pakistani wedding fashion often features red as a dominant color, this couple chose to don white outfits for their summer wedding in New York.
12. Cold-Shoulder White Bridesmaid Dresses
These attendants wore white dresses from Halston Heritage with cold-shoulder silhouettes. Meanwhile, the bride donned a Vera Wang wedding gown for her nuptials at Wave Hill in the Bronx, New York.
All-White Wedding Flower Arrangements
Since so many flowers come in white, your flower arrangements are a great place to reinforce the celebration's color palette. For to-be-weds worried that white-only wedding bouquets and centerpieces will feel one-note, your florist will know how to expertly pair flower varieties to create texture and personality within the big day's designs to achieve an awe-inspiring effect.
13. Bouquet of White Roses and Hydrangea
White roses and hydrangea brought fullness to the wedding bouquet at this winter wedding in Washington, D.C., while boxwood and evergreen foliage framed the design.
14. Scabiosa, Orchid and Anemone Blooms
"If you are going to have all your florals be white, make sure that all your arrangements aren't the same kind of flower," advises wedding planner Angela Margolis of Los Angeles-based Sterling Social. "Weave in different types of white florals with different textures to give the arrangements dimension. Have fun with the vessels that hold your flowers by using ones that are different sizes and shapes."
15. Cascading White Orchid Bouquet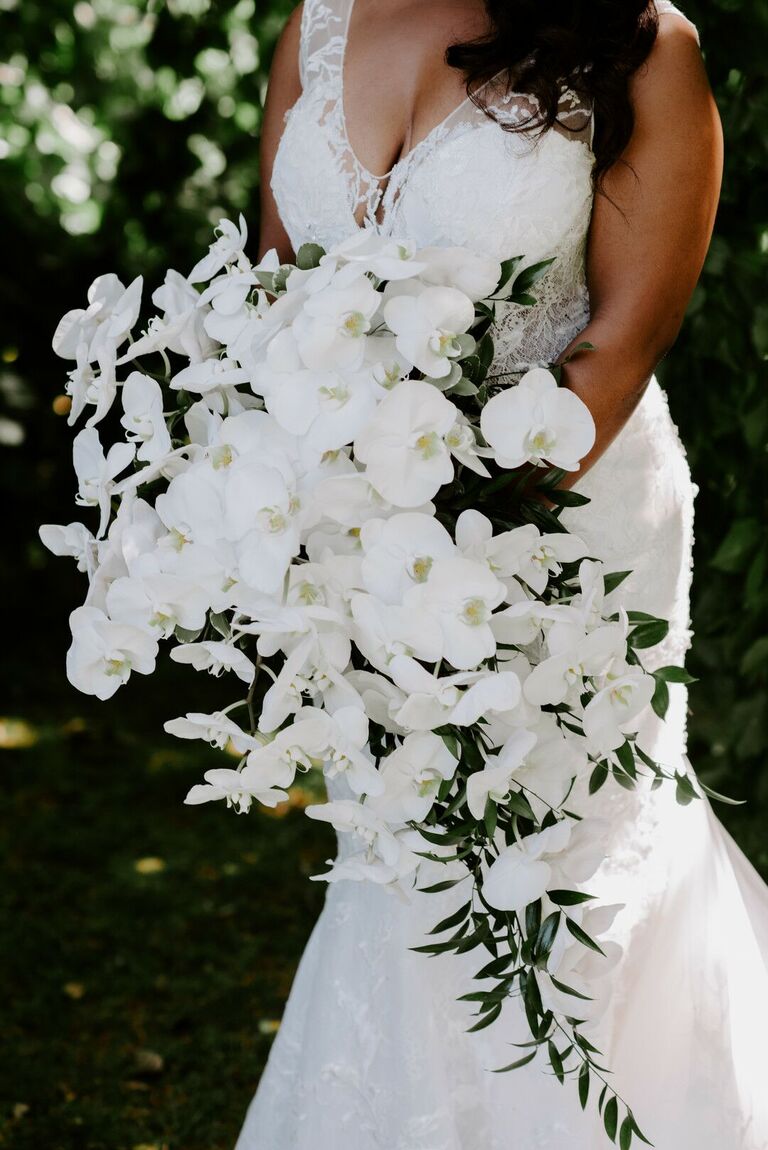 The florist at this wedding in Newport, Rhode Island, created a white wedding bouquet where the orchids luxuriously spilled over in a cascading effect.
16. Boho Anthurium and Dried Palm Leaf Bouquet
"For added depth, look for botanicals that have the hint of another color happening on the underside of their leaves, stems, stamens, or buds such as dark burgundy, peach, or plum. Guests will still read your wedding palette as being white, but this subtle pop will make your designs feel less flat and more nuanced," advises florist Erin Ostreicher, owner of New England-based Nectar & Root LLC. Here, anthurium with green-hued stamens did just that.
17. Organic, Cascading White Bouquet
White roses, fringe tulips and ranunculus blooms, paired with loose greenery, were all used in this organic bouquet for a coastal California wedding.
18. Orchid Wedding Bouquet
Orchids, accented by white roses, took centerstage in this white bridal bouquet.
19. Rustic White Wedding Bouquet
A variety of white blooms, from ranunculus to roses, worked harmoniously together in this rustic, textural wedding bouquet for a wedding in Napa, California.
20. White Dresses and White Flowers
Adding a small pop of color to create contrast is totally alright in a white-centric design. Here, green leaves helped to add contrast to white bouquets held by bridesmaids also dressed in white.
21. Baby's Breath and Orchids
While bouquets generally feature greenery foliage as filler to create texture, that doesn't have to be the case. This bouquet used baby's breath to add fullness to the cascading orchid arrangement.
22. Classic Wedding Bouquet Idea
A simple and elegant white rose bouquet elegantly accented this bride's royal-inspired long-sleeve lace wedding dress.
Ideas for an All-White Ceremony Color Palette
Start your wedding day off strong by threading your white color scheme into the details of your wedding ceremony—from flowers to venue.
23. White Flower Tunnel Idea
Following their outdoor wedding ceremony, this couple recessed through a tunnel of concentric white flower arches as they exited.
24. Rose Chuppah Idea
At this Jewish wedding ceremony, oversize faux white roses decked out the glam chuppah.
25. Acrylic and Brick Ceremony Details
Wedding planner Jaclyn Watson of Jaclyn Watson Events encourages couples to design their wedding space with approachability in mind. "For weddings, you want the space you're in to feel approachable. Often, people go right to that stark white palette, which ends up feeling very sterile. Remember when you're choosing your colors to think about certain small pops of colors that accent things. Think about the various textures like wood, leathers, and metals that add depth and character. Think about what season you're in and how you want your guests to feel when they sit down." For this Kansas City wedding, the couple made their ceremony space approachable by mixing brick details with acrylic ghost chairs and a lush white floral backdrop wall.
26. Anthurium Aisle Arrangements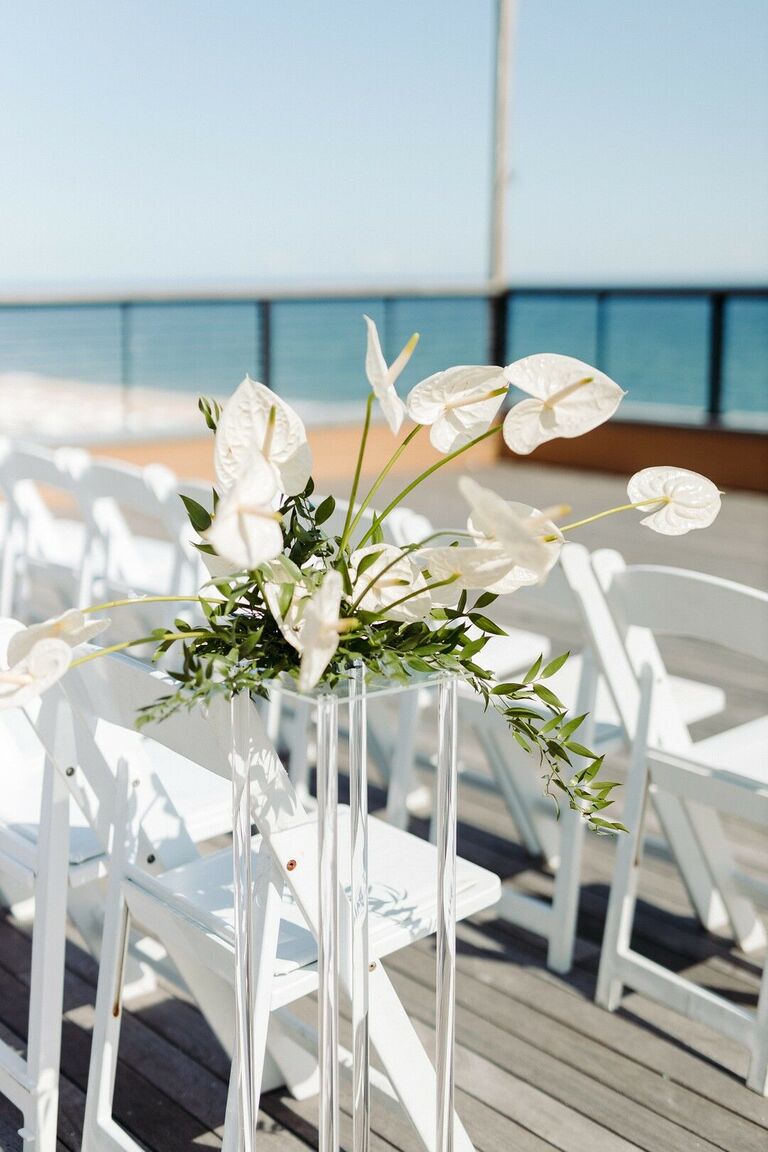 White arrangements of tropical anthurium flowers framed the aisle at this waterfront wedding ceremony in Montauk, New York.
27. Airy White Ceremony Space
Since this couple's San Diego wedding ceremony venue, Building 177, provided a clean slate for design, they kept things minimal with understated aisle arrangements and white folding chairs.
28. Flower-Filled Ceremony Piano
Music fans, this flower-filled piano is a ceremony touch that even Elvis Presley, the king of rock himself, would be jealous of.
29. Simple Wedding Ceremony Arch Idea
Rebecca Foster of Indigo Event Design in Portland, Oregon, advises couples to bear in mind how their white wedding details will complement their chosen wedding venue. "With all-white decor, your visual attention will go to anything that is not white. So if you choose a hotel with bright colorful carpet, all the attention will go to the carpet. It is best to go with a venue with a more natural, neutral color palette," like this Michigan couple did.
Cocktail Hour Ideas with an All-White Color Palette
From lounge groupings showcasing white furniture to neutral-hued bar decor, even this transitional part of the wedding day can be on-palette.
30. Cocktail Hour Bar Front
Small details, like renting an upgraded bar front for cocktail hour, will give your wedding a more refined and polished feel.
31. White Beach Lounge Furniture
White beach umbrellas and a grouping of all-white lounge furniture created a cozy, welcoming space for guests to relax at this oceanside wedding in California.
32. Modern Silver-Accented Furniture
To complement the modern feel of their New Jersey wedding venue, this couple selected minimal white lounge furniture.
33. Backyard Garden Party with White Lanterns
Paper lanterns, Restoration Hardware-inspired furniture and classic white flower arrangements gave this cocktail hour space in Wilmington, North Carolina, a decidedly romantic vibe.
All-White Wedding Reception Inspiration
Whether you're planning an all-white wedding or even a black wedding or one with a neon palette, wedding reception decor is a big place where your chosen color scheme will be showcased so care should be taken with each detail you select.
34. Glam Outdoor White Wedding Reception
In case you still had doubts, this reception is proof enough that an all-white color scheme doesn't have to be boring.
35. Elegant Tented White Wedding Reception
"All-white palettes make a room look so clean, elegant, and uber-chic—it's the palette that is always on trend, all year long. White offers so many tonal variations, designing a tablescape or reception room is easier than you think. For an all-white tablescape, adding in clear vases, textured votives, and gold accents offer dimension and creativity for a lovely reception setting," advises Dawn Roscoe of Dawn E. Roscoe Photography. This couple added dimension to their reception with draping, string lights, wood cross-back chairs and loose floral arrangements.
36. Textured Tablescape Design Idea
This California wedding reception was another masterclass in dimension and texture, thanks in part to the layered linens the couple selected. "I think the best way to approach an all-white palette is by adding layers and dimension, especially with texture. Don't shy away from all-white for your wedding. Just find the perfect way to create the tiniest bit of dimension and, remember, a little goes a long way," suggests Brooke Avishay of Orange Blossom Special Events.
37. Romantic Reception Tent Draping
Although this tent didn't have a typical roof, soft draping was used in place of a roof and brought ample romance to the setup.
38. Clear Acrylic Reception Accents
Adding texture doesn't have to mean adding color. This couple used plenty of clear elements to jazz up their design. Wedding planner Mara Mazdzer of Fuse Weddings shares that, "the trick to an all-white color palette is playing with texture and not shying away from combining multiple textures. You might choose satin linen with some shine and pair it with matte white china. Combine those elements with white blooms in various varieties like fluffy hydrangea with pops of sleek tulips, and you'll find yourself with a design that is full of interest, depth and varied layers."
39. Wedding Reception String Lights
Paying extra attention to creating ambience through lighting will also help add personality and dimension to your reception, as these string lights did.
40. Hanging White Floral Arrangement Idea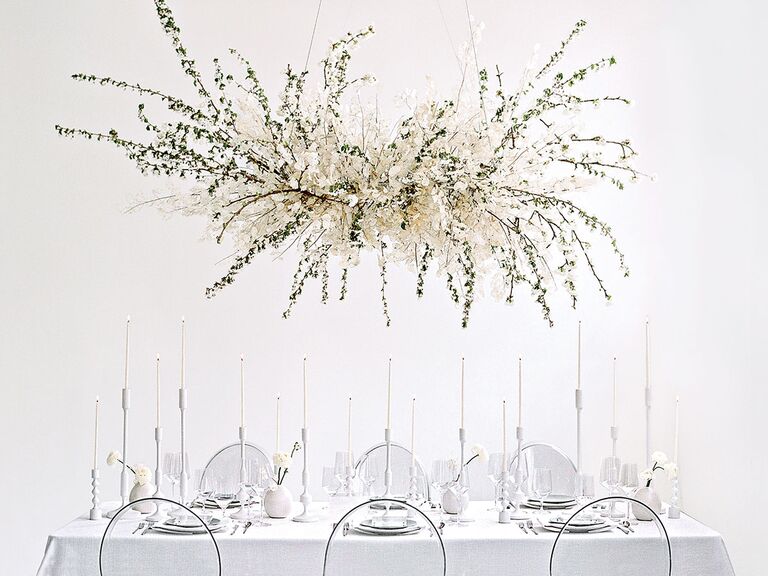 A dramatic hanging arrangement brought drama to this monochromatic tablescape.
White Wedding Cake Ideas
Billy Idol once iconically said, "hey little sister, it's a nice day for a white wedding." For those unfamiliar with Billy Idol's tune, the Keith Forsey-produced number notably makes an appearance in the 1998 film "The Wedding Singer" with Adam Sandler and Drew Barrymore. While Billy Idol's song is arguably not packed with meaningful wedding inspiration, given that the 1982 music video made famous on MTV (directed by David Mallet with help from Queen and David Bowie) features a controversial and questionable goth wedding, the titular sentiment still rings true—today is a nice day for a wedding with an all-white color palette. And no wedding with a white color palette would be complete without an elegant white wedding cake.
41. White Wedding Cake Stand
This three-tier bake was finished off with white peony blooms and a milk glass cake stand.
42. White Wedding Cake with Accent Tier
A floral accent tier made this otherwise classic four-tier wedding cake feel young and playful.
43. Wedding Cake with Cascading Sugar Orchids
There's so much to love about this ornate wedding cake with intricate piping and a cascade of orchid blooms formed out of sugar.
44. Modern White Wedding Cake
Wave-like details finished off this monochromatic three-tier wedding cake.
45. Textured Staircase White Wedding Cake
Each tier of this staircase wedding cake brought subtle texture to the all-white design.
46. Romantic White Wedding Cake Idea
This wedding cake is a reminder that often, less is more.
47. Flower-Covered White Wedding Cake
However, that's not always the case and sometimes more is more! An abundance of fresh white blooms spiraled around this sweet dessert.
48. Boho White Wedding Cake Idea
Subtle pieces of dried foliage added an organic, boho feel to this three-tier white wedding cake.
49. Modern Wedding Cake with Sugar Flowers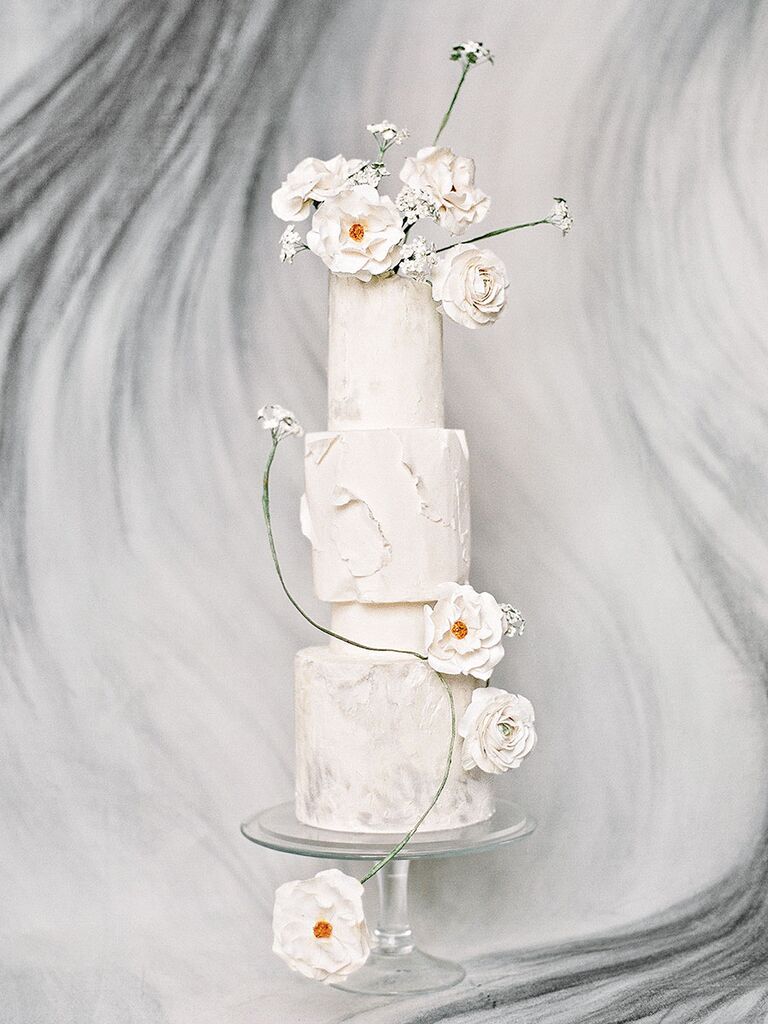 Instead of a pyramid shape, this wedding cake's varying tier dimensions made the dessert feel absolutely modern and avant garde.
50. Classic White Cake with Sugar Flowers
Romantic white sugar petals finished off this simple three-tier wedding cake.