2017 Hottest Honeymoon Destinations
From beautiful beaches to grand adventures and off-the-beaten-path escapes into the wilderness, pick a region of the world and pack your bags for the trip of a lifetime.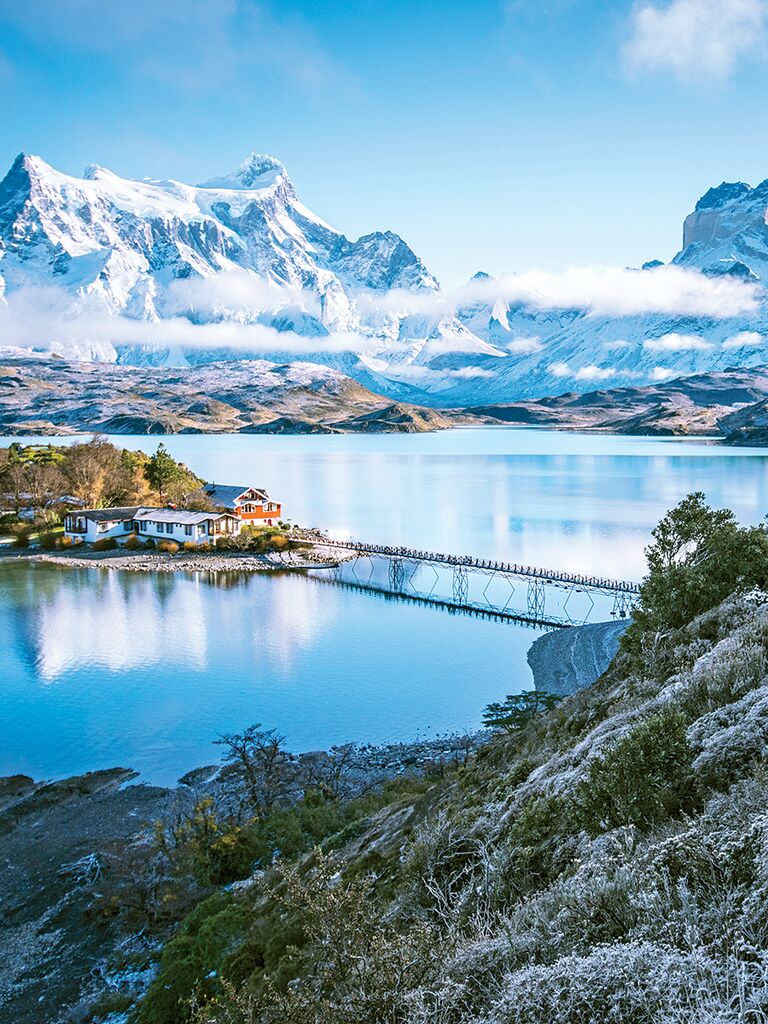 Here are almost 30 of our favorite wedding destinations of 2017, and we promise, there's something for everyone. For romantics and adventure-seekers alike, it's important to share quality time in style and comfort, especially when you're travelling far. If you're on a budget or simply looking for that all-inclusive getaway for some much-need R&R, we've got you covered on the whole newlywed bliss front.
If you're going to: Australia
Ningaloo Coast

Why go: The Great Barrier Reef gets all the hype, but the Ningaloo Reef on the northwest coast is equally spectacular.
When to go: April to September are prime times to visit. Whale shark swim experiences are available April to July and humpback whale swims from August to October.
Where to stay: The Outback-meets-reef setting of Sal Salis in Cape Range National Park puts you steps from the UNESCO World Heritage–listed coral. Request the honeymoon tent (from $710 per person, including meals; SalSalis.com.au), which features ocean views and a double hammock for stargazing.
Best for: Adventurous couples looking to disconnect and reconnect with nature
Worth the splurge: If you love being on the water, book the sail and snorkel package (from $3,600 per person). It includes threenights at the camp and three nights aboard the 51-foot catamaran Shore Thing.
Lake St. Clair, Tasmania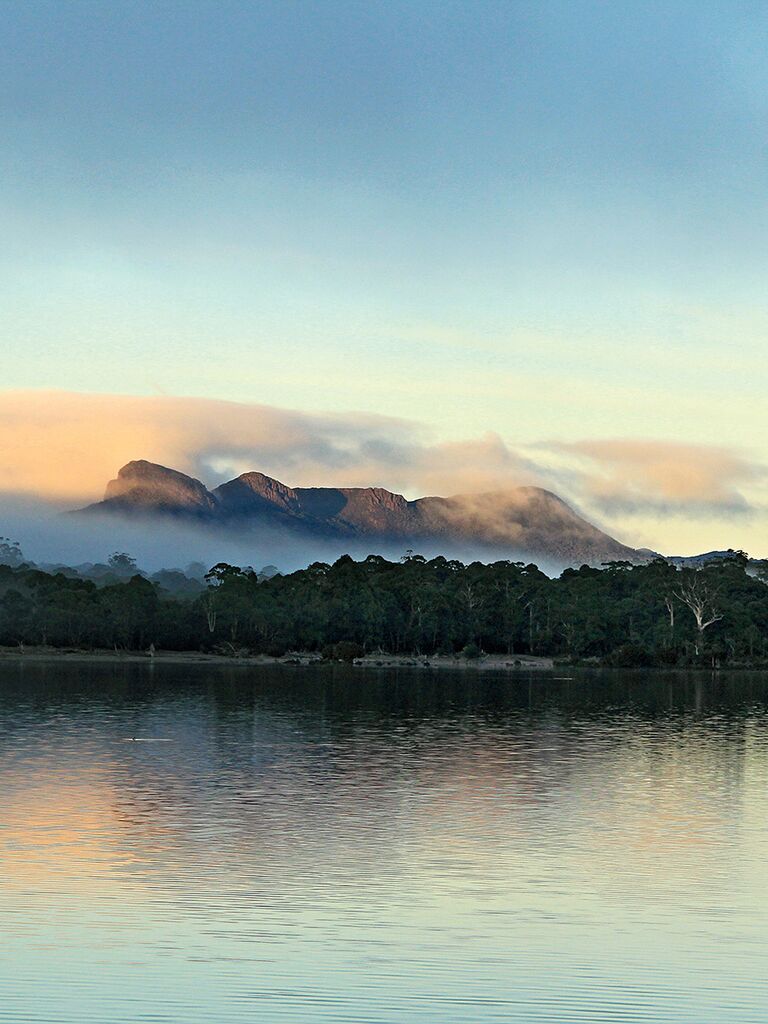 Why go: If your idea of romance is remote nature, get lost on the trails of some of the world's oldest remaining cool temperate rain forests.
When to go: December to April offers the best weather.
Where to stay: You don't have to rough it thanks to the new Pumphouse Point (from $210; PumphousePoint.com.au). The former hydroelectricity station has been reimagined
into an 18-suite lodge. Ambitious couples can tackle the famed 40-mile Overland Track, which takes five to six days and ends at Pumphouse Point's front door.
Best for: Outdoorsy types and wilderness lovers; couples who love to hike
Worth the splurge: Skip the twohour-plus drive from Hobart and arrive by helicopter. The journey provides a bird'seye view of Derwent Valley and Lake St. Clair (one-way transfer for up to four passengers from $825; ParAvion.com.au).
Bondi Beach, Sydney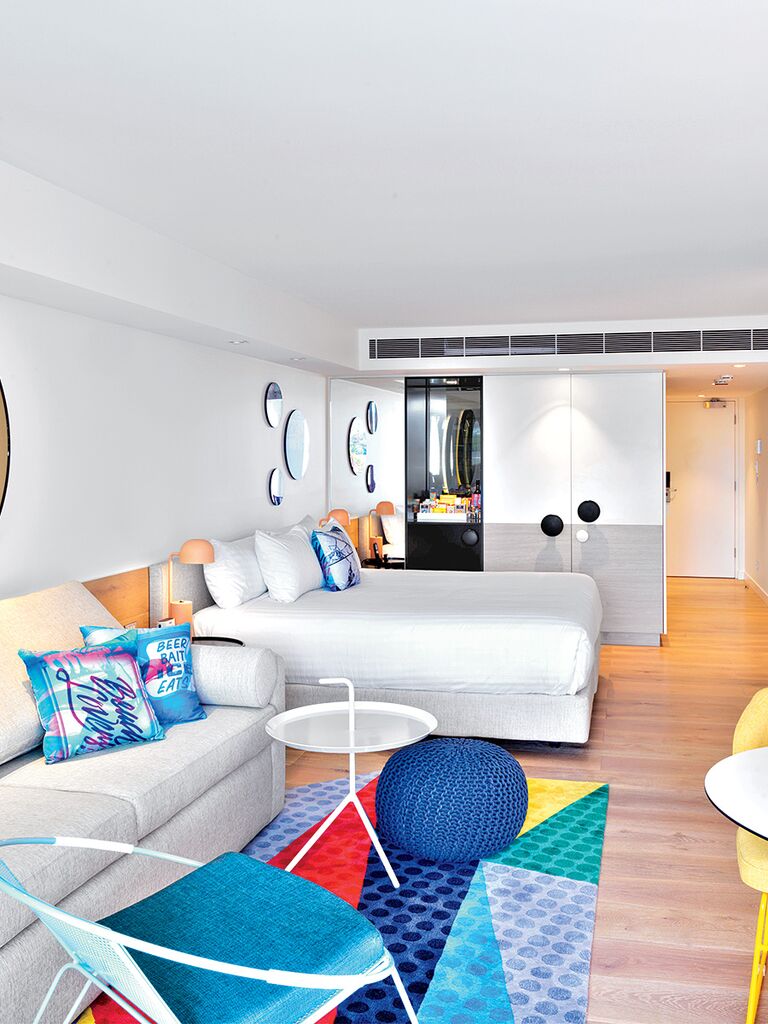 Why go: One of the world's most dynamic cities, Sydney will fill your culture quota with museums, restaurants, opera and architecture while also checking your chill box with its beachside cafés and surfer style.
When to go: September through November and March to May bring comfortable temperatures and fewer tourists.
Where to stay: The hip, new QT Bondi (from $215; QTHotelsandResorts.com/bondi-beach) has a vibrant SoCal vibe, retro furnishings and a location just off legendary Bondi Beach. There isn't a restaurant, but each of the 69 rooms has a kitchenette, and every Saturday, the Bondi Farmers Market takes place across the street.
Best for: Cool seekers who want culture mixed with seaside R & R.
Instagram-worthy shot: Take a dip in the Bondi Baths, the saltwater swimming pool that spills into the sea. After, grab drinks at the Bondi Icebergs Club (Icebergs.com.au) and enjoy the panoramas.
Worth the splurge: Get an aerial view of the Harbour Bridge and the Opera House during a seaplane ride to Pretty Beach House. This four-pavilion retreat nestled within Bouddi National Park is all about indulgence (from $1,500 per night, two-night minimum; round-trip seaplane flight from $495; PrettyBeachHouse.com).
Barossa Valley

Why go: Australia's premier wine region offers more than 150 wineries, complete with intimate cellar tastings.
When to go: The smell of fermenting grapes is in the air during harvest, which typically takes place January through March.
Where to go: The 15 suites of The Louise (from $455, including breakfast; TheLouise.com.au) all come with private terraces and spa tubs, and a handful feature gas-log fireplaces and outdoor showers. An awardwinning restaurant, 500-plus label wine list and infinity-edge lap pool keep guests occupied on property. The well-connected staff can arrange exclusive off property experiences as well.
Best for: Foodies and oenophiles
Instagram-worthy shot: Have breakfast with kangaroos. A bushwalk in a conservation park ends at a table set with drinks and breakfast ($130 per person).
Uluṟu-Kata Tjuṯa National Park, Northern Territory
Why go: Known as the soul of Australia, the Red Centre combines the bush with Aboriginal culture.
When to go: Visit during the drier and chillier seaso
Hoanib Skeleton CoastCamp, Namibia
ns, April to October.
Where to stay: The 15 eco-glamping tents at Longitude 131 are set atop Martian-red dunes. At night, view the Southern Cross from your private deck, then in the morning, watch the sunrise over Uluru (Ayer's Rock) from the comfort of your bed (from $1,350, all-inclusive, minimum two-night stay; Longitude131.com.au).
Best for: Couples who love culture and remote places; art aficionados
Worth the splurge: Art lovers won't want to miss A Night at Field of Light (from $235 per person; AyersRockResort.com.au). During this experience, a host will explain the illuminated artwork to you over sunset canapés and bubbly.
If you're going to: Africa
Western Cape Winelands, South Africa

Why go: A scenic twohour drive from Cape Town, the valleys of the Cape Winelands are framed by mountains and vineyards and dotted with award-winning restaurants.
When to go: Fall (February to April) is warm, but not too hot, and it brings brilliant colors and the energy of harvest season.
Where to stay: South Africa's version of the Garden of Eden, Babylonstoren (from $316; Babylonstoren.com) is surrounded by vineyards, historic Cape Dutch farm buildings and an eight acre garden that grows 300 varieties of edible or medicinal plants. Whitewashed cottages and suites take inspiration from old farm quarters. Channel your inner farmer and go pick your own produce or grab a table at the Greenhouse restaurant.
Best for: Garden, food and wine enthusiasts.
Instagram-worthy shot: Babylonstoren is all about the food porn. You'll have your pick of shots: the in-house fromagerie and salumerie, breads being pulled from thebakery's oven, or the artfully presented farm-to-table dishes at the award-winning restaurant Babel.
Skeleton Coast, Namibia

Why go: One of the world's most dramatic stretches of coast is home to ancient valleys, dune fields and shipwrecks. Despite the extreme landscape, it's also startlingly life filled and offers one-of-a-kind safaris.
When to go: Namibia is a true year-round destination. December through March is hot, but also green and full of wildlife.
Where to go: Conservation-minded outfitter Wilderness Safaris boasts some of the top guides in Africa and operates the eight-tent, fly-in, fly-out Hoanib Skeleton Coast Camp (from $595, all-inclusive; Wilderness-Safaris.com). You may be blissfully isolated from civilization, but thecamp still provides top-shelf cocktails around the campfire, toasty throws in addition to cozy duvets and springbok fillet for dinner.
Best for: Couples who have already been to Africa or who are looking for a fresh take on the classic safari.
Istageam-worthy shot: Take amazing game-drive shots of Namibia's desertadapted wildlife, like brown hyena, giraffes and desert elephants.
Worth the splurge: Stay three nights or more with Wilderness Safaris and have the opportunity to experience a flying excursion over the coast. See beautiful landscapes, plus seal colonies and shipwrecks.
Makgadikgadi Pans & The Kalahari Desert, BotswanaMakgadikgadi Pans, Bot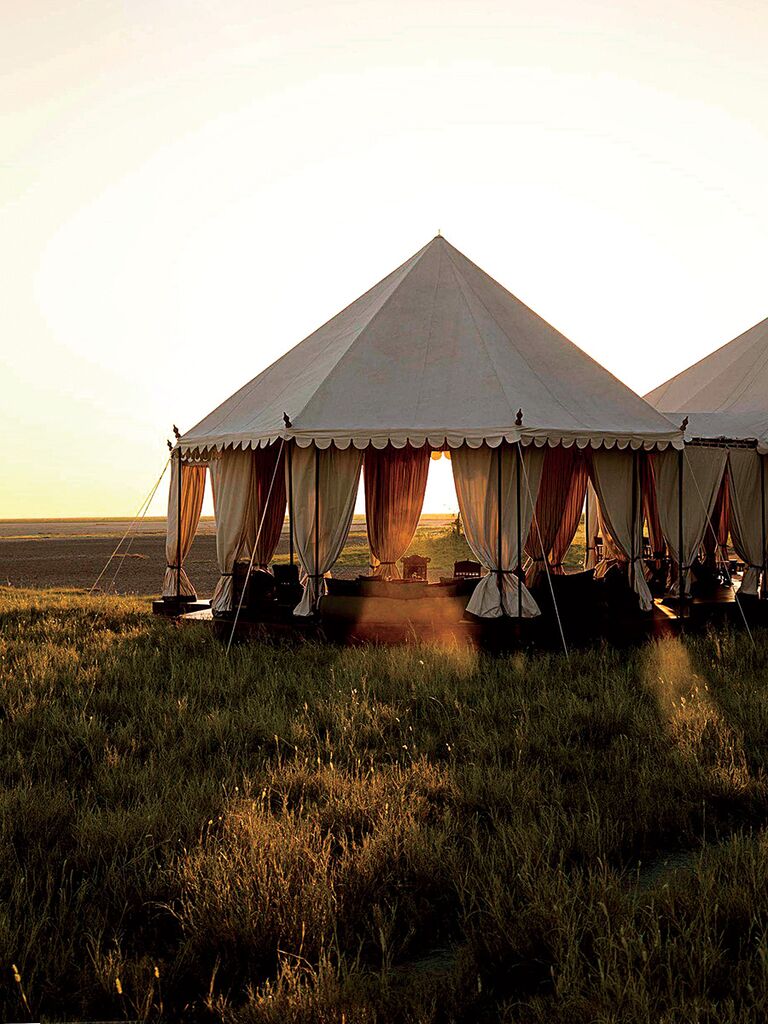 Why go: Deemed the Serengeti of the South, the lunarlike Makgadikgadi Pans is one of the largest salt flats in the world. During wet season, the area boasts southern Africa's last surviving zebra and wildebeest migration—a must-see for animal lovers.
When to go: Wet season—November through March—brings high rainfall but also zebras, wildebeests and flamingos. April to May is dry and warm, while June to August is dry but chilly in the morning and at night.
Where to stay: Jack's Camp feels like a mirage set in the desert. Ten en suite canvas tents are decked out in lavish, 1940s exploration style complete with Persian rugs and mahogany furnishings (from $1,225; UnchartedAfrica.com). Guides at Jack's are a rare mix of wise scholars and old-school bushman adventurers.
Best for: Couples nostalgic for Hemingwayesque safari luxury; couples who want equal doses of culture and wildlife.
Instagram-worthy shot: Due to a habituation program, guests can get up close with resident meerkats during breakfast excursions. Don't be surprised if these furry critters scramble atop your head and use it as a lookout post.
Romantic moment: Enjoy a drink on the salt pans as the sun goes down—just two chairs, a few beverages and you and your new spouse. Once the sun has set, the most amazing star-filled night sky appears as there's absolutely zero air pollution.
If you're going to: Asia
Nha Trang, Vietnam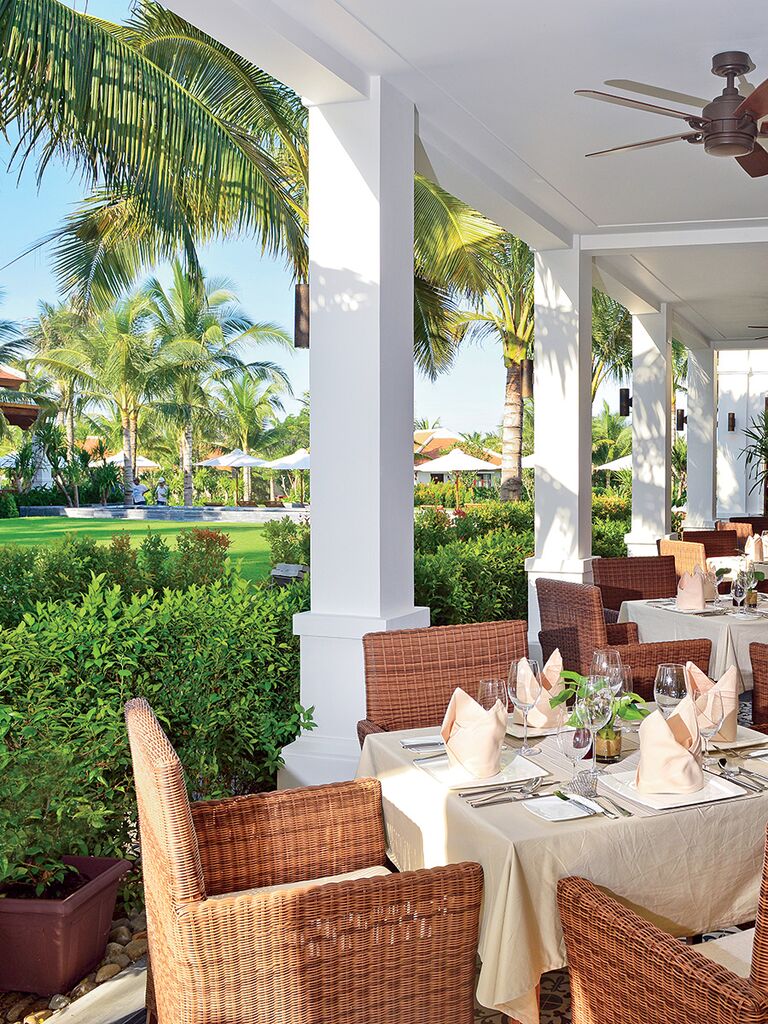 Why go: The coastal resort city of Nha Trang is known for its beaches, dive sites and vibrant nightlife. Off the coast, you have your choice of quiet island paradise.
When to go: Sunny days abound from February through August.
Where to stay: The new 105-villa Anam raises the bar for over-the-top service (think: personal butler). In addition to a private beach, you have your choice of three swimming pools (from $200; TheAnam.com).
Best for: Beach lovers; architecture nerds; service snobs; couples seeking nightlife
Instagram-worthy shot: The light show on Tiki Beach Night is a great backdrop for selfies (SailingClubNhaTrang.com).
Romantic moment: Spend an afternoon being pampered with body scrubs and massages at the Balinese-inspired Sri Mara Spa at The Anam, then have a private lunch with your own waitstaff on the beach.
Raja Ampat, Indonesia

Why go: Bypass Bali in favor of Raja Ampat. Nestled deep in an archipelago of uninhabited islands, you'll find some of the best diving in the world here.
When to go: October through April is the dry season, and it also brings an abundance of manta rays.
Where to stay: Misool Eco Resort is surrounded by its protected 300,000 acre Misool Marine Park, teeming with ocean life (from $2,400 per person for a seven-night stay, all-inclusive; MisoolEcoResort.com). Choose from water cottages or spacious villas, and spend days snorkeling, at the spa or touring local villages. Feel good knowing your stay benefits the local community and the resort's marine conservation programs.
Best for: Diving enthusiasts
Instagram-worthy shot: Don your snorkel gear and swim with baby black tip reef sharks in the waters just off the resort.
Romantic moment: Be treated to a Romantic Beach Castaway Experience. The staff at Misool will drop you at a private beach with lounge chairs, an umbrella and a cooler full of snacks and drinks.
Siem Reap, Cambodia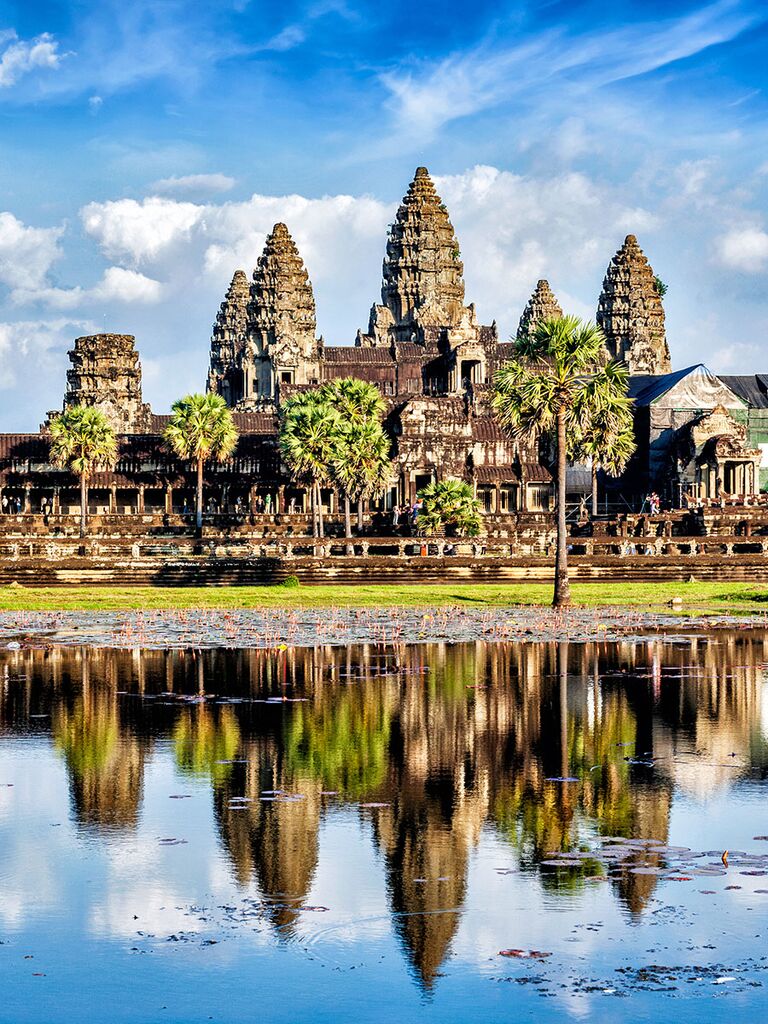 Why go: The gateway to the ancient temples of Angkor Wat, Siem Reap also offers authentic Khmer restaurants, artisan galleries and boutiques, and access to the floating village on Tonle Sap Lake.
When to go: December and January are assuredly sunny, but can also be crowded. While June is in the rainy season, the days are cooler and the temples don't overflow with tourists quite like "summer" months.
Where to stay: Located only a 20-minute drive from Angkor Wat, Phum Baitang is the hotel of choice for celebrities (like Angelina Jolie). The resort has the feel of a traditional Khmer village, with 45 stilted villas and a bar and restaurant housed in a centuryold Cambodian farmhouse (from $375; PhumBaitang.com). The Spa Temple offers seven treatment rooms, a sauna and steam room, or guests can choose to unwind at the cigar and cocktail lounge.
Best for: Culture lovers
Instagram-worthy shot: Skip the typical sunrise temple posts. Get your guide to snap a photo of you riding a buffalo cart through Khmer villages.
Romantic moment: At Cuisine Wat Damnak, chef Joannès Rivière revives and updates Cambodia's golden age dishes like Mekong langoustine with pumpkin and lemon basil. The $28, six-course menu is a steal, and the garden patio is the perfect spot for a special meal (CuisineWatDamnak.com).
Malaysia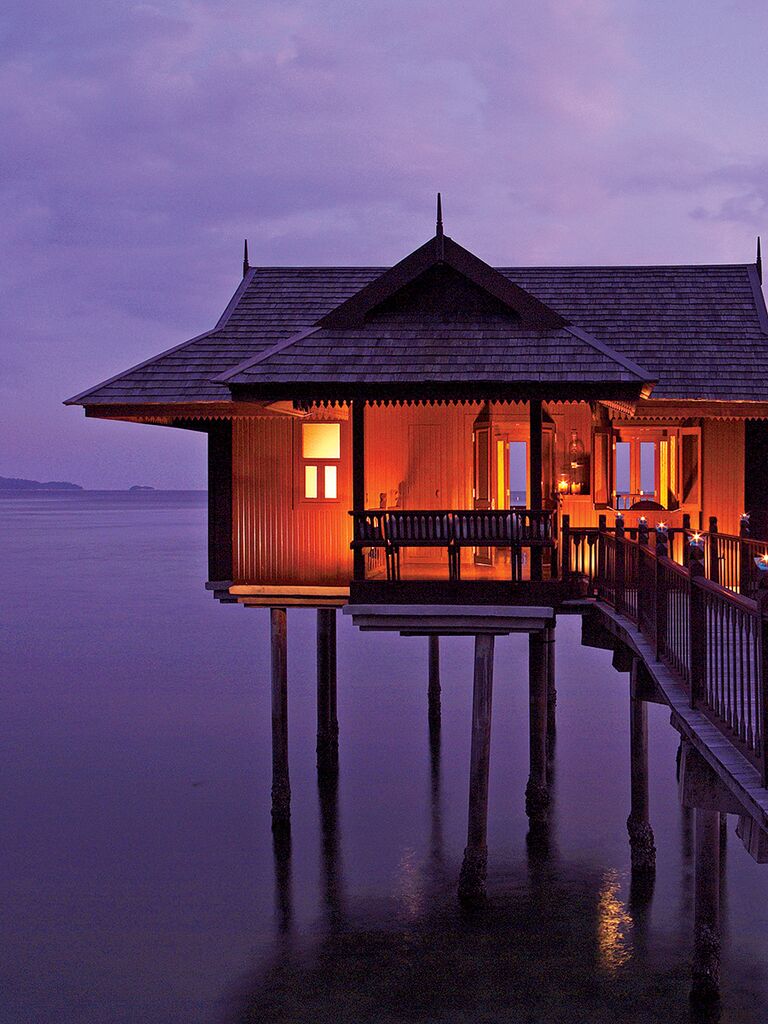 Why go: Often overlooked in favor of better-known destinations like Thailand and Vietnam, Malaysia offers a unique blend of Malay, Chinese and Indian cultures, plus wild rain forests, untouched beaches and some of Southeast Asia's most delicious cuisine.
When to go: Avoid monsoon season and visit between March and September.
Where to stay: Indulge your private island fantasies at Pangkor Laut Resort (from $193; PangkorLautResort.com). Just off the west coast of Malaysia, the resort is surrounded by jungles and turquoise sea and has its own spa village. Of the seven restaurants, Uncle Lim's Kitchen stands out for its Chinese-style home cooking.
Best for: Spa junkies; romantics; foodies
Instagram-worthy shot: Let a resident naturalist lead you on a rain forest trek in search of monkeys, reptiles and more.
Romantic moment: Enjoy a day of pampering with the Couples Spa Experience, a series of body treatments based on ancient Malay wedding traditions. You'll both receive a massage and special baths, but they'll vary for the "princess" and "warrior."
If you're going to: North America
Lummi Island, Washington

Why go: Food pilgrims from around the globe journey to Lummi Island. Part of the San Juan archipelago, Lummi is less than 10 minutes on the ferry from Bellingham, Washington. Forage for mushrooms, dine at a cult restaurant, and then kayak and hike to work up an appetite for your next meal.
When to go: Summer is peak season—it brings gorgeous weather. Fall is quieter and the occasional rain is a good excuse to cozy up in your cottage.
Where to stay: Blaine Wetzel's hyperlocal cooking has made The Willows Inn a destination dining hotel for foodies and chefs worldwide (from $240; Willows-Inn.com). Choose from eight charming rooms just behind the main inn or eight stand-alone properties scattered across the island. The inn has its own farm, fields and smokehouse. To experience all the island has to offer, the staff can help arrange a lighthouse tour or a fishing and crabbing excursion.
Best for: Nature lovers; foodies; foraging enthusiasts; couples seeking solitude
Instagram-worthy shot: Orca, humpback, gray and minke whales all make regular appearances in the San Juans from April to October. If you're lucky, you may even encounter sea lions, seals, otters or a flock of seabirds on your trip. To really take in the wildlife, go on a whale-watching trip with Outer Island Excursions and capture a shot of an orca breaching (four hour trip from $199; OuterIslandX.com).
Romantic moment: Enjoy sunset from the deck of The Willows Inn. Share a bottle of Yakima Valley chardonnay and a platter of fire-roasted Shigoku oysters—they are an aphrodisiac, after all.
Kachemak Bay, Alaska

Why go: Rugged coastlines, wild beaches and animals like whales, eagles and bears make you feel like you're truly in the wild, but the quirky town of Homer—with its hippie cafés, fun bars and funky shops—is just a 25-minute boat ride away.
When to go: June to August is the best (read: warmest) time to visit, but shoulder months May and September can be cheaper.
Where to stay: Tutka Bay Lodge's remote setting on a seven-mile fjord at the southern end of Kachemak Bay feels worlds away from civilization (from $4,860 per person for a three-night, all-inclusive stay; WithintheWild.com). The six-cabin wilderness retreat perfectly combines adventures, like kayak excursions, with indulgences including a sauna, wine tastings, massages and multicourse meals. An old crabbing boat has been transformed into a cooking school for guests who want to learn to filet a fish or prepare crab beignets.
Best for: Wannabe chefs; outdoorsy types
Instagram-worthy shot: Bring your zoom lens to snap a photo of a brown bear at Katmai National Park and Preserve.
Romantic moment: The staff can arrange everything from a picnic for two on top of Grewingk Glacier to a sunset cruise through Kachemak Bay followed by a private dinner on your cabin's deck. They'll even prepare oysters you've scouted at a nearby farm.
Willamette Valley, Oregon

Why go: Often called the anti-Napa, Willamette Valley has wines that rival those in California, plus you can hike and bike the wild Pacific Northwest trails.
When to go: Summer is ideal for hiking, biking and kayaking. Visit in fall for leaf peeping and the buzz of harvest season.
Where to stay: Rooms at The Allison Inn & Spa have sweeping vineyard views and woodburning fireplaces (from $420; TheAllison.com). The hotel's acclaimed restaurant celebrates the bounty of Oregon and has an 850-plus bottle wine list that showcases top wineries from the region.
Best for: Wine geeks; foodies; spa lovers
Romantic moment: The spa's Ever-After treatment includes a hot oil herbal body wrap, a couple's massage and lunch for two
Snoqualmie, Washington

Why go: Just 40 minutes from Seattle you'll find wilderness trails, waterfalls and the soaring Cascade Mountains.
When to go: Mid-July through September is ideal for outdoor activities.
Where to stay: A resident romance concierge ensures every detail of your stay at the Salish Lodge & Spa is magical (from $219; SalishLodge.com). All 84 rooms have oversize tubs and fireplaces. Relax in the pools of the cedar-and-eucalyptus-scented spa.
Best for: Outdoor lovers; spa enthusiasts
Instagram-worthy shot: The Salish Lodge overlooks a roaring 268-foot waterfall. If you're lucky, a perfect rainbow may even appear. Time a walk to the viewing platform accordingly and you can catch this treat from Mother Nature.
Maui, Hawaii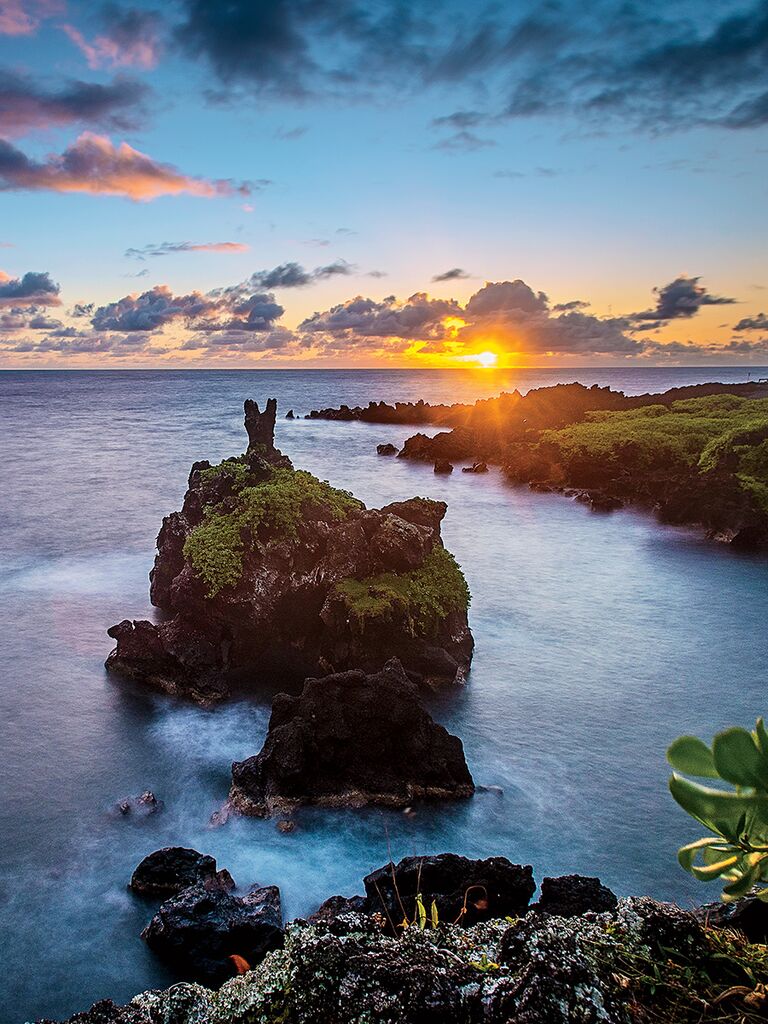 Why go: Maui is the best of all worlds: You'll find a surfer vibe on the North Shore, amazing resorts and a place that makes you feel like you're in another era in Hana.
When to go: During shoulder seasons— April through May and September through November—you'll find more affordable rates, fewer crowds and idyllic weather.
Where to stay: Skip the tourist-filled big resorts of Maui's South Coast and experience the island like a local on the North Shore. The Inn at Mama's is set on a secluded beach shaded by coconut palms and puts you steps from the island's celebrated restaurant Mama's Fish House and a five-minute drive from the hippie-chic town of Paia (from $275; InnatMamas.com).
Best for: Free-spirited beach lovers
Instagram-worthy shot: A photo tour with Daniel Sullivan, owner of Paia's Indigo Gallery, will take you off-the-beaten path along the wildly popular Hana Highway (three-hour tours from $560; DanielSullivan.PhotoShelter.com). Just don't give up the location of the remote spots when you post.
Oahu

Why go: Spot top surfers on the North Shore, find your city fix in Honolulu and Waikiki, and then get away from it all along the west coast.
When to go: The island is least crowded from mid-April to mid-June and September to mid-December.
Where to stay: The new Four Seasons Ko Olina feels like a private oasis just 35 minutes from the action of Honolulu (from $575; FourSeasons.com/oahu). Score loungers at the adults only pool for sunset views.
Best for: Urbanites who want a mix of city buzz and laid-back beach vibes
Worth the splurge: Charter the resort's yacht for a sunset sail. Don fins and snorkel masks and dive off the boat for a swim. Bubbly and canapés will be waiting back on board (from $3,360 per charter).
Big Island

Why go: You can mix culture with nature and blissful relaxation.
When to go: Book mid-April to early June, or September to mid-December.
Where to stay: The Mauna Kea, the first hotel built on the Kohala Coast, will give you a taste of vintage aloha without sacrificing modern-day amenities (from $495, including breakfast; PrinceResortsHawaii.com/maunakea-beach-hotel). You'll find more than 1,600 museum-worthy pieces throughout the property as well as an award-winning golf course and the most perfect stretch of beach, complete with outrigger canoes.
Best for: Hawaiian nostalgia seekers; couples who like to mix beach with adventure
Romantic moment: The Big Island is home to one of the starriest skies in the world. Let an astronomer give you the lay of the air through a Celestron 11 telescope (from $550; StarGazeHawaii.com)

Kauai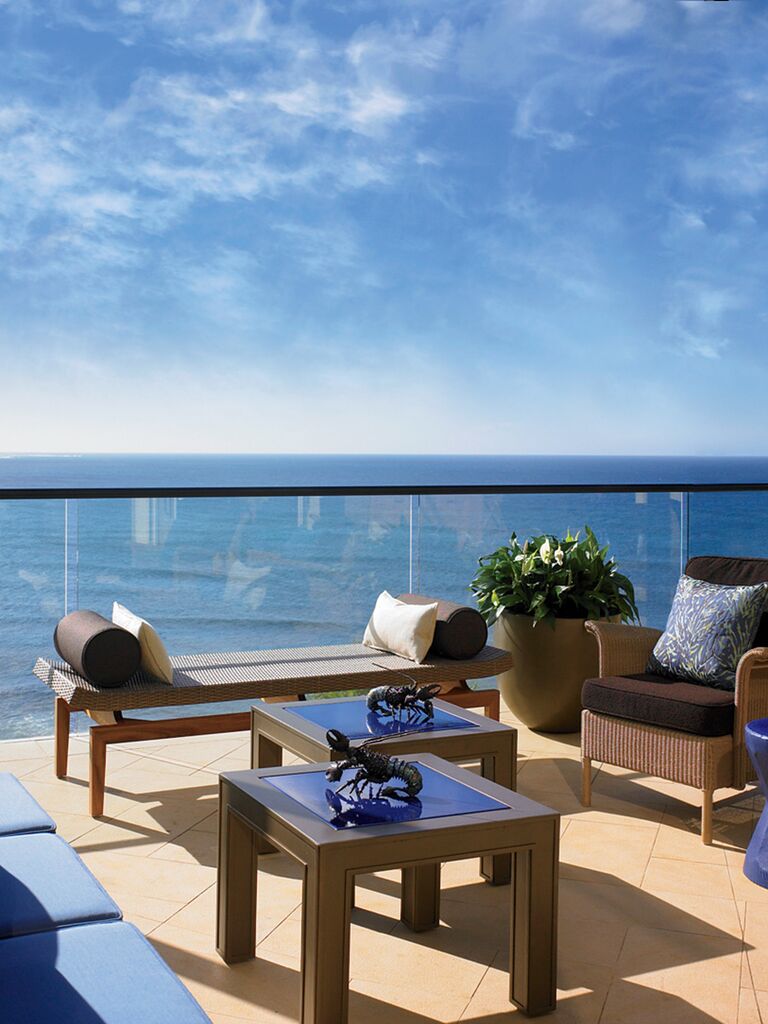 Why go: People get hooked on Kauai because of its Jurassic Park–esque waterways for paddling and the postcard-perfect sunsets of Hanalei Bay.
When to go: Mid-April to mid-June and September to December bring great weather.
Where to stay: The St. Regis Princeville Resort has a heavenly setting overlooking Hanalei Bay and a "your wish is our command" philosophy (from $1,575; StRegisPrinceville.com). Don't fall victim to the resort's 5,000-square-foot infinity pool that vanishes into the ocean. Yes, you can easily laze away a week under a sun-shaded pool lounger, but the Garden Isle's natural attractions should not be missed.
Best for: Couples seeking wild natural beauty but super-luxe digs
Worth the splurge: Dine by the glow of torchlight and candles while a private waitstaff and sommelier attends to your every whim during a secluded, four-course, alfresco dinner at the St. Regis (from $1,290 per couple).
If you're going to: South America
Torres Del Paine, Chile

Why go: Unparalleled trekking through a changing landscape of glacial lakes and jagged mountains is just outside your door.
When to go: November through March is best, but shoulder months April, September and October have lower rates.
Where to stay: EcoCamp offers sustainable digs in the heart of Torres del Paine National Park (from $1,395 for a five-day wildlife safari; EcoCamp.travel). Guests sleep in geodesic dome-shaped structures modeled after ancient Kaweskar tribe dwellings. Ceiling windows let you fall asleep while stargazing, and private terraces offer a romantic spot to watch the sunset. Guests gather for meals, like king crab cannelloni and patasca (a typical Altiplano stew) in an enormous dining dome each evening. Request a dome with heat unless you prefer to snuggle.
Best for: Eco-conscious travelers; glampers; hikers; yogis; outdoor lovers
Worth the splurge: Visit one of Patagonia's largest ranches and spend a day horseback riding with local baqueanos (cowboys). You'll ride past small villages, spot condor nests and hear about the region's legendary stories over a picnic lunch (from $461; Cascada.travel).
El Calafate, Argentina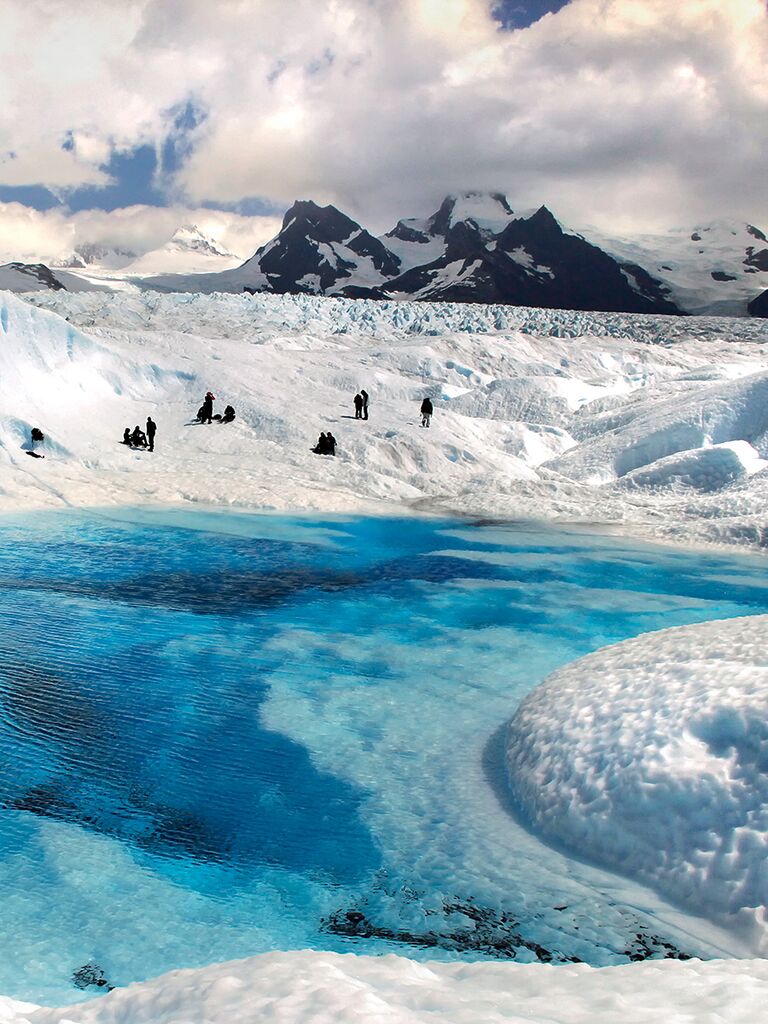 Why go: El Calafate is the gateway to the ever-shifting icy landscape of Los Glaciares National Park.
When to go: Visit anytime from November to mid-December or March through April.
Where to stay: Set within a nearly 10,000- acre estate, Eolo was inspired by ancient Patagonian ranches and exudes Old World gaucho elegance. Rooms offer views of the Lago Argentino, La Anita Valley, Torres del Paine or the Rico branch (from $770; EOLO.com.ar). The in-house guides are all locals and have exceptional knowledge of the region's flora and fauna. But don't expect gaucho cuisine—the fine dining restaurant has earned Eolo Relais & Chateaux status.
Best for: Food and wine connoisseurs; nature lovers; hikers; wannabe gauchos
Romantic moment: The staff can arrange a horseback ride to a private picnic with a bottle of malbec.
If you're going to: The Caribbean
St. Barts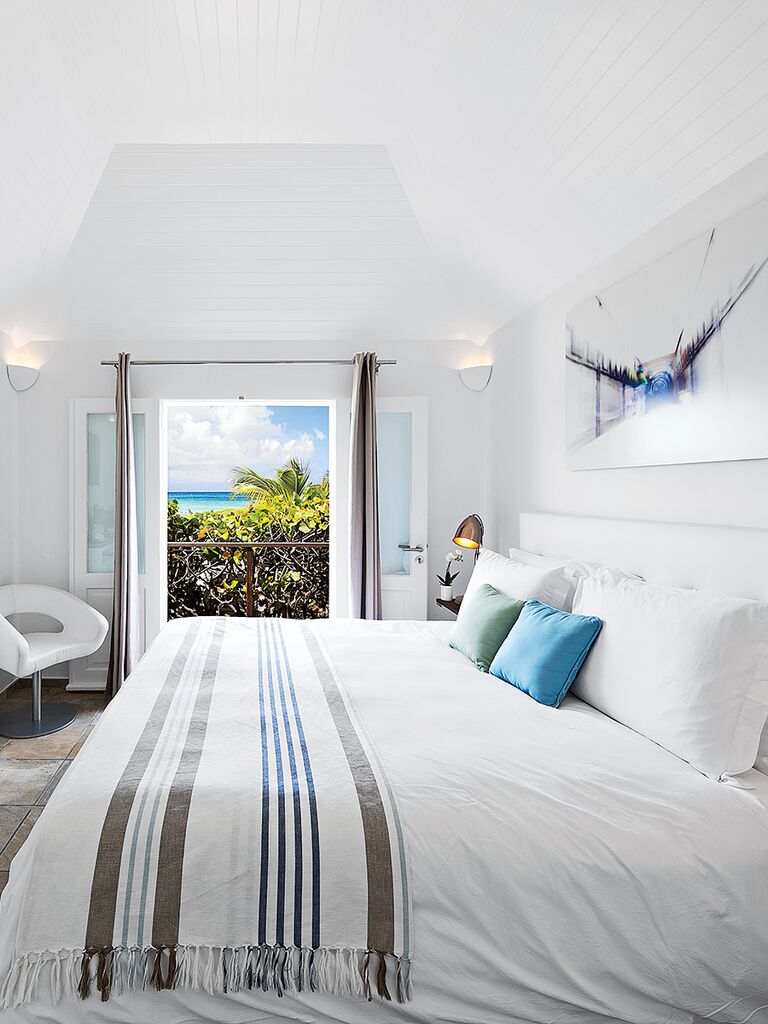 Why go: The Caribbean's most elite island has 22 white-sand beaches, extraordinary restaurants and red-velvet-roped nightclubs.
When to go: May through June has great weather and a chill vibe. December is peak season and prime for celebrity sightings.
Where to stay: Nestled on Baie de St. Jean, arguably St. Bart's sexiest beach, Le Tom Beach Hotel (from $342; TomBeach.com) is in walking distance to island hot spots like Nikki Beach and Eden Rock. Rooms are secluded by gardens, and guests get first dibs on reservations to the Le Plage restaurant.
Best for: Sun seekers; couples who want nightlife; celeb junkies
Romantic moment: Stop at a local grocery for a picnic lunch of French cheeses and hike to quiet Anse du Grande Colombier, often called one of the world's prettiest beaches.
Dominican Republic

Why go: A quick flight from major East Coast hubs, the Dominican Republic is a mix of party beach towns and exclusive compounds that attract the rich and famous.
When to go: Skip the crowds and hurricane season and visit March through May.
Where to stay: With just nine colorful bungalows, Playa Grande Beach Club is an intimate departure from the DR's ubiquitous all-inclusive mega-resorts (from $800; PlayaGrandeBeachClub.com). The North Coast retreat is set on a mile-long beach, but guests can also sunbathe in a cabana by the property's lap pool.
Best for: Beach bums
Romantic moment: Gallop (or trot) off into the sunset. Playa Grande's staff can arrange sunset horseback rides for all levels of riders ($66 per person for two hours).

Anguilla

Why go: The combination of incredible restaurants and gorgeous beaches make this one of the Caribbean's top destinations.
When to go: May through August are the best months to visit.
Where to stay: An 18-month remodel by Auberge Resorts brought the famed Malliouhana hotel back to its 1950s glamour: The rooms, suites and a cliffside restaurant were redone and a 15,000-square-foot spa was added (from $525; Malliouhana .AubergeResorts.com). One thing that hasn't changed is the dream location. Perched atop a bluff above three of the island's top beaches—Meads Bay, Bobbing Cove and Turtle Cove—the hotel is ideally situated for snorkeling, sunning and sunsets.
Best for: Food lovers; sun seekers
Instagram-worthy shot: Every honeymoon requires the quintessential sunset photo, and the Sunset Bar at Malliouhana is the precise place to snap that image—with mojitos in hand, of course.
Romantic moment: Book a candlelit, private dinner with a dedicated waiter and guitarist under one of the recently refreshed pool cabanas overlooking the ocean. Then, indulge in gourmet s'mores around the fire pit for dessert accompanied by an aged rum tasting. Cap your night off with a latenight dip in the two-tier pool.

If you're going to: The Mediterranean
Dubrovnik, Croatia

Why go: One of the world's most magnificent walled cities, Dubrovnik charms visitors with its pedestrian-only Old Town, Baroque churches and fortified beauty. Add its stunning beaches and laid-back eateries serving top-notch seafood and excellent Croatian wine to the mix and you have a recipe for paradise.
When to go: Avoid the cruise passengers and visit September through November.
Where to stay: Built into a cliff above the Adriatic, the newly renovated Villa Dubrovnik makes you feel like royalty perched above the Adriatic and Old City (from $490; Villa-Dubrovnik.hr). The exclusive setting means guests must arrivefrom the Old Town via a 10-minute Vaporetto speedboat ride. Some of its 56 rooms and suites offer sea-view balconies, and the roof is home to a prosciutto and wine bar.
Best for: Couples who have already explored classic Europe; history buffs; über romantics; urbanites
Instagram-worthy shot: Re-create ascene from a vintage Adriatic postcard and pose in your swimsuits on the hotel's private rocky beach. At the shoreline, concrete platforms extend out from the sandstone, creating a natural backdrop from another era.
Worth the splurge: Hire the hotel's Vaporetto speedboat to take you island hopping for the day.
Salina, The Aeolian Islands

Why go: Be able to brag that you've visited an island few savvy travelers have even heard of. Salina is the greenest of seven of the inhabited islands in the UNESCO World Heritage–status Aeolian archipelago. Hikers can climb Monte Fossa delle Felci, the highest peak in the archipelago.
When to go: The season peaks from midJuly through August when sun-seekers descend. Late May and September are the sweet spots, with great weather, fewer crowds and more affordable rates.
Where to stay: The family behind Tasca d'Almerita, one of Sicily's most important wine producers, owns the 20-room Capofaro hotel, which overlooks some of the vineyards (from $296; Capofaro.it). Food and wine are taken seriously here, but don't expect fussy eats—the philosophy is simple and delicious.
Best for: Wine lovers looking for a fresh experience; foodies; island junkies
Worth the splurge: Have the hotel arrange a day cruise aboard the yacht Don Felipe and explore coves, bays and caves that are otherwise unreachable by land.

Serifos, Greece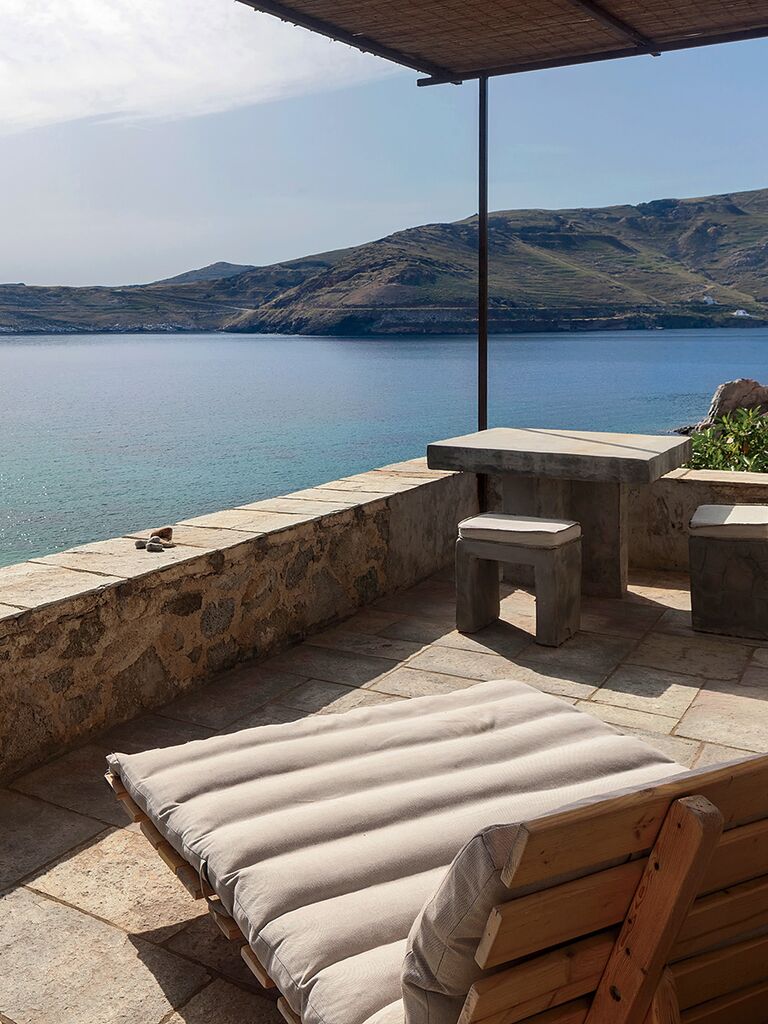 Why go: Don't follow the masses to Santorini, Mykonos or Paros. Instead, forge your own path and explore Serifos. Active travelers can keep busy hiking, biking and diving. Plus, you're just a three-hour ferry ride from Athens.
When to go: Mid-April to June or September to mid-October are the most peaceful times to visit.
Where to stay: In a previous life, Coco-Mat Eco Residences housed local miners. Today, the beachfront minimalist hotel has a seaside lounge bar and a friendly staff who can arrange a romantic breakfast in bed (from $231; Serifos.Coco-Mat-Hotels.com).
Best for: Eco-minded, active couples.
Romantic moment: Coco-Mat's staff can help you rent scooters for a perfect island beach crawl.

Puglia

Why go: Puglia has always had James Bond–worthy beaches, beautiful architecture and ancient ruins. But the recently booming food scene on this remote heel of Italy's boot has the region primed to be the next Tuscany.
When to go: A temperate climate makes Puglia a year-round destination. Though it's too cold to swim, October through April are great months for exploring inland charms.
Where to stay: Masseria Le Carrube, a working farmhouse in the town of Ostuni, has been transformed into a more rustic sister property of Puglia's top hotel Borgo Egnazia (from $155; MasseriaLeCarrubeOstuni.it). Don't miss a meal at its vegetarian restaurant Le Carrube.
Best for: Food and wine nerds; beach lovers
Instagram-worthy shot: Explore Valle D'Itria and the village's cylindrical houses with beehive-shaped roofs.