50 Weddings Across 50 States That Showcase US Wedding Style
Our editors scoured the country for the prettiest, most representative weddings from each state. From Alabama to Wyoming, and every state in between, we bring you a collection of weddings that are oh-so-local.

Region: Northeast & Mid-Atlantic
Seasonal florals and stunning settings added personal flair to each of these pretty parties spread out between Maine and Maryland.
Connecticut
Downton Abbey elegance prevailed at Stefanie and Christopher's fall fete at the Lord Thompson Manor. Antique brass candlesticks, still-life inspired centerpieces and a palette of slate blue, burgundy and peach effortlessly achieved a refined old-world look. "I wanted our wedding to have a very timeless, romantic feel, like you were transported to an estate in the English countryside during the 1920s," Stefanie says.
From the album: A Whimsical Autumn Wedding at Lord Thompson Manor in Thompson, Connecticut
Delaware
Megan and Noah paid tribute to The First State by sealing the deal in a historic venue that once served as the former home of Governor C. Douglass Buck. The couple balanced the estate's lavish architecture and perfectly manicured grounds with rustic-chic accents to achieve a clean, classic aesthetic that was equal parts elegant and fuss free.
From the album: A Chic Summer Wedding at Buena Vista Conference Center in New Castle, Delaware
Maine
Lexie and Shane fused New England romanticism with rustic charm for their intimate winter wedding. Capturing the essence of the season, the couple worked with a palette of natural, earthy hues and sprinkled lush, wintry greens throughout as a nod to Maine's iconic woodland landscape. "The idea was that people would feel welcome and comfortable from the moment they walked into the barn until the moment they danced out," Lexie says.
From the album: A Vintage Winter Wedding at Flanagan Farm in Buxton, Maine
Maryland
Having met at their alma mater Johns Hopkins, Sara and Uesin took care to show off some of their Baltimore pride. The university's Evergreen Museum provided an opulent backdrop for the affair, while eats such as mini crab cakes and chicken and waffles gave out-of-town guests a taste of local flavor.
From the album: A Sophisticated Summer Wedding at Evergreen Museum & Library in Baltimore, Maryland
Massachusetts
Having met in the choir at college, music was the prominent focus of Desta and Benjamin's rustic-chic wedding at Charles River Museum. During the ceremony, Benjamin surprised Desta by serenading her with a rendition of Leon Bridges's "Coming Home," accompanied by close friends who sang backup and played the guitar and saxophone. (A choir even performed a benediction to bless the reception dinner.)
From the album: An Elegant, Industrial Wedding at Charles River Museum of Industry and Innovation in Waltham, Massachusetts
New Hampshire
Channeling their love of the great outdoors, Nicole and Dor whisked their family and friends off to New Hampshire's scenic countryside for a bohemian bash rich in vibrant colors. A Mediterranean feast took place on the lawn, where dinner was served atop long farm-style tables adorned with bright printed table runners, arrangements of colorful wildflowers and vintage stemware that brought an air of eclectic charm to each tablescape.
From the album: A Bohemian Backyard Wedding at a Private Residence in Franklin, New Hampshire
New Jersey
With Alexandra and Thomas's wedding coinciding with the Fourth of July weekend, the couple ensured that their day was laced with patriotic flair. Star Spangled Smash cocktails were served during cocktail hour, and groomsmen donned stars-and-stripes-themed attire. The postdinner dance party was one of the evening's many highlights, with the Sultans of Swing keeping guests glued to the dance floor all night long.
From the album: A Garden-Inspired Wedding at Hamilton Farm Golf Club in Gladstone, New Jersey
New York
For self-proclaimed movie buffs Liz and Adam, getting hitched at the Museum of the Moving Image in Queens, where they had their first date, was a no brainer. From start to finish, movie magic was incorporated into every aspect of the day—from personalized movie trivia on the venue's big screen to vintage film reels taking the place of traditional table numbers.
From the album: A Movie-Themed Wedding at the Museum of the Moving Image in Long Island City, New York
Pennsylvania
Anjali and Christophe pulled off a glamorous fusion soiree that highlighted their Indian and French roots and modern style. "We decided to have a bright, colorful Hindu ceremony, followed by a jazzy, French-themed cocktail hour and a classic black and gold reception," Anjali says. The festivities kicked off with a personalized Hindu ceremony at Philadelphia's Vie, where the couple exchanged vows under an ornate floral mandap, brimming in bold, cheerful colors. The newlyweds then joined their guests for live jazz music, signature sips and inspired eats from around the globe.
From the album: A Glam Indian and French Fusion Wedding at Vie in Philadelphia, Pennsylvania
Rhode Island
In just three months, Holly and Roger planned an elegant DIY affair with a subtle bohemian twist at the Providence Public Library. "When we walked into the Providence Public Library, the architecture alone took our breath away," Holly says. The couple incorporated elements that spoke to their New England locale, affording friends and family a taste of local flavor. In lieu of a traditional champagne toast, Holly and Roger opted for a chowder toast, providing each guest with mini mugs of New England clam chowder garnished with bite-size clam cakes.
From the album: A DIY Vintage Wedding at Providence Public Library in Providence, Rhode Island
Vermont
Drawing inspiration from the carefree feel of a summer picnic in Vermont, Jess and Todd planned a fun-filled event that embodied the natural beauty of the Green Mountain State. "We infused the event with as much Vermont as we could—Ben & Jerry's ice cream, locally grown flowers and a focus on local products for the menu," Jess says.
From the album: A Rustic Summer Wedding at Hill Farm Inn in Sunderland, Vermont
Washington, DC
No celebration in the nation's capital would be complete without a few nods to history, and Kate and Nick didn't disappoint, gathering their friends and family at the National Museum of Women in the Arts for a blowout bash in their hometown of Washington, DC. The reception kicked off with cocktail hour in the galleries, where guests enjoyed Champagne Sparkles, live music and the museum's myriad of artwork. To allow the unique features of the venue to shine through, the couple opted for a clean, elegant aesthetic for the reception, complete with mirrored tabletops, lush bouquets of full white blooms and gold-rimmed stemware.
From the album: A Classic Wedding at the National Museum of Women in the Arts in Washington, DC
Region: Midwest
Sentimental details and picturesque venues reigned supreme at these Midwestern weddings—from a literary-inspired bash in Iowa to an Illinois celebration that called for thousands of Chicago Cubs fans.
Arkansas
Chic navy, silver and gold details added vibrant flair to Christopher and Jamal's nuptials at Noah's Event Venue. In addition to treats from a popcorn bar, guests indulged in a decadent chocolate cake from Two Sisters Café in Sherwood—a must-see local bakery, according to Jamal. "People were lining up before we even cut into it," he says of their signature dessert.
From the album: A Classic Ballroom Wedding at Noah's Event Venue in Little Rock, Arkansas
Illinois
As their wedding week approached, Eric and Michael began to realize that if the Cubs won the World Series, their victory parade could end up happening the day of their wedding—and possibly going past their venue, the Chicago Athletic Association Hotel. "As fate would have it, these events did collide but in an amazingly fun way," Michael says. "Fortunately, nothing about the parade interfered with our wedding, it only added to the celebration. Many of our favorite photos of that day were us out and about with parade-goers and the wedding party having the time of our lives."
From the album: A Formal Hotel Wedding at the Chicago Athletic Association in Chicago, Illinois
Indiana
Margaret and Todd invited family and friends to celebrate their newlywed status at the Indiana State Museum, where local details included beer from Sun King Brewery, bite-size desserts from Circle City Sweets and live music from Midwest band Bluewater Kings.
From the album: A Luxe, Garden-Inspired Wedding at Indiana State Museum in Indianapolis, Indiana
Iowa
Italia and Andy specifically chose Madison County, the "covered bridge capital of Iowa," for both practical and sentimental reasons, but mostly because The Bridges of Madison County is Italia's favorite book. When she was 20, Italia took a cross-country road trip from New York to California, stopping at the bridge made famous by the book and movie, Roseman Bridge. After meeting Andy, they returned to the spot (it happened to be less than two hours from his hometown). They carved their names on the bridge, not realizing that only two years later, they'd be returning to that same bridge, this time as the site of their wedding ceremony.
From the album: A 'Bridges of Madison County'-Themed Wedding at Winterset Cidery in Winterset, Iowa
Kansas
Ashley and Jonny found their perfect venue at Town Square in Paola: a restored two-story building with exposed-brick walls, hardwood floors, plenty of natural lighting and a tin-stamped ceiling. "I loved the small-town charm surrounding the space," Ashley says. "It was completely uncharacteristic of Kansas."
From the album: A Romantic Country Wedding at Town Square in Paola, Kansas
Michigan
"We wanted to celebrate the history of Detroit and its hard-working, creative, passionate people," Sonal says of selecting reception décor that highlighted the museum's existing exhibits and car collections. "Those were the elements that drew Bikram and I to Detroit. We hope our guests felt some of that same magic."
From the album: A Lively Museum Wedding at the Henry Ford Museum in Dearborn, Michigan
Minnesota
Danielle's family's beloved lakeside cabin set the scene for a picturesque waterfront wedding filled with lawn games, s'mores and loon-themed invitations. Guests even took home boat key chain favors and noshed on locally sourced walleye at tables topped with deer antlers and beer growler centerpieces. "We asked our guests to dress in summer-casual attire to make our wedding feel like one big, chill party," Kyle says.
From the album: A Lakeside Cabin Wedding at a Private Residence in Fifty Lakes, Minnesota
Missouri
Partygoers at Amanda and Joe's glam fete at The Grand Hall at Union Station enjoyed local fare in the form of candied bacon, Lombardo's toasted ravioli, Gus's Pretzels and Oberweis milk. "It was important to us that everyone tasted a little bit of our favorite things," Amanda says.
From the album: A Garden Glam Wedding at Grand Hall at Union Station in St. Louis, Missouri
Nebraska
Creative couple Marisa and Nicolas personalized their celebration with natural, organic elements at Omar Bakery Building, a former bakery turned hip industrial space. Memorable details included laser-cut invitations, a bridal bouquet featuring pampas grass and wheat, artisanal bread favors and a wall adorned with pinecones and DIY paper décor.
From the album: A Bohemian Autumn Wedding at Omar Bakery Building in Omaha, Nebraska
Ohio
Morning yoga, a quaint chapel ceremony, a pig roast and woodfire pizza from Columbus's famed Figlio restaurant made Kevlin and Billy's alfresco wedding one to remember. Additional treats from German Village's Pistacia Vera and Kitties Cakes were also up for grabs. "My parents live in German Village, so it was a no-brainer to share with out-of-town guests what we enjoy on a weekly basis," Kevlin says.
From the album: A Colorful Outdoor Wedding at Rockmill Brewery in Lancaster, Ohio
Oklahoma
Marissa and Scott booked Plenty Mercantile—a venue with a rustic bohemian aesthetic—in the heart of Automobile Alley in Oklahoma City. They liked the raw, industrial feel with exposed brick and a metal staircase, and the 2,000-square-foot rooftop space boasted dramatic views of the downtown skyline. "Plenty Mercantile was like no other venue in Oklahoma," Marissa says.
From the album: An Urban Rooftop Wedding at Plenty Mercantile in Oklahoma City, Oklahoma
Wisconsin
Mary and Ethan shared what they love about Wisconsin through food and drink: fried cheese curd appetizers and Wisconsin-style brandy old-fashioneds. A coffee bar featured a maple-nut latte made with real Wisconsin maple syrup and coffee from Roast Coffee Catering. "Being back in Madison felt like the perfect ending of one chapter, and the amazing beginning of another," Mary says of returning to the city of their alma mater to say "I do."
From the album: A Modern Black-and-White Wedding at The Edgewater in Madison, Wisconsin
Region: South
Iconic and historic properties played host to these Southern affairs, where food, football and flowers highlighted what these couples love most about Dixie.
Alabama
A historic mansion played host for Kimberlyn and Timothy's classic wedding with an African twist. The couple celebrated Timothy's Kenyan heritage with songs, dance and a dramatic entrance by the bride draped in a Kenyan flag.
From the album: A Stylish Classic Wedding at Rucker Place in Birmingham, Alabama
Florida
A wedding arch covered in Monstera leaves, Key lime pie and pineapple boutonnieres exuded historic Floridian culture for McKenzie and Chris's oceanside wedding.
From the album: A Barefoot Beachside Wedding at La Siesta Resort & Marina in Islamorada, Florida
Georgia
Rachel and Rob put a unique spin on their charming, historic venue with décor inspired by Lord of the Rings, creating an enchanted garden feel to the refined space.
From the album: A Sophisticated Ethereal Wedding at Georgian Terrace in Atlanta, Georgia
Kentucky
When you get married on a fall Saturday, why not post up televisions to broadcast the football games? That's what Mary Jane and Kyle did for their family horse farm wedding that showed the pair love to have fun. Guests also enjoyed an Etch A Sketch artist, spiked milk shakes and KFC–themed welcome gifts.
From the album: A Playful Black-Tie Wedding at a Private Residence in Lexington, Kentucky
Louisiana
Brooke and Paul showcased Louisiana's natural beauty by saying "I do" under a Spanish moss tree "in the swamp." Their breezy, boho vibe paired with seafood gumbo and a ride on a pontoon boat rounded out the dreamy affair.
From the album: A Retro Bohemian Bayou Wedding at Salmen-Fritchie House in Slidell, Louisiana
Mississippi
Christine's love of "Southern simplicity" influenced the crafty but elegant atmosphere of her celebration with Loi at a local eatery.
From the album: A Romantic DIY Wedding at Corks & Cleaver Bistro in Gulfport, Mississippi
North Carolina
Bluegrass tunes, bourbon and bold nautical blues filled Amanda and Alex's waterfront reception. They even served the beloved Southern staple chicken and waffles before diving into late-night treats: Nye's Cream Sandwiches.
From the album: A Bright Coastal Wedding at Figure 8 Island Yacht Club in Wilmington, North Carolina
South Carolina
South Carolina's dunes and seagrass inspired Caroline and Gil's elegant nuptials, which featured plenty of Lowcountry cuisine, including sweet tea vodka, crispy shrimp and Chick-fil-A.
From the album: A Polished Wedding at Kiawah Island Golf Resort in Charleston, South Carolina
Tennessee
The turn-of-the-century look of Lauren and Johnny's venue, once a railroad station, led to the vintage-style décor and candlelight that set the tone for their day.
From the album: A Vintage-Inspired Wedding at the Southern Railway Station in Knoxville, Tennessee
Virginia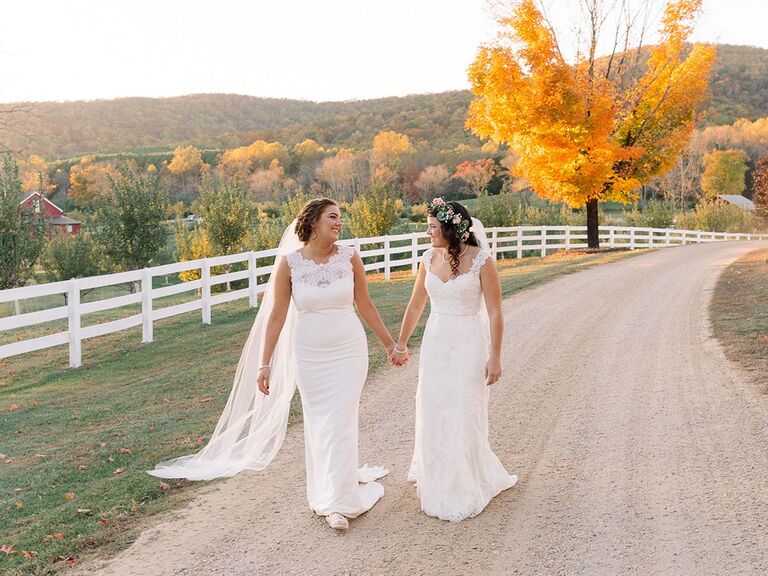 The rolling farmlands of central Virginia provided the natural backdrop for Emma and Haleigh's rustic, autumn affair, which featured lawn games, local flowers and, of course, hard apple cider.
From the album: A Pastoral Fall Wedding at Castle Hill Cider in Keswick, Virginia
West Virginia
Victoria and James added a rustic touch to reflect the woodlands of the Allegany Mountains for their romantic celebration at a grand historic hotel.
From the album: A Chic Rustic Wedding at the Greenbrier in White Sulphur Springs, West Virginia
Region: Southwest & Rockies
In the Southwest and Rockies, the panorama takes center stage. Whether it was gazing out at the Dakota winter snow, toasting with champagne in the Valley of Fire or admiring the ranchlands, these couples were all about the view to provide a natural backdrop for their days.
Arizona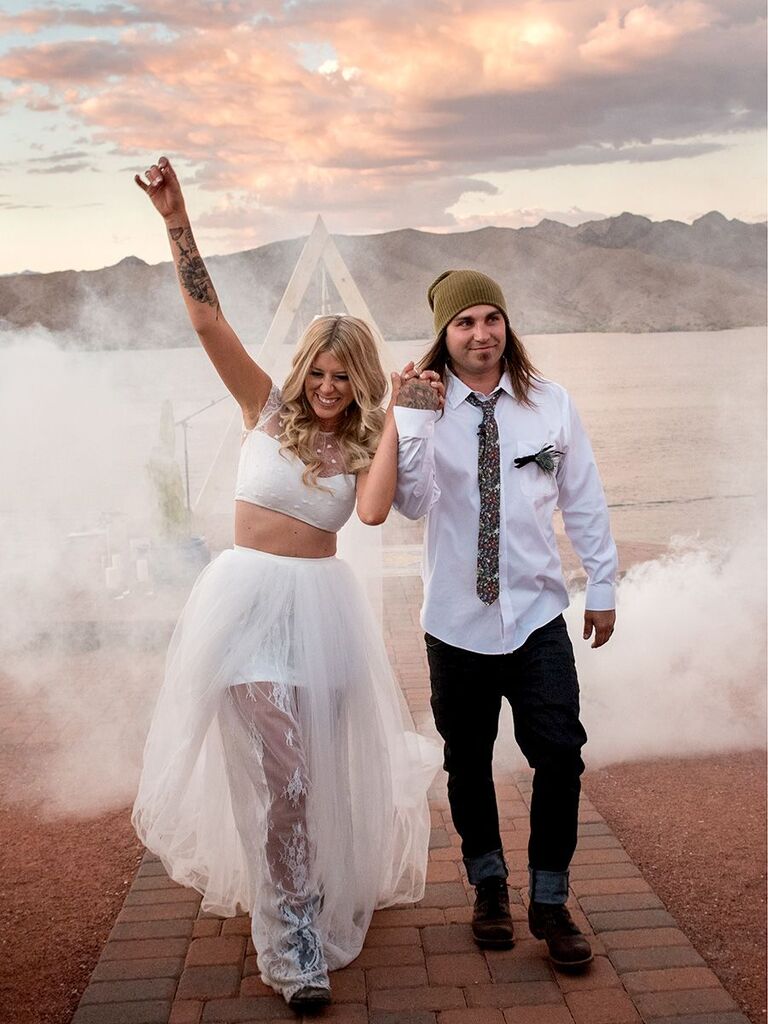 The state's desert colors, petrology and various species of cacti accented the bohemian vibe of Christa and Jesse's waterfront vows.
From the album: An Edgy, Landscape-Inspired Wedding at Havasu Springs Resort in Parker, Arizona
Colorado
Deeply hued florals complemented the traditional Colorado touches, like cowboy boots, for Margaret and Ryan's scenic ceremony at San Sophia Outlook.
From the album: A Contemporary Mountain Wedding at Peaks Resort and Spa in Telluride, Colorado
Idaho
Along with honoring Amanda's beloved childhood vacation spot with a wedding at Payette Lake, the pair also celebrated her Japanese background with paper cranes and Anish's Indian heritage with a surprise bhangra dance.
From the album: A Romantic Lakeside Wedding at Shore Lodge in McCall, Idaho
Montana
At Sarah and George's Western wedding, a horse-drawn wagon transported guests from the ceremony cliffside to the reception at a ranch.
From the album: An Intimate Rustic Wedding at Paws Up Ranch in Greenough, Montana
Nevada
Shannon and Michael took eloping in Nevada to a new level. The two said "I do" among outcroppings of rock and celebrated with an elegantly set table for champagne and cake.
From the album: A Bohemian Desert Elopement at Valley of Fire State Park in Overton, Nevada
New Mexico
Locally grown flowers, a taco truck and views of the Sandia Mountains made Kathryn and Thommy's laid-back affair feel truly Southwestern.
From the album: A Relaxed Southwestern Wedding at Gutierrez-Hubbell House in Albuquerque, New Mexico
North Dakota
Kelli and Adrian warmed up the snowy atmosphere of their winter wedding with Mexican food and plenty of music.
From the album: A Classic Wedding at the Municipal Country Club in Bismarck, North Dakota
South Dakota
An inviting lounge in Morgan and Bryan's hometown kept the December chill away for the couple's holiday-inspired nuptials.
From the album: A Cozy Winter Wedding at Icon Lounge + Events in Sioux Falls, South Dakota
Texas
Deborah and Elton paired country flair with nods to their Chinese heritage for their barn wedding full of bold pink florals, bluebonnets and Peking duck.
From the album: A Floral-Inspired Barn Wedding at Chandelier Grove in Tomball, Texas
Utah
Since Marie and Chase love the outdoors, they exchanged vows at a natural history museum with views of the Wasatch Mountains.
From the album: A Modern, Minimalist Wedding at the Natural History Museum of Utah in Salt Lake City, Utah
Wyoming
The top of a mountain (9,095 feet to be exact) proved to be the ideal spot for Brent and Corey's intimate wedding during four days of outdoor Western adventures such as white-water rafting.
From the album: A Scenic Brunch Wedding at Couloir in Teton Village, Wyoming
Region: West
Whether these couples wed in the heart of a city or along the hillsides of home, West Coasters treated their guests to local dishes and desserts that not only told their love stories, but also show the culinary cultures of their home states.
Alaska
Megan and Joe's intimate celebration on Whale Island included a trek (in Xtratuf boots, of course) to the woodland ceremony site, a boat cruise and specially brewed local beer.
From the album: A Serene Seaside Wedding at Sitka Fine Arts Camp in Sitka, Alaska
California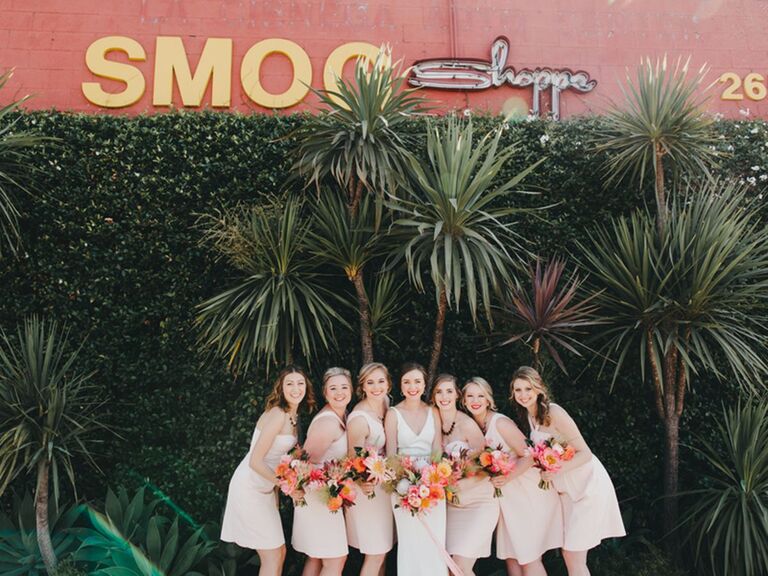 Lexi and Jordan's funky venue—a 1980s-era auto shop—plus mid-century design, bougainvillea and tacos perfectly echoed all things Angeleno.
From the album: A Vibrant, Urban Wedding at Smog Shoppe in Culver City, California
Hawaii
The up-country inspired Kira and Sky's bohemian celebration full of native botanicals, local seafood and spectacular views of the island.
From the album: A Tropical Hilltop Wedding at Phil Lani Estate in Kula, Maui
Oregon
Crafty décor, homemade kombucha and Central Oregon's natural beauty kept Abigail and Quinton's farm wedding authentically them.
From the album: A Country-Inspired Backyard Wedding at a Private Residence in Bend, Oregon
Washington
Exposed brick and candlelight created a romantic urban atmosphere for Lauren and Thig's downtown Seattle wedding that had one playful nightcap: Dante's Inferno Dogs.
From the album: A Refined City Wedding at Axis Pioneer Square in Seattle, Washington