Most Romantic Honeymoon Spots
Grab your passports for the trip of a lifetime.

Looking for the perfect honeymoon hideaway? A signature snowcapped mountain location could be the perfect backdrop for your honeymoon, or if you're after warmer weather, head to a private island paradise for picturesque beaches. Here are just a few of our favorite honeymoon spots for two.
Ubud, Indonesia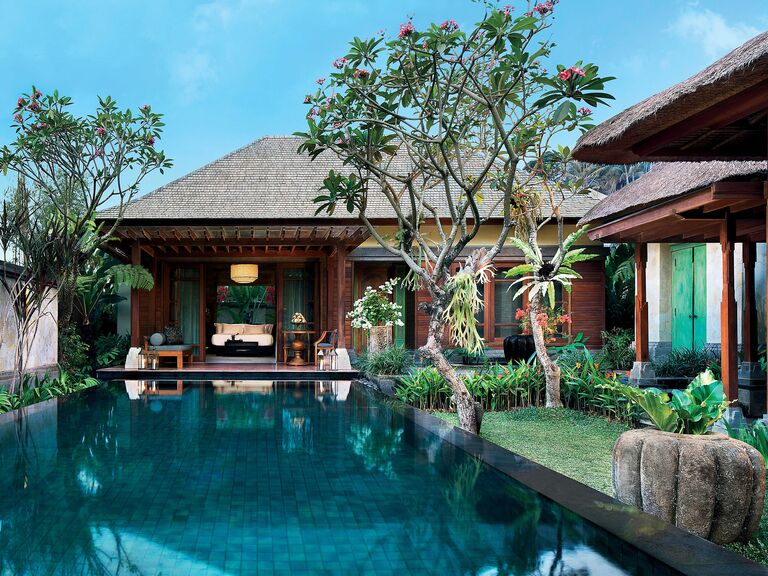 Why It's Romantic: The last chapter of Elizabeth Gilbert's Eat, Pray, Love is set in Ubud—an ancient center of wellness and calm hidden among thick jungle palms in the heart of Bali. While many of the island's coastal areas have given way to massive international resorts, Ubud clings to its Balinese roots, creating a distinct sense of place among historic temple towers.
Where to Stay: Discover cultural and spiritual richness at Mandapa, a Ritz-Carlton Reserve situated along the mighty Ayung River. Local practitioners mark your arrival with the strike of a Balinese gong, then you're free to indulge with eons-old treatments at the on-site spa.
What to Do: Cross rice paddy fields at dawn to visit the Hindu water temple at Tirta Empul for a purification ceremony with fellow villagers.
Can't Miss Moment: At Mandapa, tuck yourself into one of restaurant Kubu's private bamboo cocoons for an intimate dinner of Mediterranean-style dishes, tropical breezes and picturesque river views.
Lofoten, Norway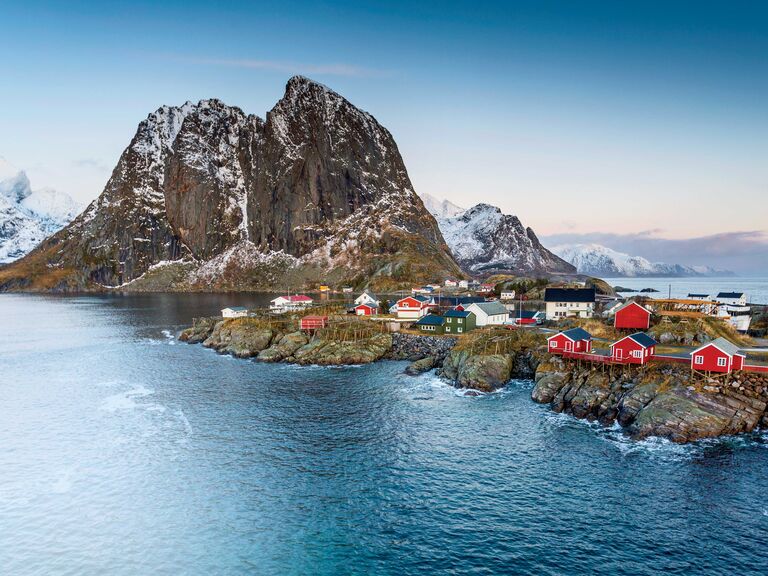 Why It's Romantic: If ever there was a destination that was Instagram worthy it would be Lofoten—its signature snowcapped mountains are dramatic and totally breathtaking. The peninsula rivals the buzzed-about beauty of Iceland, but without all the tourist traffic. Norway's ethereal landscape promises glacially carved coves that offer respite or adventure, while the coastline is dotted with quaint cabins, well-suited for a little R & R.
Where to Stay: Once the traditional lodging of local fishers, the bright-red rorbuer have now been transformed into rustic fjord-side cottages, like Reine Rorbuer. Its shanties on stilts promise harbor views with antique charm.
What to Do: Ever considered hanging ten above the arctic circle? Unstad Arctic Surf offers wave-riding lessons—ideal for beginners—along its sandy bay. After, refuel at base camp with a locally sourced meal.
Can't Miss Moment: Watch the natural wonder of Aurora Borealis (often called the Northern Lights) dance its green magic across the polar sky.
Paris, France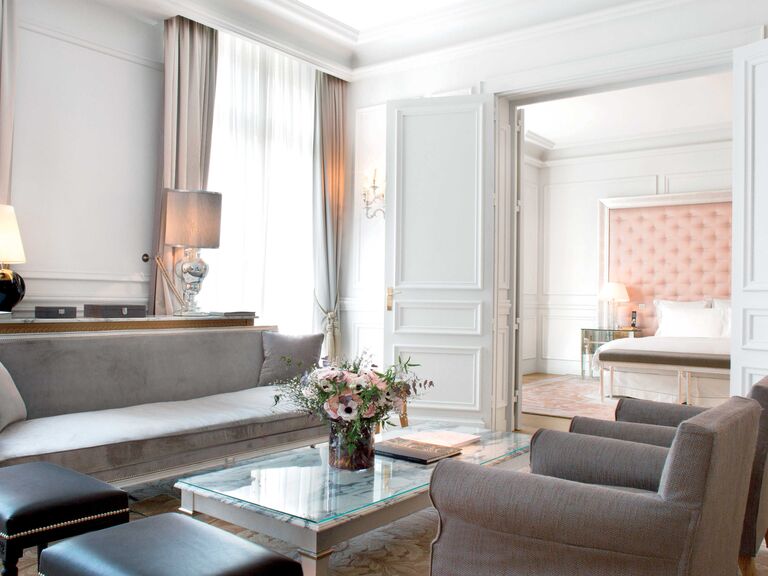 Why It's Romantic: Practically synonymous with amour, the City of Lights reigns supreme when it comes to romance with its grand boulevards and symmetric lush gardens. Enjoy an afternoon stroll with your other half followed by a gourmet dinner at one of the delicious (Michelin-starred) eateries that abound throughout the city.
Where to Stay: Blending old palace ambience with modern Starckian stylings, the Royal Monceau, just steps away from the Arc de Triomphe, has an interesting past, including being the backdrop for Madonna's sexy "Justify My Love" video. Rooms even include acoustic guitars for impromptu serenades.
What to Do: The Royal Monceau's dedication to all things avant-garde means VIP access to the city's art galleries. After touring the ateliers of Beaubourg, hit up the Grand Palais for a private visit with the dedicated art concierge.
Can't Miss Moment: The hotel's 99-seat theater can be rented out for a special occasion. We can't think of anything more romantic than watching a classic black-and-white film in your own private cinema in the middle of Paris.
Central Vermont, United States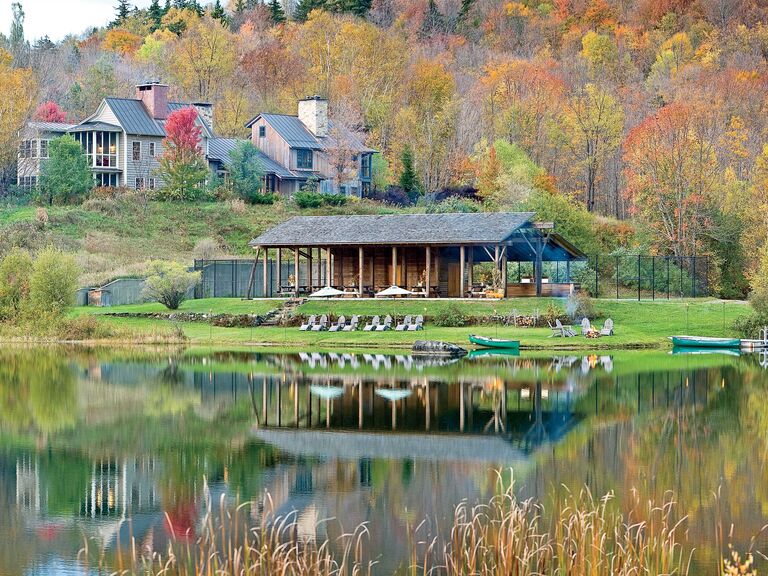 Why It's Romantic: Nothing beats the fall season, as the trees are bursting with bright reds and oranges. And the townships of central Vermont are primed to fulfill every fantasy of a Gilmore Girls–esque New England with storybook colonial architecture, throwback main streets and friendly locals.
Where to Stay: Flipping the script when it comes to all-inclusive stays, Vermont's Twin Farms champions all things local with three elaborate meals a day featuring the best of the state's bounty, and a clutch of elegantly appointed cottages.
What to Do: Rather than tearing yourself away from the splendor of Twin Farms, delight in the surplus of on-site activities—think: canoeing in summer, skiing in winter and soaking in the Japanese furo anytime of year. De-stress from all that wedding planning with a Gentle Flow yoga class, then indulge in some pampering with a couple's massage at the on-site Bridge House Spa.
Can't Miss Moment: Choose the Studio cottage to soothe your post-hiking legs in the private hot tub, then huddle around the crackling fire in your bathrobes as you piece together a jigsaw puzzle.
Quebec City, Canada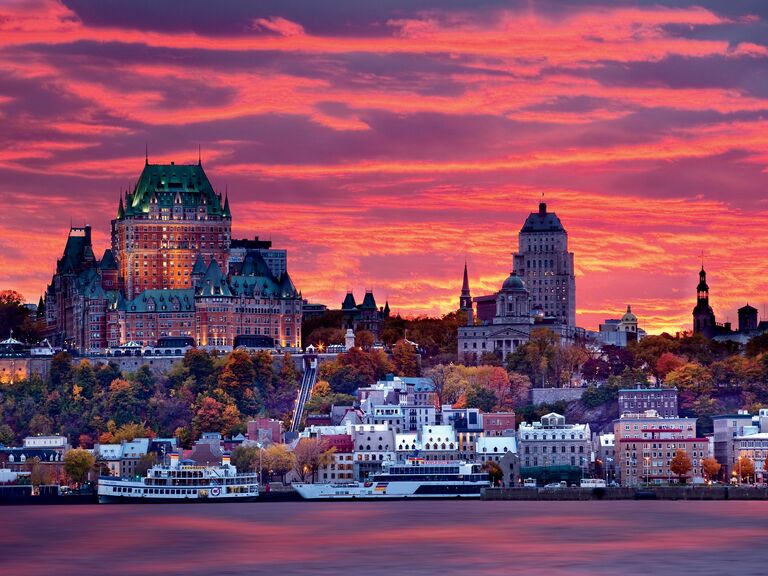 Why It's Romantic: Promising plenty of European flair—but without the long flight and jet lag—Québec City is an exciting North American locale filled with old-world charm. Set along the narrowing bends of the Saint Lawrence River, the city boasts a storied past.
Where to Stay: The Relais & Châteaux darling Auberge Saint-Antoine sits in the heart of the city's UNESCO-protected core. The inn is the pet project of the local Price family, who take great pride in their on-site restaurant, Panache, which serves French recipes in an old warehouse setting. The menu includes locally sourced, organic eats and an extensive wine list.
What to Do: Québec's iconic Fairmont Le Château Frontenac hotel is worth a look if only to try one of its original cocktails—blended with maple syrup, of course—at the bar in Bistro Le Sam.
Can't Miss Moment: Explore the pastoral island of Île d'Orléans by bicycle. Be sure to make stops at a few cideries and farm stands to sample the fare. While you're there, take in a performance or check out one of the island's art galleries.
Saint Vincent and the Grenadines, Caribbean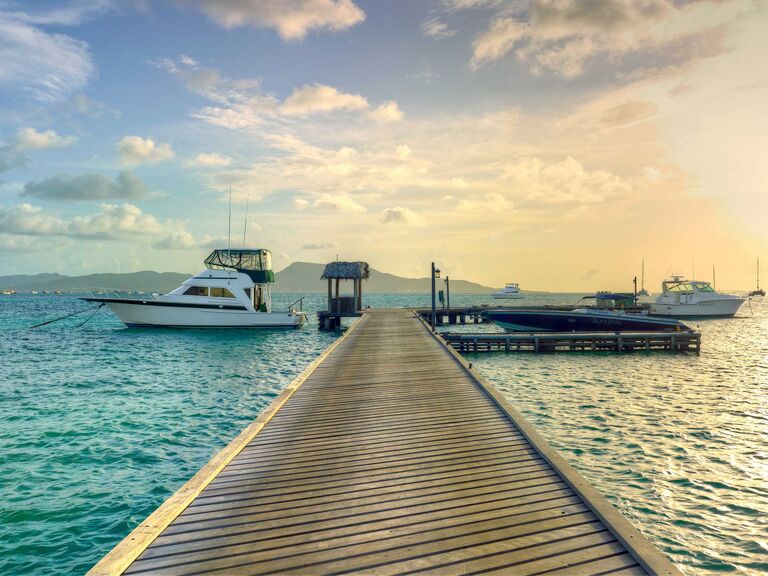 Why It's Romantic: St. Vincent and the Grenadines are a series of islands sprinkled across the cool-blue waters of the southern Caribbean. Snorkel in clear shallow reefs, often in the company of sea turtles, or relax on beautiful white-sand beaches.
Where to Stay: Striking the perfect balance between a luxurious enclave and a laid-back beach vibe, Petit St. Vincent is a private island paradise with 22 Wi-Fi-free cottages scattered across its picturesque beaches and bluffs. Try to snag Cottage 1 for your stay to take in perfect sunset views.
What to Do: Glide away on Beauty, the resort's wooden sailboat built by the captain's own two hands, and head for the uninhabited isles of Tobago Cays, made famous as the backdrop of the first installment of Pirates of the Caribbean.
Can't Miss Moment: Have the perfect night in—just the two of you—and order champagne and room service by raising the yellow flag in front of your bungalow.
Bora Bora, French Polynesia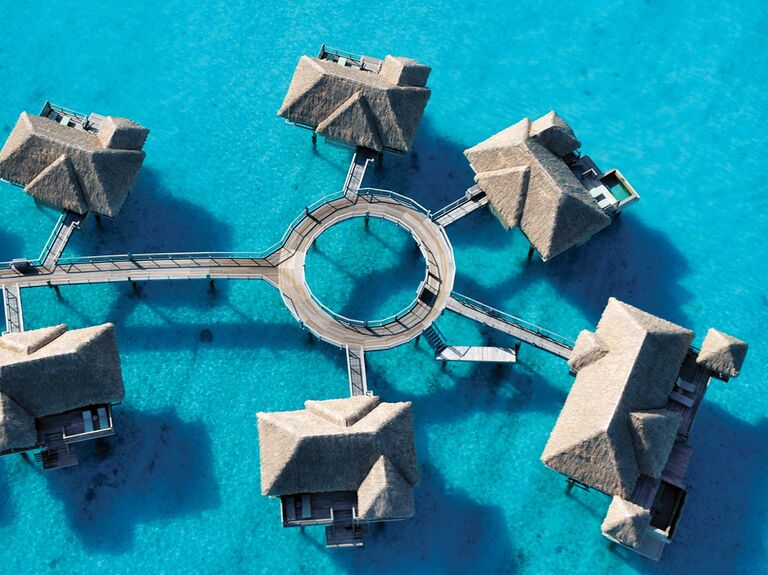 Why It's Romantic: The original flavor of island idyll, Bora Bora has wooed newlyweds since the creation of the overwater bungalow 50 years ago. Hundreds of these suites on stilts extend from a series of barrier islets, and the lagoon in between boasts the most beautiful color of neon blue.
Where to Stay: Like a clubhouse for honeymooners, the Four Seasons Resort Bora Bora is a collection of overwater chalets that perfectly pairs a Tahitian laisser-faire vibe with the Swiss efficiency of an ultra-luxe resort. Snorkel in the on-site lagoon or arrange an off-property adventure, like shark diving or a tour of the island by wave runner.
What to Do: Head to the main island for dinner at La Villa Mahana, the seventable brainchild of a French chef and his Tahitian family. (Book in advance!)
Can't Miss Moment: Get room service at your bungalow as you watch the sun set behind Mount Otemanu, turning the sky yellow, ochre, then purple.
Granada, Nicaragua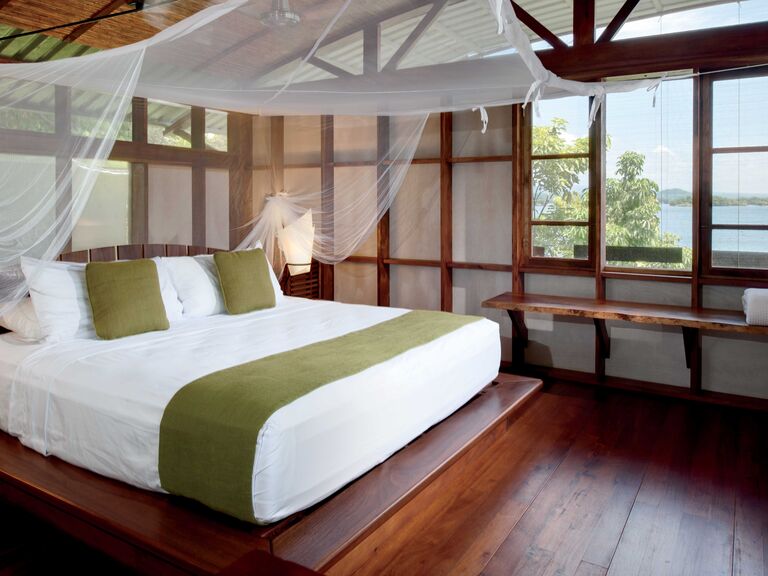 Why It's Romantic: A cathedral-clad town dating to the conquistador era, Granada is the gateway to an archipelago of serene isles floating gently along the surface of Lake Nicaragua. Once an important colonial hub, the city readily embraces its slow pace and neoclassical allure. Make a pit stop here and soak in the culture before exploring other nearby lake islands.
Where to Stay: Occupying its own little islet, Jicaro Island Lodge has nine casitas that are mini architectural marvels of environmental design with plenty of sleek slatting and gossamer netting. The action is centered around a cozy eating area and on-site pool, but there's plenty of space to make vacationers feel like they have the resort to themselves.
What to Do: Grab a stand-up paddleboard and shuttle over to neighboring islands—some completely empty, others inhabited by friendly locals.
Can't Miss Moment: Reserve table-for-two service on a quiet dock floating in the lake for an ultra-private (and luxurious) culinary experience.
Pembrokeshire, Wales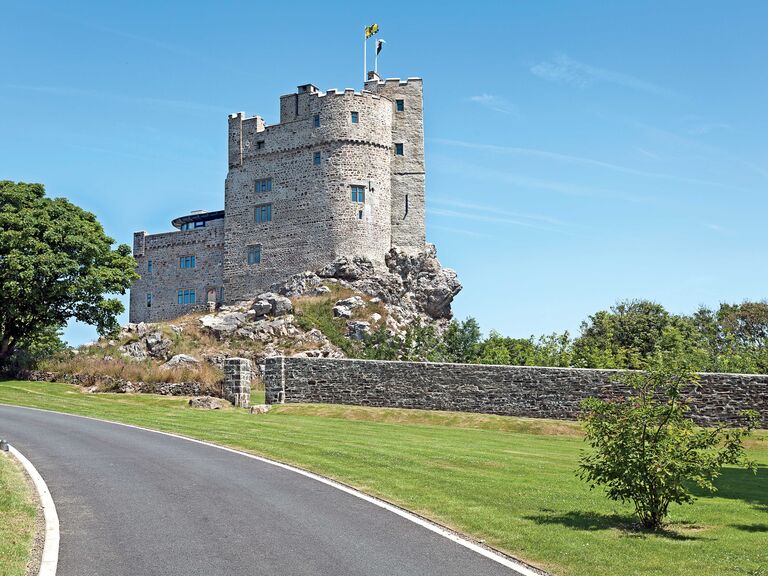 Why It's Romantic: With the same craggy cliffs that have earned Ireland its place on the tourist trail, the southwest corner of Wales feels wonderfully undiscovered. Hidden beaches are the handsome reward for short hikes along grassy bluffs, and castles and elegant manor houses are welcome refuges after a day spent in the sun and sand.
Where to Stay: Restored from a 12th-century stronghold, Roch Castle overlooks its tiny town and the captivating shoreline of St. Brides Bay farther beyond. While the exterior is thoroughly medieval, the interior is modern and features six well-styled suites. A traditional Welsh breakfast is served every morning.
What to Do: Few UK towns are as charming as Tenby with its colorful cliff houses overlooking the beach, a harbor full of fishing boats and streets lined with small shops.
Can't Miss Moment: Ask the hotel to pack your breakfast to go, then drive down to Stackpole for a picnic. Leave your car in the lot and wander up and over the headland to find the Caribbeanclear waters of Barafundle Bay.
Nosy Ankao, Madagascar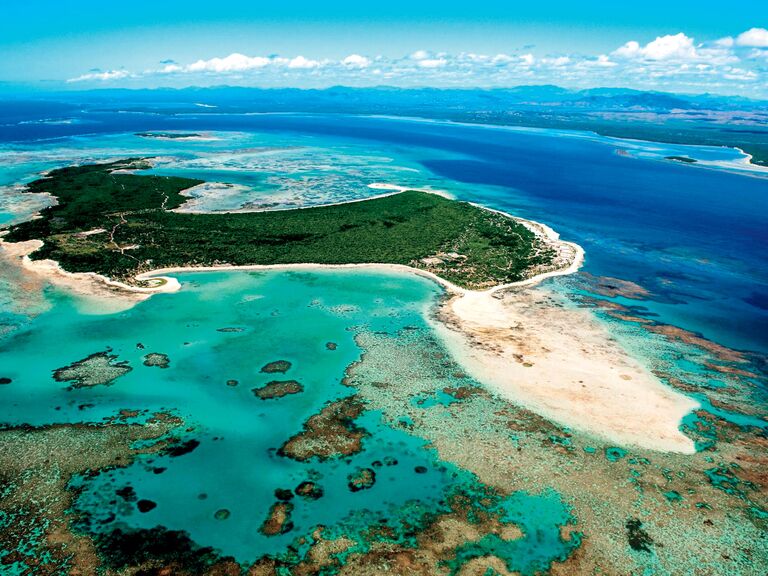 Why It's Romantic: The large island of Madagascar feels like a continent unto itself. And it has an exotic biodiversity—lemurs swing overhead and alienlike baobab trees stretch toward the sky. It's a perfect spot for nature lovers.
Where to Stay: When it comes to private island digs, you can't miss Miavana, the newest offering in the Indian Ocean, just off the coast of Madagascar. From the same designers as North Island in the Seychelles (famed for being the choice honeymoon destination for Kate and Will), Miavana is the next generation in private island honeymooning. Three words: major bragging rights.
What to Do: Helicopter transfers put you face-to-face with some unique creatures during daytime safaris.
Can't Miss Moment: Have an intimate lunch on a sandbar with your new spouse. You two will be surrounded by nothing but miles of turquoise waves.